The Shaykh 'N Bake Shame Grenade – A Muslim Internet Phenomenon
Support MuslimMatters for Just $2
MuslimMatters has been a free service to the community since 2007. All it takes is a small gift from a reader like you to keep us going, for just $2 / month.
The Prophet (SAW) has taught us the best of deeds are those that done consistently, even if they are small. Click here to support MuslimMatters with a monthly donation of $2 per month. Set it and collect blessings from Allah (swt) for the khayr you're supporting without thinking about it.
Presenting the Shaykh 'N Bake: A critical analysis of the utilization of shame grenade discourse by Muslims on the internets and its efficacy. Please watch the following video along with the written explanation immediately after.
Definition of Terms
Shaykh 'N Bake: To reverse a regular conversation into something serious, religious, or self-righteous. Characteristic of manipulative behavior. In other words, to lob a shame grenade. \'shām grə•nād\ noun – A rhetorical object hurled into a conversation to compel someone into a certain action via complete embarrassment. When detonated it makes everyone within its "shame radius" want to give up on life.
Usage
Commonly occurs online. Utilized most often by overzealous people online under the guise of "dawah" or "naseehah," but accounts to little more than a feeble attempt at self-importance and humiliation of others. The phenomenon is not unique to the Muslim community (see: Jesus Juke), but we do have our own distinct flavor of it. The easiest way to shame grenade someone is to conflate two situations that are not mutually exclusive (or sometimes even related) in an attempt to guilt someone into a desired action. "How dare you spend $3 on coffee instead of donating $3 to my project." Or, "how dare you watch a movie in Ramadan, you should spend that time in ibadah." Also, "if you love Islam and want people to stop starving, share this photo on Facebook otherwise you are complicit in their oppression." Please see video above for more detailed real life examples.
Characteristics
If I haven't seen it, it must not exist.
We sometimes confuse having Google with having access to the angels recording everything (or rather, the angels on the shoulders of whoever we want to attack). I once engaged someone in this type of discussion and asked them, "have you listened to every single lecture of theirs both online and in person to know they've never spoken about this topic?" And they said something along the lines of no, but it should show up when I google it. What's ironic is the same people want you to make 70 excuses for them or their cause, but they can't give you more than 1.5 seconds of Google. Guilty until proven innocent. 
Because their cause is so important, it somehow gives them free reign to throw out accusations against people. It is okay to be rude, abrasive and offensive – because attacking people is for a greater good of clarifying the truth. And because these are scholars/speakers/activists, it is okay to assume they're guilty first. The burden of proof and good manners are thrown in the trash in the name of the truth and the "good" of "the ummah." And the qualifications of those shaming the speakers? Often, nothing aside from feeling entitled to throw around accusations of guilt. Polarized Us vs. Them Cult Mentality
They think whatever issue they are shaming others on is a clear, unequivocal truth. And not only a truth, but a truth that trumps any other issue of concern. Therefore, if you're not with them, you're against them. Sound familiar? This leads them to make personal attacks against whoever they are 'advising' and feel it is completely justified. Priorities will always differ by context and circumstance. But you know what? Most of these people will acknowledge that point and then argue that they are the exception. Mark my words, it will probably happen in the comments section of this very article. Advice is a Duty Upon Muslims
We have something in Islam called hikmah (wisdom). An example of this is Aisha
saying if the prohibition of alcohol was the first commandment given, no one would have followed it. Another is the hadith mentioning that gentleness is not put into something except that it beautifies it [reference]. Even Musa [as] was told to speak to Fir'awn in a kind way. They think just because what they are saying is technically "true," it somehow absolves them of context, good manners, and common sense. It's kind of like being in the ER because you just had a heart attack, on the brink of death, and then kicking the Muslim physician out of the room for not having a beard. You may win the battle, but.. False Humility
This is my favorite one. This is when someone feels they are right, but they know if they insist upon it, they will sound arrogant. So they put on the cloak of false humility and act like they don't know anything and ask questions to cause fitnah. This is unbelievably common. If you have an opinion or understanding, there is a way to express it and ask a question. People do it all the time. But donning the false humility persona is usually an indicator that they're gearing up to attack someone but want to appear polite. Part of false humility is claiming they are acting for the "good of the ummah" – as if their comment on a YouTube video will somehow save thousands of people from falsehood. It's very much a Fox News style tactic (that was also parodied quite well by Southpark – Disclaimer: link may have some inappropriate language).
Toxic Negativity
This is the worst consequence. It seems people who do this are obsessed with determining who Allah hates, why He hates them, and speaking on His behalf about it nonstop. They show up online, shout venom at everyone, and then disappear. If you went to their local masjids, most people would not even know who they were. It's doubtful any of them have made a positive impact on anyone there. Rather, they're usually most likely known as troublemakers (if known to anyone at all). They think they are doing good work online by somehow forbidding the evil, but all they do is alienate and drive people away from the religion. This type of negativity never results in anything positive. It doesn't result in changed behavior on the part of the one being "advised." It doesn't even motivate the one "advising" to actually do something productive. A Zero-Sum Game
This is bigger than just being a characteristic of the Shaykh 'n Bake. It's an entire mindset. It's the incorrect understanding that everything in life is zero sum. It is about making things mutually exclusive when they aren't. Zero sum is something normally applied to things like money. It's like the gas in your car, once it's out, it's out. But do you apply this principle to your kids? Do you have 2 kids, find out you're expecting a 3rd and say, "You know what, that's great but I'm just all out of love to give." One of the ways these people operate is by convincing others that everything is zero-sum. If you comment on one tragedy, it means you've somehow taken away importance from another. If you make dua for one thing, it means you can't make dua for another. This point is critical, because their entire paradigm hinges on it. They have to convince everyone that if a scholar comments about one thing, it means he is ignoring another – and therefore must be attacked. Manipulation, Bullying, and Spiritual Blackmail
Yes, there is such a thing as spiritual blackmail. When someone is not able to articulate a point in an effective or persuasive manner, such that the one listening is actually affected by it – then they resort to this manipulation technique. I am right, and if you disagree with me, you're going to hell. Forget about my own akhirah, how are YOU going to answer to Allah on the Day of Judgment when He asks you in front of all of mankind about your Facebook post?? In reality, this behavior is nothing more than good ole bullying – except under a religious guise. It's meant to manipulate others and try gain some type of upper hand. They will never admit they are wrong. They get overly dramatic and give an exaggerated sense of importance to their issue.
Life is a game for them. In fact even the religion has some game like qualities for them. It's about proving you are right, that you're on the winning team. It's showing you held your ground and overcame your opponent. And in order to win, you may manipulate others.
People who cannot articulate their faults or mistakes see life as a game. They are keeping score and they intend to win. They want you to submit but have no intention of submitting themselves. Theirs is not a world where we are supposed to create intimacy and trust through grace, but a world where we are supposed to accumulate power and security by tricking the people around us (Donald Miller, The Single Defining Characteristic of a Manipulator).
All is fair when you are working for a higher purpose.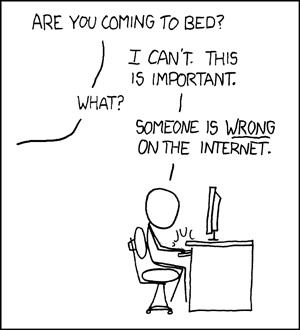 Perspective
The most important lesson I have learned is to simply block these people out. There was a time where I used to engage and debate with people on issues like this, but life is simply too short. In the end, you don't win anything. At most, you might change someone's mind, but even that is unlikely. The most likely consequence is that they will kill your positive energy. They will make you hate life. They will make you wish you had never opened your mouth, about anything. If these people had their way, no one would ever accomplish anything good. In their mind, unless something meets their arbitrary level of perfection, it is not worth being done. Keep doing your work. Keep driving your bus, and don't let them get on it. Anas ibn Malik reported: The Messenger of Allah,
, said, "If you're about to plant a tree and the Day of Judgment commences, finish what you started" (Musnad Ahmed, sahih). No matter what you work on, there will be haters. No matter what effort you make, someone will be there to criticize it. And while it may not be easy, you simply need to sniff out those trying to shame grenade you and block them out of your life. Unfriend them on Facebook, block them on Twitter, delete their contact from your phone, and don't let them get to you. Those who complain and criticize will disappear forgotten, but in the end the good work you do will remain and insha'Allah be a legacy. Click the image below for an infographic of the video by Sketchy Muslim:
Humiliating people in the name of religion is the practice of someone deprived of the first fruit of religion, humility.

— nouman (@noumanbayyinah) August 29, 2013
"There are two types of people in this world: people who do things, and people who criticize those who do things." — Ḥamza Yūsuf Quotes (@HamzaYusufQ) September 2, 2013
Insulting others is never a way of correcting them. Instead it causes more damage & proves that we need help ourselves. — Mufti Ismail Menk (@muftimenk) September 2, 2013
7. Haters are life's truest losers. Do you want to end up losing everything that matters in life? Be a hater.

— umair (@umairh) September 1, 2013
Why do so many Muslims assume everything is forbidden, and look to deny and prohibit rather than encourage and inspire? — haroon moghul (@hsmoghul) August 29, 2013
2. Be a creator, not just a critic. Otherwise, you'll always wonder.

— umair (@umairh) August 27, 2013
Do the hard work or support those doing it but dont hinder it. Some people neither do the work nor let others do it. — Mufti Ismail Menk (@muftimenk) August 23, 2013
"Shame الحياء" is a believer's personal trait to introspect one's own words-actions, not something to bring upon others #shamegrenade

— Nomaan Baig (@ShaykhNBaig) September 2, 2013
I'm always uneasy about the concept of "speaking truth," as if we somehow know the truth and only have to enlighten others… — Noam Chomsky (@daily_chomsky) September 11, 2013
…who have not risen to our elevated level.

— Noam Chomsky (@daily_chomsky) September 11, 2013
When you are blessed or successful in any way, you must expect a fair share of haters. How you react to them is a part of your test. — Mufti Ismail Menk (@muftimenk) December 2, 2013
Supporting Our Children's Mental And Emotional Well-Being
Support MuslimMatters for Just $2
MuslimMatters has been a free service to the community since 2007. All it takes is a small gift from a reader like you to keep us going, for just $2 / month.
The Prophet (SAW) has taught us the best of deeds are those that done consistently, even if they are small. Click here to support MuslimMatters with a monthly donation of $2 per month. Set it and collect blessings from Allah (swt) for the khayr you're supporting without thinking about it.
By Habeeb Quadri
The topic of mental health is still taboo in the Muslim community. Sadly, I know of five Muslims who recently took their own lives after suffering from mental illness for many years. These tragedies are often misunderstood and families of these victims of mental illness are left reeling alone in their grief coupled by the painful judgment of people who scorn these victims.
We need to bring this topic out of the darkness and shine a light on the facts. Mental illness is a disease. It can be treated, but with varying outcomes. Often times, it is a lifelong battle that despite even the most aggressive treatment and support of family members, victims succumb to their illness by withdrawing from loved ones, suffering in silence and, in the worst cases, ending their lives. Mental illness is often hereditary or can be brought on by life circumstances.
As parents, we should facilitate healthy emotional wellbeing in our children as a way to help arm them against the inevitable hardships they will face in life. While for some children even our best efforts will be futile against a genetic predisposition toward depression or a severe biological mental illness condition, we still need to do our part by being conscious of caring for this aspect of our children. We are so concerned about how our kids are developing academically and in their deen, but we forget about their feelings. We need to make certain our tactics and efforts gear our children toward developing a healthy mindset and positive self-esteem. For some, this armor can be a shield during times of difficulty. If our efforts at home are not helping, know when to seek help from a mental health provider. There is great wisdom in reaching out to professionals who can better assess what your child might be experiencing.
The US Department of Health and Human Services stated that the number of adolescents who experience at least one major depressive episode leapt by 60 percent between 2010-2016. Suicide deaths among people age 10-19 have also risen sharply according to the latest data from the Centers for Disease Control and Prevention.
Our children are of a generation where they are programmed for instant gratification, parents tend to swoop in and solve problems instantly for their children, attention span is short, and they are constantly connected to the digital world with everything at their fingertips immediately. The result of this modern lifestyle in our children is that they are not learning to be resilient and they no longer learn to develop a natural ability to persevere, to have the ability to keep working toward goals despite setbacks and failures.  
So, how can we better raise our children to be able to operate at their optimal in today's world, to have emotional strength and resilience? Here are a few tips and strategies I've compiled over the years from multiple sources that can help build confident children who know how to deal with today's challenges:
Make Salah Part of Your Child's Life: Allah swt will bless the lives of those who pray their daily prayers and your child will develop God-consciousness through this act. Teach your child to ask Allah for help daily. Pray with your children and remind them to pray. The gift of Salah was given to our prophet (pbuh) during one of the toughest years of his life, the passing of his uncle Abu Talib and his wife Khadija, and the severe persecution of Muslims. The act of prayer is a reminder to Muslims to turn to Allah swt during times of hardship.
Make Dua: By reciting the duas for everything from studying for test, to playing a game, to driving a car, to leaving the house, we are constantly remembering Allah swt. This is another way children find strength in their daily activities. By connecting all of our actions with Allah swt, we find support and strength in our Creator.
Let Them Go Outside and Play: Unplug your children and send them outside to play. Today's youth spend on average just four to seven minutes outside each day in unstructured outdoor play such as climbing trees, building forts, catching bugs or playing tag, studies show. Yet, many children spend 3-4 hours each day in front of a screen. In recent years, the National Wildlife Federation released a comprehensive report showing the unique benefits of playing outside on mental health.  
Participate in Afterschool Clubs/Activities: Having children participate in a team sport or club where they have to interact with a group of individuals to achieve a goal builds confidence and promotes teamwork. These interactions teach children how to express themselves, how to take critical feedback, and how to accept failure. They learn that sometimes they might lead the group and sometimes they will fall in line and have to be a participant of the group. Kids learn how each person is part of the overall success of the group or team. This is especially important as we are living in a time when everything is "I" – IPhones, iMacs, iPads. We need to teach children more about "WE"!!! 
Let Children Help Around the House: Stop doing everything for your kids. Let them clean the dinner table, put the dishes in the sink, throw away the garbage, make their bed, clean their room, put their homework in their backpack, etc… Children will not learn to be independent and self-functioning when everything is done for them.
Stop Overpraising Your Child: A recent study done by Stanford University of toddlers showed that praising effort, not talent, leads to greater motivation and more positive attitudes toward challenges down the road. These findings are consistent with previous research, which has connected praise with increased motivation in children, but only when it is based on real attributes. Consider these making these alternative statements:
Instead of saying "You are so smart!" say "You work so hard in school and it shows."

Instead of saying "You always get good grades. It makes me happy!" say "When you put forth effort, your grades show it. You should be so proud of yourself and I am proud of you."

Instead of saying "You are a great athlete! You could be the next LeBron James!" say "Keep practicing and you will continue to see great results. Good Job!"
Let Them Fail: This does not mean let your kids fail a class. Encourage your children to try new hobbies or activities, like an art project, a sport, or trying to learn how to rollerblade. Kids who can't tolerate failure are vulnerable to anxiety and this can lead to bigger problems when they do inevitably fail. Children need to know that it's ok to fail as this will happen throughout their lives. They need to know that it is a brave act to try something new, knowing that it might not work out. Shielding children from failure can create a fragile sense of self-worth. Being able to recover from any setback will be a valuable tool in their life. Help them to reframe the way they view failure by suggesting new ways to assess the experience, such as:
If your child says "I'm so stupid"

–

teach them to instead ask themselves, "What was I missing in that assignment?" or "What could I have studied more?"

Instead of "I'm not good at math (or any other subject)" – encourage them to say "I'm going to train harder in math (or any subject)"

Instead of "This is too hard" – help them instead to see the obstacle as "This is going to take some time and effort"

Instead of "I give up" – teach your child to say "I'm going to try again but this time I'll use another strategy"

Instead of saying "I made a mistake" – instead say, "Mistakes help me improve."
Teach Your Kids How to Express Themselves: Having daily conversations with your child and letting them talk helps children to know you value their thoughts. Individuals who bottle up emotions and don't talk about their feelings are more likely to struggle with emotional wellness. Learning to identify and express emotions in a positive and healthy way helps young children build astrong foundation of success later in life.
Encourage Your Children to be Active, Exercise and Make Healthy Food Choices: This is another developmental area that we have to be careful how we use our words. Even physicians don't use the words "obesity" and "overweight" with kids. Instead, talk about health in general. Say things like "Being healthy is important," and "I enjoy getting outside and walking with you." If your child brings up to you his or her discomfort with how they look, listen to what they have to say and offer solutions for how your entire family can improve their health and make healthy choices. When the entire family makes healthy choices, a child doesn't feel singled out and he or she will feel supported in efforts to be healthy. Children are sensitive about their body image and what others think of them, especially in preteen years but even as early as age 6.  Develop healthy eating and exercise habits as a family even with your young children. Even very young children can develop low self-esteem about how they look. Make a habit of getting your kids moving for 30-60 minutes daily when they get home from school. Teach them to make better choices regarding food.
Community Service: Teach your children to share and help others.  Research shows individuals who help others and do community service are happier than others who don't. Spend time as a family volunteering at a soup kitchen, cleaning the park together, or attending a social justice rally. Allah swt will always help a servant who takes care of His creation.
Show Love to your Children: Kids need to feel and hear how much their parents love them. Hugging and showing affection to your children is crucial for children in building a positive self-concept. Fathers, especially, make an extra effort to show affection toward both your sons and daughters.
Do Not Buy Them Everything They Want: Life is not easy.  If children are always receiving every gift they want, they don't learn to value even the most basic necessities in life. Mashallah, many parents who are financially well off want to give their kids what they did not have but this can take away the drive of children to work hard and appreciate hard work and gifts.
Build Good Character in Your Children Starting When They are Young: If you instill good behavior and model good behavior yourself starting when your children are young, they are more likely to naturally develop good character. Learning to control one's anger, to respect elders, to say please and thank you, to share, and take care of guests are all acts children must begin learning very young.   These selfless acts help children to know that life is not just about them.
Teach Patience: Allah reminds us that Allah is with those who are patient. Life is full of ups and downs in health, wealth, family and more. All of us will be tested in at least one of these areas. Help your children realize solutions are not always going to be instant. Sometimes resolutions will take time.
Finally and most importantly, if you see your child or family member really struggling, Get HELP!  Going to a therapist, counselor, or psychiatrist is not wrong and can be life-saving. I have seen adults not receive help because of what people would say or because families discount the severity of a person's symptoms, telling him or her that their emotional issues are because they lack imaan or that it's black magic. Certainly seek spiritual help but, at the same time, get help from medical specialists who Allah created to help people suffering with mental illness. There are medications that can help treat mental diseases and counseling that can help alleviate suffering.  May Allah guide us and protect us all and grant us the ability to have compassion for those suffering from any illness.
NOTE: Many thanks to MCCA School Counselor Dr. Samar Harfi, PsyD., for her oversight and contributions to the content of this article.
Habeeb Quadri is the MCC Academy Principal and Chairman of Muslim Youth of North America Advisory Board. 
A New Reality : Responding to Suicide
Support MuslimMatters for Just $2
MuslimMatters has been a free service to the community since 2007. All it takes is a small gift from a reader like you to keep us going, for just $2 / month.
The Prophet (SAW) has taught us the best of deeds are those that done consistently, even if they are small. Click here to support MuslimMatters with a monthly donation of $2 per month. Set it and collect blessings from Allah (swt) for the khayr you're supporting without thinking about it.
By Ayan Nur and Mariam Kandil
"Abdullah* had been asking for help, but we didn't get it . . . He was a nice kid. Always polite and respectful — the kind of kid every parent dreamed of. But he had struggled. His father was known to be hot-headed and a number of times people had heard him yelling at Abdullah in the masjid. No one wanted to ruffle the dad's feathers, so everyone remained quiet… Eventually, everyone stopped seeing him at the masjid….And then we find out he committed suicide."
*name changed for privacy
What would you say to your children if they were friends with Abdullah? How would you support them as they grieve the death of their friend? As a community leader or educator, how do you support Muslim children and youth? It is hard to imagine that suicide is even an issue among our young people, but it is happening all across Muslim communities. Suicide can be a sensitive topic, but it is one that needs to be addressed.
The Family & Youth Institute (FYI), a research and education institute that promotes mental health and well being of individuals and families and, specializes in the needs of American Muslims, has developed resources for individuals who might be suicidal, who are suicide attempt survivors, suicide loss survivors, mental health professionals, educators, community organizers, and family and friends affected by suicide. These Suicide Prevention and Intervention Resources include: i) Community Action Guide, ii) Toolkit iii) Prevention Infographic, iv) Intervention Infographic, and v) National Action Alliance for Suicide Prevention Video (featuring Dr. Sawssan Ahmed, an FYI researcher).
As a parent, what can you do to support your grieving child?
Listen
What is most helpful is to listen without judging, interpreting, advising, or evaluating- don't be quick to offer advice and give opinions.
Reflect back to them so that they know they have been heard. For example, "You really get uncomfortable when kids at school talk about your friend. You wish they knew what it's like to have a friend die." Doing this helps children trust that you will listen to them.
Be open to different ways of grieving
Children can have a wide range of reactions and ways of expressing their grief
There is no right or wrong way to grieve – some cry, some lash out in anger and others withdraw
Let them know ALL of their reactions are okay and supporting them to discover what works best for them (as long as their behavior does not hurt themselves or others)
Know that grief doesn't follow a schedule
The stages of grief are: denial, anger, bargaining, depression, and acceptance
Grieving may include one, all, or none of these experiences and they do not occur in any particular order
Let your child know it's common for their feelings, thoughts, and physical responses to change day to day, sometimes minute to minute!
There are different ways to communicate
Children might turn more towards peers or solo endeavors such as music or journaling for comfort and support
Children may not talk with the adults about how they are feeling or even about the person who died
For teens especially, methods of communication that aren't face to face can be easier to navigate.
Passing a notebook back and forth, with the understanding that unless there was a safety concern, nothing written would be brought up in person, to be a great way to open up the lines of communication.
Texting, email, short videos, or written notes – get creative and work with your teen to find what works for both of you.
Know that grief affects children on many levels
Some children:
Have trouble sleeping, especially in the few weeks or months after the death and/or have nightmares
Have short tempers, mood swings, and experience irritability
Can become forgetful, so your child may need extra reminders about chores and plans
Experience difficulty concentrating in class or completing homework
For more information, check out The FYI Suicide Prevention Toolkit, a helpful resource for individuals affected by suicide. The Toolkit is a compilation of videos, articles, infographics and hotlines and is organized into sections by reader (suicidal individual, suicide attempt survivor, suicide loss survivor., etc).
As a community member or leader, what can you do after suicide loss?
The entire community and the peers of the person who died by suicide may also be shocked and trying to comprehend the tragedy. There may be other people who are struggling with suicidal thoughts, have depression, or have experienced this before and are experiencing post-traumatic stress symptoms, amongst other possibilities. Therefore, it is important that the whole community is aware of the way they conduct themselves, especially in the way in which the death is discussed. When talking about the incident, avoid hearsay and gossip and recognize that you do not know what is going on in the minds and hearts of the people around you. Check out the following resources for communities as a whole:
Other resources:
Grief Toolkit: http://www.thefyi.org/toolkits/grief-support-tool-kit/
Crisis Text Line. Text TALK to 741-741 to text with a trained crisis counselor from the Crisis Text Line for free, 24/7.
Muslim Youth 24-hr Helpline: 1.866.627.3342 (http://naseeha.org/)
Stones to Bridge (anonymous support and counseling for Muslim youth) http://www.stonestobridges.org/
Helping those affected by suicide can be difficult and draining, but inshaAllah will be rewarding. The Family and Youth Institute is available to help support the mental health and well being of American Muslims. We hope these resources are beneficial to you and if you have any questions or want more information please visit our website http://www.thefyi.org or contact us at info@thefyi.org.
President Obama's Counter-Terrorism Programs Target Muslim Students in Public Schools
Support MuslimMatters for Just $2
MuslimMatters has been a free service to the community since 2007. All it takes is a small gift from a reader like you to keep us going, for just $2 / month.
The Prophet (SAW) has taught us the best of deeds are those that done consistently, even if they are small. Click here to support MuslimMatters with a monthly donation of $2 per month. Set it and collect blessings from Allah (swt) for the khayr you're supporting without thinking about it.
By Waqas Mirza
As the days of the Obama Administration near their end and cute photo collections and videos of the president's relationship with kids are shared on social media, here is a closer look at some of his administration's policy legacy when it comes to Muslim children [Editor's Note].
Nearly fifteen years of the War on Terror may not have led to any appreciable decline of terrorist groups but they certainly have resulted in the US government coming up with some uniquely comical ideas on how the war should be fought. The State Department once spent millions of dollars for its Center for Strategic Counterterrorism Communications division to troll Islamic State accounts on Twitter. Earlier this year, the State Department offered a $1.5 million grant to produce a "television drama series" aimed at "countering violent extremism among young people in contemporary Afghan society."
One of the more recent ideas, however, is more frightening than funny. The FBI's strategy for Preventing Violent Extremism in Schools aims to recruit teachers and school officials to monitor students for signs of radicalization. The criteria for what may constitute radicalization may as well be designed to facilitate racial and religious profiling and quash political dissent. It includes those who criticize US government policies, have qualms about "western corruption," use "code word or unusual language," and travel to "suspicious" countries. It also reinforces the mistaken belief that there are reliable indicators which may help predict who becomes a violent extremist.
The FBI's strategy came under immediate fire for instructing teachers to effectively "act as puppets of federal law enforcement" and using the threat of terrorism to "justify a massive surveillance apparatus." A coalition of 14 civil liberties organizations pointed out to FBI Director James Comey that the Bureau's strategy "perpetuates profiling and negative stereotypes that Arabs, Sikhs, South Asians, Muslims and those perceived to be Muslim are prone to engage in extremist violence…"
Muslim students already face abuse and bullying in schools and the FBI's strategy is likely to exacerbate this trend. In a study published last year, the California chapter of the Council on American-Islamic Relations (CAIR-CA) reported that 55% of American Muslim students it surveyed admitted being subjected to "some form of bullying based on their religious identity," a rate that was twice as high as the national average.
In addition to the threat of bullying, the FBI strategy also compromise the trust teachers strive to cultivate with students as well as teachers' attempts to encourage original and creative thinking in students. As Congressman Bennie G. Thompson (D-MS) warned in a letter to Attorney General Loretta Lynch, having teachers participate in the FBI's strategy may "chill relationships with students or, for that matter, undermine a supportive learning environment."
These concerns are not merely theoretical. The FBI's strategy is modeled after UK's Countering Violent Extremism (CVE) program known as Prevent. Since the British Parliament passed the Counter-Terrorism and Security Act in 2015, public sector workers such as teachers and doctors have a statutory duty to identify students and patients at risk of violent extremism and report them to Channel, the government's deradicalization program. Some recent reports on Prevent illustrate the problems the FBI's strategy is likely to encounter and the impact it will have on students and teachers.
A survey of 507 social workers carried out by the Children and Family Court Advisory and Support Service (CAFCASS) found that more than 40% were "unconfident about being able to assess an individual's vulnerability to being drawn into terrorism." This is no shock since academic studies suggests there are no reliable indicators which can help predict who will become a violent extremist. A subsequent analysis by CAFCASS of 54 family court cases involving radicalization confirmed that "it is not possible to create a profile of children at risk of radicali[z]ation."
This flawed methodology has resulted in some pernicious effects, as delineated by a recent report by Rights Watch UK. The report assessed that Prevent stigmatizes Muslim students, stifles creativity and free expression, interferes with the right to education, undermines privacy, and may actually promote the very extremism it seeks to curb.
A few examples highlighted by the report provide a snapshot of the effects Prevent has had on students. An eight year-old boy in east London was referred to social services for wearing a shirt with the words, "I want to be like Abu Bakr al-Siddique" (considered to be one of the first converts to Islam and the first Caliph after Mohammad's death). A 17 year-old north London boy was questioned by a "special constable" responsible for Prevent in schools for "handing out leaflets … highlighting the humanitarian emergency and water shortages in Gaza." He was further questioned by two police officers who informed him they were "only looking for certain types of Muslims."
In perhaps the most outrageous case, a 16 year-old Hampshire student with special needs was referred to Prevent for borrowing a book on terrorism from the school library. Understandably, the child's mother was infuriated with this arrangement. In an interview with Rights Watch UK, she asked the most obvious question: "If a child isn't allowed to take a book out of a library and read it, what do they have it for? If that book is in a library any student can go and read it, then if he can't read it, who is allowed to read it?"
As is to be expected, Muslim students are disproportionately targeted by school and government officials under Prevent. According to the most recent data, as the report notes, 57.4% of all referrals were Muslims, despite making up just 4.8% of the UK's population.
In no uncertain terms, the report concluded that the UK government needs to abolish Prevent and provide "reparations to those children and families harmed by the strategy."
There is no reason to believe the results of the FBI's strategy will be any different.
Equally alarming are localized versions of the strategies which are being pursued under the aegis of Countering Violent Extremism (CVE). Boston's CVE framework, for example, insists on the need for behavioral assessment of students from kindergarten all the way to colleges. According to documents released through a Freedom of Information Act request, students in Montgomery County, Maryland, can been identified as vulnerable to extremism simply for exhibiting signs of stress, alienation, and homesickness.
In the UK, Prevent has already faced resistance from community groups. The National Union of Students attacked the strategy for assuming "all Muslim students are suspect before proving otherwise." At their annual conference, the National Union of Teachers voted overwhelmingly to pass a motion opposing Prevent.
In the US, too, there is growing opposition to the FBI's strategy, led by civil rights and Muslim groups. The American Federation of Teachers has recently joined the opposition. In an open letter to the FBI Director James Comey, it argued against "[i]ncreased ideological policing and surveillance efforts" which will "have a chilling effect on our schools and on immigrant communities, jeopardizing children's sense of safety and well-being and threatening the security and sense of trust of entire communities."
Despite the objection of educators, civil liberties groups, and Muslim organizations, the FBI is proceeding with its strategy, subverting the primary functions of schools and turning them into "mini-surveillance states." By alienating students and treating them as suspects, it is likely to encourage violent extremism rather than challenge it.
Waqas Mirza is a writer and journalist focusing on US foreign policy, War on Terror, Islamophobia, surveillance, policing, and development. You can follow him on twitter @waqasahmi.