MuslimKidsMatter | Alhamdulillah Project
Today we will be hearing from Zeynep Tuncer, a 12-year-old living in Newark, Delaware who shares how she feels about saying "Alhamdulillah."  Read on to find out how you can participate in MKM's Alhamdulillah project.
Saying Alhamdulillah
by Zeynep Tuncer
Alhamdulillah. Isn't it amazing how one phrase can mean so many things?  A picture might be worth a thousand words, but a word is worth a thousand pictures.  Anyway, when you stare out your window, do you see a luscious lawn, large houses nearby, some birds twittering and a tree or two in bloom?  You may think, "Doesn't everyone see that view?"  But in reality, there are places that have skies darkened with smoke, concrete roads filled with people fleeing from an endless supply of new dangers, and danger lurking around every corner.
Or think about the projects the youth in my community have worked for.  The people that we raised water for last year in the 1 Year, 100 Wells project through Zakat Foundation of America.  While your sister groans that the pool won't fill up fast enough, there are suffering children who walk miles on an impossible search for a sip of clean water.  And think about the project we are working for this year, raising money for 99 orphans in 9 months.  There are children all around the world who can only imagine what it is like to have a loving mother and a caring father.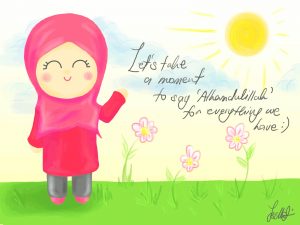 So say alhamdulillah for everything you have.  You have what you need, and then 10 thousand times more.  The next time you're groaning for a new bike or another candy bar, think about what you do have, not what you don't.
[author ]12-year-old Zeynep likes to do crazy things. She loves to read books, any that catch her eye. Besides reading, she enjoys baking and going to interesting places. She also likes to watch TV. Her favorite color is navy blue and she is in sixth grade. Zeynep is a vice president for the DE team of the 99 Orphans Project, a countrywide youth fundraising effort to sponsor 99 orphans in 9 months. She lives in Newark, DE with her parents, sister Rana and brother Hamza Yusuf. [/author]
Zeynep did not always think about gratefulness and saying "Alhamdulillah" for what she had.  Attempting to remember Allah's blessings in a new way, she started a diary for a week.  Every night for one week, she wrote short diary entries, noting down one specific thing she was grateful for in that particular day.  By the end of the week, she had compiled a large collection of things she was grateful for and summarized everything in the article above.
You can try Zeynep's gratefulness project, too!  Write short daily diary entries mentioning what you can say "Alhamdulillah" for.  At the end of the week, send in your best entries to muslimkidsmatter@muslimmatters.org with your full name, age, and area of residence.  A collection of these diary entries will be compiled and featured in a future MKM post, insha Allah.  So what are you waiting for?  Start writing!
(Attention, writers!  Muslim Kids Matter is a regular feature at Muslim Matters.  New articles for kids are posted every other Sunday.  You're welcome to send in your entries to muslimkidsmatter@muslimmatters.org.)