MuslimKidsMatter | Snowflakes Playing "Ring Around the Rosie"
Snowflakes Playing "Ring Around the Rosie"
by Nur Kose
I leaned forward in my seat and stared, stumped, at the laptop screen.  This essay topic seemed just about impossible and I was finding it extremely difficult to figure out what to write.  Suddenly, my sister Huda pushed my room door open and rushed up next to me, her hair flying every which way, her arms waving around in exaggerated movements.  I momentarily stared at her, shocked and frozen in my spot.  But it wasn't the way she had entered the room that startled me; it was what she was saying.
"Abla!  Abla!  It's snowing!  Snowing!"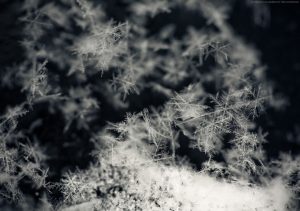 She jumped up on top of my bed, stepping on our sister Meryem's hair, waking her up immediately and causing her to jump up, as well.  I stared at the two girls looking out the window above my bed, oohing and aahing.  Astonished, I kicked my chair back and bounced up onto my table.  I yanked the curtain to the side and then took in a deep breath, awed by the magnificent sight outside my window.  It was snowing and all I could do was mumble, "It's snowing…but it's almost April…it's actually snowing."
During the first two weeks of March, especially when the news reported snowstorms in a few states in the East coast, I frequently found myself gazing out my window, hoping for it to snow.  Soon, however, I gave up what seemed like an impossible dream.
"The snowflakes aren't coming directly down," I realized after observing the snow for a few moments, momentarily forgetting about my schoolwork, laptop, essay and everything else in the world.  "They're swirling around…"
"Yeah."  I whirled around, just then remembering the presence of Meryem who was staring at the snow, too.  "They're going in circles," she said.  "Like they're playing Ring Around the Rosie."  I stared at her, amazed that she could make such a comparison, almost forgetting that she was practically six years old and no longer the baby I think she is.
It was about five minutes after I first saw that it was snowing when I realized that the date was March 21, which is apparently supposed to be the second day of spring.
With the month of April and my April spring allergies approaching quickly, I had not expected to see another snow until next year.  Delaware is not a snowy state, so I wasn't even sure if I could expect it to snow next winter, something difficult for a Syracuse-born girl to handle sometimes.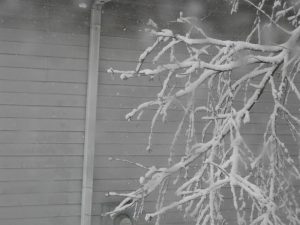 That day I remembered that nothing is impossible for Allah, and He can make it snow whenever He wants.  Allah has given me the chance to witness a snowfall once more this season and it's a blessing for which I am grateful beyond words.
The snow stopped before the hour was finished, but the memory was unforgettable.  I didn't concentrate too well on my studying during that short period of time, but I thought to myself that I could learn more in that half hour by staring out the window than by reading my literature textbook.  I had learned that Allah is all-powerful. Anything He wills can happen.  Delaware is not so boring after all.  March 21st will never again be just a date on the calendar.  And I am the luckiest girl in the world today.
About the Author:
Nur Kose lives in Newark, DE with her parents, two sisters, and two brothers.  She is completing tenth grade with the Indiana University Online High School program and will be 15 in April, insha Allah.  Nur blogs at Youthwiz where she posts stories, poems, news articles, videos, jeopardy games, worksheets for homeschoolers, and more.  She is the founder, editor and manager of AboutCoolBooks, an online book club for elementary and middle school students that allows members to compete in monthly contests and earn cool prizes.  She also teaches weekly writing classes online and is currently teaching a six-week spring writing workshop for fourth and fifth graders at the Zakat Foundation of America DE Community Center.  Nur dreams of attending the Bayyinah Dream program in Dallas, TX.  She is the editor of MuslimKidsMatter.
(Attention, writers!  Muslim Kids Matter is a regular feature at Muslim Matters.  New articles for kids are posted every other Sunday.  You're welcome to send in your entries to muslimkidsmatter@muslimmatters.org.)