One More Record to Break | Charity Week 2012
By: Omar Hafeez-Bore
So here we are, at the start of the article and the starting line of Charity Week 2012.
Yes the Olympics may be over, but there's still one more record to break. It's been a triumphant summer of competition, a heart-stopping, jaw-dropping, record-breaking drama of second-thin victories and centimeter long tragedies; and it has set the bar. What else can we aim for, but a record-breaking Charity Week?
That sounds like a strange link, I know (I wrote it).
But here's the thing, this summer it dawned upon me that Charity Week has outgrown its humble origins and has cemented itself as something akin to the Olympics of student activism.
For those as yet unfamiliar, Charity Week is seven days of fierce competition between universities and colleges, each trying to raise the most money possible for orphans around the world. Last year over 100 Islamic societies coordinated a huge effort that raised £378,000.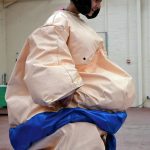 But those numbers convey nothing of the atmosphere, the energy, the variety in Charity Week. Nothing of the sumo-wrestling or singing, the fire-breathing or the bungee jumping. Nothing of the outrageous auction bids nor outstanding costumes, an
d they certainly don't touch upon unresolved rivalries and unexpected camaraderie.
Is it really just a week?
During Charity Week the days seem to grow, to better accommodate the epic tales made in them. Time itself pauses in respect for volunteers choosing to rattle their buckets for just "one more hour," and even in the blackest of night, sleepless sacrifices are made by teams counting money and printing posters, the unsung heroes of Charity Week's nights.
These are volunteers who step up to the challenge of the nitty-gritty, the unseen details, knowing that the tiniest of victories often shine the brightest. Every penny hard-earned is as precious as an Usain Bolt millisecond, every bearded smile or head scarfed humor is a Mo Farah moment of forgotten prejudice, of winning over the home crowd. So many stories, so many anecdotes.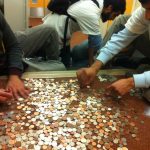 And it's nearly upon us again.
From the moment Charity Week 2011 finished, the 2012 machine, so big and ambitious that it can only run for one dizzying week, has been carefully rebuilt and refined by the National Team. The seven regions of Charity Week UK, their limbs spanning these islands like a great spider of awesomeness, have been refastened and through them connections are being wired to Reps in hundreds of Islamic Societies and schools. All that's left are the volunteers, the very lifeblood of the beast, ready to work and play and compete to put on this show like no other.
Because if not us, then who else?
Charity Week should be our best event, the perfect triathlon of charity, unity and social justice. We are Muslim, this is what we do. Charity is woven into the very fabric of our faith. Unity, the Ummah, is our greatest asset, a concept that can unite men and women of all creeds and class into a single force, powerful enough to achieve anything. Powerful enough to achieve some social justice for Orphans worldwide, knowing that the most just man of all was himself an Orphan.
What happened to us,  man?
These ideas once made us. Wound taut into the very sinews of believing men and women, they propelled actions. They didn't just roll off the tongue and out of mind. Since when did charity become just about money, and not about donating our time and effort? For how long has unity sounded a little quaint? Somehow redolent of ages past, now unfit for a divided world of Muslims who define themselves by their difference and not the power of shared belief.
Can we be surprised that Ihsan, excellence, has become just a dream and not the standard? Our generation takes pride in its history, in the great Ottoman Empire, or astronomy or algebra. What will future generations be desperate to claim from us? GMT (General Muslim Timing)?
I think they will be proud of Charity Week.
It is tomorrow's history, happening now. It's a minor revolution in student activism, organized by Muslims but open to all. There is nothing else like it and, in my humble-but-trust-me-I'm-right opinion; it could be the movement of our times.
Not because it fills banks with the most millions nor fills the whole public conscience, not yet.
It is important because it fills the imagination of thousands of volunteers every year. It promotes a sense of a practical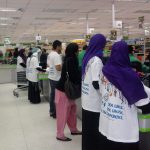 , proactive faith, when too often our Islam is mentally shackled to books and mosque-classes.
Even more, it fills that vague youthful desire to do, to be part of something. These are not the riots of the bored and aimless young, but riots of purpose, with the same energy (and often anarchy) channeled into a nationwide university competition.
Because this is a competition folks, not just with each other (though I do hope Imperial takes Kings down this year), but with ourselves, to bother to get involved, to try and do that bit more.
And in truth, it's a competition with the rest of the world, with media and the maniacs who hijack it. It's a competition to drown out the cacophony of voices and views on Muslims with our own actions, ones that speak so loud they shout.
The race has begun, the crack of the gun has already sounded.
Please don't put this off, let the ideas flow and the barakah begin to multiply. Click the email at the bottom and just send us a quick message (blank if you want), we'll help you get started. Then please take 5 minutes to scribble down one thing you can personally do to raise money, and also scribble down a target you will personally raise. Make it a big 'un, then rise to the challenge.
Because in a few weeks it will all be over, and the result will be decided. But for now, tomorrow's history is still in our hands, and there's still one more record to break.
Let's work hard to make 2012 vintage.
Let's work hard to make it legend.
Let the games begin!
Charity Week is a volunteer-led project that aims to promote Muslim unity upon Islam amongst young Muslims. It is open to all (including non-Muslims) and aims to be the benchmark for Muslim student work in all aspects. For 365 days a year, a team of dedicated brothers and sisters organize to help set up a week-long fundraising competition. It currently takes place in the UK, however, aims to expand abroad. If you are interested in getting involved or franchising the project to your city/ country – get in touch.
Omar- Hafeez-Bore is the Former Charity Week London Team Leader, 2008
[W] – www.onecharityweek.com [T] twitter.com/onecharityweek |
[F] flickr.com/onecharityweek | [F] facebook.com/onecharityweek