Mocking the Prophet, How Should We React?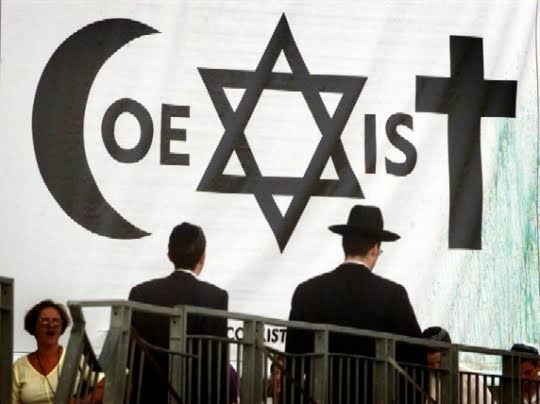 How should we Muslim react to mockery of our Prophet Muhammad

or should we even react at all?
Just like the cartoons few years ago, the Muslim response to the recent film has been very diverse.  From the very mild of responses to the very violent ones, what's most noteworthy is the enormity of the response.  Despite the consensus that the film did not deserve the attention it was getting, social media kept being flooded, and still is, with messages defending the Prophet

.  So, before another incident of mockery takes place, since it seems that it's only a matter of time before someone else tries to play on the sensitivities of Muslims, let's take some time to examine what the Qur'an has to say about this very issue.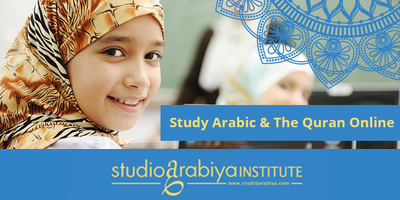 Mockery is Tantamount to Ignorance
Almost every Muslim knows the story of the Cow (Sūrat'l-Baqarah).  After all, the longest chapter of the Qur'an is named after this story.  To get to the gist, there was an unsolved murder that happened among the Children of Israel during the time of Moses [as] (Mūsa).  So Allah revealed to Moses that in order to solve the murder your people have to slaughter a cow.  Of course, when Moses told his people of God's command, their first reaction was shock and disbelief (e.g. what's slaughtering a cow got to do with solving a murder?).  The Qur'an says:

"Remember when Moses said to his people, 'God commands you to sacrifice a cow', they said, 'are you making fun of us?'  He answered, 'God forbid that I should be so ignorant'" [2:67]
So initially, the Children of Israel thought that Moses was mocking them.  But Moses quickly corrected that mockery could never come from a Prophet and he distanced himself from such an act by the expression familiar to Muslims "I seek refuge in God from".  But what we usually miss from this verse is the fact that Moses equated mockery to ignorance.  So a learned man (or woman) should never mock anyone or anything under any circumstance.  So the next question becomes, how do we deal with ignorance or ignorant people?
Ignore the Ignorant
The Qur'an tells us to dismiss the people of ignorance and not to give a lot of attention to them.  It asks us to not engage with them in any conversation, except perhaps to safeguard ourselves from greater harm.  For example:


"Be tolerant, command what's right, pay no attention to foolish people" [7:199]
This is such an important matter that the Qur'an makes it one of the traits of the People of God:

"The Servants of the Lord of Mercy are those who walk humbly on Earth, and who, when the foolish address them, reply 'Peace'" [25:63]
The scholars of Qur'an have differed on the meaning of "peace" here.  Some take it literally that you simply say the Muslim greeting of "Peace".  But others have argued that "Peace" here means that you end the conversation in a peaceful manner.  Regardless of the difference in interpretation, I think we can all agree that the message of the Qur'an is to ignore the ignorant.
On the other hand, we see the Qur'an encouraging us to engage with the people of reason and to even debate them if they have a different point of view:

"Call people to the way of your Lord with wisdom and good teaching, and argue with them in the most courteous way" [16:125]
I mention this here so no one comes and says that Islam forbids conversation with "others." In fact, Islam encourages debate and the exchanging arguments.  But people who mock a religious symbol are not interested in debate or logical arguments.  It is the lack of logical arguments that makes them resort to mockery in the first place!
Spare Me the Mockery
We can't leave this subject without contemplating a very interesting verse that speaks to the heart of the issue at hand.  This verse address the Prophet Muhammad

himself.  It says:

"We have spared you those who ridicule you" [15:95]
In essence, the Qur'an is telling us that when it specifically comes to the issue of mocking the Prophet [SAW], which is exactly the issue that we are dealing with today. Don't take matters in your own hands, rather, God will take care of those who mock the Prophet.
A Call to Respect the Sanctity of Faith Symbols
Lastly, another very interesting and very relevant verse to this discussion in the Qur'an says:

"Do not revile those they call on beside God, so they, in their hostility, revile God, without knowledge" [6:108]
The direct meaning of this verse is that reviling, insulting, or cursing the idols is prohibited because indirectly we are causing our God to be reviled, insulted or cursed.  No matter how much we disagree with idol-worship, we cannot mock, insult, or curse idols, idolaters, or idol-worship.  This verse is also teaching us that there are always consequences to our actions.  Just like we hold our religious symbols very dear to our hearts and we consider them holy or untouchable, people of other faiths will feel the same towards their religious symbols, no matter how ridiculous those symbols may seem to us.  Therefore, we should have mutual respect of religious symbols in order to live together in a civilized manner.  At the least, we should, as they say, respectfully disagree.
Cleaning Out Our Own Closets This Ramadan: Bigotry
Why Eliminating Hate Begins with Us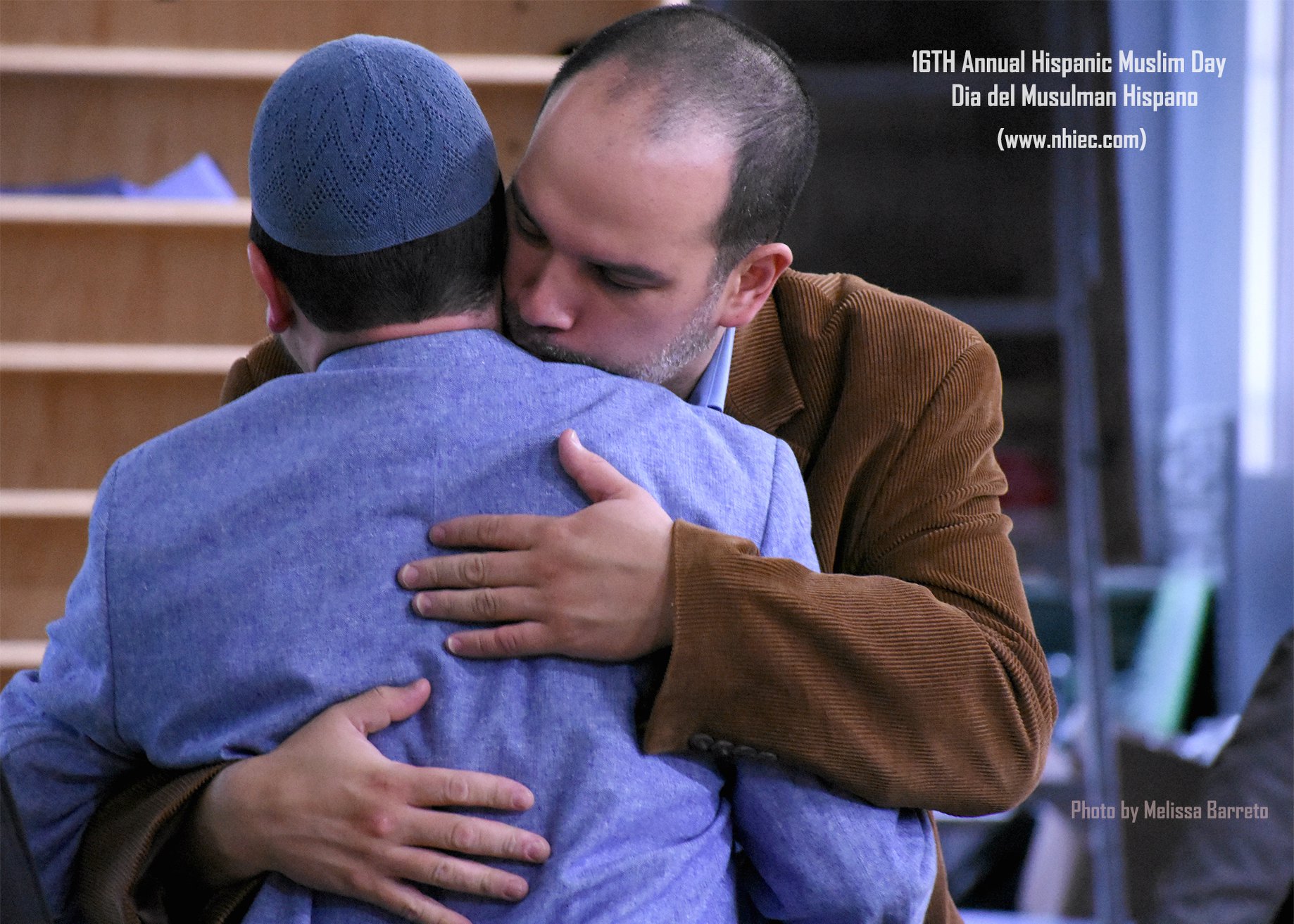 Before Muslims take a stand against xenophobia in the U.S., we really need to eradicate it from our own community.
There. I said it.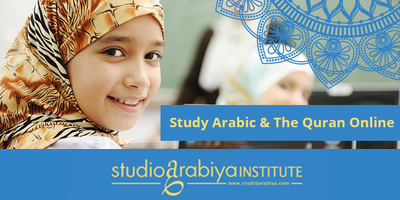 There is no nice way to put it. Muslims can be very intolerant of those outside their circles, particularly our Latino neighbors. How do I know? I am a Latina who came into Islam almost two decades ago, and I have experienced my fair share of stereotypes, prejudice, and just outright ignorance coming from my very own Muslim brethren.
And I am not alone.
My own family and Latino Muslim friends have also dealt with their daily doses of bigotry. Most of the time, it is not ill-intentioned, however, the fact that our community is so out of touch with Latin Americans says a lot about why we are often at the receiving end of discrimination and hate.
"Indeed, Allah will not change the condition of a people until they change what is in themselves…" (The Qur'an, 13:11)
Recently, Fox News came under fire for airing a graphic that stated, "Trump cuts aid to 3 Mexican countries," on their show, "Fox and Friends Weekend." The network apologized for the embarrassing error, but not before criticism of their geographical mishap went viral on social media. The reactions were of disbelief, humor, and repugnance for the controversial news channel that has become the archenemy of everything Islamic. People flooded the internet with memes, tweets, and comments regarding the ridiculous headline, Muslims included. American Muslim leaders quickly released statements condemning the lack of knowledge about the difference between Mexico and the nations of Central and South America.
Ironically, however, just about two months ago, my eldest son wrote an essay about the bullying he experienced in an Islamic school, which included insults about him being Mexican and "eating tacos" even though he is half Ecuadorian (South America) and Puerto Rican (Caribbean), not Mexican. I include the regions in parentheses because, in fact, many Muslims are just as geographically-challenged as the staff at Fox News. When a group of Hispanic workers came to replace the windows at his former school, my son approached them and spoke to them in Spanish as a means of dawah – teaching them that there are Latin American and Spanish-speaking Muslims. His classmates immediately taunted him saying that the laborers were "his cousins." Although my son tried countless times to explain to his peers the difference between his origins and Mexico and defended both, they continued to mock Latinos.
On another occasion, a local masjid invited a famous Imam from the Midwest to speak about a topic. My family and I attended the event because we were fans of the shaykh and admired his work. A few minutes into his talk, he made a derogatory remark about Mexicans, and then added with a smile, "I hope there aren't any Mexicans in the room!" A gentleman from the community stood up behind my husband, who is Ecuadorian, and pointed at him saying, "We have one right here!" Some people chuckled as his face turned red. The shaykh apologized for his comment and quickly moved on. We looked at each other and rolled our eyes. This was nothing new.
Once, I visited a Pakistani sister, and as I enjoyed a cup of warm chai on her patio, she turned to me earnestly and said, "You and (another Latina Muslim) are the only educated Hispanics I know." She then asked me why Latinos did not have "goals and ambitions" because supposedly, all the Hispanic students in her daughters' school only aspired to work in their parents' businesses as laborers. She went on to tell me about her Hispanic maid's broken family and how unfortunate it was that they had no guidance or moral values. I was shocked by her assumptions, but I realized that this was the sentiment of a lot of Muslims who simply do not know a thing about our culture or have not taken the time to really get to know us.
When I accepted Islam back in 2000, I never expected to hear some of the narrow-minded comments and questions I received from those people who had become my brothers and sisters in faith. After all, I came to Islam through the help of an Egyptian family, I declared the Shahada for the first time in the presence of people from Pakistan, and I was embraced in the masjid by worshippers from places like Somalia, Sudan, Palestine, India, Turkey, and Afghanistan. A white American convert gifted me with my first Ramadan guide and an Indian sister supported me during my first fast. I expected to be treated equally by everyone because Islam was for everyone and Muslims have been hearing this their whole lives and they preach it incessantly. I do the same now. As a Muslim Latina, I tell my people that Islam is open to all and that racism, colorism, classism, and xenophobia have no place in Islam.
Nevertheless, it did not take long for me to hear some very ugly things from my new multi-cultural community. I was questioned about whether I was a virgin or not by well-meaning sisters who wanted to find me a Muslim husband. My faith was scrutinized when my friend's family introduced me to an imam who doubted I had converted on my own, without the persuasion of a Muslim boyfriend or husband. I was pressured about changing my name because it was not "Islamic" enough. I was lectured about things that I had already learned because foreign-born Muslims assumed I had no knowledge. I was even told I could not be a Muslim because I was Puerto Rican; that I was too "out there," too loud, or that my people were not morally upright.
I know about good practicing Muslim men who have been turned down for marriage because they are Hispanic. On the other hand, I have seen sisters taken for marriage by immigrant Muslims to achieve citizenship status and later abandoned, despite having children. I have been approached by Muslim men searching for their "J-Lo," who want to marry a "hot" Latina because of the disgusting exploitation of Latina women they have been exposed to from television, movies, and music videos. I have made the mistake of introducing this type of person to one of my sisters and witnessed their disappointment because she did not fit the image of the fantasy girl they expected. I have felt the heartbreak of my sister who was turned down for not living up to those unrealistic expectations, and who continues to wait for a Muslim man who will honor her as she deserves. An older "aunty" once said to my face that she would never let her children marry a Latino/a.
I met a brother named José who was told that he had to change his un-Islamic Spanish name so that he would be better received in the Muslim community, even though his name, when translated to Arabic, is Yusuf! I have been asked if I know any Hispanic who could work at a Muslim's store for less than minimum wage 12 hours a day or a "Spanish lady" who can clean a Muslim's house for cheap. I have spoken to Latino men and women who work at masajid doing landscaping or janitorial services who have never heard anything about Islam. When I approached the Muslim groundskeeper at one of these mosques with Spanish literature to give them, he looked at me bewildered and said, "Oh, they are just contractors," as if they did not deserve to learn about our faith! I have heard that the child of a Latina convert was expelled and banned from returning to an Islamic school for making a mistake, once. I have been told about fellow Hispanics who dislike going to the masjid because they feel rejected and, worse of all, some of them have even left Islam altogether.
A few weeks ago, news was released about the sentencing of Darwin Martinez Torres, who viciously raped and murdered Northern Virginia teen, Nabra Hassanen during Ramadan in June 2017. The story made national headlines and left her family and the entire Muslim community devastated. Although the sentence of eight life terms in prison for the killer provided some closure to the public, the senseless and heinous act still leaves sentiments of anger and frustration in the hearts of those who loved Nabra Hassanen. Muslims began sharing the news on social media and soon, remarks about the murderer's Central American origin flooded the comments sections. One said, "An illegal immigrant from El Salvador will now spend the rest of his life in a U.S. prison where all his needs will be met, and his rights will be protected… When we attack efforts to stop illegal immigration and to deal with the criminals coming across the border every day, remember Sr. Nabra… we should all be united in supporting common-sense measures to ensure that our sisters do not walk in fear of attacks. (And no, this is not an 'isolated case'…)."
Although I was just as relieved about receiving the news that there was finally justice for our young martyred sister, I was saddened to see that the anti-Hispanic immigrant sentiment within our own community was exposed: To assume that Latino immigrants are "criminals coming across the border every day" is to echo the very words that came from current US President Donald Trump's mouth about immigrants prior to his election to the presidency. To blame all Latinos for a crime committed against one and claim it is not an "isolated case" is to do the same thing that Fox News and anti-Muslim bigots do when they blame all Muslims for a terror attack.
Why are we guilty of the same behavior that we loathe?
I do not like to air out our dirty laundry. I have always felt that it is counterproductive for our collective dawah efforts. It is embarrassing and shameful that we, who claim to be so tolerant and peaceful, still suffer from the very attitudes for which we blame others. As I write this piece, I have been sharing my thoughts with my close friend, a Pakistani-American, who agreed with me and said, "Just like a recovering alcoholic, our first step is to admit there is a problem." We cannot demand our civil rights and expect to be treated with dignity while we mistreat another minority group, and this includes Latinos and also other indigenous Muslims like Black Americans and Native Americans. I say this, not just for converts, but for my loud and proud, half Puerto Rican and half Ecuadorian children and nephews and others like them who were born Muslims: we need a community that welcomes all of us.
Latinos and Muslims share countless cultural similarities. Our paths are the same. Our history is intertwined, whether we know it or not; and if you don't know it, then it is time you do your research. How can we visit Islamic Spain and North Africa and marvel at its magnificence, and travel to the Caribbean for vacation and notice the Andalusian architecture present in the colonial era structures, yet choose to ignore our shared past? How can you be proud of Mansa Musa, and not know that it is said his brother sailed with other Malians to the Americas prior to Columbus, making contact with the indigenous people of South America (even before it was "America")? How can you turn your back on people from the countries which sheltered thousands of Muslim immigrants from places like Palestine, Lebanon, Syria, and Turkey after the collapse of the Uthmani Empire, many of which carry that blood in their veins?
We need to do a better job of reaching out and getting to know our neighbors. In recent years, the Muslim ban has brought Latinos and Muslims together in solidarity to oppose discriminatory immigration laws. The time is now to establish lasting partnerships.
Use this Ramadan to reach out to the Latino community; host a Spanish open house or an interfaith/intercultural community iftar. Reach out to Latino Muslims in your area for support, or to organizations like ICNA's WhyIslam (Por qué Islam) for Spanish materials. A language barrier is not an issue when there are plenty of resources available in the Spanish language, and we have the universal language that has been declared a charity by our Prophet, Muhammad

, and that is a welcoming smile.
There is no excuse.
#UnitedForOmar – Imam Omar Suleiman Smeared by Right-Wing News After Opening Prayer at US House of Representatives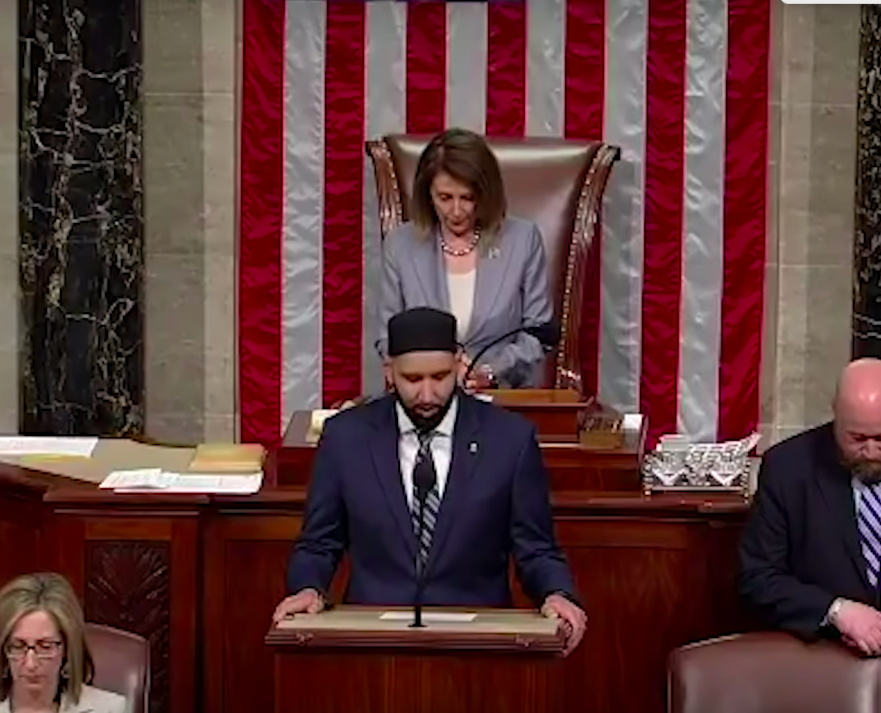 Sh. Omar Suleiman delivered the opening prayer in the US House of Representatives yesterday, May, 9th, 2019  at the invitation of Rep. Eddie Bernice Johnson (D) of Dallas.
Immediately since, right wing media platforms have begun spreading negative coverage of the Imam Omar Suleiman – calling him anti-semitic, a common tactic used to discredit both Muslim activists as well as criticism of Israel policies.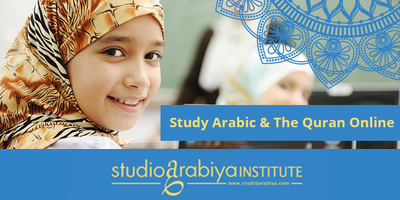 News outlets citing the criticism have pointed to a post from The Investigative Project on Terrorism or ITP, as the source. The  ITP was founded by and directed by noted Islamophobe Steven Emerson. Emerson's history of hate speech has been documented for over two decades.
Since then, the story has been carried forward by multiple press outlets.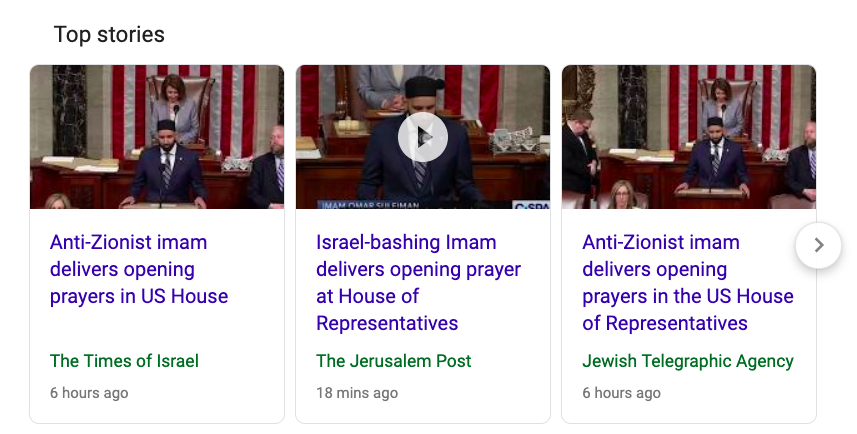 The immediate consequence of this has been the direction of online hate towards what has been Imam Omar Suleiman's long history of preaching unity in the US socio-political sphere.
"Since my invocation I've been inundated with hate articles, threats, and other tactics of intimidation to silence me over a prayer for unity," Imam Omar Suleiman says. "These attacks are in bad faith and meant to again send a message to the Muslim community that we are not welcome to assert ourselves in any meaningful space or way."
MuslimMatters is proud to stand by Imam Omar Suleiman, and we invite our readers to share the evidence that counters the accusations against him of anti-semitism, bigotry, and hate. We would also encourage you to reach out, support, and amplify voices of support like Representative E.B.Johnson, and Representative Colin Allred.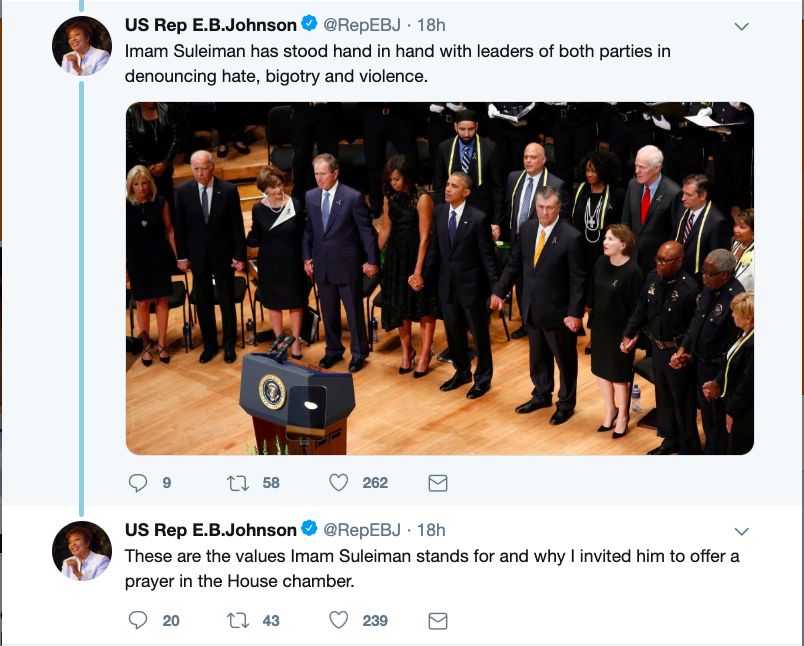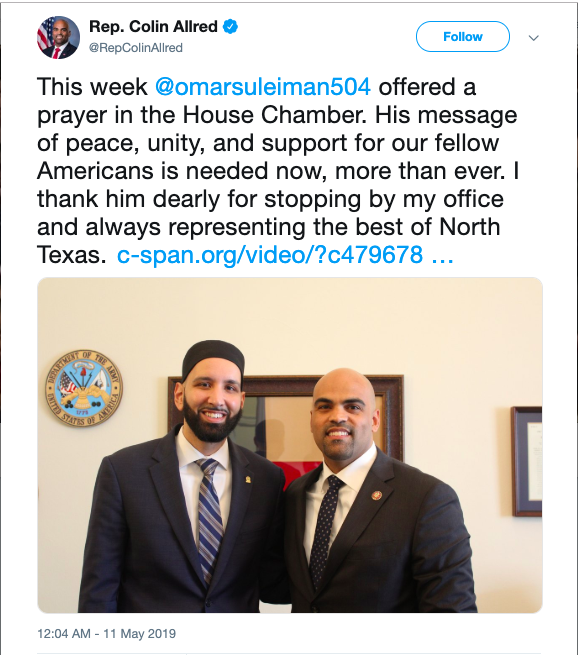 You can help counter the false narrative, simply by sharing evidence of Imam Omar Suleiman's work. It speaks for itself, and you can share it at the hashtag #UnitedForOmar
JazakAllahuKheiran
---
At an interfaith panel discussion, three North Texas religious leaders promoted understanding and dialogue among Muslims, Jews, and Christians. Amid a vexed political and social climate, three religious leaders in North Texas—a priest, an imam, and a rabbi—proved it's possible to come together in times of division. Source: DMagazine.com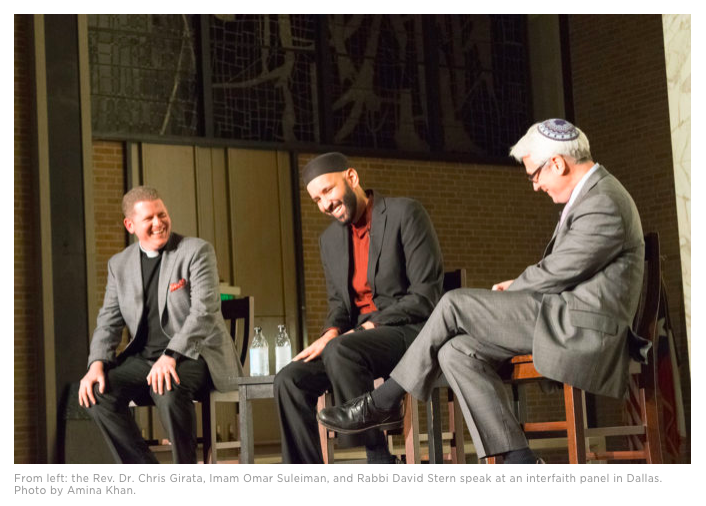 ---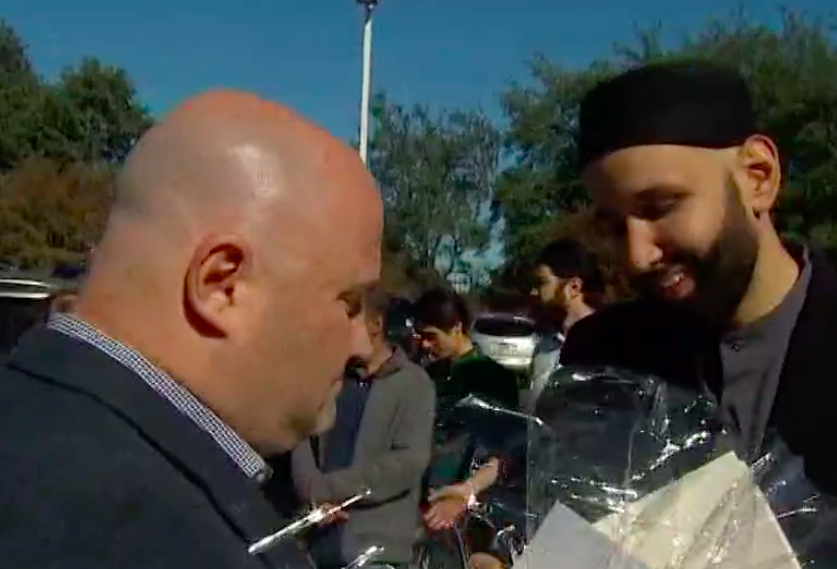 The congregation, led by Imam Omar Suleiman, penned more than 150 cards and letters. source: WFAA News
---
"We must recognize that the white supremacy that threatens the black and Latino communities, is the same white supremacy that spurs Islamophobia and antisemitism," -Imam Omar Suleiman
Source: Bend The Arc
---
"When any community is targeted, they need to see a united faith voice — that all communities come together and express complete rejection of anything that would pit our society against one another more than it already is." -Imam Omar Suleiman
Source: Kera News

---
Source: The Carter Center
---
Imam: After devastating New Zealand attack, we will not be deterred
"My wife and I decided to take our kids to a synagogue in Dallas the night after the massacre at Tree of Life in Pittsburgh to grieve and show solidarity with the Jewish community. My 5-year-old played with kids his age while we mourned inside, resisting hate even unknowingly with his innocence…" Source: CNN
How to Teach Your Kids About Easter
Don't tell my dad this, but growing up, I was sure I wanted to be a Christian. It had nothing to do with the theology though, it was – really and truly – all about the chocolate.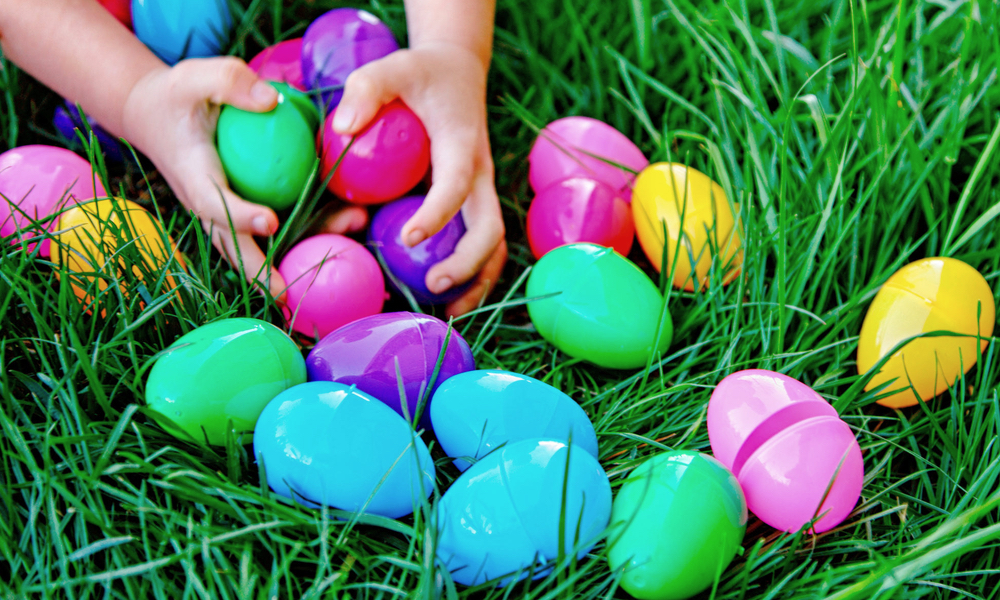 Don't tell my dad this, but growing up, I was sure I wanted to be a Christian. It had nothing to do with the theology though, it was – really and truly – all about the chocolate.
Don't get me wrong, I did not grow up in any sort of conservative, chocolate-deprived bubble. My mother was – and still is – a Christian. My father was – and still is – Muslim, and our home was a place where two faiths co-existed in unapologetic splendor.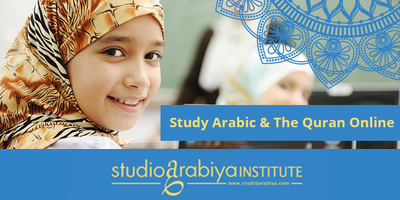 My mother put up her Christmas tree every year.  We children, though Muslim, received Easter baskets every year. The only reason why I wished I was Christian too, even though I had no less chocolate in my life than other children my age, was because of the confusing guilt that I felt around holiday time.
I knew that the holidays were my mother's, and we participated to honor and respect her, not to honor and respect what she celebrated. As a child though, I really didn't understand why we couldn't celebrate them too, even if it was just for the chocolate.
As an adult I've learned that I'm not alone in this conflicted enthusiasm for the holidays of others. Really, who doesn't like treats and parties and any excuse to celebrate? As a parent though, I've decided that the best policy to use with my children is respectful honesty about where we stand with regard to other religions.
That's why when my children asked me about Easter, this is what I told them:
The holidays of every religion are the right of the people who follow them. They are as precious to them as Eid and Ramadan are to us.
Part of being a good Muslim is protecting the rights of everyone around us, no matter what their religion is. There is nothing wrong with non-Muslims celebrating their religious non-Muslim holidays.
We don't need to pretend they're not happening. Respectful recognition of the rights of others is part of our religion and our history. We don't have to accept what other people celebrate in order to be respectful of their celebrations.
The problem with Muslims celebrating non-Muslim religious holidays is that we simply don't believe them to be true.
So when it comes to Easter specifically, we break it down to its smaller elements.
There is nothing wrong with chocolate. There is nothing wrong with eggs. There is nothing wrong with rabbits, and no, they don't lay eggs.
There is nothing wrong with Easter, but we do not celebrate it because:
Easter is a celebration based on the idea the Prophet Isa

was Allah's son, who Allah allowed to be killed for our sins. Easter is a celebration of him coming back to life again.
Depending on how old your child is, you may need to break it down further.
Allah

Created the sun, Allah is not a person whose eyes can't even look directly at the sun. Allah Created space, Allah is not a person who can't survive in space. Allah Created fire, Allah is not a person who cannot even touch fire. Allah is not a person, He does not have children as people do. Prophet Jesus [alayis] was a messenger of Allah, not a child of Allah.
Allah is also the Most-Merciful, Most-Forgiving, and All-Powerful. When we make mistakes by ourselves, we say sorry to Allah and try our best to do better. If we make mistakes all together, we do not take the best-behaved person from among us and then punish him or her in our place.
Allah is Justice Himself. He is The Kindest, Most Merciful, Most Forgiving Being in the entire universe. He always was, and always will be capable of forgiving us. No one needed to die in order for Allah to forgive anyone.
If your teacher failed the best student in the class so that the rest of the students could pass, that would not be fair, even if that student had offered that. When people say that Allah sacrificed his own son so that we could be forgiven, they are accusing Allah of really unfair things, even if they seem to think it's a good thing.
Even if they're celebrating it with chocolate.
We simply do not believe what is celebrated on Easter. That is why we do not celebrate Easter.
So what do we believe?
Walk your child through Surah Ikhlas, there are four lines and you can use four of their fingers.
Allah is One.
Allah doesn't need anything from anyone.
He was not born, and nor was anyone born of Him. Allah is no one's child, and no one is Allah's child
There is nothing like Allah in the universe
Focus on what we know about Allah, and then move on to other truths as well.
Christians should absolutely celebrate Christian holidays. We are happy for them.
We do not celebrate Christian holidays, because we do not accept what they're celebrating.
We are very happy for our neighbors and hope they have a nice time.
When your child asks you about things like Christmas, Easter, Valentines, and Halloween, they're not asking you to change religions. They're asking you for the chance to participate in the joy of treats, decorations, parties, and doing things with their peers.
You can provide them these things when you up your halal holiday game. Make Ramadan in your home a whole month of lights, people, and happy prayer. Make every Friday special. Make Eid amazing – buy gifts, give charity, decorate every decorat-able surface if you need to – because our children have no cause to feel deprived by being Muslim.
If your holidays tend to be boring, that's a cultural limitation, not a religious one. And if you feel like it's not fair because other religions just have more holidays than we do, remember this:
Your child starting the Quran can be a celebration
Your child finishing the Quran can be a celebration
Your child's first fast can be a celebration
Your child wearing hijab can be a celebration
Your child starting to pray salah can be a celebration
Your children can sleep over for supervised qiyaam nights
You can celebrate whatever you want, whenever you want, in ways that are fun and halal and pleasing to Allah.
We have a set number of religious celebrations, but there is no limit on how many personal celebrations we choose to have in our lives and families. Every cause we have for gratitude can be an opportunity to see family, eat together, dress up, and hang shiny things from other things, and I'm not talking about throwing money at the problem – I'm talking about making the effort for its solution.
It is easy to celebrate something when your friends, neighbors, and local grocery stores are doing it too. That's probably why people of many religions – and even no religion – celebrate holidays they don't believe in. That's not actually an excuse for it though, and as parents, it's our responsibility to set the right example for our children.
Making and upholding our own standards is how we live, not only in terms of our holidays, but in how we eat, what we wear, and the way we swim upstream for the sake of Allah.  We don't go with the flow, and teaching our children not to celebrate the religious holidays of other religions just to fit in is only one part of the lesson.
The other part is to extend the right to religious freedom – and religious celebration – to Muslims too. When you teach your children that everyone has a right to their religious holidays, include Muslims too. When you make a big deal out of Ramadan include your non-Muslim friends and neighbors too, not just because it's good dawah, but because being able to share your joy with others helps make it feel more mainstream.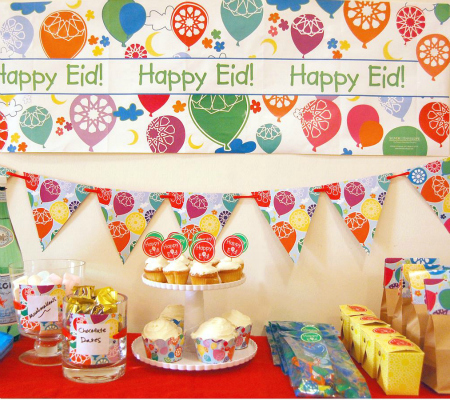 Your Muslim children can give their non-Muslim friends Eid gifts. You can take Eid cookies to your non-Muslim office, make Ramadan jars. You can have Iftar parties for people who don't fast.   Decorate your house for Ramadan, and send holiday cards out on your holidays.
You can enjoy the elements of celebration that are common to us all without compromising on your aqeedah, and by doing so, you can teach your children that they don't have to hide their religious holidays from the people who don't celebrate them.  No one has to. And you can teach your children to respect the religions of others, even while disagreeing with them.
Judaism, Christianity, and Islam are bound by a common thread, and there is much we come together on. Where the threads separate though, is still a cause for celebration. Religious tolerance is part of our faith, and recognizing the rights of others to celebrate – or abstain from celebration – is how we celebrate our differences.