4 Ways that London 2012 Made Muslims Feel Welcome
Every time you look at the news, you can't help but be hit by at least one Islamophobic story. Well, at least that is the way I felt for a long time. Whether it was a scare over how halal food was infiltrating British supermarkets or indignation over how Muslims were all inherently bent on the violent destruction of Western civilization – I despaired of ever seeing Muslims being treated with a modicum of decency and respect. Then came the London Olympics and I was pleasantly surprised to find an altogether different picture.
4. Visibly Muslim Volunteers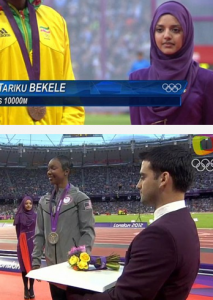 Out of the different organisations that were involved in volunteering for the games, there were many who hired people who looked visibly Muslim. Whether it was security guards with long beards or stewards with hijabs, this must have seemed incredibly lax for those countries that are currently debating whether to ban any outward sign of Islamic faith in their citizens. In fact, the global audience watching the games must have noticed that there were Muslims participating in the opening, closing and medal ceremonies. To put this in context, a summer camp in France recently fired 3 Muslim men just because they were fasting. Meanwhile, some Muslim stewards at the Olympics went about their duty with a Quran in hand to benefit as much as possible from recitation during Ramadan.
3. Olympic village canteen open all night for fasting athletes
It was a topic of much fascination in the British media that the Olympics would coincide with Ramadan. Without being judgmental, most articles reflected the wide variety of opinions out there with some athletes choosing to continue fasting, others to postpone till later in the year and still others to pay for the meal of 60 poor people in expiation. The Olympic organising committee prepared for any eventuality by making sure that the canteen in the athletes village was open 24 hours a day so that Muslims could take suhoor if they so wanted. Compare that to most international hotels who still don't offer such services and you realise what a nice gesture this is.
2. Allowing dawah in/ around the Olympic park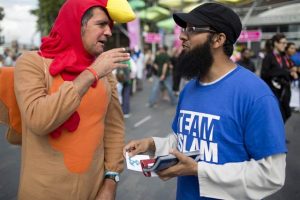 Muslims are used to being persecuted or at the very least being harassed for undertaking work inviting others to Islam. The level of difficulties varies from country to country. However, during the Olympics, Muslim groups actively went about in large groups giving dawah in and around the Olympic park. Armed with flashy leaflets, Qurans and a zeal for the faith, Muslims competed with Christians, Vegans and even the odd chicken to gain new converts from the huge crowds enjoying the sporting events. Without fear of persecution, Muslims operated in that rarest of areas – a level playing field.
1. Celebrating Muslim Olympians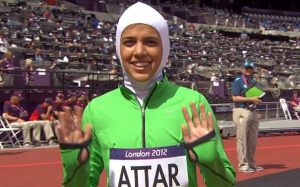 By far, one of the most heartening sights of the Olympics was to see largely non-Muslim crowds deliver standing ovations for Muslim athletes. Whether it was for Mohamed Farah (the Muslim double gold medal winner) or Sarah Attar (the hijabi Saudi athelete who finished last in her competition), the crowds in the Olympic stadium had been generous and vocal in their support and appreciation. What the motives for the applause are can be debated for a long time, but it makes a welcome change from the abuse and suspicion that Muslims are so used to in other times and places.
Of course, we know that it is not out of an appreciation for Islam that Muslims were treated with a degree of sensitivity. This article is also not about the Islamic rulings on various aspects of the Olympics and being involved in them. However, in a day and age when other countries are tripping over themselves to ban halal food, circumcision, the hijab, niqab and almost anything else associated with our faith, the London 2012 Olympics made a welcome change.