My Dear Ramadan Stay-at-Home Mom, I Salute You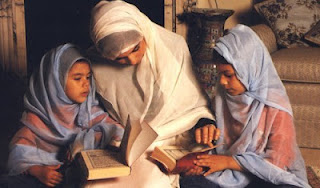 My dear Ramadan stay-at-home mom,
I know how much pain it causes you to stay behind at home, taking care of your children while everybody else is enjoying their ṣalāt and tarāwīḥ at the masjid. I know how embarrassing it is for you to come to the masjid with a great hope to be welcomed; you and your little child only to receive the angry looks upon hearing the first cry of your child. I know how much you yearn to go back to the old days before you got married or before you had children, to enjoy a peaceful hour of 'ibādah at the masjid and to have no worries about anything else in the world, let alone a child under your care. I know that all of this is not even close to how you feel about yourself and Ramadan, or about your self-worth in this blessed month of Ramadan while trying to enjoy your 'ibādah and fulfill your spousal and parental role all at the same time. For all of this and more, my dear Ramadan stay-at-home mom, I salute you, and may Allah reward you.
Let me share with you few things hopefully it will cheer you up during your stay at home experience in this month of Ramadan.

1.  You are not alone in this.
Even the female companions of Rasūlullāh

felt the same way. They were watching men going to the masjid, attending Jumu'ah and ṣalāt with the Messenger of Allah

, listening to the beautiful reminders about this world and the hereafter and doing so many other great deeds. As they were confined to their houses and to the care of their families, they felt underachieving and as if they were left out. How could they even match men in reward when they could not do so much? The answer came from the Messenger of Allah

himself.
Asmā' bint'l-Sakan al-Anṣāriyyah, on behalf of the women in Madīnah, came to the Prophet

while he was surrounded by his companions and asked boldly:  "O Messenger of Allah! The men have taken all your time…" and she complained that men are entitled to the reward of the congregational prayers, Fridays, fighting with him and other works of good deeds while women were confined to their houses and taking care of their children. She asked if women share men in the reward for what they are doing. The Messenger of Allah

replied, "Go back to the women who sent you and let them know that treating their husbands kindly and taking care of them is equivalent to that all you mentioned." Reported by al-Bazzar and al-Ṭabarāni
This ḥadīth has always been used to highlight the status of husbands over their wives. Unfortunately, rarely was it used to the advantage of women. This ḥadīth gives women the privilege of earning the reward for participating in a myriad of devotional acts such as ṣalāt, fasting, Ḥajj among many other good deeds only by taking care of one single thing, the familial duty. Taking care of the house chores and being kind to the husband are not that easy either, but it's what most women usually and normally do. They are kind by nature, and sacrifice their lives for their family. They are being rewarded immensely for what they naturally do. This is why spousal duty was made the most dangerous for women to neglect, because it was the most rewarding.
2.  Don't be sad about praying at home
One of the biggest misconceptions about ṣalāt at the masjid is that it is considered a privilege and is only granted to men. Well, it's not a privilege. It's a responsibility that men are required to observe at all times unless there is an excuse for them not attend.
When a blind man, Ibn Umm Maktoom, asked the Messenger of Allah

to excuse him from attending congregational ṣalāt at the masjid, he had no one to lead him to the masjid. The Messenger of Allah

asked him if he was able to hear the adhān, and upon replying in the affirmative, the Messenger of Allah

said to him, "I have no excuse for you." Reported by Muslim and Aḥmad. And in the ḥadīth of Abu Hurayrah in Bukhāri and Muslim, the Messenger of Allah

threatened to smoke men out of their houses for not attending 'ishā'and fajr ṣalāt in the masjid.
Therefore, for men it is a duty to attend the masjid and not a privilege. Their reward starts higher at the masjid and is reduced elsewhere while for women it's the opposite.
3.  You can still come to the masjid
As long as they maintain the proper dress code and etiquette for going to the masjid, women can still come and attend ṣalāt at the masjid. So don't take me wrong when I say it's better for them to pray at home, the Messenger of Allah

has granted them this right in the ḥadīth:
"Do not ban the female slaves of Allah (i.e. women) from attending the houses of Allah (i.e. masjids)." reported by Bukhāri and Muslim.
However, women were given a privilege many men wish they had, which is to get the reward for praying at the masjid while still doing it at home. The Messenger of Allah said, "A woman's ṣalāt at home is better for her than at the masjid." Reported by Aḥmad, Abu Dāwūd and al-Tirmidhi.
The question is, why? Is it because women are unworthy of coming and attending ṣalāt in the house of Allah? Is it because they are inferior to men? The answer is absolutely no! It is simply a beautiful gesture from the Messenger of Allah in consideration to women's hectic circumstances at home.
Imagine this: to get the 27 degrees reward for congregational prayer, a mother of three young children is required to attend the masjid regularly? How feasible could that be? Not that easy for sure. As a matter of fact, it would be frustrating and perhaps a reason for women to feel guilty and trapped in their own circumstances. Well, rest assured my dear Ramadan stay-at-home mom, your reward has been secured for you while doing what you usually do with no extra effort on your part. Men, on the other hand, are required to make the effort and the trip to the masjid to attend the congregational prayer. As for you, all you need to do is just make your wuḍū' at home, and pray your ṣalāt on time and enjoy your stay at home.
4.  Why should women come to the masjid?
Why would women even want to attend the masjid? There are so many legitimate reasons for that, but enough for them is the right Allah's Messenger

granted them. However, here in the West, there aren't that many outlets for women to learn their dīn and learn how to practice it in private or public life, and for many, the masjid is the only outlet there. In addition to that, the masjid has become a community center in which families get together and enjoy being in a safe haven. The question for Muslims in the West is not "should women come to the masjid?" but "how can we make the best accommodation for them?"
My dear Ramadan stay-at-home mom,
You might ask, "what if I want to come to the masjid to attend tarāwīḥ?" What's wrong with that? There is nothing wrong with it unless it leads to neglecting more important duties and family priorities. This issue of women coming to the masjid for tarāwīḥ represents a very important community dilemma: are masjids well prepared to receive that many sisters and children?
Many masjids and Islamic centers in America were designed based on how masjids are built in traditional Muslim countries. In these countries, women were not expected to attend the masjid – not necessarily because they were discouraged from attending, although in some countries it is the case, but also because women had many other outlets besides the masjid from which they could learn the practice of their dīn and enjoy spiritual experience.  Therefore, the women's section was always underserved and sometimes completely overlooked.
The Islamic centers in America and the West were designed and planned when the community was predominantly an immigrant community, and women were also expected to follow the same traditional role. In many cases, community leaders didn't even think about it as an issue, but with the rise of the new generation and their struggle to fit youth programs within the structure of the masjid, women needed better service at these masjids. Many new masjids today are being designed and built with this need in the minds of the designers and, contrary to traditional masjids, are viewed as family-friendly masjids.
Masjids with traditional designs were not prepared to receive many women and children. They don't have the space, the childcare service, and in many cases the proper women organization for these kinds of events, not to mention the parking spaces. Therefore, if some centers were hostile to women and children from a fiqh point of view, others simply just don't have the proper facility to offer even a mediocre service let alone a professional one for them.
5.  Your period is for your recreation
My dear Ramadan stay-at-home mom,
Don't you sometimes want to take a break from so many things in life, such as waking up early for fajr, so you can take that extra time you deserve for rest? Well, you work so hard and you deserve that break. When you are asked to stop fasting and praying during this time and required to stay at home instead of coming to the masjid, it does not mean you are less righteous. The ḥadīth women are "naqisatu 'aqlin wa dīn" refers to women's reason and practice of devotional acts as being less comparing to men (and this is not the place to debate the meaning of this ḥadīth). The ḥadīth speaks about "less" in what women do, not less in who they are or what they become during that time of the month.  It's about quantity not quality.
When the Messenger of Allah

explained his words, he counted what women usually stop doing during their period, not what they stop becoming, because they never stop becoming devotional or righteous because of what they have no control over (i.e. their period).
Obviously if you stop practicing particular devotional duties during your period for few days it does not make you less righteous, it only makes you less "doing." After all, even women such as Khadījah, Fāṭimah and 'Ā'ishah were menstruating women, and still they were by far of the most righteous, among women and men, of all time.
Therefore, when your period starts it is more righteous and more devotional to stop great devotional acts such as ṣalāt, fasting, reciting the Qur'an and attending the masjid. Sounds like a paradox, but it is what it is. It's all about obeying Allah

and His Messenger Muhammad

. However, you can still do lots of other good deeds, including reading tafsīr and the translation of the Qur'an.
My dear Ramadan stay-at-home mom,
If you decided to come to the masjid with your children, unless the masjid provides childcare service, please make sure your children stay under your supervision and make sure to respect your masjid's regulations. The ḥadīth that bans children from attending the masjid is very weak, but being considerate to others is still essential too. Here are few suggestions you may want to consider:
1.  Try to get a group of sisters together to take turns babysitting their children in the masjid.  A couple of sisters can stay with the children while  the others pray, and after two or four rakʿahs they switch until the end of the ṣalāt.
2.  If the masjid does not have enough room, you could babysit at the house of one the participating families. In this case, you stay at home one night while others pray and then rotate so that everybody gets a chance to host the children and enjoy praying.
3.  Young parents?!  The husband and wife can help each other in the same manner – it is part of being kind to one another. I have also seen some young fathers get together in one house and do their tarāwīḥ in jama'ah at home with their young babies around and their wives pray that night at the masjid. It's your priority to pray at the masjid, but part of your good manners is to consider your wife's need too.
My dear Ramadan stay-at-home mom,
If you decided to pray at home, here are few tips for you:
1.  Pray with your children if you can, and lead them even if they were boys younger than ten.
2.  Do not follow any live broadcast of ṣalātul tarāwīḥ of the Internet or TV.  Pray on your own.
3.  Even though it's permissible to hold the muṣḥaf and recite from the Qur'an directly, it is still better for you to recite from memory.
4.  If you don't know much of the Qur'an, you can still repeat the same sūrah over and over again until the recitation is long enough for you.
5.  It is permissible to dim the lights around the house in order to get more focus and concentration.
6.  Pray it in the best way you can, and may Allah reward you for your good intention.
My dear Ramadan stay-at-home mom,
Thank you for your patience.
Yaser Birjas
4th of Ramadan 1433
July 24, 2012
Swallowing Your Pride For A Moment Is Harder Than Praying All Night | Imam Omar Suleiman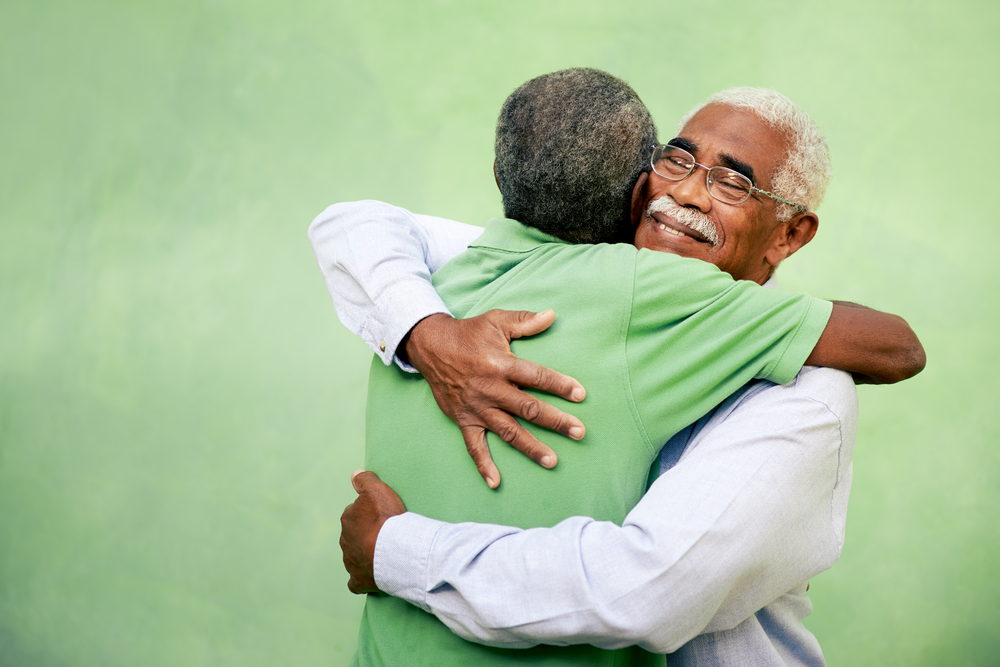 Iblees was no ordinary worshipper. He worshipped Allah for thousands of years with thousands of prayers. He ascended the ranks until he accompanied the angels with his noteworthy worship. Performing good deeds was no issue for him. He thanked Allah with his prayers, and Allah rewarded him with a lofty station in Paradise. But when Adam was created and given the station that he was, suddenly Iblees was overcome by pride. He couldn't bear to see this new creation occupy the place that he did. And as he was commanded to prostrate to him, his pride would overcome him and doom him for eternity. Alas, swallowing his pride for one prostration of respect to Adam was more difficult to him than thousands of prostrations of worship to Allah.
In that is a cautionary lesson for us especially in moments of intense worship. When we exert ourselves in worship, we eventually start to enjoy it and seek peace in it. But sometimes we become deluded by that worship. We may define our religiosity exclusively in accordance with it, become self-righteous as a result of it, and abuse people we deem lesser in the name of it. The worst case scenario of this is what the Prophet (peace be upon him) said about one who comes on the day of judgment with all of their prayers, fasting, and charity only to have it all taken away because of an abusive tongue.
But what makes Iblees's struggle so relevant to ours? The point of worship is to humble you to your Creator and set your affairs right with His creation in accordance with that humility. The Prophet (peace be upon him) said that whoever has an atom's worth of pride in their heart would not enter paradise. The most obvious manifestation of that pride is rejecting the truth and belittling someone else. But other subtle manifestations of that pride include the refusal to leave off argumentation, abandon grudges, and humble yourself to the creation in pursuit of the pleasure of the Creator.


Hence a person would rather spend several Ramadan's observing the last 10 nights in intense prayer seeking forgiveness for their sins from Allah, rather then humble themselves for a moment to one of Allah's servants by seeking forgiveness for their transgressions against him, even if they too have a claim.
Jumah is our weekly Eid, and Monday's and Thursday's are our weekly semblances of Ramadan as the Prophet (s) used to fast them since our deeds are presented to Allah on those days. He said about them, "The doors of Heaven are opened every Monday and Thursday, and Allah pardons in these days every individual servant who is not a polytheist, except those who have enmity between them; Allah Says: 'Delay them until they reconcile with each other"
In Ramadan, the doors of Heaven are opened throughout the month and the deeds ascend to Allah. But imagine if every day as your fasting, Quran recitation, etc. is presented to Allah this month, He responds to the angels to delay your pardon until you reconcile with your brother. Ramadan is the best opportunity to write that email or text message to that lost family member or friend and say "it's not worth it to lose Allah's forgiveness over this" and "IM SORRY."
Compare these two statements:
The Prophet

said: "He who boycotts his brother for more than three days and dies during this period will be from the people of hellfire."
He also said:
"I guarantee a house in the suburbs of Paradise for one who leaves arguments even if he is right."
Swallowing your pride is bitter, while prayer is sweet. Your ego is more precious to you than your sleep. But above all, Allah's pleasure is more precious than it all.
Fall Apart: Be Weak to Find Strength in Allah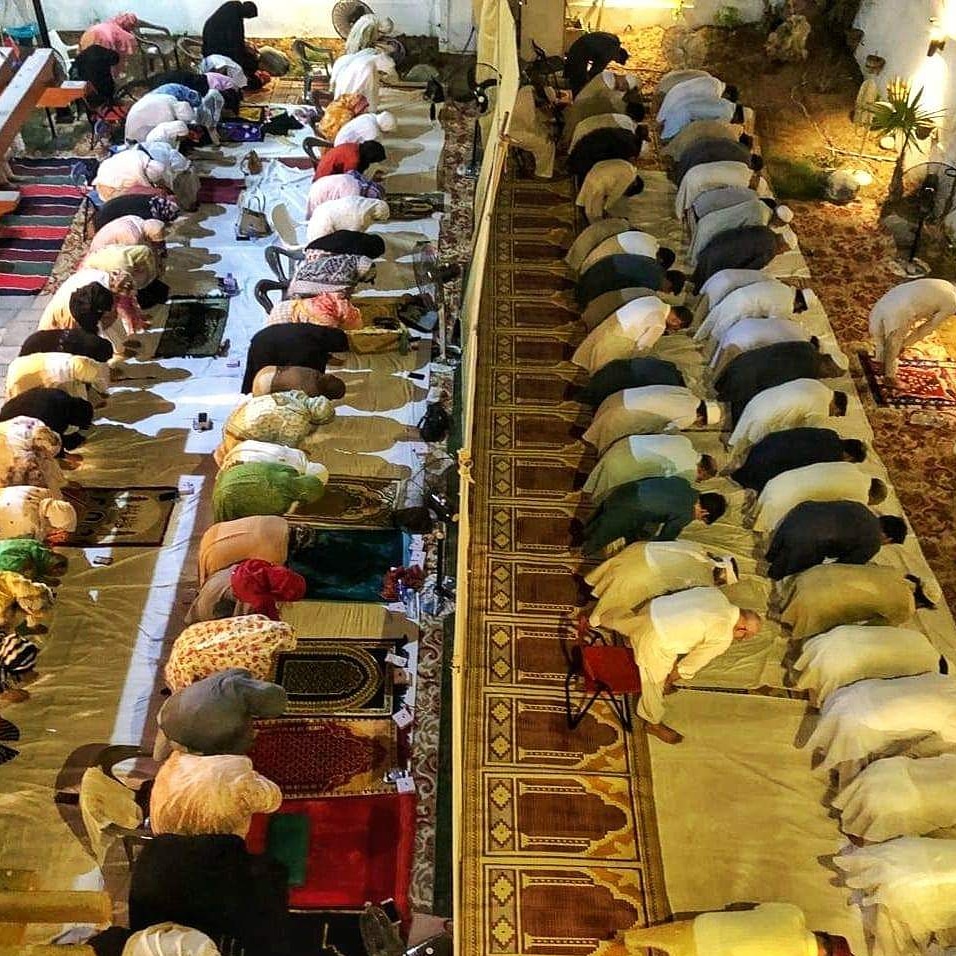 Growing up in Jeddah, every evening in Ramadan, we would pile into our car and whiz off to the mosque for Taraweeh prayers to Shoaibi Mosque and spend a few spell-bound hours under the reassuring baritones of Sheikh Abdullah Basfar. His beautiful voice became the anthem of my childhood in many ways but more than his voice, it was the building of tradition and memory that became ingrained in my system. By doing the same thing, day in, day out, year in, year out, my parents gave us a sense of stability and predictability that set the tone for our entire adolescence.
How that rhythm seeped into the very bones of who I am is something I am still discovering well into adulthood.
Last night, standing in my grandmother's garden in Karachi, I experienced my first Taraweeh Khatam-e-Quran since leaving my parents home in Jeddah so many years ago. It is also, incidentally, my first Ramadan without both my parents, who last year seemingly decided they would much rather be together in Jannah than spend more time in this rubbish world and in quick succession, returned to their Maker, leaving me understandably grieving, awash in memories, struggling to steer my ship.

And so it was, that by the time the imam reached Surah Qadr, I was chokey. By Surah Kawthar, I had tears streaming down my face. And by the time the last three surahs, the comforting Quls, began, I was openly sobbing. Probably more openly than what is considered socially appropriate…but honestly, I was restraining myself. Because what I actually felt like doing was throwing my head back and howling up at the sky. Thankfully, I was flanked by women who knew, who understood, who with tears in their own eyes, let me be with my heaving shoulders and a chest that felt it would crack open under the weight of my emotions.
As the imam had recited surah after surah and the end of the Quran had approached, the ghosts of Ramadan Past had flooded into me and my body had remembered. It had remembered years and years of experiencing that same excitement, that same sense of weight as Sheikh Abdullah Basfar gently and methodically guided us over the course of the month through the Book of all books, that same uplifting, heartbreaking, momentous trepidation of offering something up to Him with the hope that He would bestow something shining in return.
Had this Book been revealed to a mountain, the mountain would have crumbled. You get a tiny glimpse of that weight when you complete a khatam. Here I am, Allah, here I am, in my little hole-y dinghy, with my itty bitty crumbs of ibaadah. Pliss to accept?
Back in Jeddah, after the khatam, we would pile back in the car and go for ice cream. Last night in Karachi, after the khatam, the Imam gave a short talk and in it he mentioned how we are encouraged to cry when conversing with Allah. We should beg and plead and insist and argue and tantrum with Him because He loves to be asked again and again. We live in a world of appropriateness, political correctness, carefully curated social media feeds and the necessity of putting our best, most polished face forwards at all times. How freeing then, that when we turn to our Lord, we are specifically instructed to abandon our sense of control. All the facades and the curtains are encouraged to be dropped away and we stand stripped to our souls in front of Him. In other words, He loves it when we fall apart. Which is exactly what I had just done.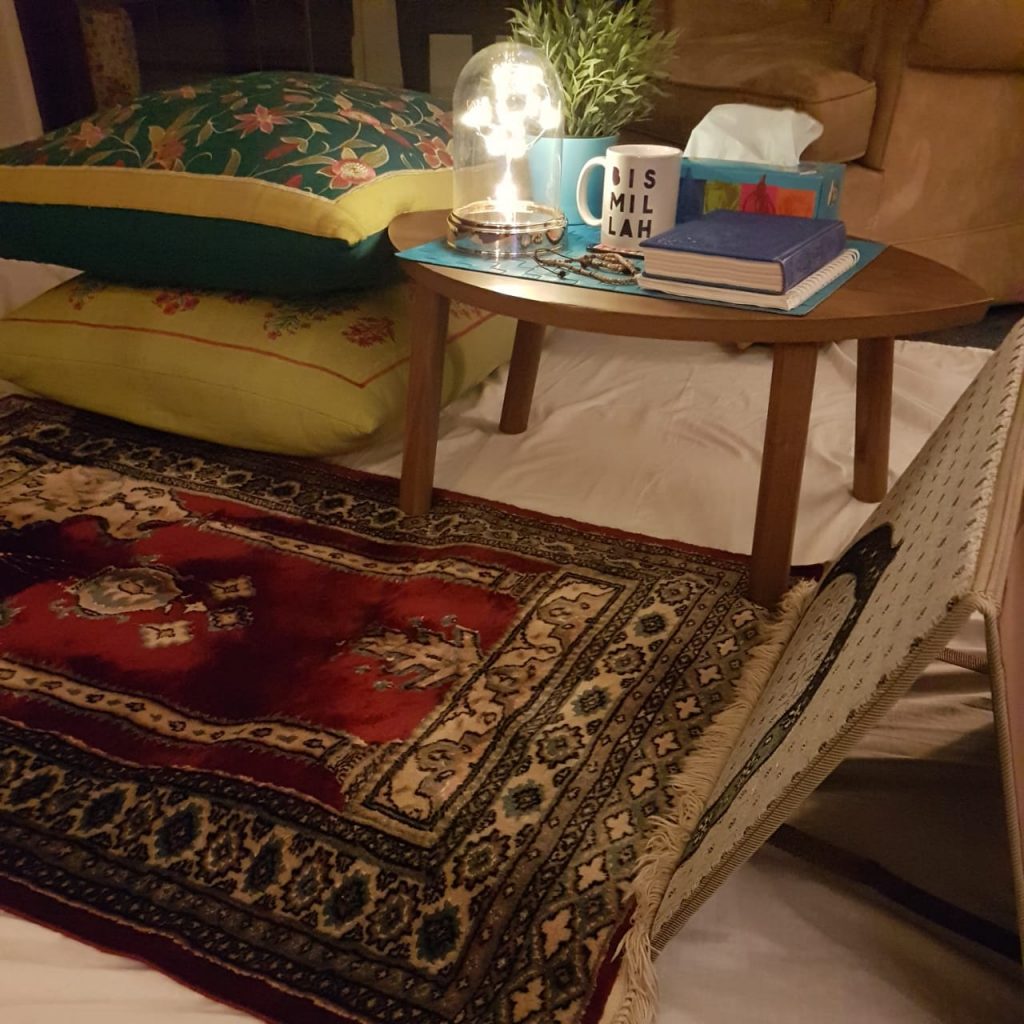 Last night, I found myself wondering what exactly had I cried so hard over. Which tears were for Him and the desperate desire for His mercy? Which were for the loveliness of the Quran, the steadying rhythm of it, not just verse to verse but also, cover to cover? Which tears were for the already achey yearning of yet another Ramadan gone past? Which were for my breaking heart that has to soon face my first Eid day and all the days of my life without my beloved Mumma and Baba? Which tears were of gratitude that I get to stand on an odd night of the best time of the year, alongside some of my dearest people, in the courtyard of a house full of childhood memories, under the vast, inky, starry sky and standing there, I get to fall apart, freely, wholly, soul-satisfyingly?
And which tears were of a searingly humbling recognition, that I am so wildly privileged to have this faith of mine – the faith that promises if we navigate the choppy dunya waters right, we will be reunited with our loved ones in a beautiful, eternal place, that if we purposely, and repeatedly crumble under the weight of our belief in Him and His plans, our future is bright?
Today, I'm convinced that it doesn't matter why I cried. Because here is what I do know:
1. "If Allah knows good in your hearts, He will give you better than what was taken from you…" (8:70)


2. "If Allah intends good for someone, then he afflicts him with trials." Prophet Muhammad ﷺ

3. "Wondrous is the affair of the believer for there is good for him in every matter and this is not the case with anyone except the believer. If he is happy, then he thanks Allah and thus there is good for him. If he is harmed, then he shows patience and thus there is good for him." Prophet Muhammad ﷺ
In losing my parents, I have drawn closer to Allah. And though I miss them dizzyingly, I am so thankful that through the childhood they gave me, through the anchoring to the Quran they gifted me with, through their own tears that I witnessed during those long-ago khatams in the Shoaibi Mosque in Jeddah, they left me with the knowledge that if in losing them, I have gained even an atom's worth more of His pleasure, then that's a pretty great bargain.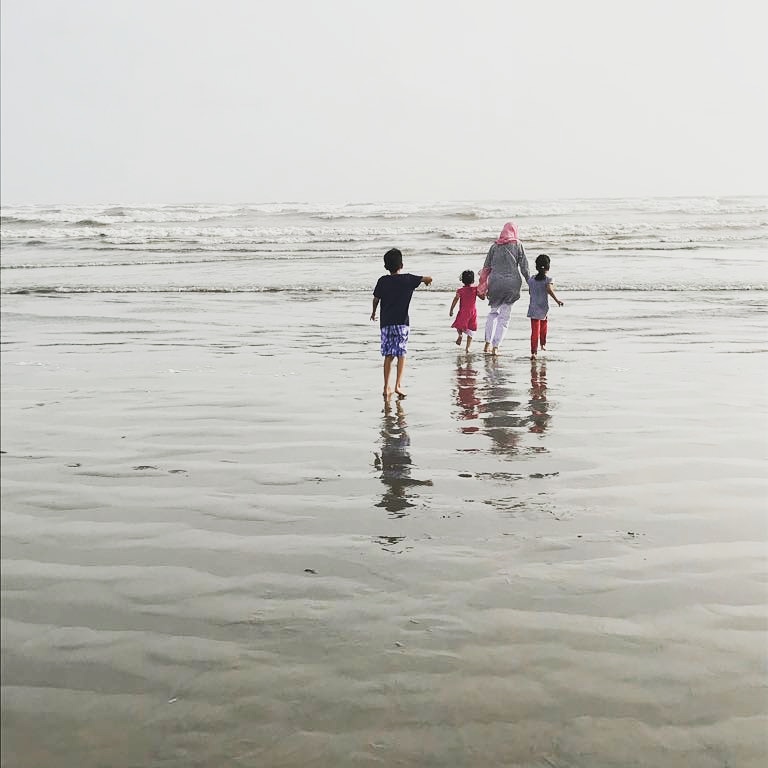 As a parent of three young ones myself, I've spent my days teaching my children: be strong, be strong, be strong. Stand tall, stay firm, be sturdy in the face of the distracting, crashing waves of the world. But now I know something just as important to teach them: be weak, be weak, be weak.
Crumble in front of Him, fall apart, break open so that His Light may enter and be the only thing to fill you. It's not easy but it will be essential for your survival in the face of any loss, grief, trial and despair this world throws your way. It will help you, finger to tongue, always know which way the wind is blowing and which way to steer your ship. Straight in to the sun, always. To Jannah. Because how wondrous are the affairs of us Muslims that when it comes to our sorrows and our hopes, out there on the horizon of Allah's wise plans, it all shimmers as one – The grief of what is, the memory of what was and brighter than both, the glittering, iridescent promise of what will be.
Heart Soothers: Shaykh Ibrahim Osman