Bomb blast in Karachi Pakistan targets house of SSP CID Chaudhry Aslam, School district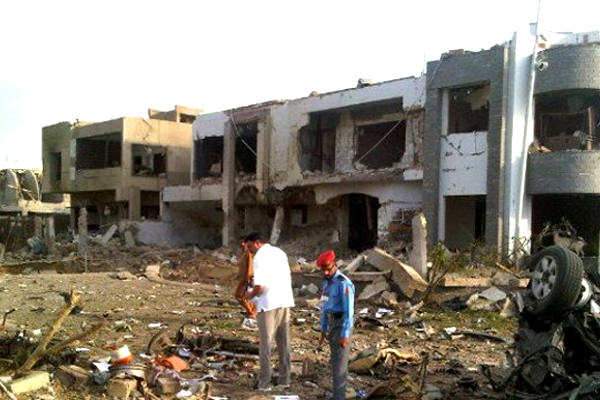 Five days ago, my emotions were high as I wrote the preface to Taliban attack school bus kill 4 children | Peshawar Pakistan.
Attacking children was a real low. However, it was still out in Peshawar. Today, the horror came very close to home as a bomb blast outside the house of Senior Superintendent of Police (SSP) Criminal Investigation Department (CID) of Pakistan, Chaudhry Aslam. Aslam heads the counter-terrorism unit of the CID in Karachi. According to Ali Chisti of The Friday Times, "Chaudry Aslam is the one who killed Rehman Dakait (a notorious gangster in Karachi), captured numerous TTP, alQaeda & Quetta Shura members."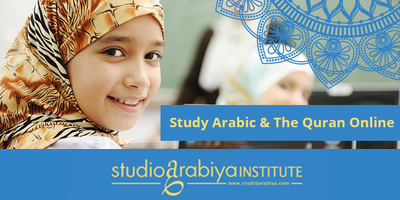 What makes ones blood boil is that Aslam's house is right next to 3 major schools of Karachi and the area has several more in the vicinity. Thus, the blast which occurred at 7:26 am was at a time when the area was filling up with school going children and their parents. Had the blast occurred 10-15 minutes later the carnage would have been horrible. The initial reported death count is 08 people which includes 06 policemen and a child and her mother. The child went to the school my cousin's wife teaches at and their children study there. They were safe Alhamdulillah but it was terrifyingly very close to home. Not that the death of any in Karachi is superior to that of that the people in Peshawar and other areas. Tehrik-i-Taliban Pakistan claimed responsibility for the bombing, saying Aslam had arrested and killed many of its fighters. "We will attack other police officials as well who are taking action against our people," TTP spokesman Ehsanullah Ehsan told Reuters by telephone from an undisclosed location.
[youtube]http://www.youtube.com/watch?v=nCcZ7Qvgzj4[/youtube]
Speaking to the media right after the blast (partial video above), Aslam remarked:
"I was sleeping when they carried out this cowardly act and rammed a vehicle packed with explosives into my house."

"I will not be cowed. I will teach a lesson to generations of militants."

"I did not know that these terrorists were such cowards that they would attack sleeping children."
Karachi, has not been a stranger to violence and around 10000 civilians have been killed in Karachi since 2002 due to ethnic, political, sectarian violence and incidents of terrorism. In August alone more than a 100 people were killed due to ethnic violence.
Citizen's Reactions
Some of the tweets this morning showed the reaction of citizens:
#karachi blast happened outside our friends house 32nd lane (adjacent to SSP house) house totally damaged kids family safe (via @DrAwab)
Our friends driver was killed he was ringing the house bell to call out the kids and take them to school – family immensely traumatised (via @DrAwab)
Its time to raise ur voice against these brutal inhumane terrorists responsible for slaying our little children daily. #Pakistan #terrorism (via @RiazToori)
"Damn , if I wanted a holiday for my birthday, I would DEFINITELY not want one if it meant a bomb blast wd occur" – schoolgirl #Karachi (via @BeenaSarwar)
"We saw this guy next to our car, his face was filled with blood and he was waiting for the ambulance!" – says my daughter's friend #Karachi (via @BeenaSarwar)
Trying to explain to my 4yr old – who's just woken up – why its not safe to go to school. #hatethis #Karachi (via @SalmaJafri)
"the blast was shit scary!" – friend of my daughter on facebook chat #karachi #blast (via @BeenaSarwar)
Blast was more powerful than needed to target just the SSP's home: 6-10 ft crater, nearby cars and houses damaged, massive sound (via @MadihaSattar)
The school teacher who was killed worked at Washington International School. Always used to reach early. Colleague of my mother's student. (via @Sabeen)
Just spoke to wife who's at the scene. The explosion happened right behind X's school. They would've been there at the time of blast if not for the wrongly parked car blocking ours in the apartment. (via @farrukhahmed)
Kid's school closed for next 3 days , all windows blown out (via @schawlaf)
Kids have nerves of steel, if we'd seen this much carnage at our times, many would be needing psychological help #Karachi #ChangingTimes(via @schawlaf)
People plan for next 10 years or even next 10 days, here you can't even plan the next day (via @schawlaf)
#Pakistan – all is well until it doesn't happen to you and when it does you are just news :'(
Related articles
My Heart Shook In New Zealand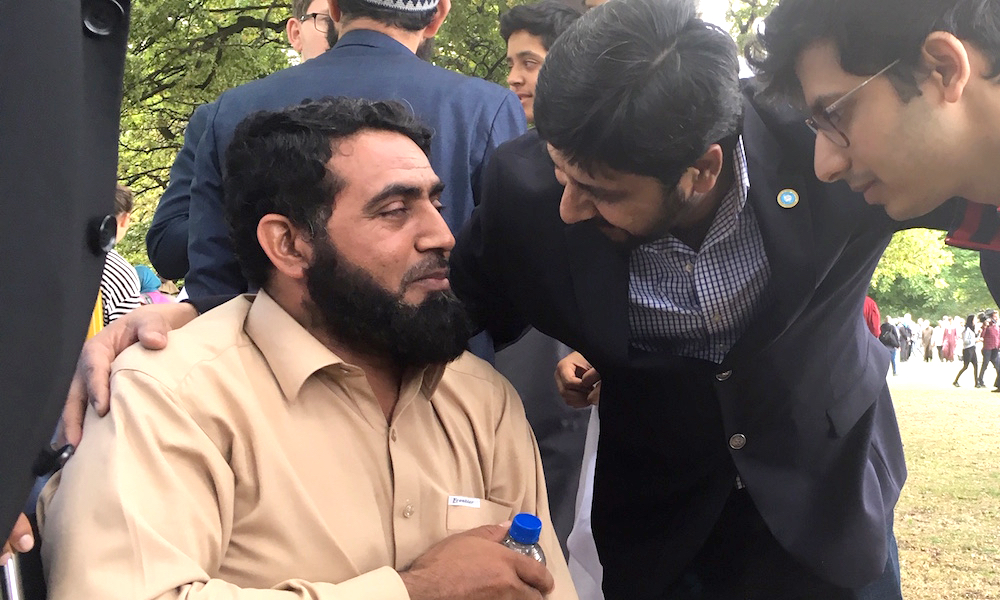 One would imagine that a person would be dead-tired and ready to crash in his bed after a grueling, 36-hour journey from Christchurch, New Zealand to Washington, DC. And I will admit, that was the way I felt. Yet somehow, all my somnolence vanished as soon as my head rested on my pillow and I closed my eyes to rest. A wave of recollections fell over me: memories of the survivors, the emotions they expressed, and their feelings of an uncertain future as they planned their lives after the loss of their family members. These feelings instantly took away all the desire to get rest and sleep. I sit upright now and begin writing this reflection of a once in a lifetime experience- a voyage of grief and hope to Aotearoa- land of the white cloud as the indigenous people call New Zealand.
With lost baggage, long flights and too many connections, at times it seemed unlikely that my eldest son Moaz and I would make it to Jumm'ah and Janazah prayers in Christchurch, New Zealand. But Allah

accepted our prayers so that we could fulfill the guidelines set by our beloved, the Prophet Muhammad

. We were able to fulfill one of the rights of a Muslim over the others; that when he is sick visit him, and when she dies, offer her funeral and be part of her burial.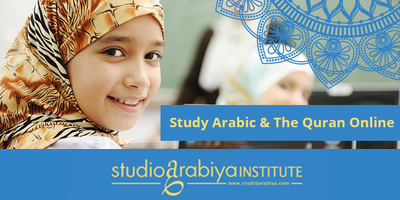 Hagley Cricket Ground was supposed to have a cricket test match between Bangladesh and New Zealand that Friday. Commentators reckon that it would have been the final day of that test match. But the 22nd of March 2019, brought a much bigger crowd to this world-famous cricket ground than what anyone would have seen on the final day of that test match.
Officials and security directed us towards the VIP area as they wanted to pay respect to the guests who traveled all the way from the USA, Canada, and Australia. The environment of love, solidarity, and respect, coupled with the hijab-clad women standing in solidarity with Muslims in that enormous crowd, created an impact which cannot be articulated by mere words. Every single uniformed female officer was carrying their firearm while donning a hijab; creating a welcoming gesture in a rather somber and gloomy atmosphere.
I do not have the words to thank the leadership of Charity Australia and the Islamic Forum of Australian Muslims (IFAM) for providing us with logistics, facilitating meeting the families of the "shuhudaa" (martyrs) and arranging to visit those injured in the tragedy. ICNA, Helping Hand, and Charity Australia banners highlighting the slogans of "American Muslims stand in solidarity with Victims of Christchurch New Zealand" were the center of attention for thousands of local New Zealanders gathered in solidarity that day. Their hugs, sincere prayers and tearful eyes were the greatest gift that I want to share with everyone reading these reflections.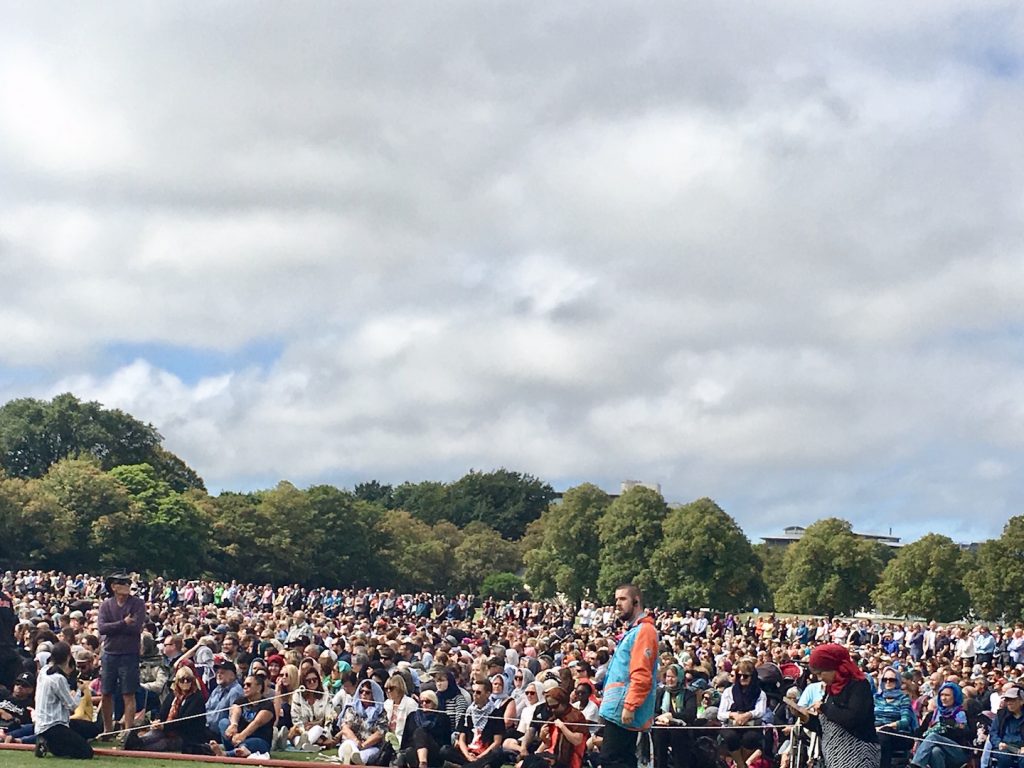 Right after Jumm'ah, the majority of the crowd attended the collective Janazah prayer of 27 of the martyrs. In those emotional moments, I met with the most courageous woman on earth, the wife of 51-year-old Shaheed Naeem and the mother of 21-year-old Talha Naeem, the two spirited souls who gave their lives to save others in the mosque that day. She is one of the strongest women I have ever met. She mentioned that her husband, Naeem, was a person who lived the life of a man of service, always ready to help others. She described Talha as an angel who was too pious and too noble to be away from Jannah too long. We heard similar feelings from Naeem's mother (grandmother of Talha) the next day when we visited their home.
The visit to the home of New Zealand's national soccer team player, Atta Elayyan (33), was not only emotional but also deeply inspiring. Atta lost his life and his father (the founder of Al-Noor Masjid) was severely injured during this brutal and hateful attack. There were several scholars from the United States, including Sheikh Omer Suleiman, in the visit to Atta's home. We could offer nothing to console the brave mother of this shaheed, who greeted us with words of courage and wisdom. We had no words to accompany the tears in our eyes, except prayers for the most noble young man who helped so many in coming close to Allah

.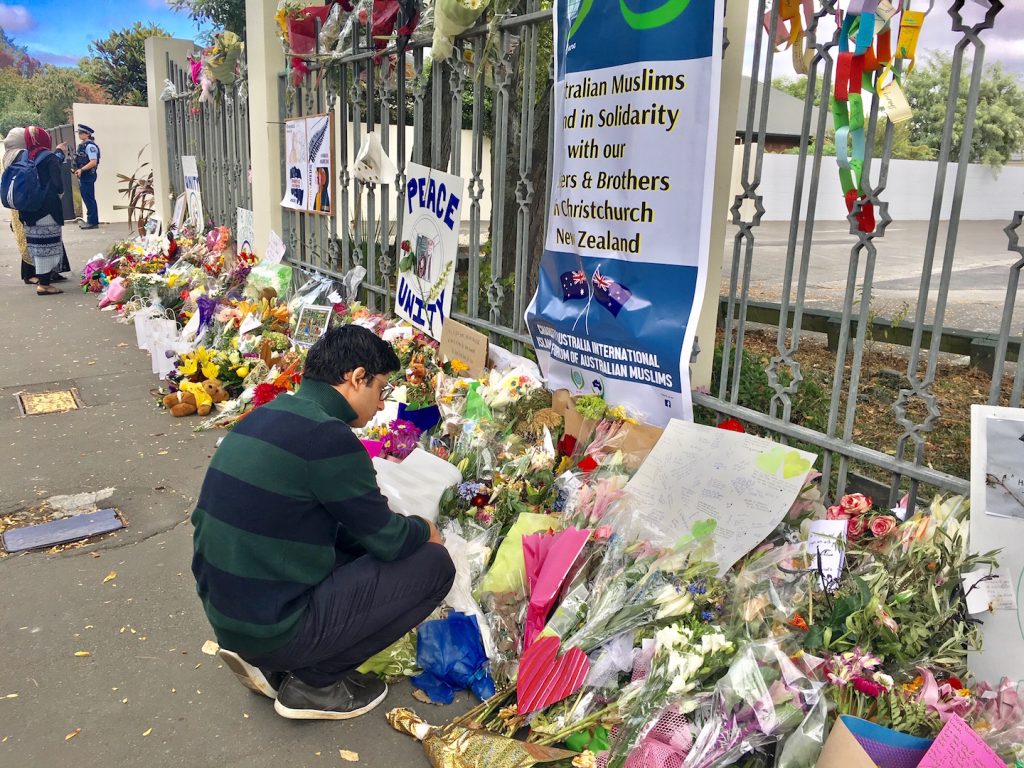 Our visits to Al-Noor Masjid and the Linwood Islamic Center were also filled with memories of love, harmony, and reverence. There was a continuous influx of hundreds of visitors, not only from New Zealand, but also from different countries including, but not limited to, Australia, Fiji, and Canada.  Thousands and thousands of flower bouquets and other items of love were left by these visitors. I was really thrilled to see that local Muslims left many Qur'ans and flyers with basic concepts of Islam and addressing the common misconceptions about Islam for those visiting. I witnessed many people visiting these mosques were taking those Qur'ans and other books with them in order to learn more about Islam.
We also met Mr. Aziz, the unsung hero who repeatedly attacked the killer with different objects including an empty gun —which the killer had discarded. The terrorist fired on Aziz multiple times, but Allah

not only saved him, but he also forced the killer to flee from the Linwood Islamic Center. Mr. Aziz was one of the reasons why the number of casualties in this mosque was only seven, compared to the 43 martyrs in Masjid Al-Noor. We also met certain individuals whom Allah

saved miraculously. A young man showed his trousers fenestrated with holes of bullets but had no signs of injury. The husband and wife who entered the premises of the mosque and only to be showered with a burst of 26 bullets while in their car, leaving it completely destroyed. Yet Allah

saved both of them while they took shelter in their vehicle.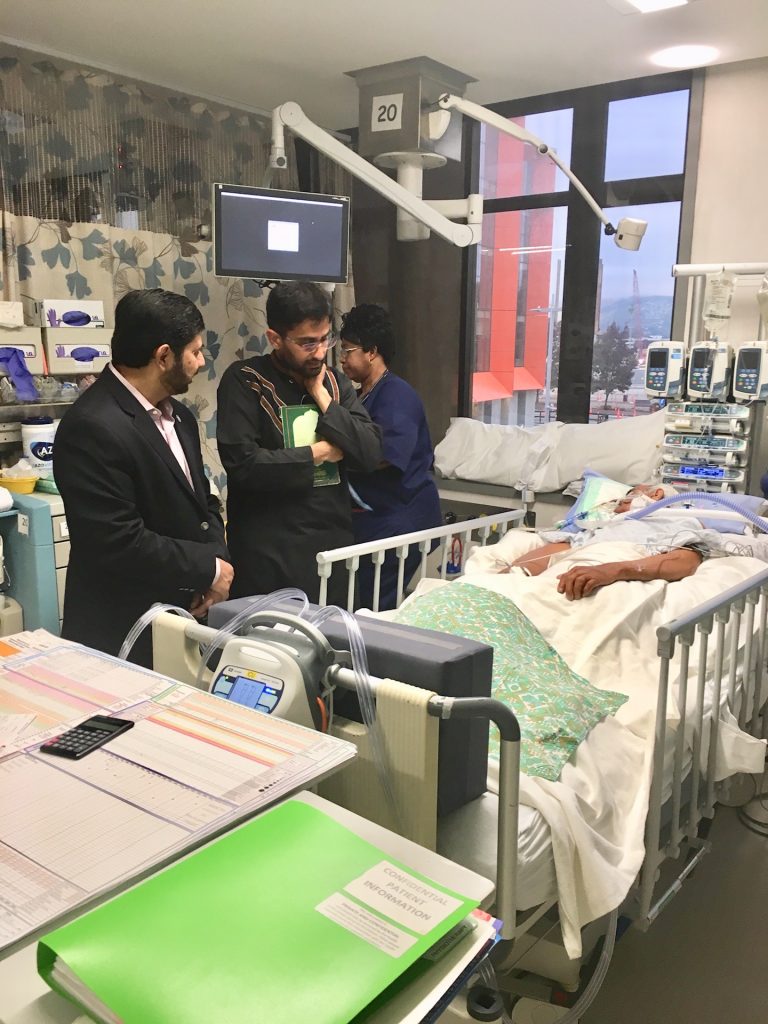 The visit to the hospital's ICU was simply heartbreaking but at the same time increased our resolve and commitment to help these families as much as possible. We encountered a Turkish brother who was in a coma for nine days and met his elderly parents, who spoke to us in the very little English they knew. The only thing which we could understand from their hushed voices was the request for du'a and tears of helplessness in their eyes. The 71-year-old father of a local Pakistani from Hafizabad, who had arrived two weeks ago to visit his son, was now on a ventilator fighting for his life. As a physician who has worked in ICU settings for a long time, I simply did not have enough medical reasoning which could have provided him any words of hope!! Similarly, I was not able to provide any glimmer of hope to a brother from Bangladesh whose wife will never be able to walk again and will be paralyzed for the rest of her life.
While I saw hope and felt resilience from every victim in that hospital, this hospital visit was brutally heartbreaking.
Lastly, I cannot imagine the pain, agony, and helplessness that the father of Mucad Ibrahim must feel after losing his 3-year-old son in his own arms. I gave him the longest hug possible, as he taught the whole world the meaning of Beautiful Sabr (Patience).
After seeing the devastation caused by the terrorist attack, and the work that must still be done to heal the community, Helping Hand USA, ICNA Relief Canada, and Charity Australia have formed an organization called the "Christchurch Family Support Network". The operations have already begun, and our team is on the ground. The first group of mental health professionals with a background in Islamic Integrated counseling are set to leave to provide victims and their families immediate psychological assistance.
We ask Allah

to accept our work, bring healing to the community, protect our brothers and sisters, and accept the shuhadaa' in the highest level of Paradise.
Dr. Mohsin Ansari is the Vice President Islamic Circle of North America (ICNA) and the Chairman of Helping Hand USA (HHRD)
Because Muslims Matter | Honoring The Martyrs Of #Christchurch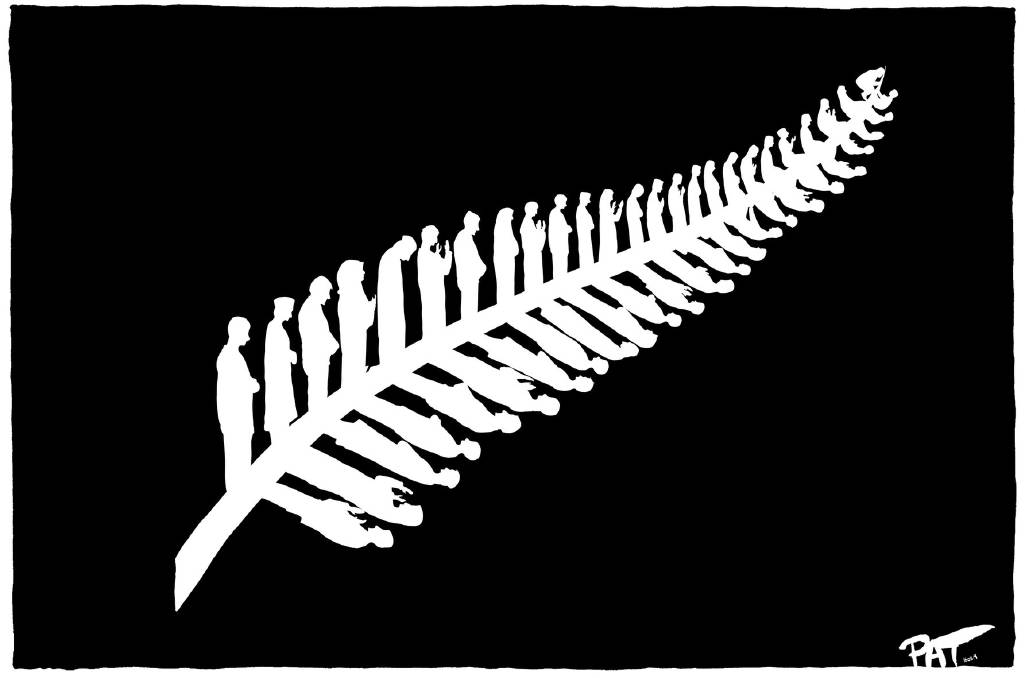 As the days go by, it is easy to forget the names and faces of the people who passed away. The horror of the act eclipses their memories. We do not want that to happen to our brothers and sisters in New Zealand.
اللهُـمِّ اغْفِـرْ لِحَيِّـنا وَمَيِّتِـنا وَشـاهِدِنا ، وَغائِبِـنا ، وَصَغيـرِنا وَكَبيـرِنا ، وَذَكَـرِنا وَأُنْثـانا. اللهُـمِّ مَنْ أَحْيَيْـتَهُ مِنّا فَأَحْيِـهِ عَلى الإِسْلام ،وَمَنْ تَوَفَّـيْتَهُ مِنّا فَتَوَفَّـهُ عَلى الإِيـمان ، اللهُـمِّ لا تَحْـرِمْنـا أَجْـرَه ، وَلا تُضِـلَّنا بَعْـدَه
Allaahum-maghfir lihayyinaa, wa mayyitinaa, wa shaahidinaa, wa ghaa'ibinaa, wa sagheerinaa wa kabeerinaa, wa thakarinaa wa 'unthaanaa..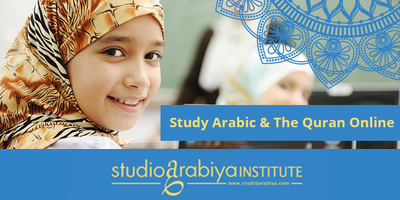 O Allah forgive our living and our dead, those who are with us and those who are absent, our young and our old, our menfolk and our womenfolk… [7]
Shaykh Yahya Adel Ibrahim's Message in the Wake of the #ChristChurchMosqueShooting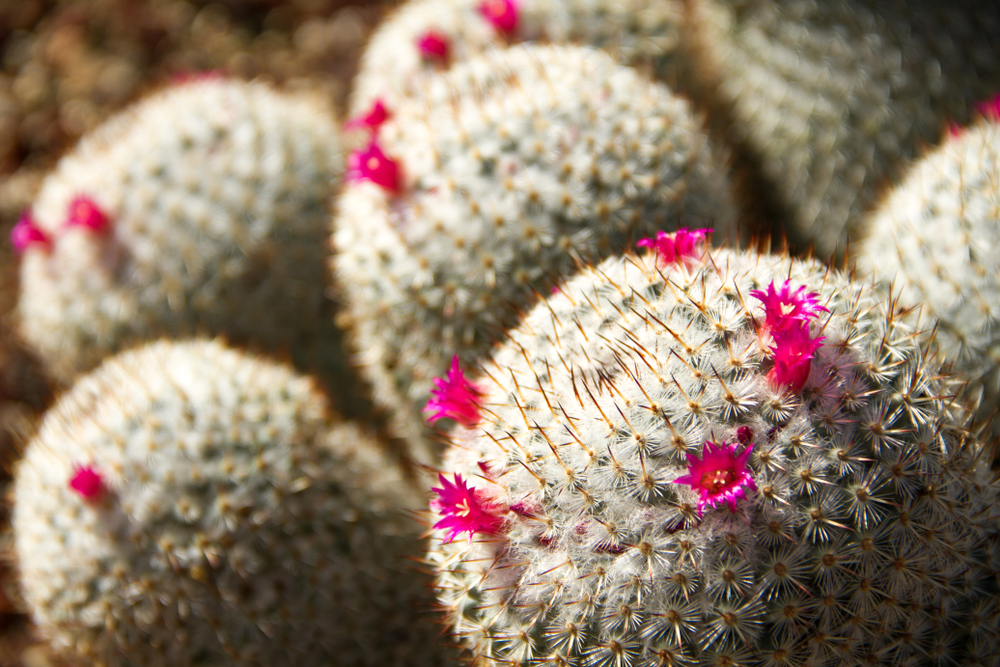 We offer our condolences to our Muslim brothers and sisters in New Zealand and to all Kiwis. We feel your pain. We see your tears. We hear your cries and we mourn with you. The Ummah is with you- Editor's note