Suicide bomber strikes Pakistani mosque during Friday prayers, killing 48 and wounding 85 | AP
As I was sat trying to come to terms with the ongoing violence in my city of Karachi, the news of another blast in the tribal areas of Pakistan hit the wires. Pakistan, a frontline state in the Global War of Terror, has lost almost 35000 citizens to bomb blasts and other events of violence in the last ten years. According to the latest economic survey released by the Government of Pakistan, the economic toll of this war has been almost $68 billion. Unfortunately for the major chunk of Pakistan's population who lives under the poverty line, most of this cost is borne by the national coffers and not by the United States which has only offered $9 billion as compensation.
Au contraire, the United States has brought further misery to the people of these areas through continued drone attacks. In an attempt to kill a few handful, almost 2000 have been killed and countless injured by these drone attacks. The success of these operations in eliminating terrorists remains doubtful.
What is sickening is that masajid continue to be targeted and worshippers at Friday congregations made the victim in a fight that is not theirs. Even the month of Ramadan is not enough to make this slaughter of innocents stop. There is nothing brave and heroic or Islamic about walking into a congregation gathered for the worship of Allah (SWT) and bringing terror and misery into the lives of people. May Allah (SWT) guide the people behind such attacks and protect the citizens of Pakistan from such tragedies. Aameen.
---
Originally posted at
http://www.globaltvbc.com/world/suicide+bomber+strikes+pakistani+mosque+during+friday+prayers+killing+48+and+wounding+85/6442466708/story.html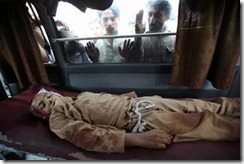 PESHAWAR, Pakistan (AP) — A suicide bomber struck worshippers during prayers Friday at a mosque close to the Afghan border, killing 48 people in an attack one official said may have been aimed at anti-Taliban elders praying during the holy month of Ramadan.
Militants have frequently attacked tribesmen who have dared speak up — or raise arms — against them in the border region, where al-Qaida and the Pakistan Taliban have long held sway. Rifts between insurgent factions have also led to mass casualty attacks there.
Pakistan has lost more than 35,000 people in militant violence since 2007, with mosques, markets and hotels all targeted. But the attack was especially shocking because it came not only on Islam's holiest day of the week, but also its holiest month, when observant Muslims fast during the daytime and spend extra time in prayer and communal activities.
"Whoever did it in the holy month of Ramadan cannot be a Muslim," said Saleem Khan, who said that in the aftermath of the blast people ran over him to escape the scene. "It is the cruelest thing any Muslim would do," he said from his hospital bed in the main northwestern city of Peshawar, where he was being treated for his injuries.
The mosque is in Ghundi, a village in the Khyber tribal region, a part of Pakistan's tribal belt off limits to foreigners and considered too dangerous for non-local Pakistanis to visit. Much of the non-lethal supplies heading to U.S. forces in Afghanistan pass through it.
As it has in other areas of the border during the last three years, the Pakistani army has carried out several operations against militants in Khyber, but with limited success. It has funded and supported the creation of tribal militias in some areas, which have also struggled against the brutality of the Taliban.
More than 300 people were at the mosque, local administrator Iqbal Khan said.
"All the evidence we have gathered confirms that it is a suicide attack," said Fazal Khan, another local official.
The blast killed 48 people, according to Khalid Mumtaz, a local government official. At least 85 were wounded, Khan said.
TV footage showed prayer caps, shoes and green prayer mats scattered across a blood-splattered floor, while ceiling fans were twisted and walls blackened. Men comforted a young boy who wept as he held his hand to his heart.
A top provincial official said several elders of the Maddo Khel tribe who were in the mosque could have been the targets. He said the tribe had been campaigning against the militants in the area, with the backing of the government. He did not give his name because he was not authorized to speak to the media.
The attack was the deadliest since twin bombings in mid-June killed around 40 people in Peshawar. That attack was believed to be part of a series of bombings staged by militants in retaliation for the U.S. killing of al-Qaida chief Osama bin Laden in May.
The Pakistani Taliban and their affiliates are seeking to topple Pakistan's pro-Western government and install a hardline Islamist regime. Their anti-American rhetoric, combined with fact that successive Pakistan regimes have been corrupt and unable to provide basic services to the country, means they have some support in the country.
The United States is supporting Pakistan's fight against the militants because of their deep links to al-Qaida, whose leaders are believed to be based in the tribal regions. But the relationship between the two countries is deeply troubled, chiefly over allegations that Islamabad is supporting insurgent factions fighting in Afghanistan.
U.S. Secretary of State Hillary Rodham Clinton condemned the bombing.
"The slaughter of worshippers as they gathered at a mosque for Ramadan's Friday prayers underscores the brutality of those who would target civilians during a time of celebration and reflection for Muslims throughout the world," she said in a statement.
Since 2008, America has routinely fired missiles at militant targets in the northwest — a tactic that has increasingly angered Pakistan's army and civilian leaders as well its people.
The most recent attack took place earlier Friday in South Waziristan, where two missiles hit a house, killing four suspected militants, said two Pakistani intelligence officials who spoke on condition of anonymity because they were not authorized to speak to reporters.
South Waziristan is a lawless stretch of rugged territory that was largely under the control of the Pakistani Taliban until October 2009, when the country's army launched an operation against the insurgents. However, militant activity is still reported in the region.
It is nearly impossible to independently verify the information from the region because access is heavily restricted.
__
Associated Press writers Asif Shahzad and Rasool Dawar contributed to this report from Islamabad.