Pakistan Navy base in Karachi attacked by terrorists
Around 10.30 pm on Sunday, May 22, 2011, 04 explosions rocked PNS Mehran, a Pakistan Navy airbase (located just a 03 minute drive from my house). I was sitting with my family in the living room and due to the way my house is built none of us heard the explosions. Thus, we were oblivious to the message of concerns that were coming on my cell phone, charging in the other room, from family members and my parents who are on vacation abroad. It was a phone call around 11:00 pm from my uncle asking me where I was and informing me of the concern of my parents that alerted me to the attack. I quickly called my parents to reassure them that I and my family were safe at home while switching on the television set to catch news updates on the explosions.
Coverage around 11 pm on Express 24/7
At 10:00 am the number of explosions had increased to 13 and the terrorists were still present on the base. As people headed to work, Sami Shah (@samishah) a stand-up comedian, tweeted something serious and thought provoking:
Went to sleep to my city under siege. Woke up to it under siege. Weirdest part is the rest of us just go to office and keep working.
Indeed, what was the biggest ever attack on a military installation during the War on Terror, did not stop the city from its functioning. As Khaver Siddiqi (@thekarachikid) tweeted very aptly:
There's a 9/11, 26/11 and 7/7. Then there's everyday in Pakistan. #prayforpakistan
Indeed, we as citizens of the country that is really fighting the Global War on Terror, have become so desensitized to violence, mayhem, and carnage that not only did we sleep soundly last night, we got up and went about our business.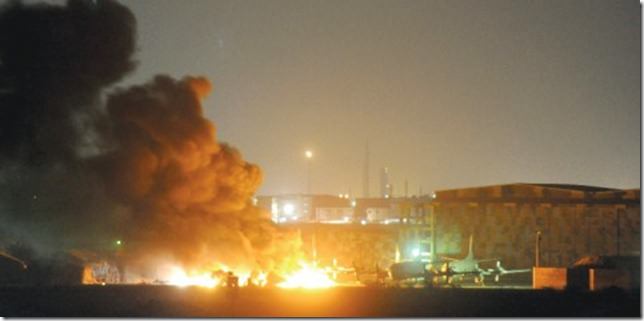 The gun battle lasted nearly 17 hours and around 4:30 pm we got an update from the Interior Minister Rehman Malik (equivalent of the National Security Adviser) that the battle was over and all terrorists (whom the Tehrik-e-Taliban Pakistan claimed as their members) had been killed.
He (Rehman Malik – the Interior Minister) said that among the six terrorists present at the site, one suicide bomber's head had been recovered, while four bodies were also found. He added, however, that two individuals were seen running off the base.

Malik said the terrorists were wearing "western clothes, had small beards and three of them had sharp features".

He said two of the attackers look to be around 22 years of age and one of the suicide bombers was around 25 years of age. He said they were dressed in black clothes "like they do in movies".

"They were dressed like Star Wars characters," said Malik. (Express Tribune)
OK that last statement didn't really make sense. However, neither did the fact that four or six 20 somethings managed to invade a highly secure Navy facility, blow up 3 aircraft (including 2 P-3C Orion planes costing around USD 36 million each), and martyr 10 people. Too many things don't add up and I am afraid we just might have to wait for another batch of Wikileaks cables to get the real story. In the meantime an inquiry commission has been constituted to determine how the terrorists managed to enter the base and cause so much damage. 20 explosions, regular gunfire throughout the night and day, and 10 returning to their Lord after laying down their lives for their country, it certainly demands an inquiry. However, the sentiments of many are echoed in the following tweet by Kashif Aziz (@kashaziz);
So 6 terrorists kept 1500+ security men engaged for 11 hours, and 2 were able to escape alive. Pak Fauj ko Salam! (Salute to the Pakistan Armed Forces)
Some More Reading