Cognitive Dissonance: The Psychology of Double Standards around Jared Loughner Arizona Shootings
The case of Jared Loughner and the subsequent treatment of his murderous spree by the media and indeed by the general public, raised familiar cries of "double standards", "media conspiracy", "Islamophobia", and familiar questions along the lines of "what if the shooter had been Muslim?", from the Muslim community and its supporters.
I must admit that that was my own first reaction, too. I quickly tweeted, "Muslim reaction to AZ shooting summed up: relieved (killer not Muslim), sad (innocent lives lost) and angry (double standards in coverage)" and the Muslim twitterosphere echoed sentiments that fell along the same spectrum:
andishehnouraee: Let's not generalize about large groups of people based on Jared Lee Loughner's actions, unless it turns out he's Muslim.

MMFlint Michael Moore: If a Detroit Muslim put a map on the web w/crosshairs on 20 pols, then 1 of them got shot, where would he b sitting right now? Just asking.

LailaLalami: Tough days ahead for young white men. They'll have to personally denounce the AZ shooter, apologize to Americans, explain and… oh wait.

mujahideenryder: Apparently Muslim terrorists are sane and non-Muslim terrorists are insane (and not terrorists).
Surprise? No. In fact, this has become a familiar cycle, one that most of us are intimately familiar with. Crimes, terrorism, even bad decisions that involve Muslims become Muslim crimes, or Muslim terrorism, or Muslim bad decisions. Whether a father kills his daughter (=Muslim honor killing) or a husband beheads his wife (=Muslim domestic abuse), or random gangsters force young girls into prostitution (=Muslim abuse of women), Islam always seems to go on trial even while the criminal's motivations may be as foreign to Islam as snow is to Hawaii. But when Muslims are not involved, when a father kills his daughter or a husband beheads his wife, or random gangsters force young girls into prostitution, then the only one on trial is (are) the criminal(s), as Sarah Palin so aptly and, might I add, hypocritically reminded us, "acts of monstrous criminality stand on their own". If only Palin would be so consistent!
The more important question is why this happens and what can we do, if anything, to break this cycle? Because surely brooding over this steroetyping, and whining about the obvious double-standards is not helping us make any progress.
Let's start with the "why". The more I think about it, the more I am led to believe that while there is a structural bias against Muslims and Islam in Western media, much of the stereotyping is simply related to Muslims being the "other"– "foreign elements" who are easy to blame and to scapegoat, where the risk of saying something politically incorrect is largely minimized. In other words, you can say whatever you want about Muslims, as outrageous as you wish, and largely escape public scrutiny and wrath.
Why is the "Muslims=others" factor important? I believe that this is related to the well-known psychological concept of "cognitive dissonance". Cognitive (thought process) dissonance (tension) relates to the dynamic of the sharp discomfort we experience when we carry two conflicting thoughts in our minds at the same time. This dissonance increases when the importance of the subject increases, or when the two thoughts conflict more sharply, or when we are unable to explain away the conflict. For instance, smokers have to find all kinds of reasons to explain away what they know to be an unhealthy habit. To release the dissonance, we have to either change our behavior, justify our behavior by changing one of the conflicting cognitions, or justify by adding additional cognitions.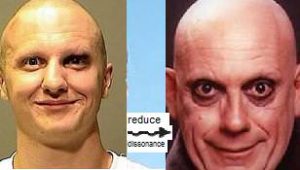 Coming back to our white, Jewish? (interestingly great pains are being taken to distance himself from it as if it should matter!) all-American Jared Loughner, why does the public (and media) not want to see him through the lens of his ethnicity or religion? Because it's hard to for most Americans to carry in their minds, at the same time, thoughts of Jared and their own family and friends (who don't look much different from Jared). In other words, there is a strong cognitive dissonance to seeing Jared as a "normal", white, Judeo-Christian, boy. That would be too close to home. So, how does the wider public release the dissonance? By referring to Jared as schizophrenic, crazy, lunatic, loner, and so on, attributes that distance him away from what they see as one of their own, making an "other" out of Jared.
What if Jared Loughner had been Javed Mohammed (thank God that he was not), who was still a schizophrenic, crazy, lunatic loner? Huge shift. It is now no longer necessary to cast Jared in any of these other negative terms. It is sufficient that he is Mohammed, a Moozlim, an immigrant, or a son of a immigrant, a naturalized citizen, or even a convert. Someone who is already the "other" and whose actions are easily explainable and understandable as being "Muslim". No conflicting thoughts, no dissonance, and voila, we have a media feast on his religious background (the "other" aspect of his persona) because everything else is too close to home.
Now that we have identified cognitive dissonance as a possible significant factor in the difference between the perceptions from the media and the general public towards crimes committed by Muslims ("others") versus an average Joe American, the next step is to understand how to tackle this problem. One aspect to observe is how Jared's self-claimed Jewish background (if true) was not an "othering" factor, even though Jews form a small minority in America. The case provides an opportunity for Muslims to learn from other minorities. Being a minority is not sufficient in itself to be cast out as the "other". We have seen how, for instance, the gay community in America has also changed perceptions from being a definite "other" to just one of us.
In his widely acclaimed books on Muslims in the West, Tariq Ramadan has written about being the "other". He emphasizes a Muslim's responsibility to his community, whether it be Islamic or not. He criticizes the "us vs. them" mentality that some Muslims advocate against the West. He argues that European Muslims' reliance on an "external" Islam, fraught with cultural baggage, leaves them feeling inadequate in their own faith, leading to alienation from the larger society.
Ramadan also touches upon the crux of what I have mentioned here, about misplaced Western perceptions of Muslims, due to a community that has done a terrible job in representing itself. A community that has mixed cultural baggage with Islam, a community that has been overly defensive, and a community that has not sufficiently engaged with its majority hosts, the wider non-Muslim society.
Muslims should be allowed to commit themselves within society and to act in favour of human solidarity. This also means that Muslims can be engaged in social as well as political and economic activities. This is why, both at local and national levels, their commitment as Muslims and citizens is imperative for it is the sole way of completing and perfecting their Faith and the essential Message of their Religion. The social space, with its laws and customs, should permit them to attain this. [Ramadan, as quoted in Reading Tariq Ramadan: Political Liberalism, Islam, and "Overlapping Consensus"]
Of course Tariq Ramadan is just one voice among many, whose style is one style among many, but whatever format we adopt, it must be one that melts the "otherness" of Muslims into the society at large. And it is not religious otherness that I refer to, for that can never change for a Muslim. But just like gays are not shying away from their own homosexuality (their form of "otherness"), just like Jews are not shying away from their own traditions (their form of "otherness"), similarly Muslims can maintain their religious otherness, but still be fully American or fully European, shedding away cultural tags that prevent them from being fully integrated.
Let there be a "Muslim Charities" working hand in hand with "Catholic Charities", let there be Muslim mayors, judges and leaders, let there be Muslim CEOs, let there be Muslim Larry Kings and Jon Stewarts, let Mohammed and Aisha be names of men and women who are part of the American fabric at every level and at every rung. Only then will we stop being the "other", only then will our next Muslim criminal be put in his place as a criminal, just a criminal – no religious qualifiers needed. Only then will the "Muslim" tag no longer reduce dissonance, and "acts of monstrous criminality [will] stand on their own".