UPDATED: Ali Shehata | Saving Our Youth from the Disease of Radicalism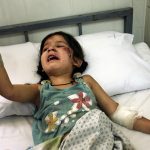 Words cannot describe the sadness and horror so many Muslims felt this weekend – a weekend when they, like other Americans, gathered with their families to give thanks – when they heard the news that a 19 year-old Muslim from Oregon tried to detonate a van filled with explosives among a crowd of innocent Americans celebrating the holidays. This event comes on the heels of another video recording by the extremist terror leader Anwar al-Awlaki encouraging the killing of Americans.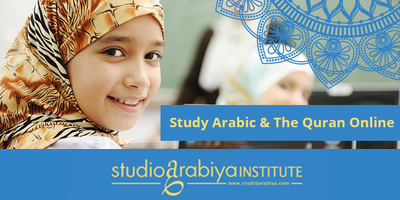 As an American Muslim educator, who has been actively working against violent extremism in the Muslim community for the past 7 years, I am thankful that it was someone from the Muslim community who initially alerted law enforcement to this individual when they saw signs of concern. This follows an excellent pattern of cooperation between Muslim congregations in the US and law enforcement officials wherein at least one-third of potential incidents were averted through active Muslim vigilance and self-patrol.
At the same time, this incident demonstrates that we have more work to do in the Muslim community to root out the attraction to the violent extremist ideology among some Muslims. Although, it would be impossible to root it out 100%, I believe we have to do more both locally and in the online world to destroy the roots of this disease of extremist radicalism. With this audio – and its written transcript – I hope to encourage other Muslim intellectuals, callers and scholars to take a stronger online presence to counteract those whom we have no access to in our local communities.
In this targeted audio, I wish to address those young Muslims out there who are either sympathizers or supporters of radical extremist Muslim figures. Of course, such individuals would disagree with this characterization and instead imagine these people to somehow be freedom fighters or courageous heroes who stand up to the oppressors of today. I fully intend to show you that you are wrong in this belief.
Firstly, Ibn Taymiyyah has correctly said, "One of the fundamental principles of Islam is to bring benefit (maslahah) to society, or at least to increase it if it cannot be complete – and to reduce harm to the greatest degree possible." Amongst the many evidences for this principle are:
يُرِيدُ اللَّهُ بِكُمُ الْيُسْرَ وَلَا يُرِيدُ بِكُمُ الْعُسْرَ
Allah intends every facility for you; He does not want to put you to difficulties.  [2:185]
عن أبي سـعـيـد الخدري رضي الله عنه ، أن رسول الله صلى الله عليه وسلم قال : لا ضرر ولا ضرار
Narrated Abu Sa'eed al-Khudri that the Messenger of Allah (saas) said, "[In Islam] There should be neither harming nor returning harm." [Ibn Majah]
And also from the Seerah, we see the Prophet (saas) considering the consequences of his decisions such as in the treaty of al-Hudaybiyyah. Despite being upon the right and despite his capability to fight, some of the Companions asked why they should accept the humiliation of the conditions of the treaty, yet Allah called it a manifest victory (فَتْحًا مُبِينًا).
Yet we can see that the consequences of the extremist plots today are far from bringing any benefit or goodness either to the Muslim society or the general human society as a whole.  Let us consider just some of the consequences of each and every plot since 9-11. They have led to 2 destructive wars, the enactment of several governmental policies that have created both civil and legal hardships upon Muslim and non-Muslim alike, the imprisonment of countless young men and women and a general rise in anti-Islamic sentiment and actions in this country and in other Western nations that has even led to the abuse and burning of the Quran.  Someone even attempted to burn down the Islamic center in Oregon where the alleged young Somali extremist sometimes prayed. Can anyone in their right mind consider this to be for the good of anyone? How many people have left Islam or come to doubt it as a result of these acts?
Next, to characterize the conflicts of today – or the statements of their leaders – as a war against Islam is not a fair accusation. Among the reasons that this is a very unfair accusation are that firstly, though some of their leaders have made statements against the Islamic religion, others have not, and in fact some have gone out of their way to say they are not against Islam. President George Bush may have made several questionable remarks in his time, but he was also the first president to go to a mosque to deliver a speech in which he praised Islam. President Obama has followed suit by speaking to entire Muslim societies when he delivered speeches in Egypt and Indonesia.  Leaders in both the FBI and DHS have worked cooperatively with Muslims in this country to address concerns and sensitivities.
Secondly, these countries that are sometimes characterized as warring against Islam see themselves only as helping one group of Muslims against another group of Muslims, but not fighting all Muslims in total.  For example, how could we characterize the US as fighting Islam when they were the ones that helped to establish a shariah court system in Afghanistan and also  helped to liberate that same country from the clutches of communism?
Thirdly, America has not made religious hardships in the practice of Islam upon Muslims living within its boundaries, nor the Muslims in lands in which they have a dominant military presence. Examples include the acceptance of Islam by large numbers of servicemen in the Iraq wars, the sensitivity courses run by American agencies to educate their personnel on Islam, and that over half of US foreign aid goes to Muslim nations. Many Muslim preachers have rightly said that one can practice Islam more freely in the US than you can in a number of "Muslim" countries.
The real issue here is that America – as other countries and empires have done from time immemorial – is acting internationally upon its strategic interests.
As far as America is concerned, some are confused as to whether or not they are bound by the laws of the land. Yet there is no doubt that the Islamic religion commands believers to obey the laws of the land they live in, even if it be one ruled by non-Muslims.  Muslim scholars consider citizenship, or an entry visa, to be a covenant ('aqd) held between the citizen, or visa holder, and the state; an agreement which guarantees security (amaan) in exchange for certain obligations such as obeying the laws of the land. We must remember that covenants are considered sacredly binding in Islam.  Allah commands us in the Quran:
يَا أَيُّهَا الَّذِينَ آمَنُوا أَوْفُوا بِالْعُقُودِ
O you who believe! Fulfill your obligations. [5:1]
Ibn Kathir mentions in his tafsir of this ayah, "Ibn `Abbas, Mujahid and others said that `obligations' here means treaties. Ibn Jarir mentioned that there is a consensus for this view. Ibn Jarir also said that it means treaties, such as the alliances that they used to conduct."
And later in the same surah Allah states:
وَلَا يَجْرِمَنَّكُمْ شَنَآنُ قَوْمٍ عَلَىٰ أَلَّا تَعْدِلُوا ۚ اعْدِلُوا هُوَ أَقْرَبُ لِلتَّقْوَىٰ ۖ وَاتَّقُوا اللَّهَ ۚ إِنَّ اللَّهَ خَبِيرٌ بِمَا تَعْمَلُونَ
And let not the hatred of others to you make you swerve to wrong and depart from justice. Be just: that is next to piety: and fear Allah. For Allah is well-acquainted with all that you do. [5:8]
Ibn Kathir states the following in regards to this ayah, "… do not be driven by your hatred for some people into abandoning justice, for justice is ordained for everyone, in all situations. Ibn Abi Hatim recorded that Zayd bin Aslam said, "The Messenger of Allah and his Companions were in the area of Al-Hudaybiyyah when the idolators prevented them from visiting the House, and that was especially hard on them. Later on, some idolators passed by them from the east intending to perform `Umrah. So the Companions of the Prophet said, `Let us prevent those (from `Umrah) just as their fellow idolators prevented us.' Thereafter, Allah sent down this ayah."
This issue is of critical importance in two predominant circumstances today: 1) where someone considers terrorizing or making war against their fellow citizens, and 2) when an American citizen or legal resident goes overseas to join a foreign army.  This second case has happened in three distinct places in the most recent past; Iraq, Somalia, and Afghanistan.  Yet some Muslims have been deluded into thinking that they "need" to do this in order to "help" their fellow Muslims. First, let us consider the following hadith:
حَدَّثَنَا حُذَيْفَةُ بْنُ الْيَمَانِ قَالَ
مَا مَنَعَنِي أَنْ أَشْهَدَ بَدْرًا إِلَّا أَنِّي خَرَجْتُ أَنَا وَأَبِي حُسَيْلٌ قَالَ فَأَخَذَنَا كُفَّارُ قُرَيْشٍ قَالُوا إِنَّكُمْ تُرِيدُونَ مُحَمَّدًا فَقُلْنَا مَا نُرِيدُهُ مَا نُرِيدُ إِلَّا الْمَدِينَةَ فَأَخَذُوا مِنَّا عَهْدَ اللَّهِ وَمِيثَاقَهُ لَنَنْصَرِفَنَّ إِلَى الْمَدِينَةِ وَلَا نُقَاتِلُ مَعَهُ فَأَتَيْنَا رَسُولَ اللَّهِ صَلَّى اللَّهُ عَلَيْهِ وَسَلَّمَ فَأَخْبَرْنَاهُ الْخَبَرَ فَقَالَ انْصَرِفَا نَفِي لَهُمْ بِعَهْدِهِمْ وَنَسْتَعِينُ اللَّهَ عَلَيْهِمْ
It has been reported on the authority of Hudhaifa ibnul-Yaman who said: Nothing prevented me from being present at the Battle of Badr except this incident. I came out with my father Husail (to participate in the Battle), but we were caught by the pagans of Quraish. They said: "(Do) you intend to go to Muhammad?"  We said: "We do not intend to go to him, but we wish to go (back) to Medina."  So they took from us a covenant in the name of God that we would turn back to Medina and would not fight on the side of Muhammad (saas). So, we came to the Messenger of Allah (saas) and related the incident to him. He said: "Both, of you proceed (to Medina); we will fulfill the covenant made with them and seek God's help against them." (Muslim)
Here the Prophet (saas) prevented Hudhaifa and his father from participating with him so that they wouldn't violate their promise that they gave to the pagans of Quraish. How much more are we then obligated to fulfill our trusts in the convoluted times of today? Secondly, we must also understand that each of these battles today is not a battle to raise up the banner of religion, but a civil war in which the true purpose is unclear – and we are forbidden from entering into civil wars where Muslim kills Muslim which is the overwhelming outcome in each of these three war zones.
عَنْ أَبِي هُرَيْرَةَ
عَنْ النَّبِيِّ صَلَّى اللَّهُ عَلَيْهِ وَسَلَّمَ أَنَّهُ قَالَ مَنْ خَرَجَ مِنْ الطَّاعَةِ وَفَارَقَ الْجَمَاعَةَ فَمَاتَ مَاتَ مِيتَةً جَاهِلِيَّةً وَمَنْ قَاتَلَ تَحْتَ رَايَةٍ عِمِّيَّةٍ يَغْضَبُ لِعَصَبَةٍ أَوْ يَدْعُو إِلَى عَصَبَةٍ أَوْ يَنْصُرُ عَصَبَةً فَقُتِلَ فَقِتْلَةٌ جَاهِلِيَّةٌ وَمَنْ خَرَجَ عَلَى أُمَّتِي يَضْرِبُ بَرَّهَا وَفَاجِرَهَا وَلَا يَتَحَاشَى مِنْ مُؤْمِنِهَا وَلَا يَفِي لِذِي عَهْدٍ عَهْدَهُ فَلَيْسَ مِنِّي وَلَسْتُ مِنْهُ
On the authority of Abu Hurairah that he heard the Prophet (saas) say, "One who defected from the obedience to the ruler and separated from the main body of the Muslims – if he died in that state – would die the death of one belonging to the days of pre-Islamic ignorance (would not die as a Muslim). One who fights under the banner of a people who are blind to the cause for which they are fighting, or one who gets angered for a sectarian cause, or calls people to a sectarian cause, or fights for a sectarian cause – if he is killed in this manner, he dies as one belonging to the days of pre-Islamic ignorance. Whosoever attacks my community indiscriminately killing the righteous and the wicked among them, not refraining from hurting the believers due to their faith and one who does not fulfill the covenant made with those who have been given a pledge of security – he has nothing to do with me and I have nothing to do with him.  (Muslim)
How do we help the oppressed and downtrodden in these times you might then wonder? We help them by calling upon Allah with our sincere du'a remembering the authentic hadith:
عَنْ مُصْعَبِ بْنِ سَعْدٍ عَنْ أَبِيهِ
أَنَّهُ ظَنَّ أَنَّ لَهُ فَضْلًا عَلَى مَنْ دُونَهُ مِنْ أَصْحَابِ النَّبِيِّ صَلَّى اللَّهُ عَلَيْهِ وَسَلَّمَ فَقَالَ نَبِيُّ اللَّهِ صَلَّى اللَّهُ عَلَيْهِ وَسَلَّمَ إِنَّمَا يَنْصُرُ اللَّهُ هَذِهِ الْأُمَّةَ بِضَعِيفِهَا بِدَعْوَتِهِمْ وَصَلَاتِهِمْ وَإِخْلَاصِهِمْ
Narrated Abu Mus'ab ibn Sa'd that he at one time believed he was more honorable than some of the other Companions of the Prophet (saas) whereupon the Prophet (saas) said, "Indeed, Allah aids this community (Ummah) by the supplication, prayer and sincerity of its weak ones." (Nasaa'i – Saheeh)
How will this happen you might wonder? When we ourselves return to the obedience of our Creator by calling to that which is good.
إِنَّ اللَّهَ لَا يُغَيِّرُ مَا بِقَوْمٍ حَتَّىٰ يُغَيِّرُوا مَا بِأَنْفُسِهِمْ
Allah does not change a people's condition unless they change what is in their hearts. [13:11]
Instead of neglecting Allah's command and fighting against the rulers, have we not turned to consider our own sins and our own distance from Him? If these people who fought against their rulers and who attack innocent and unaware civilians in such a cowardly manner by sneaking up on them to detonate hidden weapons – if these people were upon the truth then where is the victory? Where is the help of Allah? Instead we only see more difficulties following their actions – and this is nothing but the result of sin and disobedience to the rule of Allah. In the noble hadith we read,
قَالَ حُذَيْفَةُ بْنُ الْيَمَانِ
قُلْتُ يَا رَسُولَ اللَّهِ إِنَّا كُنَّا بِشَرٍّ فَجَاءَ اللَّهُ بِخَيْرٍ فَنَحْنُ فِيهِ فَهَلْ مِنْ وَرَاءِ هَذَا الْخَيْرِ شَرٌّ قَالَ نَعَمْ قُلْتُ هَلْ وَرَاءَ ذَلِكَ الشَّرِّ خَيْرٌ قَالَ نَعَمْ قُلْتُ فَهَلْ وَرَاءَ ذَلِكَ الْخَيْرِ شَرٌّ قَالَ نَعَمْ قُلْتُ كَيْفَ قَالَ يَكُونُ بَعْدِي أَئِمَّةٌ لَا يَهْتَدُونَ بِهُدَايَ وَلَا يَسْتَنُّونَ بِسُنَّتِي وَسَيَقُومُ فِيهِمْ رِجَالٌ قُلُوبُهُمْ قُلُوبُ الشَّيَاطِينِ فِي جُثْمَانِ إِنْسٍ قَالَ قُلْتُ كَيْفَ أَصْنَعُ يَا رَسُولَ اللَّهِ إِنْ أَدْرَكْتُ ذَلِكَ قَالَ تَسْمَعُ وَتُطِيعُ لِلْأَمِيرِ وَإِنْ ضُرِبَ ظَهْرُكَ وَأُخِذَ مَالُكَ فَاسْمَعْ وَأَطِعْ
Narrated Hudhaifa ibnul Yaman, I asked the Messenger of Allah (saas), "no doubt, we had an evil time (the days of Jahiliyya or pre-Islamic ignorance) and God brought us a good time (the Islamic period) through which we are now living. Will there be a bad time after this good time?" He (the Prophet) said: "Yes."  I said: "Will there be a good time after this bad time?" He said: "Yes."  I said: "Will there be a bad time after good time?" He said: "Yes."  I asked: "How?"  Whereupon he said: "There will be leaders who will not be led by my guidance and who will not adopt my ways. There will be among them men who will have the hearts of devils in the bodies of human beings."  I asked: "What should I do if I should live to see that time O' Messenger of Allah?"  He replied: "You must listen to the ruler and carry out his orders, even if your back is flogged and your wealth is snatched, you must still listen and obey." (Muslim)
قال شارح الطحاوية : " أما لزوم طاعتهم وإن جاروا ، فلأنــه يترتب على الخروج عن طاعتهم من المفاســـد أضعاف ما يحصل من جورهــم ، بل في الصبر على جورهم تكفير السيئات ، ومضاعفة الأجور ، فإن الله تعالى ما سلطهــم علينا إلا لفساد أعمالنا ، والجزاء من جنس العمل
Ibn Abil-'Izz al-Hanafi states on this issue: "And as for obeying the Rulers, even if they commit oppression, then this is because the evils and harms that arise on account of rebelling against them are numerous times more than that which occurs as a result of the oppression of the Rulers themselves. Rather, in having patience over their oppression there is expiation of sins, and a multiplication of the reward. For Allah did not empower them over us, except due to the corruption in our actions, and the recompense for an action is its like (al-jazaa'u min jins al-'amal)." Thus if we don't like our rulers, then we should look into the mirror to see what we don't like in our own selves!
Hence, it is upon us to strive in seeking forgiveness, repenting and purifying our actions. Indeed, Allah (swt) has said,
وَمَا أَصَابَكُمْ مِنْ مُصِيبَةٍ فَبِمَا كَسَبَتْ أَيْدِيكُمْ وَيَعْفُو عَنْ كَثِيرٍ
And whatever affliction befalls you, then it is from what your hands have earned, yet He pardons much. [42:30]
And His (swt) statement:
وَكَذَٰلِكَ نُوَلِّي بَعْضَ الظَّالِمِينَ بَعْضًا بِمَا كَانُوا يَكْسِبُونَ
And thus do we turn some of the oppressors against others on account of what they used to earn. [6:129]
Ibn Kathir quotes in regards to this ayah, "A poet once said, 'There is no hand, but Allah's Hand is above it, and no wrongdoer but will be tested by another wrongdoer'."
Hence, if the subjects (of a state) wish to save themselves from the oppression of the tyrannical ruler, then let them abandon oppression themselves. And from Malik bin Dinar (who said) that it has come in some of the (previous revealed) Books of Allah:
I am the King of the dominion, the hearts of the kings are in my Hand. So whoever obeyed me, I made them (the kings) a mercy over him, and whoever disobeyed me, I made them a vengeance upon him. So do not occupy yourselves with reviling the kings, but rather repent and I will make them compassionate upon you.
So our condition today as an Ummah is deplorable – we have abandoned tawhid on the greater societal scale, we are politically impotent, morally corrupt, devoid of manners, backward in the fields of science and technology – and this is the fault of each and every one of us. We have no other road to salvation except to turn back in repentance to Allah and strive harder to be on the character of our beloved Messenger (saas). Killing innocent people and espousing extremist ideology is only distancing us further from Our Lord and from His Mercy.
As for Anwar al-Awlaki and those who spread his ideology of terror and extremism, I call them sincerely back to the path of cooperation upon good and piety. I ask you by Allah to remember all the good that you did while you were here in America – your lectures on the Prophets, the Companions and the Hereafter resulted in the repentance and rectification of many people. You met many good people here in America – some who accepted Islam, and others who supported our causes even though they may not have followed our beliefs. How can you justify killing such innocent people who have done no wrong? I implore you by Allah to consider what you had accomplished in the past and compare it to the record of death, destruction, humiliation and misery you have led people to since you have gone on the path you are currently on. We believe that you are a person of intelligence and that if you consider this you will certainly repent for what you have been saying and return to the true path of moderation and righteousness. If not then you shall be guilty on the Day of Judgment for grievous sins and for misleading many by your words. I further warn people from listening to your words and being influenced by you until you repent.
I close by reminding all my brothers and sisters of some words that are worth their weight in diamonds, words that one cannot ignore and ideas that must be considered carefully. I begin with the words of our beloved Messenger (saas):
عَنْ طَرِيفٍ أَبِي تَمِيمَةَ قَالَ
شَهِدْتُ صَفْوَانَ وَجُنْدَبًا وَأَصْحَابَهُ وَهُوَ يُوصِيهِمْ فَقَالُوا هَلْ سَمِعْتَ مِنْ رَسُولِ اللَّهِ صَلَّى اللَّهُ عَلَيْهِ وَسَلَّمَ شَيْئًا قَالَ سَمِعْتُهُ يَقُولُ مَنْ سَمَّعَ سَمَّعَ اللَّهُ بِهِ يَوْمَ الْقِيَامَةِ قَالَ وَمَنْ يُشَاقِقْ يَشْقُقْ اللَّهُ عَلَيْهِ يَوْمَ الْقِيَامَةِ فَقَالُوا أَوْصِنَا فَقَالَ إِنَّ أَوَّلَ مَا يُنْتِنُ مِنْ الْإِنْسَانِ بَطْنُهُ فَمَنْ اسْتَطَاعَ أَنْ لَا يَأْكُلَ إِلَّا طَيِّبًا فَلْيَفْعَلْ وَمَنْ اسْتَطَاعَ أَنْ لَا يُحَالَ بَيْنَهُ وَبَيْنَ الْجَنَّةِ بِمِلْءِ كَفِّهِ مِنْ دَمٍ أَهْرَاقَهُ فَلْيَفْعَلْ
Narrated Tareef Abi Tamima: I saw Safwan and Jundub and his companions when Jundab was advising them. They said, "Did you hear something from Allah's Messenger (saas)?" He said, "I heard him saying, 'Whoever does a good deed in order to show off, Allah will expose his intentions on the Day of Resurrection (before the people), and whoever puts the people into difficulties, Allah will put him into difficulties on the Day of Resurrection.'" The people said (to Jundab), "Advise us." He said, "The first part of the human body to rot (after death) is the stomach, so he who can eat nothing but pure food (Halal and earned lawfully) should do so, and he who does as much as he can that nothing intervene between him and Paradise by not shedding even a handful of blood, (murdering) should do so." (Bukhari)
So ask yourselves – do you really expect that Allah will reward you for creating so many difficulties for so many people? Are you safe from the Hellfire when you have not only attempted to shed a handful of blood, but indeed barrels of blood? Consider the wise words of the great Tabi'ee Mutarrif ibn Abdillah who was asked by the Khawarij why he didn't join them in their battle and he replied:
لأن يسألني الله تعالى يوم القيامة فيقول: يا مطرف ألا فعلت، أحب إلي من أن يقول لم فعلت
"For Allah to ask me on the Day of Judgment, why didn't you kill someone is far more beloved to me than for Him to ask me why I killed someone."
And Allah knows best.
****************************
Credit: I would personally like to thank my dear teacher and friend Sh. Waleed Basyouni for his time, mentoring and assistance in developing much of this post, yet I have no doubt that it could be better. Whatever among these points could have been said better, more concisely or more fluidly is through no fault of anyone but myself and for this I seek Allah's forgiveness and ask His help to make me better and more useful to His creation.
Request: I encourage and freely give my permission that the text and accompanying audio be used – without modification – by any Islamic school or center to be distributed among their members for the benefit of protecting our young and old, our new Muslims and those who have grown old in Islam, from the threat of violent extremism. To download, please click here.
A Word On Muslim Attitudes Toward Abortion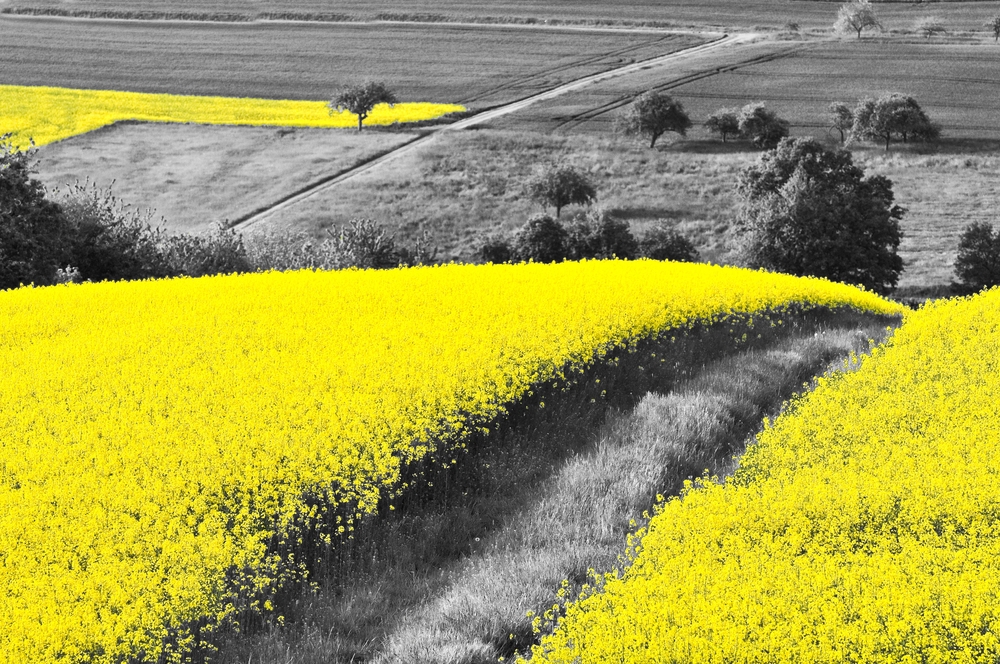 The Qur'an describes Muslims committed to its mores as "a moderate nation," and that sense of balance qualifies them to stand as "witnesses over humanity" (Q 2:143). Contemporary Muslims revel in this assertion, especially when it seems that "Islam" proposes a via media solution to a highly polarizing subject as abortion. What currently constitutes "Islam" on a given topic, however, often reflects the personal prerogative apparently offered to the average Muslim by a list of diverse legal perspectives. In other words, the mere fact that multiple legal opinions exist on one or more topics is now taken as license to appropriate any one of them, without any deep ethical reflection on the implications of the opinion, however anomalous it may be.
"Islam is the golden mean between all ethical extremes" is what certain Muslims would assert. So if one extreme bars abortion under all circumstances and the other seeks to allow it throughout the duration of the pregnancy, one would assume that Islam must land somewhere in the middle, both forbidding and allowing abortion in certain circumstances. This moral assumption isn't far from the truth. However, the mere existence of multiple opinions on a topic does not mean that each opinion has equal validity, nor does it mean that every opinion is valid for one to adopt. Similarly, "Islam" or "Islamic law" cannot be summed up into a simple formula like "majority rules" or "when in doubt about prohibition or allowance, the action is, therefore, merely disliked."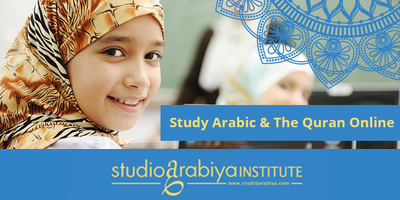 Legal positivism plagues both religious and secular-minded people. Just as an act does not acquire its moral strength simply because it is legal, morally appropriate opinions are not always codified into law. If it is true that any unjust law is no law at all, where is the injustice and to whom is it being perpetrated against in the debate between pro-lifers and pro-choicers? Is it deemed unjust to prevent a pregnant woman from disposing of an "insignificant lifeless part of her body" that no one other than herself should be able to decide what to do with? Or is one "depriving a helpless growing person" of the opportunity and right to exist after its Creator initiated its journey into the world? Does a law that prevents a woman impregnated by a family member or rapist from an abortion oppress her? Or does such a law protect the life of a vulnerable fetus, who, like other weak members of society, is expected to be protected by the strong? Does it do both or neither? And if one is taking the "life" of this fetus, what proof is there that it is a living creature?
While these are all extremely important questions, this missive is neither intended necessarily to answer them nor to resolve today's raging political debate. The main goal here is to offer ideas that should be on the minds of Muslims when deciding to join such debates or promoting the idea that their "religion" provides the best solution to social polarization, when by "religion" we mean the opinion of a small minority of scholars in some place and time in Muslim history.
Islamic law is very sophisticated; the legislative process is not facile, nor is it a place where any Muslim is entitled to pragmatically select the opinions that he/she finds attractive and accommodating. It demands knowledge of particular aims, the ability to properly realize those aims in the lives of people, and understanding the epistemic and metaphysical foundations that ensure that judgments conform to coherent rationale. In other words, the laws of Islam and the opinions of jurists cannot be divorced from their philosophical and evidentiary underpinnings. Otherwise, the thread holding the moral tapestry of Islam together falls apart completely at its seams.
Is Abortion Lawful in Islam?
Many past and present have written about the Islamic view of abortion. The ancient scholars prohibited it at all stages of the pregnancy and made practically no exception. Some would later allow for it only if the mother's life was in danger. That notwithstanding, six popular legal opinions exist regarding abortion:
Unlawful (haram), in all stages of the pregnancy.
Permitted (ja'iz), during the first 40 days but unlawful (haram) afterwards.
Disliked (makruh), before the passage of 40 days but unlawful (haram) afterwards.
Permitted (ja'iz), if it is from illicit intercourse (zina).
Permitted (ja'iz) without conditions, before 120 days.
Permitted only for a legitimate excuse.
The late mufti of Fez, Morocco, Shaykh Muhammad Al-Ta'wil (d. 2015) said,
The first opinion forbidding that during the [first] 40 [days] and beyond, regardless of whether or not it is due to an excuse, even if from illicit intercourse, is the view of the supermajority [of jurists].[1]
The Qur'an is a Book of Ethical Teaching
The reasons for the cavalier attitude among contemporary Muslims about abortion are multiple. The most significant reason may be that at times Islam is seen as a synonym for shariah. The truth, however, is that the shariah is only part of Islam. Islam covers law (fiqh), creed (aqidah), and ethics (akhlaq). Even though the Qur'an consists of laws, it is not a book of law. It is a book of ethical teachings. Merely 10%–12% of the Qur'an relates to legal injunctions. It is not characteristic of the Qur'an to enjoin upon Muslims to command what is "compulsory" or "recommended" and to forbid what is "unlawful" and "disliked." What is common though is for it to command us to do what is "ma'ruf" and to avoid what is "munkar."
"Ma'ruf" and "munkar" can be translated respectively as "what is socially commendable" and "what is socially condemnatory." This is in spite of the fact that social acceptability and unacceptability are often subjective. This does not mean that the Qur'an is morally relativistic. It is quite the contrary. What this means, however, is that the Qur'an's aim is not merely to teach Muslims what one can and cannot do. It means, rather, that the Qur'an has a greater concern with what Muslims "should" and "should not" do. For this very reason, the companions of the Prophet seldom differentiated between his encouragement and discouragement of acts by the juristic values of disliked, unlawful, recommended, and compulsory. Rather, if the Prophet encouraged something beneficial, they complied. And, if he discouraged from something potentially harmful, they refrained.
The Qur'an permits many actions. However, to permit an act is not equivalent to encouraging it. It permits polygyny (Q 4:3), the enslavement of non-Muslim war captives (Q 8:70), and marrying the sister of one's ex-wife (Q 4:23). Similarly, some Muslim jurists validate marriage agreements wherein the man secretly intends to divorce the woman after a certain period of time known only to him.[2] This is the case, even though the average Muslim man is monogamous; practically no Muslim today believes it is moral to enslave a person; the vast majority of Muslims find the marriage of one's sister-in-law upon the death of one's wife to be taboo; and they chide men who marry with a temporary intention of marriage. If the mere existence of permission or legal opinion permitting a socially condemnable act is a legitimate reason to adopt it, why would Muslims be uneasy about these cases but inclined to take a different stance when it comes to abortion?
The proper Islamic position on any given issue of public or private concern should not only consider what the law or jurists have to say about the topic. Rather, one should also consider how theology and ethics connect with those laws or opinions. That is to say, one should ask, "What wisdom does God seek to realize from this injunction or opinion?" assuming that such a wisdom can be identified. Secondly, one need ask,
"Who and how many will be helped or harmed if this action is undertaken?"
The Qur'an is the primary source of Islam's ethics. And, one often observes a major difference between its morality and the morality validated by certain jurists, often lacking a clear connection to Qur'anic and prophetic precepts. That notwithstanding, a juristic opinion can sometimes masquerade as one that is authentically Islamic, especially when it aims to appease or assuage a social or political concern. Consequently, one finds some contemporary scholars championing opinions simply­ because they exist, like that of mainstream Shafi'is who traditionally argued that the reason for jihad was to rid the world of unIslamic doctrines (kufr); or certain contemporaries who validated taking of the lives of innocent women, children, and other non-combatants in suicide bombings; those who endorsed the execution of Jews for converting to Christianity and vice versa;[3] or others who classified slaves as animals rather than human beings?[4] For, surely, there are Muslim jurists who validate each one of these opinions, despite their evidentiary weakness. Hence, simply because there is an opinion allowing for abortions does not necessarily mean that it is something Islam allows, even in cases of rape and incest.
When Does Life Begin?
Medieval Muslim scholars, naturally, lacked the scientific tools that we have today to determine whether or not the fetus growing in its mother's womb was actually a viable creation and a living creature from conception. Other than when the fetus first showed signs of movement in its mother's belly, scholars took their cues from the Qur'an and prophetic tradition on when the fetus possessed a soul or if it did so at all. For this reason, very few scholars have offered clear answers to the question of when human life begins, while they agreed that upon 120 days, the child is definitely a living person.
According to the Andalusian scholar of Seville, Ibn al-'Arabi (d. 1148),
The child has three states: 1) one state prior to coming into [material] existence …, 2) a state after the womb takes hold of the sperm …, and 3) a state after its formation and before the soul is breathed into it …, and when the soul is breathed into it, it is the taking of a life. [5]
Al-Ghazzali (d. 1111) said,
Coitus interruptus ('azl) is not like abortion and infanticide (wa'd) because it [abortion] is a crime against an actualized existence (mawjud hasil). And, it has stages, the first being the stage of the sperm entering into the womb, then mixing with the woman's fluid, and then preparing for the acceptance of life. To disturb that is a crime. Then, if it becomes a clot ('alaqah) or a lump (mudghah), the crime is more severe. Then, if the soul is breathed into it and the physical form is established, the crime increases in gravity. [6]
These are some of the most explicit statements from Medieval Muslim scholars; they deemed that life begins at inception. The Qur'an states, "Does man think that he will be left for naught (sudan)? Was he not a sperm-drop ejected from sexual fluid?" (75:36-37). In other words, the "sperm-drop" phase is the start of human existence, and existence is the basis for human dignity, as with other living creatures. The human being was a "sperm-drop." If that is so, this strongly suggests that meddling with this fluid, even before the fetus begins to grow and develop limbs and organs, would be to violate the sanctity of a protected creature. The Qur'an further says, "Did We not create you from a despicable fluid? And then, We placed you in a firm resting place, until a defined scope" (Q 77:20-22). The use of the second person plural pronoun (you) in these verses strongly suggests that the start of human life begins at inception. This is not to mention the multiple verses forbidding one from killing one's children due to poverty, fear of poverty, or out of shame or folly.
The Sunnah of the Prophet Muhammad

similarly offers sufficient indication that even though the fetus is not fully formed, it is still an actualized existence and living creature. The Prophet reportedly said, "The miscarried fetus will remain humbly lying with its face down at the gates of heaven saying, 'I will only enter when my parents do.'"[7] Similarly, it is reported that when the second caliph 'Umar b. al-Khattab ordered that an adulteress discovered to be pregnant be stoned to death, the companion, Mu'adh b. Jabal, said to him, "Even if you have a right to punish her, you do not have a right to punish what is in her belly."[8] The Prophet and his followers after him never executed a pregnant woman guilty of a capital crime until she gave birth and someone had taken on the care of the child. In addition, they imposed a hefty fine on those who were directly responsible for a woman's miscarriage.[9] All of this indicates that the fetus is to be respected from the time the male's sperm reaches the ovum of the woman.
Imam Al-Razi's Ethical Reflection on the Qur'anic Verse, 6:140
God says in the Qur'an, "Ruined are those who murder their children foolishly without knowledge and forbid what God has provided them with while inventing falsehoods against God. They have strayed and are not guided aright" (6:140).
About this verse, Imam Fakr al-Din al-Razi (d. 1210) comments,
Many issues relate to the verse: the first issue is that God mentioned, in the preceding verse, their murder of their children while depriving themselves of the sustenance that God provided them with. Then, God brings these two matters together in this verse while clarifying to them all that is a logical consequence of this judgment, such as ruin, folly, lack of knowledge, the deprivation of what God has provided them, false statements against God, straying, and the privation of guidance. So these are seven characteristics, each of which is an independent cause for censure. The first is ruin (khusran), and that is because a child is an immense blessing from God upon a person, so when one strives to terminate its existence, he/she suffers great ruin and especially deserves great censure in life and a severe punishment in the hereafter due to terminating its existence. Censure in life is warranted because people say one has murdered one's child out of fear of it eating one's food. And there is no censure in life greater than such. Punishment in the hereafter is warranted because the closeness resulting from childbirth is one of the greatest sources of love. Then, upon achieving it, one sets out to deliver the greatest of harms to it [the child], thereby committing one of the gravest sins. As a consequence, one of the greatest punishments is warranted. The second is folly (safahah), which is an expression of condemnable frivolousness. That is because the murder of the child is only committed in light of the fear of poverty. And, even though poverty is itself a harm, murder is a much graver harm. Additionally, this murder is actualized, while the poverty [feared] is merely potential (mawhum). So enforcing the maximum harm in anticipation of a potential minimal harm is, without doubt, folly. The third regards God's saying, "without knowledge." The intent is that this folly was only born of the absence of knowledge. And there is no doubt that ignorance is one of the most objectionable and despicable of things. The fourth regards depriving one's self of what God has made lawful. It is also one of the worst kinds of stupidity, because one denies one's self those benefits and good things, becoming entitled by reason of that deprivation of the severest torment and chastisement. The fifth is blaspheming God. And it is known that boldness against God and blaspheming Him is one of the cardinal sins. The sixth is straying from prudence (rushd) with relation to the interests of the faith (din) and the benefits found in the world. The seventh is that they are not guided aright. The benefit of it is that a person might stray from the truth but may return to proper guidance. So God clarifies that they have strayed without ever obtaining proper direction. So it is established that God has censured those described as having murdered children and denied what God has made lawful for them, with these seven characteristics necessitating the worse types of censure. And that is the ultimate hyperbole.[10]
The Ethical Contentions of a Moroccan Mufti
We have already quoted Shaykh Muhammad Al-Ta'wil of Morocco. Like the medieval scholars, he maintained a very conservative opinion on abortion, allowing it only if the mother's life was at risk. The following is a list of his nine ethical contentions against abortion and those scholarly opinions allowing it. The bulk of what follows is a literal translation of his views. Regarding why abortion is immoral, he says:
Firstly, it is a transgression against a vulnerable creature who has committed neither sin nor crime, a denial of it from its right to existence and life that God has given it and Islam has guaranteed as well as the taking of a life in some situations.
Secondly, it is a clear challenge to God's will and a demonstratively defiant act meant to stubbornly contend with God's action, creative will, and judgment. And that manifests itself in the murder of what God has created, the voiding of its existence, and a commission of what He deems unlawful.
Thirdly, it a decisively demonstrative proof of hard-heartedness, the absence of mercy, and the loss of motherly and fatherly affection or rather the loss of humanity from the hearts of those who daringly undertake the act of abortion with dead hearts and wicked dark souls.
Fourthly, it is the epitome of self-centeredness, selfishness, narcissism, and sacrifice of what is most precious¾one's own flesh and blood, sons and daughters¾to gratify the self and enjoy life and its attractions far away from the screams of infants, the troubles of children, and the fatigue resulting from them.
Fifthly, it is a practical expression of one's bad opinion of God, the lack of trust in His promise to which He decisively bounded Himself to guarantee the sustenance of His creation and servants. It also shows ignorance of His saying, "And, there is not a single creature on earth except that God is responsible for its sustenance, just as He knows its resting place and place from which it departs. Every thing is in a manifest record (Q 11:6); as well as His saying, "And do not kill your children due to poverty. We will provide for you as well as for them" (Q 6:151); in addition to His saying, "And, do not kill your children out of fear of poverty. We will provide for them and for you" (Q 17:31). This is in addition to other verses and prophetic traditions that indicate that all provisions are in God's control and that no soul will die until it exacts its sustenance in full as the Prophet said.
Sixthly, it is a bloody war against the Islamic goal, introduced by the Prophet and to which he called and strongly encouraged, of population growth and increase in posterity.
Seventhly, it undermines the aims of the Islamic moral code that considers the preservation of offspring to be one of the five essentials upon which the sanctified revealed moral code is built.
Eighthly, it goes against the nature to which God has disposed both animals and human beings to of love of children, childbearing, and the survival of progeny….
Ninthly, it is the grossest display of bad manners towards God and the epitome of ingratitude towards a blessing and the rejection of it. And that is because both pregnancy and children are among God's favors upon His servants and among His gifts to the expectant mother and her husband.
These are some important matters of consideration. Every Muslim, woman, and man, will ultimately need to decide what burdens he/she is prepared to meet God with. While abortion is an emotionally charged matter, especially in Western politics, emotions play no role in the right or wrong of legislation. Although our laws currently may not consider a fetus aborted before its survival outside of the womb to be viable, the Muslim who understands that legal positivism does not trump objective or moral truths should be more conscientious and less cavalier in his/her attitude about the taking of life and removing the viability of life.
---
[1] Al-Ta'wil, Muhammad b. Muhammad b. Qasim. Shadharat al-Dhahab fi ma jadda fi Qadaya al-Nikah wa al-Talaq wa al-Nasab. Hollad: Sunni Pubs, 2010, p. 148.
[2] Muhammad b. 'Abd Al-Baqi Al-Zurqani quotes Ibn 'Abd Al-Barr as saying,
They unanimously agreed that anyone who marries without mention of a particular condition while having the intention to remain with her for a period that he has in mind is permitted (ja'iz), and it is not a temporary marriage. However, Malik said this is not an attractive thing to do (laysi hadha min al-jamil). Nor is it part the conduct of moral people (la min akhlaq al-nas). Al-'Awza'i took a solitary view saying that it is a temporary marriage. And, there is no good in it (la khayra fihi). 'Ayyad stated it.
Al-Zurqani, Muhammad b. 'Abd Al-Baqi b. Yusuf. Sharh al-Zurqani 'ala Muwatta' al-Imam Malik. Beirut: Dar al-Kutub al-'Ilmiyyah, (no date), 3/201.
[3] Hafiz Ibn Hajar al-'Asqalani said about the prophetic tradition, "Kill whoever changes his lifepath", "Some Shafi'i jurists clung to it concerning the killing of anyone who changes from one non-Islamic faith to another non-Islamic faith (din kufr)…"
Al-'Asqalani, Ahmad b. 'Ali b. Hajar. Fath Al-Bari Sharh Sahih al-Bukhari. Muhammad Fu'ad 'Abd Al-Baqi Edition. Riyadh: Al-Maktabah Al-Salafiyyah, (no date), 12/272.
[4] Al-Ra'ini, Muhammad al-Hattab. Qurrah al-'Ayn bi Sharh Waraqat al-Imam al-Haramayn. Beirut: Mu'assassah al-Kutub al-Thaqafiyyah, 2013, p. 78.
[5] Al-Wazzani, Abu 'Isa Sidi al-Mahdi. Al-Nawazil Al-Jadidah Al-Kubra fi ma li Ahl Fas wa ghayrihim min al-Badw wa al-Qura al-Musammah bi Al-Mi'yar Al-Jadid Al-Jami' Al-Mu'rib 'an Fatawa al-Muta'akhkhirin min 'Ulama al-Maghrib. Rabat: Wizarah al-Awqaf wa al-Shu'un al-Islamiyyah, 1997, 3/376.
[6] Al-Ghazali, Muhammad Abu Hamid. Ihya 'Ulum al-Din. Beirut: Dar Ibn Hazm, p. 491.
[7] This is how Qadi Abu Bakr b. al-'Arabi relates the report as related by Al-Wazzani in his Nawazil 3/376. In the Musnad of Abu Hanifah, however, the Prophet reportedly said, "You will see the miscarried fetus filled with rage." When it is asked, "Enter Paradise", it will respond, "Not until my parents come in [too]." Al-Hanafi, Mulla 'Ali Al-Qari. Sharh Musnad Abi Hanifah. Beirut: Dar al-Kutub al-'Ilmiyyah, 1985, p. 252.
[8] Ibn 'Asakir, Abu al-Qasim 'Ali b. al-Hasan. Tarikh Madinah Dimashq wa Dhikr Fadliha wa Tasmiyah man hallaha min al-Amathil aw ijtaza bi Nawahiha min Waridiha wa Ahliha. Beirut: Dar al-Fikr, 1997, p. 342.
[9] Among the fines due for causing the miscarriage of a fetus are: 1) prison or flogging; 2) the penance for murder (kaffarah), which is the freeing of a slave, fasting two consecutive months which is compulsory for Shafi'is and recommended for Malikis; and 3) the gifting of a slave to the woman who lost her child.
[10] Al-Razi, Fakr al-Dina. Tafsir al-Fakr al-Razi al-Mushtahir bi Al-Tafsir Al-Kabir wa Mafatih al-Ghayb. Beirut: Dar al-Fikr, 1981, pp. 220-221
What Does Sharia Really Say About Abortion in Islam
Abortion is not a simple option of being pro-life or pro-choice, Islam recognizes the nuance.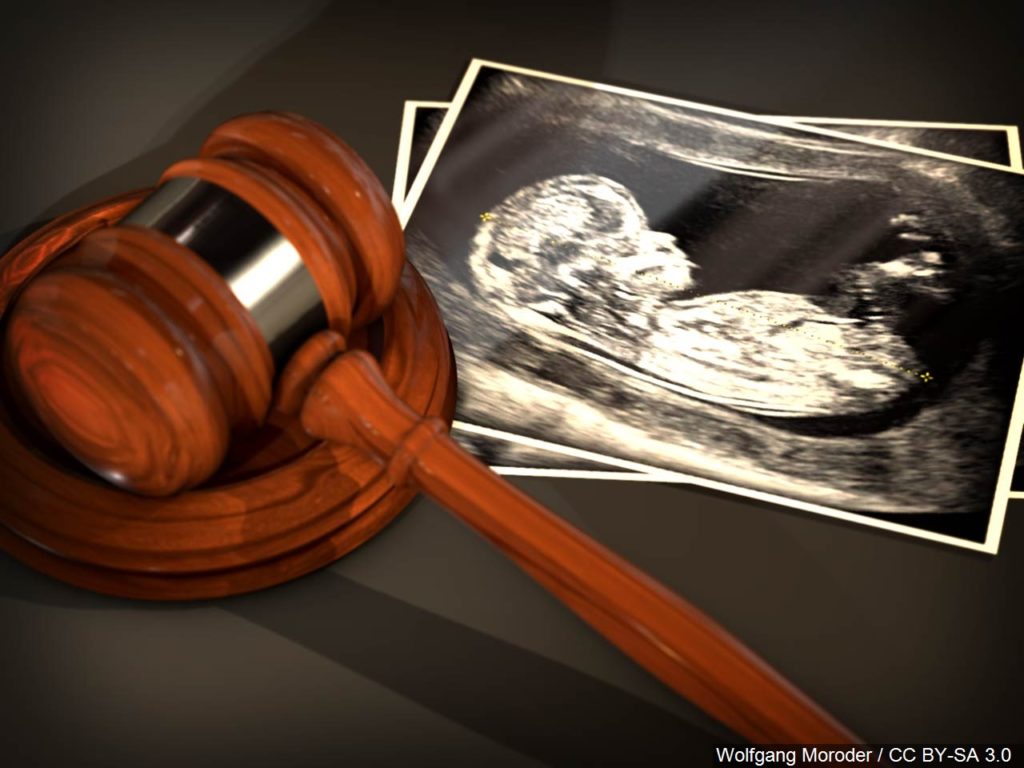 The following article on abortion is based on a research paper titled 'The Rights of the Fetus in Islam', at the Department of Sharia at Qatar University. My team and I presented it to multiple members of the faculty. It was approved by the Dean of the Islamic Studies College, an experienced and reputed Islamic authority.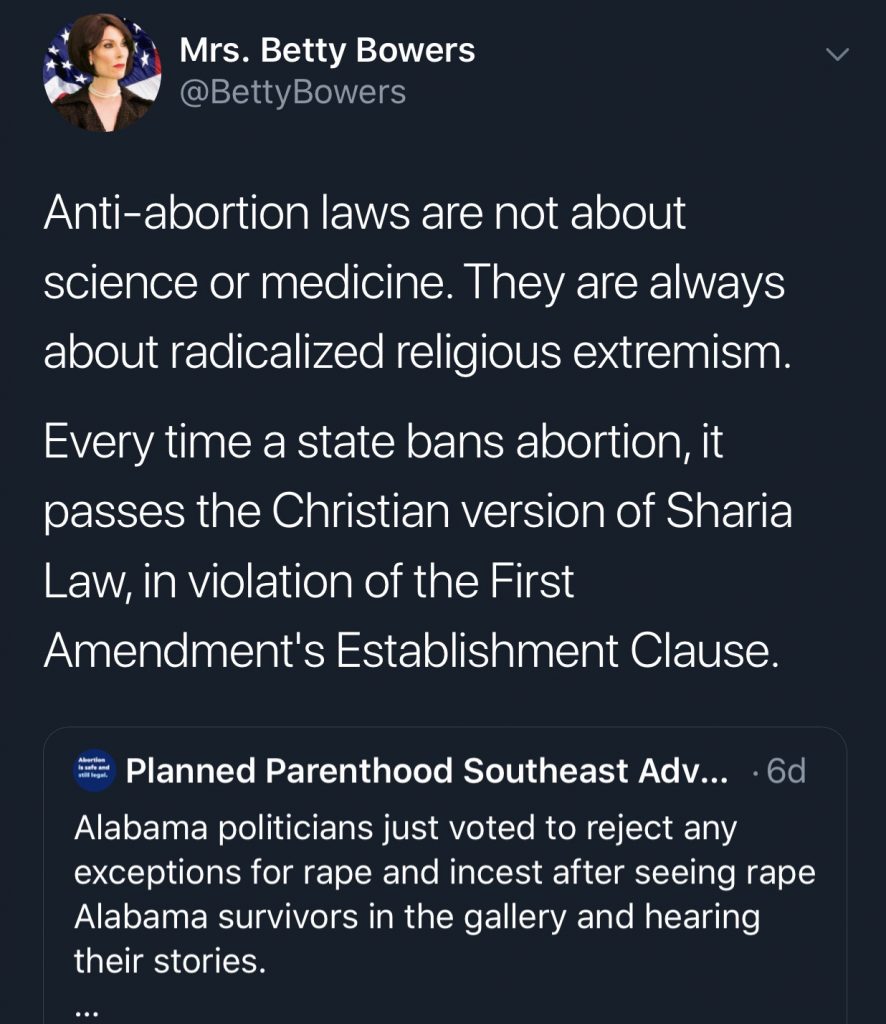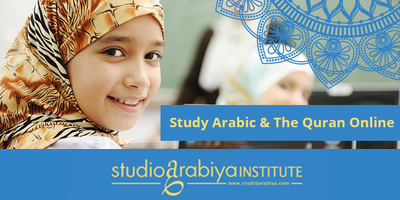 In one swoop, liberal comedian Deven Green posing as her satirical character, Mrs. Betty Brown, "America's best Christian", demonized both Sharia law as well as how Islamic law treats abortion. Even in a debate about a law that has no Muslim protagonist in the middle of it, Islam is vilified because apparently, no problem in the world can occur without Islam being dragged into it.
It is important to clarify what Sharia is before discussing abortion. Sharia law is the set of rules and guidelines that Allah establishes as a way of life for Muslims. It is derived from the Qur'an and the Sunnah, which is interpreted and compiled by scholars based on their understandings (fiqh). Sharia takes into account what is in the best interest for individuals and society as a whole, and creates a system of life for Muslims, covering every aspect, such as worship, beliefs, ethics, transactions, etc.
Muslim life is governed by Sharia – a very personal imperative. For a Muslim living in secular lands, that is what Sharia is limited to – prayers, fasting, charity and private transactions such as not dealing with interest, marriage and divorce issues, etc. Criminal statutes are one small part of the larger Sharia but are subject to interpretation, and strictly in the realm of a Muslim country that governs by it.
With respect to abortion, the first question asked is:
"Do women have rights over their bodies or does the government have rights over women's bodies?"
The answer to this question comes from a different perspective for Muslims. Part of Islamic faith is the belief that our bodies are an amanah from God. The Arabic word amanah literally means fulfilling or upholding trusts. When you add "al" as a prefix, or al-amanah, trust becomes "The Trust", which has a broader Islamic meaning. It is the moral responsibility of fulfilling one's obligations due to Allah and fulfilling one's obligations due to other humans.
The body is one such amanah. Part of that amanah includes the rights that our bodies have over us, such as taking care of ourselves physically, emotionally and mentally – these are part of a Muslim's duty that is incumbent upon each individual.
While the Georgia and Alabama laws in the United States that make abortion illegal after the 6-week mark of pregnancy are being mockingly referred to as "Sharia Law" abortion, the fact is that the real Sharia allows much more leniency in the matter than these laws do.
First of all, it is important to be unambiguous about one general ruling: It is unanimously agreed by the scholars of Islam that abortion without a valid excuse after the soul has entered the fetus is prohibited entirely. The question then becomes, when exactly does the soul enter the fetus? Is it when there is a heartbeat? Is it related to simple timing? Most scholars rely on the timing factor because connecting a soul to a heartbeat itself is a question of opinion.
The timing then is also a matter of ikhtilaf, or scholarly difference of opinion:
One Hundred and Twenty Days:
The majority of the traditional scholars, including the four madhahib, are united upon the view that the soul certainly is within the fetus after 120 days of pregnancy, or after the first trimester.
This view is shaped by  the following hadith narrated by Abdullah bin Masood

:
قال رسول الله صلى الله عليه وسلم: إن أحدكم يجمع خلقه في بطن أمه أربعين يوما ثم يكون في ذلك علقة مثل ذلك ثم يكون في ذلك مضغة مثل ذلك ثم يرسل الملك فينفخ فيه الروح..
"For every one of you, the components of his creation are gathered together in the mother's womb for a period of forty days. Then he will remain for two more periods of the same length, after which the angel is sent and insufflates the spirit into him."
Forty Days:
The exception to the above is that some scholars believe that the soul enters the fetus earlier, that is after the formation phase, which is around the 40 days mark of pregnancy.
This view is based on another hadith narrated by Abdullah bin Masood

:
قال رسول الله صلى الله عليه وسلم: إذا مر بالنطفة إثنتان وأربعون ليلة بعث الله إليها ملكاً، فصوره، وخلق سمعها وبصرها وجلدها ولحمها وعظمها…
"If a drop of semen spent in the womb forty-two nights, Allah sends an angel to it who depicts it and creates its ears, eyes, skin, flesh and bones."
Between the two views, the more widespread and popular opinion is the former, which is that the soul enters the fetus at the 120 days (or 4 months) mark, as the second hadith implies the end of the formation period of the fetus rather than the soul entering it.
Even if one accepts that the soul enters the fetus at a certain timing mark, it does not mean that the soul-less fetus can be aborted at any time or for any reason. Here again, like most matters of Islamic jurisprudence, there is ikhtilaf of scholarly difference of opinion.
No Excuse Required:
The Hanafi madhhab is the most lenient, allowing abortion during the first trimester, even without an excuse.
Some of the later scholars from the Hanafi school consider it makruh or disliked if done without a valid reason, but the majority ruled it as allowed.
Only Under Extreme Risks:
The Malikis are the most strict in this matter; they do not allow abortion even if it is done in the first month of pregnancy unless there is an extreme risk to the mother's health.
Other Views:
As for the Shafi'i and Hanbali schools of thought, there are multiple opinions within the schools themselves, some allowing abortion, some only allowing it in the presence of a valid excuse.
Valid excuses differ from scholar to scholar, but with a strong and clear reason, permissibility becomes more lenient. Such cases include forced pregnancy (caused by rape), reasons of health and other pressing reasons.
For example, consider a rape victim who becomes pregnant. There is hardly a more compelling reason (other than the health of the mother) where abortion should be permitted. A child born as a result in such circumstances will certainly be a reminder of pain and discomfort to the mother. Every time the woman sees this child, she will be reminded of the trauma of rape that she underwent, a trauma that is generally unmatched for a woman. Leaving aside the mother, the child himself or herself will lead a life of suffering and potentially neglect. He or she may be blamed for being born– certainly unjust but possible with his or her mother's mindset. The woman may transfer her pain to the child, psychologically or physically because he or she is a reminder of her trauma. One of the principles of Sharia is to ward off the greater of two evils. One can certainly argue that in such a case where both mother and child are at risk of trauma and more injustice, then abortion may indeed be the lesser of the two.
The only case even more pressing than rape would be when a woman's physical health is at risk due to the pregnancy. Where the risk is clear and sufficiently severe (that is can lead to some permanent serious health damage or even death) if the fetus remained in her uterus, then it is unanimously agreed that abortion is allowed no matter what the stage of pregnancy. This is because of the Islamic principle that necessities allow prohibitions. In this case, the necessity to save the life of the mother allows abortion, which may be otherwise prohibited.
This is the mercy of Sharia, as opposed to the popular culture image about it.
Furthermore, the principle of preventing the greater of two harms applies in this case, as the mother's life is definite and secure, while the fetus' is not.
Absolutely Unacceptable Reason for Abortion:
Another area of unanimous agreement is that abortion cannot be undertaken due to fear of poverty. The reason for this is that this mindset collides with having faith and trust in Allah. Allah reminds us in the Quran:
((وَلَا تَقْتُلُوا أَوْلَادَكُمْ خَشْيَةَ إِمْلَاقٍ ۖ نَّحْنُ نَرْزُقُهُمْ وَإِيَّاكُمْ ۚ إِنَّ قَتْلَهُمْ كَانَ خِطْئًا كَبِيرًا))
"And do not kill your children for fear of poverty, We provide for them and for you. Indeed, their killing is ever a great sin." (Al-Israa, 31)
Ignorance is not an excuse, but it is an acceptable excuse when it comes to mocking Islam in today's world. Islam is a balanced religion and aims to draw ease for its adherents. Most rulings concerning fiqh are not completely cut out black and white. Rather, Islamic rulings are reasonable and consider all possible factors and circumstances, and in many cases vary from person to person.
Abortion is not a simple option of being pro-life or pro-choice. These terms have become political tools rather than sensitive choices for women who ultimately suffer the consequences either way.
Life means a lot more than just having a heartbeat. Islam completely recognizes this. Thus, Islamic rulings pertaing to abortion are detailed and varied.
As a proud Muslim, I want my fellow Muslims to be confident of their religion particularly over sensitive issues such as abortion and women's rights to choose for themselves keeping the Creator of Life in focus at all times.
Should I Pray Taraweeh Or Make Up Prayers?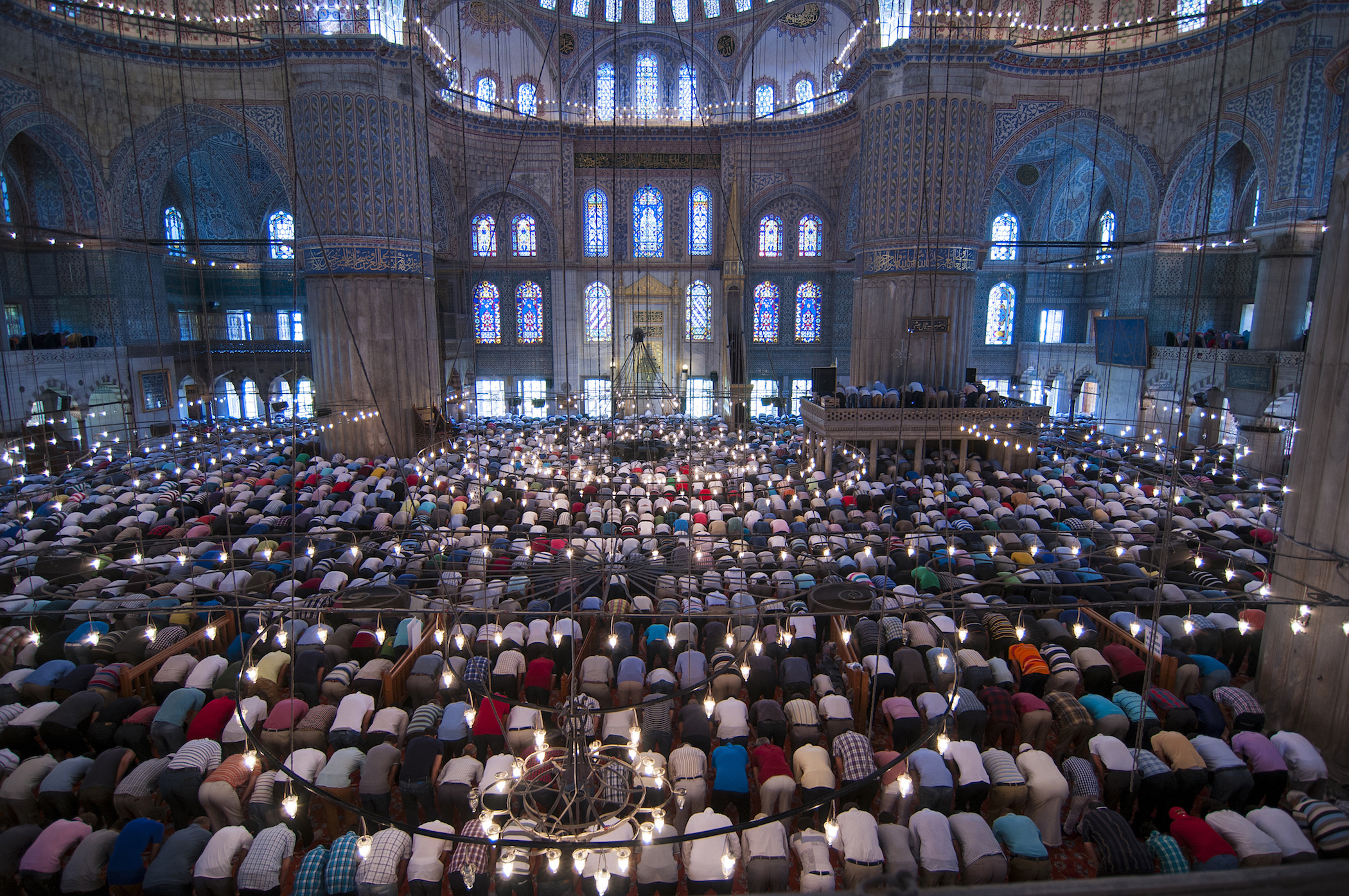 Every Ramadan I'm asked by Muslims whether they should pray Taraweeh or make up missed prayers. They have the guilt of missed prayers but the desire to pray Taraweeh. They do not want to miss out on the special Taraweeh prayer but know that they have to make up obligatory prayers.
I find Muslims bogged down by not only the number of prayers to make up but by the fact that they have to make up prayers that they missed, sometimes too many to count. They emotionally want to move past the memory of missing prayers. While one should not dwell on the sin of missed prayer, at the same time, they should also realize that the prayers remain a debt that needs to be addressed.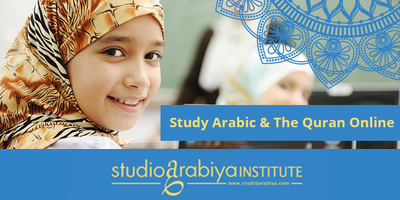 Many of us feel a shame associated with past sins. This connection is a sign of true repentance. Shame due to sins, however, becomes problematic when it serves as an impediment for our religious progress. When the guilt reaches this level, one should seek refuge in Allah from Shaytaan and ignore all negative thoughts.
We, as Muslims, should believe that Allah has forgiven our sins, including missed prayers. Forgiveness is done through our repentance. Therefore, we should see makeup prayers as an opportunity to draw closer to Allah, rather than a punishment. Allah tells us in a Hadith Qudsi that
"My servant does not draw nearer to Me with anything more beloved to Me than what I have ordained upon him. He continues to draw near to me with nafl (non-obligatory) actions until I love him" (Bukhari).
Each time we perform a make-up prayer, we are doing what Allah loves us to do the most- an obligatory action. We are drawing nearer to Allah and should feel grateful for being able to do so.
In the Hanafi school of thought, one can pray makeup prayers as non-emphasized sunnahs, which include the prayer of greeting the mosque[1] and Tahajjud prayer. Many Muslims feel more spiritual praying these types of nafl prayers, and they will take their time to pray with the presence of heart. However, when they pray makeup prayers, they rush, praying quickly to get past it as soon as possible. The dreadful feeling of makeup prayers is due to a negative association for the initial neglect, but we must see makeup prayers as not only more critical than nafl prayers, but as something that can be done as nafl prayers.
Taraweeh is an emphasized Sunnah[2] and for Hanafis that means one does not neglect taraweeh[3] due to previously missed prayers[4]. One should have a regiment of making up prayers, such as praying one makeup of Zuhur after praying Zuhur for the day and manage that along with Taraweeh.
For Malikis[5] and Shafis[6] however, one is not supposed to pray Taraweeh if he has prayers to make up. For those following this view, I would advise them to still go to the masjid if that is their habit during the Taraweeh time and pray those due prayers in a space outside of the congregation so they can still enjoy the Ramadan atmosphere in the masjid. Also, it's worth noting that in the Shafi school, one can have the intention of a makeup prayer even if the imam is praying a different prayer[7]. Hence, twenty rakah of Taraweeh in units of two can be prayed by a follower as ten makeup prayers for Fajr.
Ramadan is a great time to form positive habits. If you do not already have a routine of making up missed prayers, establish one this Ramadan. Make your routine something that you can be consistent with throughout the year, not just when you have the Ramadan energy. We are advised in a hadith to only take on the amount of good actions that we are able to bear because the best actions are those in which we can be persistent, even if they are minor (Ibn Majah 4240).
Lastly, as Ramadan is here, I urge everyone to remember that praying Isha in congregation is more important than praying Taraweeh in congregation. Taraweeh is more alluring due to its uniqueness, and you will see latecomers quickly praying Isha so they can join the Taraweeh prayer. Each prayer is worship, but the priorities of worship are based on its status. Obligatory prayer is more important than a non-obligatory prayer, although every prayer is important. We must prioritize what God prioritizes.
[1]  "ويسن تحية ) رب ( المسجد ، وهي ركعتان ، وأداء الفرض ) أو غيره ، وكذا دخوله بنية فرض أو اقتداء ( ينوب عنها ) بلا نية)"
(رد المحتار على الدر المختار)
[2]  (التراويح سنة  مؤكدة لمواظبة الخلفاء الراشدين  للرجال والنساء إجماعا " ( رد المحتار على الدر المختار
[3] (والسنة نوعان : سنة الهدي ، وتركها يوجب إساءة وكراهية…"  (رد المحتار على الدر المختار"
[4] وأما النفل فقال في المضمرات : الاشتغال بقضاء الفوائت أولى وأهم من النوافل إلا سنن…"
المفروضة وصلاة الضحى وصلاة التسبيح والصلاة التي رويت فيها الأخبار . ا هـ . ط أي كتحية المسجد ، والأربع قبل العصر والست بعد المغرب" (رد المحتار على الدر المختار،باب قضاء الفوائت)
[5]   (ولا يتنفل من عليه القضاء، ولا يصلي الضحى، ولا قيام رمضان…"  (لأخضري"
[6]   "وَإِنْ كَانَتْ فَاتَتْ بِغَيْرِ عُذْرٍ لَمْ يَجُزْ لَهُ فِعْلُ شَيْءٍ مِنْ النَّوَافِلِ قَبْلَ قَضَائِهَا"
(الفتاوى الكبرى الفقهية على مذهب الإمام الشافعي ,فتاوى ابن حجر الهيتمي)
تنبيه : تصح قدوة المؤدي بالقاضي ، والمفترض بالمتنفل ، وفي الظهر بالعصر ، وكذلك القاضي بالمؤدي ، والمتنفل بالمفترض ، وفي العصر بالظهر ؛ نظراً لاتفاق الفعل في الصلاتين وإن تخالفت النية ، والانفراد هنا أفضل ؛ خروجاً من الخلاف ، وعلى أن الخلاف في هذا الاقتداء ضعيف جداً فلم يقتض تفويت فضيلة الجماعة ، وإن كان الانفراد أفضل . ( تحفة المحتاج مع حاشية الشر واني ۲ / ۳۳۲ – ۳۳۳ )
وذكر في ( إعانة الطالبين ۲ / ۷ ) : وإن لم تتفق مقضيتها شخصاً . . فهي خلاف الأولى ولا تكره
. وذكر في « البجيرمي على المنهج ۱ / ۳۳۳ ) : قوله ( ويصح الاقتداء لمؤد بقاض ومفترض بمتنفل . . . ) : أي ويحصل له فضل الجماعة في جميع هذه الصور على ما اعتمده الرملي .
————————————————————
– قول متن المنهاج ( وتصح قدوة المؤدي بالقاضي ، والمفترض بالمتنفل . . . ) قضية كلام المصنف – أي النووي – كالشارح الرملي أن هذا مما لا خلاف فيه ، وعبارة الزيادي وابن حجر : ( والانفراد هنا أفضل ؛ خروجاً من الخلاف( فيحتمل أنه خلاف لبعض الأئمة وأنه خلاف مذهبي لم يذكره المصنف ، لكن قول ابن حجر بعد على أن الخلاف في هذا الاقتداء ضعيف جداً . . ظاهر في أن الخلاف مذهبي . ( الشبراملسي ) . ( حاشية الشرواني ۲ / ۳۳۲ )
وهذا لا يجوز في المذهب  الحنفي  "…يشترط أن يكون حال الإمام أقوى من حال المؤتم أو مساويا"  (رد المحتار على الدر المختار(