Sunday Open Thread | 24-10-10 | Have you been to the Hajj?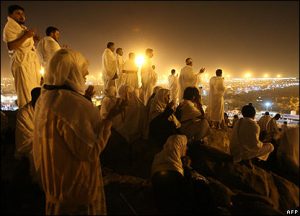 Alhumdulillah, that time of the year is here again and we have been blessed to be able to witness it! Yes, here is the onset of those precious weeks leading up to the grand Hajj pilgrimage, a pillar of the beautiful way of life bestowed on us by Allah(swt). It is amazing, for me, to feel so enthusiastic about anything so much after having experienced Ramadan but there is such an immense degree of excitement and anticipation everywhere that the grand arrival of the Hajj cannot be missed. And indeed, before I go on further, in the same excited spirit, I'm very happy to tell you Muslim Matters' very own Brother Ismail Kamdar is going on the Hajj too, Insha'Allah! Allah(swt) responds to the one who really and sincerely wishes to go and makes it easy for him. Alhumdulillah! May Allah shower us all with His Special Mercy, Ameen.
Before I went for Hajj myself, back in 2006, I didn't know much about what went on during the pilgrimage except what little I discovered from watching the live TV coverage and from stories my parents shared from their trip in the 80's. My own trip was so unexpected that I hardly planned for it and, in a way, just ended up alongside the other Muhrims still wondering how I got to be there! SubhanAllah, walhumdulillah… it turned out to be an experience like no other. I saw so much, learned so much and despite the fact that I'd grown up in Saudi Arabia and been on many Umrah trips, I experienced everything as if for the first time. The Hajj is a wonderful experience in that sense – you change, you evolve on so many counts… spiritual, physical and in how you relate to and deal with others around you.
It's been some years now but I still feel nostalgic about my Hajj. I also wonder if I did it right? I think back to times I could have definitely spent better and hope to go again, just to make sure I don't make those mistakes. Part of what keeps the memories alive is reading my Hajj journal every once in a while – it's a great idea that I recommend to all. I wasn't able to complete it but it still gives me goose-flesh when I connect a particular incident to the actual memories. Last year, I watched most of the live coverage to try and be a part of the Hajj as much as I could or at least hear the talbiyah (Labbayk Allahumma labbayk…) be chanted over and over again so that the purpose of Hajj is never forgotten, even if years have passed in between.
Now, I'm sure those of you who have been to the Hajj, have many, many stories to share just like I do. Some of our Muslim brothers and sisters are going away on that blessed journey in the days ahead. How about enriching the experience for them by sharing inspirational incidents or helpful advice right here where they can benefit from it directly? Sound good? Jump to the comments section right away then!