Commencement Time: Reflection for Muslim Graduates
Written by Safia Farole, our newest MuslimMatters Associate writer. Please welcome sister Safia!
Safia was 4 years old when, by the mercy of Allah, she was able to flee with my family from the ravaging civil war that took place in Somalia in the early 90's. 17 years later she's proud to be a resident of the Pacific North West, in the beautiful city of Seattle, where the community is trying to revive AlMaghrib's former Qabeelat Ruhma. She has degrees in Psychology and Political Science, and is currently involved in Political Science research. InshaAllah she would like to join the academic discourse in the fields of International Relations or American government because we are in need of more Muslim voices on college campuses. Krispy Cream and coffee are her favorite pastimes.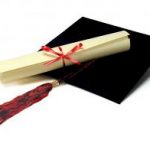 This time of year many Muslim students across the country graduate from colleges and universities. A lot of them sit through commencement speeches that are peppered with words of wisdom, reflection, and advice for life. Particularly, for undergraduate students commencement speeches mark the end of one's formal education (unless they will be continuing on to graduate school) and the progression into the "real world." Yet, with all the precious gems of good natured advice that are weaved throughout these speeches, hardly will you find words of reflection on the purpose of life and the significance of an educational degree in this endeavor. Understandably, most higher education institutions in the US are secular, so one shouldn't expect commencement speeches that are laced with deep philosophical issues. I, myself having sat through several commencement speeches this spring, including my own, found that I was yearning to have things put into perspective.
What I came across in these speeches is that they were often structured by a theme, be it failure, imagination, legacy of women's rights struggle, dance, or psychology. The question that kept coming to mind was what would a commencement speech be like if a Muslim student were graduating from a fully accredited Islamic University right here in the US? Inshallah, I believe that dream can one day be realized. But back to those speeches I had to sit through. As many other students will agree, the life advice found in these speeches, even as delivered by non-Muslims are often useful things to keep in mind as we enter an ever more challenging world. But as Muslims our entire religion is a code of ethics, and we cannot talk about advice and inspiration without acknowledging our link to our Creator. I came to the conclusion that the best commencement speech has already been delivered. It was delivered 1400 years ago by the best human being to walk this earth. In his final sermon, the Prophet Muhammad confirmed the delivery of his message, and he gave us true gems of wisdom that are essential for the Muslim throughout the journey of life. No one else can do it as succinctly as he. Below I share with you some of these timeless reminders from his last sermon that I'm sure graduates can also reflect on.
"O People, just as you regard this month, this day, this city as sacred, so regard the life and property of every Muslim as a sacred trust. Return the goods entrusted to you to their rightful owners. Hurt no one so that no one may hurt you. Remember that you will indeed meet your Lord, and that He will indeed reckon your deeds."

"Beware of Satan, for the safety of your religion. He has lost all hope that he will ever be able to lead you astray in big things, so beware of following him in small things."

"O People, it is true that you have certain rights with regard to your women, but they also have rights over you…Do treat your women well and be kind to them for they are your partners and committed helpers."

"O People, listen to me in earnest, worship Allah, say your five daily prayers (Salah), fast during the month of Ramadan, and give your wealth in Zakat. Perform Hajj if you can afford to."

"All mankind is from Adam and Eve, an Arab has no superiority over a non-Arab nor does a non-Arab have any superiority over an Arab; also a white has no superiority over a black nor does a black have any superiority over a white except by piety and good action. Learn that every Muslim is a brother to every Muslim and that the Muslims constitute one brotherhood. Nothing shall be legitimate to a Muslim which belongs to a fellow Muslim unless it was given freely and willingly. Do not, therefore, do injustice to yourselves."

"So beware, do not stray from the path of righteousness after I am gone.

O People, No Prophet or Apostle will come after me and no new faith will be born. Reason well, therefore, O People, and understand words which I convey to you. I leave behind me two things, the Quran and my example, the Sunnah and if you follow these you will never go astray."
Now THAT is what I call a commencement speech for all time. I've selected only a few passages from the Messenger's last sermon, but understand how comprehensive these brief words are. In the sermon he (SAW) reinforces for us the essentials of our living – following the Quran and his Sunnah. Furthermore he (SAW) covers the many forms of injustice that are perpetrated through acts of aggression, finance, relations with women and in interracial conflict. What is even more riveting about this sermon is that it is not bound by time or borders. Truly, the advice found in the sermon is one that the Muslim should keep in mind at any stage in life.
A college degree may not be worth what it was a couple of decades ago, but with it Muslim students are joining the ranks of an elite community, in a country where more people continue to obtain a bachelors degree. Some of this year's graduates are going to continue education in professional schools (i.e. in medicine, law, pharmacy, etc.), others are going to graduate school (i.e. to earn a Masters degree, PhD, etc.), and the final group of graduates are going to hunker down in their parents home to ride out the recession and weather a bad job market. Whatever the scenario, upon completion of a degree the first thing a Muslim should say is "Alhamdulilah" – all praise is due to Allah, without whom we could not have accomplished anything. Thereafter, as the famous saying goes "with great power comes great responsibility." As cliché as it sounds, knowledge is power, and with certainty most of us are leaving college having learned information or skills that are important for living. The next step is to use those skills to serve our communities. One thing I learned in my undergraduate experience is that universities and colleges are institutions that hold a lot of influence in the lives of ordinary citizens. Professors and lecturers have the ability to shape opinion and set the discourse on crucial issues, many of which have to do with Islam and Muslims. This is one reason why I urge Muslims to pursue positions in higher education – if we are not setting the narrative, it gets filled in a vacuum. A career in academia is not for everyone, and speaking from a podium in a lecture hall is not the only way to set the agenda concerning Muslim affairs. But whatever Muslim graduates decide to do, be a mentor. Help others in your community to navigate the currents of college life and inform them of the vast array of skills that the Ummah needs. I encourage Muslim students who are currently in college or college-bound to look beyond the confines of a career in professional fields such as medicine and law. Allah knows we need a lot of Muslim and Muslimah doctors and lawyers, but lets also invest in Muslim oceanographers, anthropologists and sociologists. All I'm saying is don't limit yourself, explore your options and tailor that to your skill set. And whatever you do, don't forget to celebrate your accomplishments. Congratulations Muslim graduates of 2010!