Recounting Hajj pt. 1 – Explaining The Unexplainable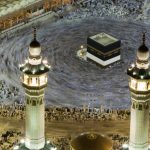 Whenever someone goes through a major life changing experience, people tend to ask common follow up questions. If someone gets married, they're always asked, "How's married life?" It's the standard things to ask someone, almost like some sort of customary greeting. The person responds that things are going well, the honeymoon details are such, and life is good.
When you come back from hajj, the same thing happens. Everyone asks, "How was it?" Only, you can't really answer the question.
The hajj journey is really the strangest thing in the world. It's an intensely exhausting and difficult journey that you want to go back and perform over and over again. It's a test that pushes you past your physical, mental, and spiritual capacities yet you leave devastated you have to go home. It's something that has no parallel in anyone else's life.
So what are you possibly going to answer the question with? It was amazing? It was a life changing experience? It was the best thing that ever happened to me in my life? You can say a lot, but it'll never really hit home. That's hajj, an unexplainable wonder, and everyone reading this that has gone will definitely agree.
Yet, here I am trying to recap hajj in blog post form. Why am I going to even try?
Simple.
Firstly, this whole abstract explanation is basically a disclaimer. Me saying you can't explain hajj as a whole to someone who hasn't gone is my way of making it clear that I'm not trying to and even if I did I'd fail. It's too large of a territory to conquer.
Secondly, with that said, what you can do, I feel, is give people a hint of the feelings and experiences you went through from it. Explain the scenario and how one personally gets through it and comes out from it, all while focusing on telling someone who is unfamiliar with the places, terms, and rituals, so as to not lose them in the details.
Think of watching a really good cooking show. My blog posts will be like that episode of your favorite chef showing how to make the perfect steak with the camera zooming in on every juicy detail. But to you, that's as far as it'll go. To really reach culmination, you gotta go the market, buy the steak, cook it, and eat it yourself.
That's what I inshaAllah plan to do. Only instead of steak, I plan to give you a slight sense of hajj and the experiences I carried during the journey.
Thirdly, many Hajj recap articles don't really do much for people who've never gone for Hajj. The terms and places are all unfamiliar, and the experiences seem too vague for non-Hajjis to connect with. These recaps won't be like that. They'll be written with someone who's unfamiliar in mind, so inshaAllah anyone can benefit.
We ask Allah (SWT) to accept everyone's hajj that went this year, before, and forever, and I ask Him to give me what it takes to give you all a taste of hajj and inshaAllah inspire you to one day go yourself.