Women of Islam: Divinely Fortified Pillars of Strength
Bismillah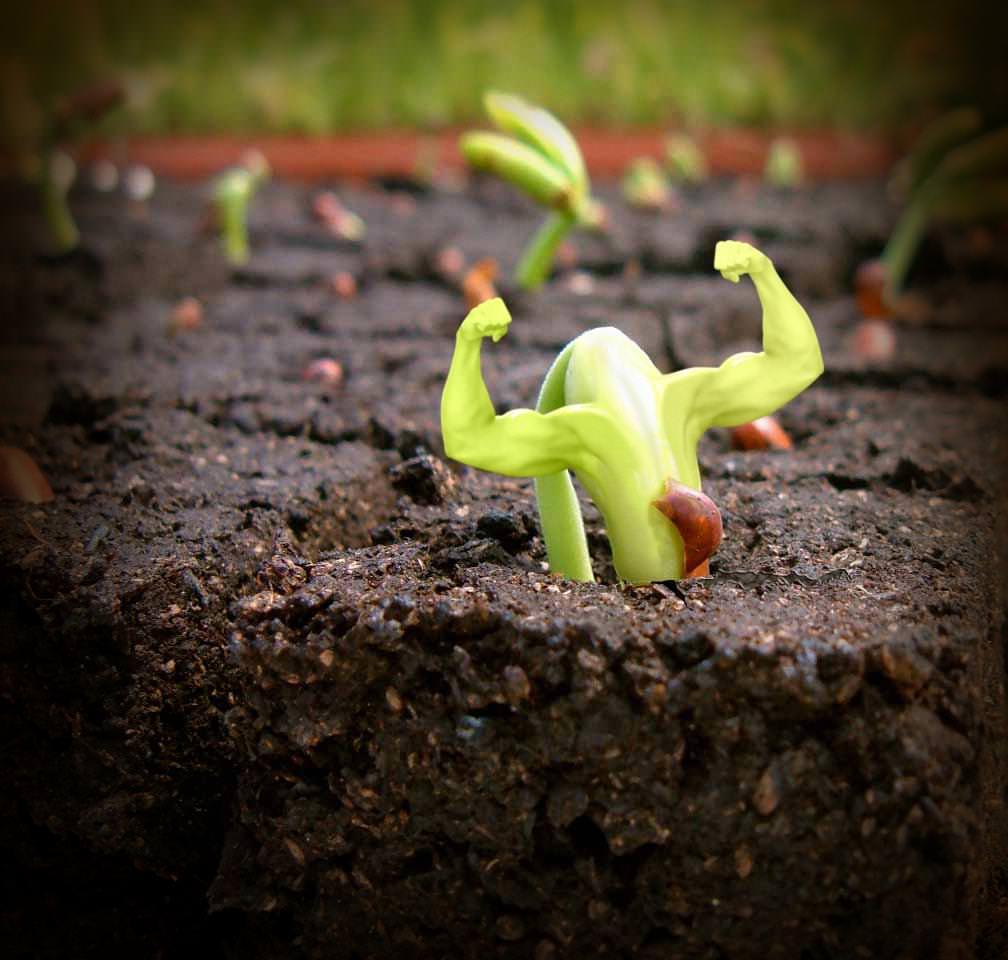 قَدْ سَمِعَ اللَّهُ قَوْلَ الَّتِي تُجَادِلُكَ فِي زَوْجِهَا وَتَشْتَكِي إِلَى اللَّهِ وَاللَّهُ يَسْمَعُ تَحَاوُرَكُمَا إِنَّ اللَّهَ سَمِيعٌ بَصِيرٌ
"Allah has heard the saying of her that disputes with you (Muhammad) concerning her husband, and complains unto Allah. And Allah hears what you both have to say. Lo! Allah is Hearer, Knower."
[Quran – 58:1]
The backdrop of Surah Al-Mujadilah is a very interesting one. It tells us how once a Muslim wife directly approached the Prophet Muhammad [صَلَى اللهُ عَلَيْهِ وَسَلَّم], complaining to him of the dhihaar which her husband had pronounced on her earlier. According to Arab custom in those days, dhihaar constituted a divorce initiated by a sentence spoken by a (usually enraged) husband to his wife: "You are to me like my mother's back", which obviously implied that he'd no longer give her, her conjugal rights or financial support. This left a wife dangling, and though her husband could proceed to marry another wife, she had no hope for marrying another.
The woman whose husband divorced her, then wanted her back:
This lady was Khaulah Bint Tha'labah [may Allah be pleased with her], and to this day she is respected for being the woman whose appeal for justice was heard and responded by Allah. This is because the Quran itself testifies to how Allah heard her complaint. A little analysis of the Arabic words:
 سَمِعَ اللَّهُ – Sami'Allahu: Muslims recite these two words as a start of the phrase uttered when standing back up from rukoo in salah. In the verse above, it means, simply and empathetically, that Allah heard her.
 تُجَادِلُكَ – Tujaadiluka: "The woman who was altercating with you" – the word meaning of the root – ja-da-la – is provided directly from Edward William Lane's Arabic-English Lexicon (veiwable online) below: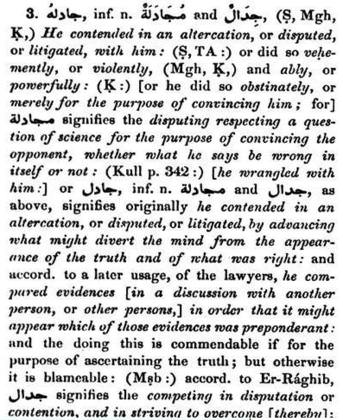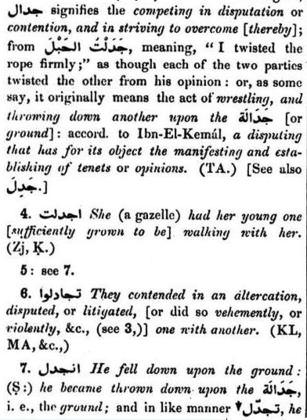 The reason for going into the depth of this word by consulting this lexicon is to enable the readers to imagine the way Khaulah Bint Tha'labah was "presenting her case" to the Prophet Muhammad [صَلَى اللهُ عَلَيْهِ وَسَلَّم]. Certainly, suffice it to say that her guts are admirable indeed. Not the typical, stereotypical picture of the oppressed Muslim woman under a cloth shuttlecock, is it?
 تَشْتَكِى – Tushtakee: She was complaining.
[And to think how often women are criticized for "nagging"!]
Incidentally, this Surah is known as both Al-Mujadalah as well as Al-Mujadilah. If it were read as "mujadalah", it would mean, "pleading and arguing", and if it were read as "mujadilah", it would mean "the woman who pleaded and argued." Both cases apply to the incident that happened as a backdrop of its revelation.
Khaulah Bint Tha'labah could have stayed at home crying about her fate, resigning herself to it after her husband proclaimed dhihaar on her and left. Something, however, made her get up to go appeal to the Prophet [صَلَى اللهُ عَلَيْهِ وَسَلَّم] directly. The three words Allah has used in the verse above – disputing, complaining, and mutual conversation – followed by the admission that He was listening to her, indicate that what she did was admirable and praiseworthy, not dissident or rebellious.
The word تُجَادِلُكَ implies that Khaulah was eloquent and confident in setting forth her case, as the lexicon proves. I think this verse of the Quran is ample proof of the fact that if the husband is persistently wrong or oppressive in a certain way towards his wife, she has the right to complain about him to a higher authority, who can set matters aright.
Cut to the present, and the rampant incidents of domestic abuse that women suffer the world over, make dhihaar pale in comparison. It is normal for husbands and wives to argue and fight sometimes, yet in some cases, when extreme lines are crossed, insults and verbal altercation can pave the way for physical abuse. Each case is different and one solution cannot apply to each, unless the particular circumstances are taken into account first.
What Muslim women can learn from the case of Khaulah Bint Tha'labah, is to stand up to the challenges faced as part of (marital or single) life. This can be done by rising to the occasion with a strong will, trusting in Allah for eventual relief, and mustering up all of one's inner strength to take the "bull by its horns" so to speak, and to face the situation bravely until relief comes.
The woman who was left by her husband:
"Allah will not forsake us!"
Hajar, wife of Proohet Ibrahim [on him be peace], was left alone by him in the desolate, uninhabited Arabian valley, which is now the thronging city of Makkah, with their son Ismail [on him be peace].
She said, "O Ibrahim, will you go and leave us in this valley in which there are no people and nothing?" She said that to him several times, and he did not answer her. Then she said to him: "Is it Allah Who has commanded you to do this?" He said, "Yes." She said, "Then He will not forsake us."
[Sahih Al-Bukhari, 3184]
Again, Hajar did not sit and cry over her fate, wailing and lamenting her husband for leaving them there. Nor did she cry to Allah, "Why did you do this to us?" Instead, as her words indicated, she had full trust in Allah. Despite this trust, she exhausted all her human capacities to search for water until Allah made it miraculously emerge. Such was Allah's appreciation of her resilience during this trial, that He mandated the sa'ee between mounts Safa and Marwah as an obligatory ritual of both umrah and Hajj, for all Muslims until the end of mankind.
Incidentally, the first time in my life when I did umrah, I pondered on the smooth marble under my feet, the containers of Zamzam nearby from which I could drink if thirsty, the blasts of cool, conditioned air from ducts that soothed me at intervals, the smooth slopes of Safa and Marwah, and I cried. I cried as my legs ached after the fourth round, imagining a young mother running in this very place, frantically searching for help and for water for her son. I could imagine what she must have endured. She did not "walk" between the two mounts, with a dua-book in her hands, on smooth marble the way we do. She ran repeatedly under the blazing hot sun, with rough rocks and hot sand under her feet, without a drop of water or a human being in sight for miles around, with her bawling infant kicking his heels with thirst. What could she have felt, as she climbed the two rocky mounts repeatedly, desperate for some signs of human existence nearby, with none appearing at each climb? Why did she not give up on Allah's aid, the way we do so quickly? Why did she not give up on life itself, just because her husband had left her? The answer is: she had faith in her Sustainer, and her faith was for real. That is why it withstood this enormous trial, which Allah rewarded manifold even in this duniya.
The woman who gave birth alone, because she had no husband:
"Would that I had been a thing forgotten and out of sight!"
Add to these two examples the amazing story of Maryam Bint Imran, which is narrated in the Quran. How she went to a remote spot in the woods to give birth, all alone. In her words, "Had I died before this, and been long forgotten!"
فَأَجَاءهَا الْمَخَاضُ إِلَى جِذْعِ النَّخْلَةِ قَالَتْ يَا لَيْتَنِي مِتُّ قَبْلَ هَذَا وَكُنتُ نَسْيًا مَّنسِيًّا
"And the pains of childbirth drove her to the trunk of a palm-tree: She cried (in her anguish): "Ah! Would that I had died before this! Would that I had been a thing forgotten and out of sight!" [Quran – 19:23]
A woman giving birth to a child all alone in the woods? Especially one who has not given birth before, nor ever been touched by a man? What could have made her so strong as to achieve this on her own? The prime reason for her solitude in such a critical situation was the miraculous nature of her pregnancy. How could she explain to anyone how she became pregnant? Who would believe her when she said that no man had ever touched her?
As someone who has heard the details of more than a dozen cases of women (friends and their friends) giving birth, I have realized that nowadays the option of taking an epidural has eased the birth process considerably, giving women the option to forego enduring birth pains. A woman who nevertheless chooses to endure the pain, might still need the coaxing of nursing staff to keep pushing after progressing farther along in labor, because she might be extremely exhausted and sleep-deprived by then. In short, sometimes it takes a team, including the husband, to cheer a woman on to keep going, mustering up all the strength she can – usually after hours of enduring pains that prevent her from sleeping or resting.
This makes it all the more stupefying how Maryam Bint Imran could have endured what she did without any human support or assistance. Undoubtedly, she possessed extraordinary inner strength and trust in Allah. As a result of this trust, Allah sent an angel to her, to provide her dates and fresh water during and after the birth, just the way He used to provide her with food while she worshipped alone in the mihrab. 
Allah also made the newborn infant, Prophet Eesa [on him be peace] defend her chastity and honor with perfect oration in front of the shocked townspeople after she returned with him in her arms, by proclaiming his Prophethood as an infant:
قَالَ إِنِّي عَبْدُ اللَّهِ آتَانِيَ الْكِتَابَ وَجَعَلَنِي نَبِيًّا
"He said ,"Indeed I am the slave of Allah, Who gave me revelation and made me a Prophet." [19:30]
This was the moment of truth – the moment that proved what Allah had said elsewhere in the Quran, about the baby borne by the mother of Maryam, when the latter exclaimed that she had delivered a daughter:
وَلَيْسَ الذَّكَرُ كَالأُنثَى
"And the male is not like the female." [3:36]
What Allah meant by this declaration was that her blessed daughter, Maryam, would miraculously give birth to a Prophet whilst still being a virgin; and this – giving birth – is something a man can never do. Tafsir Ibn Kathir further explains the aforementioned part of this verse, thus: that the male is not like the female "in strength and the commitment to worship Allah and serve the Masjid in Jerusalem".
Need more be said after Allah's Divine words?
The woman who  was slandered, and lost her husband's affection for a month:
"By Allah, I will not go to him and I will not give praise to anyone except Allah, may He be glorified, for He is the One Who has proven my innocence."
Another inspiring incident happened in the life of A'ishah [may Allah be pleased with her] that was a severe trial for her. This was the incident of Ifk (slander), in which, for a whole month, rumors about her chastity were aired in Madinah, primarily fuelled by the Munafiqeen [Surah Nur: 11 onwards]. As a result of the furor, the Prophet [صَلَى اللهُ عَلَيْهِ وَسَلَّم] became emotionally aloof from her. Further, she fell ill and Allah halted Divine revelation (wahyee) completely during this month, as a test of the whole Muslim community.
During this time, A'ishah felt her husband's indifference towards her, and asked permission to go to her parents' house. She spent most of her time thereafter weeping. Only a chaste woman who severely guards her honor and chastity, can imagine what a young wife of the Prophet of Islam must have endured at such a time – being falsely accused of a crime she didn't commit (remember that the implications of zina, for a Prophet's wife are more severe as compared to ordinary women). To be estranged from her beloved husband, and to have the whole city gossip about her, resulting in her husband's aloofness, for a whole month – what an enormous trial!
Such was her inner strength in these trying circumstances, that she made an excellent speech to defend herself, in the presence of her parents and husband (elders all senior to her in age). Such a speech can only be made by a woman who trusts no one except Allah to grant her ease after difficulty. Here is the account of the whole incident in her own words: 
"On that day I kept on weeping so much, my tears never ceased and I did not sleep at all. My parents thought that my liver would burst from all that weeping. While they were sitting with me and I was weeping, a woman of the Ansar asked for permission to see me. I let her in, and she sat and wept with me. While we were in that state, the Messenger of Allah came in, greeted us and sat down. He had never sat with me since the rumors began, and a month had passed by without any revelation coming to him concerning my case. The Messenger of Allah recited the tashahhud when he sat down, then he said,
"أَمَّا بَعْدُ، يَا عَائِشَةُ فَإِنَّهُ قَدْ بَلَغَنِي عَنْكِ كَذَا وَكَذَا،فَإِنْ كُنْتِ بَرِيئَةً فَسَيُبَرِّئُكِ اللهُ، وَإِنْ كُنْتِ أَلْمَمْتِ بِذَنْبٍ فَاسْتَغْفِرِي اللهَ ثُمَّ تُوبِي إِلَيْهِ، فَإِنَّ الْعَبْدَ إِذَا اعْتَرَفَ بِذَنْبِهِ ثُمَّ تَابَ، تَابَ اللهُ عَلَيْهِ"
"Thereafter, O `A'ishah, I have been told such and such a thing about you, and if you are innocent, then Allah will reveal your innocence, but if you have committed a sin, then seek Allah's forgiveness and turn in repentance to Him, for when a servant confesses his sin and repents to Allah, He accepts his repentance."
When the Messenger of Allah finished what he had to say, my tears stopped completely and I not longer felt even one drop. Then I said to my father, "Answer the Messenger of Allah on my behalf."
He said, "I do not know what I should say to the Messenger of Allah."
So I said to my mother, "Answer the Messenger of Allah on my behalf."
She said, "I do not know what I should say to the Messenger of Allah."
So even though I was just a young girl who had not memorized much of the Qur'an, I said: "By Allah, I know that you have heard so much of this story that it has become planted in your minds and you believe it. So now, if I tell you that I am innocent — and Allah knows that I am innocent — you will not believe me; but if I admit something to you — and Allah knows that I am innocent –, you will believe me. By Allah, I cannot find any example to give you except for that which the Prophet Yusuf's father said,
فَصَبْرٌ جَمِيلٌ وَاللَّهُ الْمُسْتَعَانُ عَلَى مَا تَصِفُونَ
"So (for me) patience is most fitting. And it is Allah Whose help can be sought against that (lie) which you describe." [12:18]."
Then I turned my face away and lay down on my bed. By Allah, at that point I knew I was innocent and that Allah would prove my innocence because I was innocent, but by Allah, I did not think that Allah would reveal Qur'an that would be forever recited concerning my situation, because I thought of myself as too insignificant for Allah to reveal anything concerning me. But I hoped that the Messenger of Allah would see a dream in which Allah would prove my innocence. By Allah, the Messenger of Allah did not move from where he was sitting and no one left the house before Allah sent down revelation to His Prophet , and he was overtaken by the state that always overtook him when the revelation came upon him, until drops of sweat like pearls would run down him, even on a winter's day; this was because of the heaviness of the words which were being revealed to him. When that state passed — and the Messenger of Allah was smiling — the first thing he said was,
أَبْشِرِي يَا عَائِشَةُ، أَمَّا اللهُ عَزَّ وَجَلَّ فَقَدْ بَرَّأَكِ
"Be glad, O `A'ishah, Allah has declared your innocence!" My mother said to me, "Get up and go to him."
I said, "By Allah, I will not go to him and I will not give praise to anyone except Allah, may He be glorified, for He is the One Who has proven my innocence."
[Musnad Ahmad]
A'ishah did not even consider herself "significant" enough, in her own words, to have verses of her innocence revealed in the Quran. Subhan Allah! And just that happened! Who defended her by revealing those verses? The One she trusted; the One she turned to during this trial – Allah. Allah helped her when even her husband became aloof from her.
These examples quoted or referred to in the Quran and ahadith: of Khaulah Bint Tha'labah, Hajar, Maryam Bint Imran, and A'ishah [may Allah be pleased with them all], provide valuable lessons to us modern-day women, the so-called "weaker" sex, on how to face challenges in life. Whether we are married or single, it is a fact that solving monumental problems without the physical support or help of a man is something which our pious female predecessors have done successfully. We should ask ourselves, "if they could do it, why can't we? Why do we depend so much on the presence of men to enable us to feel strong?"
Allah has detailed these difficult incidents, which these four iron-willed women, endured as trials of their faith and trust in Him, in order for us to ponder on how His Divine Help comes if our faith is strong, even after we might begin to think that all might be lost. Whether it is the woman whose husband became aloof from her after she was slandered. Or the one who gave birth alone, because she did not have a husband. The woman who frantically searched for water for hours in the desert, because her husband left her there, alone, with her child. Or the one whose appeal for justice was heard and answered by Allah Himself, establishing for all time, a system that prevented oppressive husbands from taking back their wives after issuing a divorce, without first offering a tough expiation; a system that would make any husband think twice before saying something destructive to his wife in a rage.
Get your priorities right:
A Muslim woman loves and obeys her Creator and His Messenger more than she loves and reveres her husband, or any other man or woman. A strong Muslim woman does not need validation from anyone, not even her husband, to feel good about herself and about what she is doing to please Allah, as long as she treads the path of righteousness with the intention to please Allah. She knows that Allah appreciates her good deeds, and will reward her for her patience in face of difficulties and trials that He makes her endure during this life, whether her husband stays by her side, or forsakes her for other benefits of this world.
Here are a few questions that you, as a Muslim woman, can honestly ask yourself:
Whose pleasure and approval for my actions am I concerned about the most?
Who do I think and believe is the one who controls all my affairs, without whom I would be homeless, provision-less, and utterly lost in life? Is it my husband?
If I were not married, what would I be doing with my life, my skills, and my spare time?
Do I think that doing housework is the most beneficial avenue for gaining Allah's pleasure in the Hereafter?
Do I think that women who are not married or who have not had children are lesse fortunate than married mothers in any way? Do I think that they cannot lead as fruitful and meaningful a life as the latter?
It was Allah, who heard a wife's complaint and responded by executing justice towards her, by making her husband pay a heavy price for his action. It was Allah, who appreciated a woman's frantic efforts for saving her son's life so much, that He made it incumbent upon millions to walk between two mounts the way she did, probably a gazillion times until the Day of Judgment, and sprang forth for them a miraculous water, which confounds researchers of its sources to this day. It was Allah who made a newborn infant talk in defense of his chaste mother's honor in front of her accusing slanderers, right after she delivered him alone in the woods. And it was Allah who announced a young wife's innocence from adultery, exposing the guilty hypocritical liars among her community for all time to come.
For those who consider women "the weaker sex", I say: "Our strength lies not in our physical form, but in our stamina to endure pain, and in our connection with our Creator. So be careful, because it is this connection, which can even move mountains!"