Aafia Siddiqui's story… Farfetched? Not according to a declassified DoD Inspector General's report
Link to Full Coverage of Dr. Aafia's Ordeal
"Why do they hate us?" This simple, yet loaded five word question has literally outperformed the thousands of answers that have been put forth. This is because comprehensive responses are rarely as powerful as a simple question. Aafia Siddiqui's case suffers from the very same dynamic; it is complex, it is detailed and it raises disturbing issues that reach far and wide.
Consider the following claims against the U.S. and allied/contracted forces:

1)      Abduction of a mother and her three children with the children used for extortion
2)      Long term captivity in secret prisons
3)      Rape, torture, mental and physical abuse
4)      Use of elaborate disorientation and false flag techniques
This laundry list is definitely sensational enough for a kneejerk rejection from the average American patriot. However, what are we to think when these very same allegations are listed in a recently declassified Department of Defense's Inspector General's report entitled Review of DoD-Directed Investigations of Detainee Abuse[i]?
There are other serious questions surround this impending trial:
Why is she considered such a high profile suspect when the charges against her are not related to terrorism[ii]?
What caused the interest in Siddiqui in the first place?
How long has she been in custody?
Where have her children been all this time?
Who was responsible for them?
Did we outsource her and her children's detention and interrogation to other nations?
Despite all these issues, there is one central theme in Siddiqui's ordeal. It holds true regardless of ones status as a supporter or detractor.  As an American, the one inescapable question is: how we, the U.S., treated and continue to treat her.
How Dr. Aafia Siddiqui was and will be treated matters
Why? The reasons are plentiful, but let us examine one of our more important relationships: Pakistan, a strategically vital U.S. ally. Pakistan is a nation that seems to continuously suffer from regime changes, political assassinations and other stability issues; these are conditions conducive to the widespread popular support that Aafia Siddiqui is receiving.
Siddiqui has been transformed from a "U.S. person of interest," into a galvanizing symbol of the Pakistani people. Her growing status as a focal point of that nation's pride and desire for true sovereignty is evident. The streets are regularly flooded with pro-Aafia rallies and demonstrations that on occasion number in the tens of thousands. Popular singers, poets and artists continue to release tributes to Siddiqui as their chosen symbol for all of Pakistan's missing persons and other popular, pro-Pakistani sentiments. Siddiqui's story serves as a common rallying point for both Pakistan's secular and religious as well as for their conservatives and their liberals. Aafia Siddiqui's case has even overcome bitter rivalries between Pakistan's competing political movements.
Siddiqui's status is growing in influence, even transcending Pakistani politics and reaching the broader Muslim world as new and persistent allegations of abuse surface against the U.S. These allegations, especially when women and children are involved, undermine our standing in the world and provoke very serious and avoidable diplomatic problems.
This report legitimizes the hard to accept claims put forth by Aafia Siddiqui's supporters.
It can no longer be claimed that abusive 'interrogation techniques' and assaults on detainees have not been either approved or perpetrated by our servicemen and contractors. This is the second reason that U.S. treatment of Aafia Siddiqui is the central issue of this case; it is directly related to our values as Americans.
To illustrate the point, let us examine the claims made by Aafia Siddiqui's supporters with the DoD report's findings:
CLAIM 1: The abduction of a mother and her three children/ children used for extortion
REPORT: The use of scenarios designed to convince the detainee that death or severely painful consequences are imminent for him and/or his family:… – pg 36
CLAIM 2: Long term captivity in secret prisons
REPORT: CIA detainees in Abu Ghraib, known locally as "Ghost Detainees," were not accounted for in the detention system. With these detainees unidentified or unaccounted for, detention operations at large were impacted because personnel at the operations level were uncertain how to report or classify detainees. – pg 59
REPORT: …DoD temporarily held detainees for the CIA – including the detainee known as "Triple-X" – without properly registering them and providing notification to the International Committee of the Red Cross. This practice of holding "ghost detainees" for the CIA was guided by oral, ad hoc agreements… – pg 78
CLAIM 3: Rape, torture, mental and physical abuse
REPORT: At the extremes were the death of a detainee in OGA custody, an alleged rape committed by a US translator and observed by a female Soldier, and the alleged sexual assault of a female detainee. – pg 59
CLAIM 4: Use of elaborate disorientation and false flag techniques
REPORT: …military personnel improperly interfered with FBI interrogators in the performance of their FBI duties. – pg 86
REPORT: False Flag: Convincing the detainee that individuals from a country other than the United States are interrogating him. – pg 97
REPORT: …our interviews with DoD personnel assigned to various detention facilities throughout Afghanistan and Iraq demonstrated that they did not have a uniform understanding of what rules governed the involvement of OGAs in the interrogation of DoD detainees. That DoD interrogators improperly impersonated FBI agents and Department of State officers during the interrogation of detainees. – pg 86
How our nation treats its detainees will continue to become more and more significant during the progression of Aafia Siddiqui's trial. It will be a reoccurring theme in all similar trials as well. Regardless of verdicts, our treatment of detainees if not addressed properly will continue to degrade our nation's image and standing in the world. This fact cannot be tempered by our stance on the all important and most immediate question of when did the U.S. take custody of Aafia? There are enough claims of mistreatment for either scenario of when Siddiqui came under U.S. authority.
Supporters contend that Aafia was abducted and handed over to U.S. Authorities in April 2003. This claim is supported by an NBC News clip available here: http://www.youtube.com/watch?v=6xwCHha5ITM . This claim is corroborated by Siddiqui's family's statements expressing their belief that she was dead from 2003 until her capture in Afghanistan.
While convenient, it should be noted that the NBC and other media reports of Aafia's abduction in 2003 have been denied/contested[iii].
What is certain is that once captured in Afghanistan, Siddiqui has been shuffled between mental and maximum security facilities, both with documented histories of abuse especially toward Muslims[iv] [v] and women[vi] inmates.
Currently, despite the fact that she is held in solitary confinement, under video surveillance, Siddiqui under goes regular, forced, strip searches, when making any outside contact – effectively denying her reasonable access to her attorneys. It is also a matter of record that after Siddiqui was officially in U.S. custody, she was shot by U.S. personal in Ghazni, Afghanistan and that the medical care she needed was at best delayed and inadequate[vii].
For most American's, there might just be too many allegations against the U.S. for us to sallow. This type of thinking will miss the lessons that are to be learned as information comes to light. Siddiqui's case, how she was treated and what we will do about it going forward, will define, in part, our capability for leadership in the world. Most importantly, it will serve as a window for who we are or who we have become.
PLEASE NOTE: Aafia is due in court tomorrow, Nov. 3. Those who are able are encouraged to attend! Details here.
---
[i]
http://fas.org/irp/agency/dod/abuse.pdf
[ii] http://www.usdoj.gov/opa/pr/2008/September/08-nsd-765.html
[iii] http://therepublicofrumi.com/archives/aafia01.htm
[iv] http://dir.salon.com/story/news/feature/2004/05/19/maddy/index.html
[v] http://cryptome.org/bop-abuse.htm
[vi] http://www.aclutx.org/article.php?aid=252
[vii] http://www.reuters.com/article/asiaCrisis/idUSN11499491
The Duplicity of American Muslim Influencers And The 'So-called Muslim Ban'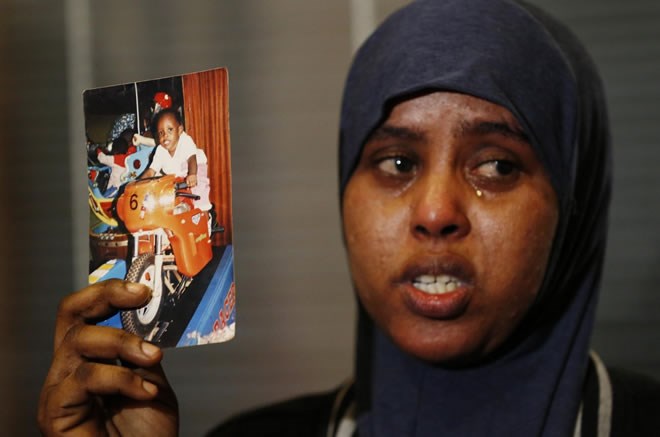 As we approach the beginning of another painful year of the full enforcement of Presidential Proclamation 9645 (a.k.a. 'the Muslim ban') that effectively bars citizens of several Muslim majority countries from entering into the United States, the silence remains deafening. As I expected, most of the world has conveniently forgotten about this policy, which thus far has separated over 3,000 American families from their spouses and other immediate relatives. In June 2019, the Brennan Center of Justice notes that: The ban has also kept at least 1,545 children from their American parents and 3,460 parents from their American sons and daughters. While silence and apathy from the general public on this matter is to be expected— after all, it is not their families who are impacted— what is particularly troubling is the response that is beginning to emerge from some corners of the American Muslim social landscape.
While most Muslims and Muslim groups have been vocal in their condemnation of Presidential Proclamation 9645, other prominent voices have not. Shadi Hamid sought to rationalize the executive order on technical grounds arguing that it was a legally plausible interpretation. Perhaps this is true, but some of the other points made by Hamid are quite questionable. For example, he curiously contends that:
The decision does not turn American Muslims like myself into "second-class citizens," and to insist that it does will make it impossible for us to claim that we have actually become second-class citizens, if such a thing ever happens.
I don't know— being forced to choose exile in order to remain with one's family certainly does sound like being turned into a 'second-class citizen' to me. Perhaps the executive order does not turn Muslims like himself, as he notes, into second-class citizens, but it definitely does others, unless it is possible in Hamid's mind to remain a first-class citizen barred from living with his own spouse and children for completely arbitrary reasons, like me. To be fair to Hamid, in the same article he does comment that the executive order is a morally questionable decision, noting that he is "still deeply uncomfortable with the Supreme Court's ruling" and that "It contributes to the legitimization and mainstreaming of anti-Muslim bigotry."

On the other hand, more recently others have shown open disdain for those who are angered about the 'so-called Muslim ban.' On June 6th, 2019, Abdullah bin Hamid Ali, a Senior Faculty Member at Zaytuna College, Islamic scholar and the founder of the Lamppost Education Initiative, rationalized the ban on spurious security grounds. He commented that,
The so-called Muslim ban, of course, has us on edge about his potential. But, to be fair, a real Muslim ban would mean that no Muslim from any country should be allowed in the US. There are about 50 Muslim majority countries. Trump singled out only 7 of them, most of which are war torn and problem countries. So, it is unfair to claim that he was only motivated by a hatred for Islam and Muslims.
First, despite how redundant and unnecessary this point is to make again, one ought to be reminded that between 1975 and 2015, zero foreigners from the seven nations initially placed on the banned list (Iraq, Iran, Libya, Somalia, Sudan, Syria, and Yemen) killed any Americans in terrorist attacks on U.S. soil and zero Libyans or Syrians have ever even been convicted of planning a terrorist attack on U.S. soil during that same time period. I do not think these numbers have changed over the last 4 years either. If policy decisions are supposed to be made on sound empirical evidence and data, then there is even less justification for the ban.
Second, Bin Hamid Ali comments that 'the so-called Muslim ban, of course, has us on edge about his [Trump's] potential.' Whoa… hold on; on edge about his potential? For the millions of people banned from entering the United States and the thousands of Muslim families connected to these millions of people, this 'potential' has been more than realized. To reduce the 'so-called Muslim ban' to just targeting 'war torn and problem countries' is to reduce our family members—our husbands, wives, and children—to (inaccurate) statistics and gross stereotypes. Are spouses from Syria or Yemen seeking to reunite with their legally recognized spouses or children any less deserving to be with their immediate family members because they hail from 'problem countries'? How can one be concerned with stereotypes while saying something like this? Is this not the exact thing that Abdullah bin Hamid Ali seeks to avoid? Surely the Professor would not invoke such stereotypes to justify the racial profiling of black American citizens. What makes black non-Americans, Arabs, and Iranians any different when it comes to draconian immigration profiling? From a purely Islamic perspective, the answer is absolutely nothing.
More recently, Sherman Jackson, a leading Islamic intellectual figure at the University of Southern California, King Faisal Chair in Islamic Thought and Culture and Professor of Religion and American Studies and Ethnicity, also waded into this discussion. In his essay, he reframed the Muslim ban as a question of identity politics rather than basic human right, pitting Muslim immigrants against what he calls 'blackamericans' drawing some incredibly questionable, nativist, and bigoted conclusions. Jackson in a recent blog responding to critiques by Ali al-Arian about his own questionable affiliations with authoritarian Arab regimes comments:
Al-Arian mentions that,
"the Muslim American community seemed united at least in its opposition to the Trump administration."  He and those who make up this alleged consensus are apparently offended by Trump's so-called Muslim ban.  But a Blackamerican sister in Chicago once asked me rhetorically why she should support having Muslims come to this country who are only going to treat her like crap.
These are baffling comments to make about 'Trump's so-called Muslim ban.' Jackson creates a strawman by bringing up an anecdotal story that offers a gross generalization that clearly has prejudiced undertones of certain Muslim immigrants. Most interesting, however is how self-defeating Jackson's invocation of identity politics is considering the fact that a large number of the 'blackamerican' Muslims that he is concerned about themselves have relatives from Somalia and other countries impacted by the travel ban. As of 2017, there were just over 52,000 Americans with Somali ancestry in the state of Minnesota alone. Are Somali-Americans only worth our sympathy so long as they do not have Somali spouses? What Jackson and Bin Hamid Ali do not seem to understand is that these Muslim immigrants they speak disparagingly of, by in large, are coming on family unification related visas.
Other people with large online followings have praised the comments offered by Abdullah bin Hamid Ali and Sherman Jackson. The controversial administrator of the popular The Muslim Skeptic website, Daniel Haqiqatjou, in defense of Jackson's comments, stated:
This is the first time I have seen a prominent figure downplay the issue. And I think Jackson's assessment is exactly right: The average American Muslim doesn't really care about this. There is no evidence to indicate that this policy has had a significant impact on the community as a whole. Travel to the US from those four countries affected by the ban was already extremely difficult in the Obama era.
What Haqiqatjou seems to not realize is that while travel from these countries was difficult, it was not as 'extremely difficult' as he erroneously claims it was. The US issued 7,727 visas to Iranian passport holders in 2016 prior to the ban. After the ban in 2018, that number dropped to 1,449. My own wife was issued a B1/B2 Tourist visa to meet my family in 2016 after approximately 40 days of administrative processing which is standard for US visa seekers who hold Iranian passports. On the other hand, she was rejected for the same B1/B2 Tourist visa in 2018 after a grueling 60+ day wait due to Presidential Proclamation 9645. At the behest of the Counselor Officer where we currently live, she was told to just finish the immigration process since this would put her in a better position to receive one of these nearly impossible to get waivers. She had her interview on November 19, 2018, and we are still awaiting the results of whatever these epic, non-transparent 'extreme vetting' procedures yield. Somehow despite my wife being perfectly fine to enter in 2016, three years later, we are entering the 10th month of waiting for one of these elusive waivers with no end time in sight, nor any guarantee that things will work out. Tell me how this is pretty much the same as things have always been?
What these commentators seem to not realize is that the United States immigration system is incredibly rigid. One cannot hop on a plane and say they want to immigrate with an empty wallet to start of Kebab shop in Queens. It seems as if many of these people that take umbrage at the prospects of legal immigration believe that the immigration rules of 2019 are the same as they were in 1819. In the end, it is important to once again reiterate that the Muslim immigrants Jackson, Bin Hamid Ali and others are disparaging are those who most likely are the family members of American Muslim citizens; by belittling the spouses and children of American Muslims, these people are belittling American Muslims themselves.
Neo-nationalism, tribalism, and identity politics of this sort are wholly antithetical to the Islamic enterprise. We have now reached the point where people who are considered authority figures within the American Islamic community are promoting nativism and identity politics at the expense of American Muslim families. Instead of trying to rationalize the 'so-called Muslim Ban' via appeals to nativist and nationalist rhetoric, influential Muslim leaders and internet influencers need to demonstrate empathy and compassion for the thousands of US Muslim families being torn apart by this indefinite Muslim ban that we all know will never end so long as Donald Trump remains president. In reality, they should be willing to fight tooth-and-nail for American Muslim families. These are the same people who regularly critique the decline of the family unit and the rise of single-parent households. Do they not see the hypocrisy in their positions of not defending those Muslim families that seek to stay together?
If these people are not willing to advocate on behalf of those of us suffering— some of us living in self-imposed exile in third party countries to remain with our spouses and children— the least they can do is to not downplay our suffering or even worse, turn it into a political football (Social Justice Warrior politics vs. traditional 'real' Islam). It seems clear that if liberal Muslim activists were not as outspoken on this matter, these more conservative voices would take a different perspective. With the exception of Shadi Hamid, the other aforementioned names have made efforts to constrain themselves firmly to the 'traditional' Muslim camp. There is no reason that this issue, which obviously transcends petty partisan Muslim politics, ought to symbolize one's allegiance to any particular social movement or camp within contemporary Islamic civil society.
If these people want a 'traditional' justification for why Muslim families should not be separated, they ought to be reminded that one of al-Ghazali's 5 essential principles of the Shari'a was related to the protection of lineage/family and honor (ḥifẓ al-nasl). Our spouses are not cannon fodder for such childish partisan politics. We will continue to protect our families and their honor regardless of how hostile the environment may become for us and regardless of who we have to name and shame in the process.
When I got married over a year prior to Donald Trump being elected President, I vowed that only Allah would separate me from my spouse. I intend on keeping that vow regardless of what consequences that decision may have.
Photo courtesy: Adam Cairns / The Columbus Dispatch
Muslims for Migrants | A Joint Letter By Imam Zaid Shakir & Imam Omar Suleiman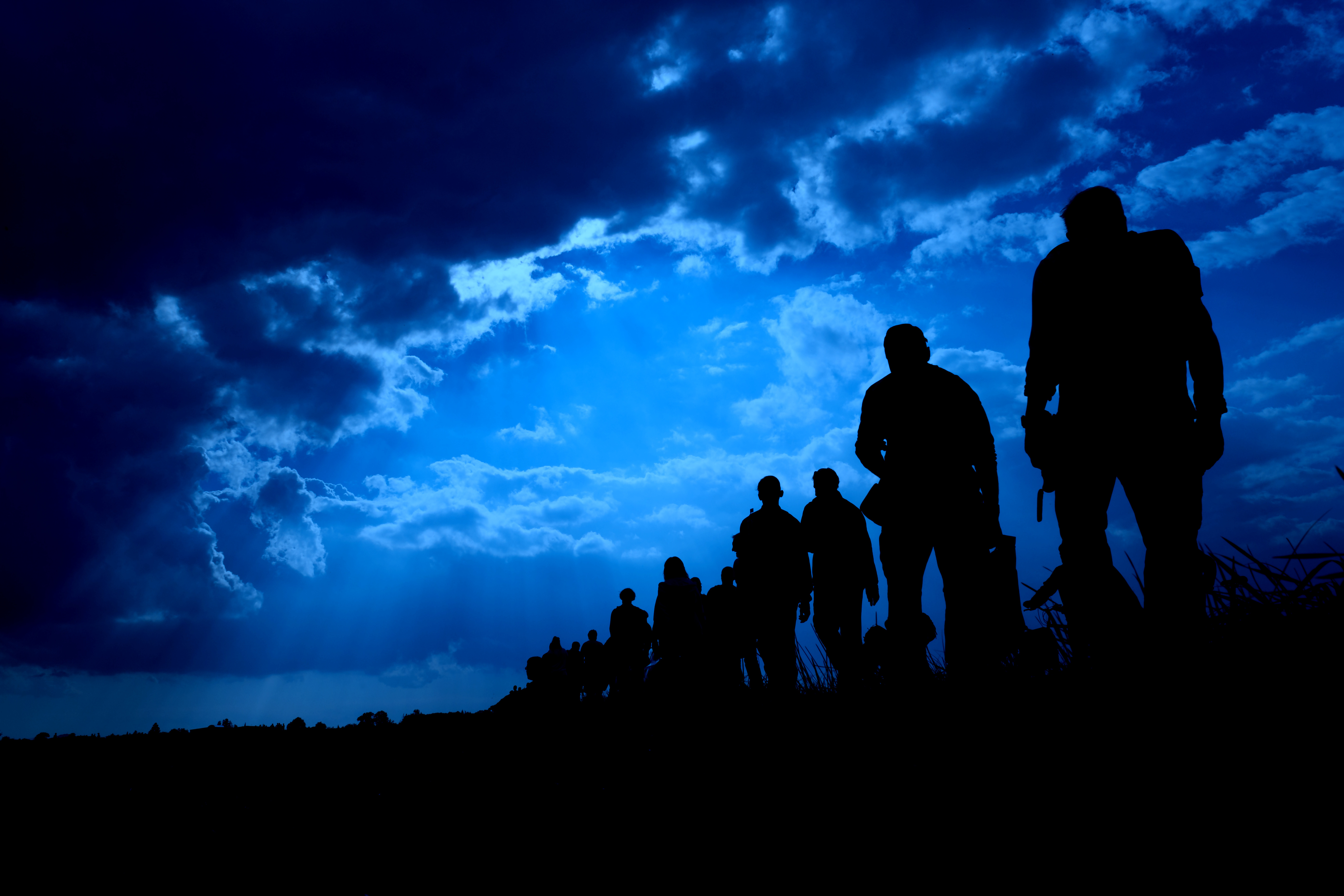 Abu Huraira (May Allah be pleased with him) reported: The Messenger of Allah (peace and blessings of Allah upon him) said, "He who gives respite to someone who is in straitened circumstances, or grants him remission, Allah will shelter him in the shade of His Throne, on the Day of Resurrection, when there will be no shade except its shade." (Tirmidhi, 1306)
He also said, "There is no leader who closes the door to someone in need, one suffering in poverty, except that Allah closes the gates of the heavens for him when he is suffering in poverty." (Tirmidhi, 1332)
The message is clear, the way we treat the most vulnerable of Allah's creation has consequences to us both individually and collectively, and both in this life and the next.

As the humanitarian crisis at the southern border deepens, there is a deafening silence from most corners of the American Muslim community. One might ask, "Why should that silence be concerning?" Shouldn't the nation of the Prophet (peace and blessings of Allah upon him) who was himself an orphan and a migrant sent as a mercy to the worlds be the first to be moved with the images of children in cages? Migration and asylum are God-given rights that individuals and nations would do well to respect. These rights are affirmed in the Qur'an and the Sunnah of our Prophet Muhammad (peace and blessings of Allah upon him).
Concerning migration, the Qur'an states unequivocally: 
As for those whose souls the angels take while they are oppressing themselves, the angels will say to them, "What was your former state?" They will respond, "We were oppressed in the land." The angels will counter, "Was not Allah's earth spacious enough for you to migrate therein." (4:97)
 The oppression referred to in this verse specifically focuses on persecution because of faith, but the general meaning of the wording can accommodate any form of oppression which involves the denial of a person's Divinely conferred rights.
Migration lies at the very heart of the prophetic tradition in the Abrahamic religions. Abraham himself was a migrant. His son Ismail was a migrant. The Children of Israel along with Moses were migrants, as was Jesus. Not only was our Prophet Muhammad (peace and blessings of Allah upon him) a migrant, he twice sent many of his Companions (May Allah be pleased with them) to Ethiopia to seek the protection of the Negus. The fact that the Muslim calendar is dated from the migration of the Prophet (peace and blessings of Allah upon him) from Makkah to Madinah indicates the lofty place migration has in the life of the Muslim community and in the consciousness of its members. 
Additionally, history records the massive migrations of those Muslims who fled from oppressive, tyrannical, violent rulers or invaders. One of the most famous examples we can relate in this regard is the massive westward migration of those escaping the advancing Mongol hordes. Among those refugees was the great poet, Rumi, who along with thousands of others fled his home in Balkh, located in present-day Afghanistan, eventually settling in Konya, in the heart of Anatolia. Others migrated for economic reasons. The historian, Richard Bulliet, theorizes that the economic collapse of Khurasan, a once-thriving Sunni intellectual hub in eastern Iran, led to the migration of large swaths of its population to Syrian and Egypt. In his view, the many scholars among those refugees led to an intellectual revival in the lands they settled in.
As for asylum, it can be granted by both the state and an individual Muslim to individuals or groups. The foundations of this principle in prophetic practice was established during events which occurred during the conquest of Makkah. The Prophet

, as the de facto head of state, issued an oath of protection to the people of Mecca when he declared, "Whosever enters the house of Abu Sufyan is safe. Whosoever casts down his weapons is safe. Whosoever closes his door [and remains inside] is safe." (Sahih Muslim, 1780) Ibn Ishaq's version adds, "Whosoever enters the [Sacred] Mosque is safe." (Narrated in Sirah Ibn Hisham, 4:35)

Those enjoying these protections from the Prophet (peace and blessings of Allah upon him) had not committed a crime and although they had not traveled to another land seeking refuge, the description of their land had changed from one under the authority of the Quraysh to one under the authority of the Prophet (peace and blessings of Allah upon him). In this "new" land they were being guaranteed safety and subsequently freedom even though they had not yet embraced Islam.
 A related event is Imam Ali's sister, Umm Hani, granting asylum to al-Harith bin Hisham and Zuhayr bin Ummayya that same day. When faced with the prospect of their execution by her brother, Imam Ali, she locked them in her house and went to the Prophet (peace and blessings of Allah upon him) to inform him that she had granted them asylum. The Prophet (peace and blessings of Allah upon him) responded, "We grant asylum to those Umm Hani has granted asylum to and we protect those Umm Hani has extended protection to." (Sirah ibn Hisham, 4:42) In other words, the entire Muslim community, globally, is bound to respect the oath of protection or asylum granted by even an individual Muslim.
This idea of the entire Muslim community respecting a grant of asylum extended by even a single Muslim is strengthened by the Hadith:
 The protection of the Muslims is one and the least of them can grant it. Whosoever violates the asylum extended by a Muslim upon him falls the curse of Allah, His angels and all of humanity. Never will an obligatory or voluntary act be accepted from him. (Bukhari, 3172)
Allah

praised the Ansar of Madinah for how they loved those that migrated to them and preferred them even over themselves. (Quran: 59:9) They bore no resentment to those that migrated to them and sought reward only from Allah for sustaining them. They knew that supporting those in need was only a means of goodness in their lives rather than a burden. These powerful Islamic teachings have been codified by our scholars into a sophisticated system of amnesty, asylum, and respect for the status of refugees.
Hence, when we view the sickening conditions those migrating to our southern borders are exposed to, we should be touched and moved to action knowing that our religion grants those fleeing persecution, oppression, or ecological devastation, the right to migrate and to be duly considered for asylum. Our actions, however, must be based on principle and knowledge. We should further vigorously defend the dignity our Lord has afforded to all human beings, and our obligation to assist those who are suffering from recognized forms of oppression.
We must also understand that the rights to migration and asylum have been codified in the most widely accepted Muslim statement on human rights: The Cairo Declaration of Human Rights in Islam, Article 12; the Universal Declaration of Human Rights (UDHR), Article 14; the American Declaration of the Rights and Duties of Man (ADRDM), Article 27; and the American Convention on Human Rights (ACHR), Article 22. The United States is a signatory party to the UDHR, and by way of membership in the Organization of American States (OAS), reluctantly accepts the authority of the ADRDM and the ACHR, although she has never ratified the latter two.
Our view on this issue should also be informed by the knowledge of our own country's history as a nation of immigrants in the Native's land. It should further be shaped by understanding the way nativist and white supremacist tendencies have fueled xenophobic and exclusivist policies and how in many instances our sometimes misguided policies have created many of our most vexing human rights challenges. It must also be informed by our obligation as American citizens.
For example, we need to understand that the overwhelming majority of families, children and individual adults arriving at our southern border from the "Northern Triangle" of El Salvador, Guatemala and Honduras are fleeing intolerable levels of violence. That violence is not just that of ruthless street gangs, such as MS-13, it also emanates from government-sponsored death squads, many of which were organized and trained by the CIA or the US military at the former School of the Americas based at Fort Benning, Georgia. The infamous Battalion 316 of Honduras was an American-trained death squad responsible for hundreds of extrajudicial killings in that country during the 1980s and into the 1990s as well as the kidnapping and torture of thousands of Honduran citizens during the same period. These death squads are beginning to reappear in the wake of a wave of right-wing regimes assuming power throughout Latin America.
The combination of American political and economic pressure through the mechanisms of neocolonialism used to control and systematically under-develop former and present "banana republics," the International Monetary Fund (IMF), plutocratic regimes increasingly beholden to Washington DC, integrating the violence of both death squads and drug cartels into their crushing of both popular dissent as well as any attempts at economic diversification and stratification help to create the conditions producing the waves of migrants moving towards our southern border. Long before they sought to cross our borders, our borders crossed them.
Long before they sought to cross our borders, our borders crossed them.
Despite the history, the way that the Trump administration has chosen to deal with the current crisis, largely for cheap race-baited political gain, has challenged the God-given rights to migration and asylum, exacerbated the humanitarian crisis at the border, and diminished the standing of the United States internationally. It is critical to understand, however, that just as the policies producing the floods of migrants from parts of Latin America are not uniquely a product of the Trump administration, Trump is not the first racist to occupy the White House. We could mention Richard Nixon, who famously embraced Kevin Philip's "southern strategy," to wrest the south from the control of the Democrats; we could mention the KKK-loving, segregationist, Woodrow Wilson; we could mention the slave-driving, genocidal ethnic cleanser Andrew Jackson, as well as others.
What makes Trump unique, as Greg Grandin emphasizes in his latest book, The End of the Myth, is that Trump is a racist who has appeared at a time America is no longer, via conquest or economic domination, expanding her frontiers. With the ensuing erasure of the myth of American exceptionalism, the "American people" can no longer point to our global economic or political domination as the difference between "them" and "us." 
Unable to deflect our nagging national problems, one of the most vexing being the race issue, by looking outward, large numbers of white Americans are turning inward with xenophobic frenzy. That inward turn creates a focus on outsiders who threaten "our" rapidly disappearing "purity." Hence, the border, symbolized by the wall, becomes not just an indicator of national sovereignty, it becomes a symbol of white identity. A symbol Trump invokes with seldom matched mastery. Vested with the passion emanating from the defense of an embattled race, innocent brown children taken from their mothers and imprisoned in overcrowded, feces-stained gulags become easily dismissed collateral damage.
Generally speaking, the same playbook that has been employed against the Muslim and other immigrant communities, specifically refugees from the Middle East, has been employed against the immigrant community as a whole. In far too many instances, America's destructive foreign policy leaves helpless populations running to our shores, increasingly to be dehumanized and disregarded again in order to pander to the worst of our domestic propensities.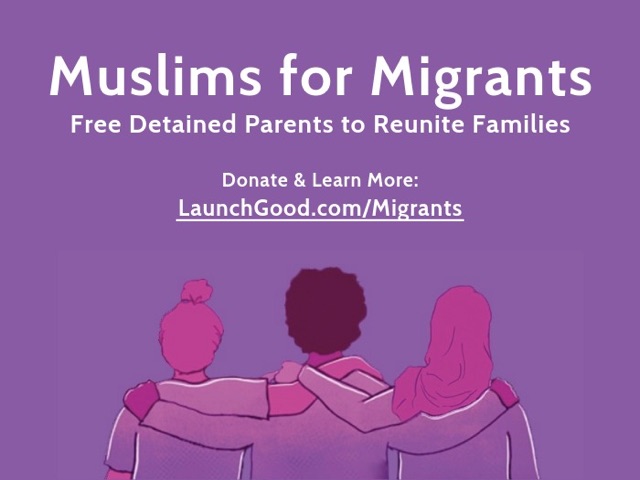 So we call upon the Muslim community to not only assist in efforts to support our migrant brothers and sisters but lead the way. Get involved in advocacy work, support immigrant justice organizations, join the sanctuary efforts and lend yourself and your wealth in whatever way you can to be at their aid. By the Grace of Allah, we have launched a campaign to reunite as many families as we can. The Prophet (peace and blessings of Allah upon him) said, "Whoever separates a mother from her child, Allah will separate him from his loved ones on the Day of Resurrection." (Tirmidhi, 1566) We hope that in reuniting families, Allah will reunite us with our beloved ones on the Day of Resurrection, and specifically with the beloved Prophet (peace and blessings of Allah upon him) in the highest gardens of Paradise.
Imam Zaid Shakir, Imam, Lighthouse Mosque
Imam Omar Suleiman, Founder & President, Yaqeen Institute for Islamic Research
Malaysians Ask China To Free Uyghurs, Close The Camps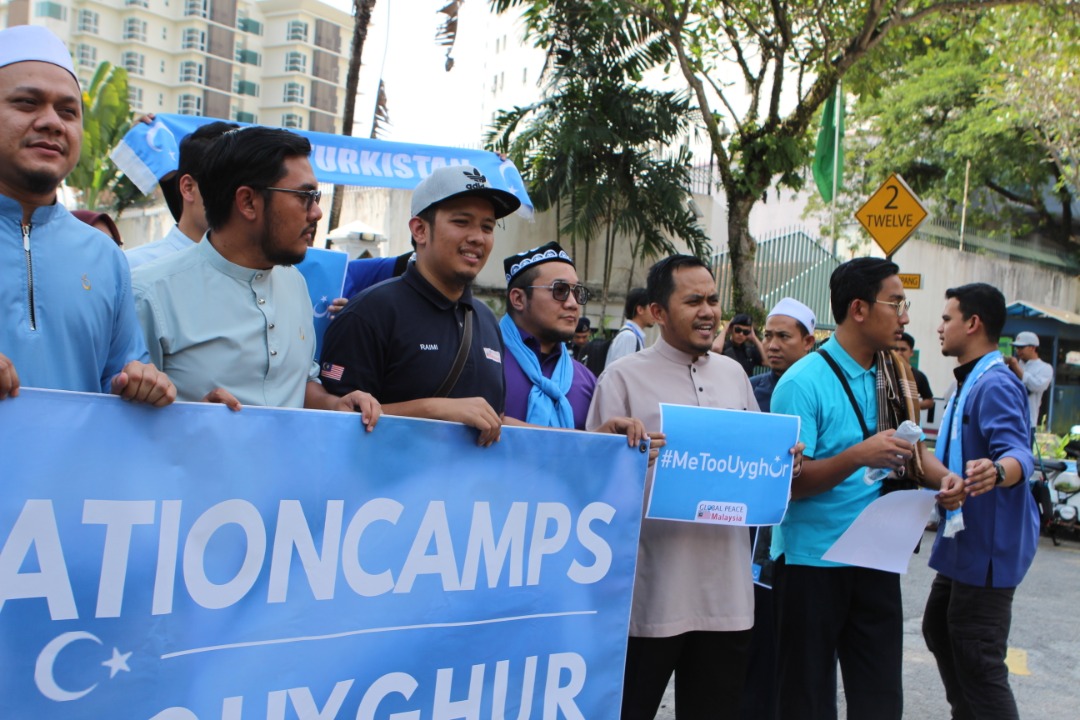 By Gulnaz Uighur
Muslims are standing up for Uyghurs, protests held in Malaysia.
5th of July could be just like another day for people but for Uyghurs, it brings back dark memories of a bloody past. This day, in 2009, thousands of Uyghur students were massacred by Chinese police in Urumqi. These young students were demanding an investigation into the rising number of homicides in a toy factory. These people only wanted justice. They were also upset by the ongoing discrimination in the employment sector. Graduates were denied jobs because of their Uyghur ethnicity. After the protests, China started abducting the Uyghur youth and no one knows where the missing went. Its been 10 years since that horrifying incident and the condition of Muslims have devolved in a genocidal nightmare.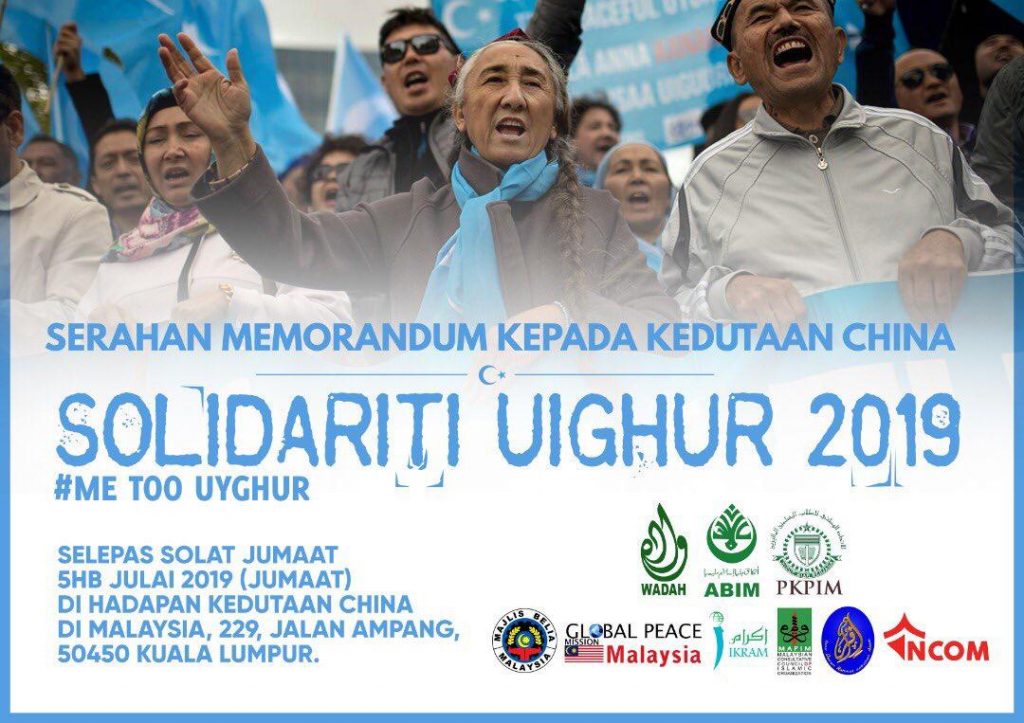 Communist Government in China Has over 2 Million Uyghurs in Concentration Camps
Beijing has now locked over 2 million Uyghurs in concentration camps. People in these places are forced to denounce Islam, forget the teachings of Quran, prohibited from praying, asked to learn Xi Jinping's speech and tortured for not obeying these orders. Sadly, Islam is being treated as a disease in China and most of the Islamic nations are turning a blind eye to it.
So Malaysia came as a breath of fresh air when Muslim NGOs organized an anti-China protest against Uyghur persecution.
On 5th July 2019, a coalition of 34 Malaysian NGOs gathered outside the Chinese Embassy in Kuala Lumpur to protest the persecution of Uyghurs. The organizations prepared a memo of protest to be submitted to Chinese officials. In the memo, they demanded Beijing to 'Respect the human rights of the Uyghur people, in particular, their right to life and freedom of religion and belief.' , 'immediately stop the persecution and extreme repression of the Uyghur people.' and close the camps. They also called upon the International community to increase the voices of protest and disfavour upon the Chinese government and to work together to improve the situation for the Uyghur people through concrete actions.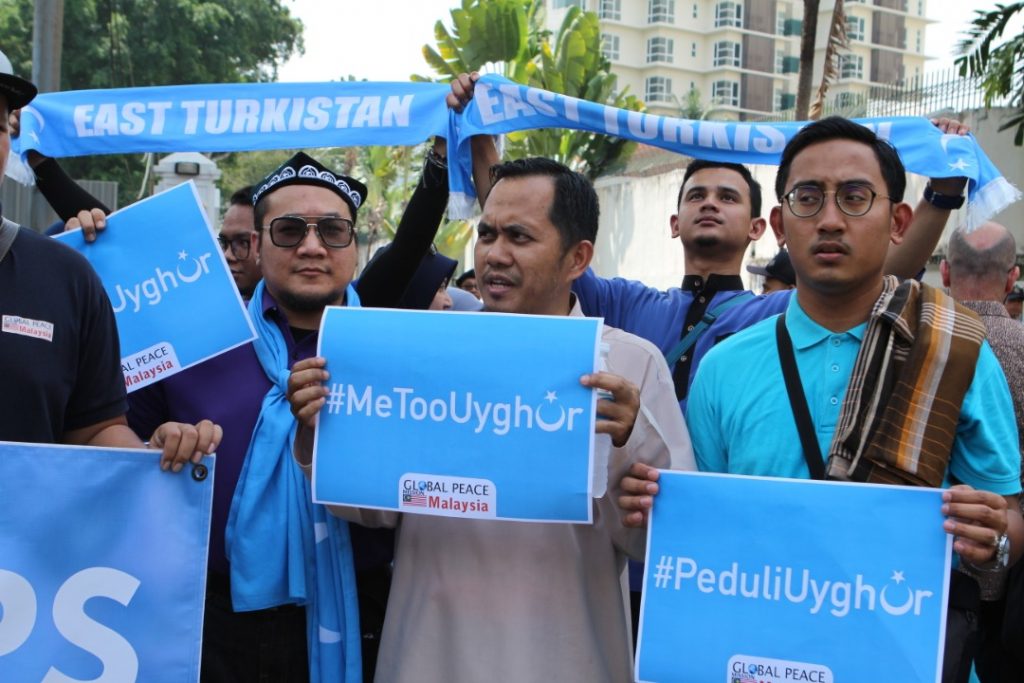 The protesters shouted slogans like 'Me Too Uyghur' and 'Save Uyghur'. In a media interview, president of the Muslim Youth Movement of Malaysia (Abim), Mohamad Raimi Abdul Rahim asked immediate freedom for all those who have been detained in concentration camps.
Malaysians Stand With Uyghurs
Abim secretary Muhammad Faisal Abdul Aziz accused the Chinese government of concealing the plight of the Uyghurs by offering NGOs and government agencies free trips and painting a rosy picture of the camps. Mohd Azmi Abdul Hamid, chairman of the Malaysian Consultative Council Of Islamic Organizations (Mapim), said the atrocities committed against the Uyghurs could not be denied or disguised. The Group of NGOs also included Ikram Association and the Malaysian Youth Council among others.
Though no Chinese official came out to accept the memo, the message was clear that now people won't keep quiet about the Uyghur persecution. There is a dire need for Muslim countries to break their silence on this issue. There is enough evidence to prove that something unholy and inhumane is happening with Uyghurs. If these countries consider China their friend then ask it to stop being a Shaitan. The leaders must realize that their first duty is towards the Ummah and not towards China.
Now is the time to stand for Uyghurs before nothing is left to be saved.
This protest in  Malaysia has proved that people in Muslim countries do support Uyghurs even if their governments are silent and are upset with Beijing's policies. This event proved that governments may fail to fight but people won't.