Swine Flu (H1N1 Influenza A): Facts & Precautions | What is Your Local Muslim Community Doing About it?
"He has only forbidden you dead meat, and blood, and the flesh of swine, and that on which any other name has been invoked besides that of Allah. But if one is forced by necessity, without willful disobedience, nor transgressing due limits – then is he guiltless. For Allah is Oft-Forgiving Most Merciful." (Baqarah: 173)
Cases of Swine Influenza A (H1N1) viral infections have been confirmed across the United States, and around the world. The resulting disease, dubbed "Swine Flu", is a contagious respiratory illness that can be spread from human to human, by coughing, sneezing, and coming into contact with virus-covered surfaces.
The following article aims to educate Muslims on both the Biology and Islam behind the latest influenza pandemic. It has been split into three main sections:
The Biology: What is swine flu, and why Muslims can catch it even if they don't eat pork – written by our resident Biologist, Dr Mehzabeen b. Ibrahim.
Swine Flu, Islam & Muslims: The Islamic texts referring to pork consumption, and contagious disease.
Recommendations: How to stay healthy during this outbreak, insha'Allah. A MUST READ.
The Biology
Everyone and their mum knows that Muslims don't eat pork. It may, therefore, seem the ideal time to start doing the "we told you so" dance at all those pork-guzzling non-Muslim folk, who don't trust in the divine wisdom behind our Islamic dietary restrictions.
But before we get our pointing sticks out, we need to get our biology straight. It is unlikely that the Swine Flu virus was originally transmitted from pigs to humans via the consumption of pork (especially as cooking would destroy the virus), but rather, via direct contact with live, infected pigs, and/or their excreta.
However, there is a theory that the large-scale breeding of pigs to satiate the ever-growing demands of pork-eating empires, both in the East and the West, may have a significant role to play in the development of new, disease-causing, influenza viruses. The biology is a little difficult to understand if you don't have a working knowledge of virology, but I'll try to keep it simple.
There are many different types of virus, that cause many different types of disease. Swine flu (H1N1), Bird Flu (H5N1), and the annual, seasonal flu, are all subtypes of the same species of virus: Influenza A. As the names "bird flu" and "swine flu" suggest, various strains of influenza A are capable of infecting multiple animal species, in addition to man.
There is reason to believe that all forms of the influenza A virus may be avian in origin – however, generally speaking, strains of avian influenza do not replicate well in humans. So how does the virus make the species jump from birds to people? This is where the pig comes in.
As pigs can be simultaneously co-infected with avian and human strains of influenza, they may act as "mixing vessels" in which new strains of influenza A develop, with the potential to cause disease in humans. In fact, this latest strain of H1N1 has been determined to be a genetic mix of four different flu viruses: two porcine, one avian, and one human. See another representation at the bottom of post.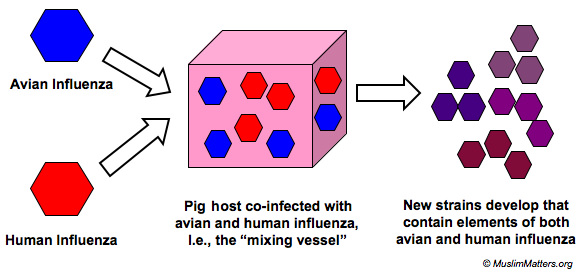 Therefore, the theory is simple: if the world didn't eat as much pork, then there would be less demand to breed pigs in such large quantities, reducing the number of "mixing vessels", thus slowing the rate of emergence of new influenza viruses capable of harming human health. (This is where the "we told you so" dance is more justified).
Unfortunately, at this stage of the epidemic, the swine flu virus is traveling through the population via direct human-to-human transmission, i.e., one sick person passing the virus onto others. Therefore, Muslims are just as susceptible to infection as anyone else. To reiterate: the avoidance of pork will not be enough to prevent you from catching this strain of swine flu; you must take further precautions to protect your health (as described in the Recommendations section of this article).
We are all affected by what the World Health Organization considers a Level 5 pandemic, and we all have a moral responsibility to take care of ourselves, our families, and also the communities we live in – regardless of their pork-consumption habits.
References:
Swine Flu, Islam & Muslims
by Amad
To begin with, a few verses of Qur'an on eating swine meat:
"Forbidden to you (your food) are: dead meat, blood, the flesh of swine, and that on wish hath been invoked the name of other than Allah; that which hath been killed by strangling, or by a violent blow, or by a headlong fall, or by being gored to death; than which hath been (partly) eaten by a wild animal; unless ye are able to slaughter it (in due form); that which is sacrificed on stone (altars); (forbidden) also is the division (of meat) by raffling with arrows: that is impiety. This day have those who reject Faith given up all hope of your religion: yet fear them not but fear me. This day have I perfected your religion for you, completed my favour upon you, and have chosen for you Islam as your religion. But if any is forced by hunger, with no inclination transgression, Allah is indeed Oft-Forgiving, Most Merciful." [5:3]

"Say: I find not in the message received by me by inspiration any (meat) forbidden to be eaten by one who wishes to eat it, unless it be dead meat, or blood poured forth, or the flesh of swine, for it is an abomination or, what is impious, (meat) on which a name has been invoked, other than Allah's. But (even so), if a person is forced by necessity, without wilful disobedience, nor transgressing due limits, thy Lord is Oft-Forgiving, Most Merciful." [6:145]

"He has only forbidden you dead meat, and blood, and the flesh of swine, and any (food) over which the name of other than Allah has been invoked. But if one is forced by necessity, without wilful disobedience, nor transgressing due limits, then Allah is Oft-Forgiving, Most Merciful." [16: 115]
It would also be prudent to mention a couple of prophetic narrations that refer to contagious disease:
Narrated 'Abdullah bin 'Umar: Allah's Apostle said, "There is neither 'Adha (no contagious disease is conveyed to others without Allah's permission)…"
What this means, according to Shaykh Yasir, is that diseases do not have 'inherent' powers to harm unless Allah wills it; contagious diseases harm by the permission of Allah. So, we always have to depend upon Allah first, but not become fatalistic. We need to "tie our camels" and then leave the rest to Allah. As Bilal Phillips wrote in his book, 'Fundamentals of Tawheed', "man proposes, and God disposes".
There is another narration that we can take lessons from:
'Abdullah bin 'Abbas, may Allah be pleased with them, reported: 'Umar bin Al-Khattab set out for Syria. As he came at Sargh (a town by the side of Hijaz on the way to Syria), there met him the commander of the forces, Abu 'Ubaidah bin Al-Jarrah, and his companions. They informed him that a scourge [plague] had broken out in Syria.

[Umar rd consults with various people from the Muhajir and the Ansaar]

He again said: Call to me the senior persons of the Quraish who had migrated before the Victory (that is the Victory of Makkah), so I called them (and 'Umar consulted them) and not even two persons differed (from the opinion held by the earlier delegates). They said: Our opinion is that you better go back along with the people and do not make them go to this scourge.

So 'Umar made announcement to the people: In the morning I would be on the back of my side.

So they (set forth in the morning), whereupon Abu 'Ubaidah bin Al-Jarrah said: Are you going to run away from the Divine Decree?

Thereupon 'Umar said: Had it been someone else to say this, O Abu 'Ubaidah! 'Umar (in fact) did not approve of his opposing (this decision) and he said: Yes, we are running from the Divine Decree (to the) Divine Decree. You should think if there had been camels for you and you happened to get down in a valley having two sides, one of them covered with verdure and the other being barren, would you not (be doing) according to the Divine Decree if you graze them in verdure? And in case you graze them in the barren land (even then you would be grazing them) according to the Divine Decree.

There happened to come 'Abdul-Rahman bin 'Auf and he had been absent in connection with some of his needs. He said: I have with me a knowledge of it, that I heard Allah's Messenger (may peace be upon him) as saying: If you hear of its presence (the presence of plague) in a land, do not enter it, but if it spreads in the land where you are, do not fly from it. Thereupon 'Umar bin Al-Khattab praised Allah and then went back.
Shaykh Salman Oudah, explaining this incident in an answer to a different, but related question of Qadr, states that,
In this way `Umar explained what human effort is all about. It is not about surrendering to whatever we assume Allah has decreed for us, but rather to avoid misfortune by seeking what brings about good results.

It is true that everything happens by the decree of Allah. It is obligatory for a Muslim to believe this. The problem is how to understand it. Our belief should not lead us to a debilitating fatalism whereby the human being is disinvested of all responsibility, even with respect to good and evil.
Thus, it is important for Muslims to take precautions and help their communities avoid being affected by disease. This includes both the Muslim and non-Muslim community around them.
I'd like to know what your community is doing about it. And in this way also pull together some sense of what we collectively think our reaction to such issues should be, issues that concern our community that may not be of the religious nature.
In other interesting news related to Muslims and swine-flu:
Egypt ordered the slaughter of all pigs in Egypt, which was really news to me because I would never have believed that Egypt would allow these animals to be on their land in the first place. Good riddance. Note: the slaughtered meat can still be sold, Egyptian way!
The Deputy Health Minister of Israel, Yakov Litzman, is actually worried about Muslim sensitivities regarding the name "swine-flu", saying that "we should call this Mexican flu and not swine flu" because it is offensive to both Judaism and Islam. I'd be really happy when Mr. Litzman starts worrying about Muslim sensitivities to being slaughtered, rather than worrying about what to name this flu.
The Ikhwaan is calling the flu "more dangerous than hydrogen bomb". Talk about rushing to a conclusion! Potentially yes, but so far not that many people have died. It's dangerous to making such dramatic assertions.
Recommendations
The CDC recommends the following precautions to prevent the spread of the virus:
Cover your nose and mouth with a tissue when you cough or sneeze. Throw the tissue in the trash after you use it.
Wash your hands often with soap and water, especially after you cough or sneeze. Alcohol-based hand cleaners are also effective.
Avoid touching your eyes, nose or mouth. Germs spread this way.
Try to avoid close contact with sick people.
CAIR issued an alert today (see below) calling on Imams to actively respond to this health threat. Since many of us gather in the mosques, especially on Fridays, there is even a greater risk of the flu spreading in our communities. Anyone who feels that they may have the flu or symptoms of it, should seek medical help immediately, and stay at home.
CAIR ACTION ALERT #576:
CAIR Asks Imams to Urge Swine Flu Precautions
Mosque leaders called on to offer health tips after prayers
(WASHINGTON, D.C., 4/29/09) – CAIR today called on imams to use daily and Jummah prayers in the nation's mosques as a platform for providing information about preventing the spread of swine flu.
Imams are in a unique position to offer public health information to American Muslims because they lead congregational prayers every day in the more than 2,000 mosques nationwide.
CAIR is suggesting that imams stay up-to-date on the spread of swine flu in their areas and stress the possibility of temporarily avoiding Islamic cultural traditions such as handshakes or hugs of greeting during a local health crisis. Imams are also being asked to be aware of swine flu symptoms that include fever, cough, sore throat, body aches, headache, chills, and fatigue.
"In times of crisis, public health and safety takes precedence over normal actions and activities that could lead to the spread of infection," said CAIR Executive Director Nihad Awad. "Imams, because of their access to those attending mosques every day, are well-placed to offer advice to community members based on input from public health authorities."
Awad added that the Prophet Muhammad (peace be upon him) encouraged actions designed to prevent the spread of contagious diseases. The Prophet told his community, if disease breaks out in a particular area, "do not leave that place, and when you hear of its spread in another place, do not go there." (Al-Tirmidhi) Another hadith states: "A sick person (with a contagious disease) must not be brought among the healthy." (Fiqh-us-Sunnah)
IMMEDIATE ACTIONS REQUESTED:
CAIR is asking imams to offer flu prevention tips provided by the Centers for Disease Control and Prevention (CDC), which include:
CAIR, in consultation with Islamic scholars, is also suggesting that imams and mosque officials consider taking other preventive actions recommended by the CDC when swine flu is confirmed in a community, including:
Worshipers who develop flu-like symptoms should be strongly encouraged to seek medical advice by phone and to self-isolate themselves in their homes.
Cancellation of classes in Islamic schools should be considered if there is a confirmed or a suspected case of swine flu in the school population.
Gatherings at mosques, even otherwise-mandatory Friday congregational prayers, should be temporarily canceled if there is a risk of spreading infection.
SEE: When Human Infection with Swine Influenza A (H1N1) Virus is Confirmed in a Community