Open Thread Sunday 3/29/2009: Humor us
To lighten up the mood today, tell us your favorite joke, point to the funniest video or image, or anything else that hits the funny bone…
Has cheaper gone too cheap?
I, Amad, contend that I could have done it cheaper. I'd leave the engine out, opened the floor underneath the driver seat, and add bicycle-type pedals. Heck, with all that under-the-hood space freed up, I bet I could fit another 2 people to make it equivalent to a mini-van with carrying capacity of 7.
By the way, if you like projects, the Nano will be shipped in kits, so for the do-it-yourself'ers, what a nifty little project!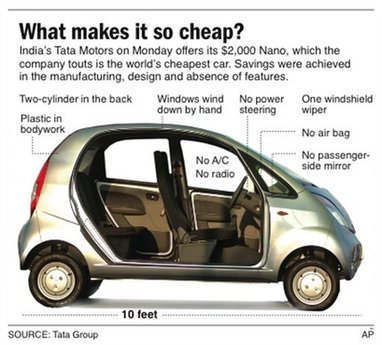 Anyone live in these great places to work? Lagos, at the heart of the Nigerian scam? But Riyadh at #3?? Are they kidding me? China's cities cover half the list. And even Cairo makes it way into the list. Okay, "great" wasn't quite accurate.