Book Review: Groundswell – How Muslims Can Benefit from Social Technologies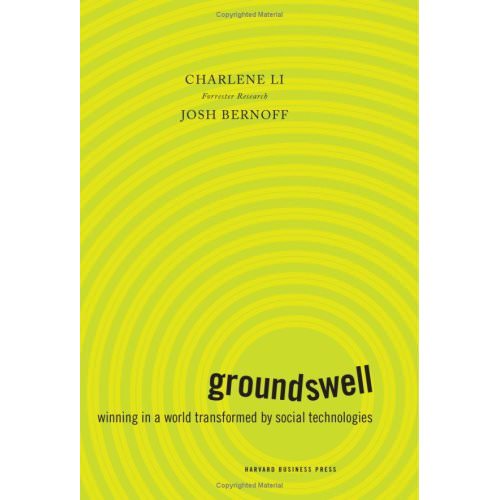 It's not often that you can read a book that covers social technology that's relevant now, but also gives universal lessons for utilizing them as they change in the future. That is the aim of the book Groundswell by Charlene Li and Josh Bernoff. 
This being a blog, and you reading this article via the website, an RSS reader, email, or your mobile phone means you have some familiarity with social technologies and social media. These technologies are transforming the way people think and interact. 
In the groundswell, relationships are everything. The way people connect with each other – the community that is created – determines how the power shifts (p. 18). 
The average person now has the potential to reach an audience sometimes as large as a mainstream media outlet. This of course has its positives and negatives, but what is important is knowing how to utilize these technologies and how to keep up to speed with the way it changes our interactions with one another. 
I often feel the Muslim world is 2 steps behind in all technologies. When the world was listening to CD's, Muslims still insisted on using audio cassettes. Now when the entire world has shifted to mp3, many of our Muslim media companies unfortunately are still clinging to the CD age. Being a step behind everyone is never a model of success in any environment. 
The internet itself spawned many changes in the Muslim communities around the world. It facilitated the sharing of knowledge, but also deviance. It created online communities of like-minded people, but in some senses it also encouraged their withdrawal from real life communities. Many internet-savvy Muslims had their first experiences with social media by joining various forums and message boards. This spawned new relationships and introduced people to a myriad of issues they were previously unaware of. 
The forums fad has faded for many (myself included), but new technologies have replaced them – Facebook, Digg, Twitter, YouTube, and so on. The key factor that all these platforms have in common – and the key indicator of their success – is the relationships they create. 
…when it comes to a new technology…the relationships are paramount. A tool that enables new relationships in new ways will catch on faster than one that doesn't. 
Wikipedia is a good example, as is Twitter (more on Twitter later),
Twitter doesn't add media to existing forms of communication like blogging and texting, but it permits people to broadcast and subscribe to a constant stream of content in a new place…

…Facebook gave people power to connect without corporate supervision; Wikipedia allowed them to create without expert approval…
Essentially what you have are technologies – changing dynamically – that enable new relationships between people. They create new ways of sharing information and ideas. They also fulfill other basic human desires. You can keep up with friendships, make new friends, or simply make a positive contribution to society. Wikipedia became the largest encyclopedia in the world based on the altruistic impulses of people (p. 61). 
Others find it to be a creative venue where you can not only express yourself, but more importantly, get feedback and criticism from others. Take MuslimMatters for example. Most of us are not professional writers by any stretch of the imagination, but it is a passion and a hobby that we can continue to develop based upon feedback from the readers.
This is actually one of the key factors of success for social media is the interaction. You can put up a video on YouTube, a picture on Flickr, or a blog post, and immediately get positive and negative feedback from a pool of people you would otherwise not have access to. The ownership no longer belongs to the maintainers of the site, but it belongs to the readers as well. Burger King ran some commercials about how the average customer reacted when they announced the Whopper was discontinued. In the corporate world, the corporation can often dictate what is and isn't sold, and the customer is often left without a voice. 
Online is a different story though, and the relationsips enabled by these technologies force a 24/7 quality control process. If your favorite website puts up something ludicrous, the people reading it will comment accordingly – and you are forced to listen. If that conversation disappears, then the platform has lost its influence and no longer fulfills its purpose. Imagine having a facebook account, and not having any friends added. There's simply no point. 
One of the greatest benefits of social media though is that it is the ultimate word of mouth. I previously touched on this in 2 past articles on Digg/Reddit and Stumbleupon. For example, no one chooses to watch a commercial on TV, but they do choose what to watch on YouTube. How to capture that 'viral marketing' energy is another strategy expounded on in some detail in this book, but I would recommend that people just go read it because it's not really something that can be summarized here. 
In the world of social media, the audience has a choice. If you don't like a particular blog you simply move on to another one. If your engagement to someone ends up in a nasty split, you simply change your Facebook status to single and people will get the message and cause lots of fun drama. 
The fun thing about it is that it really forces the best to rise to the top. Think about a place like Amazon.com. Most people go there to purchase goods, but a large number of people also go there to read product reviews. Each review is also rated as being helpful or not. You can immediately gauge the importance and quality of a book by seeing its star-level review, and also the number of people reviewing it. It's an immediate way to get an honest assessment of almost any product. That is another driver behind the power of social media. You might see an infomercial on TV for some product that looks amazing, but you simply need to google its reviews to see what people actually thought about it. 
One of the things I look most forward to is that it is shifting us away from weak and often misleading types of marketing strategies to forcing better products and better quality – otherwise the 'groundswell' of people will never allow this product to 'rise' up in this new world of new relationships. 
I initially wanted to get into the specific technologies that are available, but that would be too lengthy and fairly counter-productive since new technologies are always coming out. What I feel is an important challenge though, is to force Muslim organizations to open up to their community. Open up your masjid website to let people leave comments about activities. Keep your community in the loop of different events via the media available. Involve the common person in the process. As the rest of the world moves in this direction, our Islamic organizations will fall behind if this step is not taken. 
One example I want to leave you with is the use of Twitter. SaqibSaab wrote an excellent article about it on his blog, and he highlighted a real life example of how a Masjid in Texas is utilizing social technologies like Twitter to increase participation in the community and keep a transparent relationship with them in regards to their progress. 
The other reason I mention Twitter is because it is a good example of a technology that was founded for one purpose, but once the 'groundswell' of people got involved it took on all kinds of unexpected uses. I have embedded a video below of the founder of Twitter talking about this (warning: there is some music and women without hijab in the opening sequence). 
[HTML2]
Anyone who is involved in dawah projects, or any kind of Islamic organization should really read this book and start thinking of ways to utilize these technologies to their benefit. We should utilize whatever means we have around us to bring benefit to our communities, and it is time we got ahead of the curve for once instead of being behind it all the time. 
Lastly, I leave you with this somewhat unrelated video about the importance of shukr in today's technologically advanced time.
[HTML3]
Please leave a comment or email me at ibnabeeomar /a t/ muslimmatters . org for any feedback.