From Somalia, With Love – Book Review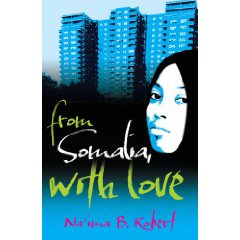 Sister Na'imah B. Robert, author of "From My Sisters' Lips" and editor of SISTERS magazine, has produced yet another fantastic work of literature for the Muslim community: a short novel aimed at young Muslim teens, titled "From Somalia, With Love."
Blurb from the book jacket:
"My name is Safia Dirie. My family has always been my mum, Hoyo, and my two older brothers, Ahmed and Abdullahi. I don't really remember Somalia – I'm an East London girl, through and through. But now Abo, my father, is coming from Somalia to live with us, after 12 long years. How am I going to cope?"
Safia knows that there will be changes ahead but nothing has prepared her for the reality of dealing with Abo's cultural expectations, her favourite brother Ahmed's wild ways, and the temptation of her cousin Firdous's party-girl lifestyle. Safia must come to terms with who she is – as a Muslim, as a teenager, as a poet, as a friend, but most of all as a daughter to a father she has never known. Safia must find her own place in the world, so both father and daughter can start to build the relationship they both long for. From Somalia With Love is one girl's quest to discover who she is – a story that, while rooted in Somali and Muslim life, strikes a chord with young people everywhere.
I recieved the book in the mail recently, and I was so eager to read it that I couldn't wait – I snuggled down with a blanket and devoured the book immediately!
In short: It's awesome.
A while back I wrote a quick blurb on another book for Muslim teens (Does My Head Look Big In This? by Randa Abdel-Fattah), and mentioned how happy I was that at least there was something out there for Muslim girls. I'm even happier now that "From Somalia, With Love" has arrived on the scene, delivering an even better story and providing an even better alternative.
Safia Dirie is a young Somali Muslim girl, somewhere in her mid-teens. Growing up in London, navigating through non-Muslim society while maintaining a close connection to her family and extended community, Safia represents the majority of Muslim girls in the West: practicing, religious, often from a "different" (i.e. immigrant) ethnic background, but very much Westernized.
The story begins with the news of her father's return from Somalia, after more than a decade of being thought dead. What should be a touching family reunion, however, ends up becoming an awkward change in family dynamics.
Abo's arrival is a catalyst for Safia: the close bond between her and her mother begins to fade, and her brother Ahmed's behaviour adds more to her worries and problems. Lonely, unsure of what to think or do, Safia drifts away from her family and best friend and begins to connect with her cousin Firdous. Firdous, however, is one of the least reputable girls in the family, given to partying and hooking up with guys. And although her aunt warns her about Firdous, Safia continues to spend time with her cousin and as her situation at home gets worse, is soon drawn to things she would never have considered before. Before she knows it, things begin getting out of hand – will she be able to stop before it goes too far?
The story concludes with a beautiful end, reminding us that as difficult as it is to be a Muslim kid, we can still hold onto our Islam and find our niche in the world. Muslims can have happy endings too!
Sister Na'ima has done an amazing job in creating a small world and a character which accurately reflect the situations of many Muslim teens. Few books successfully incorporate beautiful writing and a realistic storyline with faith and morals, but sister Na'ima has done it with this story. Her talent really shines through and I do hope that this is just the first of many more books of the same genre, insha'Allah.
My only quibbles with the book were that it was shorter than I'd hoped, and I felt that there could have been a bit more attention and emphasis on Safia's relationship with Allah, especially in those moments of weak emaan. And while I initially thought that the details of the conflicts and eventual resolution were somewhat oversimplified, I guess it makes sense to keep it that way for the intended audience (preteens/ early teens).
I give "From Somalia, With Love" 4 stars out of 5, and strongly recommend it for Muslim girls aged 11 and up. Actually, this book would be great for Muslim and non-Muslims alike! It would also make a fantastic addition to a public, personal, or school library.
Published by Frances Lincoln, and quite reasonably priced ($7.95 U.S.), you can buy "From Somalia, With Love" from Amazon, Chapters/ Indigo and any major bookstore in your vicinity (check for availability).
Just a note, the book won't be released in Canada until February, so Canadians will have to wait for it… but make sure you pre-order it so that you don't forget!