Neocons / Ziocons / Israeli Far-Right Attack Obama's Intel (NIC) Pick, Chas Freeman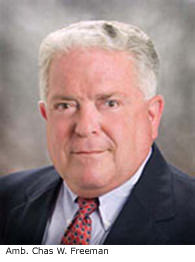 The neocons (see this interesting, though unrelated piece on neocons) and their friends from AIPAC and other Israeli-supporters and right-wing vultures smell blood and have launched a full frontal attack on Obama's Intelligence Pick, Charles ("Chas") Freeman. Freeman is the former US ambassador to Saudi Arabia, former top Defense Department official during the Reagan administration, and president of the Middle East Policy Council (MEPC), whose wide-ranging experience stretches from the Middle East to China.
Online Israeli foot-soldiers and mercenaries are on high-alert, as the usual suspects write alarmist pieces on blogs and newspapers, and of course FAUX joins in (picking for their "expert" Frank Gaffney, an extremist, right-wing Zionist who leads the Center for Security Policy). Consider the logic of their "alarm" based on the general sense that NIC really has any significant influence in the Middle-East.
Of course the WSJ had its nonsensical piece, where the author (who works at some unknown "Witherspoon Institute")  highlights MEPC's publishing of the unabridged version of the Israel Lobby by the two distinguished Professors, as being evidence that he is anti-Israel:
Mr. Freeman has both endorsed the paper's thesis and boasted of MEPC's intrepid stance: "No one else in the United States has dared to publish this article, given the political penalties that the Lobby imposes on those who criticize it."
Other usual suspects include  Steve Rosen, the former official of the American-Israeli Public Affairs Committee who's been indicted for pro-Israeli espionage in a long-running AIPAC scandal, and whose blog is published by a rabid, right-wing Zionist outlet led by Daniel Pipes (who is one of the "dirty dozen" smearcasters).
You could also safely rely on Weekly Standard to give their usual support to anything pro-Israel, and they simply take out quotes by Freeman on a variety of subjects with the citation listed to the fair and balanced, Israel National News!  Even these, if true, are actually pretty factual and a positive reflection that this guy (Freeman) has a good head on his shoulders. Here are the "inflammatory" and "dangerous" quotes of Freeman:
"American identification with Israeli policy has also become total. Those in the region and beyond it who detest Israeli behavior, which is to say almost everyone, now naturally extend their loathing to Americans…This makes the long-term escalation of terrorism against the United States a certainty, not a matter of conjecture."
And the issue with the quote is? Does it take a rocket-science to see the direct correlation between American favoritism of Israel and anti-Americanism, which directly feeds terrorism?
"Very early on, the notion of achieving some sort of victory [in Iraq] didn't take. So if victory is not possible and not feasible, even if you could define it, then what you're left with is to find some way to mitigate defeat."
Still in the "Mission Accomplished" mode guys? And so now recognition of the Iraqi problem is an issue for a candidate??
"It is widely charged in the United States that Saudi Arabian education teaches hateful and evil things. I do not think that is the case."
It is also widely charged and known that the Israeli education teaches hateful things about Arabs… how about taking that up too??
"I'm a very practical man, and my concern is simply this: that there are movements, like Hamas, like Hezbollah, that in recent decades have not done anything against the United States or Americans, even though the United States supports their enemy, Israel. By openly stating and taking action to make them–to declare that we are their enemy, we invite them to extend their operations in the United States or against Americans abroad."
This is by far the best quote, and cannot be more accurate. Has Hamas and Hezbollah ever attacked US interests or asserted that they are at war directly with USA? The answer is no, that is a fact. Does USA not openly and directly support Israel comprehensively? The answer is yes, that is a fact. Couldn't the friend of your enemy, especially one that directly supports it, ultimately become an enemy too? That's kindergarten logic and it still works. So, Freeman is warning of a dangerous escalation. America doesn't need more enemies… it already has enough. Pointing out simple facts and logic is the sign of honesty and practicality. The longer we keep shoving obvious facts under the rug, the further we will be away from any REAL and LASTING solution.
The point is clear: these neocons/ziocons/right-wing Israeli pimps don't want ANY fairminded, non-Israeli-lover in the White House, at ANY level in the Administration.
As Robert Dreyfuss writes in the Nation (I borrowed many of the facts from this great article too):
If the campaign by the neocons, friends of the Israeli far right, and their allies against Freeman succeeds, it will have enormous repercussions. If the White House caves in to their pressure, it will signal that President Obama's even-handedness in the Arab-Israeli dispute can't be trusted. Because if Obama can't defend his own appointee against criticism from a discredited, fringe movement like the neoconservatives, how can the Arabs expect Obama to be able to stand up to Israel's next prime minister, Bibi Netanyahu?
For the defense (of Chas), antiwar.com writer Jim Lobe praising the pick, as well as  Dan Froomkin at Nieman Watchdog. Thinkprogress has a column that is more of a report than a defense<– they could have done better.
What can you do?
E-mail others about this story and cross-post on your blogs. As individuals, please write to the President, commending him on his decision to choose Chas Freeman, and asking him to stay strong against hawkish, right-wing pressure, otherwise there is no hope for peace (if he succumbs to these discredited hate-mongers):
http://www.whitehouse.gov/contact/