To Blair or Not to Blair, That is The Question (Tony Blair, Yasir Qadhi & a Classroom in Yale)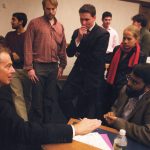 Early in 2008, Yale University announced that the former Prime Minister of the UK, Tony Blair, had just been hired to teach an exclusive, multi-disciplinary course for its students in the Fall of 2008. The course was called 'Faith and Globalization' and would, as its title suggests, discuss the role of religion in the modern, globalized world. Mr. Blair, being a former prime minister of one of the most powerful countries on Earth, and also a self-professed 'man of faith' (he had recently publicly converted to Catholicism after leaving office), was viewed as the ideal person to lead this seminar.

When I read the news, the only thought that crossed my mind was the added security that I might have to face on campus, which might hinder my own frequent wanderings between the library and my department. I didn't really think of taking the course, primarily because I was highly skeptical of being accepted, and at that stage didn't think the course was of much benefit to me.
Later in the semester, the graduate students received an e-mail from the Dean advising them how to apply, and stating that there would be a rigorous application process to sift through qualified students. Intrigued, I clicked on the link within the e-mail, to be transported to a secure portal that required a few pages of information, essays, and other credentials. I logged off immediately – I didn't feel that I had the time or even enthusiasm to fill out pages of information to try to get into Mr. Blair's class. But over the course of the next two months, and as more and more details regarding the course emerged, the thought kept coming back to me, over and over again. Why not apply? What do I have to lose? The course was getting more and more interesting. And perhaps there was a Divine Wisdom in my being present at Yale at a time when the former Prime Minister of the UK was hired to teach here?
Thus began a series of conversations with a few people whom I look to for advice, and many hours of personal introspection. 'What if I don't get accepted,' I thought to myself. 'What's the point of spending a few hours trying to apply finally to get rejected (most likely on 'security risks' for being a bearded, Orthodox Muslim!)' But I kept flirting with the idea, and thought of the pros and cons of applying.
The cons were all petty, except for one. The petty cons were: do I really have time to take such a multi-disciplinary course (spanning the fields of business, ethics, law, religion, and international relations?) Do I want to waste time applying only to get rejected? Would taking this class, which would meet three times a week (two discussions and one lecture), affect my AlMaghrib classes or otherwise restrict my frequent travels? But of course all of these other issues could be worked around. There really was only one major factor, and it was this factor that led to my conversations with my peers and elders and my own hours of contemplation.
The main factor, of course, was the fact that Tony Blair was one of the most vocal international figures who called for the war in Iraq – a war that had cost hundreds of thousands of innocent lives, a war that had allowed Western companies direct and unfettered access to the natural resources of the region, a war that had spiraled out of control and was the direct and immediate cause of the climate of instability and fear, not to mention the Sunni-Shiite civil war. While our former vice-president, Dick Cheney, was of course the primary brain that hatched this nefarious scheme, the world at large did not think much of the intelligence of our former president, Bush, through whose mouth the VP and his neo-con cabal would speak. But the world's public did have great respect for Tony Blair, whom they viewed as being an effective politician – one who had finally brokered a successful Northern Ireland peace process, after what appeared to be decades of hopeless negotiations. And while Blair cannot take full responsibility for the war (the lion's share does fall on Cheney, Rumsfeld and the other students of Leo Strauss, the father and mentor of American neo-con thought), there is no doubt that he shares a good portion of blame. In particular, it was the obstinate persistence of Blair, despite the overwhelming show of opposition of the British public, that caused Britain to militarily enter this conflict. Never before in the history of Western democracies have so many millions of people taken to the streets, protesting a possible course of action by their own governments, all to fall on deaf ears and blind eyes (so much for democracy!)
So, the question that kept me awake at night was quite simple: was it morally and ethically allowed for me to take a class with someone whom many were actually viewing as a potential war criminal? What would my justification be? Obviously if I took the class, I would interact with Blair directly many times, yet due to the classroom environment it would be counterproductive to express my thoughts with the same force and vigor that I am able to now, outside the classroom. There would have to be some modicum of protocol, and dissent would have to be expressed within the appropriate and expected norms of academic standards.
While this was the major con, there were plenty of pros. First and foremost, the class itself. Contrary to my initial hastily arrived at verdict, the subject of the class was extremely relevant to someone in my position – I am intimately involved with both the forces of globalization and religion, albeit in very different ways than Blair was. The course had a very intriguing syllabus and curriculum, and would be taught by other professors as well (in fact, Blair would only come for about half of the lectures, the other half being taught by Miroslav Volf, a leading Christian theologian at the Divinity School, with plenty of guest lecturers: famous academics, politicians, and businessmen). Another reason that would justify my presence in class would be to interact with what would no doubt be a very elite group of people. Yale itself is elite enough (how many of America's future leaders, judges, businessmen and other people of authority graduate from this Ivy Tower!), but this class would be composed of the crème de la crème – a group of students pooled from hundred of applicants. Surely this relationship would be beneficial for me in the future, and hopefully my presence would be beneficial to my fellow classmates as well. Lastly, I felt the main reason that I needed to apply was simply to have my voice and perspective heard. Even if I couldn't change what happened, even if my solitary voice of dissent would be glossed over by other voices, at least my voice would be heard at a place where such voices are rarely heard. If accepted, I felt sure that I would have the opportunity to speak about matters, and bring perspectives, that would at least expose others to a worldview shared by billions, but typically absent at such gatherings. Even if I couldn't change the past, I wanted to bring to the academic table opinions and facts that might possibly shape the future.
Weighing out the pros and cons (or, to be more precise, the one con) in those two months, in actuality the con was winning over. I simply did not feel comfortable being in such close proximity with Blair for such an extended period of time. I also realized that many Muslims would never see any justification for taking a class with him, and that this would (further) tarnish my image amongst some categories of Muslims. But I've never really acted purely based on what other people will say about me. It is not a sign of true faith to make one's reputation one's primary concern, and hence if a course of action is believed to be beneficial and valid, it should be undertaken regardless of what others might think. So that was never really a major concern.
Faced with such confusion, I did what every Muslim should do. After speaking with all those whom I respected, I prayed istikhara. Sincerely. And I prayed to Allah, within that istikhara, that if this course of action were indeed beneficial to me and the Ummah in the long run, then cause me to get accepted to this class with ease, otherwise turn this class away from me. Thus it was, on the very last day that the application was due, after battling with my conscience for two months, just a few hours before the deadline of midnight on a Friday in June, I sat down with determination, logged on, and filled out the entire form. Never before have I had to apply so rigorously in order to get accepted to a class. Resumes, experiences, life-vision, relevancy to the class, people who could be contacted for references, personal questions that required short essays as response, and more. They really wanted to know who I was. So I told them, honestly, completely and truthfully, and did not hold anything back. Let them hear it like it is.
I later found out that around two hundred fifty students (all Yalies) had applied; there was a quota system where a specific number had been assigned to each school. Six students were to be accepted from the Law School, six from Divinity, six from the School of Management, five undergraduates, and two graduates.
And so it came to pass that I received an e-mail in the last week of August, stating that I had been accepted to Tony Blair's 'Faith and Globalization' seminar. I was one of the two graduates accepted (and, in terms of academic qualifications, the most senior, as this is the fourth year of my PhD).
The class itself was definitely the most unique I've ever taken in my life (and during the course of the last 17 years of University-level education, I can sadly claim that I have taken many, many, many classes…). We had a special introductory session, where we were told of the extra security measures that would be in place (bomb-detection dogs around the class, ID check-in to get inside, metal detectors, etc.), media issues (how to handle press interviews that would inevitably come our way), and even dress-code ('not too casual'). Mr. Blair himself didn't appear the first day of class, but welcomed us via video. And my classmates were all bright and intelligent visionaries – I could sense as we went over our introductions that each and every one of these people was a potential mover and shaker (and quite a few already were!).
Mr. Blair came for our third session. He went around the entire class and shook our hands, one by one, asking our names. As is to be expected, he was his charming self and quickly managed to ingratiate himself amongst the crowd. (As a side point, one of the greatest lessons I learnt from the class was the art of public speaking, for there is no denying that Blair is one of the most eloquent politicians and speakers of our time).
There is much that can be written about that class (and perhaps that might form the subject of another post). But suffice to state that I felt my presence in that class was fully justified. Right after his very first lecture, when Blair asked, 'Any questions?' my hand was the first to shoot up, and I was called on to ask. One aspect of the lecture had been about the importance of respecting all citizens of any one country equally, and that it was potentially dangerous to try to differentiate between citizens for any reason whatsoever. My question sought to work out a realistic balance between loyalty to one's faith and loyalty to one's country. I felt that Blair had tried to paint too rosy of a picture of any nation-state, and when such ideals are utopic and proposed as 'standard', those who fall short of them will then be viewed as potentially betraying the cause of the country. So I asked him how he wished to reconcile dogmatic religious beliefs with dogmatic views of an ideal citizen, "…how can you expect a Christian to treat someone who views the very idea that he cherishes so much (viz., that Jesus Christ is the Son of God who died for man's sins) as being blasphemous? How can you expect a Christian or Muslim or any religious person who believes in the exclusivity of his faith not to take that belief into account when dealing with others, even if they be members of his own nation?" (As a disclaimer, I am not positing that the two are mutually exclusive, for they are not; rather, what I am stating, and have written about elsewhere, is that the country must have realistic expectations of its citizens and understand its own function and role in order to foster greater loyalty amongst its people – a country cannot take the place, role or function of a religion).
Blair gave me one of his infamous quizzical looks and said 'That's a really good question, and I'm afraid I don't have an answer to it, but if I think of one, I'll get back to you on it.' The class burst out laughing (and throughout the course of the semester, my question was referred to at least half a dozen times, by Blair and Volf). And so it began. Every time Blair came, my hand would inevitably shoot up, and I would make it a point to ask a very direct and usually uncomfortable question. In one session, after he mentioned the issue of freedom and how religions must understand that they cannot restrict the freedoms of others, I challenged him on the fact that this was a two-way street. Secular democracies could also not curtail religious freedom where they disagreed with it. When he suggested that they do not do that, I called him out on his stance on Hizb ul-Tahreer, an organization that I have no sympathy for theologically, and disagree with completely ideologically. I reminded him that he himself was trying to ban Hizb ul-Tahreer even though it was agreed that they never promoted terrorism. His response was that while it was true that they did not engage in terrorism, they were active in promoting hate speech, which could potentially lead to terrorism. To which I retorted that based on this principle, he should also ban the BNP and other racist groups that wish to spread hatred of Asians and Muslims. He didn't really have a retort to that one.
And so it went on. I was always polite, never argumentative. I felt like Katy Couric with Sarah Palin – intrusive enough to expose the holes without being rude. At one point in the semester, as soon as he walked into class, he looked around, his gaze finally stopping on me. He winked and said with a smirk, 'So, Yas-eer, have you got your question up your sleeve already?' To which I retorted, 'Not yet, but by the time you finish your lecture I will!'
For thirteen weeks, we discussed a whole array of topics, and I was introduced to fascinating authors and modern thinkers that I had never heard of. I greatly benefited from the scope and diversity of the issues that we talked about, from Nestle's business ethics to religious conflict in Sri Lanka, from the details of working out peace in Northern Ireland to seeing the effects of globalization on coco plantations Africa. One of the highlights for me was to get to meet and interact with the two primary architects of the Northern Ireland peace process, the Catholic Fr. Alec Reid and the Protestant Minister Harold Good. Both were in their late seventies, and it was simply humbling to hear their experiences during the last thirty years and the roles that they played in bringing peace to their country.
For my final class project, I chose to discuss the veil-controversy that had occurred in 2006 in the UK. A teacher had been expelled for wearing the niqab, and less than 48 hours later, Blair himself had commented on it, before the case went to court, claiming that he supported the decision of the school to suspend the teacher. I showed the effects of such inflammatory language, and stated that politicians, especially the Prime Minister himself, did his country a disservice when he took sides with a majority against an already isolated and embittered minority. Rather than seeking to alienate, I said, it is the role of politicians to mediate. (As a side point, I could not help but notice the irony of the situation – who would have guessed that I could criticize the current PM for this issue in 2006 as I addressed the GPU, and would then get the opportunity to critique his actions in class at Yale in 2008?).
Throughout the semester, though, there was one major elephant in the room that no one dared to bring it. That elephant, of course, was the war in Iraq. We had not discussed this topic since, rather unbelievably, the Iraq war was not a part of our syllabus (perhaps on purpose?) Since the issue never came up, none of the students felt it appropriate to bring up.
On the other hand, I felt it my moral obligation that I not leave this class and end this semester without bringing up the past. While I realized that it would not change anything that had happened, I wanted to have a clear conscience and be able to speak my mind on this issue. But I also wanted to see:
1) if Blair had any regrets regarding his decision,
2) if he realized that his actions seemed to demonstrate to many people the hypocrisy of democracy when a majority of his own people opposed the war, yet he so stubbornly brought his country into this conflict against the will of his people,
3) and, lastly, if he understood that his perception in the Middle East, and in fact in many parts of the world, as a man of war, actually made it impossible for him to be an 'Envoy of Peace' in the Middle East.
With regards to the last point, I was trying to get the point across that his new-found role as 'Special Envoy of the Quartet' to try to solve the Palestinian crisis was viewed as a big practical joke by pretty much all players in the region.
Although it was extremely uncomfortable to get to this topic, alhamdulillah in the very last class (with the help of certain classmates whom I had prompted) I did manage to raise all of these issues and more with him. I tried my best to be firm and keep my cool, but despite all my attempts, my bluntness did fluster him considerably (as even my friends attested to). To summarize the entire ten minute back-and-forth, as is to be expected, Blair does not regret his decision at all ('In the end of the day we got rid of an evil dictator'). He felt that his decision was in fact democracy in action, for if the people disagreed they could vote him out (which they eventually did). And he did not believe that his perception in the Middle East was that bad (no comment), for wherever he went he was thanked by the people of Iraq (to which I replied he should meet people on the street rather than hand-picked spokespersons). He firmly believed that he was a perfect person to be EU's special envoy to the Middle East.
Conclusion
While my presence did not solve anything that had happened in the past, I feel that my input was greatly appreciated and valued by others. In fact, I was told the same by the professor, teaching fellows and many other students, who all said that my presence added a very unique perspective and had caused them to think about certain matters differently. Taking the class was a difficult decision for me, but I feel content in the outcome of the istikhara and hope that some possible good in the future results from it.
Living as we do in these lands, I feel very strongly that it is productive and necessary to engage directly with people from all walks of life, including politicians whom we might very strongly disagree with. We're not going to gain much by sticking our heads in the sand, or by doing nothing except expressing our wrath and invoking curses on others. By dialoguing and communicating the way we feel and why we feel it, a lot of potential good can be realized.
It appears to me that many Muslims are extreme in their attitude towards engagement with 'the other'. As with all extremism, two sides exist. Some feel that being involved in politics and engaging with the media is the primary way forward – that by getting involved in all walks of life, this will be our main source of revival and bring out peace in and for the Ummah. Such Muslims appear to rely on material means almost to the exclusion of spiritual ones.
On the other side of the spectrum, other Muslims are too isolationist and view any who wish to get involved with politics or the media as 'sell-outs'. Hence, such Muslims exude nothing but contempt for those whom they view as having an inferiority complex.
As is typical, the middle path is usually best. While engagement is not the only way forward (personal spirituality and character development is far more important), it is a necessary and important step in order to make our lives better in this world, and yes, even the next. Only be engaging will we get our point across, and only by getting involved with the proper spirituality will the material side of things be effective.
The Prophet salla Allahu alayhi wa sallam commanded us to tie our camels, all the while putting our trust in Allah. I feel that engaging with such people is part of tying the camel, but let us never lose track of trusting in Allah.
Jannah Wall Art | MuslimKidsMatter
Assalam Alaykum wa Rahmatullah wa Barakatuh
Jannah Wall Art

We thought long and hard about what to focus on this Ramadan. We decided it would be motivation! The desire to do pray has to spring from motivation. Being obedient to parents has to spring from motivation. Racing to do any good deed has to spring from motivation. Children love rewards and what better reward and motivator to focus on, than Jannah itself, the best and ultimate reward.
Each day in Ramadan, the challenge is to read a description or two of Jannah, cut out a petal, and write the description in a few words on the petal. Children then need to stick the petals next to each other to make a flower. By the end of Ramadan, the children will have made a beautiful flower containing the descriptions of Jannah to hang up on their walls to remind them why they need to pray, be good to their parents, give charity and accumulate as many good deeds as possible.
Everything has been provided for you including the descriptions of Jannah, the petal template, a sample of what the flower should look like and step by step instructions. You just need to print and execute!
GET YOUR FREE RESOURCE NOW
https://ilmburst.lpages.co/ilm-burst-ramadan-treat

May Allah allow us all to witness Ramadan and make us from those who excel in worship throughout the blessed month.
Wassalam Alaykum
The Ilmburst Family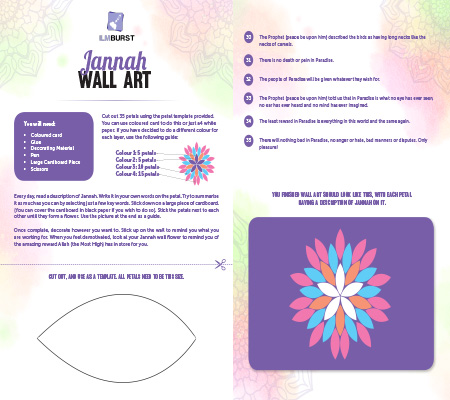 MuslimARC Releases Guide for White Muslims By White Muslims
The author of the MuslimARC Guide writes an introduction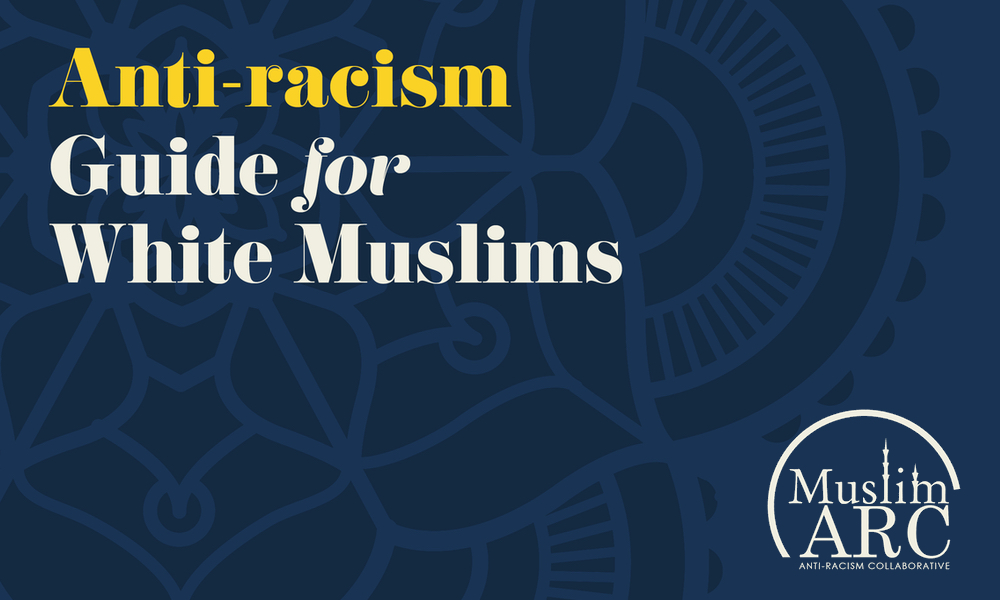 "As people who are both white and Muslim, we straddle two identities -one privileged in society and the other, not. We experience Islamophobia to varying degrees, sometimes more overtly depending on how we physically present, and at the same time we have been socialized as white people in a society where white people hold more social power than People of Color (POC). The focus of the toolkit is to provide resources and information that will help guide us toward good practices and behaviours, and away from harmful ones, as we challenge racism within the Muslim community (ummah) and in society at large." MuslimARC Guide 
As part of our mission to provide education and resources to advance racial justice within the Muslim community, the Muslim Anti-Racism Collaborative (MuslimARC) is producing a series of community-specific guides to be a resource for those who want to engage in anti-racism work within Muslim communities.

The first in this series, the Anti-Racism Guide for White Muslims, has been written specifically for white Muslims, by white Muslims under the guidance of the anti-racist principles of MuslimARC. While white Muslims know that Islamically we are required to stand for justice, growing up in a society that is so racially unequal has meant that unless we seek to actively educate ourselves, we typically have not been provided the tools to effectively talk about and address racism.
The Anti-Racism Guide for White Muslims is a tool and resource that speaks to specific needs of white Muslims who are navigating the process of deepening their understanding of racism and looking for concrete examples of how, from their specific social location, they can contribute to advancing anti-racism in Muslim communities. The Guide also addresses views and practices that inadvertently maintain the status quo of racial injustice or can actually reproduce harm, which we must tackle in ourselves and in our community in order to effectively contribute to uprooting racism.
The Guide was developed by two white Muslim members of MuslimARC, myself (Bill Chambers) and Lindsay Angelow. The experiences, approaches, recommendations, and resources are based upon our own experiences, those of other white Muslims we have encountered or spoken to, and research and analysis by others who have been cited in the Guide.
As white people, we are not always aware when we say or write something that reflects our often narrow analysis of racism and need to be open to feedback from Muslims of Color. My own personal process of helping to develop this Guide made me aware of the many times I was in discussions with Muslims of Color, especially women, when I had reflect better upon the privilege I experience as a white person and also the white male privilege that comes with it. It is difficult not to feel defensive when you realize you may have said too much and listened too little on a topic that is really not about you.
Talking about racism is a hard topic and we anticipate that for many white Muslims reading the Guide, there may be a feeling of defensiveness and having difficulty learning from the examples given because you feel that the examples don't apply to you. You may feel the need to call to attention the various forms of injustice you feel you have experienced in your life, for example where you felt like an outsider as a convert in Muslim community. Our advice is to recognize that those reactions are related to living in a society where we are very much shielded from having to deeply understand racism and examining our role in it. In the spirit of knowledge seeking, critical thinking, and the call to justice communicated to us in the Qur'an as expectations that Allah has of Muslims, we must push past those reactions and approach the subject matter in the spirit of knowledge, skill-seeking, and growth.
"People, We have created you all from a single man and a single woman, and made you into races and tribes so that you should get to know one another (49:13)." One of our most important purposes is to really "get to know" one another, build just and loving communities together, all the time knowing we all come from the same source and will return together. If this Guide does anything, let it inspire a deeper understanding of our unique identity as white Muslims and how to use it to advance a more just society.
You can find the  #AntiRacismGuide for White Muslims at http://www.muslimarc.org/whitemuslimguide
Further reading:
White Activism Is Crucial In The Wake of Right-Wing Terrorism
Emotional Intelligence: A Tool for Change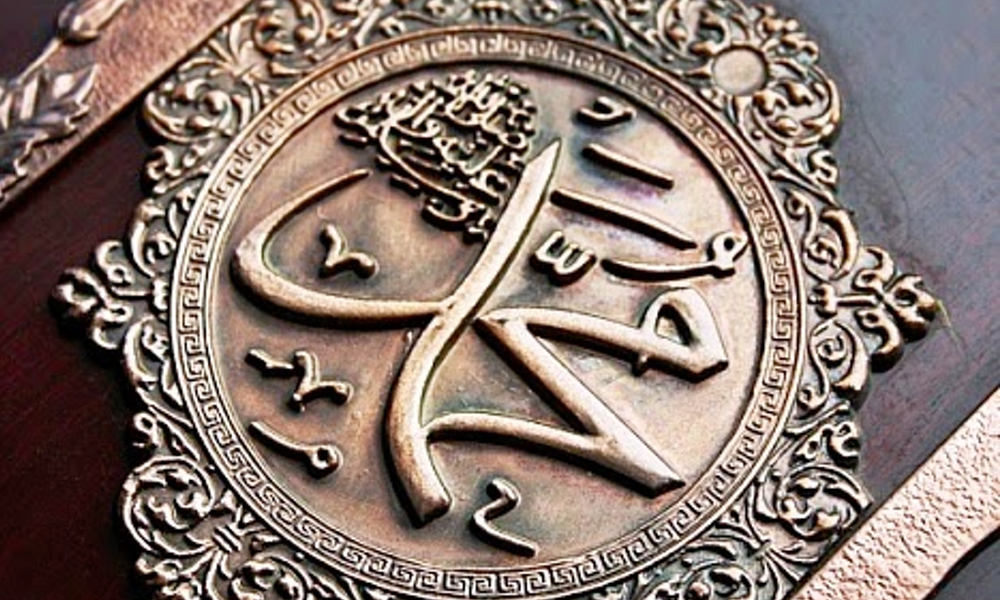 Why do we consider emotional intelligence to be half of the Prophetic intellect? The answer lies in the word "messenger." Messengers of Allah are tasked with the divine responsibility of conveying to humanity the keys to their salvation. They are not only tasked with passing on the message but also with being a living example of that message.
When ʿĀʾishah, the wife of the Prophet ﷺ, was asked to explain the character of the blessed Prophet ﷺ, her reply was, "His character was the Qurʾān.[1]" We are giving emotional intelligence a place of primacy in the construct of Prophetic intelligence because it seems implausible that Allah would send a messenger without providing that messenger with the means necessary to exemplify and transmit the message to others. If the Prophets of Allah did not have the necessary knowledge and skills needed to successfully pass on the message to the next generation, the argument would be incomplete. People could easily excuse themselves of all accountability because the message was never conveyed.

We also see clear examples in the Qur'ān that this knowledge was being perpetually perfected in the character of the Prophet ﷺ. Slight slips in his Emotional Intelligence were rare, but when they did occur, Allah gently addressed the mistake by means of revelation. Allah says in the Qurʾān, "If you (O Muḥammad) were harsh and hardhearted, then the people would flee from you." This verse clearly placed the burden of keeping an audience upon the shoulders of the Prophet ﷺ. What this means is that the Prophet ﷺ had to be aware of what would push people away; he had to know what would create cognitive and emotional barriers to receptivity. When we study the shamāʾil (books about his character), we find that he was beyond exceptional in his ability to make people receptive. He took great care in studying the people around him and deeply understanding them. Only after the Prophet ﷺ had exhausted all the means of removing barriers to receptivity would the responsibility to affirm the message be shifted to those called to it.
Another example of this Prophetic responsibility can be found in the story of Prophet Mūsa when he was commissioned to call Pharaoh and the children of Israel to Allah. When Allah informed him of the task he was chosen for, he immediately attempted to excuse himself because he had a slight speech impediment. He knew that his speech impediment could potentially affect the receptivity of people to the message. He felt that this disqualified him from being a Prophet. He also felt that the act of manslaughter he committed might come between the people and guidance. All of these examples show that Allah's Prophets understood that many factors can affect a person's receptivity to learning something new, especially when the implications of that new information call into question almost every aspect of a person's identity. History tells us that initially, people did not accept the message of the Prophet Muhammad ﷺ; they completely rejected him and accused him of being a liar.
One particular incident shows very clearly that he ﷺ understood how necessary it was for him to remove any cognitive or emotional barriers that existed between him and his community. When the people of his hometown of Makkah had almost completely rejected him, he felt that it was time to turn his attention to a neighboring town. The city of Ṭā'if was a major city and the Prophet ﷺ was hopeful that perhaps they would be receptive to the message. Unfortunately, they completely rejected him and refused to even listen to what he had to say. They chased him out of town, throwing stones at him until his injuries left him completely covered in blood. Barely making it outside the city, the Prophet ﷺ collapsed. Too weak to move, he turned his attention to his Lord and made one of the most powerful supplications made by a Prophet of Allah.
"اللهم إليك أشكو ضعف قوتي، وقلة حيلتي، وهواني على الناس، يا أرحم الراحمين، أنت أنت رب المستضعفين وأنت ربي، إلى من تكلني؟ إلى عدو يتجهمني؟ أو إلى قريب ملكته أمري؟ إن لم يكن بك علي غضب فلا أبالي، غير أن عافيتك أوسع لي، أعوذ بنور وجهك الذي أشرقت له الظلمات، وصلح عليه أمر الدنيا والآخرة، من أن ينزل بي غضبك، أو يحل علي سخطك، لك العتبى حتى ترضى، ولا حول ولا قوة إلا بك"
"Oh Allah, only to You do I complain about my lack of strength, my insufficient strategies, and lowliness in the sight of the people. You are my Lord. To whom do you turn me over? Someone distant from me who will forsake me? Or have you placed my affair in the hands of my enemy? [2]"
The Prophet ﷺ felt that he was the reason why the people were not accepting the message. His concern that "my low status in the eyes of the people," informs us that he understood that people naturally judge the seriousness of a message based on the stature of the message bearer. The people of Ṭā'if were extremely ignorant, so much that they adamantly refused to enter into any dialogue. In reality, this was not due to any shortcoming of the Prophet ﷺ; he demonstrated the best of character and displayed extreme patience in the face of such ignorance. But the beginning of the supplication teaches us what he was focused on: making sure that he was not the reason why someone did not accept the message.
Because his message was not geographically restricted like that of other Prophets, those who inherited the message would have the extra burden of transferring the message to a people with whom they were unfamiliar. The intelligence needed to pass the message of the Prophet Muḥammad ﷺ around the world included an understanding of the cultural differences that occur between people. Without this understanding effective communication and passing on of his message would be impossible.
A sharp Emotional Intelligence is built upon the development of both intra- and interpersonal intelligence. These intelligences are the backbone of EQ and they provide a person with emotional awareness and understanding of his or her own self, an empathic understanding of others, and the ability needed to communicate effectively and cause change. Emotional Intelligence by itself is not sufficient for individual reform or societal reform; instead, it is only one part of the puzzle. The ʿaql or intellect that is referenced repeatedly in the Qurʾān is a more comprehensive tool that not only recognizes how to understand the psychological and emotional aspects of people but recognizes morally upright and sound behavior. After that this intellect, if healthy and mature, forces a person to conform to that standard. Therefore, we understand the ʿaql to be a comprehensive collection of intelligences analogous to Howard Gardner's Multiple Intelligences theory.
Taking into consideration the extreme diversity found within Western Muslim communities, we see how both Moral Intelligence and Emotional Intelligence are needed. Fostering and nurturing healthy communities requires that we understand how people receive our messages. This is the interpersonal intelligence aspect of EQ. Without grounding the moral component of our community, diversity can lead to what some contemporary moral theorists call moral plasticity, a phenomenon where concrete understandings of good and evil, right and wrong, are lost. Moral Education (Moral Education, which will be discussed throughout the book, is the process of building a Morally Intelligent heart) focuses on correcting the message that we are communicating to the world; in other words, Moral Intelligence helps us maintain our ideals and live by them, while Emotional Intelligence ensures that the message is effectively communicated to others.
My father would often tell me, "It's not what you say, son; it's what they hear."
Interpersonal understanding is the core of emotional intelligence. My father would often tell me, "It's not what you say, son; it's what they hear." From the perspective of Emotional Intelligence, this statement is very accurate. The way we interpret words, body language, verbal inflections, and facial expressions is based on many different factors. The subtle power of this book lies in the simple fact that your emotional intelligence is the primary agent of change and thus the most powerful force you have. You must understand how people perceive what you are communicating to them. What is missing from my father's statement is the primacy of Moral Intelligence. Throughout this book, I attempt to show how the Prophet Muḥammad ﷺ demonstrated a level of perfection of both of these intelligences.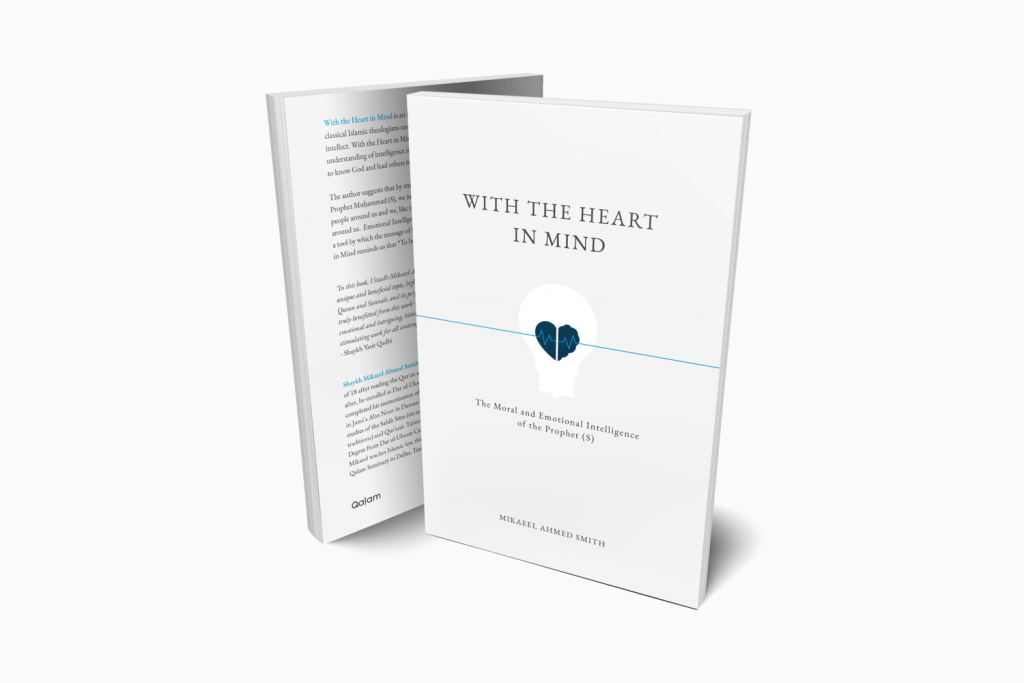 *With the Heart in Mind is available for pre-order at https://www.qalam.foundation/qalambooks/with-the-heart-in-mind
[1]Bayhaqī, Shuʿb al-ʾĪmān, vol. 3, p. 23.
[2] Ibn Kathir, al-Bidāyah wa al-Nihāyah, vol. 3, p. 136.