UPDATE! Protest BBC's Refusal to Air DEC Gaza Appeal Broadcast
Update: See Video below from DEC
DIGG |  REDDIT |  Stumbleupon (You know what to do)
Amazing isn't it how the BBC fell from being a trusted voice in the Middle-East conflict to another American MSM type media outlet ala NY Times or CNN. The following action is something that can definitely help the cause because BBC has been constantly reporting how they are under "pressure". LET'S PRESS IT HARDER!
While you are at it, DONATE to DEC (Disastors Emergency Committee) and turn this situation around against those who are trying to suppress DEC's funding for Gaza!
Urgent request (H/T Palestinian Mothers) that everyone join the UK government's protest: Complain NOW to the BBC.

The following is an email distributed by Stop the War (follow links for more on this story):
Stop the War understands that the government has contacted the BBC to complain about its decision to refuse the broadcasting of a humanitarian appeal for Gaza.

The BBC's decision will prevent the raising of millions of pounds in emergency aid being sent to Gaza. Stop the War is demanding that the exchange between the government and the BBC be made public immediately.

The BBC says it is blocking the emergency appeal "to avoid any risk of compromising public confidence in the BBC's "impartiality", as if this has anything to do with humanitarian aid for a devastated people. Either they need the aid or they do not.

This is the first time in the 48 years of similar national appeals for humanitarian aid that a broadcast has been refused. It is estimated that £10 million of urgently required aid will not now be sent to help Palestinians in Gaza, living in catastrophic conditions.

"This is a betrayal of the BBC's obligation to be a public service," said Tony Benn, President of Stop the War. "To deny the help that the aid agencies and the UN need is incomprehensible."

It is imperative that the BBC responds to the government's complaint and reverses its decision to refuse this broadcast. If it does not, we will see people in Gaza continue to suffer due to being denied emergency relief because of BBC "impartiality" .

Stop the War urges all its supporters to complain to the BBC. We must mobilise all the pressure we can to get the BBC to reverse its decision.

TO COMPLAIN TO THE BBC
PHONE: 03700 100 222
TEXT: 03700 100 212
ONLINE: http://www.bbc.co.uk/complaints/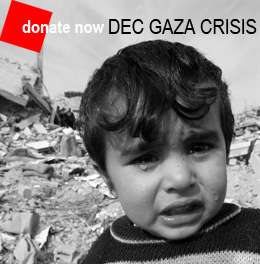 [youtube Ofuvlx-MGRk]