Imam Johari Malik & Imam Talib Abdur-Rashid on Zawahari's Statements on Obama
The following are statements of African-American Imams. It's time to let BAMs to speak for themselves inshallah!
—————–
STATEMENT OF IMAM JOHARI ABDUL-MALIK
From "Out House" to the White House!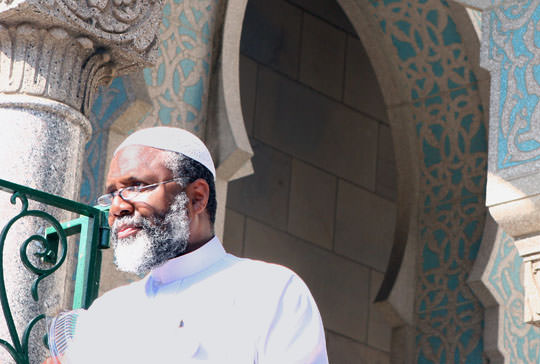 As a black American, I was an admirer of El-Hajj Malik El-Shabazz -Malcolm X (may Allah grant him peace) for many years before I finally converted to Islam over 25 years ago.  Like so many other Blacks in America and around world, I am outraged by the comments attributed to Mr. Al-Zawahiri.  Just in case Al-Zawahiri hasn't noticed, both Malcolm X and President-elect Obama are heroes in Africa, Asia, Europe, around the world and all across America – including Black America.
His shallow attempt at dividing American Muslims from our president is an exercise in futility.  Al-Zawahiri's comments only serve as a distraction, when we as Americans should be celebrating, we must take a detour to silence more hate speech from this group.
I am offended that this group consistently portrays Islam as a murderous and irrational religion practiced by racists and sexists.  Just as I would not portray the Ku Klux Klan as "Christian" or Hitler as "Catholic", I can't call the streaming absurdities of these kinds of people – "Islam"! Racism and murder are not part of Islam – Al-Zawahiri's comments were (as usual) racist and divisive.
I was also offended at the hijacking of Malcolm X's legacy in which Mr. Al-Zawahiri implied that Malcolm would approve of their un-Islamic murderous methods.  Malcolm X has said that he believed in the sanctity of life and the rule of law.  The Al-Qaeda gang of lawless murderers is looking to cover their bloody tracks by dragging Brother Malcolm X into their dark and musty cave of division.
In a recent speech by the Deputy-Amir of MANA (Muslim Alliance in North America) said,
"He (Malcolm X) said right here in Harlem in a rally in this very building (Mosque of Islamic Brotherhood), on July 5, 1964 " … SO LET US TRY THE BALLOT. AND IF THE BALLOT DOESN'T WORK, WE'LL TRY SOMETHING ELSE. BUT LET US TRY THE BALLOT. AND THE ONLY WAY WE CAN TRY THE BALLOT IS TO ORGANIZE AND PUT ON A CAMPAIGN THAT WILL CREATE A NEW CLIMATE." "
Let it be known that Black American-Muslims see Malcolm X as a martyr (shaheed in Islam). Black American Muslims did not struggle through the civil rights movement and the acceptance of Islam to go from the "back of the bus" to the "back of the camel".  How dare this racist Al-Zawahiri use the words of Malcolm X against the legitimate aspirations of Black people.
I was offended that Al-Zawahiri throws around the term "slave" to describe blacks in the pejorative!  This man, Al-Zawahiri, does a major disservice to the cause of Islam in America.  Black Muslims in America plan to pull the sheets off the sins of Arab-style-Klansman using the cover of Islamic brotherhood to exploit our people.
While I say this, I am not racist to call myself a Muslim African-American nor does it violate the spirit Islam to refer to all African-Americans as my people.  The Prophet (as) said, 'Oh my people…..' this affirmation was a comment to the people of Mecca both Muslim and those of other faiths.
I recall the prophet Muhammad, (as) said there is no superiority between the Arab and the non-Arab, the White over the Black nor the Black over the White…..
The Obama victory is the culmination on centuries of struggle; lynching, torture, murderer, rape and incarceration for political and religious freedom.  Today, I refuse to be castrated by hating Al-Qaeda group hiding in a cave.
While Mr. Al-Zawahiri comments spew from his  "Out house".  Barak Obama is an African-American and he is…… 'In the HOUSE!!!!!', not  a "house-negro" but a black man's house!  African-American Muslims are also "in the house!" – U.S. House of Representatives (Muslim congressman: Keith Ellison and Andre' Carlson) and soon to be in the Senate and one day Muslims……..in every aspect of American life.
We are proud to be Muslim and we love our country. There is no contradiction.
Imam Johari Abdul-Malik, serves as Director of Outreach for the Dar Al Hijrah Islamic Center in Falls Church, VA and as Chair of Governmental Issues for the Muslim Alliance in North America. The views expressed do not reflect the official position of the forementioned organizations
————–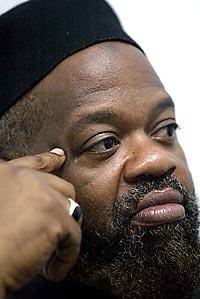 STATEMENT BY IMAM AL-HAJJ TALIB 'ABDUR-RASHID
OF THE MOSQUE OF ISLAMIC BROTHERHOOD INC.  IN RESPONSE TO THE RECENT STATEMENT ATTRIBUTED TO AL-ZAWAHRI OF EL-QAEDA
Delivered at a Press Conference Convened at the Shabazz Center in Harlem NYC
Nov. 20, 2008
AS-SALAAMU 'ALAIKUM. THE MOSQUE OF ISLAMIC BROTHERHOOD WAS FOUNDED FOUR DECADES AGO IN PART, AS A RESP0NSE TO THE FACT THAT IT HAD BECOME OBVIOUS THAT THE THEN EXISTING SUNNI MUSLIM COMMUNITIES LACKED KNOWLEDGE AND DISCIPLINE, AND WERE THEREBY EXPOSED TO MANIPULATION AND APPARENT USE AS A POLITICAL ARM.
THIS UNFORTUNATE SITUATION WAS RAPIDLY RESULTING IN CONFUSION, AND UN-ISLAMIC TEACHINGS WITHIN THE SUNNI MUSLIM COMMUNITIES, AND THE ALIENATION OF MANY PEOPLE WHO WANTED A TRUE UNDERSTANDING OF ISLAM. THE SINCERITY OF AFRICAN AMERICANS AND OUR PAST NAIVETÉ HAS APPARENTLY LED MODERN FORCES TO THINK THAT OUR PEOPLE CAN BE MANIPULATED , AT THIS OUTSET OF THE 21ST CENTURY.
SO LET US MAKE IT CLEAR THAT AMERICA IS, AS THE AUTHOR AND RESEARCHER SYLVIANNE DIOUF POINTS OUT, THE ONLY WESTERN COUNTRY WITH AN INDIGENOUS MUSLIM POPULATION OF AFRICAN DESCENT. NO ONE AT HOME  OR ABROAD SPEAKS FOR MUSLIM AFRICAN AMERICANS BUT THEIR OWN LEADERS.
FURTHER, OVERWHELMINGLY, AFRICAN AMERICAN MUSLIM LEADERS REJECT CALLS TO BOTH RELIGIOUS AND POLITICAL EXTREMISM , PARTICULARLY WHEN SUCH CALLS ARE BASED UPON APPEALS TO EMOTION AND A PROJECTED INTERNATIONAL AGENDA DECLARED BY OTHERS, INSTEAD OF A DOMESTIC AGENDA DECLARED BY OURSELVES.
INSOFAR AS EL-HAJJ MALIK EL-SHABAZZ, POPULARLY KNOWN AS MALCOLM X IS CONCERNED (MAY ALLAH FORGIVE HIS SINS AND GRANT HIM PARADISE), WE WHO LIVE THE REALITY OF WHAT IT MEANS TO BE BOTH BLACK AND MUSLIM IN AMERICA, AS OPPOSED TO JUST READING ABOUT IT – WE THE PEOPLE – KNOW WHAT EL-HAJJ MALIK TAUGHT.
HE SAID RIGHT HERE IN HARLEM IN A RALLY IN THIS VERY BUILDING , ON JULY 5, 1964 :  " … SO LET US TRY THE BALLOT. AND IF THE BALLOT DOESN'T WORK, WE'LL TRY SOMETHING ELSE. BUT LET US TRY THE BALLOT. AND THE ONLY WAY WE CAN TRY THE BALLOT IS TO ORGANIZE AND PUT ON A CAMPAIGN THAT WILL CREATE A NEW CLIMATE.
IT IS CLEAR TO US THAT THE SUCCESSFUL PRESIDENTIAL CAMPAIGN  OF PRESIDENT-ELECT BARACK OBAMA WAS AN ACCEPTANCE OF BROTHER MALCOLM'S CHALLENGE TO AMERICANS OF AFRICAN DESCENT TO  "TRY THE BALLOT".
SEVERAL MONTHS AGO, AN AL-JAZEERA REPORTER WHO WAS AN ARAB ASKED ME IF I THOUGHT THAT IF HE WERE ALIVE TODAY, EL-HAJJ MALIK EL-SHABAZZ (MALCOLM X) WOULD VOTE FOR BARACK OBAMA. WHEN I ANSWERED "YES", THE REPORTER WAVED HIS HAND AND DISMISSED MY RESPONSE WITHOUT EVEN ASKING ME WHY I ANSWERED AS I DID.
WELL I PERSONALLY HAVE SPOKEN WITH SOME OF THE FEW  SURVIVING ELDERS IN THE MUSLIM COMMUNITY, WHO WERE ACTUAL AND AUTHENTIC,  CLOSE FOLLOWERS AND SUPPORTERS OF EL-HAJJ MALIK.
THEY HAVE SAID TO ME THAT THE GREAT AFRICAN AMERICAN MUSLIM LEADER WOULD HAVE BEEN PROUD OF THE DISCIPLINE AND INTEGRITY WITH WHICH THE PRESIDENT-ELECT CONDUCTED HIMSELF DURING THE CAMPAIGN. EL-HAJJ MALIK EL-SHABAZZ WOULD HAVE BEEN PROUD THEY SAY, O F PRESIDENT-ELECT OBAMA'S TRIUMPH OVER TREMENDOUS ODDS,  AND THE FACT THAT 97%  OF AFRICAN AMERICANS VOTED FOR OBAMA, AS WELL AS MANY, MANY WHITE, SPANISH-SPEAKING, AND OTHER AMERICANS, OF VARIOUS ETHNICITIES AND BACKGROUNDS.
BY THE SAME TOKEN, JUST AS THE PRESIDENT-ELECT HIMSELF HAS SAID THAT DR. MARTIN LUTHER KING WOULD BE IN THE STREETS LEADING POOR PEOPLE RATHER THAN SITTING IN THE WHITE HOUSE WITH HIM, WE UNDERSTAND THAT THIS APPLIES AS WELL TO BROTHER EL-HAJJ MALIK EL-SHABAZZ/ MALCOLM X, WHO FOLLOWED THE QUR'ANIC MANDATE TO SPEAK THE TRUTH NO MATTER WHOM OR WHAT, EVEN IF IT IS AGAINST ONESELF
THAT IS WHAT OUR ELDERS HAVE SAID TO US, AND THEY ARE IN A MUCH BETTER POSITION TO MAKE SUCH DETERMINATIONS, THAN THOSE WHO WHILE THEY SHARE OUR COMMON FAITH, HAVE HISTORICALLY BEEN DISCONNECTED FROM AFRICAN AMERICANS GENERALLY, AND MUSLIM AFRICAN AMERICANS IN PARTICULAR.
EL-HAJJ MALIK EL-SHABAZZ WAS A MAN OF INTEGRITY WHO STOOD FOR JUSTICE AGAINST INJUSTICE. HE NEVER CALLED FOR ACTS OF INJUSTICE AGAINST OTHERS AS A RESPONSE TO INJUSTICE AGAINST HIS PEOPLE. HE STOOD FOR HUMAN RIGHTS,  AND THE PRINCIPLE  OF SELF-DEFENSE RECOGNIZED IN INTERNATIONAL LAW. HE WOULD HAVE REJECTED, AND WE REJECT , ACTS OF POLITICAL EXTREMISM THAT EXCEED THE BOUNDARIES OF ISLAMIC LAW, AND TAKE THE LIVES OF INNOCENT, NON-COMBATANT CIVILIANS.
SO WE SAY TO ALL WHO WOULD SEEK TO MANIPULATE US, OR MANIPULATE OTHERS AGAINST US, THAT WE KNOW OUR FULL HISTORY IN AMERICA AND WE ARE STRIVING TO UNDERSTAND THE GEO-POLITICAL COMPLEXITIES OF LIFE IN THE MODERN WORLD.  MALCOLM X STOOD FOR TRUTH AND JUSTICE AND SO DO WE. WE STAND IN SOLIDARITY WITH ALL PEOPLES WHO SHARE THESE IDEALS.
LASTLY, WE BELIEVE THAT BEFORE PEOPLE CRITICIZE PRESIDENT-ELECT BARACK OBAMA 'S PERFORMANCE AS PRESIDENT  OF THE UNITED STATES, THAT  BOTH  PRUDENCE AND JUSTICE DEMAND THAT HE FIRST BE ALLOWED TO ACTUALLY TAKE OFFICE AND ASSUME THE POWERS AND RESPONSIBILITIES THEREOF, AND BEGIN TO EXERCISE THEM.
IN MIGHT BE THAT WE AS MUSLIM AFRICAN AMERICAN LEADERS WILL IN THE FUTURE BE CRITICAL OF SOME OF PRESIDENT OBAMA'S DECISIONS AND ACTIONS. ALMIGHTY GOD, WHOM WE WHO ARE MUSLIMS CALL ALLAH, KNOWS BEST.