Thoughts After Attending The Janazah of Imam W. D. Mohammed
I attended the janazah of the late Imam W. Deen Mohammed, rahimuhullah. There were THOUSANDS of people at our masjid, Islamic Foundation in Villa Park, IL. Literally thousands. Cars parked all over a 1-mile radius and, again, thousands there for the janazah prayer. I ask that Allah accepts our prayer for him and that the brother is forgiven any and all mistakes he made in his life.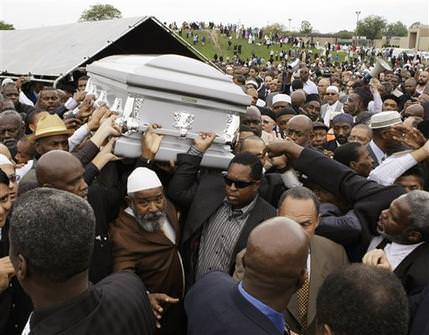 Before the janazah, we had to make multiple jama'at for Dhuhr due to the sheer size of the influx of people coming from 11am until 2:15pm when the prayer actually began. Due to the number of the attendees, the janazah later took place outside of the masjid on the nearby soccer field, loud speakers attached and all. Abdul Hameed Dogar, Islamic Foundation's director, lead the janazah prayer.
There's lots of coverage on the janazah and death of the late Imam as it is, so I won't say much about it. However as a typical suburban middle class Desi Muslim kid who hasn't really seen much of the world, I feel the need to say a few things.
Firstly, every one of us "immigrant" Muslims there, whether first generation or second generation, were absolutely blown away by the numbers that showed at the janazah. I'm sure many of us attend big masajid where hundreds can gather for Jumu'ah or other big events. Imagine around 4,000 people showing up to your masjid. And don't think it's the same old Desi or Arab community members. They were all African American.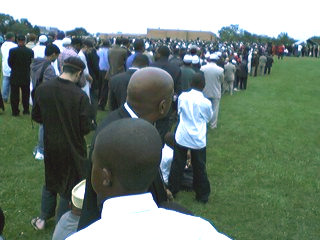 The eye opener for us was just how wide spread Imam Warith Deen's da'wah really went. How many of those who came, so many of them being Sunni Muslims, would have been members of the Nation of Islam had it not been for Allah subhanahu wa ta'alaa and then the epic move of this man leaving NOI for mainstream orthodox Islam? The answer to this question was quite evident at the janazah.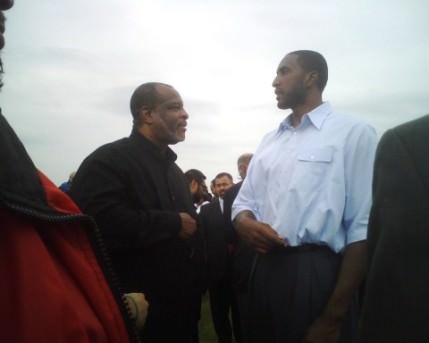 NBA player Shareef Abdur Raheem (right).
Secondly, I witnessed just a fraction of the amount of African American Muslims that exist in Chicagoland, let alone our country. It was quite shocking and also empowering to see so many African American brothers and sisters at our masjid. Sure a lot of out-of-towners came (as there were many license plates and a few charter buses to prove so), but here were thousands of Muslims living in my same city vicinity of Chicagoland who I have never seen before and will probably not ever see again.
It's not the really the numbers that I'm so surprised at, it's the fact that I am surprised that's so surprising. Sounds confusing? In other words, it's sad that our Muslim communities in America are set up in such a way that it led to me being surprised. When I read in Islam and the Blackamerican: The Third Rising by Dr. Abdul Hakim Jackson that as of the early 1990s, 30% of American Muslims were Black, I couldn't believe it. After the janazah, I think it was pretty clear.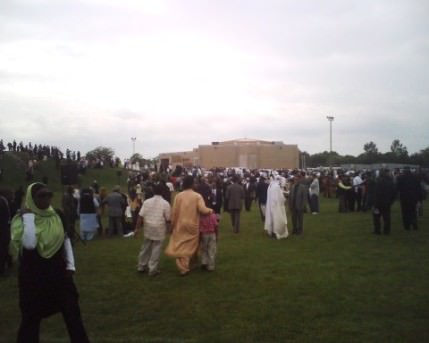 In closing, I say that we have a lot of work to do to literally "bridge" the gap in our communities. I know I sound like a recycled ISNA main session, but really it's true! In the past two days we've heard so much of "their community" and "ours." Unfortunately, that's the way we've got ourselves set up. However with his passing, many of the immigrant Sunni American Muslims have now become a bit more aware of him and his jama'a, which truly can be a step away from "their" community and "ours" and towards one Islamic community in America.
I know that many people will say (I'm actually saying this myself), "We've heard this all before, that we need to do this and do that, but what is anyone actually doing about it?" Good question, I believe the first step begins with destroying ignorance. Many Muslims like me are very unaware of this issue, and I feel one of the key steps is awareness. We can't change the world with blog posts, but we can certainly inform some people about the need for such a change.
Thus, I leave you with three things.
First is an 11-minute clip on the resurrection of Islam amongst African Americans from Yasir Qadhi's speech entitled Islam In America: Whither and Where, with a short but enlightening history of the Nation of Islam and a message about Imam Warith Deen Muhammad. If you haven't seen this already, watch it. It's worth the view.
[youtube 5trGs46o_ew]
If you liked that, the full video is available here.
Second, is a 2-minute snippet from the never before released ISNA 2007 main session also by Yasir Qadhi where he spoke along with Dr. Jackson, Hamza Yusuf and others on the topic of joining immigrant Muslims with indigenous (Blackamerican) Muslims. MuslimMatters.org will put the full speech up soon, however for this post here, this piece from the audio clip will suffice.[audio:http://www.muslimmatters.org/audio/yq_indigenization_of_islam.mp3] (download)
And lastly, here's the Chicago Tribune article highlighting how many of the janazah attendees came from over 18 states to attend and how so many of them converted from NOI to Sunni Islam. Click here to read the article.
We ask Allah to make things easy for us.