MM's Ramadan Special: Short Story Contest '08 (Cash Prizes & More!!)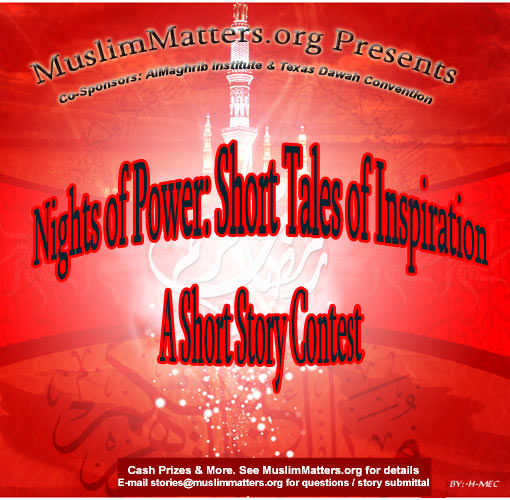 MuslimMatters.org Presents:
Co-Sponsors: AlMaghrib Institute & Texas Dawah Convention (TDC)
Nights of Power: Short Tales of Inspiration.
Ramadhaan is the best and most blessed of months, one in which we challenge ourselves to strive and improve in 'ebaadah, emaan, and akhlaaq: an emotional month of soft hearts and tears of taqwa. Every Ramadhaan is a month of personal challenges, spiritual growth, learning experiences, and beautiful memories etched into our very hearts.
Now, MuslimMatters wants YOU to share a particularly poignant Ramadan moment with us. Make us laugh, make us cry, make us bow our heads in awe at the Mercy and Might of Allah 'azza wa jal – in 1000 words or less!
Type of stories: Inspiring Ramadhaan experiences/ moments (non-fiction). Ramadan in other countries… anything interesting and unique. ETA: Any inspiring anecdote, as long as you can link it to Ramadhaan!
Length: Maximum 1000 words.
Deadlines: No later than mid-Ramadan or September 23.
Exclusivity: Must be original, not previously published. Full copyrights will belong to MM  
Restrictions: Nothing that is of course haraam, or encourages haraam. Must have some quality of inspiring.
Judges: Staff will choose best 3. Our Shayookh will vote for 1 through 3. The winning articles will be posted on MM, as well as potentially other non-winning articles (at MM's discretion).
Send Questions/Stories to: stories@muslimmatters.org
Prizes:
1st Prize ($350+ Value):

$150 Cash + Book: "Towards Understanding Our Religion – collected articles from al-Basheer, the magazine" edited by Sheikh Jamal Zarabozo + 1 Free AlMaghrib Registration

2nd Prize ($275+ Value):

$75 Cash + Book: "When the Moon Split: the Biography of the Prophet" + 1 Free AlMaghrib Registration

3rd Prize  ($200 Value):

Book: "Ar-Risaalat at-Tabukiyyah" by Ibn al-Qayyim, edited by Muhammad al-Jibaly + 1 Free AlMaghrib Registration

Three Consolation Prizes ($50+ ea):

Texas Dawah Adult Single Registration
See Also: MM's Ramadan Coverage