Muslims for McCain, Muslims for Obama: Can Muslims and the Media Handle it?
Last week I was up in DC for some government-relations work, and was a bit shocked to receive a request from FOX News for an interview on the Presidential Race.
[youtube vnw5HRffAOw]
Generally speaking, whenever the issue came up in my conversations with national Muslim leaders over the past few months, I have been relaying my personal preference for McCain over Obama, and that is primarily due to what I believe the policy progress will be under each administration. Normally I avoid the media like the plague (especially for the past few years) because I consider myself to be a policy analyst, not a political activist.
Anyway back to the request for the interview: On further investigation, I discovered that a national Muslim group had recommended my name to the FOX producers. As you'll see in my first "aired" interview with FOX News (along with an Obama supporter, Shayan), I was quite nervous as I tried to frame my message for four simultaneous audiences. All in all, alhamduallah I enjoyed the experience (the limo ride to the studio and back was nice too!:) ). DC is obviously extremely political, as the questions framed by Brian (the FOX host who interviewed me) make very evident. So I wasn't all that shocked when the following questions were asked of me and the Obama Muslim supporter (transcript from Media Matters):
From the June 25 edition of Fox News' Fox & Friends:
KILMEADE: Mohamed, do you find it insulting at all when Barack Obama goes out of his way to say, "Hey, I am not a Muslim. I'm a Christian, and let's stop these spread" as if being a Muslim is bad.

ELIBIARY: Well, of course, I've had issues just like every other Muslim with the way he's framed that. I think that this is actually part of a bigger problem or challenge that Obama has, which is his image. He tries to craft it really, really tightly, while when we compare him to McCain — you might remember a controversy a few months back where Mitt Romney was asked if he would appoint a Muslim to his Cabinet, and his response was, "There aren't enough Muslims to warrant such a position," but McCain's response when he was asked was, "Look, I'm going to appoint the best American that's qualified for the position." I'm like, what else can I really ask for?

KILMEADE: That's who — Shayan, you've heard some of these things. I mean, when you hear Barack Obama come out and say, "These are rumors about me being Muslim. I'm not," and make that effort, does that turn off for you?

SHAYAN FAROOQI: Not necessarily, because he, in fact, is not Muslim. But I feel that, as a candidate, he's laid the groundwork down for all of us with our individual faiths to take whatever positive we can and contribute to the plurality of the American landscape.
Media Matters sent out an email about it last week (link here). Media Matters compiled some of the subtle and sometimes overt digs at Obama being a Manchurian Muslim candidate in this 4 minute video, and that's the way DC goes. If you can't view the 4-minute video below, I'd highly recommend clicking the link above and watching it.
Part of the American Muslim community's challenge post 9/11 is to seem "as much American as possible" in this highly politically charged environment, and across the entire spectrum. That has been a bit hard emotionally at times due to the polemic discourse dominant today, but America does need Muslim-American leadership if it is to get anywhere in addressing its Counter-Terrorism challenges and US-Muslim World foreign policy issues.
Here is a nice article about the concept of Messaging that clearly explains the formula of M=EC3. M (Message) = E (Emotion) x C (Credibility) x C (Contrast) x C (Connection). The easiest thing for Muslims to do is respond in kind to the polemic discourse launched against us, but I believe we can do better then just caricaturing the environment simply as "Anti-Islamic/Muslim".
As I've been sharing with my father, an Obama supporter and donor for over a year now, Stephen Covey suggests in his works that we must first "seek to understand in order to be understood". For example a few weeks ago I was a delegate at the Texas GOP Convention, where I picked up this lovely refrigerator magnet.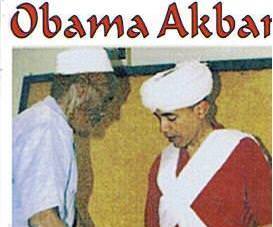 After asking the vendor how the magnet came about, you should have seen his face when I explained that "Allah Akbar" simply means "God is the Greatest". So therefore swapping God for Obama, his magnet is actually stating that "Obama is the Greatest" – not exactly the message he intended to deliver.
I guess my point is that just like we (as Muslims) tell Americans that they don't understand Islam all the time, because their only source is the sensationalized media, we should also recognize that we may be falling victim to the same mistake in perception. That does not necessarily mean all Muslims should vote for McCain over Obama (I'm not a big fan of Bloc-Voting anyways); rather we should at least reassess our conclusions and temper our own polemic counter-discourse. Many promoters of "Islamic Radicalism" talk are simple folk who are just scared, who don't have a competent President to lead them, and who are victims needing our solid assistance to guide them.
Remember the "E" in M=EC3…