Israeli Occupation Causes Terrorism (UN Report Finds)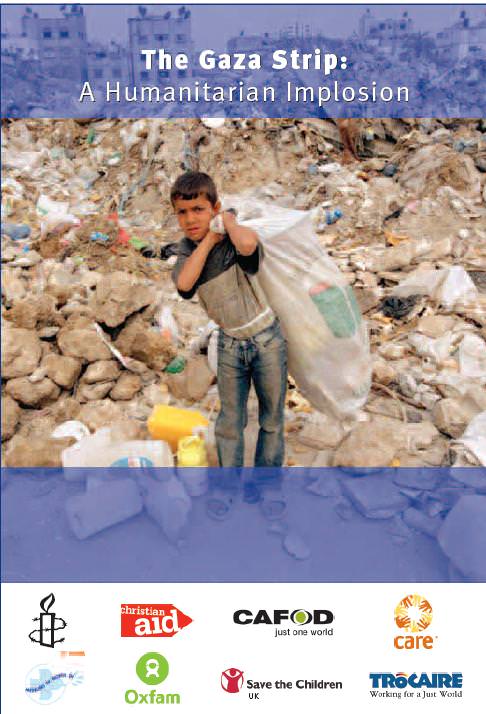 Some people ask why do people engage in terrorism. While it is never okay to justify it, it is in our interests to evaluate its root-causes and work on those, instead of trying to stop it after it has taken root. The situation in Gaza, which Amnesty and a bunch of other human-rights organizations, call the worst in 40 years (news, full-report), is the sort of situation that breeds hatred, anger and eventually terrorism.
The following piece was submitted by theManOfFewWords (who provides us with many colorful comments). He calls himself an aggressive anti-establishment blogger, a know-it-all and sometimes jerk, and also runs Islamify.com, a Muslim social news site.
So a UN commissioned report comes out and the findings are, surprise surprise, that the Israeli occupation causes terrorism. While it rightly does not condone any terroristic acts it does recognize that they are "a painful but inevitable consequence of colonialism, apartheid or occupation." It also recognizes that the Palestinian resistance to Israel is legitimate and cannot be compared to al-Qaeda's "mindless terrorism." To be honest, while I can give the UN a heads up I think the report is a bit redundant as everybody on Earth, including many Israelis understand this to be pretty obvious. Only in America where propaganda and celebrity gossip pass as news do people have no idea what's going on. Some even believe crazy things like the drivel published in Alan Dershowitz's The Case for Israel, (a rip-off of From Time Immemorial) which states that Zionists settled a completely empty Palestine and that there is no such thing as a Palestinian, only Arabs that migrated to take advantage of growing Jewish prosperity and created the myth of Palestine and forged the entire history of a fictitious people, the Palestinians. Here in the US this is considered real scholarship. Needless to say, this article won't make the front page in any major American paper. But anyway, I digress.
Let's try and imagine how this study was conducted: A dedicated statistician wades through streets flooded with Palestinian blood while navigating around floating limbs and passing out surveys to widows, orphans and amputees in order to discover what the root cause of terrorism is in Palestine. You see it's tough to really understand why these crazy Arabs do anything. The methodology is a little disingenius to say the least. Maybe we can suggest to the UN a study worth commissioning. Why don't we try and understand the causes of Israeli terrorism? I would love to read about that. Why can't Israel get along with it's neighbors? Why can't they share and play nice? Maybe we should examine Jewish culture, lets take a look at the radical Yeshivas and see what they teach. Is Jewish fundamentalism a cause? Are the Ashkenazi or Mizrahi Jews responsible? Is the Torah responsible for Israeli terrorism? Maybe it's because Jews oppress their women. Do Jews preach killing of the Goyim (non-Jews)? Maybe we need a Jewish reformation. Maybe rabbis need to start condemning terrorism. I am genuinely curious. Let's get a commission a study on that. Let's apply the same criteria they apply to Muslims when "analyzing" them. When Jewish groups complain that these sorts of questions are "anti-semitic" we should look over, put a hand on their shoulder (slowly, they might flinch) and give them a now you know how it feels smile. Maybe Olmert will say, "Hey, now I understand how the Muslims feel and I call for an end to Islamophobia and world-wide coexistence between Jews and Arabs. I will begin by apologizing to the Palestinians giving them the right of return, citizenship with full rights and breaking down all the walls that have kept our two people apart." Don't laugh, it could happen, you see I'm an optimist.
Well, let's get back to reality and take a good look at this Yahoo news article. Aside from stating the obvious there are some curious idiosyncrasies that you may not have noticed. Curiously, there wasn't a word of comment from any Arab or Palestinian, not even to give so much as an "i told you so." However, our friends at the Israeli embassy had the opportunity to say, "The common link between al-Qaida and the Palestinian terrorists is that both intentionally target civilians with the mere purpose to kill." After that, in an excellent demonstration of journalistic responsibility the writer put that statement in the appropriate context by mentioning Israel's summer bombing campaign that leveled Beirut and killed over 2000 innocent civilians and then went all analytical on his behind questioning whether it is artificial to make a distinction between "intentionally" targeting civilians and "unintentionally" doing so. Oh you didn't see that little rebuttal in the article? Too bad, it would have been nice.
The most important thing to understand is not to let the corporate media to set the agenda for our discourse. The article discusses Palestinian terrorism but would never dare use the term terrorism to describe Israel's activities as though Muslims have a monopoly on terror. It is important to understand that the use and control of language shapes our own thinking and to constantly think about terrorism as relating to Muslims subtly affects our own thinking. I am sure many of the people who read the Yahoo article did not ask that important question. What does cause Israeli terrorism? What kind of culture criticizes the Israeli invasion of Lebanon because it failed to destroy Hezbollah rather than because of the catastrophic and unnecessary destruction of civilian infrastructure and lives? Don't just analyze the victims, analyze the aggressors. So while some might see this article as supporting the Palestinian cause, it is in reality a veiled paternalistic approach to affirming Palestinian resistance.
So what have we learned? Well, Arab and Muslim public opinion doesn't count. If it did then, in a related occupation over in Iraq, US troops would have left long ago respecting the will of the people in this this shining, new Middle Eastern Democracy. Furthermore, all that rhetoric about Iraq falling apart after US troops withdraw is inaccurate considering the analysis on polls of Sunnis and Shiites that indicate national reconciliation is possible. But who cares what Arabs have to say, let's hear what Anne Coulter thinks.
See also:
On this blog: