Hey Reverts/Converts! How do we help YOU?
Ask any revert in the West, and you will find that there is much difficulty in their paths to become closer to God. There are dozens of obstacles for our new Muslim brethren; the domination of immigrant and cultural Islam, weak community integration, and having to find an American Muslim identity during a time when speaking for Muslim American rights can label you a fanatic.
Not to mention the minute percentage of Muslims that even make thought of contributing to helping out new Muslims. Shaykh AbdulBary Yahya mentioned in the Chain of Command seminar that when new Muslims come to Islam, we often ignore them. We're too busy with our own lives to take the time to help these brothers and sisters, and couple our weak Islamic drive with assumptions that the Imam of the masjid and the reverts Muslim friends will take care of them.
While the situation is grim and we find bad examples and case scenarios galore, things are looking up.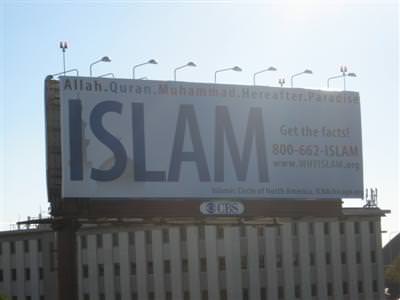 Two of these billboards are up around Chicagoland.
There are huge projects launched in the name of Dawah all over the West. Muslims, born and reverts alike, are realizing the need for catering to reverts, resulting in beautifully innovative and creative means of Dawah. Things are progressing, and alhumdulillah, we're moving beyond the Dawah pamphlets.
Personally, I found the most beneficial advice on how to best help reverts came from actually asking previous reverts themselves. An unheard of notion, I know, but it really did help me in gathering the best resources and tips for reaching out to reverts. With that in mind, we open it up to YOU, reverts and born Muslims alike!
To our beloved reverts:
What is your story of reverting to Islam?
What knowledge resources worked best for you that you would recommend to reverts and those helping them?
What community practices were gold for you? What should we reform or do away with?
To everyone else:
Have a beautiful story of helping or witnessing someone embrace Islam? Share it here!
What tips or resources do you have that you've found succesful in helping reverts?
May Allah (SWT) help us bring millions more into His religion.