Craig Venter: Playing God?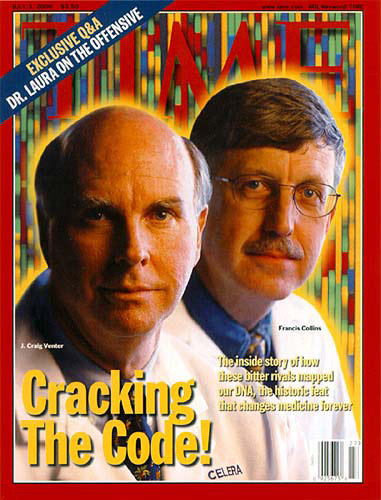 "For the first time, God has competition", Pat Mooney, the ETC group.
This is one of the quotes that the rector of Imperial College London, Sir Richard Sykes, chose to introduce the infamous biologist, Dr Craig Venter, who had been invited to present a Centenary Prestigious Lecture, on the evening of October 23rd. Dr Venter is best known for his work on the Human Genome Project, founding the company Celera Genomics. Recently, he was the first individual to have read through his own genome, and was named one of the Top 10 hottest nerds by Newsweek. As if that wasn't enough for his C.V., Dr Venter has re-entered the limelight with the announcement that his team will soon be the first to create an artificial life-form: a synthetic microbe. It is no surprise that such an amazing feat in Biology has been accompanied by grave accusations that Venter is attempting to "play God". As a Muslim and a biologist, I had to seriously question the validity of such a statement; how would this development sit with my core belief that there is only one being capable of creating life: Allah, Al-Khaliq – God, the Creator?
It seems that various groups of religionists and biologists have long been at odds over something or other; the origins of life on Earth being the more recent point of contention. With the creation of a synthetic microbe, it is not hard to imagine that the more atheistic among the biologist community maybe rubbing their hands with glee, and the more blinkered of the religionists might now be sweating at the brow. "What does this all mean?", the rest of us cry! Our dear Prophet Muhammad, peace be upon him, once said: "asking is the cure for ignorance". So it is best we try to understand the facts of the matter, rather than jumping straight to finger-wagging, and condemnation.
One of the main questions I had in my mind before attending the lecture was not a philosophical one, but rather, a technical one: "How exactly is he planning to do this?", I wondered. During the talk, Venter described previous work conducted by himself and his colleagues, that identified a set of genes crucial for bacterial survival, known as the Minimal Genome Project. As bacteria are the simplest form of life on Earth (though, please don't take that to mean that bacteria are simple creatures; far from it!), these genes were also proposed to be the basic genes required for life. In the latest project, Venter et al, used this data to answer the same questions, but in reverse. That is, initially, they used experiments on living cells to collect information about the genes necessary for life; now they plan to use this information to create a life-form from scratch, via chemical means, in order to confirm their previous findings, and also to discover new ones, such as the importance of gene order on the chromosome. At this stage they can only synthesise the DNA that encodes the survival genes. However, chromosomal DNA is akin to a piece of software: by itself, it does nothing, but load it onto a computer (in this case, a naturally-produced, bacterial cell), and hey presto… stuff happens! In other words, the artificial microbe will be generated by transplanting the laboratory-synthesised chromosome into an existing living cell; the transplanted DNA will then "hijack" the cell's machinery, taking over cellular function, (similar to how virus software manipulates the resources of its host computer), theoretically resulting in a new species of bacteria.
Without a great deal of analysis, the above information is clear proof that Venter (by his own admission, may I add) is in no way "competing" with God. For a start, he is using information based on existing life forms to produce an artificial one. In effect, he is photocopying at the molecular level. This does not constitute "creation". God created the Heavens and Earth, and all that lies in between, from His Own infinite wisdom – not by stealing someone else's idea! Even though the new microbe is not an exact copy, that is, there will be some genetic "tinkering" carried out in order to experimentally elucidate various biological principles, Venter's knowledge about naturally-occurring life, and his ability to create new life, will never compare to that of the Creator. He, and all scientists, will always be reliant upon information that at some point had to be gathered experimentally, using God's creation. Only an arrogant fool would claim otherwise (unfortunately, there are enough of such people in Biology).
Genomic modification of existing life-forms, including bacteria, yeast, soya, mice, rats, and even pigs, has routinely been used by labs all around the world for decades, to answer fundamental questions of biology. I myself have tinkered with the odd genome in my short time as a molecular biologist, with reassurance from various shayookh that it was allowed, as long as there was a sincere intention and purpose to help humanity, and that it would not cause unnecessary harm to any of the creatures under my care, God-willing. Their justification came from the Islamic concept that all of Earthly creation has been placed under the stewardship of humankind, from which we are allowed to derive benefit in a responsible manner. So, as the tools and methods used in synthetic biology are not new, Venter claims that the project constitutes a conceptual leap in Biology, rather than a technological one.
The generation of synthetic, simple organisms such as bacteria, yeast and algae from scratch, may have many beneficial applications. One that Venter mentions frequently is the production of "designer" organisms that can remove carbon dioxide and other pollutants from the environment, and turn them into beneficial by-products, including substitutes for ancient-carbon sources of fuel, such as crude oil and coal. Of course, there is also potential for great harm by those who wish to use such knowledge for personal gain, no matter what the cost in human misery, such as in biological warfare. However, this is a threat that is associated with all forms of scientific discovery. For example, nuclear technology can create power plants capable of running entire cities, but can also be used in weaponry capable of destroying those same cities. Should we let those with evil intent hold us back from progress that could help end, and/or prevent human suffering on a massive scale? In fact, the major criticisms of Venter's work have not been from knowledgeable religionists, but rather from those biologists and ethicists who fear such abuse.
Just to clarify the issue, I approached Dr Venter after the lecture and asked him whether any religious groups had raised objections about his work (I do wonder what he thought of a hijab-clad woman asking him such a question). He replied in the negative, reminding me that his work did not begin until the project had been subjected to a 1.5 year ethical review. He in turn asked me: "Why? Should there be [any objection]?". After hearing the facts, and mulling it over, the only answer that came to my mind was: "No", and upon further reflection, I still stand by my answer – and Allah knows best.
Now, if you really want to get your teeth into a juicy, ethical dilemma, one could ask: what about synthetic humans? The modification of the human genome will always be the most widely debated of topics in bioethics, Islamic or otherwise. Venter's future work on the Human Genome Project includes a study comparing the genomes of 10,000 humans, in order to assess the genetic factors that may predispose one to preventative illness, such as heart disease and diabetes. Is it possible that one day, more sophisticated levels of genetic tinkering may allow scientists to completely remove such traits from our lineage?
It is imperative that Muslim geneticists, ethicists and other intellectuals actively engage in this field of research, in order that mankind may be granted knowledge that benefits, and may be protected from knowledge that harms, by constantly keeping in mind the guiding principles of Islam in all their affairs. And from Allah stems all knowledge, blessings and protection.
Recommended links: