Muslims' Unfortunate Bragging Rights for Sex Searches! (Sex & the Muslim Ummah)
In my last post, I discussed sex ed. as it relates to children. As I started doing some background research for Part II of this article regarding the need or lack thereof of sexual education for adults, I came across some interesting data, which seemed to deserve its own post, this one!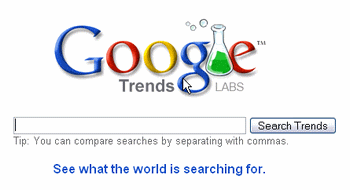 It should be pretty obvious to most of us, especially the Muslims who still maintain ties/visitations to the "motherlands" that the Muslim world does indeed have a problem with sex. There is a growing level of promiscuity, sexual frustration, intimate problems in marriage, etc. that are causing havoc in the Muslim countries. Tariq Nelson had discussed this topic sometime back in this article.
A quick analysis of google-trends affirms the problem. See the table below, which may be somewhat startling to some people, yet not surprising at all to others. Pakistan has the unfortunate bragging right, atop the list for the most proportional searches of the term "sex" on google (based on all-time searches). Proportionality measures the number of times that the term "sex" is searched, divided by the total number of all searches. Sadly, 7 out of the top 10 "sex"-search nations are Muslim countries, including the countries usually considered the most "conservative" in popular opinion– Saudi Arabia and Iran. Interestingly, while Pakistan and Egypt are firmly entrenched as #1 and #2 respectively, Saudi and Iran have slipped out of the top-ten in the last 2 years. This of course is not voluntary. Thankfully, both Saudi and Iran have installed web filtration that is preventing this feed of mental perversion to the region, likely in the time frame of 2005-2006.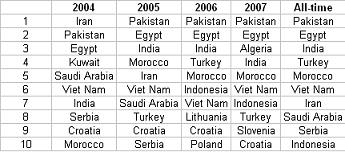 Of course, while internet may have been somewhat effectively blocked (though I reckon that novice users would find their way around the filters) , the steady flow of other sources of pornography, erotica and other destroyers of hearts and minds continues. There is Satellite TV, videos, etc. that provides what internet may have been prevented to.
The crippled, hollow hearts then search for all sorts of ways to engage in what the body is forbidden or does not have the resources to engage in. New technology continues to provide new ways to engage in secret rendezvous, which eventually lead to further corruption. No more need for cell-phone flinging when you can use blue-tooth now. No more need for scribbling cell-phone numbers… as this blog entry from a few months ago highlights.
It begs the question though as to whether bans really do the trick? While I am a proponent of starving the inflow of perversity through any channels to a Muslim populace, the question is why is this populace in so much need for this trash? Why is there this desperation, this hidden desire for haraam? I know many older immigrants from the Muslim countries will insist, and rightfully so, that this is a relatively recent phenomenan, perhaps dating back to the last 20 or so years.
My theory for what it is worth is that the advent of pornography on demand in the form of videos, satellite TV, and then internet has slowly fed sexual perversion into the hearts and minds of the Muslim youth for the last two decades. While on the outside, the norms of Muslim society prevented the actual "practice" of what the corrupted hearts and minds now desired, people have been caught up between two different worlds: a world of sex on their TV sets and computer monitors, and a world of the literal and metaphorical hijab and "parda" on the outside. This of course breeds the underground world of sexual escapades and desperation, to the point of being turned-on by the sight of feet (as in the case where women wear complete jilbab/niqab), secret messages and encounters, and the like.
So, what to do about it? The solution is not and cannot be to open up the society and have a free for all as in the Western world. Yes, if you open everything up, people may not need to search for sex on the internet when it becomes readily available in the physical form. But that of course is worse and not the goal.
Part of the solution, IMHO, is to start with the kids and I already discussed this in the Sex ed. post I wrote before. If children are trained and raised in a way that prevents (to the extent possible) the desire for secret perversions and "secret learnings" where sex is this huge taboo that has to be talked about when parents are not present, then this prevention would be a positive first step. Knowledge is power, even for kids. And pure knowledge of Islam is the most powerful foe of Shaytan's planned little steps for little kids.
This does not solve the problem for those who are already affected. In this case, early marriage is definitely a help. As Dr. Athar mentions here,
"I am not proposing that all Muslim youth be married at age 16. But I must say that youth should accept the biological instinct and make decisions which will help a more satisfied life devoted to the career rather than spending time in chasing (or dreaming about) the opposite sex. Parents should help their sons and daughters in selection of their mate using Islamic practice as a criteria and not the race, color or wealth. They should encourage them to know each other in a supervised setting."
And there is no guarantee that marriage will solve the problem. I have heard from enough sources that there is a strong underground swingers movement in Pakistan, revealing not only the level of sexual perversity but also a complete disappearance of a sense of chivalry amongst some Muslims. Thus, not only is there a need for early marriage, but also a need for "continuing education" classes for adults, in the light of Islamic texts. Dr. Heba Qotb is filling some of this need on an Arab Satellite TV (see here and here). I have to admit that I haven't seen any of her programs, so I am not in a position of evaluating the content. But it does seem that she is approaching it the right way.
There is no doubt that Muslim adults have a lot of questions… about 10% of all questions on the popular Islam-QA site are related to the search term "sex"– in all about 600 questions; more than "basic tenets", "Quran" and "Hadith" combined! So, my next article will talk more about this subject. Until then, chime in. And to throw in a related curve-ball, I would like you to especially chime in whether you think there should be sex ed. talks at Texas Dawah, separate for men and women?
Related Posts on MM: