The Status of the Companions in Light of the Qur'an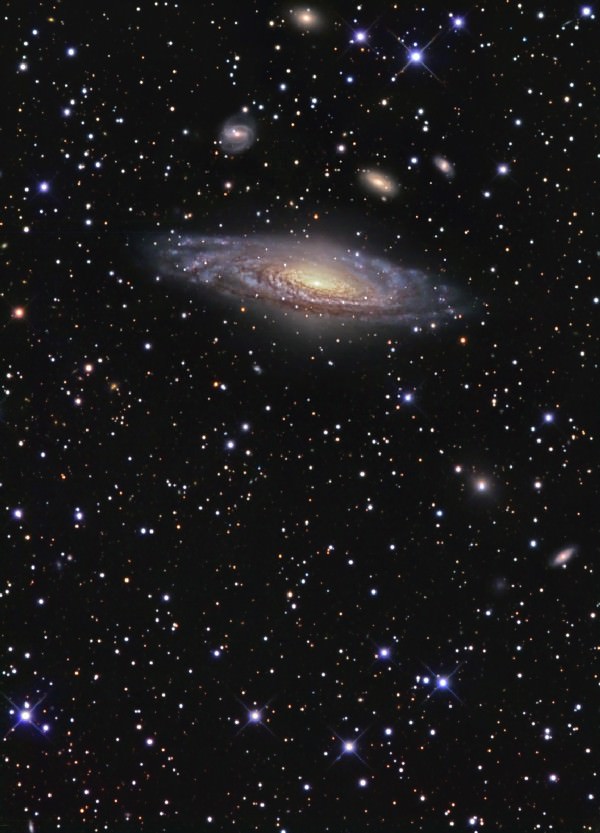 The source material for this article are some notes I took from an excellent lecture by Dr. Salāh al-Sāwī. Unfortunately, my notes were brief and so I am not able to do full justice to the talk that Shaykh al-Sāwī gave. Nonetheless, I will try my best to clarify the true status of the Companions in the light of the verses of Allāh's Book.
Islām's Teachings Concerning Cursing, Revulsion, and Vulgar Language
Before we come to the Qur'ān's teachings concerning the Companions, I would just like to very briefly clarify some matters related to the character of the Muslim. Imām Ahmad and al-Tirmidhī relate with an authentic isnād that the Prophet (صلى الله عليه وسلم) said:
لَيْسَ الْمُؤْمِنُ بِطَعَّانٍ وَلَا بِلَعَّانٍ وَلَا الْفَاحِشِ الْبَذِيءِ
"The believer is not given to insults, nor cursing, nor is he one given to wicked, shameless speech."
Allāh has addressed the Prophet (صلى الله عليه وسلم) in the Qur'ān describing him thusly:
"And verily, you are on an exalted standard of character." [68:4]
Thus, it comes as no surprise that the Prophet (صلى الله عليه وسلم) refrained from engaging in cursing or other vulgar speech. Al-Bukhārī reports from `Ā'ishah, may Allāh be pleased with her:
Once, a group of Jews entered upon Allāh's Messenger (صلى الله عليه وسلم) and said "Al-Sāmu `Alaykum (Death be upon you)."

I understood what they had said, so I responded, "Al-Sāmu `Alaykum Wa'l-La`nah (Death be upon you and curse)."

At this, Allāh's Messenger (صلى الله عليه وسلم) said, "Take it easy `Ā'ishah, for indeed, Allāh loves gentleness in all matters."

I said, "O Messenger of Allāh, did you not hear what they said?"

Allāh's Messenger (صلى الله عليه وسلم) said, "I already said, 'wa `alaykum (and upon you)'."
With regards to cursing or reviling a Muslim, the Prophet (صلى الله عليه وسلم) has stated, "Cursing a Muslim is fusūq." [Al-Bukhārī, Muslim]
The meaning of fusūq is to depart from obedience to Allāh. In fact, such revulsion can even lead to disbelief if it is on account of that person's religiosity. Thus, in that case, it would amount to reviling the religion and that is one of the nullifiers of faith.
In fact, Allāh has prohibited us from insulting even the idols, the false gods, of the disbelievers lest this should lead them to insulting Allāh:
"And insult not those whom they (disbelievers) invoke besides Allāh, lest they insult Allāh wrongfully without knowledge." [6:108]
With this precaution, let us now come to the main theme of the article:
The Status of the Companions in the Qur'ān
"And know that among you is the Messenger of Allāh. If he were to obey you in much of the matter, you would be in difficulty, but Allāh has made beloved to you the faith and has beautified it in your hearts and has made hateful to you disbelief, wickedness, and disobedience. Those are the [rightly] guided." [49:7]
This verse is clearly addressed to the Companions, for the Messenger of Allāh is amongst them. Note that Allāh says that He has made Īmān beloved to them and has beautified it in their hearts and He has made them hate kufr, fusūq, and `isyān. He further describes them as being rightly-guided (rāshidūn). Surely, no one will doubt that anyone to whom Allāh has made faith beloved and beautified in their hearts would not be rightly guided? Then, furthermore, after that, who can deny they are rightly guided when He has also made all forms of disbelief, wickedness and disobedience hated to them?
This particular categorization: disbelief (kufr), wickedness (fusūq), and disobedience (`isyān) has been mentioned for the purpose of clarification. It emphasizes their innocence of any quality that would expel them from the religion while also exonerating them of having any love for committing any sort of sin that would be less than that. The term fusūq is applied to those acts of disobedience which are particularly reprehensible or wicked, whereas the term `isyān would encompass even the slightest act of disobedience. Thus, they can neither be thought of as disbelievers (kuffār) nor sinners (fussāq).
Promise Fulfilled
"Allāh has promised those among you who believe, and do righteous good deeds, that He will certainly grant them succession [to authority] in the earth, as He granted it to those before them, and that He will surely establish for them [therein] their religion which He is pleased with for them. And He will surely give them in exchange a safe security after their fear (provided) they (believers) worship Me and do not associate anything with Me. But whoever disbelieved after this, they are disobedient sinners." [24:55]
To understand the implications of this verse, we must look back at history. Allāh is promising those who were present at the revelation of this verse that those of them who believe and do righteous deeds (1) shall be granted authority in the earth, (2) He will establish for them their religion, and (3) He will exchange their state of fear for one of security.
Consider what happened after the death of the Prophet (صلى الله عليه وسلم). Does history not show us how Allāh granted the Companions authority in the earth and established for them their religion? Indeed it does. In fact, the conquests achieved in their short rule were so great that nothing the like of it has been seen before nor since in history. The `Arabs, with little technological know-how or numbers, swept all the way into Spain in the West and the heart of Asia in the East in just a matter of decades. At their hands, not just one but both of the world superpowers were humbled. What is most amazing of all is that most of these farfetched lands that entered into Islām at the hands of the Companions so many centuries ago are still Muslim lands to this day. If the words of this verse are not true of them, then tell me, by Allāh, of whom then are they true?
Does this verse not also indicate to us that in their time, Allāh established for them the religion with which He is pleased? Is this not an indication that the Islām of Abū Bakr, `Umar, `Uthmān, `Alī, and all of the beloved Companions was the very Islām that was brought by our beloved Messenger (صلى الله عليه وسلم)?
The People of Badr
In Sūrah al-Anfāl, Allāh states:
"He it is Who has supported you with His Help and with the believers." [8:62]
This verse refers to Allāh's Aid of the Prophet (صلى الله عليه وسلم) at the Battle of Badr. Thus, Allāh has testified that those of the Companions who witnessed Badr were believers. This testimony has come to us in a verse of the Qur'ān that shall be recited in the masjids, upon the pulpits, and upon the lips of every believer until the time when Allāh shall inherit the earth and all those upon it. Is there any greater testimony of faith than that?
At this battle, the Companions who were present was some three hundred plus Companions.
The Pledge of Divine Pleasure (Bay`ah al-Ridwān)
"Certainly was Allāh pleased with the believers when they pledged allegiance to you, [O Muhammad], under the tree, and He knew what was in their hearts, so He sent down tranquillity upon them and rewarded them with an imminent conquest." [48:18]
The Companions who witnessed this pledge were some 1400 in number. In this verse, Allāh has stated:
(1) He was pleased with them
(2) Borne witness that they are believers
(3) And borne witness to the purity of their hearts.
The Expedition of Tabūk
In reference to the great military expedition that went out to Tabūk with the Prophet (صلى الله عليه وسلم), Allāh states:
"Allāh has already forgiven the Prophet and the Muhājirīn and the Ansār who followed him in the hour of difficulty after the hearts of a party of them had almost inclined [to doubt], and then He forgave them. Indeed, He is to them Kind and Merciful." [9:117]
The army that went out with the Prophet (صلى الله عليه وسلم) was composed of about 30,000 men. Is this not indicative that the generality of the Companions of the Prophet (صلى الله عليه وسلم) are of a high statuse. Particularly, it is true of the Muhājirīn, those who migrated from Makkah to Madīnah at a time when they were being persecuted for their faith and who sacrificed their homes and wealth to migrate in the Path of Allāh, and it is true of the Ansār who risked the ire of all the Arabs to give shelter to the Prophet (صلى الله عليه وسلم) and to their brothers, the Muhājirīn.
The Description of the Muhājirīn and the Ansār
Thus it is that Allāh describes them in Sūrah al-Hashr, saying:
"[And there is also a share in this booty] for the poor emigrants, who were expelled from their homes and their property, seeking Bounties from Allāh and to please Him, and supporting Allāh and His Messenger. Such indeed are indeed the truthful (to what they say); And [also for] those who, before them, had settled in the City and the Faith, love those who have emigrated to them, and have no jealousy in their breasts for that which they have been given, and give them (emigrants) preference over themselves, even though they were in great need. And whosoever is saved from his own covetousness, such are they who will be the successful." [59:8-9]
Thus Allāh informs us that the Muhājīrūn had only migrated seeking Allāh's Bounty and Pleasure, and in order to support the religion of Allāh and His Messengers. As for the Ansār, Allāh describes them as those who تبوءوا الدار والإيمان tabawwa'ū'l-dār wa'l-īmān. Tabawwu' is to become settled in some place. Thus the Ansār had become settled in their faith.
Then, in the next verse, Allāh informs us:
"And those who came after them say: "Our Lord! Forgive us and our brethren who have preceded us in Faith, and put not in our hearts any hatred against those who have believed. Our Lord! You are indeed full of kindness, Most Merciful." [59:10]
O Allāh forgive the Muhājirīn and Ansār who preceded us in Fatih, and do not put in our hearts any hatred against those who have believed!
The Spectre of Hypocrisy (Nifāq)
Now the there arises a question that some may ask, "Were there not hypocrites in al-Madīnah?" Of course, every Muslim knows that the answer is yes. In fact, one might ask: is it not true that the Prophet (صلى الله عليه وسلم) did not know the exact identity of those hypocrites? This also is true as Allāh tells us:
"And among those around you of the bedouins are hypocrites, and [also] from the people of Madinah. They have become accustomed to hypocrisy. You do not know them, [but] We know them." [9:101]
This is a reality established by the Qur'ān without a doubt. Allāh also says:
"And if We willed, We could show them to you, and you would know them by their mark; but you will surely know them by the tone of [their] speech. And Allah knows your deeds." [47:30]
Thus, the hypocrites have a way of speaking that gave away their inclinations and which was recognizable to the Prophet (صلى الله عليه وسلم).Furthermore, Allāh tells us in the Qur'ān that He is going to distinguish the pure (tayyib) from the filthy (khabīth) by testing the believers in various ways. Thus, after the Battle of Uhud, Allāh says:
"Allāh would not leave the believers in that [state] you are in [presently] until He separates the evil from the good." [3:179]
This process of purifying the ranks of the Companions is just what took place in the years to follow in Madīnah. Thus, of the Battle of the Confederates (al-Ahzāb), Allāh says:
"There (in that situation), the believers were tried and shaken with a severe shaking." [33:11]
As for the hypocrites, they said:
"'O people of Yathrib (al-Madīnah)! There is no stand (possible) for you (against the enemy attack!) Therefore go back!' And a band of them ask for permission of the Prophet saying: 'Truly, our homes lie open (to the enemy),' and they lay not open. They but wished to flee." [33:13]
Contrast this with the position taken by the believers in this great difficulty:
"And when the believers saw the companies, they said, 'This is what Allāh and His Messenger had promised us, and Allāh and His Messenger spoke the truth.' And it increased them only in faith and acceptance." [33:22]
Likewise, Allāh refers to the expedition of Tabūk in the Qur'ān as "the hour of difficulty" as we have cited earlier. It was a time of great difficulty and hardship. As for the believers, they embraced the opportunity to please Allāh and His Messenger, while the hypocrites lingered behind in al-Madīnah, afterwards making excuses for their absence.
Thus, we see that the Prophet (صلى الله عليه وسلم) was able to distinguish the believers from the disbelievers from the positions that they took in trying times.
Furthermore, Allāh says in the Qur'ān:
"They hypocrites are apprehensive lest a sūrah be revealed about them, informing them of what is in their hearts. Say, 'Mock [as you wish]; indeed, Allāh will expose that which you fear.'" [9:64]
A group of the hypocrites were mocking the recitors, who were no less than the scholars and the elite of the Companions. Because of this mockery, the following verses were revealed:
"And if you ask them, they will surely say, 'We were only talking idly and joking.' Say, 'Is it Allāh and His verses and His Messenger that you were mocking?' Make no excuse; you have disbelieved after your belief." [9:65-66]
Thus, in light of these verses, to claim that Abū Bakr and `Umar, were hypocrites, and all the while he was unaware of it, is the pinnacle of sophistry! They were his close companions, his trusted advisors, and the fathers of two of his wives, and yet he was unaware of their true state? What could be more farfetched.
Conclusion
It is important to understand that if anyone is expelled from the fold of Islām, then this means that anything they relate to us of the religion cannot be accepted. Is it anyone but Abū Bakr, `Umar, and all the rest of the trustworthy Companions of our beloved Prophet (صلى الله عليه وسلم) that we rely on to transmit the religion down to us? In fact, it was under the supervision of Abū Bakr, and later `Uthmān that the mushaf was compiled.
This is why so many of our scholars of the past have stated that if you see anyone reviling the Companions, may Allāh be pleased with them, then be weary of him, for he is seeking the destruction of Islām.
As a final note, it is important to keep in mind that, as Ahl al-Sunnah, when addressing those with whom we disagree, we should advise them with gentleness so that the advice may benefit them. Thus, Allāh gave Mūsā and Hārūn (عليهما الصلاة والسلام) the following instructions for dealing with Fir`awn:
"And speak to him with gentle speech that perhaps he may be reminded or fear [Allāh]." [20:44]
And this is what our scholars mean when they say, "Ahl al-Sunnah are the most knowledgeable of people concerning the truth, and the most merciful of people to the creation."