How to Teach Your Kids About Easter
Don't tell my dad this, but growing up, I was sure I wanted to be a Christian. It had nothing to do with the theology though, it was – really and truly – all about the chocolate.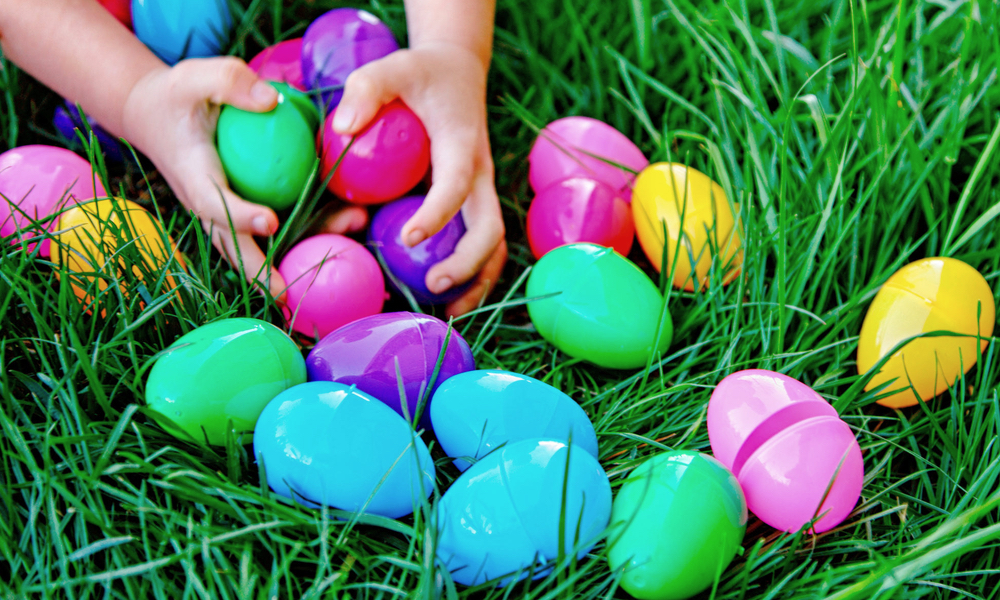 Don't tell my dad this, but growing up, I was sure I wanted to be a Christian. It had nothing to do with the theology though, it was – really and truly – all about the chocolate.
Don't get me wrong, I did not grow up in any sort of conservative, chocolate-deprived bubble. My mother was – and still is – a Christian. My father was – and still is – Muslim, and our home was a place where two faiths co-existed in unapologetic splendor.
My mother put up her Christmas tree every year.  We children, though Muslim, received Easter baskets every year. The only reason why I wished I was Christian too, even though I had no less chocolate in my life than other children my age, was because of the confusing guilt that I felt around holiday time.
I knew that the holidays were my mother's, and we participated to honor and respect her, not to honor and respect what she celebrated. As a child though, I really didn't understand why we couldn't celebrate them too, even if it was just for the chocolate.
As an adult I've learned that I'm not alone in this conflicted enthusiasm for the holidays of others. Really, who doesn't like treats and parties and any excuse to celebrate? As a parent though, I've decided that the best policy to use with my children is respectful honesty about where we stand with regard to other religions.
That's why when my children asked me about Easter, this is what I told them:
The holidays of every religion are the right of the people who follow them. They are as precious to them as Eid and Ramadan are to us.
Part of being a good Muslim is protecting the rights of everyone around us, no matter what their religion is. There is nothing wrong with non-Muslims celebrating their religious non-Muslim holidays.
We don't need to pretend they're not happening. Respectful recognition of the rights of others is part of our religion and our history. We don't have to accept what other people celebrate in order to be respectful of their celebrations.
The problem with Muslims celebrating non-Muslim religious holidays is that we simply don't believe them to be true.
So when it comes to Easter specifically, we break it down to its smaller elements.
There is nothing wrong with chocolate. There is nothing wrong with eggs. There is nothing wrong with rabbits, and no, they don't lay eggs.
There is nothing wrong with Easter, but we do not celebrate it because:
Easter is a celebration based on the idea the Prophet Isa

was Allah's son, who Allah allowed to be killed for our sins. Easter is a celebration of him coming back to life again.
Depending on how old your child is, you may need to break it down further.
Allah

Created the sun, Allah is not a person whose eyes can't even look directly at the sun. Allah Created space, Allah is not a person who can't survive in space. Allah Created fire, Allah is not a person who cannot even touch fire. Allah is not a person, He does not have children as people do. Prophet Jesus [alayis] was a messenger of Allah, not a child of Allah.
Allah is also the Most-Merciful, Most-Forgiving, and All-Powerful. When we make mistakes by ourselves, we say sorry to Allah and try our best to do better. If we make mistakes all together, we do not take the best-behaved person from among us and then punish him or her in our place.
Allah is Justice Himself. He is The Kindest, Most Merciful, Most Forgiving Being in the entire universe. He always was, and always will be capable of forgiving us. No one needed to die in order for Allah to forgive anyone.
If your teacher failed the best student in the class so that the rest of the students could pass, that would not be fair, even if that student had offered that. When people say that Allah sacrificed his own son so that we could be forgiven, they are accusing Allah of really unfair things, even if they seem to think it's a good thing.
Even if they're celebrating it with chocolate.
We simply do not believe what is celebrated on Easter. That is why we do not celebrate Easter.
So what do we believe?
Walk your child through Surah Ikhlas, there are four lines and you can use four of their fingers.
Allah is One.
Allah doesn't need anything from anyone.
He was not born, and nor was anyone born of Him. Allah is no one's child, and no one is Allah's child
There is nothing like Allah in the universe
Focus on what we know about Allah, and then move on to other truths as well.
Christians should absolutely celebrate Christian holidays. We are happy for them.
We do not celebrate Christian holidays, because we do not accept what they're celebrating.
We are very happy for our neighbors and hope they have a nice time.
When your child asks you about things like Christmas, Easter, Valentines, and Halloween, they're not asking you to change religions. They're asking you for the chance to participate in the joy of treats, decorations, parties, and doing things with their peers.
You can provide them these things when you up your halal holiday game. Make Ramadan in your home a whole month of lights, people, and happy prayer. Make every Friday special. Make Eid amazing – buy gifts, give charity, decorate every decorat-able surface if you need to – because our children have no cause to feel deprived by being Muslim.
If your holidays tend to be boring, that's a cultural limitation, not a religious one. And if you feel like it's not fair because other religions just have more holidays than we do, remember this:
Your child starting the Quran can be a celebration
Your child finishing the Quran can be a celebration
Your child's first fast can be a celebration
Your child wearing hijab can be a celebration
Your child starting to pray salah can be a celebration
Your children can sleep over for supervised qiyaam nights
You can celebrate whatever you want, whenever you want, in ways that are fun and halal and pleasing to Allah.
We have a set number of religious celebrations, but there is no limit on how many personal celebrations we choose to have in our lives and families. Every cause we have for gratitude can be an opportunity to see family, eat together, dress up, and hang shiny things from other things, and I'm not talking about throwing money at the problem – I'm talking about making the effort for its solution.
It is easy to celebrate something when your friends, neighbors, and local grocery stores are doing it too. That's probably why people of many religions – and even no religion – celebrate holidays they don't believe in. That's not actually an excuse for it though, and as parents, it's our responsibility to set the right example for our children.
Making and upholding our own standards is how we live, not only in terms of our holidays, but in how we eat, what we wear, and the way we swim upstream for the sake of Allah.  We don't go with the flow, and teaching our children not to celebrate the religious holidays of other religions just to fit in is only one part of the lesson.
The other part is to extend the right to religious freedom – and religious celebration – to Muslims too. When you teach your children that everyone has a right to their religious holidays, include Muslims too. When you make a big deal out of Ramadan include your non-Muslim friends and neighbors too, not just because it's good dawah, but because being able to share your joy with others helps make it feel more mainstream.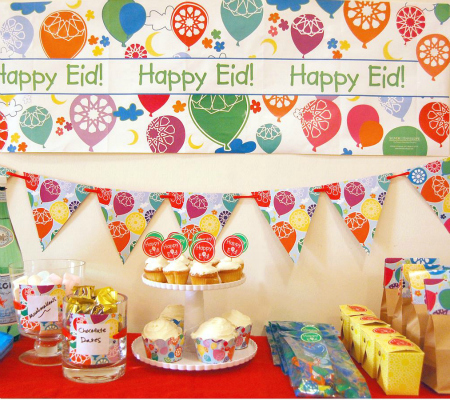 Your Muslim children can give their non-Muslim friends Eid gifts. You can take Eid cookies to your non-Muslim office, make Ramadan jars. You can have Iftar parties for people who don't fast.   Decorate your house for Ramadan, and send holiday cards out on your holidays.
You can enjoy the elements of celebration that are common to us all without compromising on your aqeedah, and by doing so, you can teach your children that they don't have to hide their religious holidays from the people who don't celebrate them.  No one has to. And you can teach your children to respect the religions of others, even while disagreeing with them.
Judaism, Christianity, and Islam are bound by a common thread, and there is much we come together on. Where the threads separate though, is still a cause for celebration. Religious tolerance is part of our faith, and recognizing the rights of others to celebrate – or abstain from celebration – is how we celebrate our differences.
Retire Aladdin To The Ends Of The Earth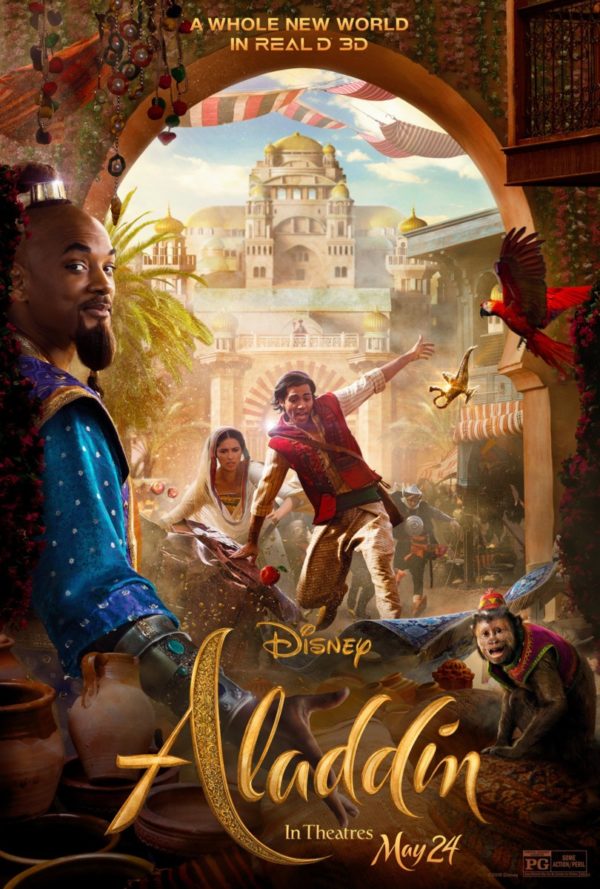 By Jinan Shbat
I grew up in an upper-middle-class suburb in Ohio, where I never felt different than the kids in my neighborhood. Sure, my siblings and I had odd-sounding names, and we spoke a second language. But to our neighbors and classmates, we were white, like them. However, that perception changed when I was 11-years-old, when a Disney cartoon movie named "Aladdin," was released based off of a character created by a French orientalist at the height of Orientalism. At first, my siblings and I were excited because we thought Disney had made a movie that represented us. However, shortly after the movie came out, the questions began.
Are you from Agrabah?
Do you have a magic carpet? Are you going to be married off to someone your parents choose? Do you have outfits like Jasmine?" My head was swarming with all these questions, and I admit, I was intimidated. A little scared, too. I didn't know how to answer them, and so I just shook my head and walked away.
My parents thought they were doing us a favor by buying the movie and have us watch it anytime other kids came over to play. This just created a larger divide between us, and soon my siblings and I were the "other." It made me hyper-aware of my brown skin, my visiting foreign grandparents, and my weird-sounding name that no one could ever pronounce correctly. As I grew up, the movie and its racist, Orientalist tropes followed and haunted me. Anytime anyone found out I was Arab, they would ask, "oh, like Aladdin?" I didn't know how to answer that. Was Aladdin Arab? South Asian, Persian? These were all different ethnicities, yet the movie seemed to be an amalgamation of them all, set in a fiction land I could not identify.
Why is Disney's Aladdin Harmful?
It may not seem like a big deal to be misidentified in this way, but it is. And these stereotypes that have been present in Hollywood for decades are a huge disservice to our communities- all our communities- because when you misidentify a person's culture, you are saying that all people of color are interchangeable— which is dehumanizing.
With the new release of the live action version, "Aladdin" is reinforcing the trauma and obstacles we have had to fight for the last 30+ years. The addition of a diversity consulting firm made Disney look good; it showed good faith on their part to receive feedback on the script to try and improve it.
However, issues remain with the original story itself, and no amount of consulting will change that.
Although the Aladdin remake was marked by controversy over Disney "brown-facing" its white cast, and despite original Aladdin's racist history, last weekend Disney's live-action version soared to $207.1 million globally. Money experts tell us that the remake success comes from the "power of nostalgia"- that is, the film's ability to connect with feel-good memories.
The original production is the second highest grossing film project in Disney history. Last weekend, millions flocked to the remake in record numbers, despite critics' negative and mixed reviews.
The accompanying Aladdin Jr. play is also a major concern, sales of which will skyrocket because of the film. Disney only recently removed the word 'barbaric' in its description of Arabs in the opening song. Many more problems abound, but Disney promises through its licensing company, Music Theatre International, to keep the concepts explored in the original production intact.
A Whole New World Needs Less Anti-Muslim Bigotry
From my perspective, as an organizer that fights a huge Islamophobia network in my daily work, it would be a disservice to my work and our community to sit by and allow racist, Islamophobic, orientalist tropes to make their way into our theaters, homes, and schools. What exactly is not a big deal in this movie? The depiction of Arabs and South Asians as one demographic, the storyline of forced marriage, power struggles, a black man playing a genie literally bound by chains to a lamp?
Hollywood's history of Islamophobia needs to be rectified. There is a plethora of writers, actors and creative minds with alternative positive portrayals of Muslims, Arabs and South Asians. Our consumer appetite must shift to embrace authentic stories and images about people like me.
Aladdin is beyond repair; in its original form, it is problematic. No number of meetings with executives will fix the problems that are still prevalent. It should be retired, indefinitely, and put on the shelf with all the other racist caricatures from Hollywood history.
It's our duty to speak out- and if you don't believe we should, then you can choose to stay silent. I cannot.
Jinan Shbat is an organizer in Washington DC.
Making Eid Exciting for Kids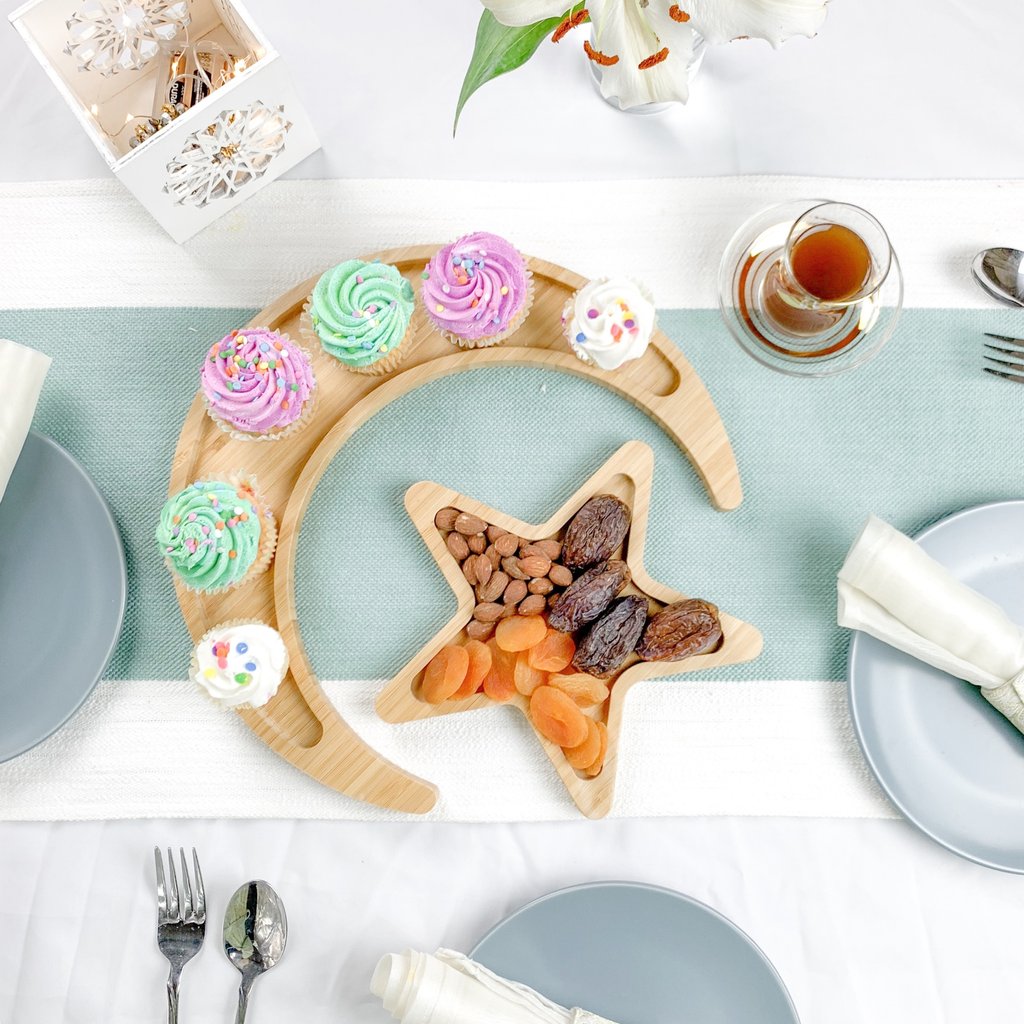 Ramadan and Eid are the most important holidays of our religion, but are we as parents putting enough effort into them? For those of us who live in non-Muslim countries, Ramadan and Eid can look dull in comparison to Christmas, Halloween, Easter, etc. There is little to no recognition of Muslim holidays outside of our homes and masjids.
Unlike Muslim countries, where markets, streets, television and the general population all foster a sense of connection to the month of blessing, Ramadan and Eid pass by mostly unnoticed in the circle of our kid's friends.
The reality is that our religious festivals are competing with the attention of other more glittery celebrations of the West. We want to make Islamic festivals a real part of our children's lives. We want to create memories, want our kids to love our festivals and our deen, so how do we inspire our kids to love Ramadan and Eid?

While I don't believe we need to compete with our Christian neighbors, I firmly believe we have a responsibility to make all of our religious obligations meaningful and as well as fun, exciting and educational for our kids.
As we get close to Eid, here's how can you make it memorable for your children:
Welcome Eid in your Home by Decorating
Between the fabulous DIY Eid decorating projects out there on the internet and the wide range of home décor offered by Muslim owned businesses, you have a good number of options to decorate your home during Eid.
Gone are the days of tacky Eid décor. With the selection and quality Eid décor that are available, you are sure to find something that goes with your existing home décor. Whether your style is traditional or modern, glam or chic, you'll find some Eid decoration in a variety of color and theme to match your taste.
You'll be surprised how lights and a garland can add the Eid spirit to your home. Involve the kids in decorating your home for Eid to get them in the mood and inspire them to love Eid. It's always a pleasure to see the sparkle in their eyes as you turn decorating the house a family activity.
Take your children to Eid Salah
Eid salah is a fundamental part of Eid festivities. Make sure you take your kids with you for the Eid prayer. If Eid falls on a weekday, get an excused absence for your child. Most schools have a religious celebration exemptions policy and you should be able to get the kids out for the Eid salah if not the entire day.
On route to the Eid prayer, make it a family tradition to say the Eid Takbeer –
'Allahu Akbar, Allahu Akbar. La Ilaaha Illallahu Wallahu Akbar, Allahu Akbar wa Lillahil Hamd'
Teach them the spirit of giving by handing out candy or small gifts such as Eid pencils, Eid wrist bands, small favors to the kids they meet during Eid Salah.
Surprise your kids with gifts
"Exchange gifts, as that will lead to increasing your love to one another."  Prophet Muhammad ﷺ [Al-Bukhari]
Only is it a Sunnah to give gifts, children are ecstatic when they receive presents. It's a win-win situation. I like to give Islam inspired gifts during Eid. Books are great to present, especially when you pair them with the experience of reading them together or spending some quality time doing an activity together.
For smaller kids, check out these prayer rugs and these feeding sets. For older kids, puzzles are dua cards are my go-to gifts along with some toys and stationery that they may want. If you want to keep the tradition of giving money out on Eid morning, package your bills in these beautiful envelopes before giving them out.
Plan a party for their friends
While it's traditional for families to visit one another, a little extra effort can mean that kids get to enjoy something geared towards them. Children love kid friendly parties, let them enjoy themselves by planning something different with them. With many Muslim families opting out of birthday parties, why not throw a party for your kids on the eve of Eid (a.k.a chand raat) or Eid Day? Plan a chance for them to make Eid crafts, and decorate Eid cookies.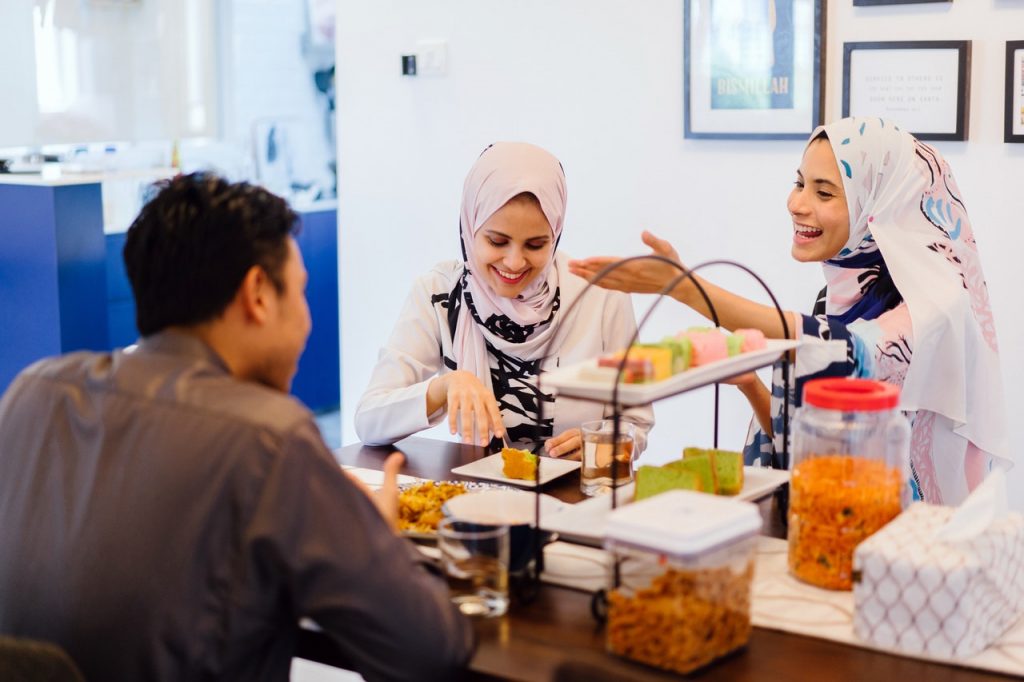 Making Eid exciting for children isn't just about lights and fun, it also about building a lasting Muslim identity. In a time when Islamophobia and discrimination are the norms, we can use our holidays as opportunities to engage and invite our communities and schools in active dialogue about Muslim holidays in a positive, relevant light. This, in turn, serves to teach our own children, not only spiritual acts but also how to be progressive and active members of our society.
Eid Mubarak
The Fast and the ¡Fiesta!: How Latino Muslims Celebrate Ramadan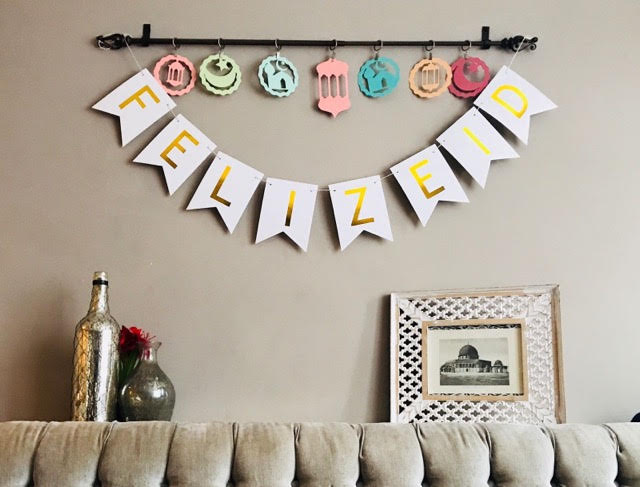 When the month of Ramadan is approaching, the Ortiz-Matos family begins to prepare the only way they know how, Puerto Rican style. Julio Ortiz and his wife, Shinoa Matos, reside in Brooklyn, New York. They are both Puerto Rican converts to Islam and their native tongue is Spanish. They have been Muslim for two decades each and married for close to 14 years. The couple has three children, ages 9, 7, and 5. Although Shinoa is also half Greek, she identifies herself as part of the ever-growing Latino Muslim population, a community that is bringing its very own sazon, or Latin flavor, to spice up Islamic holiday traditions.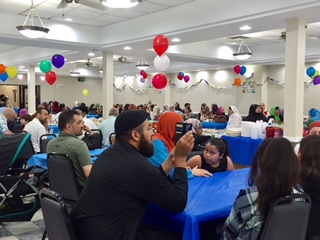 Preparations for Ramadan for this Muslim familia, or family, consists of planning together with their children to get them excited about the fasting season. They discuss how they will plan out the month in order to reap its many rewards, and the husband and wife decide on a schedule so they can alternate between attending the taraweeh prayers and babysitting. With the help of their children, Julio and Shinoa make a list of foods and ingredients they will need for their suhur, or pre-dawn meals, and iftar, their dinner after breaking the fast. These feasts will feature a variety of Puerto Rican dishes such as pollo guisado (stewed chicken), sorullos (corn dumplings stuffed with cheese), pasteles (meat-filled dumplings made out of root vegetables, green bananas, and plantains), tortilla española (Spanish omelets), empandas (meat-filled turnovers), and finger foods such as guava, cheese, and Spanish olives, coupled with the iconic Ramadan dates.
Right before Ramadan, the Ortiz-Matos home is decorated with typical fiesta décor, shining lights, pom poms, and banners in Spanish. One of their most unique Ramadan and Eid traditions is dressing up in Puerto Rican cultural attire. Shinoa explains, "My husband can usually be found wearing a guyabera (Caribbean dress) shirt in different colors along with a matching kufi. My sons will also wear tropical shirts with their own kufis. This year I am planning on dressing all my children in typical jibaro (Puerto Rican country) clothing, complete with my daughter in a bomba skirt and my sons with machetes and sombreros de paja (straw hats)!" To prepare for Eid, they redecorate the house with Feliz Eid (Happy Eid) signs and fill decorative bowls with traditional Puerto Rican sweets made with coconut, passion fruit, and pineapple.
As converts, Julio and Shinoa know the isolation that new Muslims can feel during the holidays, so they also make a habit out of spending the month with fellow Latinos and converts. Not only does Shinoa want to make sure that no one is spending Ramadan and Eid alone, she also wants her children to feel a sense of belonging. She said, "This helps to reinforce the (concept of a) Latino Muslim community in the eyes of our children because even though all Muslims are brethren, it is important for them to be able to see representation in others they associate with."
Even though they live in Brooklyn, Julio and Shinoa often attend the North Hudson Islamic Educational Center, or NHIEC, in New Jersey. This mosque across the Hudson River caters to the predominately Hispanic population of Union City and its surrounding areas. Due to its location, NHIEC is the home of one of the largest Latino Muslim communities in the nation and has been catering to their growing needs by providing simultaneous Spanish interpreting of Friday sermons, an annual Hispanic Muslim Day for the past two decades, and continuous educational programs specially geared towards Spanish-speakers and new Muslims of Hispanic heritage. During Ramadan, NHIEC offers iftar events catered by local Latino restaurants, like the Peruvian eatery, Fruit Punch, or the Arab/Hispanic fusion buffet called Fiesta. They also host potlucks, in which Latino Muslim converts and veterans alike breakfast by sharing their country's typical dishes. The mosque is decorated with streamers, balloons, and flags from all 21 majority Spanish-speaking countries.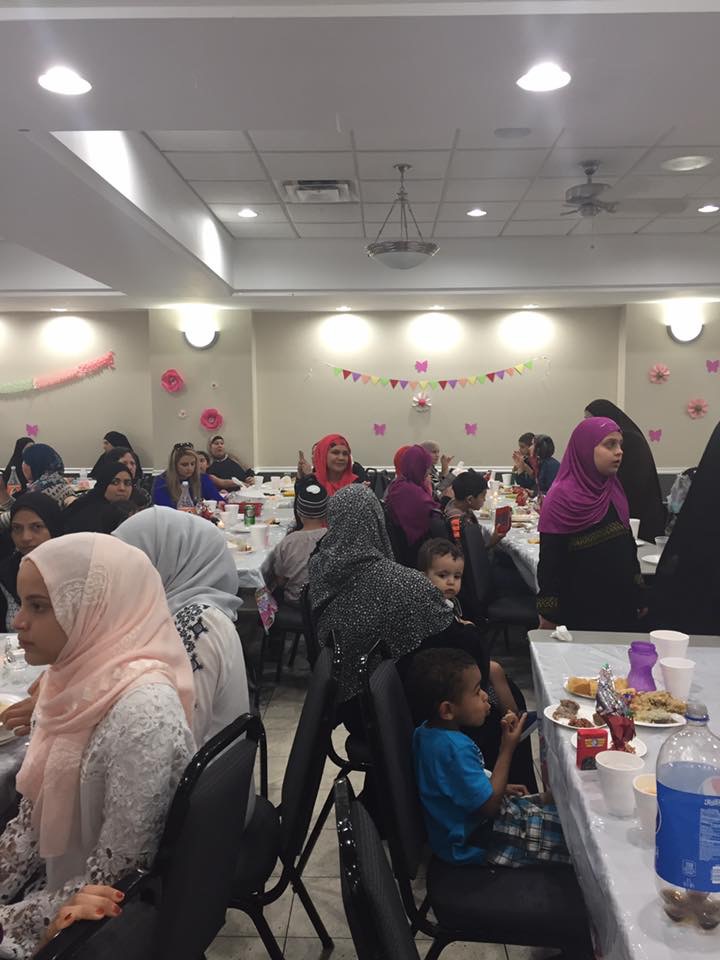 Halal on the Hudson
Union City may be known as "Havana on the Hudson" because of its large Cuban population, however, South Americans like Ecuadorians and Peruvians are also plentiful. Nylka Vargas is a mixture of both; residing near NHIEC, this Latina conversa (convert) is a social worker by day and an active member of NHIEC's dawah committee by night. She and her Syrian husband plan out their Ramadan by renewing their intentions, assessing their spiritual needs, crossing out to do items, cleaning, and clearing their schedules for the month. While subtle decorating is also part of the prep, Nylka prefers to set aside a quiet space at home for prayer and reflection.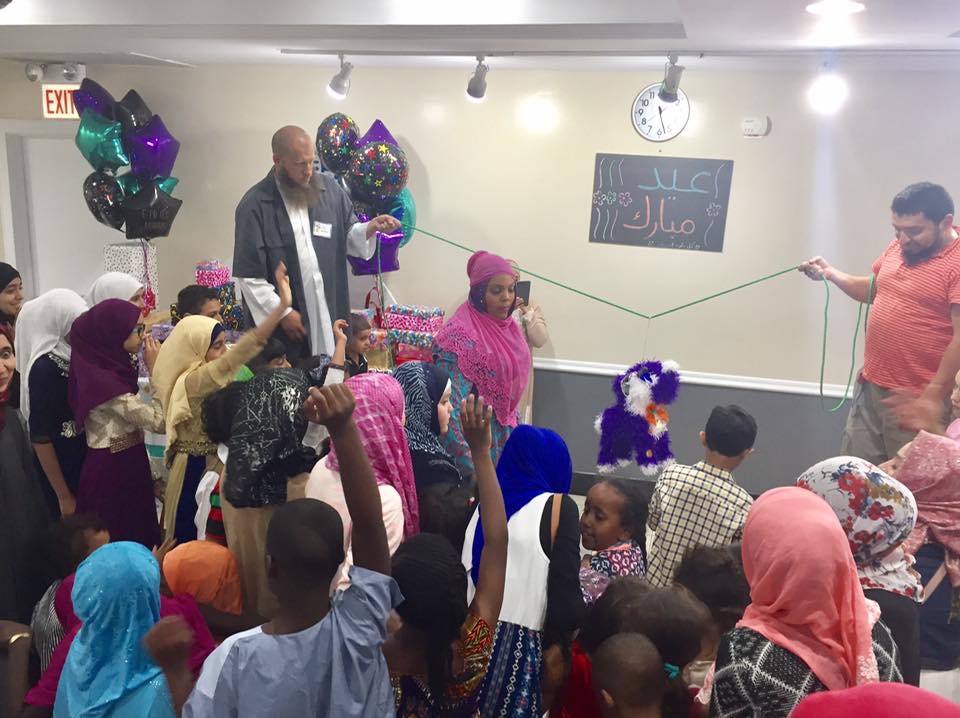 It is in the mosque where she works passionately alongside other Latino Muslims to make the month of Ramadan memorable for fellow Latinos. Due to most Latin American Muslims converting to Islam, their relatives are usually non-Muslims who do not celebrate Ramadan or Eid. Nevertheless, NHIEC provides an inclusive atmosphere, where converts are invited to bring their families to break fast and enjoy the festivities. They host yearly dawah and converts Ramadan programs, an annual grand Iftar for converts with Latin dishes, converts get-together iftars, and a program called "Share Your Iftar with a Convert" to actively encourage the community to break their fast with new Muslims. They also teach Ramadan prep classes, arts & crafts for children, and organize a converts Eid extravaganza.
Nylka says, "We take much pride in bedazzling and giving our Eid Party a custom touch with all kinds of Eid decorating pieces and an entertainment combo. It is always about what the community wants." One of Nylka's fellow dawah committee members is Flor Maza. Flor is a Salvadorian convert and mother of three married to an Egyptian Muslim. Ramadan is an exciting and busy time for Flor, who is a full-time pastelera (baker); she caters to the NHIEC community, literally, decorating and preparing all kinds of postres (desserts), both Spanish and Arabic. She has learned how to prepare typical Egyptian dishes and sweets and alternates between these and Latin-inspired foods for iftar.
"I have not lost my culture, but I am learning from other cultures," she joyfully explained, "All cultures are beautiful." Flor believes that Ramadan is a time to learn tolerance, patience, compassion, and gratefulness, and to collaborate in doing good. She demonstrates this by sharing her delicious meals and confections with the community during the many NHIEC events. When asked if anything distinguishes her as a Latina Muslim, she said, "Anyone can recognize a Latino Muslim because we, Latinas, are helpful, we preserve our culture and are proud of our language."
NHIEC is one of a few Islamic centers in the U.S. where guests can experience the festivities of Ramadan and Eid in Spanish. When the time for Eid prayer comes, the Muslim community in Union City and surrounding areas, pray outside either in a park or in a local school's soccer field. Non-Muslim neighbors hear the Takbirat al Eid, witness the Eid prayer, and listen to the sermon that follows on the loudspeakers, while admiring huge green banners with golden letters that read, "Happy Eid, Eid Mubarak (in Arabic script), and Feliz Eid."
A Mexican, Haitan, and Puerto Rican Ramadan
Eva Martineau-Ocasio was born in Mexico to a Mexican mother and Haitian father and she was brought up speaking Spanish at home. She is married to Ismail Ocasio, a Puerto Rican who was raised Muslim in New York by convert parents. They have three girls, ages 6, 3, and 6 months and reside in Brooklyn. While they have always practiced their faith, the couple has become more diligent about making Ramadan extra special and memorable for their children.
The focal point of their Ramadan décor is a table spread with Islamic and Ramadan-themed books (some in Spanish, others in English), arts and crafts, tools, calendars, and projects they will use to celebrate Ramadan. As with the Ortiz-Matos family, great care is given to set the mood for the commencement of the Month of Mercy. As Eva explained, "We prepare ahead of time by reading books and telling stories to remind ourselves about Ramadan. We use lights, banners, and homemade decorations to make Ramadan special in our home. In recent years, my sister and I even opened a small online shop to sell some of our decor." With her girls, the young mother, nurse and midwife student weaves prayer mats for their dolls and paints small glass linternas (lanterns) to display on their holiday table.
While other Muslim families have similar routines to welcome Ramadan, what sets the Martineau-Ocasios and other Latino Muslims apart is the way they have tailored their cultural traditions to adapt to Islamic practices. "Food and language play the largest roles in shaping the way we experience Ramadan outside of the important religious-based practices," Eva said, "I strive to make Ramadan as special and exciting for my children as Christmas was for me growing up." The family enjoys fast-breaking meals representative of their unique mix of Mexican, Puerto Rican, and Haitian culture. Some of their staples include tacos, fajitas, frijoles refritos (refried beans), Haitian style beef BBQ ribs, Haitian black rice, Puerto Rican arroz con maíz (yellow rice with corn), and even American Mac and Cheese.
They also celebrate with the general community and enjoy breaking fast with Arab and South Asian cuisine, as well. As a family, they attend Ramadan gatherings at the Muslim Community Center (MCC) and the MAS Brooklyn mosque in New York, where they are recognized as being Latino Muslims because of their language, Spanish, which they use with their children.
Ramon F. Ocasio, Ismail's father and Eva's father-in-law, shares a deeper perspective about celebrating Ramadan as a Puerto Rican Muslim of well over four decades. Ocasio was born in the Bronx and raised in El Barrio, Spanish Harlem in Manhattan. He embraced Islam in 1973. For this father and grandfather, nothing identifies as uniquely Latino in his practice of Ramadan aside from the food. He says, "My family prepares iftars featuring Latin cuisine for some masjids, both suburban and in the inner city. Just food, no unique decor. Food is the common denominator. Aside from that, there is nothing I can point to that is uniquely Latino in our celebrations." His personal favorites are pasteles, roasted leg of lamb (a halal substitute for pernil, a traditional pork dish), arroz con gandules (rice with pigeon peas), and flan (a custard dessert with caramel sauce).
When his children were young, he admits that things were a little different, with Eid gatherings in the park that drew thousands of Muslims, trips to Toys'R'Us for presents, movies, games, and outings. "Seasons change, families grow, our method of celebrating will change with it," Ocasio reminisces, "During a span of forty plus years, it can change quite a bit. As parents, we've tried our best to make Ramadan and Eids special for our children. For the most part, we have been successful."
Ramadan for the Latino Muslims of Chicago
Another Latino Ramadan legacy is being constructed west of the Tri-State area, in the Windy City. Rebecca Abuqaoud is the founder and director of Muslimahs of Chicago and a community organizer at Muslim Community Center at Elston Avenue (MCC), and at the Islamic Community Center of Illinois (ICCI). She hails from Lima, Peru, and she and her husband, Hasan Abuqaoud, have three children. Rebecca has been involved in organizing Ramadan events for the Latino community and for Muslim women and children for many years.
One of these is the annual, "Welcoming the Arrival of Ramadan," where female speakers are invited to present, and babysitting is provided to ensure mothers are able to attend. The dinner consists of a potluck, and attendees share their cultural dishes. Guests can choose from a variety of ethnic foods, including arroz con gandules, arroz chaufa (Peruvian rice), salads, pollo rostisado (rotisserie chicken), chicken biryani, and other Pakistani and Arab delicacies. This event began as an initiative for Spanish-speakers only, at the request of Latino Muslim women, however, it has grown to become a bilingual affair and draws anywhere from 60-80 attendees.
Rebecca is known in her community for dedicating her time to sharing her years of experience, Islamic knowledge, and wisdom with others. She said, "I really love being with my Latino sisters, I understand the help and support they need in their journey to Islam. I've been blessed to have knowledgeable Islamic teachers in my life and now it's time to pass that knowledge to my new sisters in Islam; I thank Allah for such an opportunity." Among other social events during Ramadan, Rebecca holds a Halaqa Book Club for ladies in Spanish at the ICCI, and for Eid, she assists with the Eid Potluck Fiesta at MCC.
In the North of Chicago, Ramadan and Eid is a family affair, and this includes the children of Latino converts. During Ramadan, mothers are encouraged to decorate their homes and the masjid to make the season exciting for their children. In the mosque, Rebecca and other volunteers prepare fun activities for them related to Eid, such as a puppet show, decorating paper plates, creating Eid greeting cards for their families, and pretend "baking" cookies and cupcakes with play-dough. The children also enjoy listening to other kids recite the Qur'an and chatting over pizza, snacks, cake, and juice.
The Eid Potluck Fiesta at MCC, sponsored also by Ojalá Foundation, is an effort that began to create a safe space for converts to celebrate Eid together. Everyone is invited to attend and can bring dishes to share. The walls are decorated for the occasion and candy-filled piñatas are set up for the children. Not only do the Latino Muslims enjoy these festivities, but also diverse members of the community who join them in the unifying celebration that is the culmination of the Month of Mercy and Forgiveness.
Feliz Eid
All the Latino Muslims who participated in this interview mentioned that the most significant aspect of Ramadan is the same across the board: to gain the maximum benefit from the intense self-reflection, fasting, constant prayer, spiritual cleansing, and dedication to the Qur'an. Cultural practices and celebrations are secondary to the religious aspect of Ramadan. However, the collective sentiment of those who converted to Islam is that they feel a sense of loss when they are celebrating Eid without their extended non-Muslim family. There is always, "something missing."
Latino culture is hugely family-centered, and thus, holidays are often a time to reunite with relatives. Eva Martineau summed it up as this: "For converts, missing out on the family aspect of any celebration can leave us with a sense of sadness and longing." Her suggestion, and that of other Latino Muslims is that, like NHIEC, ICCI, and MCC (in NY and Chicago), Islamic centers across the U.S. should host Ramadan and Eid events catering to not only Latino Muslims but converts in general. As individuals, fellow Muslims can also host those who may otherwise not have anyone to break the fast with, in their iftars and Eid celebrations. This will provide those newer Muslims with that sense of brotherhood and sisterhood they long for, and maybe in return, they can taste some of those yummy ethnic dishes.
Feliz Ramadan!
Note: A modified version of this article appeared in Islamic Horizons Magazine May/June 2019 edition.