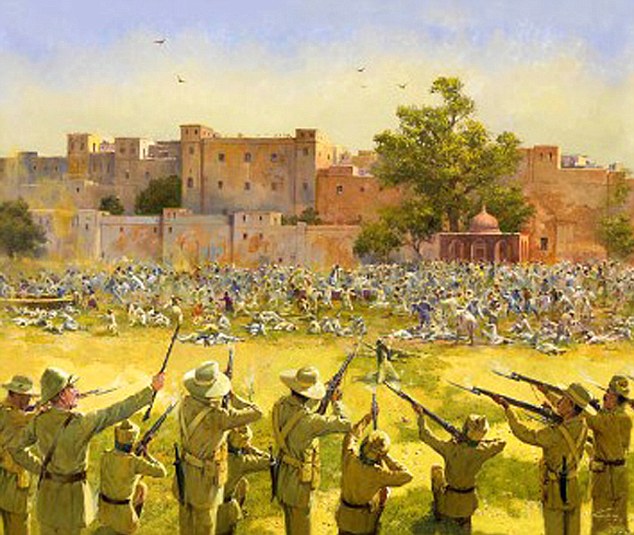 On April 13, 1919, the 9th Gurkhas, 54th Sikhs & 59th Sind Rifles, on the orders of Col. Dyer, fired on an unarmed, peaceful crowd gathered to celebrate Besakhi at the Jalianwala Bagh in Amritsar. As a result, 1000 people died and perhaps three times that number were injured. Even though, the crowd was overwhelmingly Sikh, one of the platoons firing on them was the 54th Sikhs. The interesting thing is that Col. Dyer himself didn't fire a single round. An even more interesting thing is that if one were to ask each of those soldiers why he fired, he would have given the same answer, "It's not my fault. I was only following orders."
The same thing happened to the Germans that led to the deaths of 6 million Jews and others on the orders of Hitler who personally perhaps never killed even a chicken. Stalin's orders resulted in the deaths of 20 million Russians, not one of whom had the honor of meeting his Maker at the hands of Stalin. Today, as we watch in shameful silence, thousands of Rohingya Muslims are the victims of a genocide which is the latest in the long list of genocides with which the human race visits itself. Poor lemmings get the rap for being suicidal. Nobody is more suicidal than human beings. We are constantly engaged in attempting to send each other into the pages of history and so should be renamed from Human Beings, to Human-Were. That would also explain our inherent brutality and barbarism, which we have been taught to believe is an animal tendency and not worthy of humans. Mercifully no animals went to my school and so no loud protests were heard at this singularly blatant lie.
It is humans and only humans that kill for no reason, torture, rape and devise ever more innovative ways of causing harm to each other. I don't think we should so easily give up this differentiator of our species to mere animals. No wonder that Hitler apart we have always glorified the perpetrators of genocide, like Alexander the Great (why The Great?) who slaughtered his way all the way from Macedonia to India. Julius Caesar who slaughtered a million Gauls fighting for their land, trying to keep it from being civilized by Rome and said, "Today was a good day." Or Genghis Khan who did far more than these two genocidal maniacs put together, just for fun. Then we talk about the importance of peace.
To return to my theme, ask any of those who actually do the killing and you will get the same answer, 'It's not my fault. I was only following orders.'
You can observe the same attitude of 'learned helplessness', with those who fall into negative patterns in life, alcohol, smoking, narcotics or other addictions. They all have the same refrain, 'It's not my fault.' But ask them who is suffering? Who is getting cancer and worse? Who is paying for it from his pocket as well as in more painful ways and you get reactions ranging from the sheepish look to anger directed at you, not recognizing that it is really directed at themselves. This is what leads to my hypothesis, which is that people don't like to grow up.
We all follow the same life cycle. We are born, naked and helpless. If we were to be abandoned at that stage, we would certainly be dead in a few hours at the most. There is nothing we can do to help, defend or support ourselves. We are a piece of living meat. Nothing more. It is our external environment which protects us, sustains us, takes care of our every need and does so at its own cost. We learn to simply take it all as our birthright (sic!) without a word of thanks; firstly, because we are too little to say it and then later, because, well, it is my birthright, right? Our job as babies is to feel sad, glad, bad, mad and yell like hell if we don't like it, content in the knowledge that someone will come to our aid. The fact that you are reading this is proof that they did. At this stage in life, that is the best strategy and frankly the only one as you are truly helpless. We also learn another lesson; that the external environment determines my happiness and so if I am not happy, it must have to do with the external environment. Also since the external environment is so critically important to my survival, I must obey, or I will perish. These are the lessons of childhood that we all learn.
I am reminded of the time when I went to an elephant training camp deep in the forest in the Indira Gandhi National Park in the Anamallais. There I saw an enormous bull elephant, tethered with a coconut fiber rope, to a stake driven into the ground. What I noticed about this animal, apart from his huge size and very dark color (I have never seen a bigger Asian elephant and he was almost completely black) was not only that it was tethered by this ridiculous rope which couldn't possibly hold him, even if he simply decided to start walking away, but that the leg with which it was tethered didn't move at all. It was as if it was paralyzed. The elephant, like all elephants, rocked back and forth as he stood, swaying to a tune only he could hear in his heart. In that process, he lifted his other feet. But the foot which was tethered stayed in the same place.
I knew the answer, but decided to check with the keeper, his Mahawat. I asked him if the elephant couldn't rip out the stake or snap the rope and walk away if he wanted. The Mahawat laughed and said, 'Of course Dorai. That silly rope can't hold him.'
'Why doesn't he do it then?' I asked.
'Because he believes that he can't. He believes that the rope is too strong for him to break.'
'Why is that?' I asked.
'You see, when he was a young calf, we would tether him to the same stake with the same rope. At that time, he would fight with all his strength against the rope and squeal with rage when it wouldn't snap and the stake wouldn't yield. He was too small to break the rope then. Gradually over a few weeks, he learned a very valuable lesson. Valuable for us, otherwise we would never be able to train him. The lesson he learned was the rope is too strong to break and that we are stronger than he is. That lesson remains with him all life long, even when he is not a calf anymore. As I said, that is a very good thing for us. The day he realizes that his strength, which he uses to push down a full-grown tree to get at a succulent bunch of leaves on top can also be used against this rope and us, he will be free and we will have to run for our lives. But not to worry, he will never realize that. He will always be our slave.'
In the same way, it would have been no problem if our condition remained the same and we continued to remain one-year old all through life. But we don't. We grow up physically, our environment changes, we change physically but the problem is that many, if not most of us, don't change mentally and emotionally. So, we have forty-year-old bodies with four-year-old minds. That is why they say, 'The difference between men and boys is the price of their toys.' This is where the problem begins, not at forty years of age, but because we don't learn the lesson that with a change in environment, new skills must be learnt, if you want to survive and grow. But our conditioning of decades comes in the way because we have learned to like this dependence on the external environment, the fact that we can blame everything on it, feel free to do whatever we like without taking responsibility for it and go through life imagining that as long as we have someone to point a finger at, we are not accountable.
Emotional maturity is the process whereby we break the cycle of infancy and accept the fact that we are adults. Not just physically but mentally and emotionally. This means that we accept responsibility for ourselves and our well-being as well as the responsibility for those whose lives we touch. We are aware of our strengths and of the fact that we are a fractal, the coming together of which, with others makes society whole.
To do this there is a critical step that one needs to take which is to understand his/her autonomy i.e. freedom to act according to our will. Simply put, that is not such a big deal. We are all happy to consider ourselves free to act according to our will. What some of us have trouble with, is to recognize that we are free to choose but every choice has a price tag. If we make a choice, we automatically pay the price. In the Vietnam war, American soldiers committed all kinds of horrific atrocities, napalmed entire villages and burned the inhabitants alive, dropped bombs like confetti at a party and did other things, too horrible to be written about here. All following orders. But the tragic fact is that it was not only the Vietnamese who suffered, but that after safely returning home, almost the same number of American Vietnam War Veterans died of PTSD, Agent Orange and other war stress related problems and suicide, as the number killed in Vietnam. The Vietcong didn't kill them. They paid the price of obeying orders in Vietnam. A price which they didn't consider when obeying those orders. But a price that was rung up at the till nevertheless. We must pay for what we buy. Always.
Autonomy is to understand this and to be very careful about what you buy, because sometimes the price is far higher than we can afford.
Truly it is said that all wars are the poor of one country killing the poor of another for the benefit of the rich of both. Only when soldiers understand this, will we have a world without war. The 'excuse' I am usually given when I say these things is, "Well if they shoot you and use their army to kill you, what choice do the poor people have?" I say that poor people, including you and me still have the choice of standing up and dying. Not lying down and dying. For dying, we will all do one day. The choice is how. It is not important whether you win or lose a battle. What is important is which side you fought on. The reality is that if enough of us choose to take positive, courageous stances this world will change. Oppressors can't function without supporters. Those fighting oppression, can. Even one person standing up for justice inspires a million others. Recall the iconic pictures of the one person standing before the tank in the long-forgotten Tiananmen Square. Yes, that still didn't stop the massacre which the US, UN, U&Me have all chosen to forget. Yet that image lives on and inspires me at least. And I am sure many more. It is a tribute to people of courage that this was not the only such instance, photographed or not. So, to repeat myself, 'Oppressors can't function without supporters. Those fighting oppression, can.'
Autonomy is to understand that we, each one of us individually, is incredibly powerful. That all change begins with the individual person, man or woman. It is only when one person stands up, that others join. As in the case of Spartacus the Hollywood movie about the slave who fought the Roman Empire and eventually lost. When the slave army was defeated and surrounded, the Roman Commander announced, 'If you give up Spartacus, your lives will be spared and you can go back to your former jobs (as slaves). If not, every one of you will be crucified.' There was silence.
Then one man stood up and said, 'I am Spartacus.'
Then another stood up and said, 'I am Spartacus.'
Then a third and a fourth until the entire slave army stood up together and proudly shouted, 'I am Spartacus.'
That is because Spartacus had changed, from being a person, to being an ideal, a goal worth dying for, a legacy worth leaving behind.
That is the power of autonomy.
I know that what I described above is Hollywood's rendering and a liberal dose of imagination, but nevertheless it makes the point of what I am saying here, that when people choose to exercise their autonomy, good things happen, change happens, human dignity is restored and the world is a better place to live in.
And the alternative?
Keep blaming the world for your failures, your laziness and your inertia. Keep watching as someone just like you, is dragged off a United Airlines flight and tell yourself, 'It's not my fault. I am helpless. It is not the fault of those dragging him off either. They are only following orders. Nothing will change even if I stand up and walk out. Nobody will stand up with me. I will only miss my flight. Etc. etc.'
And United is not the only one. Other airlines are not to be left behind in ensuring the best customer service. https://tgam.ca/2fDfnAz
Stand in a queue at a bank in India and watch as an old man standing in the same queue ahead of you, falls dead. As they take the body away, move one place ahead. Do it quietly as if nothing happened. Don't draw attention to yourself. Just move forward. After all, what can you do if someone just drops dead? What can you do when you also need to get into the bank to get your money out because your government decided to play games with your life's savings? What can you do when you finally do reach the teller, he tells you, 'Sorry we have no cash. We have run out of notes.' It is not his fault, is it? It is certainly not yours. So, whose fault, is it?' Stop asking stupid questions. Go home and come earlier tomorrow. After all you can't rely on someone to conveniently die every day to give you a place ahead, can you?
Sit on your sit-upon, in your nice seat in the UN General Assembly and listen to the soul stirring speech of the President of the United States (no less) declaring that he is prepared to evaporate North Korea and wipe it off the face of the map. Try to imagine what the world map will look like with a blank space where North Korea used to be. Try to imagine what the world map looks like today with North Korea where it is. North who? Try to imagine the effect of nuclear weapons today that make the atomic bombs dropped on Hiroshima and Nagasaki, look like party crackers. Remember that they were dropped also on the orders of another President of the United States of America – not ISIS. Try to imagine what will happen to Japan and China and Russia if North Korea is the target of a nuclear strike.
Ignore the voice which is whispering in your ear, "What do you think you should do now?"
"Who? Me?"
"Yes, you."
"I have no orders from my government to do anything. Do you know who this is? This is the President of the United States of America. Even more importantly, it is Donald Trump, Esq. What will I do? Nothing. It is not my fault. I have to follow orders. I need my job. I am not here to change the world."
"Then why are you in the United Nations General Assembly?"
Ignore it. Say nothing. Do nothing. Gradually it fades away. Gradually it dies. You will feel it in your heart. You will feel the dead weight. But not to worry. You will get used to it.
Just like those who sent children to gas chambers in Nazi Germany got used to it. Just like those who shoot a pregnant Palestinian mother in the belly and say, 'Two in one', got used to it. Just as those who are raping pregnant Rohingya women, then ripping open their bellies and throwing their unborn children into the fire, got used to it. Just like those police officers in India who shoot under-trial prisoners and call it an 'Encounter Killing' and are extolled in the Indian press and media as 'Encounter Specialist', got used to it.
That killing an innocent person is murder according to the IPC and CrPC which the same police officers are sworn to uphold, is a mere detail, best ignored. More important to 'solve' cases and save the State time and money which otherwise would be spent in tedious investigation, collecting evidence, producing it before the judge, arguing the case and waiting for the judgment; anxious all the while that it may go against you because your evidence was manufactured and not discovered. Meanwhile, the State pays for the prisoner's housing and food (so what if that is in prison?). So much easier and cheaper to use one single bullet in the back of the head. And announce the next day to the ever-ready press, 'Prisoner was killed in an encounter.'
After all, just like you, Mr/Ms. UN Delegate, all these people are also following orders. They also need their jobs. Strange, that they also have their own wives who they love very much. They also have children they dote on. Yet they don't see the faces of those they love in those they oppress, rape and murder. To them, it is only their own flesh and blood who have names. Others are merely numbers, labels and objects of hate. If you don't believe me, raise a chicken as a pet, give it a name that it responds to and then one day, try to slaughter it for dinner.
The very meaning of autonomy is to take a stand. To stand up and say, 'No matter what orders, no matter that I need the job, no matter what anyone says, I will not be a part of injustice.'
It is to stand up and say, 'There is a price to pay for standing up and a price to pay for keeping silent. I will stand up because I know that the price to pay for remaining silent is far higher.'
Remember the words of Pastor Martin Niemoller (14, January, 1892-6 March 1984)
"First they came for the Communists, and I did not speak out, because I was not a Communist. Then they came for the Trade Unionists, and I did not speak out, because I was not a Trade Unionist. Then they came for the Jews, and I did not speak out, because I was not a Jew. Then they came for me and there was no one left to speak for me."
Living is about choosing. To take a stand is a choice. To do nothing is also a choice. And all choices have price tags.
That is why I ask myself, "If not now, then when? If not me, then who?"
Ya Qawmi: Strengthen Civic Roots In Society To Be A Force For Good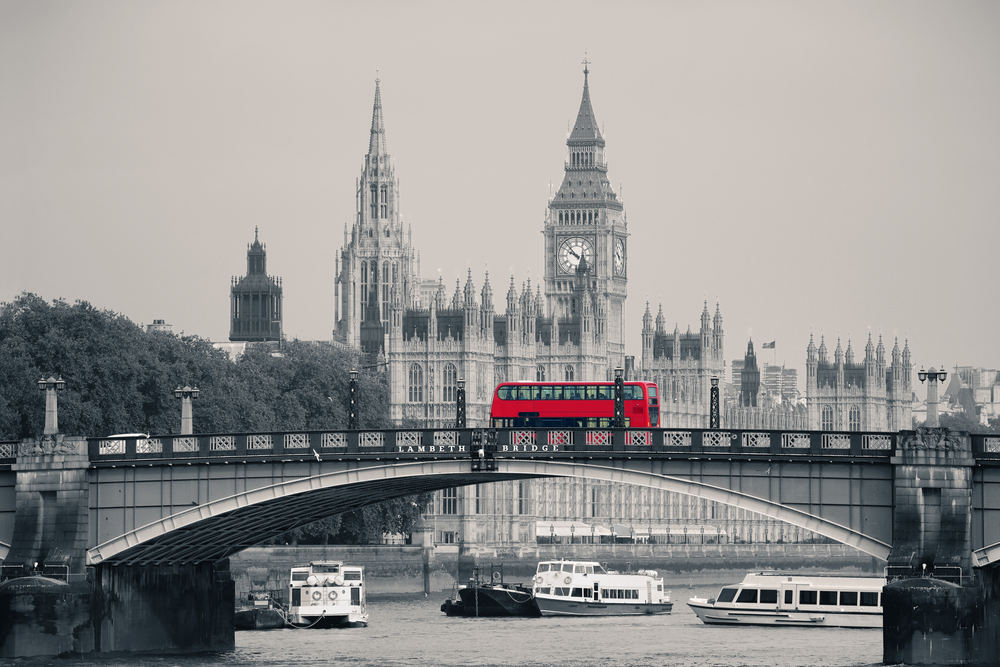 For believers the traditions and teachings of the Prophets (blessings on them), particularly Muhammad

, are paramount. Each Prophet of God belonged to a community which is termed as their Qawm in the Qur'an. Prophet Lut (Lot) was born in Iraq, but settled in Trans-Jordan and then became part of the people, Qawm of Lut, in his new-found home. All the Prophets addressed those around them as 'Ya Qawmi' (O, my people) while inviting them to the religion of submission, Islam. Those who accepted the Prophets' message became part of their Ummah. So, individuals from any ethnicity or community could become part of the Ummah – such as the Ummah of Prophet Muhammad.
Believers thus have dual obligations: a) towards their own Qawm (country), and b) towards their Ummah (religious companions). As God's grateful servants, Muslims should strive to give their best to both their Qawm and Ummah with their ability, time and skillset. It is imperative for practising and active Muslims to carry out Islah (improvement of character, etc) of people in their Ummah and be a witness of Islam to non-Muslims in their Qawm and beyond. This in effect is their service to humanity and to please their Creator. With this basic understanding of the concept, every Muslim should prioritise his or her activities and try their utmost to serve human beings with honesty, integrity and competence. Finding excuses or adopting escapism can bring harm in this world and a penalty in the Hereafter.
Like many other parts of the world, Britain is going through a phase lacking in ethical and competent leadership. People are confused, frustrated and worried; some are angry. Nativist (White) nationalism in many western countries, with a dislike or even hatred of minority immigrant people (particularly Muslims and Jews), is on the rise. This is exacerbated through lowering religious literacy, widespread mistrust and an increase in hateful rhetoric being spread on social media. As people's patience and tolerance levels continue to erode, this can bring unknown adverse consequences.
The positive side is that civil society groups with a sense of justice are still robust in most developed countries. While there seem to be many Muslims who love to remain in the comfort zone of their bubbles, a growing number of Muslims, particularly the youth, are also effectively contributing towards the common good of all.
As social divisions are widening, a battle for common sense and sanity continues. The choice of Muslims (particularly those that are socially active), as to whether they would proactively engage in grass-roots civic works or social justice issues along with others, has never been more acute. Genuine steps should be taken to understand the dynamics of mainstream society and improve their social engagement skills.
From history, we learn that during better times, Muslims proactively endeavoured to be a force for good wherever they went. Their urge for interaction with their neighbours and exemplary personal characters sowed the seeds of bridge building between people of all backgrounds. No material barrier could divert their urge for service to their Qawm and their Ummah. This must be replicated and amplified.
Although Muslims are some way away from these ideals, focusing on two key areas can and should strengthen their activities in the towns and cities they have chosen as their home. This is vital to promote a tolerant society and establish civic roots. Indifference and frustration are not a solution.
Muslim individuals and families
Muslims must develop a reading and thinking habit in order to prioritise their tasks in life, including the focus of their activism. They should, according to their ability and available opportunities, endeavour to contribute to the Qawm and Ummah. This should start in their neighbourhoods and workplaces. There are many sayings of the Prophet Muhammad on one's obligations to their neighbour; one that stands out – Gabriel kept advising me to be good to my neighbour so much that I thought he would ask that he (neighbour) should inherit me) – Sahih Al-Bukhari.
They must invest in their new generation and build a future leadership based on ethics and professionalism to confidently interact and engage with the mainstream society, whilst holding firm to Islamic roots and core practices.
Their Islah and dawah should be professionalised, effective and amplified; their outreach should be beyond their tribal/ethnic/sectarian boundaries.
They should jettison any doubts, avoid escapism and focus where and how they can contribute. If they think they can best serve the Ummah's cause abroad, they should do this by all means. But if they focus on contributing to Britain:

They must develop their mindset and learn how to work with the mainstream society to normalise the Muslim presence in an often hostile environment.
They should work with indigenous/European Muslims or those who have already gained valuable experience here.
They should be better equipped with knowledge and skills, especially in political and media literacy, to address the mainstream media where needed.
Muslim bodies and institutions
Muslim bodies and institutions such as mosques have unique responsibilities to bring communities together, provide a positive environment for young Muslims to flourish and help the community to link, liaise and interact with the wider society.
By trying to replicate the Prophet's mosque in Madinah, they should try to make mosques real hubs of social and spiritual life and not just beautiful buildings. They should invest more in young people, particularly those with professional backgrounds. They should not forget what happened to many places where the Muslim presence was thought to be deep-rooted such as Spain.
It is appreciated that the first generation Muslims had to establish organisations with people of their own ethnic/geographical backgrounds. While there may still be a need for this for some sections of the community, in a post-7/7 Britain Muslim institutions must open up for others qualitatively and their workers should be able to work with all. History tells that living in your own comfort zone will lead to isolation.
Muslim bodies, in their current situation, must have a practical 5-10 year plan, This will bring new blood and change organisational dynamics. Younger, talented, dedicated and confident leadership with deep-rooted Islamic ideals is now desperately needed.
Muslim bodies must also have a 5-10 year plan to encourage young Muslims within their spheres to choose careers that can take the community to the next level. Our community needs nationally recognised leaders from practising Muslims in areas such as university academia, policy making, politics, print and electronic journalism, etc.
Do You Know These Heroes of Eid?
Ramadan is a time of sacrifice, and the Eid honors and celebrates the fulfillment of that sacrifice. But for many the hardships do not end.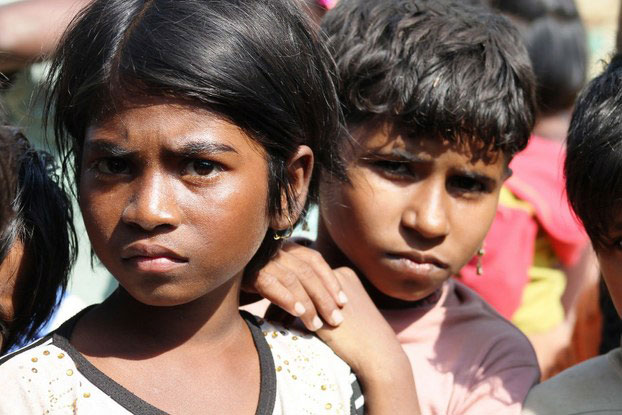 Ramadan is a time of sacrifice, and the Eid honors and celebrates the fulfillment of that sacrifice. But for many the hardships do not end.
Between one million and three million Muslims are being detained in concentration camps in China, while masjids are being demolished and imams executed.
The Rohingya Muslims of Burma continue to suffer from terrible persecution. In one Rohingya refugee camp on the Burma / Bangladesh border there are half a million children. These children are banned by the Burmese authorities from attending school and are at risk of early marriage, child labor or being trafficked.
In the Central African Republic, the Muslim minority lives in daily fear of being killed, especially in the south.
The Palestinians continue to suffer after seventy years of occupation, with no end in sight.
Russian and Assad regime attacks on civilians continue in Syria, with the real possibility of an upcoming genocide in Idlib province.
Heroes Abound
In the midst of this all suffering, heroes abound. There's Serikzhan Bilash of Kazakhstan, who has labored feverishly to document China's internment of Muslims across the border. He urges those in his organization to continue their work, even as he himself has been arrested.
Those Rohingya children I mentioned in the refugee camp, banned from attending school? One 14-year-old Rohingya girl mentioned in the article has managed to enroll in school in Bangladesh. Her mother sold her food rations and borrowed money to create a fake Bangladeshi birth certificate, then paid a smuggler to take her daughter out of the camp. The girl herself says, "People hate the Rohingya here. I don't tell people I am one… I have to lie about my identity to survive. Even though it's a big struggle… I am able to study. There are hundreds of thousands of kids like me inside of the camps who are forced to marry off early…They have no opportunities."
Also in that camp is 13-year-old Halim, who runs his own tutoring service, where he teaches more than 20 children. He says, "I am teaching them so they can do something for our nation. If they don't learn anything, they can't prosper in their life, as well as they can't fight for the nation."
In Palestine, let us not forget Razan al-Najjar, a 21-year-old volunteer paramedic from Gaza who was shot by an Israeli sniper on June 1, 2018, while tending to a tear gas victim. In her last Facebook post, the day before she was killed, she wrote, "Your conscience will be comforted as much as possible since God always knows your intention. #sleep_well Be good."
In Syria, we have Dr. Omar Ibrahim, an Egyptian neurosurgeon who could probably be earning a hefty salary anywhere in the world, but instead labors under constant bombardment in the war-torn and half crushed city of Idlib. He's been in Syria for five years and says, "I have no regrets about doing this work. Because I have passion for my work, and this work inspires me."
A Religion of Heroes
Such stories are amazing, but they are not unique. There are countless heroes, and should that surprise us? Islam is a religion of heroes, and has always been so, going all the way back to its inception in Makkah, when the Prophet Muhammad (sws) drew around himself the weak and powerless, the slaves and foreigners. They were tortured, but did not surrender their new faith. Heroes.
Or, several years later, when the disbelievers of Arabia came in great numbers to wipe the Muslims off the face of the earth. The Muslims dug a great trench around Madinah, and held off the attackers under conditions of hunger and terrible cold, until – with Allah's help – the siege was broken. Heroes.
So if you thought such heroes were a thing of the past, remember Serikzhan Bilash, the Rohingya girl, Halim, Razan al-Najjar, Dr. Omar Ibrahim and the untold, uncounted heroes like them. You may even know a few heroes personally. I do.
There's my friend Karim, who works for an organization that sponsors Muslim orphans. He's overworked and underpaid, and struggles to support his family and two children. He's highly experienced and could earn more somewhere else. But he sticks with it because he believes in Islamic work.
I think also of my daughter's homeroom teacher, sister Sharmeen. She's an enthusiastic teacher who pushes the children to read, write and understand the roots of language. She does more than is required and is not appreciated as she should be. But once again, her passion drives her.
Persistence of Dua'
Our local Imam recently gave a khutbah about the importance of dua'. He said that Allah loves the dua' that is persistent. Ibn al-Qayyim (may Allaah have mercy on him) said in al-Daa' wa'l-Dawa': "One of the most beneficial of remedies is persisting in dua'."
So be persistent. Pray for our suffering Ummah, and pray for our heroes. And donate whatever you can spare to the organizations that work on their behalf.
My Ordinary Life
As for me, my life is ordinary. On the morning of Eid, I, my mother and my daughter Salma – who is twelve years old now – wake up early and put on our best clothes, inshaAllah. We get in the car and stop at Krispy Kreme donuts.  I buy a box of a dozen to share with others after Salat al-Eid, and a few extras in a bag for our family, so we don't have to wait in a long line and elbow people to snatch a cruller.
I pick up my cousin's son, who does not have a car. We go downtown to the Fresno convention center and sit among a thousand other Muslims. We recite the Takbeerat al-Eid, praising Allah's greatness. The Eid salat begins, then I strain to hear the khutbah as so many people begin chattering right away. Especially, the sisters. Sorry ladies, but it's true :-)
I know, it all sounds a bit silly, but I'm excited. It's a wonderful day. I see brothers that I haven't seen since last year. Everyone is wearing their best outfits.
But it's not about the donuts or the nice clothes. It is this feeling of sharing a connection with every Muslim around the world; a feeling of being part of something great.
When we return home, my mother makes cookies, and we put some decorations on the walls. Salma opens her presents, which this year are a new Switch game, a dartboard and a pearl necklace. It's the first piece of real jewelry I've ever bought her. Buying it left me with $18 in my bank account, which means I predict a lot of Uber driving (my side job) in my near future. So I hope she likes it.
On such days, I thank Allah that I am alive to see another sunrise. Another day to strive to be a better Muslim and a better human being.
The Spirit of the Prophets
I also talk to Salma, as I do every year, about our Muslim brothers and sisters who are struggling all over the world, fighting for their freedom and their very survival. They don't have pizza and donuts on Eid or pearl necklaces. Some are starving. Most have lost someone: a parent, a child, a sibling or a friend. Some have been utterly devastated.
Yet they are resolute. They have a deep strength that, like the well of Zamzam, never runs dry, SubhanAllah. They will not give up their hopes, their dreams or their faith, Allah willing.
These are the real heroes of Eid. I feel small next to them. They are the ones living the spirit of the Prophets and the Sahabah. They have made the greatest sacrifices, and are still striving, undaunted. They are living the words of Allah:
"Say: 'Verily, my ṣalāh, my sacrifice, my living, and my dying are all for Allāh, the Lord of the 'Alameen'" (6:162).
May Allah ease the hearts of all who are suffering, replace pain with comfort and joy, sickness with health, oppression with liberation, and tyranny with freedom. May Allah give them security, safety, comfort, victory, and Jannah.
Chronicles of A Muslim Father: It All Began With a Prayer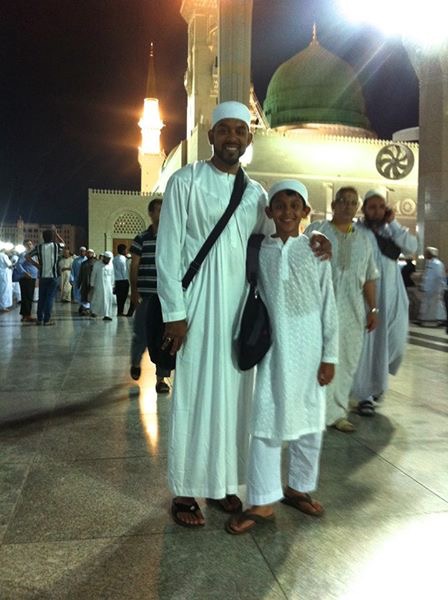 They say it takes a village to raise a child. Family, friends, neighbors, coaches, and teachers are all part of that community and the pillars of that system are the parents. Mothers specifically have and continue to make monumental contributions to this effort. But what about Muslim fathers?
There are thousands of blog posts and hundreds of books on the fundamentals of raising Muslim children in the current climate written by mothers across a diverse array of the spectrum. They have tackled issues that range from Aqiqa's to matrimonials and beyond, but when I needed a fresh perspective on raising Muslim children by someone like me, a Muslim father, I could hardly find any readily available resources.
I don't know if this is a cultural deviancy or just men in general, but we leave all the parenting to the mothers and justify skimming over our responsibilities in the name of "breadwinning". Whatever the case may be, I am a person who is constantly looking for guidance so that I, as their father and the head of the household, can make the right moves for my kids morally, academically and socially.
Furthermore, I am convinced that there are thousands, if not millions of Muslim fathers, just like me looking for the same thing that are coming up empty handed just like I did.
It's for this reason, with the help of Allahﷻ that I have endeavored to fill in this much-needed gap and compose this essential series that will be comprised of archives from my own experiences coupled with advice on best practices and pitfalls in raising Muslim children from a father's perspective.  
I hope and pray that my work will be a source of guidance for both mothers and fathers on raising Muslim children, if not at the very least a catalyst for a call-to-action for fathers to assume their respective roles. May Allahﷻ guide all of us to be the best parents for our children and raise our children amongst the righteous to be the coolness of our eyes. 
Jameel Syed  
Hajj 2000- I find myself at the time of Tahujjud standing humbled with all my faults in front of the ancient house of Allahﷻ trying to collect myself under the shade of night, to muster up the courage to address my Lord in efforts to ask…
What makes me think my voice would reach Him amongst a legion of believers who have come to this place with their righteous deeds and all I have to offer Him are years ladened with transgressions? How do I ask? Where do I begin…
Standing at six feet, I began to shrink both in stature and in spirit. Tears began to swell up in my eyes as I stood as still as a statue. I truly felt more insignificant than the idea of the word "below" itself. As natural as rain falling from the sky to the ground, in one action I collapsed into prostration, embracing the ground as if it were life itself. There I remained for what seemed like an eternity— sometimes praising Him, other times asking for His forgiveness as my body shook uncontrollably with tears running a constant flow. I had no concept of my surroundings or that the world existed at all. In that moment in the darkness, I just felt it was me, Him and the appeal that I had to make. I knew that I had no right. It was not my place to ask and that I had come with nothing to offer, but there was no place else to go, nobody else to turn to. I maintained my sajdah for what seemed like an eternity. Eventually, I summoned up my courage and brought the sentiments of my heart to my lips:
"Ya Allahﷻ pair me with a righteous wife who will give me righteous children." 
At that moment, my prayers that were for me were for them. My tears flowed for them, whatever ramblings came from my mouth were for the unborn children that I have never met. If you think about it, it seemed foolish, so absurd, but in my bones, it felt so right. I didn't even have a wife and there I was begging for righteous children. The truth in context was that I wanted something very special from the Treasury of His Majesty and I came to His House to humble myself to get it.
It was on the sound of the Fajr adhan that I finally arose from my prostration. My cheeks and kurta (shirt) wet with tears and all that was left was contemplation. It seemed as if I was transitioning into yet a different train of thought. 
I began to take account of who I am, what I wanted and what I needed to do. I didn't know the first thing about being a husband or father. I didn't want to repeat the same mistakes I made as a son. I wanted my children to have the best in this world and the next but didn't have a clue on how to pave that path. I wanted to endeavor to strive to be at least as good as my own father and put my family first. In all honesty, as these thoughts began flooding my head, I felt totally helpless and totally overwhelmed. 
I knew that I would have to sacrifice, upgrade my character, prioritize to put the pleasure of Allahﷻ at the forefront of my thoughts and actions. This was a huge shift from how I lived my life for the past couple of decades. My time was mine, my money was mine and I impulsively chased my desires. All that had to change!
Change Brings Change
One thing did, however, make sense to me:
I thought to myself that if I laid down the track based upon my style of thinking, it would certainly be disastrous. I needed to consult with scholars and gather as much information as I could to construct a path in accordance with what Allahﷻ has prescribed to give myself a chance at achieving my dream.
This, I concluded, was what was needed to be done in order to ensure a chance of success. I felt resolute to act upon it. At that thought, the Muaddhin began to recite the Iqama and the entire ordeal concluded.
Six months later, I found myself in the living room of Dr. Ahmed Muneeruddin whose lineage goes back directly to AmĪr-ul-Mu'minīn, Umar Al-Farooq (May Allahﷻ be pleased with him). I was witness to one of the most profound events of my lifetime. My father (the late) Dr. Abdus-Salam Syed recited Khutbah Al-Haajah for the company that was present, which included immediate family from both sides. He then turned his attention to his host and began to declare with profound emotion:
"Praise to be Allahﷻ and blessings and peace be upon His final Prophet and Messenger Muhammadﷺ. I enjoin you to fear Allahﷻ. I have come to you to engage your noblest daughter Maria Muneeruddin to my son Jameel Abdul Syed in accordance with the Sunnah of the Prophetﷺ and the pleasure of Allah ﷻ ." 
He then went on to conclude with Du'a for happiness, well being, prosperity, that the beginning and end of this affair should be on the straight path and that this union should bare righteous children in the future.
She was going to be the mother of my children
It is noteworthy that I had only known my future wife then for two weeks in total with no more than two physical meetings and a half a dozen phone calls.
She presented very strong qualities, which matched all of the qualifiers outlined by the Prophetﷺ: Beauty, wealth, status and religion. As most prospective couples do, we dialogued back and forth measuring each other up against our ideals, but truthfully my decision to pursue her at the end had little to do with any of her questions to my answers. Rather it was the fact that when I looked into her eyes, I saw the mother of my future children and I knew that no other woman on the face of this earth could hold that status for me. It was a feeling I knew to be true and the final criterion for my decision that I feel my heart was guided by Allahﷻ. The series of events that led to my engagement was idiosyncratic and unplanned. In my experience, when Allahﷻ wants something to happen, it happens rather quickly and arrives unannounced and there's nothing anyone can do about it. 
Our marriage took place on July 1st, 2001 in Ontario, Canada. Shortly thereafter she became pregnant and learned that it was going to be a baby boy. Both of our families were elated. It was the first child of the next generation on both sides. We debated back and forth about the name until we finally reached a unanimous decision: Muhammad Jibril Syed. Maria constantly listened to Surah Al-Baqarah during her pregnancy and prayed for him during this eight-month period. My job was to keep her happy! 
On March 13th, 2002, Jibril had arrived at Crittenton Hospital in Rochester, Michigan honoring both Maria and me with the titles of parents. I gingerly picked up the boy and took him to my father who raised the adhan in his right ear and the iqama in his left as per the tradition of The Prophetﷺ. The feeling was indescribable. A feeling of pride, disbelief, elation. Maria felt the same, but she was obviously exhausted. The hospital was flooded with friends and family— it was total chaos. I had to escape, if only for a moment.
I broke away from the excitement and retreated to the hospitals chapel to pray. After prayer, I sat by myself in that room and reflected on how I got to this point. That prayer I made during Tahajjud in front of the Kaabah. It was the beginning of my journey into fatherhood. My heart softened and I began to cry. SubhanAllah, I thought to myself. "Just look at the plan of Allahﷻ. He didn't turn a deaf ear to the pleas of a sinner that day. He's given me so much in such a short period of time. I promised myself that I would not be an ungrateful slave. That I would honor the trust that He's bestowed on me with this child and any other future children by devoting myself to try and raise them in accordance with His pleasure.
As I walked out of the chapel and back to my family, I thought to myself: "I wonder what he's gonna call me…"