The Muslim Response To Islamophobia is Destroying Us From Within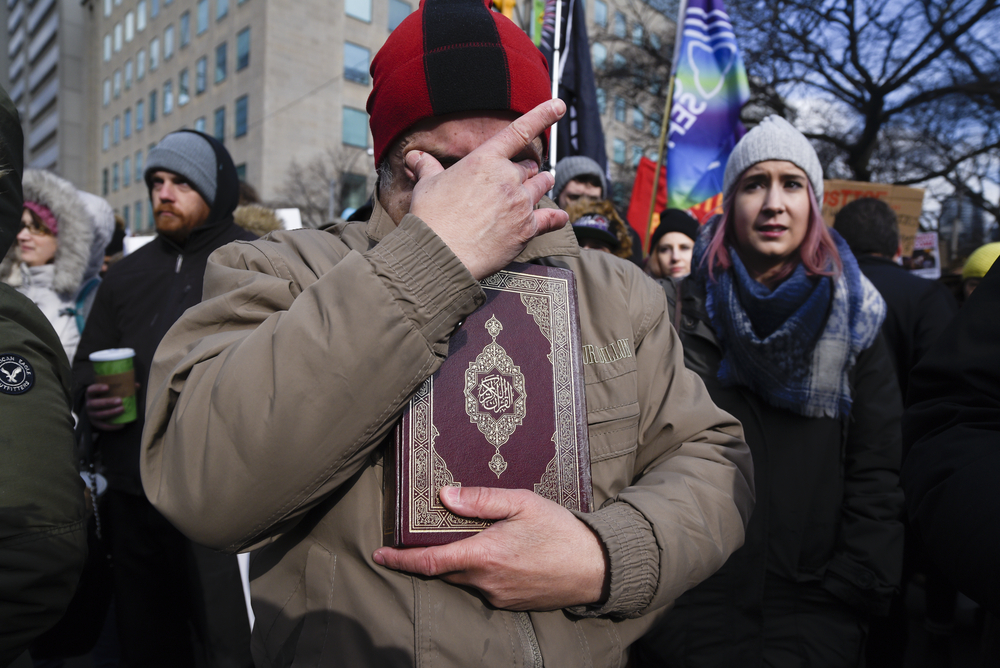 American Muslims are scared and rightfully so. Many are worried about what the future might hold with Trump's presidency and the increase in public expressions of Islamophobia being spewed right and left. While fear is a valid emotion and is necessary in waking us up out of complacency, it can also lead to negative consequences.
As we read throughout the Quran, all communities of believers are tested with fear-inducing trials. Faced with these tests, successful communities stay united on a shared commitment to God and His religion in spite of the fear. This is often easier said than done. Maintaining commitment to one's faith and its tenets is not easy in times of trials (fitan) and, oftentimes, fear and anxiety can cloud the decisionmaking process. For Muslims today, anxiety about Islamophobia has the potential to lead our community down a dangerous road. To see how this happens, we only need to refer to the Quran and its account of Bani Israel. In many instances, a strong sense of fear led Bani Israel to directly disobey God's commandments, which in turn led to ruin (for example, as described in Surah Yunus: "But no one believed Moses, except [some] youths among his people, for fear of Pharaoh and his establishment that they would persecute them." [10:83]).

Fear Factor
We see the same dynamic in religious and ethnic communities today. An eye opening article recently published in The Federalist is provocatively titled "How Liberalism Destroyed the American Jew." The article describes how Jewish American political and moral choices over the past several generations have resulted in a thorough loss of faith. A Pew study cited in the article asked Jewish American respondents: What does it mean to be Jewish? One might imagine that the answer would have something to do with believing in God, reading the Torah, or following Abraham and Moses. These points, however, do not factor into Jewish identity according to the majority of the Jewish Americans surveyed by Pew whereas "eating traditional Jewish foods" and "having a good sense of humor" do. The two religious features a minority of respondents did recognize as part of their identity was "caring about Israel" and "observing Jewish law," but the latter was at the bottom of the list. Other common features of their identity Jewish Americans noted include "leading a moral life" and "working for justice/equality," though these, of course, are not values unique to Judaism.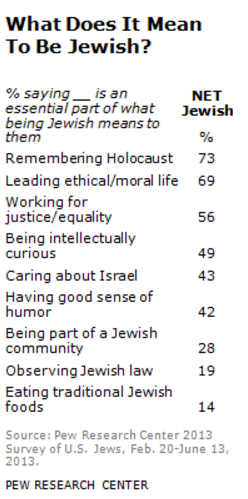 What does all this have to do with fear? Well, it is important to note that "remembering the Holocaust" is the overall number one component of Jewish identity that seventy-three percent of Jews recognized. Is it a coincidence that this component has to do with fear? Is it a coincidence that remembering the one greatest act of anti-Semitism, i.e., the Holocaust, is what most Jews consider to be what being Jewish is all about?
There is a clear connection between the remembrance of the Holocaust being the number-one feature of Jewish identity and the fact that the rest of the list has little to nothing to do with Judaism as a theology and more to do with cultural practices and general values that are endorsed by the dominant American culture at large. Fear is a potent motivator. Fear is a potent justifier. Virtually anything can be justified if one believes that the alternative is the Holocaust.
In contrast to the Jewish community, however, the majority of the American Muslim community has not had genocide in its history (though segments of the American Muslim community, such as Black, Native, Bosnian, and Palestinian American Muslims, among others, have). Undoubtedly, American Muslims must be vigilant in the face of any threat. At the same time, the community must be aware of how preparing for a threat can have unintended negative consequences on the community's faith. For example, making exceptions to, bending, and even discarding otherwise well-established religious principles all become possible if one feels, even remotely, that the spectre of genocide looms. And if the possibility of genocide is on the table, then one can justify to oneself doing anything to embed oneself into the status quo, avoid being politically incorrect, avoid sticking out, avoid going against the grain of the dominant culture, all in order to minimize any hostility by society at large. All of the community's political, social, and cultural decision making is potentially short-circuited by this fear. Of course, none of this is to say that fear is not a perfectly valid, justified emotion. It certainly is and can be used to accomplish great good. But the question is, even when it is justified, how does that fear affect everything else?
Muslim Identity Means Hijab and Hummus?
Recent sociological and anthropological research examines precisely this question. Numerous studies analyze how "minorities" react in the face of "cultural anxiety" due to widespread bigotry and discrimination. What these studies show is that cultural anxiety is positively correlated with two things: 1) "ethnic essentialism" and 2) "multicultural ideology." In laymen's terms, this means that when a minority group feels threatened by the dominant group, they will, first of all, double down on those aspects of their culture and values that they believe to constitute the essence of their group identity. Second, they will increasingly tend to endorse multiculturalism, namely the view that a healthy society should treat all groups within it equally and that the presence of such groups enriches society overall.
These dynamics accurately describe the internal discourse within the American Muslim community since the September 11th attacks. Obviously, Islam is not a culture per se and Muslims are not an ethnicity, but the underlying concepts still apply given that, from a secular perspective, Islam can be considered a set of values, beliefs, and practices, which is what secular academic discourse considers a culture to be for the most part.
That caveat aside, it is beyond dispute that American Muslims have felt a great deal of "cultural anxiety" due to, not only Islamophobic attitudes in American society generally, but also due to hostile government measures that have targeted Muslims and their institutions. The anxiety and fear felt by the Muslim community has led to both essentialism and multiculturalism. Feeling pressure from the dominant American culture has had (what is from an Islamic standpoint) a positive effect of making Muslims more embedded in their Muslim identity, in a word, more "unapologetically Muslim." At the same time, American Muslims have adopted more of a multicultural attitude as they have become more socially and politically engaged. For example, since 9/11, Muslim involvement in interfaith events, interfaith coalitions, etc., saw a massive increase. Muslim involvement in mainstream political groups and coalitions also jumped. The language of Muslim leaders, imams, and speakers has also been suffuse with expressions of multiculturalism, diversity, relevance, engagement, etc.
While anxiety and fear drive these tendencies of essentialism and multiculturalism, the two are often opposing forces. This is because multiculturalism is characterized by coming together on the basis of shared interests and other commonalities whereas essentialism is characterized by emphasizing differences in order to distinguish one's own group from the dominant majority. How is this tension resolved?
For American Muslims, the danger is that this tension could result in a deliberate de-emphasis and minimization of those beliefs, values, and practices of Islam that most directly conflict with the dominant culture while overemphasizing specific Muslim cultural markers. This would allow Muslims to maintain some form of a unified, essentialistic identity — even though, primarily, it is cultural rather than religious identity — while also integrating themselves within the larger American milieu and its institutions, which, for the most part, tolerate and even celebrate cultural diversity but not theological, ideological, or ethical diversity. We have seen some signs of this in context of Muslim involvement with certain American political parties in recent years. And again, the example of Jewish Americans proves instructive. As a community, Jewish Americans have a very strong sense of identity and group cohesion, i.e., due to their essentialism, while also being well integrated socially, politically, and culturally, i.e., due to their multiculturalism. In other words, they have resolved the essentialism-multiculturalism divide. But as the previously cited Pew study discovered, the resulting Jewish identity has little to do with the particulars of Judaism as a religion.
Muslim and Atheist at the Same Time
This secularization of Jewish identity also explains the phenomenon of "Jewish atheism." Not all Jews agree that one can be a Jew without believing in God. Nonetheless, Jewish atheist institutions have become a well established and growing part of the overall Jewish American community. This is not surprising given that half of all Jewish Americans have doubts about God's existence.
We see similar trends in the Muslim community, as new labels like "ex-Muslim" and "atheist Muslim" have been adopted by people who consider themselves "culturally Muslim" but "theologically atheist." Neologisms like "atheist Muslim" only make sense if "Muslim," like "Jew," is rendered as an ethnic or cultural label, one among many. Of course, the Arabic word "Muslim" itself means "one who submits [to God]" and theologically to be Muslim, in truth, has certain requirements in terms of belief and practice. But these requirements are set by God and communicated through revelation. But from a secular perspective that denies the existence and/or relevance of God, "Muslim" can be deployed in whatever way convention dictates. By this standard, even "Muslim Jew" or "Muslim Christian" should be a linguistic and conceptual possibility.
Ultimately, "cultural anxiety" in the form of Islamophobia will continue to pressure Muslims to secularize and racialize their Muslim identity. As a community, we need to be well aware of this pressure so that we can recognize its signs and strive to resist it. By surrendering ourselves to a crippling fear of anti-Muslim bigotry, we risk losing our very souls. Rather, we need to channel that fear into positive practical and spiritual avenues, namely Islamically-informed activism as well as increased reliance on and fear of God Almighty.
To think of it differently, if there are extreme Islamophobes in the world who want to stamp out Muslims as a religious community, there are two methods to do so. One method would be to deport, intern, or kill Muslims through acts of bigotry or even genocide. The other method would be to create conditions that are conducive to the erosion and dissolution of Muslim faith, such that, eventually, being Muslim has nothing to do with the religious values and norms of Islam. We should ensure that, in our heightened concern for combating the first method, we do not forget to combat the second equally nefarious, equally destructive method as well.
Faith Community Stands With Peace And Justice Leader Imam Omar Suleiman During Right Wing Attacks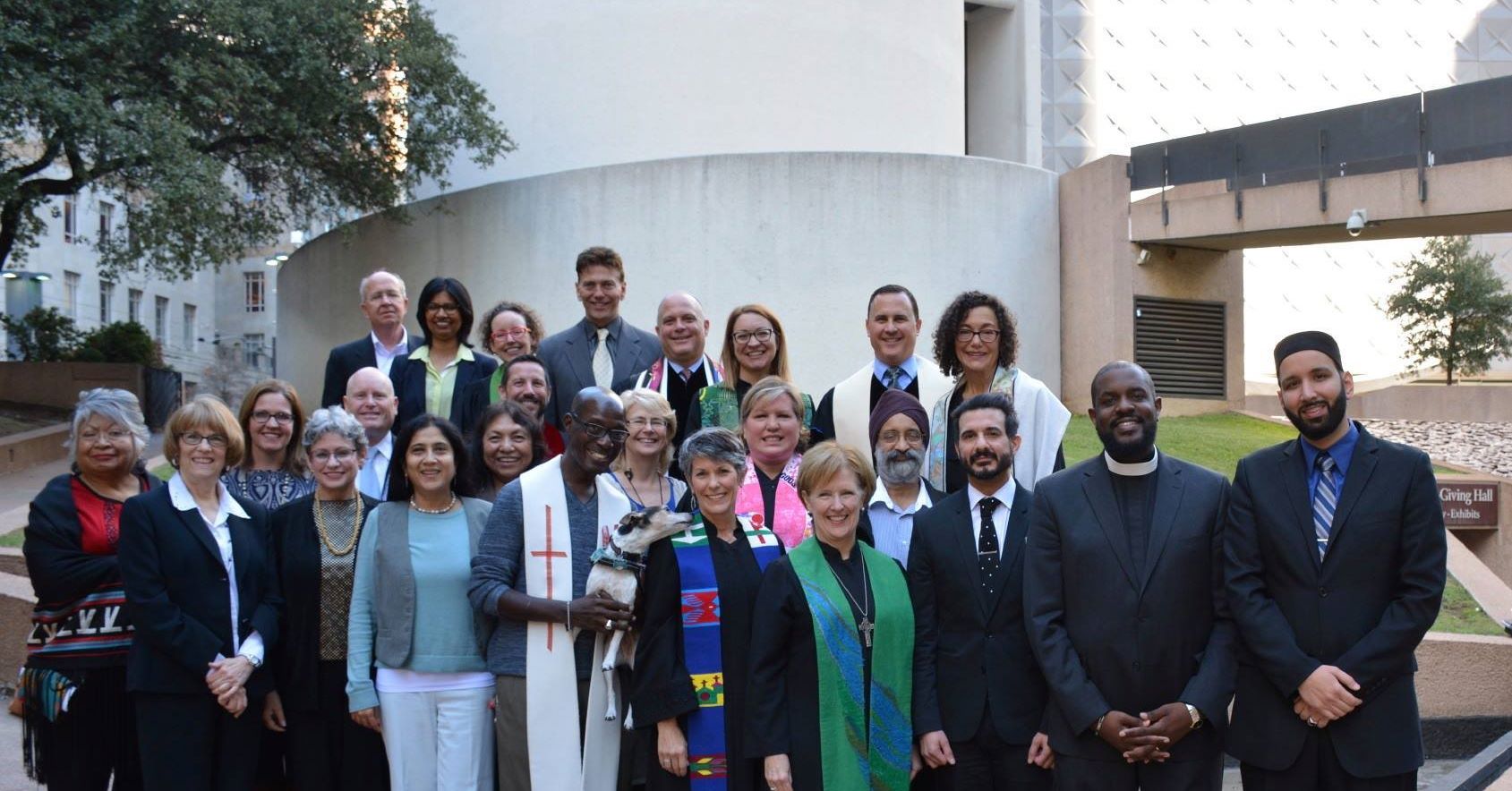 In a follow up to the right-wing media platforms attack on Imam Omar Suleiman – calling him anti-semitic, a common tactic used to discredit both Muslim activists, as well as criticism of Israel policies, Faith Forward Dallas issued a statement.
Faith Forward Dallas at Thanksgiving Square – Faith Leaders United for Peace and Justice is a Texas-based interfaith organization that has worked on many initiatives with Imam Omar Suleiman.

The statement reads:
"Imam Omar Suleiman a spiritual and moral voice for peace with justice!!!!!

Time after time in our city, in the United States and around the world, Imam Omar Suleiman has been a spiritual and moral voice for peace with justice. When others seek to divide, he calls for unity. Faith Forward Dallas at Thanks-Giving Square works to unite faith leaders for justice and compassion. Imam Suleiman has been a trusted leader among us. In the wake of his beautiful prayer to open the House of Representatives on May 9, he has received threats of violence and words of vilification when instead he should have our praise and prayers. We call upon people of good will everywhere to tone down the rhetoric, to replace hate with love, and to build bridges toward the common good.

Faith Forward Dallas at Thanks-Giving Square"
Commenters on the Faith Forward Dallas statement have left comments of support.
The group has invited locals and other leaders to endorse and share the statement. "Endorsed! I love and fully you Imam Omar Suleiman!" wrote Karen Weldes Fry, Spiritual Director at Center of Spiritual Learning in Dallas (CSLDallas), commenting on the statement.
Some commentators do not understand the manufactured controversy.  Heather Mustain writes, "What people are writing is so vile. They obviously didn't even listen to his prayer!" Imam  Omar Suleiman delivered the opening prayer in the US House of Representatives on May, 9th, 2019  at the invitation of Rep. Eddie Bernice Johnson (D) of Dallas, TX.
"I'm grateful for the faith leaders with whom I've built relationships with and served with for years that have shown full support throughout this process. Together we've stood with one another in solidarity in the face of bigotry, and in the support of others in any form of pain. We will not let these dark forces divide us," said Imam Omar Suleiman in response to the outpouring of love from the people he has worked with on the ground, building on peace, love, and justice.
#UnitedForOmar – Imam Omar Suleiman Smeared by Right-Wing News After Opening Prayer at US House of Representatives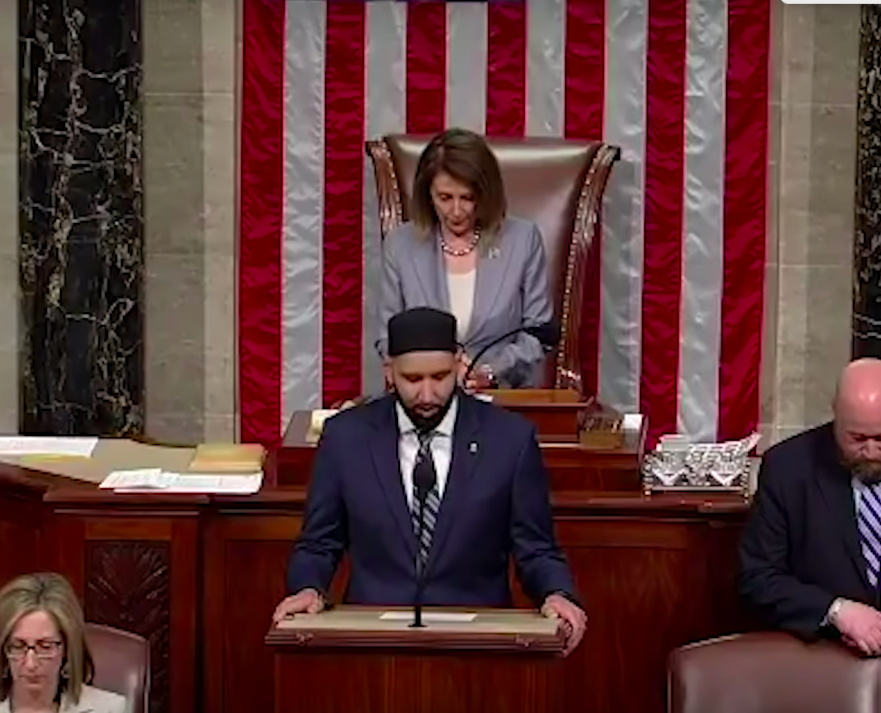 Sh. Omar Suleiman delivered the opening prayer in the US House of Representatives yesterday, May, 9th, 2019  at the invitation of Rep. Eddie Bernice Johnson (D) of Dallas.
Immediately since, right wing media platforms have begun spreading negative coverage of the Imam Omar Suleiman – calling him anti-semitic, a common tactic used to discredit both Muslim activists as well as criticism of Israel policies.

News outlets citing the criticism have pointed to a post from The Investigative Project on Terrorism or ITP, as the source. The  ITP was founded by and directed by noted Islamophobe Steven Emerson. Emerson's history of hate speech has been documented for over two decades.
Since then, the story has been carried forward by multiple press outlets.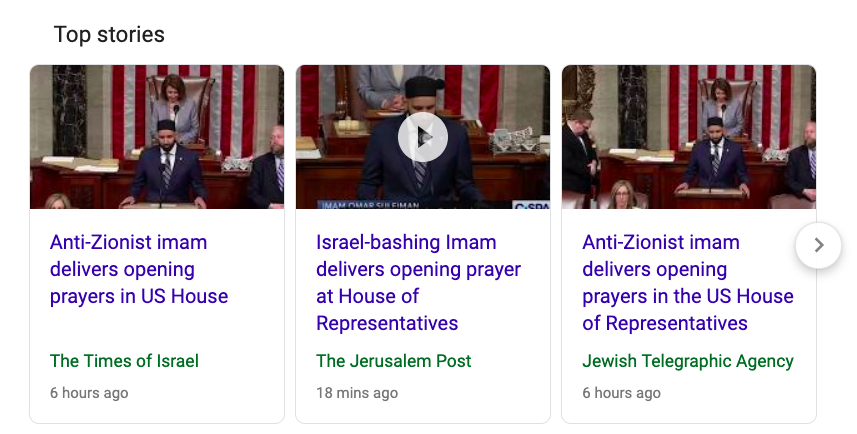 The immediate consequence of this has been the direction of online hate towards what has been Imam Omar Suleiman's long history of preaching unity in the US socio-political sphere.
"Since my invocation I've been inundated with hate articles, threats, and other tactics of intimidation to silence me over a prayer for unity," Imam Omar Suleiman says. "These attacks are in bad faith and meant to again send a message to the Muslim community that we are not welcome to assert ourselves in any meaningful space or way."
MuslimMatters is proud to stand by Imam Omar Suleiman, and we invite our readers to share the evidence that counters the accusations against him of anti-semitism, bigotry, and hate. We would also encourage you to reach out, support, and amplify voices of support like Representative E.B.Johnson, and Representative Colin Allred.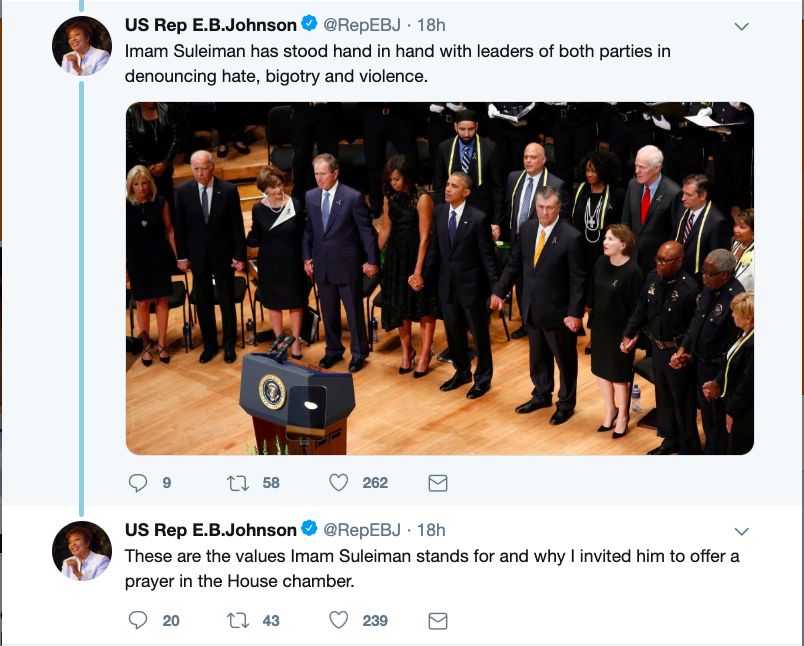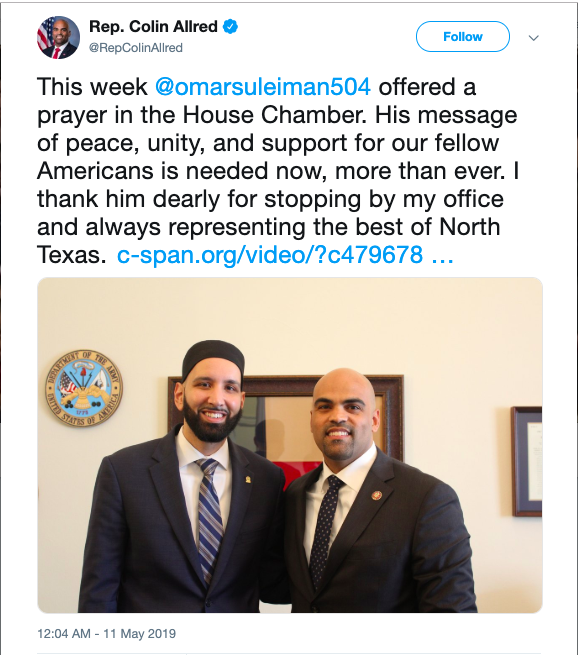 You can help counter the false narrative, simply by sharing evidence of Imam Omar Suleiman's work. It speaks for itself, and you can share it at the hashtag #UnitedForOmar
JazakAllahuKheiran
---
At an interfaith panel discussion, three North Texas religious leaders promoted understanding and dialogue among Muslims, Jews, and Christians. Amid a vexed political and social climate, three religious leaders in North Texas—a priest, an imam, and a rabbi—proved it's possible to come together in times of division. Source: DMagazine.com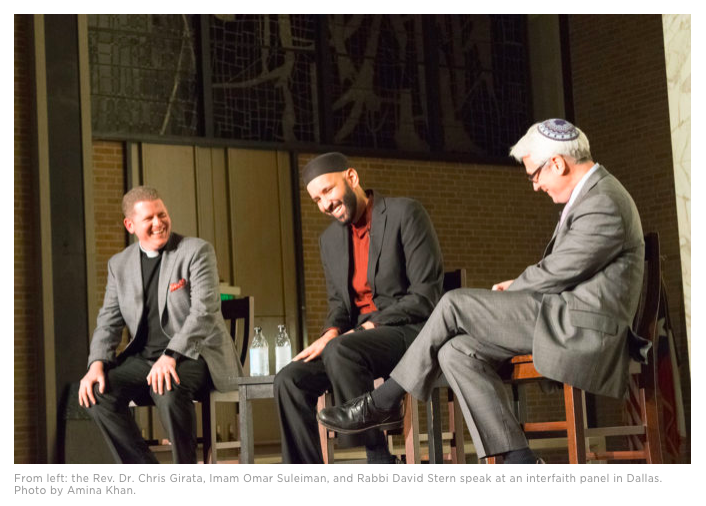 ---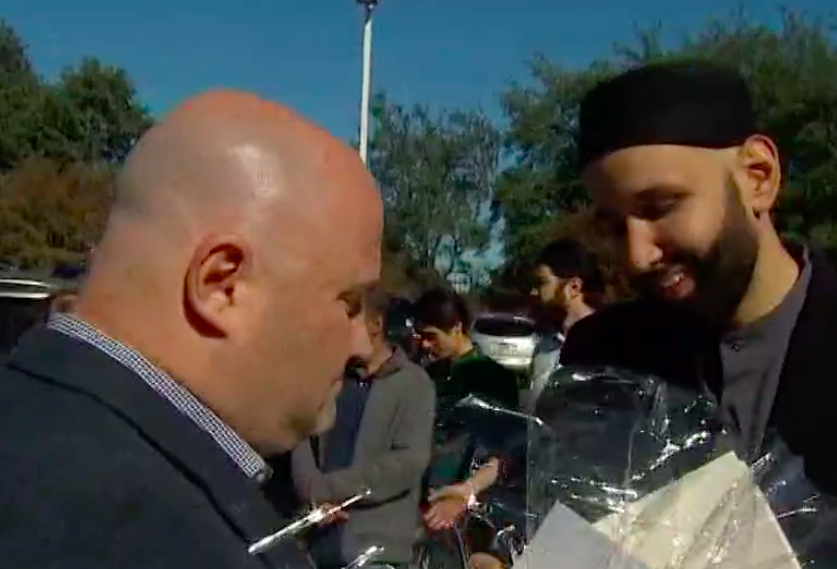 The congregation, led by Imam Omar Suleiman, penned more than 150 cards and letters. source: WFAA News
---
"We must recognize that the white supremacy that threatens the black and Latino communities, is the same white supremacy that spurs Islamophobia and antisemitism," -Imam Omar Suleiman
Source: Bend The Arc
---
"When any community is targeted, they need to see a united faith voice — that all communities come together and express complete rejection of anything that would pit our society against one another more than it already is." -Imam Omar Suleiman
Source: Kera News

---
Source: The Carter Center
---
Imam: After devastating New Zealand attack, we will not be deterred
"My wife and I decided to take our kids to a synagogue in Dallas the night after the massacre at Tree of Life in Pittsburgh to grieve and show solidarity with the Jewish community. My 5-year-old played with kids his age while we mourned inside, resisting hate even unknowingly with his innocence…" Source: CNN
Ben Shapiro Gets Wrecked on the BBC for Racism Against Palestinians and American Jews
Andrew Neil so thoroughly destroys Ben Shapiro that he has a snowflake meltdown and retreats in the middle of the interview to his own safe space, off-camera.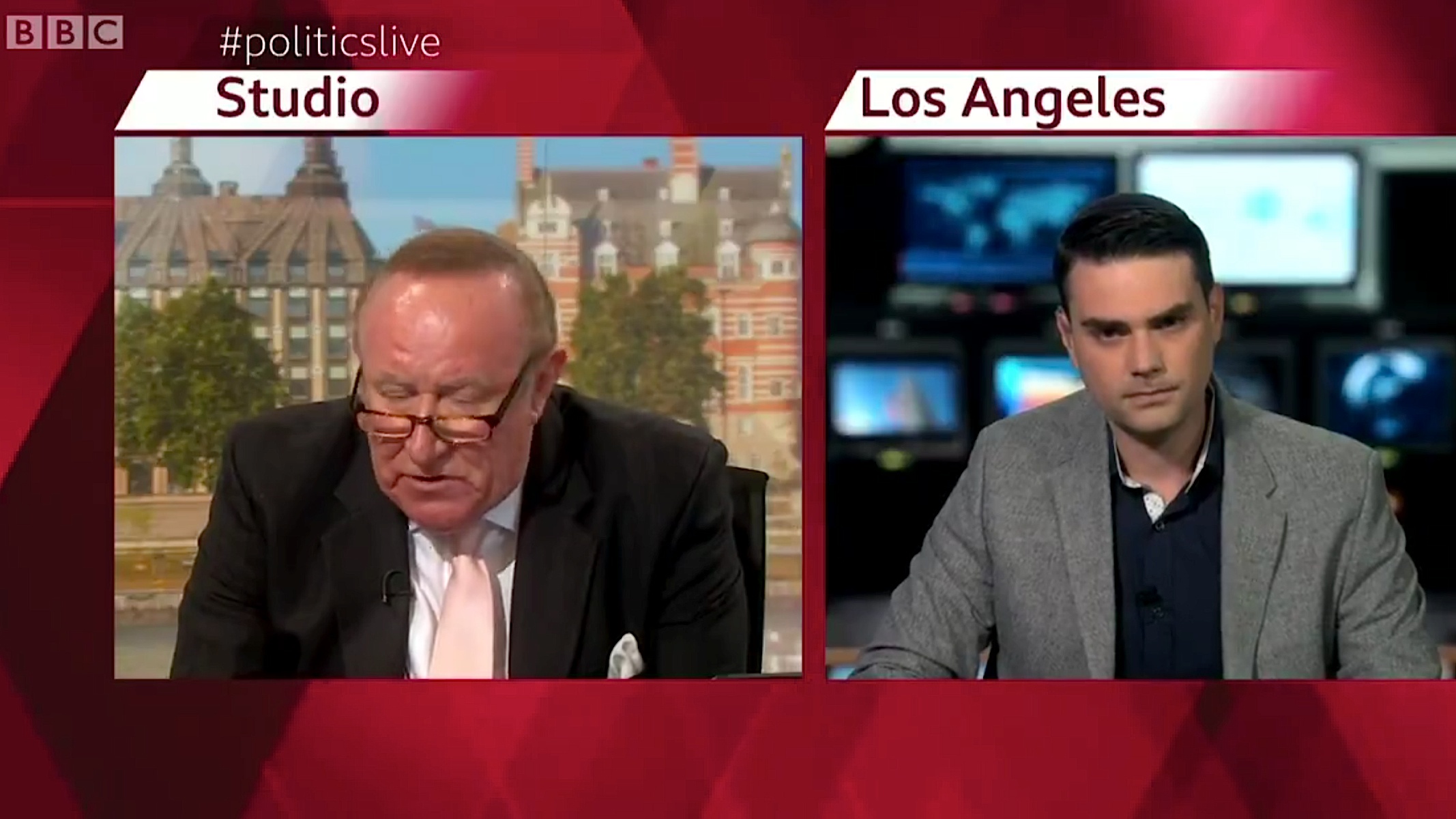 The video plays at the 10:00 minute mark where Neil begins to break down Shapiro on his statements about President Obama, Palestinians, and American Jews.
Let's set the context – popular conservative commentator Ben Shapiro, known for his aggressive debate style in the public square, visited the BBC to promote his new book.  The interviewer, Andrew Neil, after giving Shapiro a chance to introduce himself to the BBC audience, questioned him about the anger both the left and the right feel towards one another, and Shapiro's own role in stoking that anger and polar opposition within the Republican party over many years.

The reason for this line of questioning is because Shapiro claims this to be a problem in American discourse and fails to consider his own contribution to the problem, and it is this hypocrisy that Neil confronts him about.  Shapiro attempts to respond, but is promptly crushed by Neil's responses with Shapiro's own quotes.  For example, he brings up the following tweet written about Palestinians which Shapiro agrees was wrong but hasn't taken down:
Israelis like to build. Arabs like to bomb crap and live in open sewage. This is not a difficult issue. #settlementsrock

— Ben Shapiro (@benshapiro) September 27, 2010
Shapiro futilely attempts to respond, but Neil continues to quote Shapiro until he is left with no choice except to throw ad hominems at his interviewer, which were deftly turned back on Shapiro, leaving him to look even more petty for his attempted condescending remarks.  The end result is the man claiming earlier to welcome a spirited debate quickly found himself running away to lick his wounds.
Perhaps the greatest irony in this debate – Shapiro accused Neil of being an opinion journalist of the left-leaning variety, while Neil is a conservative and chairman of The Spectator, whose editorial outlook is conservative.