Five Courageous Ways To Respond To Anti-Muslim Hatred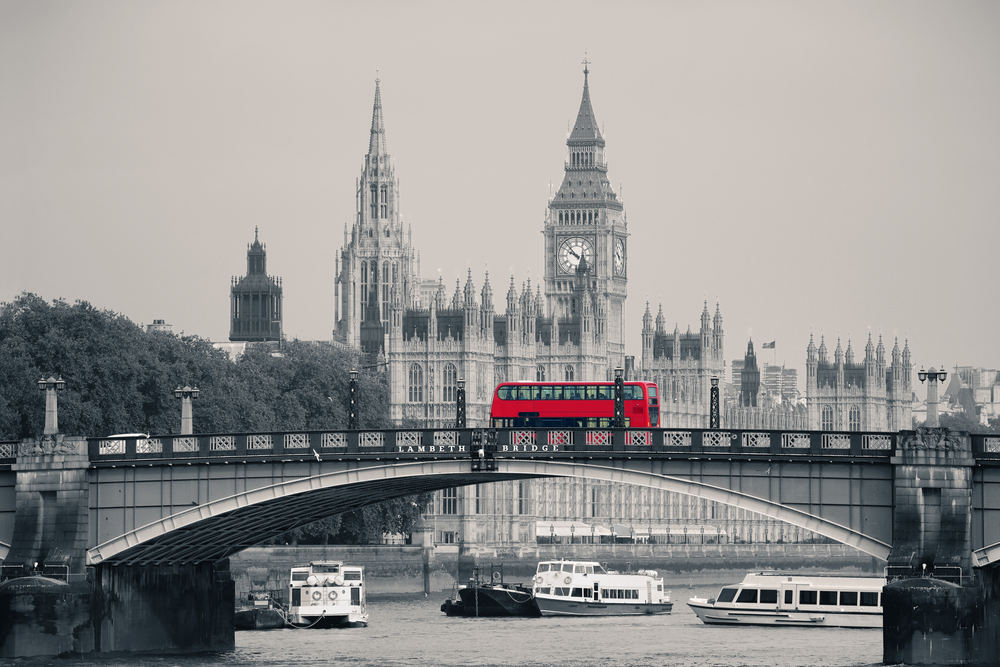 By Fatima Barkatulla
It was the day after the second Paris attack. Our local Muslim school sent parents a text-message telling them that security guards would flank the school gates the next day. Messages were flying around, complete with fuzzy CCTV footage of Muslim women who had been verbally or physically attacked in public places, in the climate of hatred and fear that seemed to hang like a cloud over us.

My sons, proudly wear traditional garments (thobe and white skullcap) when going to certain classes at the Mosque. It is the uniform for their Qur'an class. It's of course not obligatory for them to wear it but they normally do. They were about to set out and catch a bus when a sense of dread came over me as I realised how vulnerable they looked and how so visibly 'Muslim'. People had been fed a drip diet of negativity surrounding Islam and Muslims. The heinous crimes of some of our co-religionists, playing on 24-hour news channels had contributed to that climate. It would only take one angry person…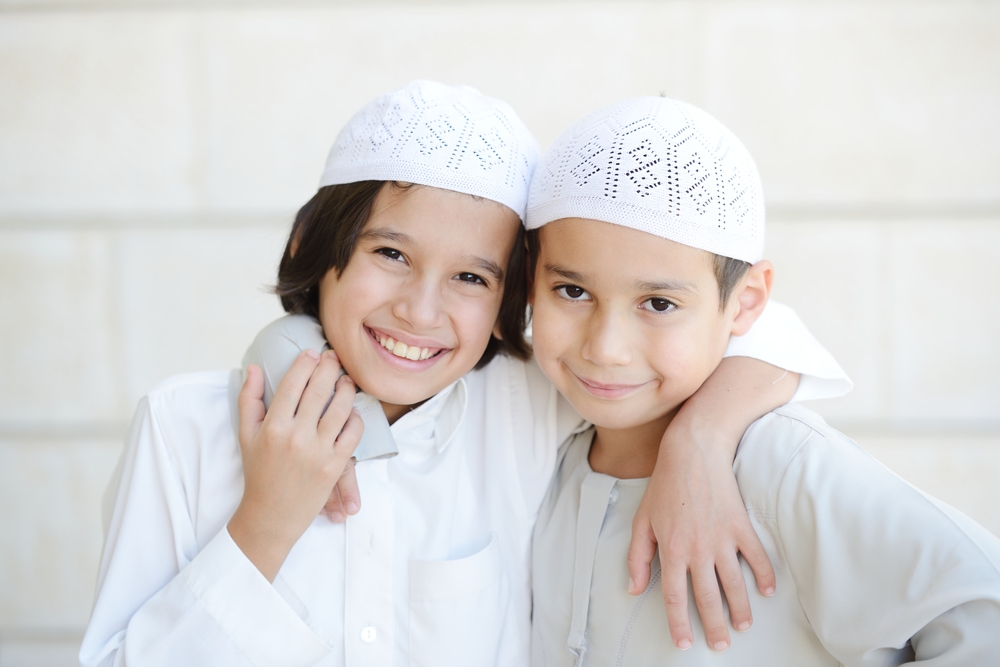 In that moment I considered telling my sons to pop their jeans on instead, reserving their traditional garb for when they were safely inside the mosque. In that moment I was terrified at the power I wielded as a parent to influence their mindset with a word I might utter. And in that moment, I bit my tongue and decided to choose Tawakkul and empowerment and banish victimhood and fear.
There was no real danger. Most of our fellow citizens are not full of hatred. Most of them do know a Muslim well enough to know better. I believe much of the fear-mongering that goes on in Muslim circles, is manufactured and perpetuated by people continuously forwarding unconfirmed scare stories to one another (or perhaps people infiltrating our lists and groups, maliciously intending to spread panic).
In the aftermath of these attacks it's important to continue living as you normally live day to day as much as possible and since my sons usually do wear these clothes to the mosque without issue, I didn't want to introduce the idea of hiding being a Muslim to them.
It's not about fanatically holding onto garments. Indeed if there is real and present danger we should take the precautions necessary and should not put our children at high risk. However, this was about the attitude we seek to instil in the next generation of Believers.
Over the Channel in France, with its aggressive secularism, it has become commonplace for many Muslims to hide their Islam. Britain's Muslims, including my sons, are confident and very comfortable expressing our faith and culture, Alhamdulillah. This is home and we aren't guests here. The vast majority of our compatriots are respectful towards us and, especially in the vibrant melting-pot that is London, we have grown up together, laughed, cried, learned and played together. We grew up being told to express our culture and be ourselves.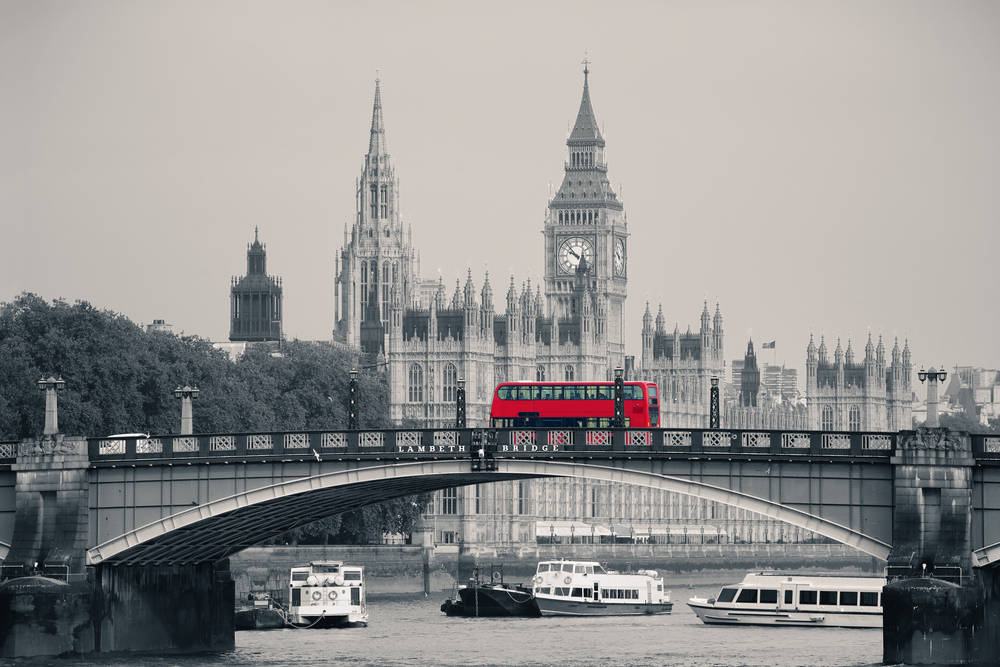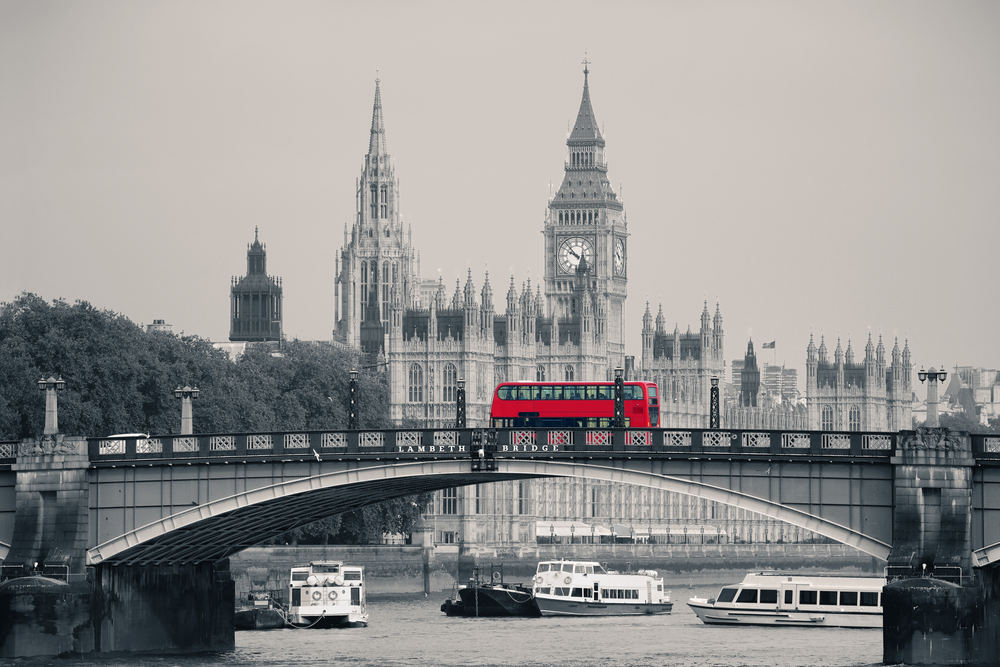 In the 80s racists used to abuse us for having a different skin colour – which we couldn't hide. They would hurl insults at my mother for observing hijab. That overt racism is largely gone. But the point is this: Our parents didn't persevere through the tough times that they faced, only for our generation to lie down as soon as we face some pressure!
By all means let us teach our children to take the normal precautions any child should. Teaching them the very powerful duas and supplications for going outside as well as the du'a when facing fear, and the du'a for resolve, were my first port of call.[1] But I refuse to instil cowardice in their hearts and will continue to teach them to hold their heads up high as Muslims in a world where their faith is misrepresented.
I see parenting as a calling. Children are the ultimate carriers of our values beyond our own short lives. Most of us still hear our mothers' voices in our heads, giving us the occasion telling-off or reminding us to do the right thing. Most of us subconsciously ask ourselves what dad would have done. We may of course reassess some of those values, rejecting some and adapting others. However, a parent's attitude and philosophy of life is no doubt a most powerful factor in setting a child's direction in the world.
So how will I be teaching my children to respond to anti-Muslim hatred? What do I hope their attitude will be, growing up in 21st Century Britain?
The key messages I will be giving my children are:
First: Have faith in Allah's

plan. Our tradition teaches us that everything, however difficult it may be for us to understand, happens for a reason and happens by the will of God. It teaches us that through Sabr – patiently persevering upon the straight path, through hard work and prayer, we will see the fruits of our efforts.
Second: Never be afraid to be different. Some of the greatest people in history went against the grain. They were immensely unpopular and often persecuted. In the end, their unwavering, patient, perseverance for justice shone through. We have an example of that in the great messengers of God such as Moses, Jesus and Muhammad, peace be upon them. And in recent times we have the likes of Gandhi, Nelson Mandela and Malcolm X – who fought injustice, were persecuted or killed for their cause, but morally triumphant as eventually the world caught up with them.
Third: Be politically engaged. Outrage at injustices around the world is natural. But how you allow that to manifest itself is pivotal. The Qur'an tells us that we must live up to being "the best people extracted for the sake of humanity." The conditions for being amongst the best of people are that we must enjoin the good, beginning with ourselves and forbid what is wrong and have faith in God. Loving ones country means sometimes holding a mirror up to it and with wisdom, speaking truth to power.
Fourth: Be socially engaged. Contribute and give to society positively with all your heart and with all of your talents. Serve your neighbours, serve your fellow citizens. The Prophet Muhammad ﷺ would go the extra mile to reach out to people and fulfil their needs, to feed, to clothe, to share a burden. He never encouraged us to live in ghettos, happy with our own piety. Mixing with people, sharing, caring, giving, getting involved with the issues of society is his example and your duty.
Fifth: Seek deeper knowledge of scripture from traditional scholars who are also forward-thinking. The Qur'an has a context to it. Reading ones own interpretations into it willy nilly gives a warped understanding. We see the catastrophic effects of that in lands where injustice is being justified by ignorant Twitter and Facebook muftis interpreting revelation. Our tradition is rich, it gave birth to one of the greatest civilisations in history. Don't be rash. Don't be a hothead. The energy of youth needs to be tempered by the wisdom of scholars and elders. Our faith needs a generation of leaders who have depth of understanding and a wealth of wisdom in order to traverse the murky waters that may lay ahead. Be that generation.
[1] Some of the supplications can be found in du'a books and on the website: http://www.makedua.com/ . A couple of examples are:
بِسْمِ اللهِ ، تَوَكَّلْتُ عَلَى اللهِ وَلَا حَوْلَ وَلَا قُوَّةَ إِلَّا بِاللهِ
"In the name of Allah, I place my trust in Allah and there is no might nor power except with Allah."
The Prophet ﷺ told us, when we say this, an angel will say: "you shall be defended, protected and guided". (Abu Dawud)
And this wonderful du'a which every one of us should memorise! It is protection from facing ignorance or harm when going out! Make sure your kids have memorised it!
اللَّهُمَّ إني أَعُوذُ بِكَ أَنْ أَضِلَّ أَوْ أُضَلَّ ، أَوْ أَزِلَّ أَوْ أُزَلَّ ، أَوْ أَظْلِمَ أَوْ أُظْلَمَ ، أَوْ أَجْهَلَ أَوْ يُجْهَلَ عَلَيَّ
"O Allah, I seek refuge with You lest I should stray or be led astray, or slip (i.e. to commit a sin unintentionally) or be tripped, or oppress or be oppressed, or behave foolishly or be treated foolishly." (Abu Dawud)
Fatima Barkatulla is a seminarian and award-winning Islamic lecturer. Follow her on Facebook. A version of this article was published in The Times and Times Online on Saturday 9th April 2016
[1] 'thaub' is sometimes called a dishdasha (it is a long, dress-like garment worn by men in the Middle-East). 'Thaub' is the more commonly used name for it in the Muslim community.
Faith Community Stands With Peace And Justice Leader Imam Omar Suleiman During Right Wing Attacks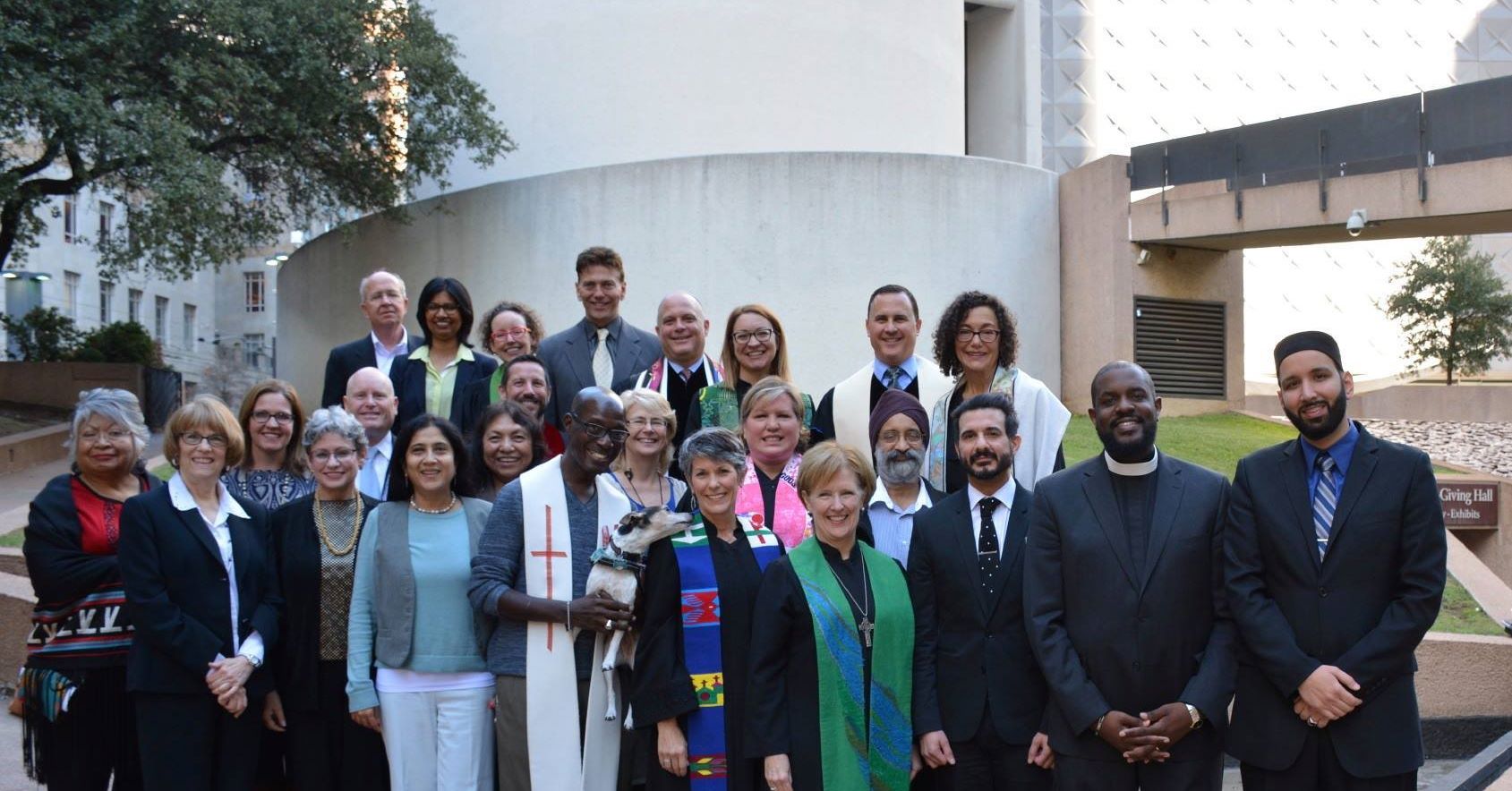 In a follow up to the right-wing media platforms attack on Imam Omar Suleiman – calling him anti-semitic, a common tactic used to discredit both Muslim activists, as well as criticism of Israel policies, Faith Forward Dallas issued a statement.
Faith Forward Dallas at Thanksgiving Square – Faith Leaders United for Peace and Justice is a Texas-based interfaith organization that has worked on many initiatives with Imam Omar Suleiman.

The statement reads:
"Imam Omar Suleiman a spiritual and moral voice for peace with justice!!!!!

Time after time in our city, in the United States and around the world, Imam Omar Suleiman has been a spiritual and moral voice for peace with justice. When others seek to divide, he calls for unity. Faith Forward Dallas at Thanks-Giving Square works to unite faith leaders for justice and compassion. Imam Suleiman has been a trusted leader among us. In the wake of his beautiful prayer to open the House of Representatives on May 9, he has received threats of violence and words of vilification when instead he should have our praise and prayers. We call upon people of good will everywhere to tone down the rhetoric, to replace hate with love, and to build bridges toward the common good.

Faith Forward Dallas at Thanks-Giving Square"
Commenters on the Faith Forward Dallas statement have left comments of support.
The group has invited locals and other leaders to endorse and share the statement. "Endorsed! I love and fully you Imam Omar Suleiman!" wrote Karen Weldes Fry, Spiritual Director at Center of Spiritual Learning in Dallas (CSLDallas), commenting on the statement.
Some commentators do not understand the manufactured controversy.  Heather Mustain writes, "What people are writing is so vile. They obviously didn't even listen to his prayer!" Imam  Omar Suleiman delivered the opening prayer in the US House of Representatives on May, 9th, 2019  at the invitation of Rep. Eddie Bernice Johnson (D) of Dallas, TX.
"I'm grateful for the faith leaders with whom I've built relationships with and served with for years that have shown full support throughout this process. Together we've stood with one another in solidarity in the face of bigotry, and in the support of others in any form of pain. We will not let these dark forces divide us," said Imam Omar Suleiman in response to the outpouring of love from the people he has worked with on the ground, building on peace, love, and justice.
#UnitedForOmar – Imam Omar Suleiman Smeared by Right-Wing News After Opening Prayer at US House of Representatives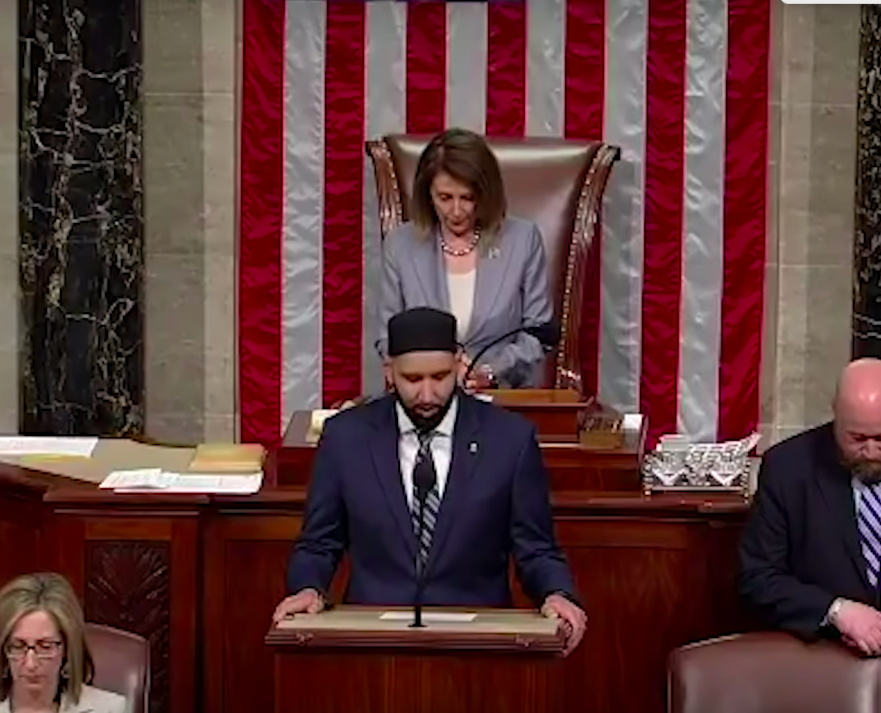 Sh. Omar Suleiman delivered the opening prayer in the US House of Representatives yesterday, May, 9th, 2019  at the invitation of Rep. Eddie Bernice Johnson (D) of Dallas.
Immediately since, right wing media platforms have begun spreading negative coverage of the Imam Omar Suleiman – calling him anti-semitic, a common tactic used to discredit both Muslim activists as well as criticism of Israel policies.

News outlets citing the criticism have pointed to a post from The Investigative Project on Terrorism or ITP, as the source. The  ITP was founded by and directed by noted Islamophobe Steven Emerson. Emerson's history of hate speech has been documented for over two decades.
Since then, the story has been carried forward by multiple press outlets.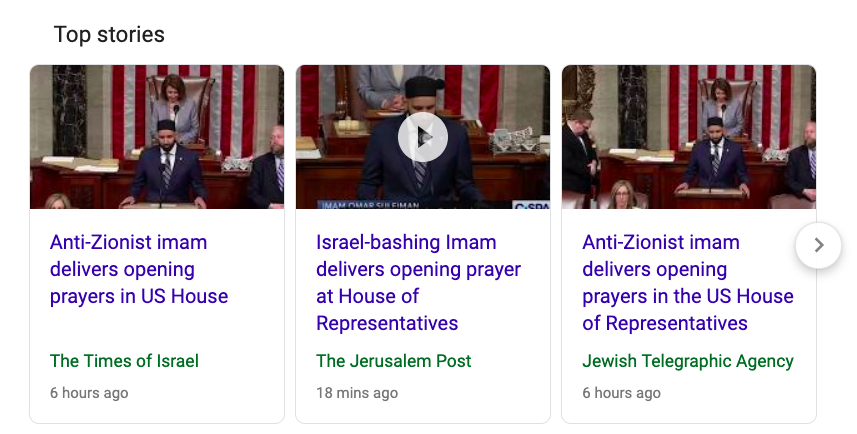 The immediate consequence of this has been the direction of online hate towards what has been Imam Omar Suleiman's long history of preaching unity in the US socio-political sphere.
"Since my invocation I've been inundated with hate articles, threats, and other tactics of intimidation to silence me over a prayer for unity," Imam Omar Suleiman says. "These attacks are in bad faith and meant to again send a message to the Muslim community that we are not welcome to assert ourselves in any meaningful space or way."
MuslimMatters is proud to stand by Imam Omar Suleiman, and we invite our readers to share the evidence that counters the accusations against him of anti-semitism, bigotry, and hate. We would also encourage you to reach out, support, and amplify voices of support like Representative E.B.Johnson, and Representative Colin Allred.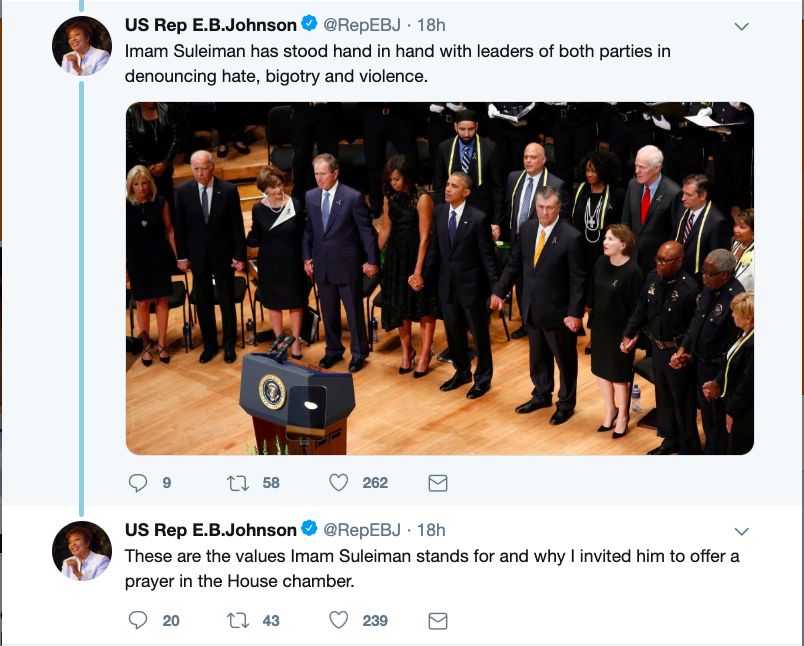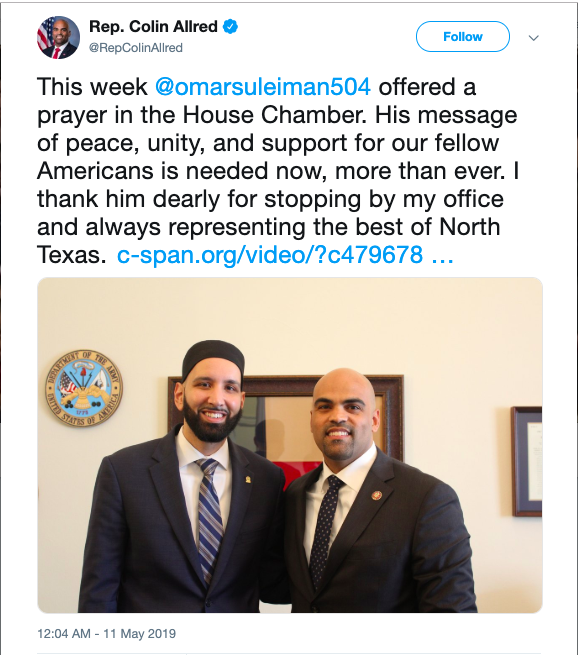 You can help counter the false narrative, simply by sharing evidence of Imam Omar Suleiman's work. It speaks for itself, and you can share it at the hashtag #UnitedForOmar
JazakAllahuKheiran
---
At an interfaith panel discussion, three North Texas religious leaders promoted understanding and dialogue among Muslims, Jews, and Christians. Amid a vexed political and social climate, three religious leaders in North Texas—a priest, an imam, and a rabbi—proved it's possible to come together in times of division. Source: DMagazine.com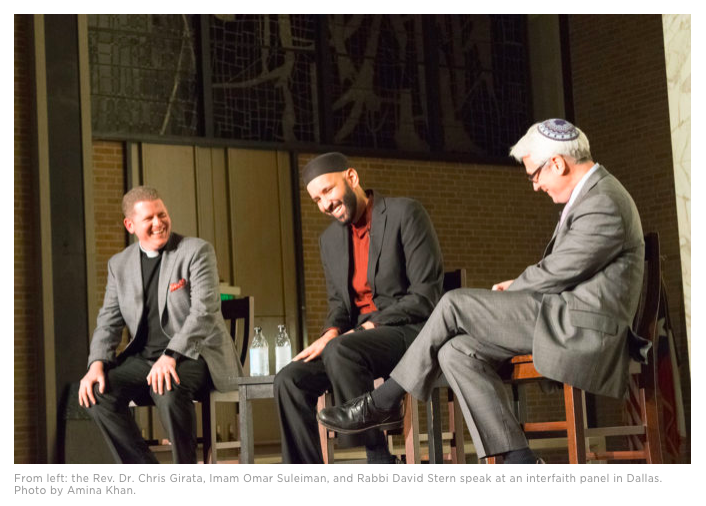 ---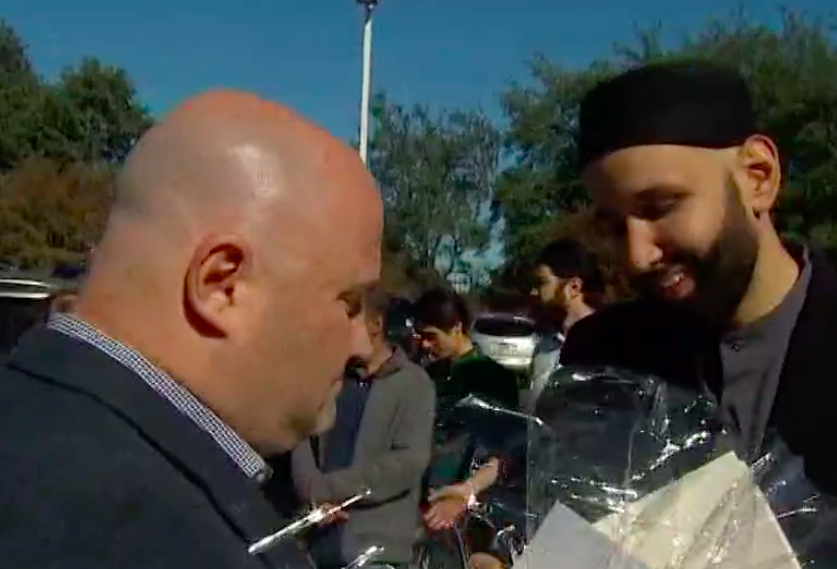 The congregation, led by Imam Omar Suleiman, penned more than 150 cards and letters. source: WFAA News
---
"We must recognize that the white supremacy that threatens the black and Latino communities, is the same white supremacy that spurs Islamophobia and antisemitism," -Imam Omar Suleiman
Source: Bend The Arc
---
"When any community is targeted, they need to see a united faith voice — that all communities come together and express complete rejection of anything that would pit our society against one another more than it already is." -Imam Omar Suleiman
Source: Kera News

---
Source: The Carter Center
---
Imam: After devastating New Zealand attack, we will not be deterred
"My wife and I decided to take our kids to a synagogue in Dallas the night after the massacre at Tree of Life in Pittsburgh to grieve and show solidarity with the Jewish community. My 5-year-old played with kids his age while we mourned inside, resisting hate even unknowingly with his innocence…" Source: CNN
Ben Shapiro Gets Wrecked on the BBC for Racism Against Palestinians and American Jews
Andrew Neil so thoroughly destroys Ben Shapiro that he has a snowflake meltdown and retreats in the middle of the interview to his own safe space, off-camera.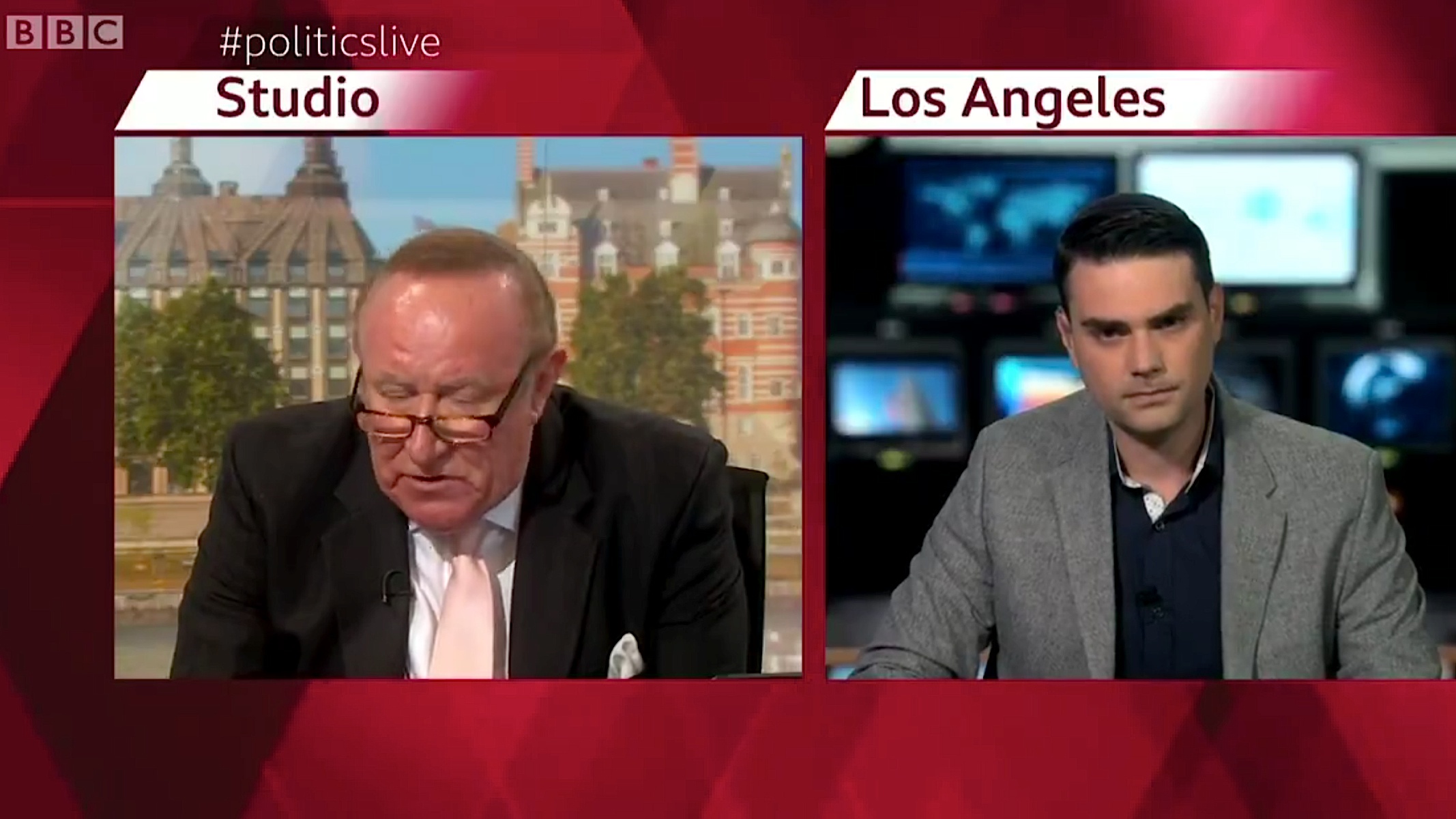 The video plays at the 10:00 minute mark where Neil begins to break down Shapiro on his statements about President Obama, Palestinians, and American Jews.
Let's set the context – popular conservative commentator Ben Shapiro, known for his aggressive debate style in the public square, visited the BBC to promote his new book.  The interviewer, Andrew Neil, after giving Shapiro a chance to introduce himself to the BBC audience, questioned him about the anger both the left and the right feel towards one another, and Shapiro's own role in stoking that anger and polar opposition within the Republican party over many years.

The reason for this line of questioning is because Shapiro claims this to be a problem in American discourse and fails to consider his own contribution to the problem, and it is this hypocrisy that Neil confronts him about.  Shapiro attempts to respond, but is promptly crushed by Neil's responses with Shapiro's own quotes.  For example, he brings up the following tweet written about Palestinians which Shapiro agrees was wrong but hasn't taken down:
Israelis like to build. Arabs like to bomb crap and live in open sewage. This is not a difficult issue. #settlementsrock

— Ben Shapiro (@benshapiro) September 27, 2010
Shapiro futilely attempts to respond, but Neil continues to quote Shapiro until he is left with no choice except to throw ad hominems at his interviewer, which were deftly turned back on Shapiro, leaving him to look even more petty for his attempted condescending remarks.  The end result is the man claiming earlier to welcome a spirited debate quickly found himself running away to lick his wounds.
Perhaps the greatest irony in this debate – Shapiro accused Neil of being an opinion journalist of the left-leaning variety, while Neil is a conservative and chairman of The Spectator, whose editorial outlook is conservative.