One Year Later – Wanting Egypt to Prosper and Sisi to Fail?
There is a lot to lament in Egypt and lots of blame to go around. Sometimes, this excess blame takes on a collective form: "Egyptians deserve what they get" — a mean spirited variation on "you reap what you sow" — is a not-uncommon refrain. Some are even hoping for things to get worse so that "they" can "learn their lesson." So long as Sisi is in power, these detractors reason, how could you possibly wish Egypt and its people well?
To be sure, these days it is easy to dismiss Egyptians — to write them off not only as patently undemocratic, but as amoral (if not immoral). In the first instance, it has been a year now since scores of Egyptians took to the streets demanding Muhammed Morsi, the country's first freely elected president, step down from office, which ultimately paved the way for a military overthrow. The latter critique draws directly on the public's indifference, acceptance and, at times, outright support of the coup's violent aftermath. Indeed, the past twelve months have witnessed mass slaughter, thousands incarcerated on political grounds, hundreds sentenced to death, and numerous show trials — all without any sign of abatement.
One man, of course, is the common denominator across all these transgressions: Field Marshall Abdel Fatah El Sisi. Once suspected of being Morsi's ace-in-the-hole in light of his seemingly Islamist leanings, Sisi would end up coordinating (some might even say orchestrating) the former president's removal from office. Subsequently, he served as de facto leader during a transitional period that ultimately led to his coronation as de jure chief executive — a position that many presumed was always his for the taking.
What many find surprising is not the authoritarian backsliding so much as the relative paucity of pushback from the broader public. Is it fair, then, to associate the actions of the regime with the state and its people? Are Sisi and Egypt now one and the same? Is it no longer possible to support the country while denouncing its ruler? As with many issues in Egypt, there appear to exist two polar positions and both miss the mark. The more balanced, nuanced alternative that bridges some key pragmatic and normative concerns is altogether elusive.
Sisi? Yes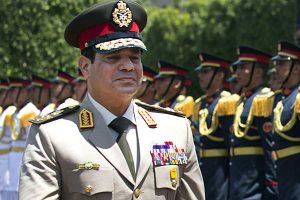 There is a sizable contingent in Egypt that believes Sisi can do no wrong. These partisans regard Sisi as a savior that "rescued" Egypt from the "tyranny" of Morsi. Under the ensuing accord — part Stockholm syndrome, part Faustian bargain — the promised ends of security and stability justified all "necessary" means.
For this faction, as Sisi goes so goes Egypt. It simply does not make sense to talk about one succeeding or failing without the other following suit. As such, any criticism (really, anything short of superfluous admiration) is tantamount to treason.
Clearly, this perspective is as short-sighted as it gets. Handing a former military leader carte blanche to rule the country as he wishes, as history has shown time and again, never ends well. So long as Gulf money keeps flowing and Sisi keeps projecting the image of the Egyptian strongman, however, it will be hard to convince uncles and aunties nostalgic for bygone "prestige" and trying to make ends meet, that Egypt's leaders need to be held to account.
Morsi? No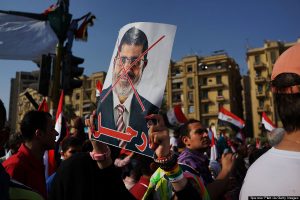 At the other end of the spectrum are the former president's ardent supporters who feel that no good can come to Egypt if Morsi is not reinstated. They regard Sisi as a usurper, his regime as illegitimate, and his security forces guilty of crimes against humanity.
For this faction, there can be no progress unless Sisi is removed from office and the political clock is turned back to June 29, 2013. Between spearheading the overthrow of an elected president and presiding over the Rabia massacre, along with many subsequent human rights violations, any "progress" would simply be the fruits of a poisonous tree.
Yet this framework is blind to the changing calculus not simply in Egypt, but in the broader region. With the 2011 uprising and the coup in 2013, Egypt has weathered two major shocks to its system; it is quite possible that the next one may prove crippling. That is, while Egypt may not be inextricably bound to Sisi, that does not mean that it can survive his forceful removal; it would likely prove too great a blow to absorb for an already fragile state. Moreover, with regional security in disarray, any action that could leave Egypt's military weakened may be just as short-sighted as granting them unchecked power.
Simply put, there is just no scenario (as of now) in which Morsi returning to office improves Egypt's political, economic, or security situation.
Working Both With and Against the System
There is a more prudent (if decidedly bitter) path for those opposed to the country's current trajectory.
In short, this alternative calls for the opposition to finally set aside the comfortable fictions of street/revolutionary legitimacy, on the one hand, and get over the undermining of their electoral legitimacy, on the other, in order to establish lasting institutional legitimacy. In the first instance, liberal/secular groups will need to coalesce and offer coherent platforms while, in the latter case, jilted Islamists will need to lick their wounds and rebrand themselves for a parliamentary push. In both cases, acquiescence to the current status quo (however distasteful that may be) is simply unavoidable.
Admittedly there are drawbacks to this tactic. For one thing, it may very well be the case that meaningful participation/opposition is simply not possible in the current climate. What's more, participating may serve as a stamp of legitimacy or political cover for the current regime. Even worse, if Sisi actually succeeds in pulling Egypt out of its current fiscal maelstrom and establishes some semblance of stability, such a performance may lend credence to the notion that only through military leadership could Egypt prosper.
These are all valid concerns and I don't take any of them lightly. But the current crisis requires considering options that are the lesser evil, as clearly no good ones are abound. Less cynically, those looking to skew the trajectory of Egypt away from dictatorship must take more seriously the expected outcomes of their actions, weighing each possibility and the probability that it will occur. On balance, continued protests and boycotts will do little to change the situation, while the fostering of a viable alternative to military political rule, with the support of the few remaining pockets of independent journalism, can yield long term positive results.
This is a marathon — it always was, despite the numerous, reckless recourses to impatient sprints. A commitment to building viable democratic institutions, to imbuing them with public trust above and beyond any individual or group, is the only way to combat Sisi's bid to entrench a cult of personality and continue Egypt's descent into authoritarianism. It is a long and largely unsatisfying road, but the prize at the end is dignity and accountability: a political environment where "the people" and "the revolution" are not merely pawns in a dictator's game.
Photos: AFP