For Me is My Religion: Tales of Conversion part 1
Last week I was asked what my favorite ayah in the Quran was, but I couldn't give just one; so without hesitation I responded with my favorite surah, which is Sūrat'l-Kāfirūn (The Disbelievers).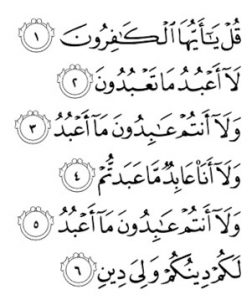 Say, "O disbelievers,

I do not worship what you worship.

Nor are you worshipers of what I worship.

Nor will I be a worshiper of what you worship.

Nor will you be worshipers of what I worship.

For you is your religion, and for me is my religion."[109]
There are many reasons that this is one of my favorite surahs, the simplest of which is that we are all humans with one world to live in. I mean, at this moment, it isn't like people can just move to another planet. So, regardless of our views on life and religion, we have to learn to get along with one another. You worship what you want to worship, I will worship what I want, and neither of us will do harm or push the other. After all, doesn't the Quran say, "There is no compulsion in religion," (2:256)? This is all summed up in Sūrat'l-Kāfirūn.
The bigger reason that this surah hits home for me is based on the experiences I had upon converting to Islam – both amongst the congregation I left and the one I joined.
Converting was not much of a personal challenge for me. I had come to a deep understanding of Islam, what it stood for, what the core beliefs were, what the five pillars stood for, and that Muhammad

was the last Prophet of Allah.
Of course, I had concerns about my family and friends. What would they say? How would they react? Much to my surprise, my parents were the ones that took it best.
My mom simply asked, "Do you still believe in God and his oneness? That he has no partners?"
Right away I thought about Sūrat'l-Ikhlāṣ (The Sincerity):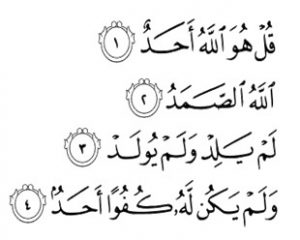 Say, "He is Allah , [who is] One,

Allah , the Eternal Refuge.

He neither begets nor is born,

Nor is there to Him any equivalent."[112]
I replied, "Yes, mom," and she was very much at peace with it.
My dad, on the other hand, had the typical worries and concerns of someone who didn't understand Islam. He had questions like, "Are you being forced to do this? Are you moving to the Middle East? You're being careful who you are spending time with?" Once I put his worries to rest he was at peace with it too, although I do think it took him a little longer than my mom.
One of the biggest and most unexpected challenges of converting was leaving the congregation that I had been a part of for three years.
Once word had gotten out, it started simply enough – phone calls, emails, and coffee with concerned, senior members of the congregation. Nothing more than what I had expected, but it escalated quickly. I had been out to dinner with one of these senior members. After dinner, we were in the parking lot saying goodbye when he grabbed my arm and said, "Do you mind if I pray over you?" Not wanting to cause a scene, and hoping to just get the meeting to end, I told him to do what he felt was necessary.
It was at that point he struck me on the forehead with the palm of his hand and started saying very loudly, "Oh Lord! Heal this brother from the evil that is within him and wash away the sin of Islam that has clouded his sight and judgment." As soon as he finished I quickly thanked him and made a dash for my car!
I thought that was it, I mean how much worse could it get, right? I had been hit in the head and prayed over loudly in a public parking garage; what else could there possibly be?
A few days later, I got a call that if I was truly leaving the congregation I would have to stand before a board of senior members and explain myself. I knew I could have just said no and been done; I knew I could have said this is getting silly and I want no part of this…but I didn't. In my heart, I felt that Islam was on trial here, not me. I felt I had to go to defend Islam.
The day came for my 'trial' and I entered with a calm and peaceful heart, having no real idea what I was stepping into.
During my inquisition, I was hit with questions that were beyond insulting. Questions like, "The Muslim God is not the God of Abraham and Moses, how can you follow a false God? All Muslims want to kill non-Muslims, how can you be a part of and support these beliefs?" This went on and on for hours, to the point where they were telling me that if I followed Islam my children would burn in hell with me, because I had led them astray.
I stood my ground as I knew in my heart what was right. At the end of this three hour bullying session, my name and the names of my family were written down and nailed to the doorway with this statement:
"Anyone caught speaking with the following people will be barred from entering here and worshipping."
You know, if the year had been 1600 or even 1800, I might have been able to digest this; but the fact that it was the 21st century and this behavior was still taking place, floored me. I kept thinking to myself, this can't be real, how can someone act like that? Why couldn't we just part ways and be done with it?
It took me quite a while to recover from this 'trial'. Then one day, while reading the Quran and trying to reconcile and forgive the actions of my former congregation, I read the ayah, "For you is your religion, and for me is my religion," (109:2). It summed up my feelings so perfectly, and a sense of ease washed over me; I was able to put their actions and accounting in the hands of Allah.
Now I would be lying to you if I told you I have never again thought about that ordeal. I think the one question that haunts me the most is, "The Muslim God is not the God of Abraham and Moses, how can you follow a false God?"
How can anyone truly believe that? Was that question supposed to be humorous? Did this person really think Muslims had a totally different God from the Jews or the Christians? But when this all becomes too much for me to process, I take a deep breath and remind myself, "For you is your religion, and for me is my religion," then I simply say Tawakkaltu Ala-Allah (I am putting my trust in Allah and depending on Him).
Little did I know the judgment of my faith and conversion was not over. Having overcome the 'trial' of my former congregation served only to prepare me for the actions of the congregation I was headed towards….
Stay tuned for For Me is My Religion, Part 2.
Photo credit: Mesut Dogan / Shutterstock.com