Why Robert Davila is the Most Famous Muslim in America This Week
Assalam 'alaykum wa rahmatulah,
Sometimes we land in a spiritual slump and want to stop doing what we are doing, and then Allah sends us inspiration when we need it most.  I watched this last night and had to share this with our readers. Although it has probably been shared all over the world, on forums, Facebook pages, and websites (yes, even soap opera sites), it deserves to be shared even more, mashaAllah!
What a story, what an inspiration! JazakAllah Khayr to Ustadh Nouman for sharing the story of Robert Davila.
I relayed this story to three different people today, and each of them felt rejuvenated on his/her journey to Allah, including my daughter, who was struggling with her Quran lessons. To encourage her, we were reading Khuram Murad's Way to the Quran together and at the part where he writes about making sure that we are "constantly alert with intense praise and gratitude to [our] Master for having blessed [us] with His greatest gift- the Quran and for having guided [us] to its reading and study," Brother Robert was the most perfect example that I could give to her, having seen this video.
It really, truly reminded me that Allah's work doesn't stop–we need Him–he doesn't need us. May Allah guide all of us with the light of His Guidance in whatever position we may be in and give us the taufiq of dua (supplication), shukr (thankfulness), sabr (patience), and ridha bil qadha (satisfaction with Divine Decree). Ameen.
Update: Here is a photo of Robert for those who were doubting his existence. Ustadh Nouman plans on airing an interview with him soon. Yusuf made some great points in comments. It is not enough for us to celebrate and be inspired by conversion stories, we have to realize that disabled and New Muslim support is severely lacking in many of our communities. If you were moved by this story, use the inspiration to start a support group in your masjid or community center. One immediate thing you can do is teach people how to talk about disability with respect. People with disabilities live in a world designed primarily for the able-bodied. We can only really start to empathize when we think of how inconvenient or unkind circumstances are getting to the places where people worship and socialize; things that many of us take for granted.
Muslimmatters had our own dawah cheer to share this week. Yesterday, Br. Sebastian took his shahadah and shared this tweet with us, and another brother who cannot drive to the masjid due to a disability asked if he could take shahadah online with one of us. Allahumma taqabbal ya Rabb.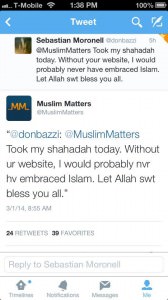 How were you inspired by these stories?