'Little Mosque on the Prairie' Ends | The First Muslim Sitcom in Review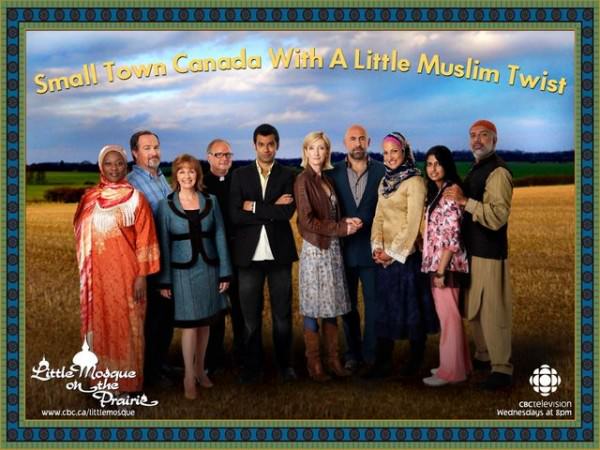 "What? She's white, and Muslim?" exclaimed my friend as he watched Sarah Hamoudi pray during the series première of Little Mosque on the Prairie. Having grown up in a city made up largely of immigrant Muslims, I guess he had assumed that Islam was a religion reserved for people of colour. We chuckled through the terrorist jokes, Babar's sermon about 'Smashing the American Idol' and the clashes between liberals and conservatives at Mercy Mosque. The first sitcom about Western Muslims had just aired and it was making a difference already.
I was in my final year of high school at that time and I clearly remember the buzz surrounding the show. Some expressed opposition to the name, which for them violated the sanctity of the classic, Little House on the Prairie. Most were excited to see a fresh, new and unique comedy about Canadian Muslims. An audience of 2.1 million people tuned in for the first episode; a record breaking and unheard of rating in Canada. The ratings declined over the years, but they were good enough to sustain it for six seasons.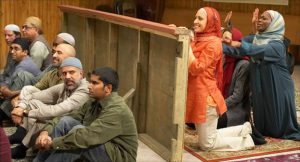 It was a proud moment for me to see a show about Muslims air on national television. Along with the regular post-episode discussions on House and The O.C., I could now joke with my friends about Ammar's latest debacle or Babar's classic rants. At a time when Muslim youth were increasingly insecure about their identities, a show like Little Mosque helped boost self-esteem and self-worth for many.
But Little Mosque never set out to accomplish any of the things I've mentioned. It wasn't a show that was aimed at educating people about Islam or solving problems faced by Muslim youth. It was a sitcom that was meant to be funny; it just happened to be about a small Muslim community. It was Islam's Cosby Show. In the post 9/11 times where any normative depiction of Muslims in media was deemed to be too controversial, the CBC made the bold move of creating a whole show about Muslims. Not only were the central characters Muslim, the show revolved around the mosque which played a key role in the community's life. The CBC and Zarqa Nawaz, the show's creator should be recognized by the Muslim community for this historic feat.
The criticism and the lack of support at times from the Muslim community were disheartening for me. Sure, if you don't like the show, don't watch it. I agree that it wasn't a laugh-out loud comedy, and the writing was hokey and uncreative at times. But dismissing the show on grounds that the characters weren't observant enough, or that Zarqa Nawaz had some secret liberal agenda, was disappointing. Are you seriously hoping for a sitcom where the women dare not speak to a non-Mahram? Where the community isolates itself from the kuffar? Where the Imam goes around warning people of the evils of Western civilization?
Little Mosque had its shortcomings when it came to accurately depicting the orthodox Muslim community. Yes, the Imam didn't have a beard, had an awfully nonchalant attitude towards apostasy and might have shaken hands with the opposite sex in a few episodes. Zarqa Nawaz once explained that some slips happen because almost everyone on staff, from the director to cameraman, is non-Muslim. She alone couldn't possibly monitor every minutiae of the filming. Some aspects of the story, such as the Ammar's liberalism, are obviously intentional. You might not like it, but it's just a sitcom at the end of the day.
These shortcomings are miniscule compared to the number of things Little Mosque got right. The sitcom was the most accurate depiction of Muslims to date and succeeded in bringing the mainstream Muslim community to the television screen, especially at a time when secular and 'progressive' Muslims get preferential treatment. It represented all the characters we find in our mosques; the uncles, the converts, the feminists and the rebellious teenagers. It captured the conflicts between the young and the old, the tension between the liberals and conservatives.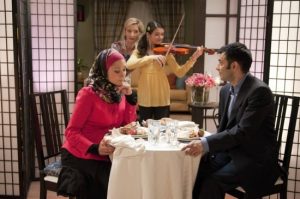 It showcased, with great sensitivity, the first Muslim courtship on television; a social phenomenon which is still under development amongst Western Muslims. Peer-pressure faced by Muslim youth at high schools was also brought to light, as was their conflicts with immigrant parents. I would argue it even addressed issues which the Muslim community faces; I think organizing an 'Islamapalooza' is a great idea and partial hockey boards offer a reasonable solution to the prayer barrier controversy. Because of Little Mosque, people now know that Muslim women take the hijab off at home or that it is possible to be Muslim without having to wear one.
Little Mosque on the Prairie's idealistic worldview represents hope for our community in many ways— excluding its fiqhi failures of course. Our mosques today have closed doors and an unwelcoming atmosphere; not only to people of other faiths but to segments of the Muslim community as well. Women continue to be marginalized, and converts still grapple to find acceptance. I don't see our Imam playing checkers with the Reverend down the street, nor do I see bona fide bonds of friendship like the one between Babar and Thorne.
Mercy Mosque's setting was similar to the mosques of Muslim Spain, where the Christians and Muslims at times shared a common building for their place of worship. The series ended with the Muslims welcoming the Christians into their newly built mosque after their church was burned down. The new mosque was constructed in the image of Al-Rashid Mosque. This was Canada's first mosque and was built by donations from Jews and Christians, as the Muslim population in 1938 was minuscule.
Like Al-Rashid Mosque, Little Mosque reminds us that the vision of a pluralistic community co-existing is neither new nor impossible. Its message was simple: Set aside your prejudice, give up your spiritual pride and be a good neighbor.
5 Reasons The Muslim World Needs a Jon Stewart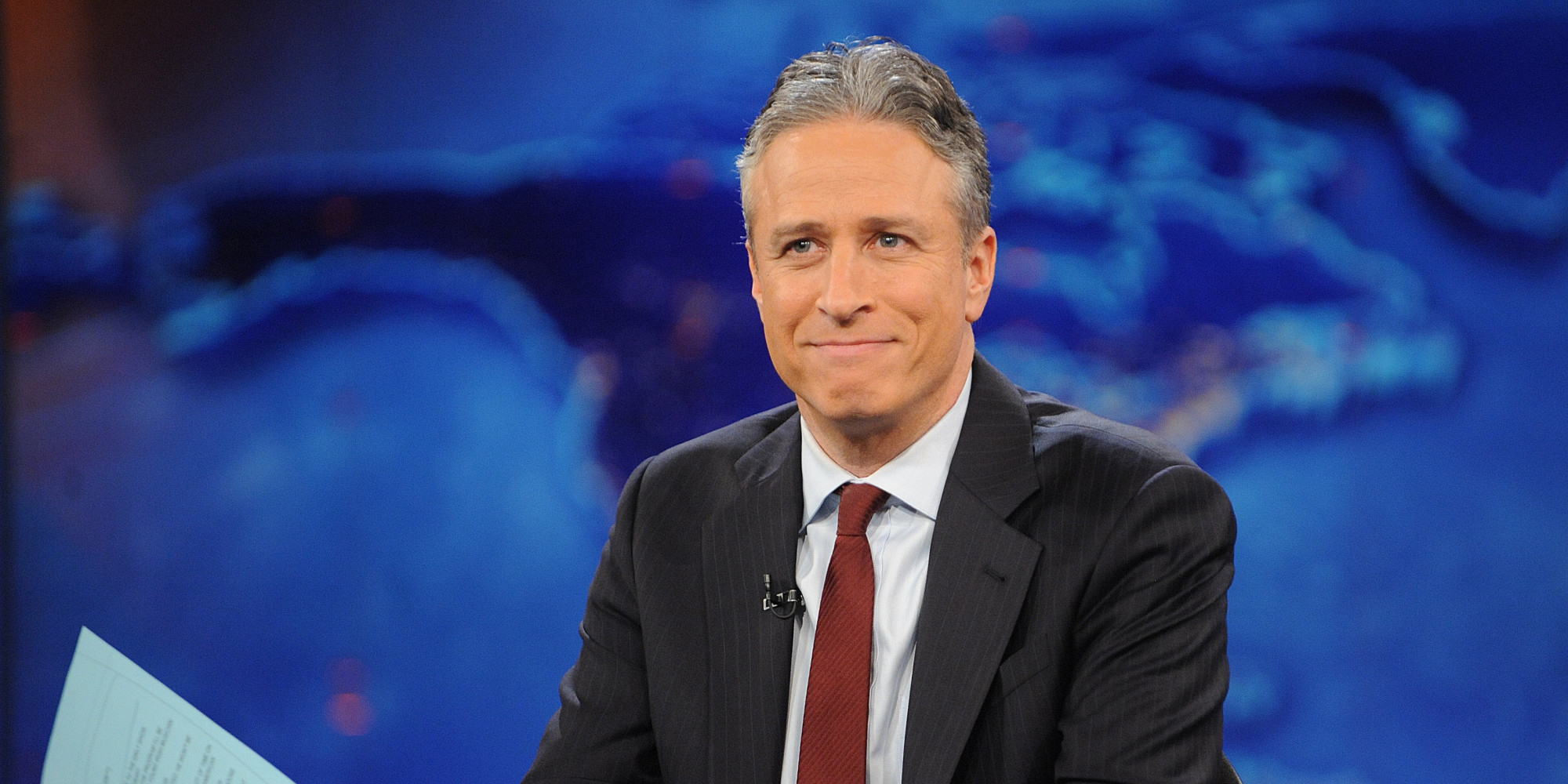 There will be many who read the title of this article and think – of all the many, many things that the Muslim world does need – they're pretty sure that a middle aged liberal Jewish comedian isn't one of them.
And they would be wrong.
Dead wrong.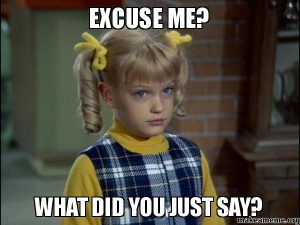 Yes, the Muslim world needs another Umar ibn Abdul Aziz and Tariq ibn Ziyad. We would be blessed to have an Uthman Dan Fodio or Muhammad Ali Jauhar.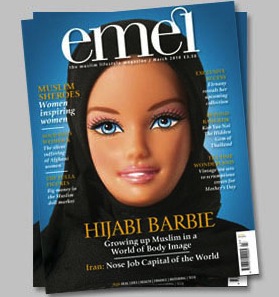 Who am I kidding? Even Hijabi Barbie is front page news for us
But I'm here to make the case that we could also do with our own version of Jon Stewart.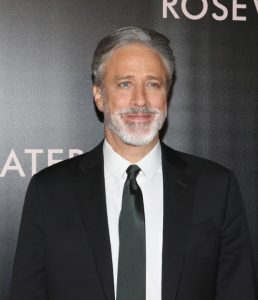 No. This doesn't count…
Why?
Well, here are just 5 reasons:
1. Someone who tells it like it is
Politicians and leaders often like to hide behind semantics and carefully scripted soundbites. They speak like they're afraid of what might happen if the masses understood what was actually going on.
Probably with good reason.
Then here comes Jon every weekday evening cutting through the garbage and explaining things in simple, direct (albeit American) English.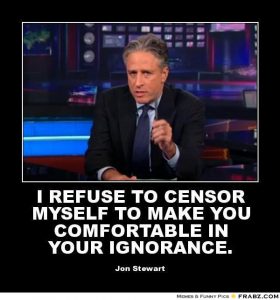 A dose of raw, passionate, straight-talking truth? Suddenly, college students are interested in the debt crisis or police brutality.
The Muslim world could do with a few articulate souls who manage to move beyond preaching to the converted and instead, try and reach out to the disaffected, the uninterested and the disenfranchised.
Someone who could dumb it down without the dumb part.
2. Someone who is fair
It is well known that Stewart is towards the more liberal end of the spectrum. [Understatement alert]
You would expect him to constantly and mercilessly pick on Fox News and Dick Cheney.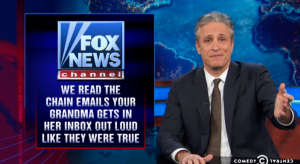 He does.
But this doesn't stop him from pointing out the hypocrisy and ineptitude of those he supports. Watching the Jewish American Liberal Stewart rip apart Israel during the last Gaza war showed he was a man of some principle.
[youtube]https://www.youtube.com/watch?v=w62Q-_upPQc[/youtube]
The Muslim world could do with leaders who are willing to tell hard truths to their home crowds just as much as they were willing to rail against their natural enemies.
3. Someone who nurtures talent
Over the years, the Daily Show has attracted young and unknown aspiring comedians and turned them into confident stars. From Steve Carrel to Steven Colbert – Stewart hasn't just surrounded himself with sycophants but with talent that pushed him to do better.
Again, the Muslim world could do with leadership that produced more leaders rather than ever more dependent followers. How amazing would it be if the Muslim world served as an incubator for good leaders, where people were valued and flourished and…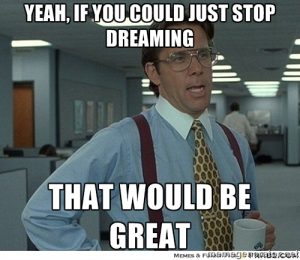 Sorry…
4. Someone who pushes the intellectual boundaries
If the Daily Show was to pander to its demographic, they would have movie and rock stars on every evening to plug their latest asinine movie or album. Instead, you were as likely to see an interview with Taylor Swift as with the astrophysicist Neil deGrasse Tyson.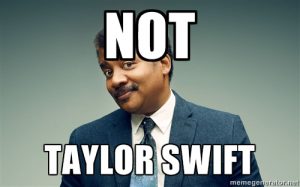 Stewart often nailed the balancing act of being entertaining to his audience whilst also encouraging them to broaden their intellectual horizons.
The Muslim world could do with leaders who focused not just on individual spiritual inspiration, but also on societal temporal aspiration as well.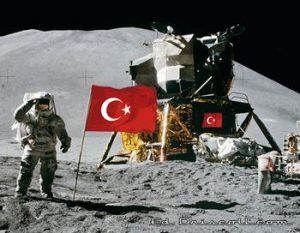 Translation: Where's the Muslim equivalent of NASA?
5. Someone who tells it with a smile
Lets face it, for someone who has been on TV 4 nights a week for more than 15 years – Jon Stewart has surprisingly few gaffes to highlight. There were only a handful of anger-related meltdowns. There were definitely no unguarded moments where he "heroically" rails against an elected government, but stays silent about a coup and the mass murder of innocent people whose political viewpoint he disagrees with.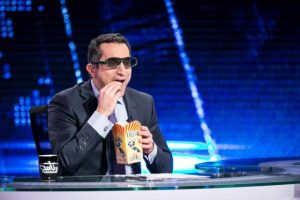 No caption would do justice…
Whatever Jon did, he did with grace. He skewered you like a kebab and cut you up like a … kebab. However, he did so with a politeness that made it hard to dislike him.
The Muslim world could do with leaders that managed the art of making a point without making an enemy.
Conclusion 
Now some will read the above and wonder why someone who holds as many  opinions at odds with Islamic orthodoxy as Stewart should be cast in a favourable light by us. To them I say that I am not advocating taking our religion from him. In fact, the qualities described above are Islamic qualities that are rooted in our deepest traditions, yet somehow are best exemplified these days by non-Muslims like him.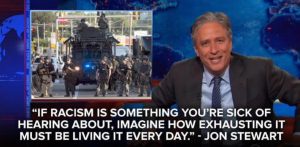 You don't have to accept his views or his politics to be a fan of the way the man simply excelled at what he did.
And what he did, was shine a searing light on the state of his nation so that maybe, somehow, some way, they might just realise that they could be so much better than they are now.
If that isn't something that the Muslim world needs right now…then I don't know what is.
MuslimKidsMatter | Muslim Teenager Posts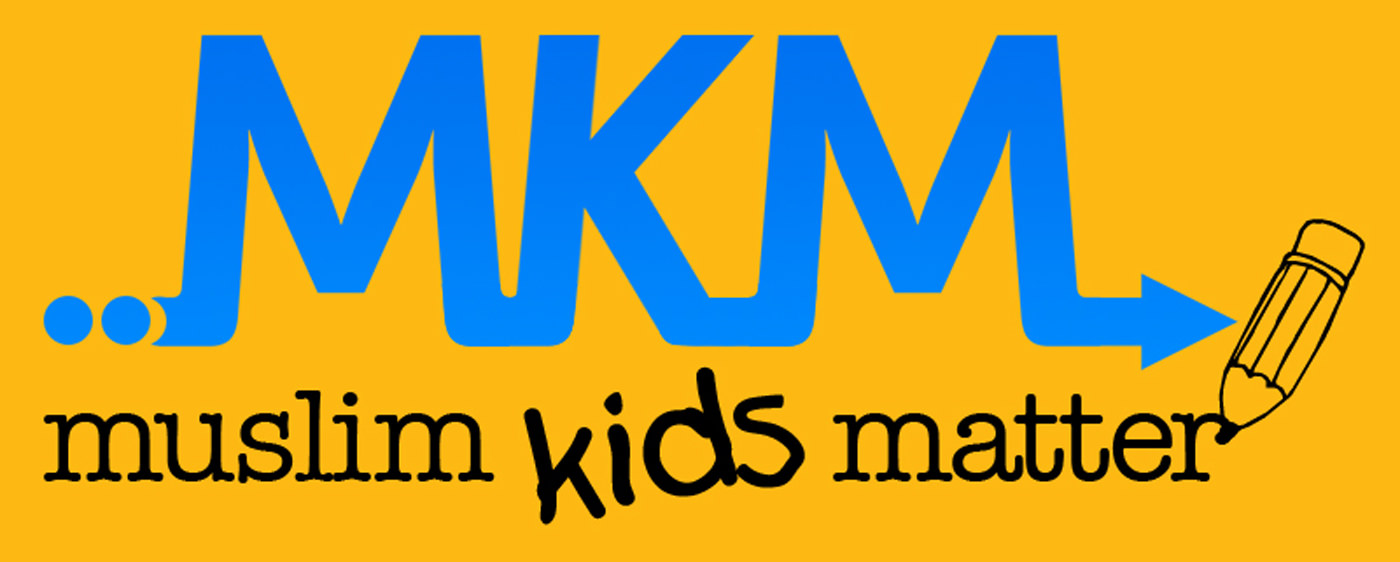 Muslim Teenager Posts
By Nura F.
Don't you hate that awkward moment when you read a Teenager Post you can't relate to because of how different your lifestyle is from that of many other teens? I've stopped that, with my new Teenager Posts for Muslims! The point behind my Muslim Teenager Posts is to provide the countless Muslim youth with appropriate posts to view on the Internet, seeing as there are not that many appropriate ones. Muslim Teenager Posts can also show non-Muslim teenagers what it is like to be a Muslim as a teenager. It is a perfectly harmless, entertaining, and small way to spread Islam, especially since so many of the children these days spend their free time on the Internet. I hope that my Muslim Teenager posts will change the way people think about Muslims and will be relatable for Muslim teens everywhere.

Nura F is sixteen years old and is working to become an author for both children and teens. Her two favorite genres to write about are humor and adventure. Outside of her writing career, Nura loves to bake, read, and draw. She is also an avid blogger and keeps a number of blogs: one about her baking creations, one containing passionate rants, and one about reflections on ayahs in the Qur'an (which she really, really needs to update). Nura lives in Texas, USA, with her parents, sister, and two younger brothers.
(Attention, writers!  Muslim Kids Matter is a regular feature at Muslim Matters.  New articles for kids are posted every other Sunday.  You're welcome to send in your entries to muslimkidsmatter@muslimmatters.org.)
After #TweetlikeABC and #FauxNews: Jon Stewart's Take on Palestine-Israel Coverage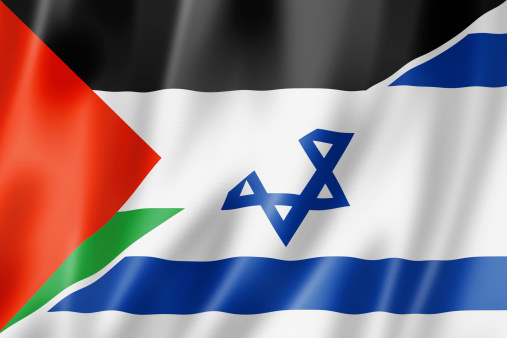 https://www.youtube.com/watch?v=40R3Yb7DTzo