Crowned | A Play by Meena Malik – Part 1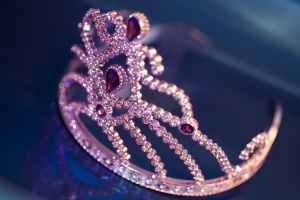 Scenes 1 & 2 | Scenes 3 & 4 | Scenes 5 & 6 | Scenes 7, 8 & 9
"Crowned" is a full two-act play that was originally written last year for Muslimah Entertainment, a local sisters' organization in Southern California that puts on a yearly production.  If your youth group or MSA (or any other organization) is interested in performing this play, you are welcome to do so! Please contact the author for a soft copy of the play by emailing her at: meena.malik@muslimmatters.org
Crowned: Fatima and Samina are best friends about to graduate from Marina Bay High School.  In their exciting last year of school, Fatima is faced with a dilemma that many Muslim seniors face: PROM.  But the issue isn't "should I or should I not go to Prom," the issue is…"should I run for Prom Queen?"   Meanwhile, at home, Mariam has just graduated college and is being pressured to get married.  Mom has set her up with the Ahmeds' son, and now the courtship is about to begin.  Join the girls on MuslimMatters every Wednesday this April as they walk down the path towards getting "crowned."
Characters
Fatima, volunteer chair of Student Body Government.
Samina, art geek & Fatima's childhood best friend.
Jehan, the cool kid & Fatima's cousin.
Mariam, recent college graduate who has returned home & Fatima's older sister.
Bilkis, also known as "Booger," Fatima's little sister.
Mom, the lady of the house.
Top Swordfish, the person who gives the morning announcements for school.
Connor Daveys, captain of the Water Polo team & the popular guy.
Scene One, Introduction.
Part One:  Getting Ready for School.
Mom:  [yelling off stage]FATIMA!!  SCHOOL!!
Fatima:  Overslept…AGAIN!! [Fatima jumps out of bed and is getting dressed for school. Looking through clothes, changing clothes.  Fixing and re-fixing her hair, putting on hats (stuff to do with head, "crowned".)  Face-wash, make-up, re-wash, make-up.  Accessories.]
[Fatima grabs backpack and runs off stage in one direction.  Bell rings.  Set change: classroom Students sitting down in chairs, Samina is prominently seated.  Jehan is seated slightly off-center further backstage.  Fatima enters, running in from other side.  After bell rings, lights slowly open on scene, show some people sitting down, some people entering stage, some people standing in random areas coming to their seats, people sitting down, talking etc.  Fatima is the last to enter.  Announcer's voice get's quieter and lights dim on him  depending on if there is a side conversation going on or not.  "Top Swordfish" (Announcer) is shown at the other end of the stage, sitting at desk with a microphone.]
Top Swordfish:  Gooooooooooood morning Marina Bay High!  Today is Monday, of course, the best day of the whole week!  It's time to wake up Swordfishies!  Let's get on to the morning announcements!  To all the arteeests out there,  the Art Showcase [lights dim and voice fades] <<is coming up!  The showcase will be the >>
Samina:Fatima! Assalamu alaykum!  You're late!
Fatima:  Walaykum assalam! Yeah, I know, I hope I don't get marked tardy!
Top Swordfish:  25th, the same day as Prom!  Can't wait to see your latest pieces.  Just another run-of-the-mill cafeteria food scare!! To all of you who ate the mystery meat loaf last Thursday <<if you're feeling a bit sick or felt slightly sick, it's because the meat was tainted.  Whoops! Sincerely the lunch ladies. >>
Fatima:  Ew, that's why I don't eat outside meat!  Did he collect homework yet?
Samina:  No, you're good.
Top Swordfish:  Important announcement for all the seniors!  Senior Prom is coming up on the 25th.  Tickets to Enchantment Under the Sea <<are being sold during lunch in the quad.  $120 for couples and $80 for singles.  You must pick up permission slips for the dance and have them signed by your parents.>>
Samina:  Enchantment Under the Sea?!  What kind of lame theme is that?!
Fatima:  Hey!  I helped pick that theme!
Samina:  Oh, sorry.  But you know….it IS pretty lame!
[Fatima playfully shoves Samina]
Top Swordfish: Prom Court Sign ups and applications!  <<Attention manly men, do you wanna be the big fish on campus, the senior of the senior class?  Prom King sign ups and applications can be picked up in the student body government room and are due at the end of the week.>>
Samina:  So how involved are you with this year's Prom?
Fatima:  I'm pretty involved, way more involved than I want to be.  I designed the posters and the tickets, and am doing the decorations.  They're probably gonna ask me to volunteer during Prom, since the sophomores don't know how to do anything.
Samina:  That's whack!  I can't believe you have to be so involved with it.  Don't you feel…?
Fatima:  …guilty?  Yeah, I do.  But what can I do?  Student Body Government is student body government.
Samina:  Well this is like the last thing that you do for them, right?  so…whatever.
Top Swordfish:  Attention lovely ladies, do you want to be the queen on campus, royalty of the senior class?  [Samina puts a pencil case on her head  while making a stupid face and mockingly doing the princess wave] Prom Queen sign ups and applications are due at the end of the week!  <<It's time to determine who will walk away as Prom King and Prom Queen.  Who will be elected into these ranks?  Whose dream will be fulfilled?>>
Fatima: [slapping off the "crown" from Samina's head]  Yo, knock it off!
Samina:  Why, goodness, I didn't know you were so sensitive about this whole [sneeringly] Prom Queen business.
Fatima:  Prom Queen is a big deal.
Samina:  No it's not, Prom Queen is stupid.  Some Barbie is gonna win it, I bet you it's gonna be Kendra Perkins or Stacey William.  They're popular, pretty, all the boys like them, all the girls want to be like them…
Fatima:  Yeah, I guess one of the typical girls will win it.  I wonder what it would be like if one of us was Prom Queen.  [look at each other and start laughing]
Top Swordfish:  Those have been your announcements for the day, Top Swordfish signing off the air, 5 weeks til graduation!!!  Buh-bye.
Teacher:  Good morning class…[lights fade, bell rings]…reports due next Thursday and see you tomorrow!!
Samina:  Man, I am bogged down this week!  I gotta run to my next class!  Meet me in the art room at lunch.
[Samina exits and Fatima is packing up still.  Jehan is walking by Fatima.]
Jehan: Fatima!  How was dinner at grandma's house on Saturday?
Fatima:  Oh, Jehan!  It was good. Why weren't you there again?
Jehan:  I was busy studying.
Fatima:  Oh yeah, I know how it is, it gets crazy towards the end—
Jehan: [cutting her off] of course I was joking.  I was at Rachel Brown's party.
Fatima:  Oh…..I um…..
Jehan: [nonchalantly] Yeah, you wouldn't know about it.   You're not with the popular crowd, even though you work with them in student body government.  Anyways, Prom Queen running is coming up, huh?
Fatima:  Yeah, so what about it?  [innocently laughing] Are you running or something?
Jehan:  No, I'm too cool to be Prom Queen.  [awkward pause, smile wipes off face of Fatima] But you know what, I would hate to see one of the Barbies be crowned—again! It's the same thing every year.  Why don't you run?
Fatima:  [shocked]  What?! ME run for Prom Queen?  That's such a joke!  Who would vote for me?
Jehan:  A lot of people probably would, the smart kids for sure.  You know, people are tired of seeing the same kind of girl win year after year.  They might be willing to vote for the nerdy –
Fatima: – hey I'm not nerdy, I'm just smart!
Jehan:  Sorry, for the smart brunette, Ms. Goody Goody Volunteer Chair of the school.  Who knows, they might find you a nice alternative to the typical Queen.  And plus, it's good for your reputation, everyone will respect you once you win, and they'll take you seriously and won't make fun of you for being the Volunteer Chair….Anyways, I got class…catch you on the flip side, cuz (cousin), Ms. Prom Queen Fatima!  [Jehan bows and exits]
Fatima:  [speaking to herself]  What, me, Prom Queen….?
Part Two: Dropping off the Application 
[Samina and Fatima are eating lunch in art room and painting, talking about Samina's portrait.  Jehan walks by.]
Fatima: Samina!  Girl, bio was disgusting today.  We had to dissect a brain and now I smell like brain juice.  I was starving before but I think I lost my appetite.
Samina:  If you're not gonna eat it, let me have a look at your lunch. [comes over]  Those pears look pretty good.  [pause, sniffing] Ew, gross. You DO smell like brain juice. [fake wretching]
Fatima:  [snatching bag away] You know what?  I don't even really like pears, but that comment really cost you.  I was gonna give them to you, but you smell like….paint….juice. [voice dying and ending pathetically.  Sam laughs.]
Samina:  Speaking of paint juice, do you wanna see my last piece for the art showcase?
Fatima:  Yeah!  Show it to me!  What's your last piece, what's the crowning jewel of your collection?  How's it coming along?
Samina:  Ms.  Mitchell wanted me to paint a self-portrait, she thought it would be a great way to top my portfolio off–give it the finishing touch!  But I wasn't sure about painting myself, because you know the whole thing about you're not supposed to draw people or something…well I don't really know,  so this is what I decided to do instead.  [Turns canvas around. Painting is blocks of different shades of browns, you can tell it's unfinished.]
Fatima:  Ahahahahh!  It's just brown squares!  Genius…
Fatima&Samina: …absolutely genius. [explosion of laughter]
Samina:  I know.  See, this way I get away with not having to draw a person and it's true to my abstract style.  AND Ms. Mitchell loves this interpretive stuff, so she'll be impressed.  She'll probably say something like—
Fatima:  "Woah, now that is art, I can sense the emotion in that one.  Or—"
Samina:  "Just brimming with teenage angst!  And the Modern twist!"
Fatima:  "These tan splotches…so deep…It's all how you see yourself, not how anyone else defines you.  A mirror doesn't always show you who you really are, especially when you're looking with your eyes closed.  These tan splotches are truly a mark of talent!"
Fatima&Samina: "I LOVE IT!" [laughing]
Fatima:  I can't wait to see it when it's finished!
[Enter Jehan]
Jehan:  Hey, I got you one.  We talked about it this morning.
[Stops in front of Fatima, drops application packet at Fatima's feet.  Looks at Samina and nods at her.]   Sam.
[Jehan exists.]
Samina:  Ugh!  Gosh I hate when she calls me Sam!  Can't you talk to her about it?
Fatima:  Yeah, I already have, but she's just my cousin, not my child, I don't have any control over her!
Samina:  [Leaning over towards Fatima and reaching to pick up packet]  So what did she give you?
Fatima: [Trying to cover the application] Oh nothing…
Samina:  [Grabs packet, shocked and confused.] Prom Queen Application.  She brought you a prom queen app?  Why in the world would she get you one?  Is this some kind of joke…? [Fatima looks guilty and uneasy.  Samina is furious.] PROM QUEEN APPLICATION?! [Fatima grabs application back out of Sam's hands.]  PROM QUEEN APPLICATION, ARE YOU KIDDING ME?!
Fatima:  [defensively, talking quickly in one breath] It was just Jehan's idea, not mine!  She told me that I should run and that she thinks I could even win, and that it would make people like me and that it would finally get one of the Barbies to not win Prom Queen this year.
Samina:  You know, Jehan does have some crazy ideas, [begrudgingly] but I think she might be right.  You could win…I think.  It would be nice to see those Barbies defeated.  Everyone wants to be a Barbie.  And it's ironic when you think about it because no one likes them.  They're mean and self-centered.  They use their popularity to take advantage of people.  And all at the same time, they're pretty and popular and have the nicest things and wear the cutest outfits and have perfect hair, every single day!  Man, don't you just love them.  It would be nice if someone could beat one of them to the crown.
Fatima:  Yeah!  It WOULD be!
Samina:  But just as long as it's not one of us.  I dunno, it seems too weird.  Lunch is almost over, let's go.  [Gets up and starts to exit]  You're coming to my arts showcase right?
Fatima:  Yeah, of course!  I'm so excited to finally see everything all together.  When is it again?
Samina:  The 25th—
Fatima & Samina:  The same day as Prom!
Samina:  –yeah.
Fatima:  No problem! [goofy] InshaAllah!!
Samina:   Hey, throw my wrapper in the trash will you?  [Fatima picks up wrapper] And while you're at it…throw away that application, too, where it belongs…right in the trash.
[Samina exits and Fatima is following.  Fatima throws wrapper away, but hesitates with the application, holding it above the trashcan.  She stands there for a few seconds.]
Fatima:  but…it would be so nice….Prom Queen Fatima….but it would be weird [Brings application away from the trash and to her chest and says with resolve] Well, you never know until you try…maybe it's worth a shot! [Exits.]
Scene Two:  Meet the Family
[Lights slowly grow bright.  Bilkis eating a snack and sitting at kitchen table, Mariam is sitting next to Bilkis. Mom washing dishes. Enter Fatima, lights get bright all of a sudden.]
Fatima:  I'm hoooome! Assalamu alaykum!
Mom, Mariam, Bilkis:  Walayakum assalam.
Mom:  How was school, honey?
<<In background you hear Mariam saying "but Bilkeeeeees" and Bilkis saying "but Mariaaaam" over and over again and getting louder and louder until it cuts Mom off>>
Fatima:  It was fine, I have a report due, I have tests, I have a lot of stuff to do for student body government.
Mom:  I don't understand why you do this school government.  They take all your time away from you, you can't focus on your studies, you are too busy catching up on your homework to go to the masjid some weeks…I don't like this body government of yours.
Fatima: But mom, we already talked about this!  It looks good on college applications—I'm Volunteer Chair for the whole school!  I get so much community service hours, it shows that I have leadership skills and responsibility. If you want me to get into a school as good as Mariam, I have to do it.  She did band and all this stuff, too when she was in high school.
Mariam:  Hey!  Leave me out of this!  [goes back to being annoying with Bilkis]
Fatima:  Well it's not as easy to get into a good college as it was for Mariam 4 years ago!  It's gotten a lot harder Mom!
Mom:  Fine, fine, I know.  You did explain this to me all before.  "But mom – SATs, volunteering this, testing that, GPA, GPS, IV, IB, OMG, UC, AP, ACT, MPH, LOL."  I've heard it all before!  [Bilkis and Mariam screaming, pause]  Mariam!  Bilkis!  Would you be quiet!  Can't you see we are talking here?   [Mariam and Bilkis burst into giggles.  Fatima starts putting her stuff on the table.]  You two are so irritating.  It's time you stopped acting like a child, Mariam.  [pause, washing dishes, and then as if another thought/a tangentI] You came back from college and now you're a woman,  it's time to get married.  All this foolish screaming is for children, not for someone your age.  And remember what I told you about who's coming on Friday!  [Exits with the trash.]
Fatima:  Yeah, grow up, it's time to cop some good proposals, Ms. Marriageable Lady Mariam.
Bilkis:  Mariam is going to get married!! YAAAAAAAAY!
Fatima:  Booger, shove a sock in it.
Mariam:  [somewhat jokingly, but serious at the same time]Fatima!  You can't talk to Bilkis like that!
Fatima:  [Sticks tongue out.] Great .  I have so much work to do! [Application packet sticking out of her folder. Bilkis reaches for packet, reading out loud]
Bilkis:  [Craning neck over] P-pr-rom Queen App…Appli–
Fatima:  [Yanking her stuff away] Get away from my stuff, booger!
Bilkis:  [indignant]  Hey!  Stop calling me booger!  Mariam already told you to stop!
Fatima:  [said in a joking way, a man's voice] Stop me, big sis, just try and stop me.
Mariam:  [jokingly] I know one thing that will stop you for sure.  Booger attaaack!!
[Bilkis gets up and runs towards Fatima with hands outstretched screaming and Mariam is sitting there laughing.  Fatima runs and exits, followed by screaming/chasing Bilks.  Lights fade and fading spotlight on Mariam.]
[Mockingly] What children!   [Indignantly.] Hmph!
[Anxiously, puts her head on the table.] Friday…………ughhhhhhhhhhhhhhh.
Zaid Karim, Private Investigator, Part 18 – A New Light
I appreciated Safaa's defense of my honor, but I was busy trying to understand Farah Anwar's strange reactions and bizarre statements. Wasn't this what she wanted? Wasn't this what she hired me to do? Then something clicked into place and understanding dawned.

See the Story Index for Wael Abdelgawad's other stories. Wael's novel, Pieces of a Dream, is available on Amazon.com.
Zaid Karim Private Investigator is a full length novel. Previous chapters: Chapter 1 | Chapter 2 | Chapter 3 | Chapter 4 | Chapter 5 | Chapter 6 | Chapter 7 | Chapter 8 | Chapter 9 | Chapter 10 | Chapter 11 | Chapter 12 | Chapter 13 | Chapter 14 | Chapter 15 | Chapter 16 | Chapter 17
Thursday, March 4, 2010 – Early evening
El Valle de Antón, Coclé Province, Panama
When I woke it was Maghreb time. Looking through the glass I could see the outlines of the hills against the purple sky. The covers were cool against my skin, and a corner lamp filled the room with soft yellow light. The orchids on the wall cast delicate, origami-like shadows. Their sweet, lemony scent made me think of being back home with Safaa as she baked lemon bread in our little apartment. I heard voices talking from another room. My mouth was dry and I was ravenously hungry, but I felt slightly stronger, and I wanted to pray.
I pulled the IV from my arm, causing blood to trickle from the insertion point. I tried to rise and actually succeeded in swinging my legs down from the bed, though the effort taxed me so much I let out a groan. A split second later the door opened and Safaa came rushing in. Only then did I notice the baby monitor sitting on the nightstand beside the bed. She'd been monitoring me from the other room.
I gave her a sidelong look, my expression hard. "Why are you still here? I told you I divorce you."
She crossed her arms. "No."
"Yes. I gave you a statement of divorce."
"No. I won't let you."
"What do you mean? I want a divorce. You can't tell me what to do."
"Yes I can."
What the heck? Were we kindergarteners now? Were we going to repeat ourselves a hundred times and resort to saying, I'm rubber you're glue, whatever you say bounces off me and sticks to you?
"Habibi, listen." Safaa came forward and put a hand on my leg. "I made a terrible mistake. I get it now. A marriage can't survive without trust. I violated that trust when I took someone else's word over yours. I'm sorry." She straightened her back, like a soldier at attention. "I'm not leaving. I made that mistake already. I abandoned you when you needed me. I won't do it again."
I said nothing, but my mouth turned down and I looked away. Words were cheap. She claimed to trust me now, but I didn't trust her anymore. I'd always thought the bond between us was unbreakable, that we were a match decreed in the world before this world, and that nothing could separate us. Safaa had proven me wrong. We weren't special. We weren't destined for each other. We were just a man and woman thrown together by circumstance. What we had was finished.
"Habibi," she pleaded. "Say something."
I said nothing. I didn't like hurting her, but I was entitled to my feelings. Her apology and tears were too easy. You can't hurt someone for months then show up one day and say, "Sorry, let's start over." Actions have consequences.
"Fine." Safaa shoved my leg irritably and stood up. "You remember what you always say to Hajar when she knows she's wrong but won't admit it? There's good stubborn and bad stubborn." She glared at me, and when I made no reply she turned and stalked out of the room.
Shortly afterward Yusuf came in with a tray of food. There was chicken soup, rice, lentils, baked sweet potatoes and mushrooms, and yogurt. "Yasmeen prepared this. She says these are good post-surgery foods. She used to be a nurse. That's how we met. I was hospitalized for appendicitis and she cared for me."
"That's cool, ma-sha-Allah. I get the feeling she doesn't like me much though." As I talked I ate, and it was heavenly, as if I had never tasted food before. The soup was hot and tangy, the potatoes buttery and salty, the yogurt cool and sour. SubhanAllah, how had I ever taken food for granted?
"She doesn't trust you. She's afraid you'll drag me into something dangerous or illegal."
"Which I already did."
Yusuf smiled. "You're my brother. You're like family. Do you know the name of my company?"
I thought back to the Google search I'd run back in the Los Angeles airport, a lifetime ago. "Yuza Construction."
"Do you know what it means?"
I shrugged. "Some kind of indigenous word?"
"Think about it. Yu. Za. What two names do you know that start with those letters?"
I stared, then laughed. "You're kidding."
"You saved my soul, Zaid. You changed my life. Everything I am I owe to you. From the very beginning I envisioned the two of us working together. Stay here in Panama. I'll make you a partner in my company. You'll be well cared for."
"I don't know anything about construction."
"You could learn. Or I could make you head of security. Loss prevention, background checks. That's up your alley. There's plenty of work."
"I'll think about it."
"Está bien. So tell me, what can I do for you?"
"Well. I've lost all my documents, and I have no idea what happened to Anna's passport. Her mother probably sold it."
Yusuf nodded. "I have a contact at the American embassy. I'll reach out."
"I have another request. Kind of an odd one." I told him about an old man sitting alone in an apartment on the worst street in Colon, playing an imaginary trumpet.
My old friend smiled. "I'll see what I can do." He paused, then said, "You know that your wife loves you, right?"
My face became a blank mask. "I'm done with Safaa."
"Zaid." Yusuf put a hand on the back of my neck and pulled my head to touch his forehead to mine. Then he kissed me on one cheek. I grimaced but took it like a child under assault by an over-affectionate uncle. What was with these Panamanians and their relentless physicality?
"Do you know," Yusuf said, "how loyal she's been to you? When she found out about your condition she was here the same day. Not the next day hermano, the same day. You were at Punta Pacifica Hospital then. We all stayed at my apartment in the city while you were recuperating, but not Safaa. She never left your hospital room. She slept in a chair at night, and sat at your bedside during the day. She recited to you from the Quran and talked about Hajar and how much she loves you. That's a loyal woman."
"Akhi, you don't know," I said hotly. "She accused me falsely, sided against me, kicked me out of my home, denied me access to my daughter, and treated me like something she scraped off her shoe. I tried for months to reason with her, and then…" I made a helpless gesture. "I ran dry. The well ran dry."
"I get it hermano, I do. In the name of fairness she should get what's coming to her. In the name of your righteous indignation. In the name of punishing her. But what if I were to say to you, in the name of love? And more importantly…" He paused momentously, as if he were about to deliver the last line of the Gettysburg Address. "In the name of Allah."
I froze in the middle of chewing a mouthful of beans. What could I say to that?
"Do you remember," Yusuf went on, "what you used to say to me in prison, whenever I would express my fear that my family would not understand my conversion to Islam, my wife would divorce me, my daughter would see me as a stranger? You used to say, do it for Allah, and trust Allah to do for you." He winked as if he knew he'd just made the winning move in a chess match. "So. In the name of all those other tings, no. But in the name of Allah? I leave you with that."
I put up a hand. "Hold on."
Yusuf paused, raising his eyebrows.
"What I do with my family is my own affair."
"Okay."
I sighed and changed the subject. "Did Niko leave a number where I can reach him? Or an email or something?"
Yusuf hesitated. "Maybe you should let him be. He's been through a lot."
"What do you mean? Is he angry with me?"
"No, nothing like that. You know what, it's fine." He drew a black smartphone from his pocket and handed it to me. "His number's in the contact list."
When I was done eating I scrolled through the contacts on the phone until I found Niko Tiburon. I dialed, and a moment later a child answered with "Aló!" I asked in Spanish to speak to Niko. A loud clattering ensued, as if the phone had been dropped on a table or the floor. I heard children's' voices shouting and at least one child laughing hysterically.
"Aló?" a voice said. It was Niko.
I grinned widely. "I need a driver. Just a simple job, a few hours only. Are you available?"
Niko laughed. "Mister Zayn, you are awake! Gracias a Dios! But I think you better find someone else this time, Zayn. My wife want to either kiss you or kill you, she don't know which."
"Kill me I can understand, but why kiss me?"
"Because of my son, Zayn! Because of Emanuel. He can walk! He had the operación, Zayn, he can walk! Gracias a Dios!"
I tipped back my head and sent a prayer of thanks to Allah. What a miracle. What a blessing. "That's wonderful," I said. "That's amazing, Niko. I'm so happy for you and your family."
"Is all thanks to you, Zayn."
"No. Thanks to God. Listen Niko, as soon as I'm well I want to come visit you and meet your family."
"Oh." Niko's voice dropped an octave. "No is possible, Zayn. I am very busy with work and my family. But you must know that I will never forget you. You are a hero from the novelas, just like I say before. You change my life."
"So… I don't understand." I hardly knew what to say. "I won't see you again?"
"I am afraid no, Zayn. But is okay. You have a job too, yes? You must take Anna back to Los Estados Unidos."
"Yes. That''s true. Well… okay, Niko. Congratulations again on your son." We said our goodbyes and hung up. I sat there staring at the phone. Everything Niko said made sense, so why did I get the feeling that he was hiding something from me? That there was something important he wasn't telling me?
Setting the phone down, I threw off the covers and carefully lowered my legs to the floor. My left calf was missing a chunk of muscle, as if a dog had taken a bite out of it. My toenails had not grown back, and the nail beds were yellow, red and purple in places. They looked disgusting.
There was a walker beside the bed. I leaned on it heavily as I stood and made my way to the bathroom. The walker had a built-in seat and I had to stop twice to rest. But I made it.
The bathroom was lovely, with teak cabinetry, a natural stone floor and shower, and a huge mirror lined with flat brown stones. It smelled of lavender. Looking at myself in the mirror, I was shocked at my appearance. A scar came out of my hairline and ran from my right temple, across my eyebrow to the bridge of my nose. I had no idea how I'd gotten it. I didn't remember being wounded there, but much of what had happened on the island was hazy, and for that I was grateful.
I'd lost much of my muscle tone and was dangerously thin. My ribs showed beneath the skin. My beard had grown out. I looked like a man who'd been living in the forest for the last ten years.
The skin on my left shoulder was a mass of twisted flesh. A long, red scar ran up my left arm where the drug house thug had slashed me.
And my legs… the skin on the front and inside of my thighs was like a map of the chaotic streets of Panama, but a map drawn in scars. There were scars on top of scars, scores of them. Many were red, some pink, while the least severe had begun to fade to white. I shivered and closed my robe, not wanting to remember that terrible time in the torture chamber.
I performed wudu and limped back to bed, where I prayed Maghreb and 'Isha lying on my back. I was grateful to be alive, but my thoughts were foggy and confused. With my belly full of food, and my ravaged body exhausted from the trip to the bathroom, I fell asleep.
* * *
Friday, March 5, 2010 – Afternoon
El Valle de Antón, Coclé Province, Panama
When I woke the next morning – or what I thought was morning – Safaa was there, reading a book. Seeing me awake, she came to my bedside. She reached out and massaged my leg. "How do you feel?"
I looked at her. Her eyes were so tired they looked bruised. Still, she was beautiful. The humidity down here made her skin glow.
She tipped her head. "Say something."
I didn't know what to say. I didn't have the heart to repeat my earlier declarations of divorce. Maybe Yusuf's words had taken root in my brain overnight. In the name of love. In the name of Allah. Do it for Allah, and Allah will do for you.
"Why is everything a matter of ghuluw with you?" Safaa demanded.
"What-" I cleared my throat. "What do you mean?" Safaa's Arabic was better than mine.
"Ghuluw. Extremism. Fanaticism. When you loved me, every word out of your mouth was poetry. Now you won't speak to me at all. You take a case, and it practically turns into a war. Where's the middle ground?"
"Where was the middle ground with you," I countered hotly, "when you abandoned me?"
To my shock, Safaa burst into sobs and dropped to her knees at the foot of the bed. She pressed her forehead to my blanketed feet and hugged my legs. "Please, Zaid," she wailed. "I'm so sorry. I won't do it again, I promise. I'm begging you. I don't want a divorce. Hajar needs you. I ne – ee – ed y – you." Her voice broke as huge sobs wracked her chest.
I was utterly aghast. This was not what I wanted. I had never wanted to see Safaa hurt or humiliated. She was a strong-willed and proud woman. Seeing her like this caused me actual physical pain, as if I had a lump of hot coal wedged in my chest. "Stand up," I said, and it came out harsher than I intended. "Allah yardaa alayki ya Safaa, get up please."
"Will you – " Her voice hitched as she struggled to speak. "Will you take back your talaq? I wo – won't get up until y – you do."
Oh, for heaven's sake. Women didn't fight fair. I couldn't bear to see her like this, no matter what she may have done.
"Fine," I growled. "I take it back. Please, stand up. Please."
She stood, wiping tears from her swollen eyes. "Do you mean it?"
"Yes," I said grudgingly.
"So you forgive me?"
I glared at her. "Don't push."
"Okay. Do you need anything?"
"Have you and Hajar had breakfast yet?"
"It's two o'clock in the afternoon. But we haven't had lunch yet."
"Maybe we could eat together. If you want." If we were going to be a family again, we might as well start now.
Safaa smiled. "That would be wonderful."
While she went to bring the food, I struggled to the bathroom again, made wudu', and prayed Dhuhr and 'Asr. This time I prayed sitting up in bed. I recited Surat Ad-Duhaa:
He found you lost and guided [you], And He found you poor and made [you] self-sufficient. So as for the orphan, do not oppress. And as for the petitioner, do not repel. But as for the favor of your Lord, report.
I had a realization. When last I had recited this, I'd been under torture in a place of nightmares. Yet Allah had saved me. He'd brought me through. Just as the surah said, Allah had done his part, and now I had to do mine. "The petitioner, do not repel…" I had a petitioner before me, a woman who only moments ago had literally been begging for forgiveness. Allah had shown me mercy, and now it was my turn. Hadn't my entire life been a struggle for sincerity? What was I doing pushing Safaa away? What was I thinking? Her mistake didn't matter. What mattered was the choice I now made. I had to find a way to bring myself to forgive her.
When Safaa returned with the food tray, Hajar ran in with her. She hopped up on the bed and proceeded to tell me excitedly about the pony she'd been riding, whose name was Roja. She told me how it would sometimes toss its mane, how she'd learned to brush and wash it, and had even learned to make a special pony treat out of oats, molasses and raisins.
I had taught Hajar a mealtime prayer: O Allah, bless what you have provided for us, and make us among the people of Jannah. Hajar must have taught it to her mom, because Safaa recited it and we began to eat, all of us sitting in my bed. Safaa kept reaching out to stroke my arm. It felt like the old days, and I had to keep reminding myself that I was supposed to be mad at her.
When we were done, Hajar went out to play with her friends, especially Anna, to whom she'd grown close.
"Where have you been sleeping?" I asked.
"Next door. Me and Hajar are sharing a room and a bed."
"What about Oris and Anna?"
"They're in Nora's room. Yusuf's older daughter. She treats them like younger sisters. Yusuf is trying to locate any family Oris might have. From what I gather, her mother was a prostitute and was killed. She never knew her father."
"That's rough."
"Yeah."
"Safaa, I have to ask you something."
"Okay."
"You know I love you. I always have. But these last several months have been so hard. At times I didn't have food to eat. More than that, I've never felt so alone, not even when I was in prison. You abandoned me, and you didn't let me see my daughter. My daughter, Safaa. How can I trust you? How do I know you won't do it again? There are a lot of people who don't like me. What happens the next time one of them makes up a story about me? How do I know you won't toss me aside like a piece of litter?"
Safaa looked down and picked at the blanket. For several minutes she did not speak. Finally she took a deep breath and raised her eyes to mine. "When…" Her chin trembled and a tear ran down her cheek. "When we didn't know if you would live or die, I realized…" Another breath… "I realized that I didn't know how to exist in a world in which Zaid Karim did not exist. A world without you, Zaid, would be like the sun without heat, or like an empty cave that hasn't seen the tread of a man in a thousand years."
I looked at her without expression. "Is my poetry rubbing off on you? You sound like me now, but not as good."
Safaa laughed and pinched my hand. "Oh, shut up." She reached out and stroked my beard. "You know what Hajar said when she first saw you with this beard, when you were in the hospital?"
"What?"
"She stared at you, then she said, 'Is Baba a Prophet now?'"
I chuckled and shook my head. "I hope you set her straight."
"Of course. But Zaid, I have to tell you, I'm seeing you in a new light."
"What do you mean?"
"Well… I always knew you were strong. You survived prison. Your entire life has been a struggle. But the way people down here talk about you. Niko said you saved him from drowning. Yusuf says he 'owes his soul' to you. His words. And when I saw your body, what those monsters did to you…" She reached out to touch my leg, and though my legs were covered with the blanket I knew she was touching my scars. "When you were unconscious Anna would come in here every day. She'd tell you fairy tales like the three pigs and Goldilocks. She looks at you like you're an angel that came down to rescue her."
"No." I put up a hand to stop her. "Please don't. I'm not that. I'm not." I felt suddenly overwhelmed. I couldn't bear to hear another word.
"Okay then. A ronin lion."
I snorted. "That doesn't even make sense. I was hired to do a job and I did it, barely. As for my many failures." I lifted my palms. "I have to live with them."
"You asked," Safaa insisted, "and I'm answering. I always loved you, but I'm not sure I ever truly knew you. You were a cute boy who I liked and who needed me, especially when you were in prison, and your need for me fed my ego. But I admit, maybe in the last couple of years I started to wonder if my faith in you was misplaced. Maybe it wasn't enough anymore to be needed, so I let myself be swayed by those negative voices. I'm not proud of that. It will never happen again, habibi. It's like I'm seeing you for the first time. You don't actually need me at all. It's all of us who need you. You said I was a mountain in your mind? You, my love, are Mt. Everest."
I waved this off. I couldn't stand such praise, because I didn't believe it.
"But do you trust me that it won't happen again?" Safaa persisted.
I was quiet a moment as looked into my own heart. Did I? Did I trust her? "Yes," I said, to myself and to her.
My wife leaned forward and hugged me. I almost pulled away, then my arms went around her and I embraced her with all my strength, which admittedly wasn't much in my condition. We sat like that for perhaps five minutes, holding each other. Only then, feeling her solidity and the heat of her cheek against mine, and smelling her lightly floral perfume, did I feel in my bones that I had survived the horrors of Ouagadiri Island. Only then did I know that I was alive, this wasn't a dream, I had a future, and that – no matter where I might be geographically – I was home. Safaa had said that she saw me in a new light now? Fine. We would walk into that new light together.
* * *
I borrowed Yusuf's phone again and made a few calls. The first was to the Anwars. The call went to voicemail, and I left a message detailing all that had happened, and telling them I would have Anna back to them as soon as I was well enough to travel.
The second call was to my parents. It didn't go well. My mother accused me of stealing from the Anwars and running off. I tried to tell her about Anna, but she didn't believe me. When she launched into her spiel of how Allah was punishing her with a son like me, I said goodbye and hung up.
The third and final call was to Jalal. He was overjoyed. He'd been terribly worried. He told me that my office and car were fine. He'd been watering my plants and paying my bills with the checkbook in my desk drawer, forging my signature to do so. I didn't mind. I thanked him and asked him to pay himself another $200.
"There's something you should know," Jalal said. "There's a controversy going on over you. People are saying that your whole private investigator thing was a con, and you used it to rip off the Anwars. I had a fight with a brother over that. I mean a real fight, they called the cops to the masjid."
Wonderful, I thought bitterly. Just what I need. "Stay out of it," I told him. "Let people say what they like." I couldn't stop myself from asking, "Has Imam Saleh said anything?" I couldn't bear the thought of Imam Saleh, who I respected so highly, thinking I was a thief. The very thought was like another gunshot wound.
"He gave a whole khutbah about it! He said that backbiting and slander are a serious sin. He was angry, I'm telling you. He didn't mention you by name, but he said that to drag an honorable person through the mud without evidence is despicable, and to do so in his absence is cowardly. Dr. Anwar walked out in the middle of the khutbah. The whole community is split. Mostly the elders are siding with the Anwars, while the younger brothers are defending you."
I groaned and covered my eyes. "Okay. Jazak Allah khayr, brother. Aside from all that, how are you doing personally?"
"Oh, you know." His voice dropped. "Still thinking about Cindy. It's hard, man."
"Stay strong. Any woman who would break up with you over your religion isn't worthy of you. Keep your chin up, keep the faith. Allah will give you someone better."
"I guess so…"
* * *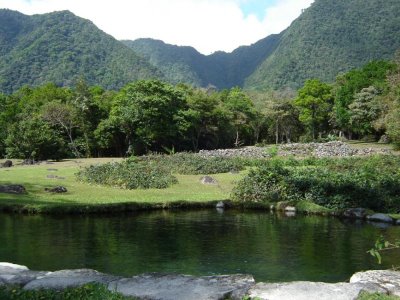 I spent the next three days recuperating. I focused on rebuilding the strength in my left leg. I would probably always have a limp, but I stretched the muscle several times a day, and walked as much as I was physically able. The first two days I walked on the estate, moving slowly and using first the walker, then a pair of canes. Safaa accompanied me with a wheelchair, and when I became tired she wheeled me back to the house. The girls often rode beside us on horseback. Yusuf had a stable with a dozen horses, some of which were worth quite a lot of money. Finally, like a shadow, one of the bodyguards – there were three, it turned out – paralleled us.
Safaa and Hajar moved into my room, with Safaa in my bed and Hajar in a smaller bed that Yusuf and Yasmeen brought in. Each night my wife fell asleep with her body pressed against mine, the chorus of frogs outside singing a lullaby.
By the third day I was strong enough to take a walk through town, using a cane rather than the walker. Incredibly, El Valle – as the locals called the town – rested within the crater of an extinct volcano. The fertile soil gave rise to towering trees: mango, papaya, acacia, cocoa and others. Flowers grew everywhere, including orchids, which grew wild on tree trunks. The main road was paved, but the side streets were made of grass. The volcano's caldera was forested, and water poured out of the valley through two waterfalls.
On the third evening we all rode two golf carts down to the local pizzeria, except for Nora who rode her tall horse. A bodyguard followed in an ATV.
The crispy-crusted pizzas, made with fresh ingredients from the local open-air market, were delicious. We sat in the patio area, watching people go by on the main street. There were families out for an evening stroll, children on bicycles, the occasional bus, and a few drunks weaving their way to or from the local bar. The waitress fussed over baby Zaid, and people from the street called and waved to Yusuf, calling him "Don Jose." They certainly did not seem to fear him.
I could be happy here, I thought, so far from the North American 21st century, where things were designed to break – planned obsolescence, they called it. I was so tired of a world where everything started with a focus group and ended as plastic packaging dumped into the sea. Everything was manipulated, from cereal boxes designed to attract the eyes of children, to internet memes crafted to go viral. Nothing was real in that world. Human beings were walking wallets, and every idea, product, and bit of information was simply a means to empty those wallets.
Here, a man could breathe. I could stay here with Safaa and Hajar, and be happy. Here, the air was filled with the scents of jasmine and oleander; the food was fresh from the farm or the sea; and people smiled and greeted you like an old friend, even if they'd never met you.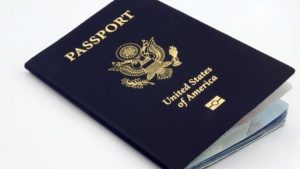 The next day, amazingly, a courier arrived with new passports for myself and Anna. That was some kind of pull Yusuf had – like an 800 pound gorilla. The same day, Yusuf informed me that his staff had located a member of Oris's family: a paternal grandmother, who lived in the coastal city of Pedasí, located on Panama's Azuero peninsula. The woman was on her way to collect Oris.
It was time to go home. Safaa went online and booked tickets on a 6 pm direct flight to Los Angeles, connecting to Fresno and arriving at midnight. I had no money, but Safaa's bank account was flush with the cash I'd sent her, and she had her credit and debit cards.
First, though, I had to see a dear friend. A recently acquired friend, true, and a crazy one, but dear for all that. I borrowed Yusuf's phone and called Niko again.
The phone was answered by a woman, who I presumed was Niko's wife Teresa. When I told her who I was, she replied tersely that Niko was not available, and hung up on me. Huh. If he'd told her half of what we'd been up to, then I didn't blame her. I was the guy who'd gotten her husband shot.
We spent the morning packing. More accurately, Safaa packed her bags, since I had nothing but a few sets of used jeans and short-sleeved dress shirts that Safaa had purchased at a store in El Valle, which wasn't exactly the fashion center of the Western hemisphere. We loaded our things into Yusuf's four-door, four wheel drive truck. I wasn't much help, as I still needed a cane to walk. Safaa, Hajar, Anna and I would leave together, with Yusuf driving and a bodyguard riding shotgun. We said our goodbyes to Yasmeen and Nora, and Safaa fussed over baby Zaid one last time.
I imagined that Oris would have a hard time letting Anna go. She was so protective of the child, always riding near her when they took the horses out, always sitting beside her when they ate. But as I was about to climb into Yusuf's truck, Oris, who'd been standing next to Nora, ran forward and threw her arms not around Anna, but around me. In my weakened state, that was enough to unbalance me. I stumbled and lost my grip on the wooden cane. I would have fallen if Safaa had not been there to catch me.
"¡Por favor," Oris cried, "No me deje! Llévame contigo." Don't leave me. Take me with you.
I put a hand on the truck to stabilize myself and patted Oris on the back. "It's okay,' I told her in Spanish. I almost said, you'll see Anna again one day, but that would most likely be a lie. I had no idea if Anna would ever return to Panama. I didn't know what to say that would be true, so I merely said, "You're okay." Which, of course, was also not true. She was not okay, and might never be okay.
"No!" Oris insisted, embracing me even tighter. "No los conozco. Quiero ir contigo." I don't know them. I want to go with you.
I thought I understood then. The poor girl didn't know who to trust. I didn't know the details of the circumstances that led to her mother's death and Oris being consigned to slavery, but it was obvious that, just as with Anna, everyone had either failed this girl or betrayed her. We were all strangers to her: me, Safaa, Yusuf and Yasmeen, we had all been kind to her but were still essentially strangers. For all she knew, we all might turn out to be monsters. We all might betray her, just as everyone had done before.
Except for me. I'd saved her. She'd seen with her own eyes how I had put my life on the line to free her, how I'd suffered, and how in the end I'd been willing to die to protect her. I was the only one she knew in her bones she could trust.
I didn't know what to say or do. I stood helplessly with this child still holding on to me as if she'd gone overboard in heavy seas and I were a lifebuoy. I didn't have the heart to pry her arms off me by force.
At the same time, I could not take her with me. It was impossible. She was not an American citizen, I had no identity documents for her, and I was not her family member.
Nora came over and, speaking gently to Oris, slowly peeled her arms off me. With my heart in my throat, I turned to climb into the truck. Oris screamed and threw herself to the ground. On hands and knees she sank her fingers into the gravel of the driveway and wept. On Ouagadiri Island she had not cried. She'd protected Anna and paid a terrible price to do so, and yet she'd stood as straight and unyielding as a spear planted in the ground. Now, though, she wept as if her world were ending.
My heart broke. I kneeled in the gravel beside Oris, pulled her to me and embraced her. "No me voy," I told her in my imperfect Spanish. I'm not leaving. "No me iré hasta que digas, okay?" I'm not leaving until you tell me.
We all went back into the house. Yasmeen prepared a snack for the children, and I took a nap. At two o'clock in the afternoon, Oris's grandmother arrived with a young man in his twenties. They pulled up in a small, dented pickup truck that coughed like it was dying of tuberculosis. The grandmother, a tiny brown woman with deep wrinkles, wore an ankle-length, full-bodied white dress with ruffles embroidered with bright red floral designs. On her head rested a black and white straw hat with a wide brim. By comparison, the man looked ordinary in jeans, t-shirt and sandals.
Yusuf and Yasmeen welcomed them and ushered them into the main living room of the house. The young man gawked at the spacious room, which was several times the size of Safaa's entire apartment back in Fresno. But the old woman paid no notice to the surroundings, focusing her entire attention on Oris, who had positioned herself beside me.
The old woman beamed at Oris. "Sweetie," she said in Spanish, "do you remember me? I am your grandmother."
Oris made no reply. Her slender hand snaked up and gripped my own, squeezing tightly. The grandmother went on to describe Oris's father. I didn't understand all of it – the woman's tendency to drop her final consonants and even entire syllables made her difficult to understand – but I gathered that Oris's father had emigrated to the United States when Oris was young, and had, according to the grandmother, died of an illness. The young man beside her was Oris's cousin. When the grandmother stepped forward with her arms outstretched, the child hid behind me.
It turned out to be a long afternoon. By late afternoon, after the daily downpour had come and gone, Oris agreed to take a walk through the garden with her grandmother, just the two of them. I watched through the window as they strolled amid the flowers and mango trees, the grandmother occasionally stroking Oris's long black hair. They walked for a long time.
When they returned, Oris came to me. "Está bien," she said. "La recuerdo. Ella fue amable." It's okay. I remember her now. She was nice.
"Are you sure?" I asked her in Spanish.
"Yes. But -" Her voice dropped to a whisper. "Promise me."
"Promise what?"
"If anything bad happens, you will come for me." Her lower lip trembled. "Promise."
I nodded solemnly and drew her into a hug. "I promise. I swear it."
We all stood in the driveway and waved as Oris, her grandmother and her cousin pulled away in the little truck, the engine coughing and sputtering as it went.
"Do you think she'll be okay?" Safaa asked me.
"I think brother Yusuf will check on her from time to time, and let us know. Right akhi?"
"Uhh, sure," Yusuf replied. "Yes. I will do that, Insha'Allah."
* * *
It was dark when we set out for Panama city and the airport. We crossed over the Puente de Las Americas – Bridge of the Americas – and I looked down at the dark width of the Panama Canal. A huge container ship was entering from the Pacific side, its lights shining as brightly as a small city, its sides only a hand's width from the walls of the canal. These ships, I knew, carried tens of millions of dollars worth of consumer goods. Yusuf had told me that a single ship might have to pay a $200,000 canal transit fee.
I wondered what my hero, Salman Al-Farisi, would make of this modern world with its obsession with purchasing power, fashion, electronics and disposable goods. Salman, who came from a wealthy and influential Persian family and might have become an important figure in the Sassanid empire of the time, but had given all that up in order to seek the truth.
I thought now about the latter part of Salman's life, picking up the mental narrative where I'd last left off:
During the rule of 'Umar ibn al-Khattab, Salman was appointed as the governor of Madayen Kisra near Baghdad. It was a city of 30,000 people. Salman received an annual salary of 5,000 dirhams, but he distributed all of it to the poor, refusing to take any for himself. Instead he supported himself by weaving palm fronds into baskets. He would buy a palm from for one dirham, work on it, then sell it for three. Out of those three he gave one in charity, one to support his family, and kept one as working capital.
His dress was a simple gown, barely covering his knees, and it was the only one he owned. His house was small, only enough to protect him from the weather. When he stood, his head touched the roof.
One day on the road, Salman met a man arriving from Syria, carrying a load of figs and dates. The Syrian saw the old man in front of him, who appeared to be a common laborer, and beckoned to him. "Relieve me of this load," he said. Salman did, and they walked together. They met a group of people. Salman greeted them and they stood up, saying, "And unto the governor be peace!" Some of them rushed forward to take the load from Salman's shoulders. The Syrian was astonished. Who was the governor? When he realized the truth he apologized profusely and tried to reclaim his goods. But Salman refused and insisted on carrying them to the man's destination.
When Salman was on his deathbed, his humble soul preparing to meet its Lord, Sa'd ibn Abi Waqqas came to see him. Salman and Sa'd had been friends for decades, and had fought together during the conquest of Iraq.
Seeing Sa'd, Salman wept. Sa'd said, "What makes you weep, O Abu Abdullah? The Prophet of Allah died pleased with you!"
Salman replied, "By Allah, I am not weeping in fear of death, nor for love of the world. But the Prophet of Allah put me on an oath. He said, 'Let any of you own in this world (only) like the provision of a traveler.' Yet here I have owned many things around me!"
Sa'd, telling this story later, said: "I looked around and saw nothing but a water pot and a vessel to eat in! Then I said to him, 'O Abu Abdullah, give us a parting word of advice to follow.' He said, 'O Sa'd, remember Allah for your cares, if you have any. Remember Allah in your judgment, if you judge. And remember Allah when you distribute the share.'"
When there came the morning on which Salman died, he said to his wife, "Bring me the trust I left in safekeeping." She did, and it was a bottle of musk – one of Salman's only possessions. He had gained it on the day of liberating Jalwalaa' and kept it to be his perfume when he died. He called for a pot of water, sprinkled the musk into it and stirred it with his hand. He told his wife, "Sprinkle it on me, for there will now come to me creatures from the creatures of Allah. They do not eat food, and what they like is perfume." Meaning the angels.
Then Salman Al-Farisi, the great truth-seeker of history, died. He was 88 years old. The year was 35 after hijrah, during the caliphate of 'Uthman. May Allah be pleased with them all.
* * *
I didn't think I could ever live like Salman, but maybe one day I could achieve the same degree of unconcern for the things of the world. Maybe one day I could live only for Allah.
We had passed over the bridge and were speeding through an area of Panama city with a large forested hill on the left and a rundown barrio on the right. "Take me to Niko's house," I said.
"But hermano," Yusuf protested, "You have a flight to catch. And didn't Niko say he was busy?"
"We have plenty of time before the flight. And something's not right."
A heavy silence followed, but Yusuf, who knew me well, did not attempt to argue. "Very well," he said finally.
Once across the bridge we turned into a neighborhood that possessed a quietly menacing feel, much like Colon, though the buildings were in somewhat better shape.
"This is barrio El Chorrillo," Yusuf explained. "A poor neighborhood. The USA bombed this neighborhood in 1989, when they captured Noriega."
We parked in front of a ten story concrete behemoth with tiny windows and peeling paint. The bodyguard remained outside with our two vehicles, presumably so we would not return to find them stripped down to bare frames. The elevator was out of order, so we took the stairs, all five of us – Safaa, Hajar, Anna, Yusuf and myself.
Yusuf had gifted me a wickedly sharp pocket knife with a bone handle. It was small, with only a two and a half inch blade, and I didn't recognize the brand. But the handle was sleek and fit my hand well, and the blade had a smooth action, with just the right amount of resistance. I was frankly sick of violence, and hoped never to have to use a weapon again. But the knife was a security blanket. Just having it on me calmed my nerves, and I found myself palming the clip as I laboriously climbed the stairs, using my cane for support.
Niko's apartment was on the seventh floor, and I was badly winded by the time we got there. In fact Safaa had to help me up the last two floors. The apartment door was made of steel. When I knocked it clanged dully. I noticed Safaa shoot a look at Yusuf, who averted his eyes. What was that about?
From inside I heard the excited squeals of children, then Niko's voice telling someone to go answer the door. The door was opened by a girl of perhaps ten years. She had the cocoa skin of one of Panama's indigenous tribes, and wore a colorful red and blue dress. Her long, dark hair hung in a single braid. She blinked at us, apparently startled to see a tall man in an expensive suit (Yusuf), a dangerously thin man with a scarred face, dressed like a peasant and leaning on a cane (me), a woman in hijab and two girls, all grouped in front of the door.
With the door open I could hear laughter, and the sound of a ball bouncing.
A moment later a tiny but beautiful woman came to the door, her black hair done in the same style of braid. She too wore a colorful dress. In spite of her diminutive size her posture was proud, almost regal. This must be Teresa, Niko's wife – the princess. Her eyes locked onto Yusuf, then she dropped her gaze to the floor. "What can I do for you Don José?" she said in Spanish.
"Greetings señora," he replied. "My friend Zaid Karim" – he gestured to me – "would like to speak with Niko."
Teresa's gaze traveled to my face. I saw her take in my fragile appearance and the scar on my face. Hostility seemed to war with compassion in her eyes. Apparently compassion won out, because she opened the door wide and said, "Come in and be welcome."
The apartment was small but perfectly clean and tidy. The walls were hung with mandalas made of natural objects such as dried leaves, ornamental berries and pebbles, and adhered somehow to square canvases in such dense patterns that they presented a solid wall of colorful, concentric design. I wondered if these were Teresa's work.
In the center of the living room Niko bounced a basketball while a teenaged boy tried to take it away. Niko spun, keeping the ball to himself. A little girl, younger than the one who'd answered the door, cheered and said something I didn't understand. It was a happy scene, a sweet family moment in which a father and son played around and goofed off. Perfectly normal, except for two things. The boy was presumably Emanuel, who until a month ago had been unable to walk.
The other unusual thing was Niko. I stared, my mind frozen like a car after some vandal has poured sugar into the tank. Niko was in a wheelchair.
Of course, I thought, laughing at my own silliness. It must be Emanuel's old wheelchair. Niko was just goofing around.
Then Niko spun in the wheelchair, still keeping the ball away from Emanuel, and saw me. He stopped dribbling and the ball rolled away. His smile disappeared and for a moment I saw sadness and regret painted on his face as clearly as the purple density of a winter sky at dusk. Then, like a cloud sailing past the moon, the expression was gone. Niko grinned widely and rolled toward me, pushing the wheels with his hands.
"Flaco!" he exclaimed. "I know you say not to call you Flaco, but amigo, I have earned the right to call you anything I like."
I laughed at that, and pointed to the boy. "Is that your son Emanuel?"
"Yes. Gracias a Dios! Thanks to God and thanks to you señor Zayn." Niko nodded to the others in my group. "Hola señora Safaa. Don José." When he said, "Don José," his voice dropped, as if he were reluctant to pronounce the name at normal volume. He turned and called back into the living room. "Emanuel! Come meet señor Zayn."
Niko held out a hand for a handshake. I took his hand. "Are you going to get out of the chair?" I asked.
Safaa touched my shoulder. "Zaid…"
Emanuel strode up and stood beside his father. He studied me, his head tipped slightly to one side, his expression serious.
"Mucho gusto," I said. Pleased to meet you. I extended my hand but the boy did not take it.
"Emanuel!" Niko chided. "Ser cortés." Be polite.
I looked at Emanuel, then at Niko. "You're just playing in that chair, right?"
Niko smiled kindly. "Zayn. Come, let us go in the kitchen and talk privately." He looked to Yusuf and Safaa. "Will you excuse us for a moment, señor y señora?"
My stomach sank as if it were made of lead. My entire body suddenly felt like a burden and I had to lock my knees and lean on the cane to keep from falling. "No, no no," I said, shaking my head. "I'm not anywhere until you get up."
"Do you know Gabriel García Márquez?" Niko asked. "The famous Colombian author. He said-"
"More poetry?" I broke in furiously. "Poetry?" I turned and stalked away, my legs still shaky. I walked down the dimly lit corridor outside the apartment and didn't stop until I reached the narrow, graffiti-strewn stairway, where I sat heavily. I had no words. All I had was a fountain of shame welling up from deep inside me like oil from a well. I couldn't even formulate a clear thought.
Safaa followed and sat down beside me, putting a hand on my shoulder. "Yusuf wanted to tell you," she said. "But I said no. You were so fragile. I wanted you to get well before we told you, that's all."
"Told me what?" Though I already knew.
"One of the bullets damaged Niko's spine. He's paralyzed from the waist down."
I heard a sound behind me and looked to see Niko rolling toward me in his wheelchair. My teeth clenched so tightly my jaw ached. My right hand tightened on the cane until my fingers turned white, while the left balled into a fist. This was my fault. I'd done this. I'd taken a man who was healthy and strong, a man who had a family to care for, a man who'd done nothing but help me, and I'd put him in a wheelchair.
"I too did not want you to know, amigo," Niko said. He smiled at me. "Do not blame Don José or your wife. And by the way-" He lowered his voice to a whisper. "I cannot believe that Don José Arosemana Cruz is in my apartamento. Everyone will be scared of me now. All my friends and neighbors, they will be terrify of me." He grinned. "Is wonderful, no?"
"Niko." My hand clenched even tighter, and my fingernails – which needed clipping – bit into my palm, drawing blood. "I'm so, so sorry. I'll do whatever I can. I'll raise money for you to see the best doctors. I'm sorry, Niko."
Niko set the brake on his wheelchair, then reached out and took my hand. "This is why I did not want you to know. I knew you would blame yourself. But you don't understand, Zayn. I am happy. For the first time in four years I am happy!"
"How can you be happy?" I said bitterly.
"Because Emanuel can walk! This mean everything to me, Zayn. For years I prayed to God for exactly this, to give Emanuel his legs and take mine in exchange. And God answered my pray. I ask for this, amigo. I ask for it. It does not matter what happen to me, if my children are happy and healthy and safe. You are a father, you must understand. I am happy."
I pulled my hand from Niko's and crossed my arms, staring at the wall.
"Ay, you gringos," Niko said. "You cannot bear to be touched, why is that?"
I whirled, rose to my knees and threw my arms tightly around him. Before I knew it I was weeping into his shoulder. Niko patted me on the back, saying, "Is okay, Zayn. El sol brilla para todos, you remember? The sun shines for all. I am happy."
* * *
I left Niko with a promise that I would return to Panama and check on him when I could. When we exited the building it was raining hard, coming down in a nearly solid tropical downpour. On the way to the airport, sitting in the front passenger seat of the truck, I spoke to Yusuf, who was driving. "You offered me a job? You said you could find something for me?"
"Yes. Absolutely."
"Find something for Niko instead. He's intelligent and educated. Give him a legitimate job so he can provide for his family."
Yusuf nodded slowly. "Sí. No hay problema. I can do it."
"Thank you." I watched the wipers hurrying back and forth, struggling to keep the windshield clear. I let the motion hypnotize me, and lapsed into silence. Allah would judge me for all I had done. I did not know which way the scales would lean, whether to good or evil. But I had done what I could, what I was capable of doing, and I would pay the price – and so would Niko.
My parting with Yusuf was muted, just a hug and a promise to stay in touch.
* * *
The flight to Los Angeles went without a hitch. The children were asleep when we arrived. Safaa was stronger than me right now, so she carried Anna to the gate for our connecting flight to Fresno, while I carried Hajar. It was after midnight when we arrived in Fresno. We collected our bags and caught a taxi to Safaa's apartment.
Neither of us could carry Anna up the stairs, so we woke her. She looked around sleepily.
"This is our house," I told her, pointing up to the apartment. "Me, Safaa and Hajar. You'll stay with us tonight, and we'll take you to your grandma and grandpa in the morning."
Anna gazed back at me solemnly, saying nothing. Her brown eyes were as impenetrable as an adobe wall. But she took my hand and I led her up the steps. She slept with Hajar in her little bed, the two of them curled around each other like commas, Hajar snoring lightly.
The closet still held much of my old clothing, which surprised me, frankly. I'd imagined that Safaa had thrown it all out. I dressed in a pair of old pajamas, prayed, then shared a bed with Safaa for the first time in many months. There was no thought of lovemaking: we were exhausted, and I felt ugly and deformed with all my scars and missing toenails. Besides, I wasn't sure I was emotionally ready for that. I needed to get used to just being around Safaa again. I focused instead on allowing myself to love her again, allowing myself to be warmed by her presence. When I was with her it was as if we were the only two inhabitants of an airy garden, even if the city outside was cold and full of anxious souls. I listened to her breathing as she fell asleep, one of her arms thrown over my chest as if I'd never left, as if having me there was as natural as the orange trees that grew freely in this valley.
I had a hard time sleeping. Images flashed through my mind like scenes from a horror flick: Tarek's legs sticking out of a refrigerator, Angie weeping in a litter-strewn lot, El Pelado's blood splashed across the floor, and a man in a cowboy hat leaning over me, torturing me until I nearly wished I was dead.
At some point I realized it was Fajr time, so I roused myself, made wudu, then woke Safaa. She came awake easily, and we prayed together as we had always done.
The prayer stilled the tremors in my heart, and when I returned to bed I was finally able to sleep. Such is the mercy of Allah, who knows us better than we know ourselves, and without whom we would all be lost in the foul sea of our own sins. Maybe in time the terrible memories would fade, as they are wont to do. That too was a mercy from the Most Merciful.
* * *
Sunday, March 7, 2010
Fresno, California
I woke to the smell of waffles and coffee. I grabbed my cane and limped into the kitchen to find everyone seated at the table, eating breakfast. The sun streamed through the window blinds, making bright yellow stripes on the kitchen table. Safaa wore a robe and fuzzy slippers, while the girls were in pajamas.
A place was set for me, and the waffles sat on the plate, pats of butter melting into them. Steam rose from a mug of coffee. I kissed Safaa, hugged Hajar, rubbed Anna's shoulders affectionately, then sat and began to eat. I don't like to talk much in the mornings and my family knew this about me, so they chatted with each other and let me eat. I knew that I should feel like the luckiest man in the world to be back with my family. I was in fact happy, but it was muted, and I wasn't sure why. Somehow this didn't feel like my home anymore. I'd come to think of it as "Safaa's apartment." Give it time, I thought. Be grateful and be patient, and give it time.
Anna wouldn't leave me alone. She brought me sugar for my coffee, offered to toast a few more waffles for me, and even fetched my old slippers – I can't imagine where she found them – and set them at my feet.
"Anna," Safaa finally snapped, "sit down and eat your breakfast. Uncle Zaid can take care of himself."
The waffles had come out of the freezer – Safaa couldn't have anything fresh remaining in the fridge after weeks in Panama – but with butter and real maple syrup they were delicious. Hajar was trying to talk to Anna about My Little Pony, explaining how Twilight Sparkle was chosen by Princess Celestia to study magic. Anna pretended to be interested but kept glancing at me surreptitiously. I sipped my coffee and acted like I didn't notice. As soon as I was done eating, Anna popped up and began clearing my dishes, then the rest of the dishes as well. The next thing I knew the water in the sink was running and Anna was rinsing the dishes and stacking them in the dishwasher. I looked at Safaa and raised my eyebrows questioningly. She shrugged.
"I told the school I'd be back tomorrow," Safaa said. "I want to go with you when you take Anna to the Anwars' house."
"You don't have to do that. I know you've missed a lot of work."
"I want to to." She made a beckoning gesture to Anna. "Anna honey, come here please."
"But I'm still doing the dishes!" There was a frantic quality to her voice.
"Anna."
The girl reluctantly shut off the water and came to Safaa. My wife took the child's hand and stroked her hair. "I appreciate all your help," Safaa said. "What I need you to do now is take a shower and get dressed. This is a big day for you."
Anna's face took on a hopeless cast. Her lower lip trembled. "Please don't send me away," she said in a quavering voice. "I'll be a good helper for you. I'll clean the whole house every day. I'll learn to cook. I'll do anything you want."
"Oh, sweetie." Safaa pulled Anna into an embrace. "We're not sending you away. You're going to be with your family."
"No!" Anna pulled out of Safaa's arms. "You don't care about me! You just want to get rid of me like everyone else!" She burst into tears, then spun and dashed into Hajar's bedroom.
Hajar wailed, "I don't want to get rid of Anna!" Then she began to cry as well.
I stood and addressed Safaa. "You talk to Hajar. I'll take care of Anna."
I went into Hajar's room and followed the sound of crying to the closet. I opened the closet to find Anna sitting cross-legged on the floor in the darkness, her body folded nearly in two, her arms covering her head. I sat before her and recited a string of ten digits, beginning with 559.
"Can you memorize those numbers?"
Anna did not look up. I recited the numbers again slowly. The crying lessened.
"What – what's that?"
"It's my phone number. I want you to memorize it." I recited it again, and this time Anna uncovered her head and recited the numbers back, haltingly, her voice still hitching with the occasional sob. Of course I didn't have a phone, as mine had been lost in Panama, but I'd replace it soon enough, Insha'Allah.
I repeated the numbers, and so did she. "Now you listen to me, Anna Anwar," I said seriously. "If you ever get yourself into danger, I'll have to come and get you, no matter what. I almost died the first time. You think I want to go through that again?"
"N – no."
"You're darn right. So I am not going to send you any place where you will not be safe. You'll be with your grandparents right here in Fresno, the same city I live in. We'll see each other often. You can come visit Hajar anytime you like. And anytime you're scared or worried about anything, you call me. What's my number again?"
"Why can't I stay with my daddy?"
I took a deep breath. I'd been dreading this moment. But I could not lie to this child. "Your daddy died," I told her. "He took some bad drugs and it killed him. He died peacefully. I'm very sorry, honey. Your daddy's in heaven now. He's in a good place."
She covered her head again and resumed crying, her entire body shaking. I reached out and pulled her to me and she embraced me fiercely, desperately. We sat there like that for maybe ten minutes, Anna crying and crying.
Safaa and Hajar joined us. Safaa stroked my shoulders, while Hajar patted Anna's back.
"I told her about Tarek," I explained.
Hajar went away and came back a moment later with Brown Bear, her favorite doll. She thrust it between me and Anna. "This is for you, Anna. Brown Bear is a good listener. He's my bestest friend and now he's your bestest friend too." I was deeply touched by that. Brown Bear had been Hajar's constant companion since she was a baby.
Anna seized the doll with one hand and clutched it tightly to her chest. Gradually her sobs diminished.
"What's my number?" I asked again.
She recited the number. She had it down.
"Come on sweetie," Safaa said. She gently pried Anna loose from my embrace and helped her to her feet. "Let's get you showered and dressed. Hajar, will you help us?"
I sat in the closet alone, just breathing. SubhanAllah. That had not been easy. But it would be alright, I thought. It would be alright.
* * *
We dropped off Hajar at school, and a half hour later we were at the Anwars' pretentious and oversized house in Woodward Lakes. The house and yard were all sharp angles and uncompromising lines – much like Farah Anwar herself. I reached out and – exactly 32 days after Dr. Ehab Anwar had hired me to find his granddaughter – rang the doorbell.
Dr. Ehab Anwar opened the door. For a moment he stood as if mesmerized, staring at the three of us – me, Safaa and Anna – as if we were apparitions from a forgotten past.
I was shocked at the change in his appearance. He was an old man, the eldest in my parents' circle of friends, but he'd never before looked the part. Now he did. His hair, which had previously retained a good amount of brown, was now entirely gray. Deep circles beneath his eyes made them look like holes in his face. He'd always been clean shaven, but now he had a week's untrimmed growth that went from his cheeks to his Adam's apple. Most noticeable of all, his posture – which had always been as straight as a street lamp – was now bent forward, as if he carried a heavy weight on his back. Where he'd always been smartly dressed before, he now wore gray sweats and flip flops.
When Ehab's eyes fell on Anna his mouth fell open, and some of the years seemed to drop from his frame. He stood a little straighter and raised his eyes to mine with a look of astonishment.
"As-salamu alaykum," I greeted him, extending my hand.
Ignoring me, Ehab shuffled forward to Anna, dropped to his knees and threw his arms around her. Anna stiffened and looked like she might try to break free and bolt, but Safaa steadied her with a hand on her shoulder. When Ehab released the embrace there were tears in his eyes.
"Habibti," he said to Anna, "do you remember me? I'm your grandfather."
Anna nodded silently.
"Are you okay? Is your mama well?"
Anna said nothing.
"I mean…" He looked up at me. "We thought you… Farah said… But… Where did you find her?"
"In Panama, like I told you before I left, remember?"
"Yes. Yes, of course. It's just been so long."
"I'm sorry about that. I was badly wounded. I did leave you a voicemail message."
"Did you? I didn't hear it. Please, come." He stood, his bearing now almost as straight as the old days. "You must come in."
"The last time I entered your house," I said politely, "it didn't go so well." I touched my eyebrow where the scar still showed from when Farah had struck me with the sphinx.
"Oh, that." Ehab's face turned red. "Ana asif giddan ya Zaid. Really, I'm sorry. It was… it was the shock of learning about Tarek. But you must come in. Farah has not been doing well. She has been in bed…" Without waiting to see if we would follow, Dr. Ehab turned and shambled into the house.
Safaa looked to me and I nodded. We followed Dr. Ehab through the foyer, past the burgundy-colored living room, and down a marble-floored corridor to a large bedroom. The curtains were drawn, leaving the beautifully furnished room dim. The musty air smelled faintly of urine.
Farah Anwar lay in a large bed centered against the far wall. A heavy comforter was pulled up to her shoulders, with her arms atop it. Her skin was drawn and tight against her cheekbones. Her eyes locked on us as we entered and widened in shock.
Dr. Ehab clasped one of his wife's pale hands, and with the other hand he beckoned to Anna. When the child remained resolutely by my side, Ehab addressed his wife. "Look darling. He did it." His voice faltered, and I almost thought he would cry. "Zaid Al-Husayni did it. He brought Anna back to us."
Farah's eyes lasered me a look of utter contempt. "How much?" she said, her upper lip curling. "How much money do you want this time, harami?" Harami meant thief in Arabic. She was sticking to her accusations like a barnacle to a sinking ship.
Safaa took a step forward. "How dare you! Do you have any idea what he went through to find your granddaughter? Look!" She pointed to the scar on my forehead, then indicated the ugly scar that ran the length of my left forearm. "Do you want to see his legs? Do you want to see the bullet wounds? Do you think he did that for your measly ten thousand dollars? He did it for you! He did it for Tarek and Anna, because in spite of all your fitna he still cares. You are a vile, contemptible creature, Farah Anwar. I let your lies influence me in the past but now I see you for what you are. If you were my age, and if you hadn't just lost your son, I would kick you up and down this room."
I reached out and took Safaa's arm, drawing her back. Her entire body trembled with rage. "Enough sweetie," I said. I appreciated her defense of my honor, but I was busy trying to understand Farah Anwar's strange reactions and bizarre statements. Wasn't this what she wanted? Wasn't this what she hired me to do? I studied her, thinking. "Farah," I said finally. "What do you want to happen here?"
Farah's face had turned red, whether with anger or shame I did not know. "Take her away." Her voice was full of venom. "I don't want her."
Anna's hand reached out for mine and I took it. She squeezed so tightly that I could feel her heartbeat pulsing in her fingers.
"Farah!" Dr. Ehab exclaimed. "She is our granddaughter. She is Tarek's child. She needs us."
"We cannot care for her," Farah snarled. "We are too old."
I could understand how Farah might be overwhelmed by Tarek's death. But it seemed to me that the loss of her son would increase her attachment to her granddaughter, not decrease it. After all, Anna was Tarek's flesh and blood. As long as Anna was alive, Tarek was alive too, in a way. Unless… Something clicked into place in my brain, something that had been staring me in the face all along. Understanding dawned and I nodded slowly.
"From the very beginning," I told Farah, "I've been trying to understand your behavior. You never wanted me to take this case. It was your husband's idea. The way you came to my office, insulting me, throwing the money onto my desk. You wanted me to turn it down. You knew."
Farah looked away, and I called her back. "Farah. You knew. You knew that Anna wasn't your granddaughter."
Farah stared back at me with red eyes, saying nothing.
"I've been to Alejandra's apartment," I continued. "I saw the photo of Angie with her old boyfriend, what was his name? Miko. Before she met Tarek, when she still lived in Los Angeles. She looked plump in the photo. Breasty, you know? I didn't think anything of it at the time. But she was pregnant, wasn't she? With Miko's child? What happened? Did you see a similar photo somewhere? Maybe the same one? And you put two and two together. Or maybe Angie let something slip? Maybe you had a DNA test done without telling anyone? I wouldn't put it past you. Whatever, you figured it out, right?"
I clapped my forehead as a new realization hit me. "Oh, la hawla wa la quwwata il-la billah. You paid Angie. It was you who gave her the forty five thousand. You paid her to go away. You wanted to get Angie and Anna out of Tarek's life."
Farah stared daggers at me. Her husband, who had been listening to my speech with growing consternation, turned to his wife. "Is this true, Farah? This cannot be true."
Farah Anwar pressed her lips together. Her hands clutched at the bed covers.
"You must speak!" Dr. Ehab's words rang with anger. "Is it true?"
Farah focused on her husband, excluding the rest of us. "I could not let that slut and her bastard child drag Tarek down." Her tone was pleading. "He deserved better. He could have been someone important, he could have done great things, if not for that woman. I had to get rid of her. You must understand!"
Ehab staggered and sat heavily on the bed beside his wife. I still held Safaa's hand with my left, and Anna's with my right. I felt Safaa tense, and knew she was about to deliver another scathing outburst. I gave her hand a quick squeeze to stop her.
"Farah," I said softly, "did you ever wonder why Tarek overdosed? I mean of course it was inevitable if he didn't stop using drugs, but why now? Did you ever think that maybe it was because his wife and child – the child he loved like his own – disappeared? You stripped away his support system, his family, the only thing he had in the world that was worth something."
I knew I shouldn't have said that. It was true, but it wasn't kind. But I couldn't help it. This woman was responsible for Angie's downfall, for Niko being in a wheelchair, and for her son's death. Good God. What did it take to make a person see?
"Get out!" Farah screamed. "All of you get out, get out! Get out!"
* * *
Ehab Anwar walked us to the door. He was a broken man, his shoulders slumped, his eyes lifeless.
"So?" I said to him at the door. "What about Anna?"
"I… She is not my responsibility anymore. I'm sorry. Truly I am. But I cannot." He turned away and shuffled back to the bedroom.
I watched him go, then we let ourselves out and got in our car.
"I told you they didn't want me," Anna said dully. Her voice was weary, discouraged.
"So what do we do?" Safaa asked. I could feel Anna's eyes on me from the backseat, awaiting an answer as well.
"Drop me off at the phone store," I replied. "And take Anna to our house for now. Can you take one more day off work?"
"Sure. I haven't even told them I'm back yet."
* * *
At the phone store I used Safaa's debit card to buy a new phone. They activated it with my same phone number. I plugged it in there at the store to charge, and while I waited I thought about all that had transpired. I was still stunned at the breadth of the fitna, suffering and bloodshed that had resulted from one woman's lies. I couldn't wrap my head around it. What a tangled web we weave, as Shaykh Zubair said – Shakespeare if you insist – when we do practice to deceive. Farah Anwar had woven a web like a giant spider on crack.
When the phone was charged I synced it with my online account and downloaded all my contacts. Then I called Jalal. He answered right away, and promised to pick me up in thirty minutes. While I waited I made calls to the bank and the Department of Motor Vehicles, to start the process of replacing my cards and ID.
Then I called Alejandra Rodriguez. She was, after all, Anna's aunt. She had a right to know what was happening, and maybe she'd change her mind and take the child. She did not answer, so I tried the Sequoia Surgical Center. They informed me that Dr. Rodriguez had gone overseas with Doctors Without Borders and would be away for at least a year. I asked for her email address and they gave it to me.
Jalal arrived. The spare tire – the fat roll that was all that remained of his previously corpulent form – was entirely gone now. He must still be running laps and jumping hurdles. He stared at my ravaged appearance and the cane that supported me, then embraced me. "Dude," he said, "what the hell happened to you down there?"
"I'll tell you later. Take me to my office?" Jalal was actually driving my car – my sweet little green 1969 Dodge Dart GTS. I'd missed it. It looked well taken care of, and I was glad that Jalal had been able to benefit from using it in my absence, rather than that little half-wrecked Toyota Camry he usually drove.
While he drove I called Dalya Anwar. To my surprise she took my call. I explained the entire situation honestly, including the fact that Anna was not actually Tarek's daughter, and asked if she'd be willing to care for Anna. She congratulated me on finding Anna but turned my request down flat, saying that she had enough on her table with her divorce and her dental practice. I asked her for Mina's number – Tarek's other sister, the one in New York – but Dalya told me not to bother. Mina and Tarek had never been close and there was no way Mina would agree to take on a child that wasn't even truly her niece.
We arrived at my office and Jalal unlocked the place, then handed over the keys. He'd taken good care of it. Everything was neat, tidy and dust-free, and my plants were thriving. I'd always had trouble keeping them alive, but the peace lily was lush with new leaves, and the hanging plant – I didn't know what it was called – had grown so much that the vines hung halfway to the ground.
"What did you do to my plants? Do you have some kind plant-growing superpower?"
"Yes," Jalal replied dryly. "It's called water. And sunshine. And fertilizer twice a month." He pointed to a bottle of liquid fertilizer on my desk.
"Oh. Okay."
I took my laptop out of a desk drawer and started it up. I had hundreds of new emails, most of them spam, though two were actually from clients, asking if I was available for work. I'd respond to them later. I needed a few more days of recovery time before taking on any new cases. I emailed Alejandra Rodriguez, explaining the situation, then sat back and closed the computer. That was that. I had no expectation that she would return for Anna's sake. She'd made her priorities pretty clear.
Jalal and I talked, and I filled him on what had happened. When I was done he gave a long whistle. "Dude, I'm sooooo glad that I didn't go with you."
I laughed. "Come on. I'll drive you home."
* * *
After I dropped Jalal off I withdraw some cash at an ATM, then stopped at a burrito joint on Shields Avenue. I bought a huge fish burrito for myself, Baja-style veggie enchiladas for Safaa, and nachos for Anna and Hajar. Nachos were always a safe bet where kids were concerned. Lastly I stopped at Hajar's pre-school. It wasn't yet time for her to be released, but I would pick her up early.
It was nap time at Hajar's preschool. The main room was dark, the children sleeping on individual mats. I threaded my way through the sleeping forms to Hajar, who was lying on her back, pointing a finger at the ceiling and whispering something. When she saw me she jumped up and I picked her up. As we weaved our way back out, one of the children was snoring with a wheezing sound. Hajar said, "What's that sound?"
"What sound?"
"Boo, boo, boo." She said this with a soft voice, and it was a perfect representation of the child's snoring sound. I told her it was a little boy snoring. She was genuinely surprised and said, "I thought it was a kitty."
Once we were outside, Hajar said, "Baba, did you know? A medium rock hit the world and the dinosaurs died."
"I know, honey. I'm the one who told you that, remember?"
"Oh. Did Anna go to her Nena and Jiddu?"
"No, she's still with us."
"Yay! I made a special dua' for her."
When we arrived home Safaa and Anna were putting away groceries. "I have food!" I announced. Immediately Anna began running around, setting out plates and glasses. Once again she was trying to prove her usefulness so that we wouldn't get rid of her. Poor kid. I couldn't imagine being in her position. For all my complaints about my parents and my resentment toward my father, at least I'd grown up in a stable and safe home with two parents. I should be grateful for that. Alhamdulillah.
"Anna, stop for a minute," I said kindly. "Sit down."
"But I want to help!"
"Anna." I reached out a hand and she came to me slowly, like a deer ready to bolt at the slightest motion. I took her hand. "You don't have to prove anything, okay? You don't have to worry anymore. This is your home now." I knew I should have consulted with Safaa before saying this, but I was confident she would back me. My wife seemed to be on my side once again. That was a good feeling. "You're staying with us," I went on. "Maybe in the future your aunt Alejandra will want to care for you. Or maybe your mother will get better and take you back. Allah knows. But until then we're your family. We're not going to send you away. You're home now."
Anna threw herself at me, hugged me tightly and cried as if I had just rescued her from Ouagadiri Island all over again. Hajar cheered loudly. I glanced at Safaa and she smiled and gave a quick nod. Alhamdulillah.
We said our mealtime dua' and ate Mexican food, and it was good.
We had just finished our meal when a courier arrived at the door. He was a young man, fit and tanned, wearing a brown uniform. He worked for one of those same-day express delivery services.
"Delivery for mister Al-Husayni," he announced, proffering an envelope. I took it and signed, eyeing the return address.
"It's from Dr. Ehab," I told Safaa. Had he changed his mind? Did he want Anna? Frankly, I would not surrender her even if he did. The Anwars were not her grandparents. They had no right to the child. And I'd just told her that this was her home. I opened the envelope and stared.
"What is it?" Safaa snatched it out of my hand, her face registering the same fears that had gone through my head.
I sat on the sage green sofa. With all the antiques and pricey pieces she had in here – all of them inherited from her mom – this sofa was only comfortable place to sit.
"Oh my God!" Safaa exclaimed. "Fifty thousand dollars? Zaid, it's a check for fifty thousand dollars! Is this a joke?"
"I don't think so," I replied quietly. "When Ehab hired me he promised me fifty grand if I found Anna. But I don't want it. I don't want anything from them. Send it back."
Safaa hopped onto my lap facing me, her legs straddling my waist. Her nose touched mine as she seized my jaw in one hand. Her dark eyes were only inches from mine. I wanted to live in those eyes, as deep and brown as the Tigris and Euphrates in spring, rich with silty runoff. As brown as the deserts of her Iraqi homeland, or the trunks of California's great sequoias.
"Now see here, mister Zaid Karim Al-Husayni." Safaa gripped my face tightly. "You did the job you were hired to do and you suffered for it. Do I need to remind you of what you went through? You deserve this money. You deserve a million dollars, ten million. We're not returning one red cent. You might need further surgery on your leg. You definitely need to see a dentist to replace that broken tooth. Besides, I want to buy a house. We need more room. Our family just went from three to four. Do you understand? Nod your head yes." She manipulated my head up and down.
I laughed, and she kissed me in the middle of it. Her mouth tasted of black beans and guacamole. Then she slid off my lap and snuggled up next to me. I relaxed into the sofa, my belly full of rice, beans, fish and sour cream. I put my arm around my wife. It was late afternoon and warm for March, and the sliding glass door to the patio was open to admit a pleasant breeze. I could hear the chuck-chuck-chuck of a squirrel outside, and the answering screech of a blue jay.
"Let's take a vacation," Safaa said. "Some R & R. Someplace quiet, like the Big Sur."
"Mm, maybe. I want to enjoy being home for a while. Let Anna adjust. When I'm fully recovered I want to make a trip to Panama. I can't leave Angie down there. You should have seen her, Safaa, she was so wretched. And maybe – since we're keeping this money – maybe there's something I can do for Niko. I don't know. A specialist."
"Excuse me, husband." Safaa tapped a finger on my forehead. "If you think I'm letting you go back down there, you're crazy. You barely-"
I put a finger on her lips, silencing her, and she bit it. "Hey!" I complained.
I would definitely return to Panama, but we could argue the issue when the time came. "Oh yeah," I added, "I want to check on Saleem, let him know I'm still alive. The last time I talked to him I made him swear to look out for you and Hajar if anything happened to me. He must be-"
"You did what? What do you think I am, an old coat you can pass on to someone else?"
"Take it easy. I just meant he should look in on you, make sure you were alright. I need to see Imam Saleh as well. I want to thank him for defending m-" I sat bolt upright, slapping my forehead as I remembered something.
"What is it?"
"Imam Saleh. Before I left to Panama he asked me for help. He wanted me to investigate this new brother, this supposed convert who's been trying to radicalize the younger brothers. I told him I'd get to it in a few days. I forgot all about it, subhanAllah." I slid Safaa off my lap and stood.
"What, you're going right now?"
I straightened my shoulders and thrust my chest forward. "I am Zaid Karim, private investigator," I declared boldly. "Wherever evil is found, there shall I be, fighting to -"
"Oh, hush," Safaa interrupted. "Go do you whatever you have to do, you beautiful, brave man."
I went.
* * *
THE END
Author's Note: Thank you for your readership and your comments! There was a lot of darkness in this novel, and for that I apologize. Like all my novels, Zaid Karim P.I. was partly autobiographical. So writing this book was cathartic for me, and allowed me to express aspects of my life in fictional form. It should be said again that the specific characters in this book are fictional.
I'm about to release a novel titled The Repeaters, Insha'Allah. It's not Islamic fiction. The protagonists are a handful of immortals and a twelve year old Jewish boy. If you're interested in science fiction and fantasy, you might enjoy it.
My next novel will be an expanded version of The Deal, featuring Jamilah Al-Husayni – Zaid's bike messenger cousin. There will be little to no violence, and a lot of humor. So it should be something the whole family can enjoy. It will not be serialized here on MM but will be released directly for sale, only because I have to weave a new narrative with an existing one, and that does not lend itself to serialization. It will likely be completed sometime in spring 2018, Insha'Allah. As for this novel, Zaid Karim P.I., you can expect to find it in paperback and e-book form by December 2017.
Zaid Karim, Private Investigator, Part 17 – A Mountain in My Mind
El Demonio came ahead grinning nonchalantly and whirling his stick through the air, completely unafraid of any opposition I might mount.

See the Story Index for Wael Abdelgawad's other stories.
Zaid Karim Private Investigator is a full length novel. Previous chapters: Chapter 1 | Chapter 2 | Chapter 3 | Chapter 4 | Chapter 5 | Chapter 6 | Chapter 7 | Chapter 8 | Chapter 9 | Chapter 10 | Chapter 11 | Chapter 12 | Chapter 13 | Chapter 14 | Chapter 15 | Chapter 16
El Demonio came ahead grinning nonchalantly and whirling his stick through the air. He walked straight toward me, completely confident in his abilities and unafraid of any opposition I might mount. After all, I was seriously wounded and barely able to walk. What threat could I be?
As I watched him come, I was convinced that he was little more than a novice with three or four years of training at the most. For one thing, an experienced Kali practitioner would never attack in a straight line. We always move at angles, keeping the enemy guessing and seeking to destroy the enemy's limbs while staying out of range ourselves.
El Demonio might think his few years of training made him an expert. That was common in martial arts. People believed that a first degree black belt (which could generally be attained in three to five years) made a person into a clone of Bruce Lee.
I was on a different level from the cartel boss and I knew it. This was not arrogance or boasting, but a realistic assessment. I'd been wielding a stick since the age of seven. Anyone who trains seriously in martial arts knows that those who began as children and never stopped training possess a poise, grace and insight no one else can match. A child's developing brain is plastic, like a map still being drawn. As the child soaks up knowledge, the brain routes its pathways to maximize the use of this knowledge. The brain says, "Oh, this Kali stuff is important? Then I will adapt myself and devote maximum resources to understanding Kali, and I will develop the body's abilities congruently." This is why the vast majority of Olympic athletes, symphony musicians and chess masters are those who began as children.
Kali long-range fighting, known as largo mano, relied heavily on footwork. I could not fight at that range, since I could barely walk. I would have to bait El Demonio, get him to drop his guard, and draw him into corto or close range, where I could get my hands on him and use my stick as a force multiplier in a grappling contest. Beginning Kali fighters rarely understood this type of weapons grappling, known as dumog. Maybe I could neutralize El Demonio's physical advantages.
Of course even if I won I'd be killed. I'd cross that high-wire when I came to it.
The scarlet-haired cartel boss waded in with a descending strike to my head, trying to split my skull from the get-go. I raised my stick into an umbrella, a type of angled block, and deflected the blow easily. I pretended, however, that I'd barely managed to save myself. I cried out in alarm and crouched as if frightened. El Demonio laughed in glee and paused to look around at his men, who laughed along with him. He then turned to me and aimed a blow at my ribs.
I made the choice to take the hit. I knew it would hurt, but I needed him to think he had me beat. In retrospect, it was a bad decision on my part. The stick hammered my already fractured rib. I felt something give way inside me, and my right side detonated into an eruption of pain. I dropped to one knee and coughed up blood, which poured down my chin. I could guess what had happened. My rib had snapped all the way through and punctured my lung.
El Demonio swung a backhanded blow at me from the right, and because my right eye was swollen shut I didn't see it coming. Pain burst like a firework in my right ear and I fell to the ground lying on my side atop my own stick, my head filled with a loud whine like a swarm of bees. I sensed El Demonio looming over me – maybe his body blocked the sun, or maybe I heard his self-satisfied chuckle – and rolled onto my right to look up with my left eye.
The evil little cartel boss raised his stick high, preparing to bring it crashing down on my head. He was standing almost on top of me, his feet only inches from my face.
There are certain things martial arts novices have in common. One is that if you have a stick in your hand, they expect you to only strike with the stick. If you have a knife, they expect only the knife. They forget that you still have hands, feet, elbows, knees and every other weapon the body can bring to bear. A novice stick fighter typically does not expect a wrestling match.
I made my move. I dropped my stick, rolled into El Demonio's legs and hugged them with my right arm. He lost his balance and fell to the ground with a cry of surprise. As he fell I punched him in the groin as hard as I could. He gave a shout of pain and rolled onto his side, clutching himself. I retrieved my stick and crawled up behind him. I intended to apply a choke, but I could not use my left arm or leg. So I slipped the stick around his neck in reverse, with my palm facing me, then threw my right leg over the stick and hooked it with the back of my knee. I now had El Demonio's head trapped inside the triangle formed by my right leg and arm, and the stick. I sat back and pulled with every shred of strength I had, arching my back, using my core muscles.
El Demonio thrashed his arms and legs wildly and made gagging noises. This was not a blood choke. The stick was directly across the front of his throat, cutting off his breath and slowly crushing his windpipe. Choke holds like this had been banned in police departments across America because they often resulted in the death of prisoners. Such chokes were also banned from mixed martial arts, even when applied only with an arm.
The cartel boss kicked his legs and scrabbled with his hands at the earth, tearing flowers out of the ground. I held the choke. The stick dug into the back of my knee, and my hand began to go numb. I was in more pain that I'd ever experienced in my life. Every breath was agony. I was dizzy, and couldn't tell up from down. I coughed up more blood. I could taste it going down my throat as well, hot and metallic. There was a roaring sound in my ears, and beyond that I heard El Demonio's men shouting, ordering me to release their boss. No doubt they'd shoot me any second. But I held the choke. El Demonio stopped fighting, and only twitched like a person in a bad dream. Still I held the choke. He stopped moving altogether. He was dead.
I dropped the stick and fell back, gasping for air. I felt like I was underwater. I noticed almost with curiosity that my fingernails had turned blue. I pushed myself up onto my knees. That was the best I was going to get. There was no way I could stand.
El Demonio's dozen men stood around me in a wide circle. Some were pointing their rifles at me, some not. Their expressions registered a range of emotions. Some looked shocked. Beefeater looked satisfied, and I could have sworn he had a trace of a smile on his face. Cowboy was stone faced, unreadable.
I met their gazes, letting my eyes move from one to the next. "He's dead," I announced. It hurt to talk. "I saw how he treated you. He shot two of you last night with his own hand. You're free of him now. Leave this place. Do whatever you want with your lives. Let me and my friends go. We have our own boat. Just let us go." Though truthfully I couldn't imagine how I'd get to the boat, or how I'd get Niko there, even if he was still alive.
"Yes," Beefeater said. "You may go. We will-"
Cowboy shot him. The mustachioed torturer in the black leather cowboy hat simply pointed his rifle and shot Beefeater dead center in his chest, then put another two rounds in him as he lay on the ground round-mouthed and wide-eyed.
Some of the guards flinched. One crossed himself. One laughed. A younger guard – a short, mahogany-skinned man with a narrow face and a trimmed beard – looked like he wanted to throw up.
"I'm in charge now," Cowboy announced in Spanish. "Does anyone have a problem with that?"
All except for the young guard said, "No sir." The young guard simply stared at Beefeater's lifeless body. I wondered if they had been friends.
Cowboy shot the young guard. At this a few of the guards actually cried out in surprise. Cowboy named two of the older guards, then gestured to Niko and the girls. "Put them in the middle with him," he said, pointing to me, "and kill them all."
"That wasn't the deal," I said in a voice that sounded like sandpaper on stone. It hurt to talk. Everything hurt.
Cowboy eyed me with all the feeling of a mako shark. "Your deal was with that piece of basura." He gestured with his chin toward El Demonio's body. "No El Demente, no hay trato." No Demented One, no deal. "As much as I detest that pedófilo, it would damage my reputation irreparably if I let the killer of El Demonio go free."
"I would not-" I began.
"Callete!" he bellowed, shutting me up.
One of the older guards grabbed Niko's feet and dragged him across the ground, leaving a trail of blood across the zinnias, amaryllises and other flowers of the garden. So much blood. Niko's skin was pale. When was the last time he'd moved or opened his eyes? The guard deposited my friend beside me in the flower bed. Another seized the two girls by their arms, ignoring their cries, and pulled them to stand beside me. Then he retreated to the perimeter of the flower bed.
Cowboy pointed one by one to five guards, including the two older ones.
"Preparados!" he shouted. Ready.
The five appointed executioners raised their rifles and pointed them at me, Niko, Oris and Anna. One guard, a muscular and slightly pudgy man in his thirties with pale skin and a cleft chin, looked uncertain and reluctant, but lifted his rifle anyway, and kept his mouth shut.
"Get down," I urged Oris and Anna. "Lie down beside me." I took their hands and pulled them gently to lie on the ground, face down.
"Apunten!" Aim.
I hunched over Niko and the girls, covering them with my body and arms. "Close your eyes, girls," I told them, filling my voice with as much reassurance as I could. "It will be okay. Close your eyes. I love you both." And it was true, I did love them. I loved Anna Anwar, the daughter of my good friend, a child who'd been abandoned by everyone. And even though I didn't know Oris, I loved her for her bravery, and her attempt to protect Anna.
I coughed up another mouthful of blood. The edges of my vision were gray, and even though the weather was tropical I shivered with cold, my teeth chattering. I still felt the pain that suffused my entire body, but it seemed to be retreating, as if the pain had become a thing separate from me, a living creature that nuzzled up against me. I held it and trembled, not with fear but with cold. I'm dying, I realized. The thought did not frighten me, but made me sad. Sad for Hajar, to whom I would be only a memory of a man she knew when she was small. Sad for Anna and Oris. Sad for Niko and his family.
I held my breath, expecting at any second to hear the command, Fuego! – Fire!
Instead a roaring, thrumming sound filled my ears. Was this death? Was it another thunderstorm? I raised my head, and with one good eye I saw the source of the noise as it came into view. Two large, camouflage-green helicopters soared up from behind the cliff on the southern side of the island, only a few hundred meters away.
All the guards similarly craned their heads, some shading their eyes to see the helicopters more clearly.
"Fuego!" Cowboy screamed, and I didn't know if he meant that the men should fire at me and my companions or at the helicopters. I put my head down and braced myself for the impact of bullets tearing through me. The air erupted with the sound of gunfire… and I was still alive. I looked up to see the guards firing on the helicopters, or at least trying to. The two helicopters moved as fast as falcons, flying in formation, making a huge circle around our position. I saw that both copters had twin machine guns mounted on either side of the cockpit, massive circular cannons with multiple barrels. Beside them were what looked like missile batteries. There were actually two cockpits in each copter, one on top of the other, with the upper one presumably housing the gunner.
The helicopters opened fire, and the world turned into a thunderstorm of sound and light. Those machine guns spun too fast for the eye to see, pouring death onto the island. The sound was an uninterrupted, ear-splitting whine. All around me men screamed and fell. I dropped my head again and covered the girls and Niko as well as I could.
When the firing stopped, I looked up to see that all the guards around me were dead, their bodies torn to pieces by the powerful guns of the helicopters. Cowboy had actually been cut in half at the waist. One of the helicopters continued to hover to the west of the house, while the other touched down outside the perimeter fence twenty meters southwest. A lone figure dismounted and strode toward me. He was a tall man wearing a green jumpsuit, black army boots and a black helmet with a face shield and an attached microphone. He also wore a nylon shoulder holster containing a large handgun. He approached until he stood above me. Then he removed the helmet, and I saw his face.
It was a thin face, with hollow cheeks and a long, crooked nose. He wore a neatly trimmed goatee, and his perfectly styled hair, once black, was now mostly gray. His name was Yusuf Arosemena Cruz, and as he stared down at me his eyes were full of rage.
The rage, I was sure, was not directed at me, but at the men who had abused me so terribly.
He kneeled beside me and spoke in English. "Do you have people in any of these houses?" He made a gesture that encompassed the huge house and the outbuildings.
My chest rose heavily and fell. My breaths were growing ragged, each one more and more of an effort. I couldn't find air to speak, so I only shook my head no.
Yusuf lifted the helmet and spoke into the microphone. "Destruyelo todo. Light it up." He looked at the hovering helicopter, raised a hand, and made a gesture, swinging his fist in a circle, then popping his fingers open.
Twin streaks of fire lanced from the hovering helicopter toward the main house. A split second later the building exploded in a massive fireball that shook the earth beneath me. I shut my eyes against the tremendous yellow and red brightness. A blast of hot air and sheer force bowled me over onto my back. Looking at the sky, I saw clouds beginning to gather. Or was that my vision turning gray? Another explosion came, then another. Judging from the direction of the sound, the chopper had blown up the torture house and the prison villa as well. Black smoke rose into the sky, blotting out the clouds. Or was that my vision turning black?
I moved my lips. No sound emerged, but the shahadah was on my tongue, gracing my final moments. Another explosion. I saw no sky anymore, only darkness. I didn't know if my eyes were open or closed. Another, more distant explosion. Closed. They must be closed. I'm done. It's all you now, Ya Allah. It's all you. The thought brought with it relief and grief, two opposites that should never go together but somehow did.
Yes, my eyes were definitely closed.
* * *
I dreamed.
I stood alone in a dark building, wearing only my underpants. I belonged in this lifeless, gloomy place. I had no business in the world of the living anymore. Patches of purple and motes of crimson swirled before my eyes. Something about the space – the way the sound of my breathing echoed, perhaps – told me the building was huge and empty. In the distance a doorway opened, and I squinted my eyes against the rectangle of light. The figure of a woman stood silhouetted, her hair billowing. She began to walk toward me, her footfalls the only sounds in the cimmerian space. She stopped in front of me, and only then did I see that she was Safaa. I turned my back, not wanting to be seen, not wanting my failure, shame, and near-nakedness to be exposed. She placed her hands on my back, her fingers firm and warm on my shoulder blades. I exhaled a sigh of relief and tipped my head back, overwhelmed with feelings I could not describe…
I walked into an expensive restaurant and saw Safaa sitting alone at a table. She looked elegant and beautiful in a vanilla white hijab and a long-sleeved white gown that glittered with tiny diamonds. I sat at another table and watched her surreptitiously. She kept glancing at the door as if she were waiting for someone. She had a small dish of caraway seeds and was arranging them on the table to spell something. A white limo pulled up outside and she stood. A tear more brilliant than any of the diamonds she wore ran down her dusky cheek. When she was gone I went to the table to see what she had written, but the seeds had been disturbed, and I couldn't read the words…
A spider-borne disease wiped out everyone in the world but me, Safaa and Hajar. I wanted to fly to another planet, but Safaa refused to come with me…
My crazy friend Niko came up with a scheme to sell stolen vacuum-packed salmon to the Kuna Indians. The cops were after him and he wanted me to take the salmon and finish the job…
I was a special investigator for the police, looking into a murder at a rich man's mansion. A witness handed me a gun in a plastic bag and said, "This is the murder weapon. The murderer's name is Zaid Karim"…
I stood amid the ruins of the Monterey Bay Aquarium. All the glass tanks had been shattered and the fish lay flopping on the ground. Their eyes rolled toward me as they said, "Save us, Zaid." But I could not because I had no water to put them in…
I lay on my back in a hospital bed, unable to move. The lights overhead hurt my eyes. Tubes ran into me, and monitors were attached to my chest. I was bandaged practically from head to foot. I heard a sound and rolled my eyes. In the bed next to mine, Niko lay on his back. His eyes were closed and his chest rose and fell slowly…
Except I didn't think that last one was a dream…
I opened my eyes and again found myself in the hospital bed. Maybe I made a sound, because a voice said, "Zaid? Zaid, habibi." It sounded like Safaa, but of course that was impossible. Or was it? I was so confused. I heard a chair scraping and the sound of footsteps. Before the footsteps reached me, my eyelids became suddenly as heavy as lead curtains, and I tumbled into a silent and subterranean sleep.
* * *
I awoke to the sound of bird song, and the feeling of warm sunshine on my face. For a long time I lay with my eyes closed, listening to the trills and calls. Was I in my apartment at Ashlan Meadows, where I lived with my wife and child? Was it Saturday morning? Was Safaa making breakfast?
I opened my eyes and immediately knew I was not in my apartment. The ceiling was way too high, and built of huge wooden beams. I lay in a king-sized behemoth of a bed with fluffy pillows and a quilted comforter. The room was spacious and high-ceilinged, with huge wooden timbers supporting the ceiling. Islamic art, of all things, hung on the walls – beautiful paintings of domed masjids and ancient cities. Set amid the paintings, a row of delicate yellow orchids grew in a carved wooden planter mounted on the wall. A border of green and blue tiles with Islamic geometric designs ran along the walls at the base.
The room smelled of lemon and jasmine. I turned my head to the left and saw a floor-to-ceiling sliding glass door that opened onto the most beautiful place I'd ever seen in my life. The glass door was open, and a cool breeze blew in through the screen door behind it. This was definitely not Panama city, though the air was still humid and damp.
A bodyguard stood just outside the door, facing away from me. He wore civilian clothes – jeans, boots and a buttoned shirt – and I didn't see a gun, but his posture and bearing were unmistakable.
In the foreground, a huge, grassy expanse sloped down to a large blue lake. The green sweep was interspersed with tall mango trees ripe with fruit. In the background clouds of mist poured down from the tops of forested hills. It was like a scene from Paradise, or like one of those nature posters they sell for ten dollars at the record store.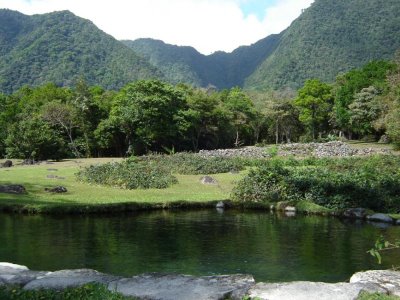 A horse went by at a gallop. A girl of perhaps fifteen years sat atop it, laughing and calling out to someone. She wore a riding outfit with black boots and a form-fitting red hat with a small bill. A moment later two other girls came into view, riding at a trot. They were Oris and Anna. But who were Oris and Anna? How did I know those names? Another child came into view, this one a much younger girl riding a pony that was led by a short, middle-aged man with almond-brown skin and wearing a cowboy hat. This last child was Hajar, my daughter.
Seeing this I laughed out loud, because this was obviously a dream and a weird one at that. If Safaa were here as well it would be perfect, as if my subconscious where throwing my every hope into one sweet narrative, whether it made sense or not.
This thought had no sooner touched my mind than I heard Safaa's voice.
"Zaid?" she said. "You're awake? Alhamdulillah, alhamdulillah!"
I turned my head to the right and there she was, rising from a rustic sofa hewn from whole tree limbs and covered in blue and green cushions. Her eyes were tired and her spring-patterned green and yellow hijab was askew, as if she'd been sleeping in it. She rushed to my bedside and took my hand in hers. She bent down and pressed her forehead to mine, saying, "Habibi, I'm so happy you're awake. When I thought I'd lost you I…" Her voice broke into a sob. "It nearly crushed my heart."
I laughed again, though my throat was dry and my voice rusty.
Safaa's face colored. "Why are you laughing?"
"Because," I said, "this is such a crazy dream. How did I come up with this?"
Safaa's mouth fell open, then she laughed and punched me in the chest. "You jerk! This isn't a dream."
"Ouch!" That punch really hurt. It set off dull aches throughout my upper body. Was a person supposed to feel pain in dreams? I couldn't remember. And who were those girls, Oris and Anna? I should know, it was on the tip of my tongue… something about… Tarek. My friend Tarek Anwar.
It all came rushing back. Tarek, Tarek was dead. And I'd been hired to find his daughter. And… Panama. Niko. El Pelado. Ouagadiri. El Demonio.
I was dead. I was dead, and this was Jannah, Paradise, with Safaa telling me she loved me, and Hajar, Anna and Oris all riding horses together. It could be nothing else. But then why was there an IV in my arm, and why did my body hurt? A sense of panic rushed through me like a flash flood. Something was wrong. Something was wrong with the world. Was this all an illusion? Was I trapped in some bizarre, hyper-real nightmare?
I tried to sit up and immediately grimaced and fell back. It wasn't that I was in pain, though now that I became more aware of my body there were indeed vague, ghostly pains in my left leg, left shoulder and right side. But what shocked me was how weak I was. I was like a newborn kitten. I lay in bed, breathing hard from the exertion of trying to sit up. I was so confused, and although this house, the mountains outside, and the fact that my family were here were all lovely, my confusion over what was real and what was imaginary disturbed me so much that my breathing became rapid and shallow. "I need to wake up from this," I moaned. "I need to wake up."
"Habibi." Safaa came close again, taking my face in her hands and kissing me. Her lips were warm, and tasted of pineapple. I'd wanted this for so long. I'd yearned to feel her touch again, to be safe and comforted in her arms, and yet I was strangely unmoved by it. Her kisses did not stir my heart, and her presence, rather than comforting me, set my nerves on edge, like the pins and needles one gets when their limbs fall asleep. Yet more evidence, I thought, that this Safaa was not real. If she were my Safaa, I would be more excited.
She stroked my cheek. "You're not asleep." She kissed me again. "Does this feel like a dream? You were injured very badly, but you're alive."
She felt real, tasted real, looked real.
"But the real Safaa doesn't love me anymore," I said softly, to myself as much as to to her. "And if this is real then what is this place? Why am I not dead?"
"I can answer that," a man's voice said.
I looked to the doorway to my right and saw none other than Yusuf Cruz. He looked just as I remembered from prison – tall, gaunt and bearded, with introspective brown eyes – except instead of the army greens we'd worn in prison, he was dressed in tan slacks, a Hawaiian shirt, and sandals.
Seeing his face, a memory rose in my mind like a hot geyser. Yusuf standing over me wearing a jumpsuit and pilot's helmet. El Demonio's house exploding, and a tremendous fireball mushrooming into the sky…
"We are in the town of El Valle de Anton, in the mountains of Coclé province, in Panama. The tourist agencies call it Crater Valley. And this is my home." He gestured to the sliding glass door and the expansive lawn, trees and lake outside. "You are here because this is where Allah decreed you should be. That is what you taught me, yes? That Allah is the Planner and Master of all things?"
Unbelievable. This dream, this hallucination, kept throwing apparitions at me. It would not release me, and it angered me. I looked to Safaa, challenging her. "How could you be here? And Hajar? It doesn't make sense."
She held my hand between hers and caressed my palm with her fingertips. It tickled. "You don't understand, Zaid. It's been three weeks since brother Yusuf rescued you. You were terribly wounded. You nearly died. You were in surgery for four hours, then the ICU for a week, and recovery for another week. Yusuf tracked down your parents and they called me. We came straightaway. You've been in and out of consciousness, but this is the first time you've been lucid."
I stared. So… this was real? I survived? And what about… "Niko," I said sharply. "Where is Niko?"
"He is alive," Yusuf said from the doorway. "He was here, but he has returned to Panama for now."
Niko was alive… I let that sink in. Alhamdulillah. He'd been so badly wounded, I was afraid that he – wait a minute. I looked at Yusuf. "You said, 'he's alive.' Not, 'he's good, or he's fine, or he's well.'"
Yusuf looked down. "Yes. He was shot twice, you know. He will have a long recovery. You can see for yourself when you are well enough."
Twice? I hadn't known that. There was something else Yusuf and Safaa were not telling me, I was sure of that. Another thought came to me. "You blew up the compound."
Yusuf set his jaw. "Yes. And good riddance."
"There were civilians in that house. Service employees, and an elderly couple."
My tall friend went very still. "I did not know that." He made a small, apologetic gesture with his hands. "Casualties of war. If I had known… Well. I did not know."
"Maybe you didn't care, huh? Maybe the opportunity to kill a rival drug dealer was too good to pass up. Mission accomplished."
Yusuf frowned. "I am not a drug dealer. I was true to my word, hermano. All my businesses interests are legitimate."
I snorted. "Is that why people turn pale when I mention your name? I appreciate you helping me, but as soon as I can walk I'll be on my way." Suddenly I was fed up with all this talk. "I want to see the girls," I told Safaa. My tone was harsh. After all the months of hostility and icy contempt from her, I didn't understand her reasons for being here, or for showing me all this affection. I didn't trust her, I realized. That was a first. I'd always trusted her implicitly, ever since we were kids. But when I'd called her before going to Ouagadiri and she wouldn't talk to me, that had been the final straw. My feelings for her had gone as cold as a prison cell in November. And as for Yusuf, I didn't believe a word out of his mouth. With the reputation he had, and this clearly luxurious estate he lived on, how could he be straight?
"Anna, Oris and Hajar," I repeated. "I want to see them." I rubbed my throat. It was so dry that it hurt to speak.
"Okay." Safaa spoke in a placating tone, as if I were an octogenarian with Alzheimer's, insisting that I wanted to talk to Charlie Chaplin. "I'll go call them. And I'll get you something to drink." She left the room.
Yusuf dragged a heavy log-hewn armchair across the room and sat beside me. "You did a great thing, hermano, saving those girls. I always knew you were destined for greatness."
I gave him a flat look. "I'm disappointed in you. I believed you were done with crime. I thought you were sincere."
Yusuf smiled. "I'm telling you the truth, hermano. I am done with crime. I own a real estate development firm. We have major projects all over Panama."
"Then why is everyone afraid of you?"
He sighed. "You can thank my ex-wife for that. Berliza, I told you about her? She was the one who was into Santeria. Anyway, when I went to prison she took over and ran the cartel in my name. As a woman, she would not have been taken seriously. So she told everyone she was acting on my orders. She was more ruthless than I ever was. She killed people by the scores. She ordered the assassination of the deputy minister of justice. She killed a lieutenant who betrayed her by shooting him with a grenade launcher. She did all this in my name." He gave a disgusted shake of his head. "I didn't know about it until I got out. Then I divorced her. I have a new wife now, her name is Yasmeen." He smiled. "She makes me very happy."
"And now? Is Berliza still running your gang?"
"It's not my gang. And yes, Berliza is still in charge. We have a…" He threw his hands up. "An unspoken agreement. She lets me live, and I allow people to think I am still in charge. I am helpless in this matter, hermano. If I spoke against her publicly she would destroy me faster than you can say hasta luego. Perhaps she would go after my family. Power has gone to her head. She has become a gila monster."
"So you're out of the crime business, but you just happened to have two assault helicopters available?"
"No," he said patiently. "I heard from brother Qayyum that you were asking about me. He's a good friend. I traced your steps. When I learned about El Pelado's death, I guessed where you were going. I bribed a Colombian general to let me borrow those choppers for a few hours. It was pure coincidence that I arrived when I did. You can thank Allah for that, not me."
"And the bodyguard?"
"I'm not a drug dealer. But many people think I am. That creates enemies."
Three girls came running into the room, followed by the teenaged girl I'd seen riding at a gallop outside, and a petite Muslim woman in her thirties, carrying a baby boy with alert black eyes. The woman had fine Spanish features, and wore an expensive looking riding outfit.
Hajar dashed straight to me, leaped onto the bed and threw herself onto my chest, wrapping her arms around my neck. She wore sneakers, leggings, and a touristy Panama t-shirt. Her hair was extra curly, maybe because of the the humidity here in Panama.
"Mommy was afraid you would died," Hajar informed me. "I could tell. But I knew you wouldn't died, because you promised. But you have too many boo-boos, Baba! You have to not play rough with the Panama people."
"Okay." The weight of Hajar's body on my chest hurt, but I gave no outward sign of that as she snuggled into my chest.
Anna Anwar came close to the bed – I noticed that Oris made a motion as if to pull her back, then let her hand fall – and held my hand where it rested on Hajar's back. "Thank you Uncle Zaid," she said seriously. "Thank you for saving me." Her skin was a beautiful cocoa shade, her eyes the color of fall leaves just turning from green to brown. She seemed, if not happy, at least not terribly traumatized. Perhaps, living with Angie, she'd become used to hardship and chaos.
Oris was another matter. She stood with the teenaged girl against the wall, beneath a painting of the green dome of Masjid An-Nabawi. Oris looked a million times better than the last time I'd seen her. She was well dressed in a long green skirt and an expensive looking blouse that was too big for her. She'd gained a few pounds, which was a good thing, as she'd been skin and bones when I saw her in that nightmarish villa. But her eyes darted this way and that, and the dark circles beneath them spoke of haunted days and sleepless nights. I could only guess what El Demonio had done to her. She would have a long and hard road back, I was sure.
Safaa returned with a glass of water. She held it to my lips as I drank greedily, then pulled it away, saying, "Slow down. Let's leave room for some food."
At the mention of food, my stomach rumbled loudly, like a sleeping komodo dragon that had just awakened. I was, I realized, hungry enough to eat the entire annual food export of Panama.
Hajar reached up and grasped my ear lobe, caressing it between two fingers like she often did. "Baba," she said, "you're so old and warm."
"Oh," I told her. "I have some bad news. I lost Little Deer. I'm sorry, sweetie. It was stolen from the car I was riding in."
Hajar lifted her head and regarded me solemnly. "That's okay, Baba. Maybe the person who stoled it needs somebody to love. And Little Deer will make him happy."
I smiled. "Yes. Maybe."
"Have you met everyone?" Safaa asked. I shook my head, looking to Yusuf.
"I'm sorry for my rudeness," he said, stepping forward. "I didn't want to intrude. This is my wife, Yasmeen." The petite woman stepped forward and Yusuf draped an arm around her shoulders. The difference in their heights was remarkable.
Yasmeen gave me a tight smile that did not quite touch her eyes. "Please be welcome in our home," she said in accented English. "Is a pleasure to meet you."
"Likewise," I said. "Encantado. I am grateful for your hospitality."
Yusuf gestured to the teenaged girl who stood with Oris. "Nora, my daughter. She's been teaching the girls to ride."
I greeted her and thanked her for her attention to the girls. She must be Yusuf's daughter by his first marriage, as fifteen years ago he had just entered federal prison. He would have missed most of her childhood. I wondered how he'd managed to repair that damage, or indeed if he had.
"And my son," Yusuf concluded, rubbing the baby's head. "I named him after my personal hero."
"Ma-sha-Allah." I thought back to the many conversations we'd had in prison. "Uhh, that would be 'Umar ibn Al-Khattab, right?"
"Yes, he is my hero, but I mean my other hero. Zaid."
"Yes?"
He laughed. "That is my son's name. Zaid."
"Oh." I didn't know what to say. I was his hero? I didn't feel like a hero. What good had I done Tarek Anwar, or Angie Rodriguez, or the civilians who'd been killed on Ouagadiri, or even the young guard who'd been shot by Cowboy for his reluctance to execute me, Niko and the girls? Speaking of Niko, what good had I done him? What were Yusuf and my wife hiding about his condition? I'd dragged him into this whole mess, and he'd been shot and nearly died. Hero? I felt a wave of bitterness wash over me, and my eyes welled up with the intensity of my self-loathing. I was no hero.
Yusuf smiled, no doubt mistaking the reason for the tears in my eyes, thinking that I was moved by his naming the boy after me.
I suddenly felt tremendously weary and weak. My embrace of Hajar loosened, and the ceiling spun above me.
"Zaid?" I heard Safaa say, but it seemed to echo from the end of a tunnel. Hands lifted Hajar off my chest. I heard voices and the shuffling of feet. I thought I might pass out, but the ceiling gradually wound down and came to a stop. When I recovered my senses, I found the room empty except for me and Safaa, who stood beside me, holding my hand.
I disengaged my hand from hers. "I want you to leave."
"What do you mean?"
"Take Hajar and go back to California. When I'm well enough to travel I will bring Anna to her grandparents. I've paid Hajar's child support and more, so I expect full shared custody of Hajar going forward. I'd like to see her every weekend, and I'll pick her up from school on Tuesdays and Thursdays as well. Maybe I'll take her to the park or something, then bring her home. We can discuss a divorce settlement later."
Safaa stared at me open-mouthed. "You don't know what you're saying. You're delirious." She put a hand on my forehead, checking for a fever.
"I know exactly what I'm saying. I almost died here, and if I had I would have died alone, not only physically but emotionally as well, because the woman who should have loved me abandoned me instead. I've tried with you. Allah is my witness, I have tried. But I have nothing left. I'm done trying."
"But.. I…" She straightened and nodded. "I see what you mean. And I'm sorry you had to go through that. But I haven't made myself clear. I want us to get back together. I love you, Zaid Karim Al-Husayni. I want us to be a family again."
The words washed over me like a cold wind. They should have left me gibbering in ecstasy, but instead they made me want to retreat into myself. They made me angry. "Tell me something. Do you still think I had an affair with Karima?"
"No. Not anymore."
"Really? That's interesting. What changed your mind?"
"Uhh…" Safaa stammered and looked as if she'd rather pick up a rattlesnake and make out with it than answer the question. I met her eyes with a blank stare and waited.
"Farah Anwar," she said finally. "She's telling everyone that you had something to do with Tarek Anwar's death, and that you stole ten thousand dollars from her and ran away."
Infuriating, but not surprising. Was there no end to that woman's mischief? "And?"
"And, well, I know you loved Tarek and tried to help him. You would never do anything to harm him. And I came here, and I see that you not only found Anna like you were hired to do, but you pushed harder and farther than anyone could have asked."
"Ahh." I snorted and shook my head. I'd thought I was done being disappointed by Safaa, but a fresh wave of it rinsed my heart in vinegar and left me grimacing. "Now I get it. You came down here to see if I really stole the money like Farah claims."
"No! I mean, maybe. Only a tiny bit. But now I see that Farah lied."
"So you finally figured out that she's a chronic liar, and you deduced that she lied to you about me. Congratulations. You win the door prize, which you can collect on the way out. You do not, however, win me."
Safaa gave me a pained, confused look. "Why are you talking like this? You've never spoken to me like this, ever."
I dropped the sarcasm. "I told you, I'm done. Don't you understand, Safaa? It's easy to believe in someone when you're confronted with evidence that they're truthful. But marriage is supposed to be more than that. It's supposed to be believing in someone because you love them. Because they're your twin soul and your heart, and you trust them. Because they're the shoulder you lean on, the person you want to stay with until you walk together in the tall grass of Jannah. You and I had that once but you threw it away on the word of a bitter old woman. I didn't destroy our marriage. You did. What you feel now is perhaps regret or guilt. The realization that you made a mistake. It's not love. I don't know when you stopped loving me or why. Maybe you saw me struggling as a taxi driver and a P.I. and concluded that your hopes for me were misplaced, that I'd always be poor and struggling. I don't know and I don't care anymore."
Safaa began to cry. "Do you… do you not love me anymore?"
I felt like a heel and a cad. I couldn't stand to see Safaa unhappy. I never could. But everything I'd said to her was true.
"I do," I told her truthfully, my tone more gentle now. "You are a mountain in my mind. For so long all I've wanted was to lie in your green meadows, listen to your streams, feel the trembling of your granite when you avalanche. I still want that. I want to lose myself in your spring, summer and fall. I just don't want to be frozen alive by your winter. I don't want to spend my life searching for the hidden pass that leads to your heart, then end up like the Donner Party, cannibalizing myself. I-" Words failed me. I was more tired than I'd ever been in my life. I felt that my bones would turn to powder at any moment, and my heart melt like wax.
"I can't anymore," I whispered. My lower lip trembled and tears trickled from my eyes, though I wasn't even sure why. I was just so overwhelmed. "I have nothing left. Take Hajar and go. I divorce you."
If Safaa made a reply, I did not hear it. My eyelids came down like stage curtains at the end of a show, and I fell asleep.
* * *
Next: Chapter 18 – A New Light
Reader comments and constructive criticism are important to me, so please comment!
Wael Abdelgawad's novel, Pieces of a Dream, is available on Amazon.com.
Zaid Karim, Private Investigator, Part 16 – Finding Anna
Nothing about this mission had gone as planned. I'd imagined I would sneak in, find Anna, sneak out, and leave with Niko. But it's said that no plan survives first contact with the enemy.

See the Story Index for Wael Abdelgawad's other stories.
Zaid Karim Private Investigator is a full length novel. Previous chapters: Chapter 1 | Chapter 2 | Chapter 3 | Chapter 4 | Chapter 5 | Chapter 6 | Chapter 7 | Chapter 8 | Chapter 9 | Chapter 10 | Chapter 11 | Chapter 12 | Chapter 13 | Chapter 14 | Chapter 15
Wednesday, February 9, 2010 – 1:15 am
Ougadiri Island, Panama
The front door of the house – a huge wooden door that must have weighed a half a ton – swung open. A woman emerged, shouting and waving a half-full bottle of liquor. She was beautiful, petite and slender, and wore a white designer pantsuit, black heels and a white fur stole. Apparently no one told her that fur is now politically incorrect.
I lowered my arm slowly, awaiting developments.
A man emerged from the house. He wore slippers, underwear and a fur bathrobe that was open in front to expose his hairy chest and legs. A large automatic pistol was tucked into his underwear. That seemed like a stupid idea. He was short but wiry, with hair dyed the color of a beet salad. He spoke to the woman in a pleading tone, his hands out in supplication. He turned slightly, and I saw his profile. His right ear was missing. He was El Demonio.
The woman threw the bottle at him and – as he barely dodged it – screamed a long string of curses, some of which I understood. Among them was one word that struck my ears like the ringing of a gong: pedófilo. Pedophile.
My heart sank. I'd half hoped that El Pelado had been wrong, and that El Demonio's interest in Anna lay in some other direction. But it seemed the pimp had told the truth, and that El Demonio's wife or girlfriend or whatever she was knew it too.
The woman in the fur stole stormed over to the Rolls Royce and started it up. El Demonio shouted something but the woman roared straight for the gate, not slowing down at all. El Demonio hollered to the guards to open the gate. It began to slide open.
Too late. With a tremendous clanging, crashing noise, the woman barrelled headlong into the gate, which tore free from its hinges and flew into the air, coming down halfway to the treeline. The fence itself was partially pulled down, with at least once fence post torn from the ground. Sparks flew, illuminating the night sky like fireworks, and the hum of electricity through the fence abruptly cut off.
The woman didn't even slow down. She sped off down the road at a high rate of speed. The Rolls was barely dented, though one headlight was smashed.
El Demonio walked in a circle, raging and waving his arms. The guards exited the guardhouse to inspect the damaged fence and gate. The patrol vehicle pulled up, while two other guards came running out of the house.
One of the guards laughed upon seeing the destroyed gate. El Demonio rounded on the man, drew the pistol from his underpants and shot the man point blank in the forehead. The guard's body crashed to the ground, and the cartel boss fired twice more into the man's prone form.
He turned to the other men and yelled. Two of them hurried to the ATVs and sped down the road after the woman. The remaining guards conferred with El Demonio.
This was my chance. The fence near where I lay was partly torn from the ground. A gap of about a foot and a half at the bottom allowed enough room for me to crawl through. I began to move.
As I crawled beneath the fence, my belt caught on a ragged bit of metal that projected from the torn fence. I reached back slowly and tried to free it. I was not more than ten meters from where El Demonio stood with his man. My legs were hidden by the guardhouse, but my upper body was in plain sight. All they had to do was look up and they would see me.
I jerked at the belt, trying to free it. El Demonio gestured wildly toward the west, and he and his man turned in my direction. I flattened myself against the ground, pressing one ear to the warm earth, trying to look like a clump of weeds or a stone, or anything except what I was. I thougth flat thoughts: I'm a tortilla. I'm a pancake. Only then did I realize that my face was about two inches from a line of leaf-cutter ants. They marched past, each ant carrying a bit of leaf many times larger than itself. I'd heard they could denude an entire mango tree in a few days. I wondered what they'd do to my face if I got in their way.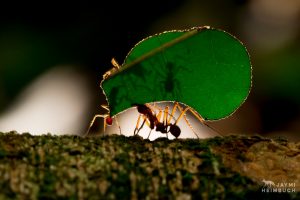 A brilliant yellow light burst across the island sky, followed an instant later by a tremendous booming sound that rolled across the forest from somewhere down west. Birds rose up by the thousands, while monkeys screeched in alarm. I moved my head the tiniest bit and peered behind me. A massive fire was burning far down at the western tip of the island, where the marina was located. Bits of flaming wrecking soared high in the air, arcing out over the forest and ocean, as if a flock of phoenixes had just taken flight. The yacht, I realized. The yacht had exploded.
El Demonio went apoplectic. His face turned as red as his hair and he began shrieking at the guards around him. He struck one and shoved another. I caught the words, esa loca mujer – "that crazy woman." El Demonio seemed to think the woman was responsible for blowing up the boat.
I was pretty sure it was not the woman. I was pretty sure it was Niko. I resisted the urge to laugh. That crazy maniac! I'd told him to disable the boats, not blow them to kingdom come.
One of the guards said something – it sounded like a question – and to my shock, El Demonio pulled the pistol from his pants and shot the man in the chest. The man fell and began crying in pain. The cartel boss disappeared into the house, then emerged with a set of keys. He started up the Lamborghini, which was bright red, and shot down the road toward the marina, brakes squealing as he rounded the bends. The guard in the patrol car followed. The two others still standing in the driveway conferred intensely, then lifted their wounded comrade – ignoring the dead one – and carried him to the last vehicle parked in the driveway, a smaller pickup truck that was coated in mud. They loaded the wounded man into the bed, drove right past me through the gate, and headed down the road. I had no idea where they were going.
I studied the house. There was literally not a single guard in sight. SubhanAllah! I reached back and pulled my belt loose from the snag. I crawled quickly through the hole, avoiding the ants, then rose lightly to my feet and ran toward the house, drawing my scuba knife. I slipped through the front door and dashed into the huge house.
In spite of the late hour, the house was brightly lit and smelled of baking bread. The interior was predictably huge, with a lobby big enough to hold three average houses. The lobby ceiling soared to the full height of the house. A circular staircase ran against the wall and rose all the way to the third floor, while second and third floor verandas circled the lobby, just as on the outside. Rooms and corridors ran off in four directions. Samba music played softly from somewhere upstairs.
The decor was an epic clash of hunting lodge versus French renaissance, as if a Russian trapper and a French noblewoman had declared war and chosen furniture and paint as their weapons. The massive mounted heads of jaguars, leopards and cape buffalos hung side by side with impressionist paintings of lakes and trees. Some of those paintings were probably worth millions. Antique French furniture shared space with bear skin rugs with the bear heads still attached.
I chose a corridor to my right at random and ran down it, then stopped in shocked horror, my feet nearly tripping over each other. On the walls on both sides were mounted human heads. They were not sculptures or wax models. They were real heads, preserved at the moment of death. They were the heads of older men and younger, hairy and bald, eyes closed or open and staring in perpetual dread. Some were scarred or bloodstained. These were the heads of El Demonio's enemies, no doubt. There were at least thirty.
God willing, I would not join them. What had I expected, tea and crumpets and a docent-led tour? I recovered my aplomb and ran on. I dashed through scores of lavishly appointed bedrooms, bathrooms that made Chausiku Sulawesi's look like a broom closet, and three large kitchens. There was an indoor pool, a bowling alley and a cinema. In one of the kitchens I heard talking. I glanced in to see two female cooks in white aprons apparently baking breads and pastries for the next day while another man washed dishes. I bypassed them without being seen. Aside from that, the entire floor was deserted. I returned to the lobby and mounted the stairs to the second floor. It was more of the same. Twice I saw guards on the outdoor verandas, but their attention was focused outward, on whatever was happening down by the marina, and they did not see me.
Donning the infrared goggles, I moved cautiously through a second floor bedroom that was the source of the softly playing samba music and that smelled of menthol lotion and pipe smoke. I froze when I realized that the two large lumps in the bed were an elderly couple with sleeping masks over their eyes. Maybe they were drugged, because the noises of the night didn't seem to have disturbed them at all. I prowled on quietly and moved up to the third floor, growing increasingly frustrated. I'd found no evidence that Anna was here at all.
I'd just begun my search of the third floor when a second explosion boomed outside, followed immediately by a third, smaller blast. The house's windows rattled in their frames and someone down on the ground floor cried out. The other two boats, was my guess. Whether it was Niko's doing or simply the fire spreading, I did not know. If it was Niko, then his work was done, and bravo. He'd disabled the boats as I asked.
Of course nothing about this mission had gone as planned. I'd imagined I would sneak in, find Anna, sneak out, and leave with Niko. But it's said that no plan survives first contact with the enemy. What my plan was now, I did not know.
In a third floor bedroom a maid screamed when she saw me, ducking and covering her head. I imagined I looked quite scary with the goggles on and a knife in my hand. "Silencio," I commanded her, then I moved on. I knew she might alert someone, but I would deal with that if it happened.
I passed through a huge glass-ceilinged atrium housing an indoor arboretum, where tropical trees and ferns filled the space with green warmth. The air was thickly damp, and a small waterfall cascaded down one wall into an artificial pool. The floor was earth, with trails meandering through the room. It was nearly an indoor forest.
I was tired, and my ribs ached. I doubted very much that Anna was hiding behind a banana tree. I turned to leave and found myself face to face with a six foot five behemoth with dark brown skin, a neck the size of a tree trunk and one of those pseudo-beards that is just a thin strip of hair along the jawline. He already had his rifle raised, and before I could react he slammed me in the face with the butt, knocking me to the ground. Luckily the night vision goggles caught the brunt of the blow. They shattered and became instantly useless. I snatched them off just in time to see the guard lean over me and attempt to bring the rifle butt down on my head.
That was a mistake. I couldn't count the times Malik Sulawesi had said to me, "Never lean. Anytime you lean you're off balance and vulnerable. Move your feet, kneel or squat, but don't lean."
As the rifle butt sped toward my face, I shrimped to the side, grabbed the guard's arms and pulled. He tumbled headlong over me, landing on his back beside me, the rifle slipping from his hands. I was on him like a viper, shooting my right arm between his arm and neck, reaching around to grasp my left biceps, and locking on a head-and-arm choke that was tighter than a vise. This choke compressed the carotid arteries, completely cut off the blood flow to his brain. The guy might outweigh me by a hundred pounds, if I could hold the choke he would be unconscious in six seconds, eight at the most. Fortunately it was my right arm applying the choke, not my injured left arm, or I'd never have pulled it off.
It was like holding a buffalo. He made grunting sounds, thrashed and tried to rise, but I dragged him back down, using his head for leverage. Two seconds. He tried to roll toward me but I based out, shooting my legs back, bracing the balls of my feet in the earth. Four seconds. He tried to roll away and this time succeeded. I was carried right over his body to land on my side with his weight atop me. I could hardly breathe myself, but I maintained the choke. Six seconds. Then the guy did something I wouldn't have thought possible. Moving ponderously, gnashing his teeth, he rose to his feet with me literally hanging from his neck. I dangled, feet in the air. I saw him reaching for a knife that hung in a sheath on a utility belt. The choke required both arms to maintain. If I let go, I'd lose whatever advantage I had against this brute. Eight seconds. He drew the knife, which turned out to be a huge hunting knife with one straight edge and one serrated. I was about to give up on the choke in order to defend myself against the knife – and probably get myself gutted like a fish – when the guard's arms went limp. He swayed, then crashed to the ground. I fell with him, but managed to land atop him so that his body took the brunt of my fall. I gasped with relief.
The guard would recover consciousness in perhaps thirty seconds. In a flash I released the choke, removed the guard's utility belt and searched it. It contained a communications radio, extra magazines for the rifle, mini binoculars, a tactical flashlight with crenellated edges for striking, and an expandable baton. I'd been hoping to find zip ties, but there were none of the control tools associated with police duty belts, like stun guns, pepper spray or handcuffs. I supposed El Demonio's security force was less interested in nonviolent control, and more interested in gleeful slaughter.
I looked around wildly. Some of the younger trees were tied to wooden stakes with short lengths of rubber tubing. I pried the knife out of the guard's meaty hand, ran to the trees and cut two lengths of rubber tubing. Dashing back to the guard I used the tubing to bind his wrists and ankles. Then I removed the man's boots, balled his socks and stuffed them in his mouth. Lastly I put on the utility belt and sheathed the knife. I was now carrying four knives, which would have been perfect if I were half human and half octopus.
The guard was literally snoring, taking a nap on the proverbial rowboat drifting gently down the stream. Applying the standard recovery technique for someone who's been choked out, I picked up his feet and shook them, sending blood to his head. He opened his eyes, looking around dazedly.
I squatted atop his broad chest. I drew my scuba knife and pressed the point against the side of his neck, gripping his chin with my other hand to hold his head in place. The knife bit into the skin, drawing a trickle of blood.
"That's a very sharp knife you feel pressing against your neck," I said in English. "You make one wrong move and I will cut your carotid artery like a fruit roll-up, do you understand? Blink once if you understand."
He blinked once, his eyes wide with a combination of fear and rage.
"Good. So you speak English?"
Again he blinked once.
"Alright. I'm going to take the gag of your mouth. You will say nothing except to answer my questions. If you call for help it will be the last thing you ever say." I turned my words into a snarl. "I consider you and your master to be filth. If you doubt my resolve, try me."
I removed the socks and the downed guard breathed deeply. "You are a dead man-" he began to say.
I stuffed the socks back in and dropped an elbow onto his left eye with all my body weight behind it. I felt one of the orbital bones shatter. The big guy grunted in pain. I pushed his head up, exposing his neck, and began to draw a shallow cut along the jawline. It wouldn't kill him, but might send a message.
"Mmmafffff!" His words were muffled but the tone of panic was clear. I removed the socks."Okay," he said. "I will cooperate." His left eye was swollen shut. Tit for tat. He smashed me, I smashed him.
I brought my face close to his ear and continued to press the knife into his neck. "I have only one question," I growled through gritted teeth. "And I swear to God, you will answer truthfully the first time or I will kill you. I have no patience left. None. You have once chance."
I meant every word, and the guard must have heard the verity in my words because he held his head very still as he whispered, "Fine. Ask your question."
"Where is the girl? The little girl, Anna? The one El Demonio bought from El Pelado."
"I don't know that name."
I gripped his hair, pulled his head up and began to dig the knife into his neck. The trickle of blood became a small stream. I hadn't cut his artery yet, just the skin.
"Wait!" His voice was frantic. "I swear I don't know the names of the girls, but they are kept in the outbuilding. The gray one on the south side of the house."
The girls. My God. There was more than one. Without another word I withdrew my knife and began to stuff the socks back into the guard's mouth.
"Ayuda!" he bellowed, calling for help.
I drove the blade into his larynx, cutting off the shout. Blood poured from his throat. I stuffed the socks into his mouth. He thrashed uselessly, his eyes wide with terror. I had not cut any major vessels. He'd never speak again, but had a chance of survival, if he received medical care in time. Whether that happened or not was not my concern.
I picked up the guard's rifle and recognized it right away. It was a Galil, an Israeli-made assault rifle. I'd carried one for a while when I was a bank robber. Horse used to take me, Deuce and Red out to the Mojave desert to train with a variety of weapons. I'd fired shotguns, bolt-action rifles, automatic handguns, revolvers, and all manner of assault rifles. I never knew where Horse procured all those weapons. We practiced firing at paper targets, bottles and cans, and we even had an automatic skeet shooter that allowed us to train against moving targets. I wouldn't have won any national shooting contests, but I was pretty good.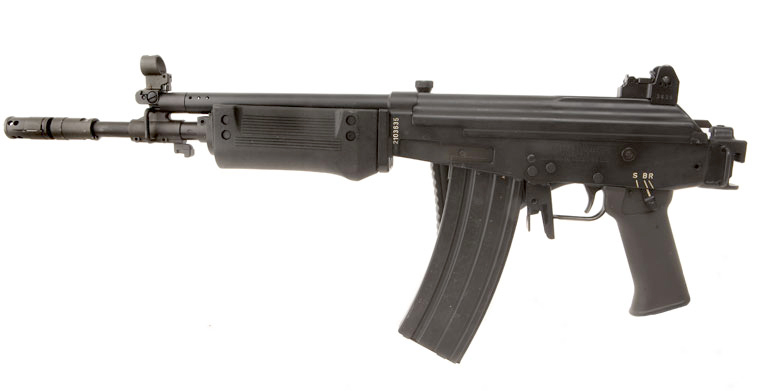 I took a shine to the Galil right away, and yes, I was aware of the irony of a jihadi (as I imagined myself) carrying an Israeli gun. It was a low maintenance weapon patterned on the Kalashnikov, but with the accuracy of an M-16. It was fed with a curved steel magazine with a 35 round capacity. My only complaint was that the AR, the standard rifle version, was a bit large for urban use, especially for a skinny teenager like I was then. Horse told me there was a popular SAR carbine variation with a shorter barrel, and an even more compact MAR variation for cops and airborne troops, but he hadn't managed to procure those.
Now here it was, a Galil MAR. The shoulder stock had been detached, leaving it with a pistol grip, a tiny barrel, and a curved magazine that looked ridiculously long by comparison. The entire thing was made of burnished black steel and could easily be concealed under an overcoat. Not that I had one.
I still did not intend to use the weapon, but between the maid who'd seen me and the guard I'd left bleeding, I expected the alarm to go up at any moment, at which point the advantage of stealth would be lost. I might be glad for the Galil if that happened. I slung at around my neck with the attached strap.
I descended the staircase, moving as quietly as I could, my scuba knife at the ready. I could only see out of one eye, so I had to turn my head constantly from side to side. As I approached the front door I saw that it was closed. I opened it incrementally, an inch at a time. A lean guard with a blond crewcut stood outside, his back to me. Like the other, he was dressed all in black and carried a rifle. I took a quiet step forward, then another. I was only one step away when the man sensed something and turned, rifle pointing at me.
I was on him like a komodo dragon – I've always had komodo dragons on the brain, I don't know why, maybe because it's a real thing that sounds unreal. I slammed the scuba knife into the side of his neck as I pushed away the barrel of his rifle. Blood sprayed into my face and neck and the guard fell like a toppled tree. He uttered only a surprised grunt, and didn't get off a shot, though his rifle clattered on the pavement. Grateful that he was not a large man, I dragged his body around the corner of the house to the south side, behind a stand of papaya trees intermixed with berry bushes. I opened his belt pouch and took the three rifle magazines he kept there, stuffing them into my pockets. One thing I'd learned in the field was that you could never have too many bullets. I knelt, catching my breath. No shout went up, and no guard came running, thank God.
Twenty meters upslope to my left stood a gray structure that looked like a garden shed. Beyond it, further upslope, was a second structure that could have been a guest house. I no longer had the night vision goggles, and it was dark on this side of the house, but there appeared to be nothing between me and the outbuildings but open grass. Darkness was my friend, so I figured I had a good chance of crossing that space unseen. I took a deep breath, said Bismillah, and ran for it.
I made it. The shed was constructed of stucco over cement, and had a heavy steel door that was secured with a sliding bolt. The bolt was closed, effectively locking the door, but there was no padlock securing it. There were no windows and no exterior AC units. I slid the bolt open as slowly and quietly as possible, gripped the metal handle of the door and pulled. The door opened with a creak of rusty hinges. I stood as still as a stone sculpture and listened. Nothing. The shed was completely dark inside, and a foul odor emanated from it. It stank of blood, vomit, bodily fluids and death. The smell made my skin crawl and my feet want to run. I fervently hoped and prayed that Anna was not in this building.
I entered the shed and pulled the door shut behind me, eliciting the same rusty whine. Only when it was all the way closed did I allow myself to take the tactical flashlight from "my" utility belt. With my knife still in the other hand, I clicked on the flashlight and shined it around the room.
I was in a chamber of horrors. The walls and floor were splattered with blood and gore. A drain in the floor was clogged with shards of bone, flesh and hair. Shackles were bolted to the floor and wall. A variety of tools hung from the walls. All were stained with blood. This was a torture box. The pain, terror and despair of the men who had been brutalized here, who had been killed here and dismembered, was a physical presence. I could smell it, taste it and feel it on my skin. It made me gag. I bent over and retched, but managed to hold it in. Then I turned off the flashlight, opened the door and fled that terrible place.
I shut the door behind me hurriedly, forgetting to be cautious. I don't remember if I slid the bolt closed. I didn't even check for guards. I simply ran from that abominable hole, stumbling up the slope toward the other building I'd seen, taking deep breaths, trying to slow my racing heart.
This was it. This was the final building on the property, as far as I could tell. If Anna wasn't here then – then what? I didn't want to think about that. I didn't want to consider what it might mean.
Ya Allah, I thought as I jogged up the hill. I wanted to say so much. I wanted to throw my prayer to the heavens with a voice that would light up the sky and shake the earth. I wanted to smash this island with a fist that would tear it apart and throw this entire compound into the sea. I wanted to be away from here, back with my wife and child in a place of safety and love. But most of all I wanted to find Anna Anwar and take her away from this evil place. All these thoughts and more roiled in my chest and stuck in my throat. I was too tired to formulate words, too heartsick and angry, so all I managed was Ya Allah, Ya Allah, Ya Allah.
Like the shed, this building was only one story high, but it was the size of a villa, with at least four or five rooms. Also, it had a large front window, though it was barred and curtained. Like the shed, this building's door was a massive slab of metal, but again it was secured only from the outside with a deadbolt. No lock. That meant that this villa, like the torture chamber, was meant to keep people in, not out. It was a prison. The fact that it was unlocked spoke to El Demonio's supreme command and confidence on this island.
Standing before the front window, I reached through the bars and touched the glass. It wasn't glass at all but some sort of thick shatterproof plastic. The villa was pitch black inside and I couldn't see a thing.
Moving as silently as I could, I made a complete circuit of the building. There were two other windows, both small and high on the wall. There were no other doors.
Returning to the front door, I slid open the deadbolt. This door was apparently better maintained than the other, because it opened without a sound. I slipped inside and closed the door behind me.
I shined the flashlight around, partly covering it with one hand to reduce the beam intensity. The light illuminated a large room that was like some adult's fever dream of a child's funhouse. There was a small inflatable bounce house, a ping pong table, a soda dispenser and soft-serve ice cream machine, a giant gumball machine, bean bags strewn about the room, and paintings of clowns all over the walls. Streamers hung from the ceiling, and here and there helium balloons bounced against the ceiling, their strings dangling down. Dolls were piled onto a child-sized pink leather armchair in one corner of the room. When the flashlight beam hit them, their eyes glittered and glowed like little possessed demon creatures. Dolls were scattered about on the floor as well. Several had been dismembered, their ams or heads pulled off. Some of the clown paintings had been disfigured as well, drawn over with crayon or marker. And, I noticed now, there was a large puddle of dried residue beneath the soft-serve machine, as if someone had deliberately poured ice cream onto the floor and left it there.
As bizarre as the room was, my heart soared, because I knew this was the place. If Anna was indeed a captive on this island, I was fairly sure she'd be inside this twisted funhouse villa.
To the right was what would have been a large kitchen, except that all the appliances had been stripped out. There was nothing in it but a sink. When my light hit it, dozens of cockroaches and silverfish scurried into the shadows.
I moved through the room to a hallway. A door opened off the left of the hallway into a large bathroom with a huge claw-footed tub and a mirror with light bulbs all around the sides. Again, cockroaches scattered.
A little further on my right I found another bedroom. When I shined the light into it, I was shocked into motionlessness. Wherever the light hit, dolls stared back at me. They sat on shelves on the walls, dangled by strings from the ceiling, and were piled on a bed against one wall. There were hundreds of them. Then I noticed something else and my blood turned to ice in my veins. The bed had restraints attached to the four posts. Leather cuffs were attached to chains and they were small, the size one would need to restrain a child. At the foot of the bed stood a tripod of the kind to which someone might attach a camera.
My hand tightened on the flashlight and my jaw clenched. I wanted to destroy this place and leave it an island of ghosts. I took a breath and forced myself to relax. I couldn't afford to let anger take over. I was not here to seek revenge or go on some vendetta. I was here for one thing only, and that was to find Anna.
There was one last room at the end of the hall and I moved toward it. Even before I reached it I heard scuffling noises from inside and the sound of a frightened whimper. My heart flipped over in my chest. I felt excitement, trepidation and fear, not fear for myself but over what I might find. I wanted to call out and say, "Anna, it's alright, you're safe now," but I dared not. I didn't know who was in that room. There might be a guard in there for all I knew, ready to blast me when I walked through the door.
There wasn't. I shined the light cautiously into the room. There were two sets of wooden bunk beds, a pile of defaced clown paintings on the floor in one corner, and a tiny, barred window high up on one wall. Finally my light came to rest on two pairs of terrified eyes. The two girls were backed into one corner of the room. A girl of perhaps twelve years stood in front. She was thin and barefoot, with long brown hair tied back in a ponytail. Her features were fine, and her bright green eyes flashed defiance. She wore a long cotton paisley nightgown, and might have been pretty if not for the bruises on her face and the look of desperation in her eyes.
Behind her a smaller girl huddled on the floor, covering her face with her hands. She wore a pair of ill-fitting shorts and a white t-shirt with food stains on the front. She had Anna Anwar's build, but I couldn't tell for sure.
I sheathed the scuba knife. There was nothing in my hands now but the flashlight. "Anna," I said gently. "Is that you?"
The huddled girl began to wail. The girl in front, in contrast, stood as straight as a stop sign, her shoulders back. "Tómame," she said. "Seré bueno para ti. Me va a gustar." Take me. I'll be good for you. You'll like me. She held out a hand, palm down, in a self-contradictory gesture that seemed to combine an invitation and a ward.
"No estoy aquí para eso," I said. "I'm not here for that. I"m a friend. Un amigo. Anna," I repeated softly. "I'm here to help you, to take you home. My name is Zaid. I'm a friend of your father, do you remember me?"
The wailing from the huddled child lessened. "My – my -" she stammered. "My father?"
"Yes." I smiled, knowing she couldn't see it but hoping she could hear it. Of course, I realized. What an idiot I am. They can't see me. I'm just a dark figure behind a bright light. I shined the light on my own face, and both girls gasped. Oh, crap. I'd forgotten that I was covered in the guard's blood. I must look like some kind of vampire.
"I know I look terrible," I said, wiping my face with one sleeve. "But I really am a friend of your father Tarek. I'm his old friend Zaid. He used to call me Stick. You and I have met before. You gave me flowers once at a party."
"You – you looked lonely."
I smiled and tears came to my eyes. I was amazed that she remembered that. "Yes," I said.
"I'm here to take you home."
"My mommy doesn't want me." I heard a shuffling sound and shined the light on the girls. The huddled child had gathered herself to stand beside the older girl. She was indeed Anna Anwar. Her eyes were red and puffy from crying, but aside from that she seemed unmarked. Though of course that did not mean she was… unharmed. I moved the light to the center of the floor between us.
"Your mommy loves you, but she can't take care of you right now. I'm taking you back to California. To Fresno."
"To my Daddy?"
The hope in her voice nearly broke my heart. This child had been betrayed in the worst possible way, and I didn't want to add to that by lying to her. But if I told her the truth, she might break down into despair, which wasn't what we needed right now. I needed her alert and paying attention. The guards would soon discover the injured guard and the dead one, if they hadn't already. When that happened, they would lock this whole place down and begin a search.
I chose a half truth. "Your Daddy can't take care of you either. I'm sorry sweetie. But you still have your grandparents. They love you and want you. So please, come with me now."
"My Nana doesn't want me."
What an odd thing to say. "She does. Your grandparents hired me to find you."
"No. My Nana doesn't love me."
I ran a hand through my hair and tried to control my exasperation. "Maybe that's true, maybe not. We'll work it out when we're out of here. I promise you, I swear by Allah, I will find a safe place for you. Come on now, Anna. We have to go."
"Oris too." Anna reached up and took her friend's hand. "You have to take her."
"Yes," I said emphatically. "Of course. Now come."
Anna rose, and a quick exchange took place between the girls in Spanish too quick for me to follow. I hadn't realized that Anna spoke Spanish.
"Okay," Anna said. "We're ready."
I nodded. "Do you have shoes? We'll have to run."
Oris fetched a pair of slippers from beneath the bunk bed, and Anna slipped on her Adidas sneakers, the same ones she'd been wearing in the school photo.
"When we get outside," I told them, "no matter what happens you stay behind me, stay quiet and keep on following me, do you understand?"
Anna translated for Oris, and we slipped out of the house in total darkness. I ran downhill toward the gate with the two girls close behind, sticking to the deepest patches of darkness as much as possible. I would have preferred to avoid the gate, as it was likely the guards had either returned or someone else had been stationed there. But there was no choice. It was the only way past the perimeter fence. The gap I'd crawled under was on the other side of the guardhouse and inaccessible from here.
I led the two girls past the torture shed and up along the side of the main house, skirting the spot where I'd dumped the blonde guard's body. I peered around the corner of the house. It was worse than I'd feared. There was no sign of the patrol car, and the Rolls and Lamborghini were still gone. Firelight still shone from the western end of the island. And the wrecked gate still gaped open. The problem was that there were now four armed guards stationed at the gate, two on each side.
I unslung the rifle and held it in my arms, flicking the safety off. In spite of being a different model than the one I'd carried, the configuration was familiar and comfortable. I closed my eyes. "O Allah," I breathed. "I'm not asking anything for myself. Do what you will with me. Strike me down if you choose. Take from me all worldly things, leave me without coin or love or breath if that is the price of success here. I can take it. I'm your servant to the end. But save these girls O Allah. That is all I ask."
I opened my eyes and looked at the girls. "Listen carefully," I whispered. "There are four men at the gate. The only way out is for me to kill them. You stay in hiding until I say, 'Go.' When I say, 'go,' you come out and follow me. We'll run through the gate then into the forest. The gunshots will be loud, but you keep on running, keep following me. Don't stop. Understand?"
Anna translated for Oris, and both girls nodded their heads. Their eyes were wide, and Anna's lower lip trembled as if she might cry. I simply had to trust that they would do as I told them.
I flipped open the magazine pouch and folded the cover behind the belt, so it would stay open. Then I said Bismillah and gripped one magazine between with my teeth. I didn't know how well trained these men were. They might be highly trained mercenaries, or run-of-the-mill gangsters with no real tactical training. As for me, I knew how to shoot, I was a skilled martial artist with the ability to adjust to new tactical information on the fly, and I had the biggest advantage of all – the advantage of surprise.
I stepped out from behind the corner of the house.
Only then did I see that there were two additional guards at the house's front door. They were immediately to my right, so I rounded on them and opened fire. From my perspective they were lined up one in front of the other. My first volley mowed them both down like grass. Without a pause I pivoted left, dropped to one knee and let loose on the two guards on the right side of the gate, in front of the guardhouse. I wanted to get them before they retreated into the guardhouse, and I did. One fell screaming, while the other flew backward and crashed into the guardhouse window, shattering it. Hey lay bent backward over the sill.
The two on the left had no cover. They dropped to their bellies and fumbled with their rifles. I rolled left, came to my feet, ejected the magazine and slammed in the one from my mouth, and cut loose on full auto, emptying the entire 35-round clip into the earth where they lay. The bullets chewed them to pieces.
A tremendous impact struck my left shoulder and sent me spinning to the ground. It was the guard who'd gone down screaming. He wasn't dead, and he'd put a bullet in me. My shoulder was numb, but I didn't feel the pain yet. I thrust in a new magazine, rolled to my right, stood, and advanced on the man. He shot at me but he was panicked and in pain, and the bullets went wide. I raised my weapon, aimed, and riddled the guy, killing him where he lay.
A volley rang out and I stumbled as my leg gave out. I rolled to my back and saw two guards on the second floor veranda, both firing at me. Bullets ripped up the earth all around me. I tried to return fire and got nothing but an empty click. I popped out the mag, inserted a new one, and calmly returned fire, sweeping a line of lead across the veranda. One guard's head rocked back as a bullet took him square in the forehead. The other dropped to his belly. I dropped the clip, put in a new one, and emptied it into the spot where he lay, firing right through the ornately carved wood. Chunks of wood flew in every direction and an entire section of the veranda railing broke loose and fell to the ground with a crash. I saw then that the guard lay in a heap against the wall of the house, dead.
I reached for another clip and found that I was out. I rose to one knee and tried my leg. A bullet had gone through the outside of my calf, taking a piece of my muscle with it. Blood poured down into my shoe. But I found that I could stand, as long as I kept most of my weight on the other leg.
"Anna, Oris," I called out. "Go! Follow me now." The two girls, to their credit, darted out from behind the house. I ran for the gate, hobbling badly, nearly dragging my left leg behind me, with the girls right on my heels. We passed through the gate, which was a scene of devastation, with pools and spatters of blood everywhere. I made a beeline across the clearing, heading for the forest to the southwest.
Gunfire sounded, and I heard the whine of a bullet as it whistled past my ear. Oris screamed, but she and Anna kept running. I looked back and saw a guard on the third floor veranda firing at us. At the same time headlights came up brilliant and white on the road almost directly ahead of us. There were at least two vehicles racing our way. And then my leg gave out on me again.
I pointed to the treeline. "Go!" I shouted. "Get to the forest and keep going. Hide, don't let anyone find you."
The girls stared at me, wide-eyed with terror. "Go!" I screamed, pointing. "Corre, corre!"
They ran.
I climbed to my feet once again. I saw now that there were in fact four vehicles: the Lamborghini, the patrol truck and the two ATVs. The Lambo stopped on the road, idling, but the pickup and the ATVs bounced into the clearing, coming right at me.
I had to lead them away from the girls. That was all that mattered. I drew the hunting knife and began hobbling back toward the gate. The pickup came roaring right toward me. The two ATVs, however, headed for the treeline, following the path the girls had taken. I stopped, drew my right arm back, and threw the hunting knife at the nearest ATV, aiming for the spot where it would be in about a second and a half. The knife sailed through the air, tumbled end over end, and missed. A shot rang out, and I saw a flash of light from the treeline. One of the ATV drivers screamed and tumbled from his vehicle, which flipped onto its side, wheels spinning and engine whining. Another shot came, and the other ATV did a wheelie, the front end shooting up in the air. The driver hit the ground and the vehicle landed atop him with a sickening thud.
Niko, I thought. It had to be Niko firing from within the forest. No no no, Niko, you were supposed to be long gone. What are you doing?
The pickup stopped directly in front of me and three men clambered out carrying rifles. One trained his weapon on my chest and approached me while the other two opened fire on the treeline.
I drew my scuba knife and took a fighting stance.
"No lo mates," El Demonio called out. "No lo mates." Don't kill him. The guard stepped forward and swung his rifle stock at my face. I ducked the blow, inserted my knife along the inside of his leg, and sliced his femoral artery wide open. Then I shoved him away. He fell, staring in horror at his leg, which was literally fountaining blood several feet in the air. He tried to stanch the flow with his hands, without effect. He'd be dead in seconds, I knew.
The two other guards rushed over to me. One, a hugely muscular man with skin as dark as lava rock, looked like he did nothing all day but eat beef and lift weights. He pointed a bulky black and yellow handgun at me and pulled the trigger. Except that it wasn't a handgun at all.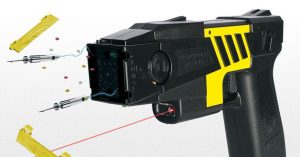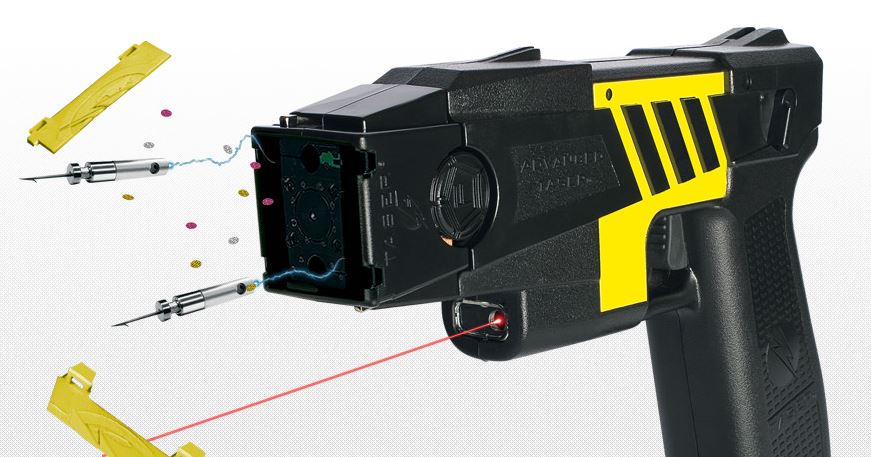 A pair of needles attached to wires flew at me. Not fair, I thought as I tried to dodge and failed. It's just not fair. The needles struck me in the back. Every muscle in my body went rigid, while my back felt like an entire pub full of Irishmen was using it as a dartboard. I fell, completely frozen, unable to control any of my muscles, though I could see the big guard through my peripheral vision as he approached, put away his Taser, lifted his rifle and brought the stock down a sledgehammer on my skull.
* * *
Cold water splashed my face and I half-gasped, half-screamed. I looked around wildly. Where was I? What was happening? An instant later pain hit me like a planet. There was hardly a part of me that did not hurt. My head ached as if it might split open, my right ribs felt tender and breakable; my left shoulder screamed with agony, and my left calf felt like some hungry fanged creature was eating it for dinner. Every muscle in my body felt sore and twitchy. And I couldn't move my hands or my legs.
I'd been stripped to my shorts and chained to the floor in a bare cement room with gore-spattered walls. A single bright bulb blazed directly overhead. There were tools hung on the walls, some I recognized and others that looked like medical implements.
It all came rushing back then. El Demonio. Ouagadiri Island. The torture chamber. I was in the torture chamber. El Demonio himself stepped into my field of vision. He'd put on a red track suit that nearly matched his ridiculous beet-colored hair. A pair of men flanked him. One was the muscle-swollen black man, the beefeater. He was so big he looked like he could probably not scratch his own back. The other was a short Latino man with a handlebar mustache, wearing a black leather cowboy hat.
To my surprise, my gunshot-wounded shoulder and leg had been bandaged. The bandages were soaked with blood, but the bleeding appeared to have stopped. I guessed that these guys didn't want me dying of blood loss before they could interrogate me.
El Demonio lifted one of those big black and yellow Taser guns and tapped it against his chin, grinning. He spoke in Spanish, first insulting my parentage and then rattling off a series of questions: Who sent you? Who do you work for? Who is with you? Where are your compatriots? Where are the girls?
These last two questions made me smile. El Demonio didn't have Niko or the girls. He hadn't found them. Maybe Niko had the girls, and was at this very moment heading back to the mainland with them on the fishing boat.
The hairstyle-challenged cartel leader must not have liked my smile, because he pointed the taser at my belly and fired. My body convulsed and arched, jerking against the chains that held me. My teeth clamped together so hard I thought they'd break.
"Quien te envio?" he demanded. Who sent you?
My chest heaved as I gulped air. "Santa Claus sent me," I replied in English. "He said to tell you you've been a bad boy, and you're not getting any presents for Christmas."
El Demonio laughed and spoke in English. "Oh, so you are NorteAmericano? You know, you kill eleven of my men. Eleven! Who blow up the boats? Who is with you? Where are the girls? Are you DEA?" he demanded. "CIA?"
"Neither," I said. "I'm CRC."
He frowned. "What is CRC?"
"Can't Remember Crap."
"Hmm." El Demonio made a hand gesture to Beefeater – the muscular guard – who handed him another type of Taser, the kind that must be touched directly to the skin. El Demonio pressed a button and a blue arc of electricity snapped up between the poles. It buzzed and crackled as he kneeled down beside me and brought it close to my face. I thought he would ask another question, but instead he simply touched the device to my mouth.
Again my entire body clenched and arched. My jaws snapped shut and I bit the inside of my cheek hard. My mouth filled with hot, coppery blood. My lips burned like slices of meat on a barbecue.
"Llámame cuando dé respuestas," El Demonio said to his men. Call me when he gives answers. He exited the room.
The Panamanian cowboy took a few choice implements off the hooks on the walls, then pulled up a folding chair beside of me. He began to torture me as Beefeater watched. He started with the skin of my inner thighs, and moved on to my toenails. There was neither joy nor malicious intent in his actions. I think that was the worst part of it all – the coldness of it, the matter-of-fact monstrousness of their cruelty. As he tortured me, he repeated the same questions in Spanish. Who did I work for? Who was with me? Where were the girls?
I gave no answers. That's not to say that I took it like a man. I screamed, groaned, and shouted until my voice failed. I bled, and I hurt. But I did not beg, and I gave no answers. Give me credit for that, if nothing else.
At least twice I lost consciousness. The first time they revived me with another bucket of water in the face. At some point Cowboy went on a break and Beefeater took over. Apparently not being one for finesse, he began by simply beating me on the face, chest and arms with a rubber hose. One of my bottom incisors broke loose and I spat it out. At some point he said to me in English, "You alone here. No one know, no one care. Why you no speak? You speak, all dis finish. You speak, we give you food, water, let you rest. No one comin' to help you, man."
At Beefeater's claim that I had been abandoned, Surat Ad-Duha flowed into my mind like a cool mountain spring. I began to recite it out loud in Arabic, slowly. My words came out slurred, partly because my mouth had been damaged, and partly because I'd lost so much blood.
I knew this surah had been revealed after a period during which the revelation of the Quran to the Prophet, sal-Allahu alayhi wa-sallam, had come to a halt. The Prophet was anxious and confused, fearing he had done something wrong. The disbelievers scorned him, saying, "Muhammad's Lord has bidden him farewell."
Until Allah responded with these sweet words:
By the morning brightness, and the night when it covers with darkness, Your Lord has not abandoned you, nor has He detested [you]. And the Hereafter is better for you than the first. And your Lord is going to give you, and you will be satisfied. Did He not find you an orphan and give refuge? And He found you lost and guided [you], And He found you poor and made [you] self-sufficient. So as for the orphan, do not oppress. And as for the petitioner, do not repel. But as for the favor of your Lord, report.
I was not alone. No matter what these human beasts said, I knew better. I belonged to Allah. I was alive at this moment not by the agency of these pathetic, soulless men, but by Allah's mercy, and I would die not by these men's hands, but by Allah's decree only.
I recited the surah aloud through a broken mouth and burned lips, and when I opened my eyes I found Beefeater staring at me wide-eyed and trembling. The door opened with that same rusty-hinged squeal and Cowboy walked in. "Qué?" he said. "Que pasó?"
"He sayin' magic words," Beefeater replied. "Power words. No more for me, no more." He spun on his heel and left the room.
Not that his departure helped me. Cowboy just picked up where he'd left off.
The second time I fell unconscious, Cowboy revived me by digging a thumb into my eye. He spoke into a radio, and a few minutes later El Demonio entered the room carrying, of all things, a pair of rattan Kali sticks. He grinned and began to swing them in a classic sinawali or weaving pattern.
Two guards entered behind him, men I had not seen before. When they entered, sunlight shone through the open door. I was stunned. It was morning already. They'd been torturing me all night long. I'd had no idea.
They carried between them the limp form of a man. His head lolled, and his yellow shirt and jeans were completely stained with blood. It looked like he'd been shot somewhere in the abdomen. It was Niko.
El Demonio grinned at me. "Yes, we find your friend. And guess what, idiota?"
I didn't want to know. I didn't want to hear the words. The cartel leader, seeing the dread in my eyes, kneeled beside me and sneered. "We have the girls as well."
My will and determination deflated as if someone had just punctured me with a pitchfork. Through all the torture to which I'd been subjected, I had not wept, but now tears came to my eyes. The pain of my countless wounds hit me like the heat of the sun, and I felt despair for the first time. I wanted to curl around myself and die. All for nothing. It had all been for nothing.
El Demonio's men dragged Niko to the shackles on the wall and hung him up so that he dangled by his wrists. His hands turned white, indicating that the blood flow had been cut off. If he remained like that for long, he'd lose his hands.
The cartel leader swung the sticks through a series of patterns, showing off. He went through the Ikis pattern, Dog's Tail, Umbrella and Espada y Daga. Even through my despair, the analytical part of my mind, the part that had been studying stick and knife combat for most of my life, noticed that El Demonio's movements were fluid and natural, but his stick angles were off, and his footwork was entirely lacking. I pegged him as a mid-level student, though clearly he thought more of himself.
Returning to a six-count sinawali pattern, El Demonio pivoted without warning and struck Niko six rapid blows, three on the left and three on the right: temple, cheek, jaw, skull, ear, shoulder. The sticks made dull thwacking sounds against Niko's flesh and opened a cut on his forehead. At that, Niko opened his eyes. His lids were heavy, and I wasn't sure he saw me, but then he said, his words slurred, "I am sorry señor. I told you I will stay with you until the point of death." His eyes closed.
El Demonio lifted his sticks to beat Niko again.
No, I thought. No, no no. Each repetition of the word banished a bit of the despair that had enveloped me and replaced it with white hot determination. This was intolerable. This would not stand. I remembered the guard who had laughed at El Demonio's wife, and how the cartel leader had reacted by shooting the man. And then, when I'd smiled earlier, he'd Tasered me in the face. He couldn't stand to be laughed at.
So I took a chance. I began to laugh. It was artificial, of course, just a forced imitation of a laugh, but almost as soon as I began some switch flipped in my brain and I began to laugh for real. This entire situation was so unlikely, so absurd. How had I ended up here, being tortured in a cement shack on a Caribbean island, when just a week ago I was comfortably ensconced in my California office? Of course I hadn't known at the time that my office was comfortable, but everything was indeed relative, it seemed.
My throat was hoarse from screaming, so my laugh came out sounding the cough of a sick cow, but it was genuine, and El Demonio saw that. He turned away from Niko and his face flushed as red as his ridiculous hair. "Deja!" he screamed, ordering me to stop. "Deja eso!"
"It's just," I rasped, "you have this fully stocked torture chamber, and you're playing with sticks like a little kid. Sticks, really? Give me a break. Give me one of those and I bet I could beat you silly with it. Come on, you and me, one on one."
That was it, that was my play. If he didn't go for it, then we were all doomed. I watched as El Demonio's face returned to its normal color. An evil light came into his eyes.
"Really?" he said. "You think is easy? Okay, I give you a chance." He barked out an order in Spanish to the guards. They proceeded to unshackle me and Niko. Two guards hauled Niko out the door into the sunshine.
They came back and bent to lift me up.
"No," I growled. "Deja me. Don't touch me." As slowly as a wounded turtle I rolled onto my stomach, then pushed up onto my hands and knees. Like an animal, I crawled across that filth-stained floor until I reached the wall of the shed, where I used the wall to push myself to my feet. For a moment everything spun. I leaned against the wall, closing my eyes, and waited for it to stop. When it did, I walked out of that place of horror into the sunshine of a new day.
The guards tossed Niko's unconscious form into the bed of a pickup truck. They drove the short distance downhill to the circular driveway in front of the house. I followed on foot, moving very slowly and limping badly, mostly just dragging my left leg behind me. El Demonio, Cowboy and Beefeater flanked me. When we reached the driveway I saw the other patrol car parked there. Anna and Oris were indeed there, sitting in the cab. Anna's face was swollen from crying. Oris looked frightened but rock solid. What a child she was, what a human being.
There was something else: the body of El Demonio's wife lay in the bed of the truck, twisted unnaturally. Her formerly white pantsuit and white fur stole were stained crimson with blood.
El Demonio planted himself right in the middle of the circular flower bed around which the driveway ran. Maybe with his wife dead there was no one to object to him stepping on the petunias. He kept one stick for himself and threw the other down, gesturing for me to pick it up. I stepped into the flower bed, feeling the stalks break beneath my feet, bent to pick up the stick, and fell. Using the stick as a cane, I regained my feet.
Standing there dressed only in my underpants, I tipped my head back and let the morning sun shine on my face. I was covered in blood from head to toe. I'd urinated on myself during the night. My body was wrecked. I knew it and El Demonio knew it. I had no toenails left, and my feet were bloody, swollen masses. The skin on the front and inside of my thighs was shredded and torn, bleeding from dozens of places. My left leg barely functioned. Because of the gunshot wound to my left shoulder, my left arm was useless. My right eye was swollen shut. Every other part of my body was covered in welts and bruises, and I was dizzy from blood loss. I had maybe ten seconds of fight in me, if that. If it went beyond that I was done. All El Demonio had to do was dance in, strike me and dance out. If he waged a battle of attrition like that, I'd be helpless.
El Demonio shouted to his men. One of them rolled Niko out of the bed of the pickup. Niko's body fell and hit the ground with a dull thud. I knew my friend was either dead or dying, but there was nothing I could do. Cowboy dragged the two girls out of the other vehicle and forced them to their knees beside Niko, on the edge of the flower bed. Looking at me, seeing my ruined condition, Anna began to cry.
I wanted to say something to her, offer her some reassurance, but anything I might say would ring hollow. Trust in Allah, I thought, and He will feed you as He feeds the birds.
"Perhaps," my subconscious replied, "but will He save you? I'm not a bird, and I live in the real-"
SHUT UP! I hollered at my subconscious. Yes! He will! He will save, provide, nourish, reward, and redeem. One way or another, HE. WILL.
The cartel leader twirled his stick. "Are you ready?"
"Hold on. I have terms."
He cocked his head. "What means, terms?"
"Conditions. Condiciones. Every contest must have terms, something at stake, something to be won or lost."
He nodded slowly, still grinning. "I like. Say the terms."
"If I win, you let me, my friend and the girls go."
He eyed me thoughtfully, still smiling. "And if I win?"
"I'll tell you who sent me. Then you can kill me and let the others go."
El Demonio snorted. "No, amigo. No one send you, I see that now. You and this one-" he gestured contemptuously toward Niko's still form – "are amateurs. Maybe you are the father of one of the girls? Your identity is meaningless. Here is the terms. If you win, one of you will live. The rest of you die. This is the only term I offer. Choose now. Who will live?"
I racked my mind for a counter-proposal, anything I could say, anything to bait him with. But there was nothing. He was right. He held all the cards. This was only a bit of fun to him, an entertaining way to kill me, and perhaps a way to show off to his people and save face after last night's losses.
"Anna," I said. "The little girl. She lives." There was no other possible choice. I had come here to save Anna no matter the cost. I'd offered myself to Allah, bargaining my life away for hers. I asked for this. My only regret was Niko.
El Demonio nodded knowingly. "So it is the little girl you love, eh? Then listen this. When I defeat you, I will kill all except her. Your little Anna I will take back to the villa and do as I please. She will live, but as my slave." He grinned. "This is according to the terms, yes? Now no more talk. Vamo' hacerlo!" He twirled his stick in a figure 8 pattern and came straight at me, arrogant, not trying to feel me out at all. He probably thought he'd need only a few seconds to put me down. He might be right.
The feeling of either a knife or a stick in my hand was so familiar, so comforting. I had been training obsessively in Kali for almost twenty five years. The stick was as much a part of me as my own hand. Heck, for a long time, people had called me Stick. Holding a stick in my hand was like coming home.
Could an inanimate object impart emotions to a human being? Confidence flowed into me from the smooth rattan in my hand. I smiled from ear to ear, and felt the burnt skin of my lips split and begin to bleed. Mine was a smile of joy, acceptance and power. It was the smile of a man with nothing left to lose, a man trusting his fate to the Most Merciful God, a man willing to pay whatever price was asked of him. It was the smile of a man ready to die.
The poet struggles, Niko would say, and without struggle, what will he do? Without struggle and resistance there is no victory. Perhaps in that moment I was a poet. My writing tool was a rattan stick, my page the bed of flowers in which I stood barefoot and bloody, and the subject was life and death. I had given all I had. Whatever little remained I would leave here, in this flowerbed, and it would have to do.
In my hoarse, raspy voice, I breathed "Allahu Akbar," and raised my stick to meet the oncoming attack.
* * *
Next: Chapter 17 – A Mountain in My Mind
Reader comments and constructive criticism are important to me, so please comment!
Wael Abdelgawad's novel, Pieces of a Dream, is available on Amazon.com.