Lessons Learned From Loss
By: Sabeen Mansoori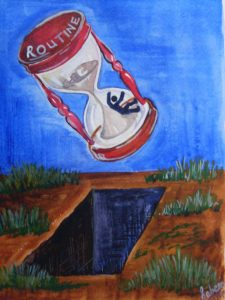 I died many times today. I also watched many loved ones-husbands, mothers, fathers, grandparents and aunts depart this world. They were all in my living-room. I could see their eyes glaze over. I felt their warm embrace and the salt from the tears stung my eyes.
I came home with the young father who had left his wife in the morning only to find people washing her dead body at night. I rode in the ambulance with the daughter who felt fearful of her own mother's dead body. She felt clammy and cold from the smells emanating from her. The sound of the ambulance blared in my ears and the echoes still resonate in my heart. I was the daughter-in-law who reached out to her mother-in-law as she crumpled in a heap on the kitchen floor and moaned, "Something is wrong with me. Help me! I don't feel well. Help me!"
Their pain is like a fresh wound. It is still blistering and it is fed by memories of good times and bad, memories of remorse and guilt. The age of those that wept in my home was irrelevant. The age of the departed was of no consequence. The time since the separation seemed like yesterday even though years had passed. The eyes still moist with tears, they relived every moment of their loss as they came to share in my grief.
"How old was she?" they ask.
"Oh, so young! My mother was…my aunt…my grandmother was….."
My husband's mother returned to her Lord on the day of Eid–ul–Fitr. May Allah grant her Janatul Firdaus and fill her grave with light. The people came in all their finery, some straight from the Eid prayer, to offer their condolences. For my friends, all the pleasures of the Eid were lost. The distractions of this worldly life that so consume our existence temporarily lost their luster when confronted by the reality of death.
The Prophet (blessings and peace be upon him) said, "Remember more often the destroyer of pleasures – death."
Allah's Messenger (peace be upon him) also said, "These hearts become rusty just as iron does when water affects it." On being asked what could clear them he replied, "A great amount of remembrance of death and recitation of the Qur'an."
Allah (swt) gave me both this Ramadan. The recitation in the Taraweeh accompanied by the continuous fear of her imminent demise shook me to the core of my soul. Yet sadly, I find myself, slipping imperceptibly, into my pre-Ramadan routine. Why don't we wake up? Even my ten-year old said, "Mom, don't cry. We all have to go some day." We sigh and acknowledge the reality of death yet continue in our heedlessness. Why is it so difficult to summon the will to change? Why can't we empty our homes of stuff, increase our Salah and our zikr, increase our sadaqat, and live the deen of sacrifice and not the deen of convenience and excuses?
To say that you cannot change is in itself a form of grave ingratitude; a blatant disregard for the promise that Allah makes to His slaves in Surah Zumar.
قُلْ يَا عِبَادِيَ الَّذِينَ أَسْرَفُوا عَلَى أَنْفُسِهِمْ لَا تَقْنَطُوا مِنْ رَحْمَةِ اللَّهِ إِنَّ اللَّهَ يَغْفِرُ الذُّنُوبَ جَمِيعًا إِنَّهُ هُوَ الْغَفُورُ الرَّحِيمُ
Say, "O My servants who have transgressed against themselves [by sinning], do not despair of the mercy of Allah. Indeed, Allah forgives all sins. Indeed, it is He who is the Forgiving, the Merciful." (39: 53)
It is as if the clay we were molded from has hardened and we are unable to break out of it. The shock of intense grief will crack the mold but it will immediately reseal with the accretion of age old habits. The realization dawned on me that even though I had peered into the abyss of the grave, I will soon turn my back on it and return to my not very productive routine unless I take immediate steps to somehow retain the memory.
The clay has to be softened so that it can be molded into a form that bows to the commands of Allah (swt). The only thing that will make it pliable are the words of Allah (SWT). We must be continuously drenched in the recitation and remembrance of the Quran so that we can gradually and surely change our lives into compliance with the pleasure of Allah and according to the sunnah of his beloved Prophet (peace be upon him). We have a very limited amount of time to sculpt our routines, our habits, our characters and ultimately our destiny before we are returned to the dust that we came from.
References:
Al-Tirmidhi  Hadith 2168 Narrated byAbdullah bin Umar (r.a.)
At Tirmidhi Hadith 579 from hus Saliheen Volume 1 Chapter 65 Narrated by AbuHuraira (r.a.)