April 9 Mobilization for Dr. Aafia Siddiqui – 11 am
Bismillah walhamdolillah was salamu alaykum.
Please support this muslimah by sharing the information with everyone you know who can be in the Dallas-Fort Worth area tomorrow. And if you can attend, too, even better!
May Allah make this event a relief for this sister who has undergone torment upon torment since the beginning of this odyssey of injustice.
May Allah give you khayr for all you do and pray on her behalf. Ameen.
When:
Saturday, April 9 · 11:00am – 2:00pm
Where:
FMC Carswell across from the Quik Trip Service Station
6301 Westworth Blvd, Westworth, TX
Facebook event: http://on.fb.me/he5qIr
Justice for Aafia Coalition: http://bit.ly/f2aMKt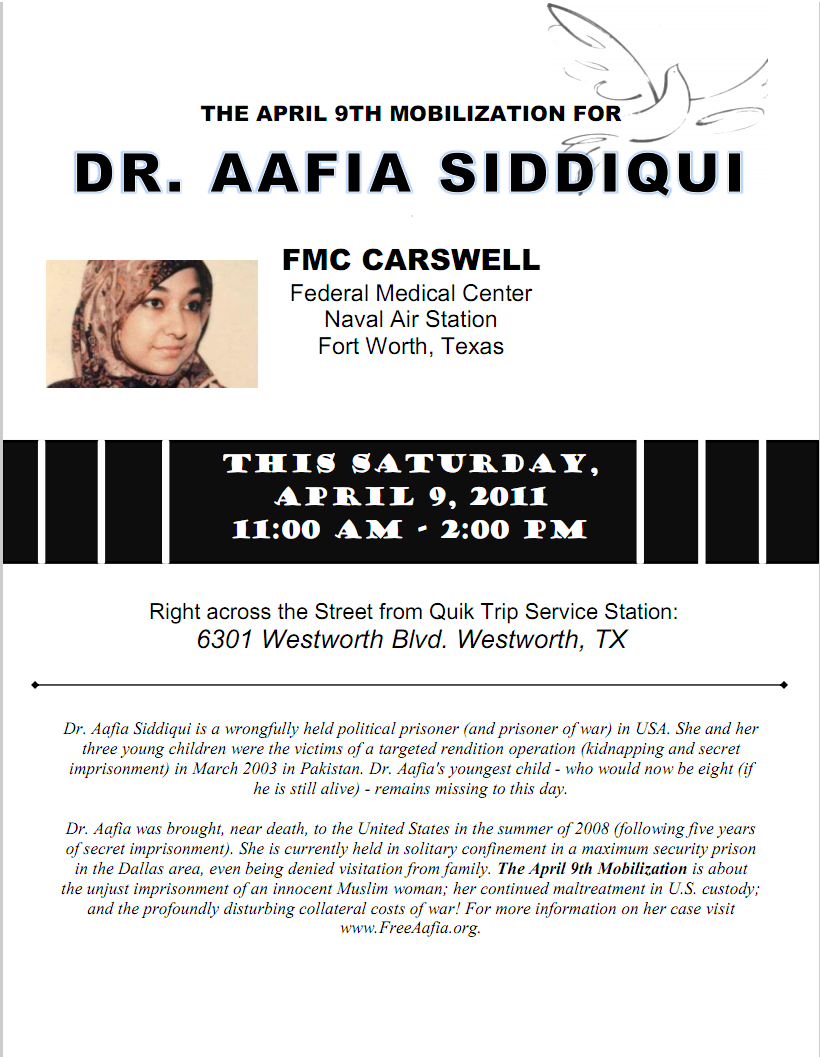 \\Added April 11, 2011//
Please find below a sample of the FB supporters of Dr. Aafia Siddiqui. MashaAllah, there were so many that I limited myself to those groups of 500+ supporters. The graphic is not hyperlinked to those FB pages, and they are not listed here in any particular order. Listing a group does not endorse it or its actions (sorry for the lawyer-speak) but it is meant to show how easily any of us can find Muslims and other good people who want to stand up against injustice.