Race Matters: Colorblind Racism in the Ummah
"ALHAMDULILAH, WE ARE ALL MUSLIMS"
I remember the conversation just like it was yesterday. I was attending a local summer camp for Muslim families, and the sisters and I were sitting in a circle discussing the problems of the Muslim community in our state. The discussion turned to the issue of race and discrimination among Muslims.
Some of the sisters in the circle expressed how they felt that racism is alive and well among Muslims in America, and how tight-knit culture-based cliques often make them feel excluded. While most of the sisters agreed with this assessment, one sister took a different stance on the issue. From her perspective, racism among Muslims wasn't that big of an issue, in fact she said something along the lines of "I don't see color, we are all Muslims, Alhamdulilah". Alhamdulilah indeed, but we can't brush away the experiences of others, and we as Muslims in America should address this big white elephant in the room.
Allah knows that sister's intention, but by claiming to not see color when she interacts with other Mulims, this sister may have been expressing the all-too-common phenonemon of color blind racism. Color blind racism occurs when someone disregards race or color as having an effect on a given circumstance or interaction. So, an individual who is a color blind racist tends to make statements such as the following:
*It's not about race, it's about culture …
*I have a lot of Black friends…
*I'm not prejudiced, but …
*I voted for Barack Obama.
*I don't see you as Black.
*It's not race, it depends on a person's background …
*It's not race, it's economics …
The list can go on, and I'm sure many readers may personally know of color blind racists. But the point is, this form of racism exists in our communities, and too often Black Muslims (i.e. immigrant Africans, first-generation Africans, or African Americans), and convert Muslims are overwhelmingly the ones experiencing this form of racism. So, does color blind racism exist more among some group of Muslims, and not others? We don't know the answer to that. But let's try to understand if this is the case. For example, immigrant Muslims are used to insular social groups – that's the way it used to be back home. Naturally, humans feel more comfortable and relate more towards those who are of a similar skin color, facial features, language, hair texture, and those who share similar culinary preferences. Thus, it may be difficult for Muslims that do not have immigrant backgrounds to fit in as easily. But make no mistake about it, color blind racism is a human phenomenon, not only a Muslim one.
A LOADED WORD
The term color blind racism was originally coined in the 70s, in order to describe White Americans's continued aversion to Blacks, which fell short of Jim Crow racism – the malignant form of racism in hich Whites used to terrorize and assault Blacks decades earlier. Some individuals may take issue with the word "racism" – perhaps believing it to be too strong when used to describe the the actions of fellow Muslims who could  be labeled as color blind racists. Take the example of the sister from the camp in the beginning of this article. The sister was approximately in her forties and from a immigrant Muslim group. She attends a mosque where the congregation is partially mixed, in which she is a member of the predominant culture, and she spoke well of how engaging and active her masjid community is. From this alone, we may not be able to label her a racist, and we are not in a position to judge others. However, with regards to the same masjid that the sister lauded as being inclusive, I have heard several complaints from converts and other Muslims that this mosque community is less than welcoming. So, the term color blind racism takes into consideration the reality of the situation, from different points of views, as compared to the "whitewashed" version of it, and unlike overt racism the focus is not just on the behavior.
NOSTALGIA FOR THE GOOD OLE DAYS OF ISLAM
From listening to numerous lectures by Muslim American scholars, I've learned that one of the roadblocks Muslim Americans face in confronting social issues is that in our minds we sanitize and mythologize the society of the Prophet (PBUH). The reality is, many of the social issues that exist now, such as alcoholism, prostitution, and drugs, all existed at that time, too. And racism is not an exception. The following is an exchange between Abu Dharr and Bilal, may Allah be pleased with both of them:
"Abu Dharr, the leader of the tribe of Ghifar, and one who accepted Islam in its early days, narrates:
Once I was conversing with Bilal. Our conversation gave way to a dispute. Angry with him, the following insult burst from my mouth: 'You cannot comprehend this, O son of a black woman!'
As Islam expressly forbade all kinds of racial, tribal and color discrimination, Bilal was both upset and greatly angered.
Some time later, a man came and told me that the Messenger of God, upon him be peace and blessings, summoned me. I went to him immediately. He said to me:
'I have been informed that you addressed Bilal as the son of a black woman.'
I was deeply ashamed and could say nothing. God's Messenger continued his reprimand: 'This means you still retain the standards and judgements of the pre-Islamic days of ignorance. Islam has eradicated all those false standards or measures judging people by blood, fame, color or wealth. It has established that the best and most honorable of men is he who is the most pious and upright in conduct. Is it right to defame a believer just because he is black?'
Abu Dharr felt profound remorse. He went straight to Bilal's house and, putting his head on the threshold, said: 'This head will not rise from here until the blessed feet of Bilal tread on the face of foolish, impolite Abu Dharr.'
Bilal responded: 'That face deserves to be kissed, not trodden upon,' and forgave Abu Dharr."
JUST SAY SALAM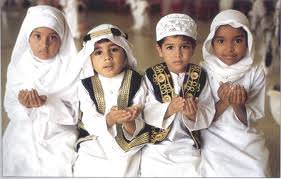 Despite the gains that have been made in race relations in this country, race is a touchy conversation for many Americans to engage in. The terminology used by color blind racists exists because individuals don't want to be seen as being racist, and they try to deflect this characterization through semantics (i.e. "I'm not not racist, but…;" "I have alot of Black friends," etc). For Muslims, we know that all actions are based on intentions. One of the first steps we can do to overcome color blind racism in our communities is to purify our intentions when we interact with individuals from a racial group different than ours. All too often I hear from many Muslims that when they greet some Muslims with salam, it is not returned. Although it may seem like a trivial step in combating racism, in returning salam, you are facilitating peace and brotherhood, and acknowledging other Muslims first and foremost as your sister or brother in religion. Thus, saying and returning salam helps reaffirim to yourself the good intentions of brotherhood and sisterhood and signals to others that you embrace them.
There are countless ways of diffusing color blind racism in our communities, and I invite readers to share experiences and ideas. As Muslims living in a country in which overt and covert racism still exists, we need to have this conversation amongst ourselves. We often hear from politicians and pundits that Americans need to engage in a national dialogue about race. One thing that easily slips from our minds is that the Prophet (PBUH) was a revolutionary man, and that through the revelation of the Quran, he was an agent of societal change, targeting acts of discrimination, as illustrated by the hadith involving Bilal and Abu Dhar. We Muslims have a great religion of racial and class inclusivity to be proud of; lets uphold those standards in our daily interactions.
References:
"Colour-Blind Racism". ABAGOND. (2011).  http://abagond.wordpress.com/2008/05/31/colour-blind-racism/