Tariq Ramadan: Tunisia and Africa : The New Realignment
No one can deny the sudden and unforeseen nature of the Tunisian uprising. Mohamed Bouazizi's self-immolation touched off a movement that quickly evolved from a popular uprising into a broad-based revolutionary upheaval. Years of suffocation and frustration gave the movement the energy and the strength to overthrow the dictator Ben Ali who, to everyone's surprise, fled his country very quickly indeed. Too quickly.
More and more sources are today pointing to the central and critical role played by the United States in managing the crisis from behind the scenes. Washington's involvement in Tunisia (like that of Israel, on an ongoing mutual basis) has long been a matter of record in such sensitive areas as security, information and geostrategy. Dictator Ben Ali was himself a product of the United States military and security apparatus. While France ensured cordial relations with Europe, the Tunisian dictatorial system depended on American support and close collaboration with Israel. All of this was well known ; the West's guilty silence on the corrupt Ben Ali torture regime amounted to little more than safeguarding their multiple interests in the region. It mattered little that he killed, tortured or ruined his people as long as their regional security interests were protected. Nothing new, in other words.

The immediate American reaction to a rebellion that was as massive as it was unforeseen was startling ; it was also well thought-out and cleverly handled. President Barack Obama early on hailed the courage of the Tunisian people while the European countries, led by France, kept silent, as if confounded by the rapid pace of events. Clearly Washington was well ahead of the other "Tunisia-friendly" governments. In fact, the American National Security Agency and the Joint Chiefs of Staff were able to manage the quickly evolving situation through the Tunisian Foreign Minister and the Commander in Chief of the country's armed forces. After several hours of turmoil and uncertainty, rapid action had become imperative. Two key decisions were made : to exile the dictator and to assign to the army the role of mediation and protection. President Ben Ali stepped into a trap : the Foreign Minister persuaded him to leave the country "for a short time" the better to return once the situation was under control. Ben Ali left Tunisia believing that France was his destination (which explains the early rumors about his destination). But his aircraft flew to Cyprus where the Americans negotiated the dictator's terms of exile : he would be kept in isolation, movement and public declarations prohibited, totally neutralized.
The American government stole a march on France and Europe. In so doing, it ensured that it would reap the underlying political and geostrategic benefits whose impact will be crucial in future. The rapidity of Ben Ali's carefully stage-managed exile made it possible to circumscribe the potential impact of the Tunisian uprising on its Arab neighbors. Over and above the unexpected nature of the movement, and despite inevitable unforeseen developments, the situation was kept—and is being kept—under relative control. The army, whose high command has been and continues to be an ally of the United States, has contrived to preserve a basically positive image while playing the key role of observer, mediator and guardian of the highest interests of the nation. This is a significant accomplishment, which could prove determinant depending on how the situation develops in coming days, particularly with regard to the ongoing opposition to the provisional government (where key ministries are occupied by former regime stalwarts) and the prospect of free elections six months hence. The success of the Obama administration's return to the North African, and more generally African scene is by no means accidental ; not is it have anything to do with humanitarian concerns.
From Ivory Coast to Sudan, via the Sahel and the southern Mediterranean, the African continent has emerged as a vital strategic zone in terms of economy, geostrategy and security. European, and particularly French influence is currently facing a growing crisis of legitimacy in Africa as a result of the American and Chinese presence. These two newcomers appear to be allowing African leaders to take their distances from their difficult, centuries-long relationship with Europe, its memory and its interests.
The stakes are too high to be overlooked. Exploration for raw materials remains a key economic issue ; the recent discovery of oil in the Sahel (Niger and Mali) is unlikely to satisfy the appetites of the Great Powers. Behind the region's governments, its "friendly regimes", its "election irregularities" and its social and military tensions, the United States and Europe—and now China, the new kid on the block—are locked in a bitter struggle for decisive political and economic influence. The specter of terrorism has arrived in the Sahel, justifying the presence of friendly western forces in the name of international security. American and French military bases, along with European and Israeli agents and experts are focused on the struggle against terrorism in the region.
The strategy of surveillance and armed intervention is brutal, implacable : the policy is to "kill all terrorists" while taking no prisoners (why ?). All those who participated in the kidnapping of two young French nationals in Niger were eliminated even after the French government had announced the arrest of two of the hostage-takers before issuing a retraction. Raids are taking place week after week ; deaths (of terrorists, bandits and smugglers) are announced, with no measurable progress in view. It is as though a permanent state of emergency were in force in order to justify heightened security concerns, the foreign military presence and political interference. All this in a region that has become economically attractive due to its substantial petroleum reserves.
Clearly, extremist violence must be fought. But we must not be so naïve as to forget that such violence can function as pretext for protecting and promoting other interests. The dictator Ben Ali, it was claimed, held Islamism in check, which in turn justified Western support. Today the Sahel as well as the South Sudan have emerged as areas of critical economic and strategic importance. The threat of violent, extremist Islamism is being used to conceal suspicious intentions.
While the Tunisian people attempts to protect all that it has gained in its revolutionary upsurge, American, European, Chinese and Russian power are attempting to carve out a role for themselves in Africa. Nor can the influential role of Israel's intelligence services throughout North Africa, including Sudan (as detailed in Pierre Péan's journalistic investigation in Morocco, Algeria, Rwanda and Eritrea, and even in Ethiopia). What is at stake are economic, security and strategic military interests.
The Tunisian revolution is widely praised ; the former dictator disgraced. But behind the scenes of the public and media theatre, political maneuvering and meddling are continuing apace. The American administration is following developments closely, and is close to events as they unfold in Tunisia. It will do whatever is necessary to protect its interests, and those of Israel and of its allies in Egypt, Jordan and throughout the Middle East. While the issues of Iran and Lebanon appear to have monopolized American and European media attention, we must not minimize the second U.S. front, that of African and regional policy at the risk of naively hailing a "Tunisian revolution" without taking strict account of what remains to be done to ensure its political independence and democratic transparency. And of smiling at the bright promised victory while other forces cynically count, in the shadows, the dividends of their newfound influence and windfall profits.
We need lucidity, that of active, positive realism, not the illusions of wistful dreamers and naïve sentimentalists.
Source: TariqRamadan.com
My Heart Shook In New Zealand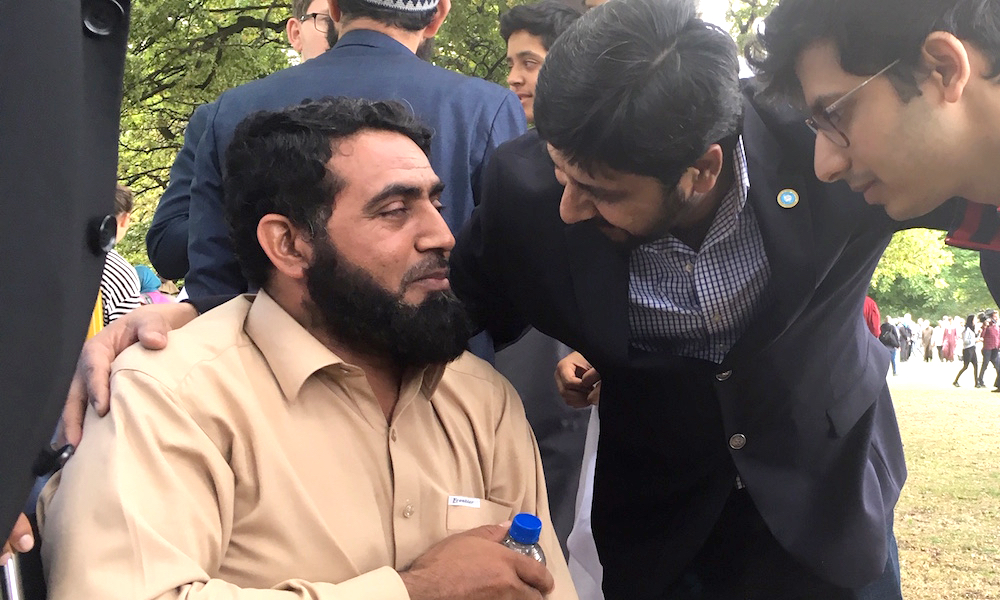 One would imagine that a person would be dead-tired and ready to crash in his bed after a grueling, 36-hour journey from Christchurch, New Zealand to Washington, DC. And I will admit, that was the way I felt. Yet somehow, all my somnolence vanished as soon as my head rested on my pillow and I closed my eyes to rest. A wave of recollections fell over me: memories of the survivors, the emotions they expressed, and their feelings of an uncertain future as they planned their lives after the loss of their family members. These feelings instantly took away all the desire to get rest and sleep. I sit upright now and begin writing this reflection of a once in a lifetime experience- a voyage of grief and hope to Aotearoa- land of the white cloud as the indigenous people call New Zealand.
With lost baggage, long flights and too many connections, at times it seemed unlikely that my eldest son Moaz and I would make it to Jumm'ah and Janazah prayers in Christchurch, New Zealand. But Allah

accepted our prayers so that we could fulfill the guidelines set by our beloved, the Prophet Muhammad

. We were able to fulfill one of the rights of a Muslim over the others; that when he is sick visit him, and when she dies, offer her funeral and be part of her burial.

Hagley Cricket Ground was supposed to have a cricket test match between Bangladesh and New Zealand that Friday. Commentators reckon that it would have been the final day of that test match. But the 22nd of March 2019, brought a much bigger crowd to this world-famous cricket ground than what anyone would have seen on the final day of that test match.
Officials and security directed us towards the VIP area as they wanted to pay respect to the guests who traveled all the way from the USA, Canada, and Australia. The environment of love, solidarity, and respect, coupled with the hijab-clad women standing in solidarity with Muslims in that enormous crowd, created an impact which cannot be articulated by mere words. Every single uniformed female officer was carrying their firearm while donning a hijab; creating a welcoming gesture in a rather somber and gloomy atmosphere.
I do not have the words to thank the leadership of Charity Australia and the Islamic Forum of Australian Muslims (IFAM) for providing us with logistics, facilitating meeting the families of the "shuhudaa" (martyrs) and arranging to visit those injured in the tragedy. ICNA, Helping Hand, and Charity Australia banners highlighting the slogans of "American Muslims stand in solidarity with Victims of Christchurch New Zealand" were the center of attention for thousands of local New Zealanders gathered in solidarity that day. Their hugs, sincere prayers and tearful eyes were the greatest gift that I want to share with everyone reading these reflections.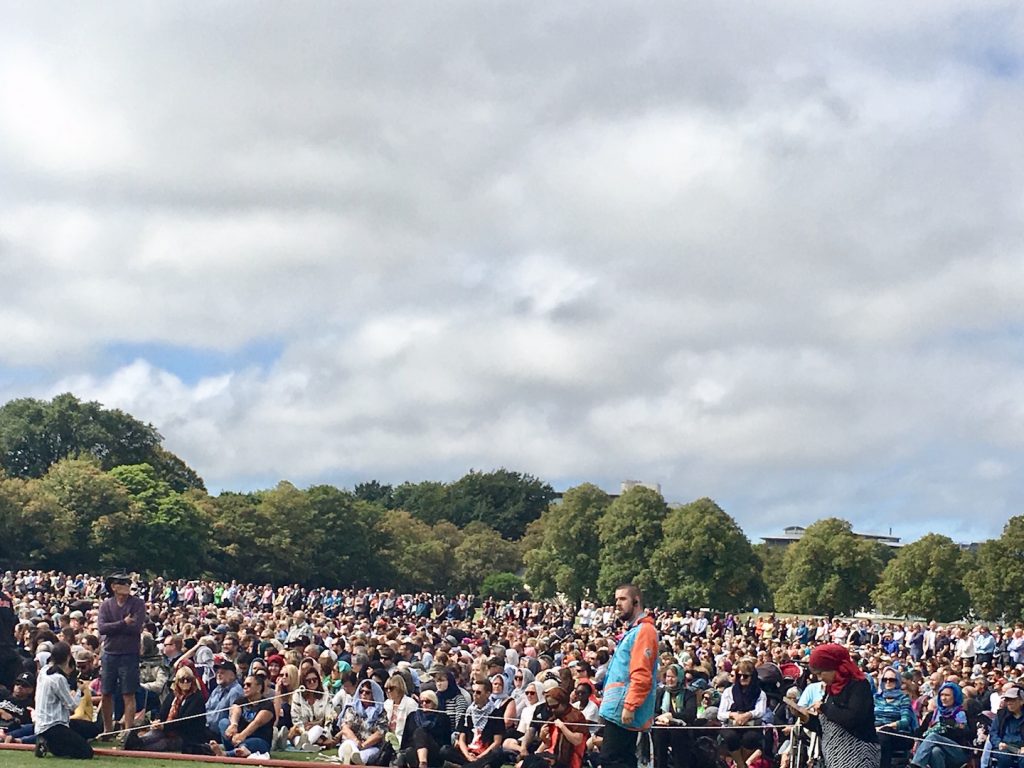 Right after Jumm'ah, the majority of the crowd attended the collective Janazah prayer of 27 of the martyrs. In those emotional moments, I met with the most courageous woman on earth, the wife of 51-year-old Shaheed Naeem and the mother of 21-year-old Talha Naeem, the two spirited souls who gave their lives to save others in the mosque that day. She is one of the strongest women I have ever met. She mentioned that her husband, Naeem, was a person who lived the life of a man of service, always ready to help others. She described Talha as an angel who was too pious and too noble to be away from Jannah too long. We heard similar feelings from Naeem's mother (grandmother of Talha) the next day when we visited their home.
The visit to the home of New Zealand's national soccer team player, Atta Elayyan (33), was not only emotional but also deeply inspiring. Atta lost his life and his father (the founder of Al-Noor Masjid) was severely injured during this brutal and hateful attack. There were several scholars from the United States, including Sheikh Omer Suleiman, in the visit to Atta's home. We could offer nothing to console the brave mother of this shaheed, who greeted us with words of courage and wisdom. We had no words to accompany the tears in our eyes, except prayers for the most noble young man who helped so many in coming close to Allah

.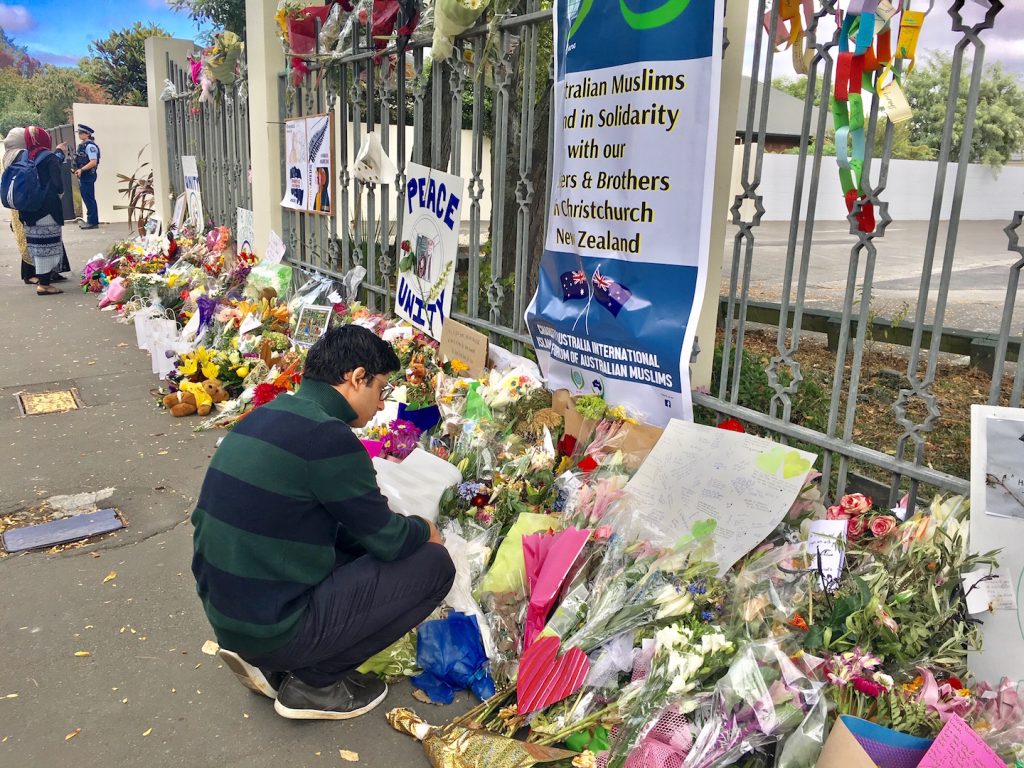 Our visits to Al-Noor Masjid and the Linwood Islamic Center were also filled with memories of love, harmony, and reverence. There was a continuous influx of hundreds of visitors, not only from New Zealand, but also from different countries including, but not limited to, Australia, Fiji, and Canada.  Thousands and thousands of flower bouquets and other items of love were left by these visitors. I was really thrilled to see that local Muslims left many Qur'ans and flyers with basic concepts of Islam and addressing the common misconceptions about Islam for those visiting. I witnessed many people visiting these mosques were taking those Qur'ans and other books with them in order to learn more about Islam.
We also met Mr. Aziz, the unsung hero who repeatedly attacked the killer with different objects including an empty gun —which the killer had discarded. The terrorist fired on Aziz multiple times, but Allah

not only saved him, but he also forced the killer to flee from the Linwood Islamic Center. Mr. Aziz was one of the reasons why the number of casualties in this mosque was only seven, compared to the 43 martyrs in Masjid Al-Noor. We also met certain individuals whom Allah

saved miraculously. A young man showed his trousers fenestrated with holes of bullets but had no signs of injury. The husband and wife who entered the premises of the mosque and only to be showered with a burst of 26 bullets while in their car, leaving it completely destroyed. Yet Allah

saved both of them while they took shelter in their vehicle.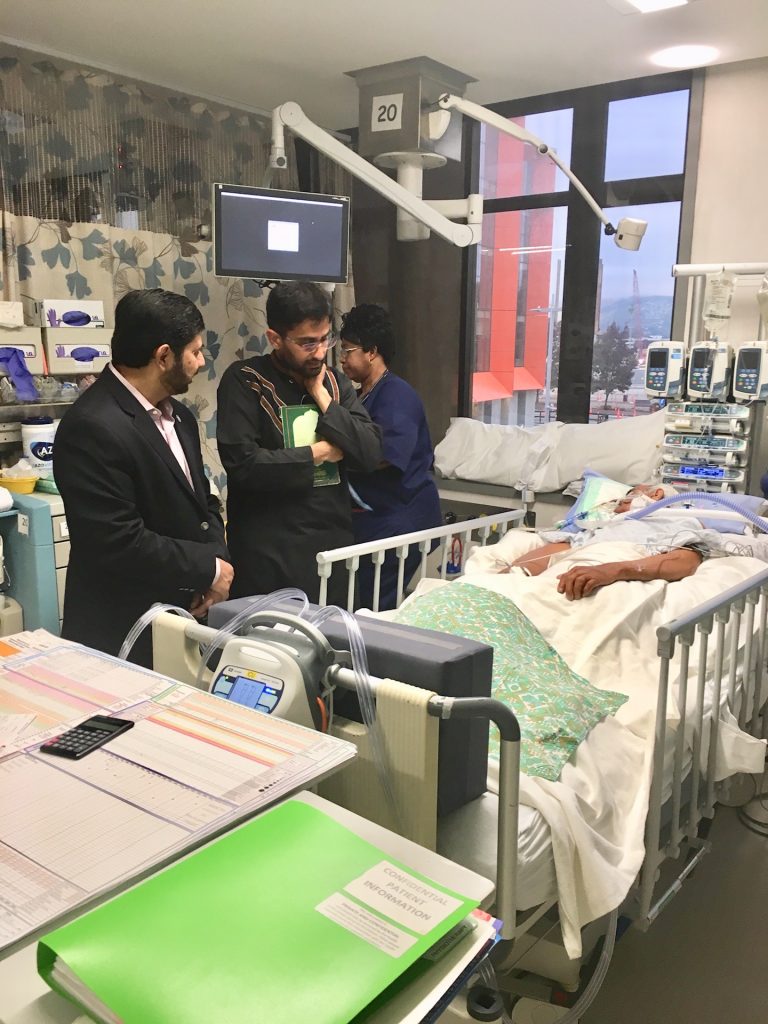 The visit to the hospital's ICU was simply heartbreaking but at the same time increased our resolve and commitment to help these families as much as possible. We encountered a Turkish brother who was in a coma for nine days and met his elderly parents, who spoke to us in the very little English they knew. The only thing which we could understand from their hushed voices was the request for du'a and tears of helplessness in their eyes. The 71-year-old father of a local Pakistani from Hafizabad, who had arrived two weeks ago to visit his son, was now on a ventilator fighting for his life. As a physician who has worked in ICU settings for a long time, I simply did not have enough medical reasoning which could have provided him any words of hope!! Similarly, I was not able to provide any glimmer of hope to a brother from Bangladesh whose wife will never be able to walk again and will be paralyzed for the rest of her life.
While I saw hope and felt resilience from every victim in that hospital, this hospital visit was brutally heartbreaking.
Lastly, I cannot imagine the pain, agony, and helplessness that the father of Mucad Ibrahim must feel after losing his 3-year-old son in his own arms. I gave him the longest hug possible, as he taught the whole world the meaning of Beautiful Sabr (Patience).
After seeing the devastation caused by the terrorist attack, and the work that must still be done to heal the community, Helping Hand USA, ICNA Relief Canada, and Charity Australia have formed an organization called the "Christchurch Family Support Network". The operations have already begun, and our team is on the ground. The first group of mental health professionals with a background in Islamic Integrated counseling are set to leave to provide victims and their families immediate psychological assistance.
We ask Allah

to accept our work, bring healing to the community, protect our brothers and sisters, and accept the shuhadaa' in the highest level of Paradise.
Dr. Mohsin Ansari is the Vice President Islamic Circle of North America (ICNA) and the Chairman of Helping Hand USA (HHRD)
Because Muslims Matter | Honoring The Martyrs Of #Christchurch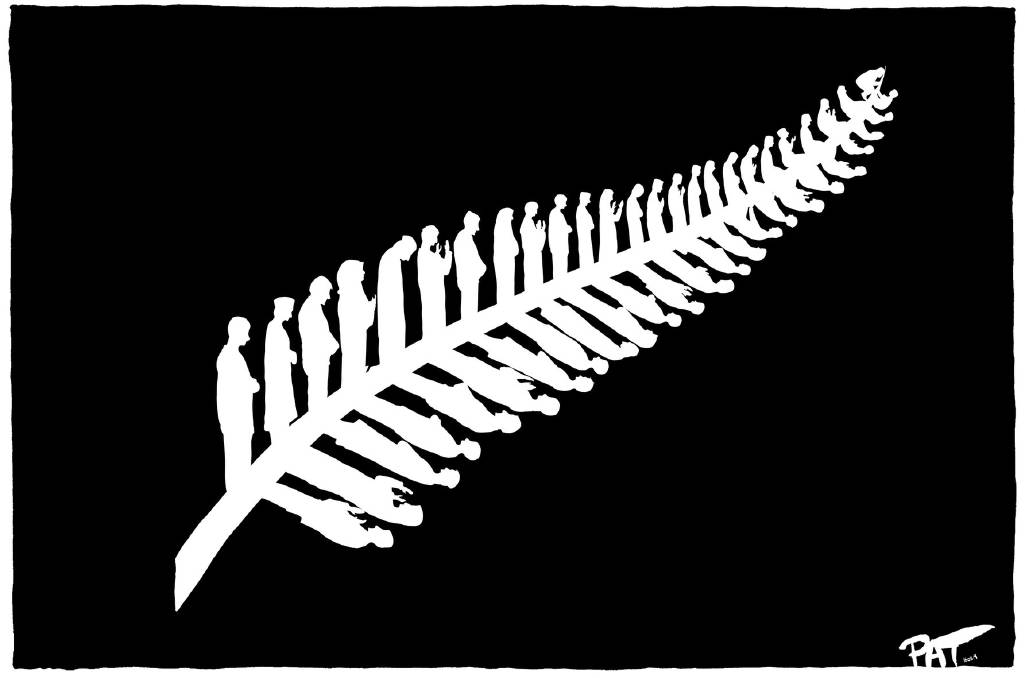 As the days go by, it is easy to forget the names and faces of the people who passed away. The horror of the act eclipses their memories. We do not want that to happen to our brothers and sisters in New Zealand.
اللهُـمِّ اغْفِـرْ لِحَيِّـنا وَمَيِّتِـنا وَشـاهِدِنا ، وَغائِبِـنا ، وَصَغيـرِنا وَكَبيـرِنا ، وَذَكَـرِنا وَأُنْثـانا. اللهُـمِّ مَنْ أَحْيَيْـتَهُ مِنّا فَأَحْيِـهِ عَلى الإِسْلام ،وَمَنْ تَوَفَّـيْتَهُ مِنّا فَتَوَفَّـهُ عَلى الإِيـمان ، اللهُـمِّ لا تَحْـرِمْنـا أَجْـرَه ، وَلا تُضِـلَّنا بَعْـدَه
Allaahum-maghfir lihayyinaa, wa mayyitinaa, wa shaahidinaa, wa ghaa'ibinaa, wa sagheerinaa wa kabeerinaa, wa thakarinaa wa 'unthaanaa..

O Allah forgive our living and our dead, those who are with us and those who are absent, our young and our old, our menfolk and our womenfolk… [7]
Shaykh Yahya Adel Ibrahim's Message in the Wake of the #ChristChurchMosqueShooting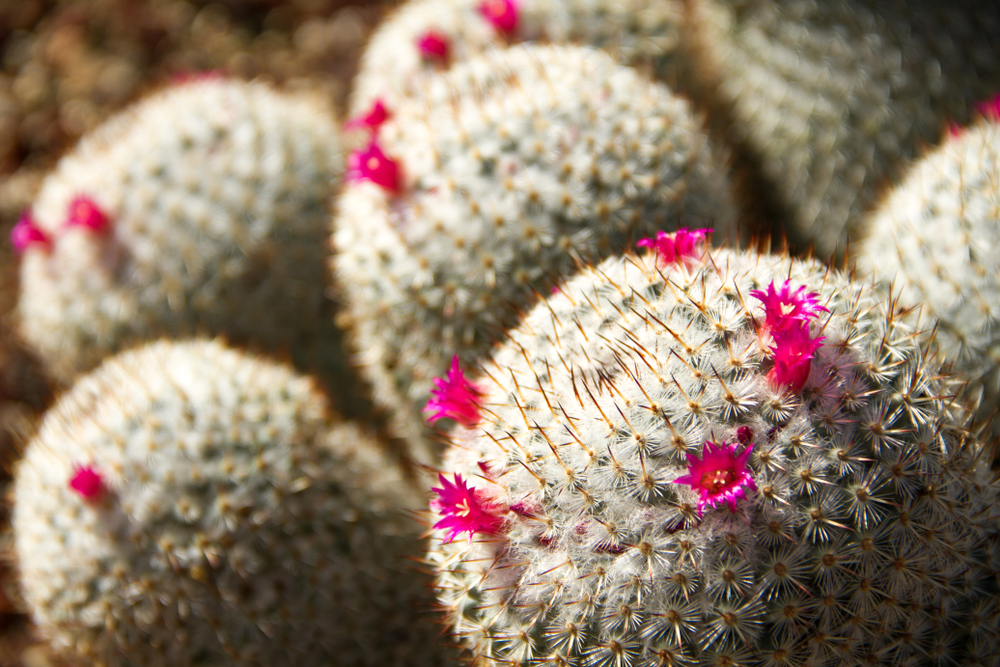 We offer our condolences to our Muslim brothers and sisters in New Zealand and to all Kiwis. We feel your pain. We see your tears. We hear your cries and we mourn with you. The Ummah is with you- Editor's note