Why "HalfOurDeen.com" by Baba Ali
Written by Baba Ali
Just a decade ago "finding someone online"  would have raised eyebrows in many Muslim circles, yet with the growing role the internet plays within our social lives, it almost seems natural that finding an appropriate match online was just another development in our 'e-lives'.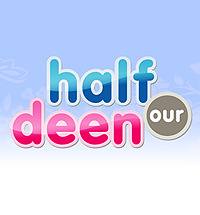 Nine years ago, before I was Baba Ali, I wanted to get married.  I couldn't find anyone in my local area, and I couldn't go through my family (since I'm a convert) so I decided to go online, and I really disliked what was out there.  The Muslim matrimonial sites basically took the "dating structure" and put the word "Muslim" in the title as if that would magically make it Islamic.  This is why they ask you "dating-type questions" during registration: "what's your eye color", "what's your hair color", etc. These are the type of questions one asks if they want to be in a temporary relationship because they're only surface level questions, but if someone wants to actually marry that person, they would need to ask deeper questions.
So what I did at the time was put up my profile asking for a specific type of sister.  A total of 17 sisters responded, and because these Muslim sites asked only the dating-type of questions, I typed up a long series of questions which I emailed each sister to answer.  I made sure the questions didn't have 'right' or 'wrong' answers so I would get honest answers.  At the end, one sister's answers matched my ideal replies, and I married her nine years ago and have been extremely happy ever since. Alhamdulillah.  When my friend learned my strategy, he asked for the questions and alhamdulillah, it led to him getting married too.  Pretty soon, news started to travel and my question strategy became popular.  Eventually, I decided to help others get married, so I decided to start a matchmaking site: Half Our Deen.
We recently launched the site in the summer of 2010 with a current active membership pool of over 1,000 members. The site was created from scratch, disregarding the traditional formula used by established matrimonial sites – Muslim or not. A high value was given to honesty so the runaround interested members usually get when registering to matchmaking sites was purposely removed from the process. Prices and site features are stated clearly off of a link on the main page ($9 for month-to-month subscriptions and $5 per month for annual subscriptions). I myself was tricked into this runaround many years ago when I registered for a matrimonial site that advertised 'free registration' only to realize 20 minutes later that the only thing really 'free' was me providing them with my private information. The lesson I learned is when you sacrifice something for the sake of Allah (subhanahu wa ta'ala), then He will replace it with something better.
Privacy has been given top priority as this is usually a reason singles shy away from matchmaking sites in the first place. So we have no nosey community members or bored internet browsers accessing our site or the members profile pictures without being a legitimate, paying member. This allows members to rest assure that the only individuals who have access are those who should. A recent poll taken by Half Our Deen members found that a majority of subscribers are exclusively on Half Our Deen and that the #1 reason they chose the site over others is due to the site's privacy standards.
How does the site work?
A profile picture, age, height, grew up in, located in, a profile description of themselves and what they're looking for in a lifelong partner are clearly indicated on each member's page. Their personally-tailored questions can be viewed and answered then the option of 'I'd rather fast' or 'I'm interested' can be used to further communicate or nix them off the list of potentials. This eliminates those awkward first meetings traditionally used to gauge potential for a relationship.
In order to delve deeper for substance, subscribers are asked more than just the surface-level questions of; 'height', 'weight', 'ethnicity' or 'eye color'. Since the goal is to find members their life-long partners, questions involve aspects such as family expectations, personality type and personal approach to Islamic issues, revealing the person behind the profile. This priceless data is fed into an algorithm which calculates the optimal percentage matches. This feature is popular and helpful with members allowing a user to see that they may have matched 88% with someone in the religion department but only 23% in the personality department – very useful information to know from the start.
Members are provided with a database of 100 questions (some of which I used in my initial search) to pick and choose from, possibly providing members with aspects they should consider asking that never crossed their minds. Questions like, "Would you relocate to London?" and "Are you an animal lover?" can be answered up-front making the get-to-know-you process easier and clearer. One of our female members who is currently active on the site explains, "It is really cool because once the person answers those questions, you can really get a feel for whether you want to start communication with them or not. For example, you may ask what is it that you expect from your wife financially, they might say lots of money, and that will immediately put you off. Or you might say what is your definition of wealth, and they answer lots of savings, but in your head your thinking love for family, husband, love for life, happiness, inner peace."
I have also incorporated original, entertaining videos sharing honest and humorous insights on what to expect after the wedding bells fall silent. I want to help give newly-married couples an idea on what they can expect in terms of living together, communicating and getting along – things many mothers and fathers may have forgotten (or avoided) to address before the nikkah.
What can we expect?
With over 1,000+ members strong and growing by the day, Half Our Deen has proven to be a worthy competitor for many of the leading Muslim matrimonial sites out there. Even though a rapidly growing membership count is great on some accounts, we would like to maintain a high level of communication and customer service with each member. In order to make Half Our Deen a better experience, beginning at the end of January 2011 members will be able to dictate the criterion by which suggestions are sent their way. If age is a deal breaker but ethnicity or location isn't, members are able to indicate this in order to get back more accurate suggestions and potentials matches.  Members will be able to have up to three match filters saved!  Sounds like a job application search filter doesn't it? We are also introducing a new messaging system which will have email correspondence and history displayed as conversations as well as every reply time-stamped.
Wedding Bells?
Half Our Deen has seen a steady flow of successful matches made. Just yesterday, one of our customer service agents reported that another match was made on Half Our Deen. This completely made my day and put a huge smile on my face. The little part that Allah (subhanahu wa ta'ala) has given me the privilege to play in people's lives means a lot to me and is a very big deal, alhamdulillah.
To Follow Halfourdeen.com on Facebook, click here
To Follow Halfourdeen.com on Twitter, click here