Dr Israr Ahmed Passes Away: Inna Lillahi Wa Inna Ilayhi Raaji'oon!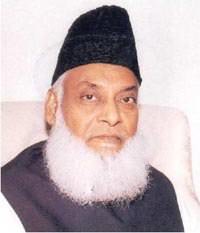 It is with a heavy heart that we convey to you news of the passing away of a renowned and much-loved scholar of the Ummah, Dr Israr Ahmed, aged 77 on Tuesday night in Lahore, Pakistan. Inna lillahi wa inna ilayhi raaji'oon!
The news of his demise was greeted with shock and sadness, especially in Pakistan, where Dr Israr was primarily based. His untiring efforts to convey and make clear the message of the Qur'an in the society earned him respect and love in the hearts of those who listened to him. Copies of his discussion of the Qur'an "Bayan-ul-Qur'an" are widely circulated and appreciated for the direct and active manner in which Dr Israr explains the Word of Allah(swt). Large numbers gathered to listen to his Friday khutbahs and public talks, both nationally and on international trips.
Initially graduating as a medical doctor from the Kind Edward Medical College, Lahore in 1954, Dr Israr eventually switched his "career" to full-devotion towards learning and disseminating the message of the Qur'an. Such was his deep love for the Word of Allah(swt) that he campaigned, on all levels, for a return to the pure understanding of the Qur'an, directly from the Arabic text, and thereby to increase in Taqwa (piety) and closeness to Allah(swt).
He strongly felt a positive change could only be brought about in the society through an "Islamic renaissance" where individuals were acutely aware of being accountable to Allah(swt) through a deep understanding of His Book and His Messenger(saw)'s Sunnah. Towards this end, he founded the Markazi Anjuman Khuddam ul-Qur'an, a "literary society" in service of the Qur'an, in 1971 and later, the Tanzeem-e-Islami in 1975. It was from this platform that many of his written works on the Qur'an and Muslim society were published, as well as audio and video lectures on a range of topics. The influences that shaped Dr Israr's views were many, ranging from the works of Dr Muhammad Iqbal (also known as Allama Iqbal) to the revolutionary and reform philosophies of Abul Kalam Azad and Syed Abu Ala Maududi, although these were selective and conditional.
He authored over sixty books, nine of which were also translated into English and other languages. Recordings of his audio and video lectures are routinely aired on several Islamic TV channels, including PeaceTV Urdu. His views on Islam, current affairs, philosophy and societal issues were frequently sought on television programs. However, his ailing health had forced him to curtail his travels, both nationally as well as internationally, and activities for the Tanzeem-e-Islami. Nonetheless, Dr Israr remained devoted to Allah(swt)'s cause to his last day. May Allah(swt) purify him of his sins, overlook his shortcomings, elevate his ranks and admit him into Jannat-ul-Firdaws! Ameen. May Allah(swt) raise from amongst us scholars of the like of Dr Israr and elevate us in Taqwa (Allah-consciousness) and Amal (practice) through the knowledge and Hikmah that they convey to us! Ameen.
Funeral prayers: Salat-ul-Janazah will be offered for Dr Israr after Asar Salah today (Wednesday) at Central Park, Model Town, Lahore, Pakistan.