EEOC Rules in Favor of Debbie Almontaser; Victory for Civil Rights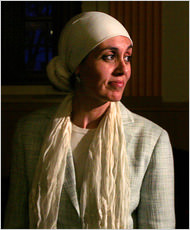 Debbie Almontaser is a Muslim woman of Yemeni descent who was the founding principal of the Khalil Gibran International Academy, a public school in New York.  A group of nefarious Islamophobes launched a crusade against her, and she was told she would be fired if she did not resign her position.  She tried to sue, but lost.
We've covered her story before on MM:
Well, it's good to finally be the bearer of some good news when it comes to these matters.  The United States Equal Employment Opportunity Commission (EEOC) ruled against New York City's Department of Education, declaring that Debbie Almontaser was the victim of discrimination.  The NY Times reports:
Federal Panel Finds Bias in Ouster of Principal
By ANDREA ELLIOT
A federal commission has determined that New York City's Department of Education discriminated against the founding principal of an Arabic-language public school by forcing her to resign in 2007 following a storm of controversy driven by opponents of the school.
Acting on a complaint filed last year by the principal, Debbie Almontaser, the United States Equal Employment Opportunity Commission found that the department "succumbed to the very bias that creation of the school was intended to dispel and a small segment of the public succeeded in imposing its prejudices on D.O.E. as an employer,"according to a letter issued by the commission on Tuesday.
The commission said that the department had discriminated against Ms. Almontaser, a Muslim of Yemeni descent, "on account of her race, religion and national origin."
The findings, which are nonbinding, could mark a turning point in Ms. Almontaser's battle to reclaim her job as principal of the school, the Khalil Gibran International Academy in Brooklyn.
The commission asked the Department of Education to reach a "just resolution" with Ms. Almontaser and to consider her demands, which include reinstatement to her old job, back pay, damages of $300,000 and legal fees. Should the two sides fail to reach an agreement, the dispute will end up in court, her lawyer said.
Commission officials declined to answer questions about the case, citing federal confidentiality law, but Ms. Almontaser's lawyer provided a copy of the letter to The New York Times.
"There is no question that this is an important step in the road to her ultimate vindication," said Alan Levine, Ms. Almontaser's lawyer. "Up until now, the D.O.E. has really had its way and hasn't had to answer for its actions."
In a statement, a lawyer for the city disputed the commission's findings.
The Department of Education "in no way discriminated against Ms. Almontaser and she will not be reinstated," said Paul Marks, the city's deputy chief of labor and employment law in the Law Department. "If she continues to pursue litigation, we will vigorously defend against her groundless allegations."
The controversy surrounding the dual-language school began in early 2007, shortly after the city announced that Ms. Almontaser, a longtime teacher, would lead it. A group of opponents, including conservative commentators and a City University trustee, mounted a campaign against the school and Ms. Almontaser, claiming that she carried a militant Islamic agenda.
Despite Ms. Almontaser's longstanding reputation as a moderate Muslim, her critics succeeded in recasting her as a "9/11 denier" and a "jihadist."
The conflict came to a head that August, when Ms. Almontaser's opponents, who had formed the Stop the Madrassa Coalition, asserted that she was connected to T-shirts bearing the words "Intifada NYC." While Ms. Almontaser was on the board of an organization that rented space to the group that distributed the shirts, she was unaware of them, she said. (The commission determined that she had no connection to the T-shirts.)
Nonetheless, in response to mounting inquiries about the shirts, the Department of Education pressured her to give an interview to The New York Post, she said. In that interview, with a department employee listening in, she explained that the root of the word intifada meant "shaking off," but that it had acquired other connotations because of the Israeli-Palestinian struggle.
The next day, The Post published the article under the headline "City Principal Is 'Revolting' — Tied to 'Intifada NYC' Tee Shirts," stating that Ms. Almontaser had "downplayed the significance" of the T-shirts. (Federal judges later issued a ruling — related to a lawsuit brought by Ms. Almontaser — stating that The Post had reported her words "incorrectly and misleadingly.")
It was The Post's article, the commission wrote in its letter this week, that prompted the Department of Education to force Ms. Almontaser to resign. (City officials have said that she resigned voluntarily.)
"Significantly, it was not her actual remarks, but their elaboration by the reporter — creating waves of explicit anti-Muslim bias from several extremist sources — that caused D.O.E. to act," the commission's letter said.
Pressure soon mounted for Ms. Almontaser to step down. Randi Weingarten, the head of the teacher's union, published a letter in The Post that was sharply critical of Ms. Almontaser. She finally resigned on Aug. 10, under pressure from the mayor's office, she said. Mayor Michael R. Bloomberg announced the resignation on his radio show, saying, "she's certainly not a terrorist," while adding that she was "not all that media savvy, maybe."
Ms. Almontaser continued working with the department in an administrative job, at her principal's salary of about $120,000, but that job was eliminated and she was demoted.
The lawsuit that she filed against the city, claiming that her First Amendment rights had been violated because she was forced to resign after saying something controversial, was dismissed. She is appealing that decision.
A lawyer for the Stop the Madrassa Coalition said he found the commission's determination predictable. "I think the E.E.O.C. is constitutionally constructed to find discrimination in a high-profile case," said the lawyer, David Yerushalmi.
But the development struck other lawyers as surprising. Bill Lann Lee, a labor-law expert in San Francisco, said the commission rarely issued such rulings, and so its decision might help Ms. Almontaser if she pursued a discrimination lawsuit.
"The courts tend to consider what the E.E.O.C. finds," he said, adding that "the courts know generally that these findings are very rare, so if there is such a finding, there's a general belief among lawyers and judges that there may be something there."
Richard Silverstein, a liberal Jewish voice for peace, adds some flavor to the topic. He laments that the "political leadership of New York and the Jewish communal leadership were cowards and turned tail at the first sign of trouble", while a commentator goes further in response to the post, adding, "the Jewish community not only remained silent but one of them, Assemblyman Dov Hikind, actually was a force in closing down the school":
This is a great deal for civil rights in New York and in America. It is a day that Arab-Americans can be proud. It is a day when all Americans should be proud. Debbie Almontaser turned to the federal government for redress and it did what it could to make her whole.

This is a day when Muslim-haters like Norman Podhoretz and his friends I mentioned above should hide their heads in shame (though they will shake their fists in defiance instead). Their bullying has been shown for what it is: un-American, unfair, unjust. We are better than the haters in Stop the Madrasa. The democratic system worked.
Read the rest of the article here.