Pucker Up! How To Kiss the Black Stone Every Time
By RE
Here's a way of kissing the black stone that I came up with during hajj many years ago.  Since then, it  has worked for me every single time I've used it.  It has also worked for everyone I have ever told it  to and who tried it.  Best of all, you will never  have to push or shove a single human being to kiss it.
Below is an illustrated guide I came up with with my mediocre Photoshop skills.   If the method works for you, Alhamdullilah.
The Principle:  Using Physics To End Up At The Black Stone
The whole method works around one principle: If you wait in line, and stick to the side of the kaaba, slowly inching your way forward, eventually you must end up reaching the corner (ie. the black stone).  This statement may sound overly simple, but trust me, it works.  You will have to wait very long, about 45 minutes to one hour, but the payoff will be amazing insha Allah (see the hadith below for why).
Preparation: You Must Be Mentally Determined To Not Turn Back
From my experience, if you want to kiss the black stone  you must have a 110% intention to kiss it; meaning either you kiss the black stone or die trying.  Seriously, I am not joking.  But why go through all of this just to fulfill a sunnah?
The Black Stone will testify on the Day Of Judgement for those who kissed it.
It was narrated that Ibn 'Abbaas said: The Messenger of Allaah (peace and blessings of Allaah be upon him) said concerning the Stone: "By Allaah, Allaah will bring it forth on the Day of Resurrection, and it will have two eyes with which it will see and a tongue with which it will speak, and it will testify in favour of those who touched it in sincerity."

Narrated by al-Tirmidhi, 961; Ibn Maajah, 2944

This hadeeth was classed as hasan by al-Tirmidhi, and as qawiy by al-Haafiz ibn Hajar in Fath al-Baari, 3/462
Touching the Stone is one of the things by means of which Allaah expiates for sins.
It was narrated that Ibn 'Umar said: I heard the Messenger of Allaah (peace and blessings of Allaah be upon him) say: "Touching them both [the Black Stone and al-Rukn al-Yamani] is an expiation for sins."

(Narrated by al-Tirmidhi, 959. This hadeeth was classed as hasan by al-Tirmidhi and as saheeh by al-Haakim (1/664). Al-Dhahabi agreed with him).
Now onto the step-by-step procedure:

When you get around the Yemeni corner, stand in line.
Stick to the kaaba like fly paper (you can keep your left hand holding onto the kaaba, and  right hand on the side pointing downwards so that you do not inadvertently push anyone).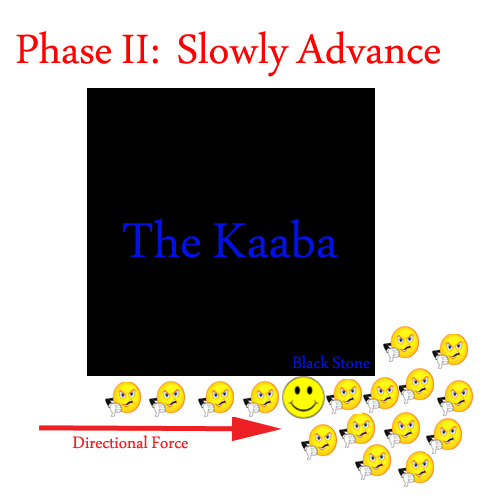 Go with the flow;  the line will start moving forward inch by inch.
The real fun won't start for another 10-15 minutes, when you start to get close to the mob.  So have patience, and read your adhkaar and dua so you don't waste your time.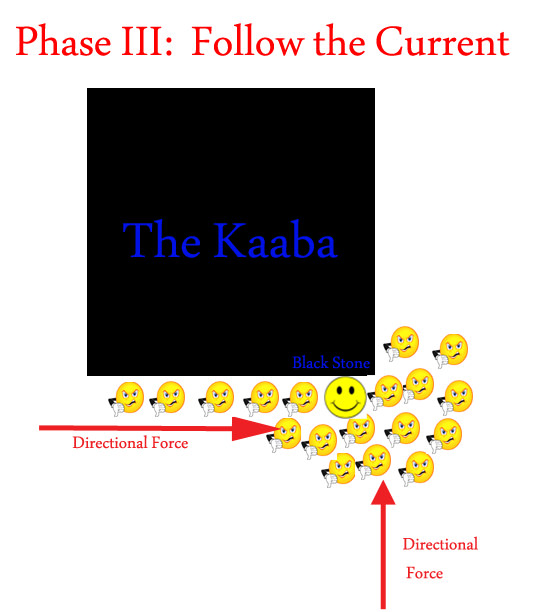 As you're getting closer to the mob, people are going to start to pushing and shoving like crazy.  USE THIS TO YOUR ADVANTAGE.   As long as you can stick to the side of the kaaba without getting pulled out of line or getting crushed, the directional forces will eventually push you straight towards the black stone.
Since your right hand is at the side pointed downards, you can't push anyone and that is good.  Your only other option is to go with the flow, lower your center of gravity, and hold on dearly to the side of the kaaba with your left hand (at the base of the kaaba are rings which tie to the kiswah, you can use those rings to hold on to).
Fulfill your duty of reminding people of patience.   I find yelling out "sabr, sabr" works pretty well (everyone will understand this word, but whether they implement is a different story).
Tell the guy standing next to you in line of this method, and he might also stop pushing and begin to do the same as you (worked with me once).
Remember, stick to the side of the kaaba.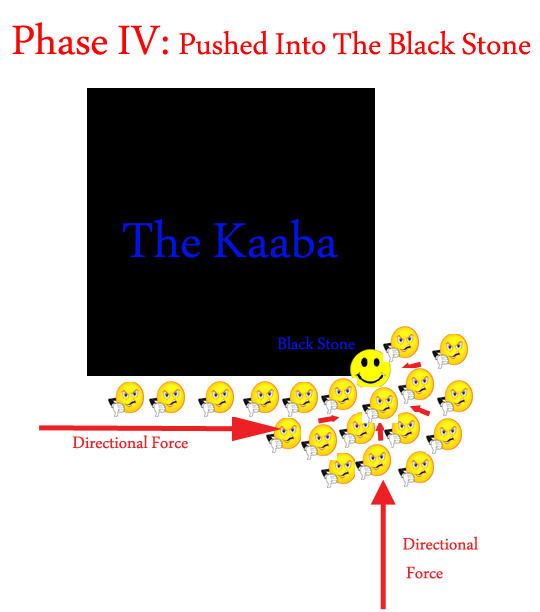 As you get within feet or inches, seek refuge from shaytan and recite ayat al-kursi a lot (shaytan is probably having a field day in that area with all the things people do in that spot and how terrible they act).
Make dua and have trust in Allah.
Take out your right hand for safety, but don't push anyone.  Just stick to the side and eventually the people behind you are going to push you straight into the black stone.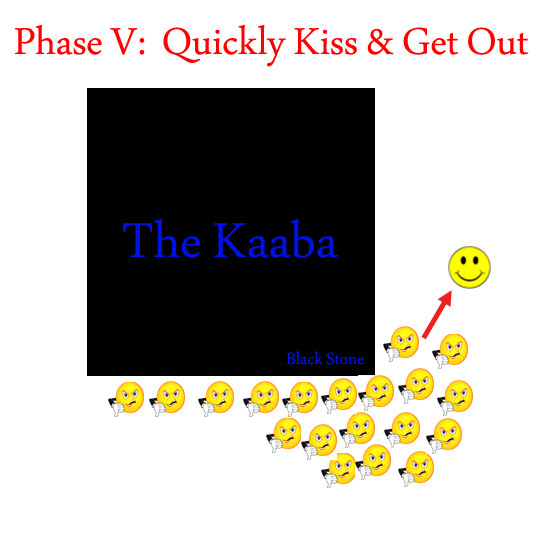 Pucker up, grab onto the silver encasing, and kiss the black stone.

Important Note: The black stone is not the entire big black thing you see, but actually eight small pieces within it (because it was broken and damaged in the past).  Make sure you actually aim right and kiss one of the actual seven stones, and not the black wax encasing.  (See diagram below)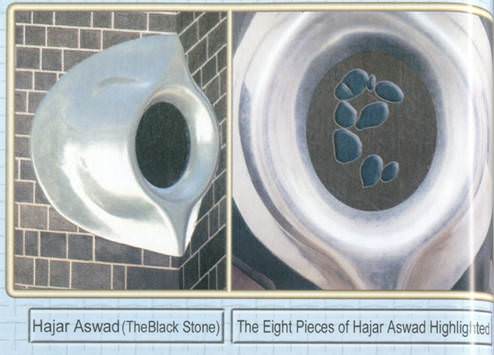 If you try this out during hajj this year, write a comment and let me know.